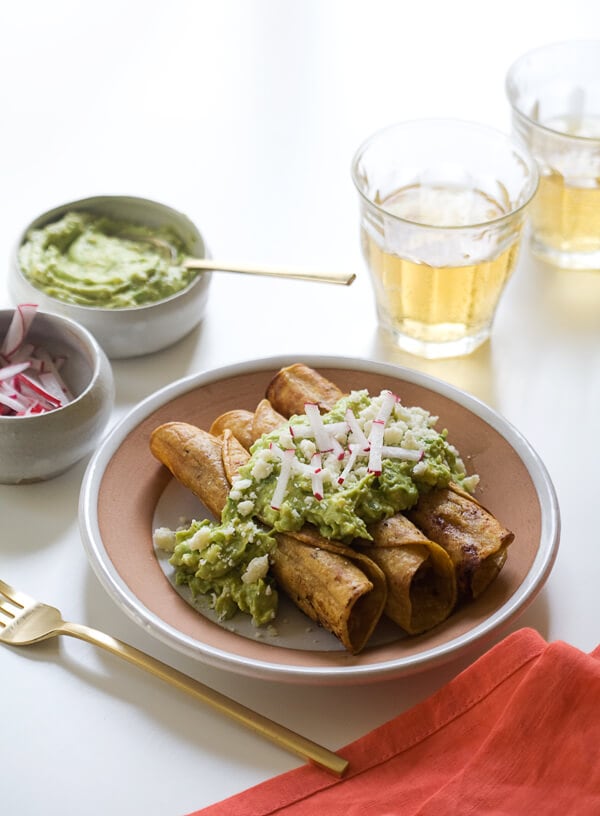 When I first moved to LA, and for the first time was completely on my own in this world, I freaked out if I spent more than $10 a meal. So, I did what any penny-pinching new college graduate would do: I found the cheapest most delicious meal at a Mexican-hole-in the wall where I could order three taquitos for $4. Not only was I pumped about saving a bit of money but I was also super stoked to be eating super delicious crispy taquitos. I'm big on texture so I'll always order the crunchy variety of anything. Crispy tacos over soft tacos, etc., you get the idea…
Sometimes I look back at those times, and while I was super scared about how everything was gonna turn out, they were some of the best times. What's not to love about being 22 years old and eating $4 taquitos in an alley with friends. Now, I prefer to make my own taquitos because I can control the flavors, quality of meat and most importantly, quality of tortillas.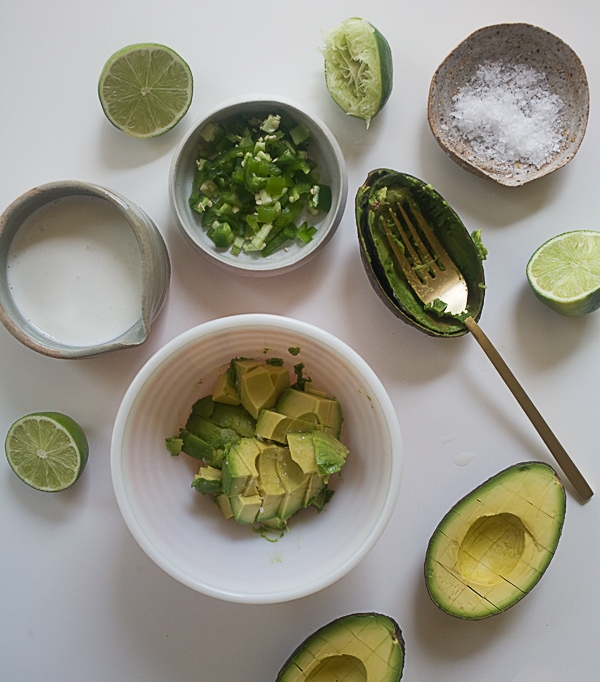 This post was made in collaboration for Mi Rancho tortillas. The tortillas are organic, made with gmo-free corn and super delicious. You can find them at a lot of grocery stores, including Whole Foods.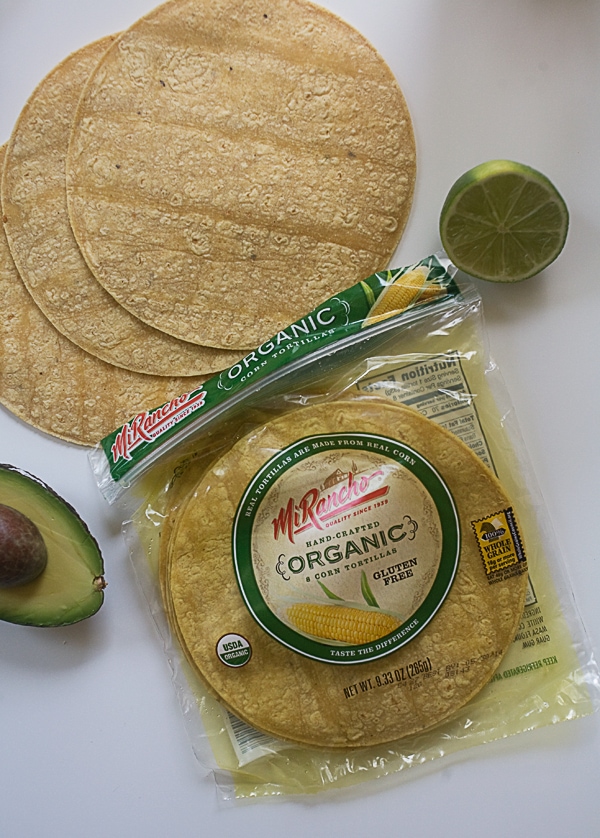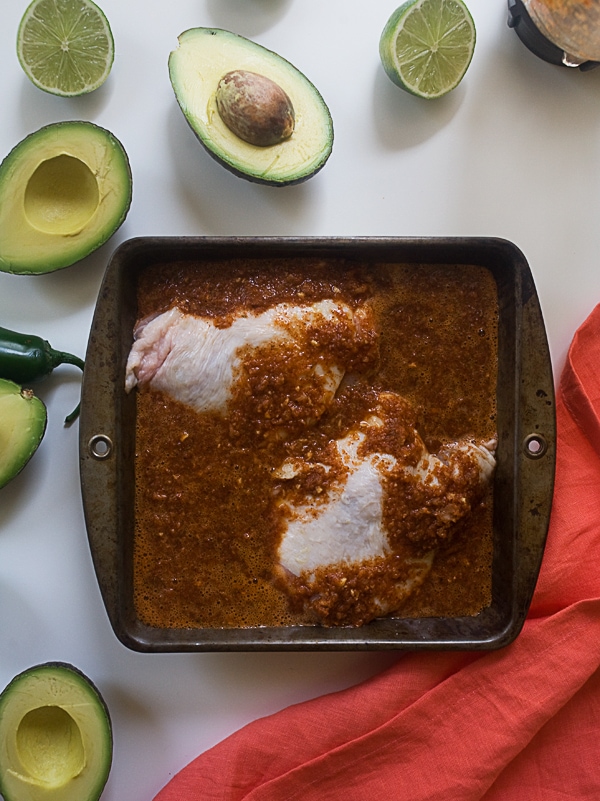 These taquitos couldn't be simpler to make because all you do is combine all of the sauce ingredients together, along with the chicken and bake it all until it's fall-off-the-bone tender. Then you do some shred action, stuff the taquitos and pan-fry them (no deep-frying!). Garnish 'em and that's it.
I included a recipe for this avocado crema that is heavenly but if you wanted to you could just mash up some avocado add that, along with a dollop of sour cream. This is supposed to be one of those recipes where you put everything in the oven and forget about it for a while.
It's also great as a make-ahead recipe. You can make the chicken, shred it up, pour the cooked sauce on top and stick it in the fridge until you're ready to pan-fry the taquitos. Oh and that's another thing, no need to deep-fry taquitos. A few tablespoons of oil in a pan will do the trick!
Happy Cinco de Mayo, friends. A good week is ahead, I can feel it.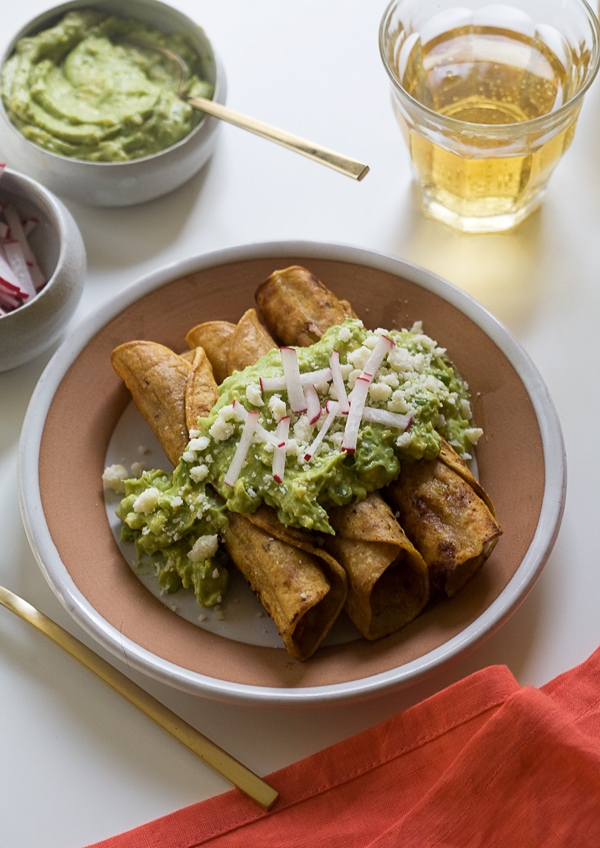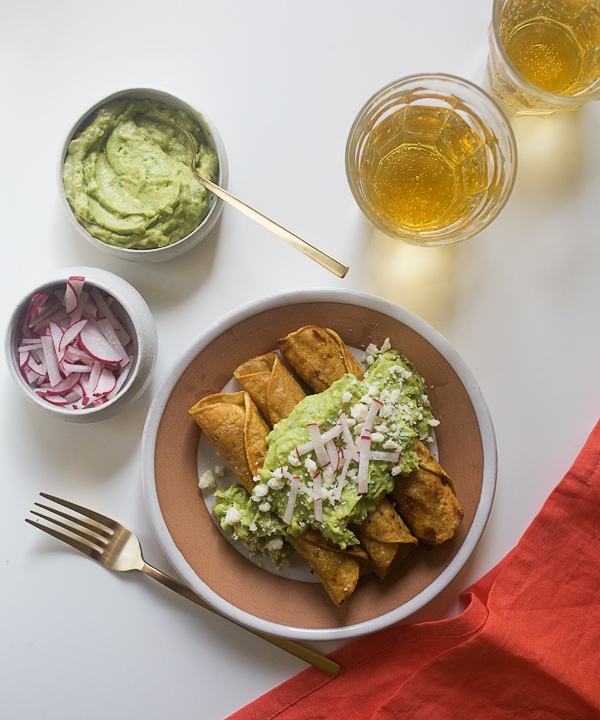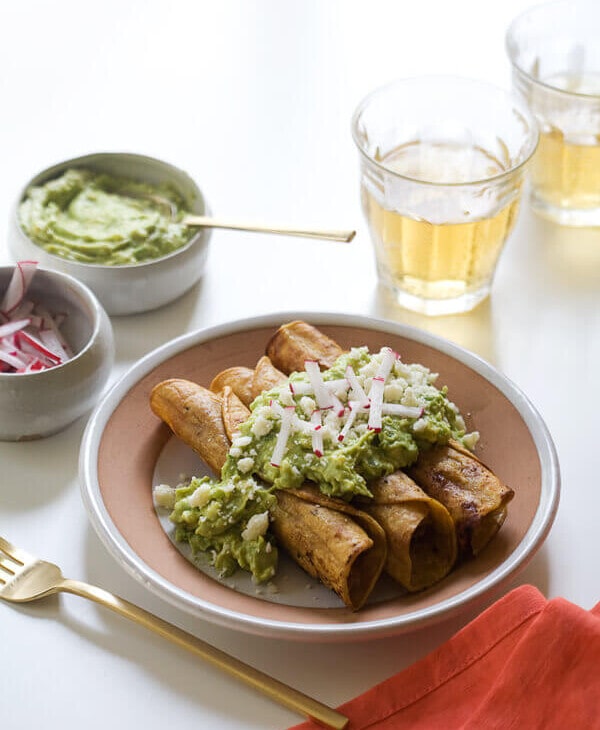 Print Recipe
Crispy Chicken Taquitos with Avocado Crema
Ingredients
Taquitos:
1 1/2

pounds

bone-in chicken thighs or breasts

washed and dried

1/2

white onion

peeled and quartered

2

tablespoons

ancho chile powder

2

tablespoons

tomato paste

1 1/2

teaspoons

salt

1

teaspoon

dried Mexican oregano

optional

1/2

teaspoon

dried thyme

1/2

teaspoon

dried marjoram

Juice from 1 lemon

1/2

cup

beer

a light lager works best

1

cup

low-sodium chicken stock

8

Mi Rancho corn or flour tortillas

warmed (they're more pliable to roll when they're warm)

Sunflower oil or Vegetable oil
Avocado Crema:
2

ripe avocados

3

tablespoons

Mexican creama or sour cream

Juice from 2 limes

1/2

jalapeño

minced

1/2

teaspoon

salt
Garnishes:
2

ounces

cotija cheese

crumbled

2

radishes

cup into matchsticks
Instructions
Preheat oven to 300 degrees F. In the jar of a blender, add the white onion, ancho chile powder, tomato paste, salt, Mexican oregano, dried thyme, dried marjoram, juice from 1 lemon, beer and chicken stock; pulse until smooth.

Place the chicken in a 8x8-inch casserole dish. Pour the tomato mixture atop the chicken; the chicken should be mostly covered--it's ok if their tops are peeking out of the sauce. Transfer to the oven to bake for 1 1/2 hours, until just cooked and chicken is tender. Allow the chicken to cool on the counter until they're cool enough to handle. Using a fork, shred the chicken. Toss the chicken with a few tablespoons of the tomato mixture from the casserole dish.

To warm the tortillas, stack them on a microwave-proof plate and cover them with a damp paper towel. Warm them for 20 seconds or until pliable. If you're without a microwave, you can do this in the oven, too. Turn the oven to 200 degrees F, place the tortillas, stacked, on a baking sheet and cover them with a damp paper towel; transfer to the oven to warm for 10 minutes.

In a medium skillet, pour in enough oil until it reaches about 1/2-inch up the sides of the pan. To assemble the taquitos, spoon a few tablespoons of the chicken mixture onto the lower third of each tortilla. Tightly roll up each taquito and transfer to the hot oil, seam-side down. Pan-fry the taquitos for 2 to 3 minutes, turning them every so often, until they're golden brown and crispy. Drain the taquitos on a bed of paper towels and transfer them to a baking sheet in a warm oven (200 degrees F). Repeat the stuffing and pan-frying process until you've cooked up all of the taquitos.

To make the avocado creama, add all of the ingredients to a food processor and pulse until smooth. (If you don't have a food processor, you can also do this in a bowl, no biggie!) Serve the taquitos with a dollop of avocado crema, a sprinkling of cotija cheese and sliced radishes.
(This post is sponsored by Mi Rancho Tortillas. Thank you for supporting the sponsors that keep A Cozy Kitchen Cozy!)