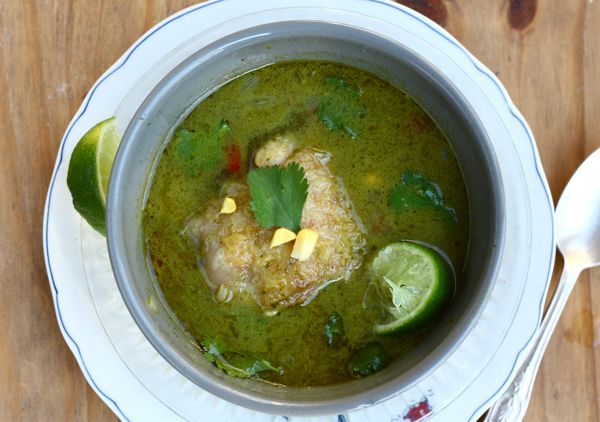 I made you/me some soup. It's green…
I wasn't going to post it because, well, it might be the ugliest soup I've ever made. I usually like to share things that are pretty/cute/delicious. Not today, my friends!! Today I'm hurling nutritious, humble and necessary (for me anyway) your way.
My head is stuffed up, my nose is clogged, and my ears hurt (hello ear ache!). Yeah, I'm sick. UGH!
Growing up this is the soup my mama would make me to make things all better. So, this post comes straight from her mama heart through me. JUST like that scene at the end of Ghost, you know? When Whoopi let's Patrick Swayze take over her body so Demi can get her last dance. JUST like that. So, basically this is my mom giving you this recipe (through me). Weird, right?
Let's dance!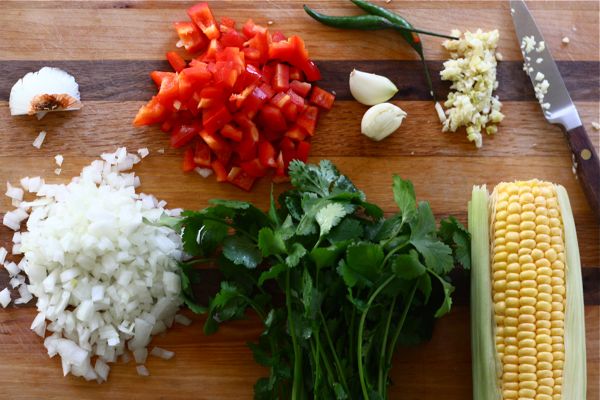 This chicken soup is daaa best.
This chicken soup story starts with a bunch of fresh cilantro heading into a blender with some garlic cloves, serrano pepper and chicken broth. After a minute or two, you'll end up with a fragrant, beautiful bright green liquid mixture. Try not to drink it.
Next you're gonna cook the chicken on both sides in some oil. You want crispy skin. You want the chicken to be nearly cooked all the way through.
After the onion, garlic and red pepper are sauteed, you're gonna add the rice…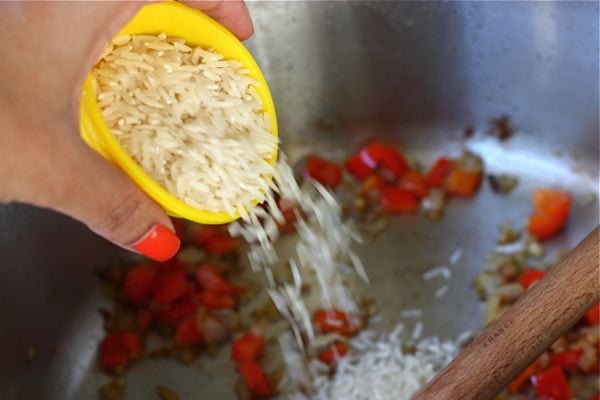 And then the cilantro liquid. Next up, you're going to add the chicken back to the pot, along with a good amount of chicken broth.
After a good simmer of 20-30 minutes, you'll have some of the most nutritious, strong soup ever.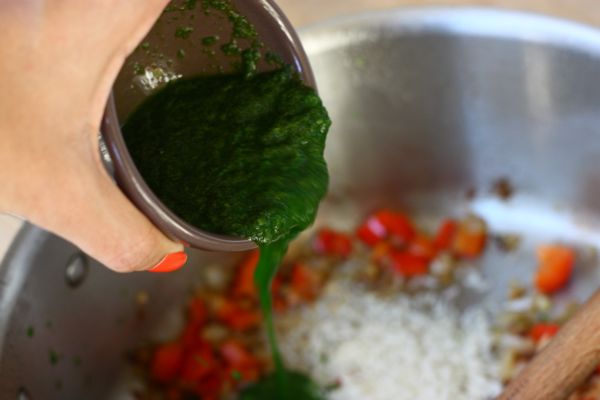 Okay. Here's the thing about this soup: the lime is an absolute must. Like, if you forget it…you have to go back to the store. I'm sorry to be so bossy. I really am, but it's that important. That citrus works in ways that are indescribable with the chicken and cilantro. This soup feels like gigantic hug from mom (my mom anyway).
Also, if you're one of those people who tastes soap when you eat cilantro, I'm totally intrigued by you. Like, fascinated…say hi. I wanna know you.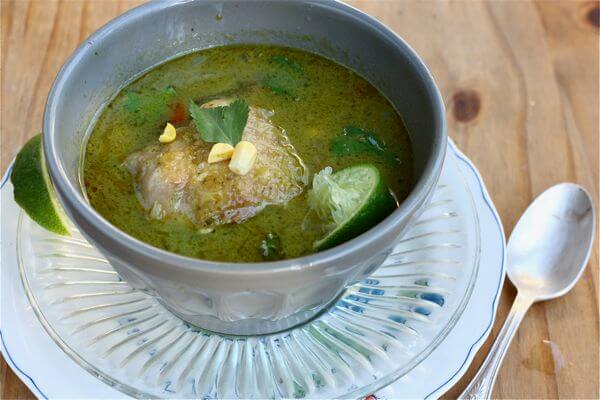 Aguadito (a.k.a. Peruvian Chicken Soup)
3/4 cup cilantro leaves
1 serrano pepper, halved and de-seeded
4 garlic cloves (2 whole garlic cloves and 2 garlic cloves minced), divided
4 1/4 cups chicken broth, divided
2 tablespoons olive oil
2 chicken thighs, skin-on and bone-in
2 chicken drumsticks, skin-on and bone-in
1/2 yellow onion, diced
1/2 red bell pepper, diced
1/2 teaspoon ground cumin
1/4 cup white rice
1 ear of corn, cut off the cob
Salt to taste
1 lime
1. Add cilantro leaves, serrano pepper, 2 garlic cloves and 1/4 cup of chicken broth to a blender. Blend until mixture is thoroughly combined. Set aside.
2. In a large pot, heat olive oil over medium-high heat. When hot, carefully add chicken thighs and drumsticks, skin-side down. Cook on first side for 4-5 minutes, and until skin is crisp and slightly browned. Flip on second side and cook for an additional 5 minutes. Remove from pot and set aside.
3. If the chicken absorbed all of the oil, add one more tablespoon of olive oil. Add yellow onion and cook until translucent, about 5 minutes. Next, add red bell pepper and ground cumin, allowing to cook for 1-2 more minutes. Add minced garlic atop of mixture and cook until fragrant.
4. Add the rice and cilantro liquid mixture to the pot and mix, being sure to completely coat the rice. Gently add the chicken back to the pot and cover with the remaining 4 cups of chicken broth. The broth should just cover the chicken. Cook for 20-30 minutes, and until rice is fully cooked.
5. When you're ready to serve, add salt to taste. This will all depend on how salty your chicken broth was. I needed to add about 1 1/2 teaspoons of kosher salt. Mix in corn right before serving.
6. Add a few cilantro leaves to each bowl of soup, along with a few wedges of lime. It's important.
Yields 4 servings