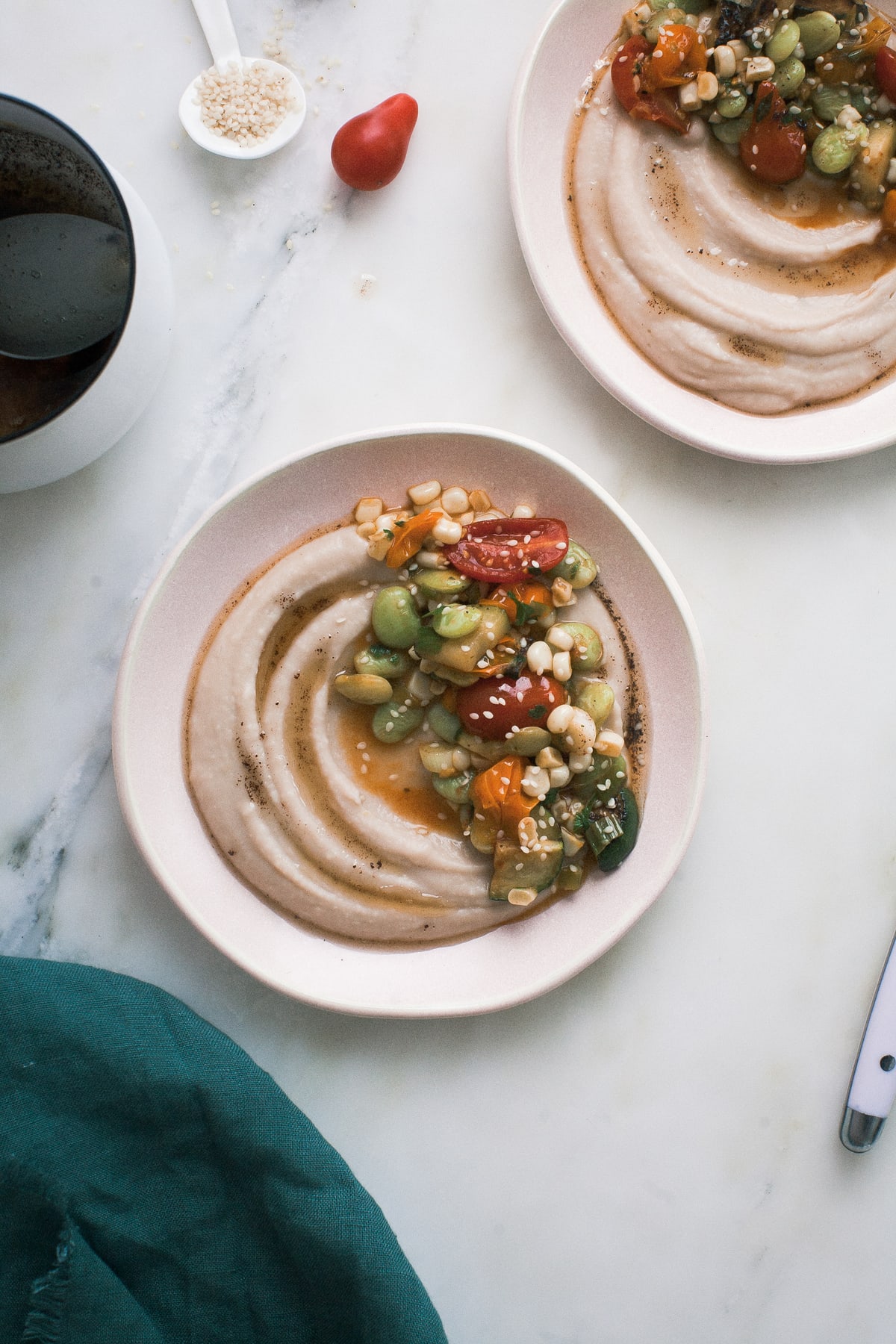 I feel like a basic b first thing in the morning (every single morning) because this is basically what I make (give or take the white bean puree or eggs). I've been eating something like this, a rendition of it, for like the last two months.
I've recently learned a few things about myself lately:
1. I need breakfast. It sets me very straight. And makes me genuinely happy.
2. For breakfast, I tend to lean more savory than sweet. (At least during the weekdays when my days need to be productive and want to feel good.)
3. Italian parsley + lemon juice will forever be my favorite flavor combination. It's so fresh and delicious. Add a good amount of salt to balance out the salt and it's something that should be put on every single thing.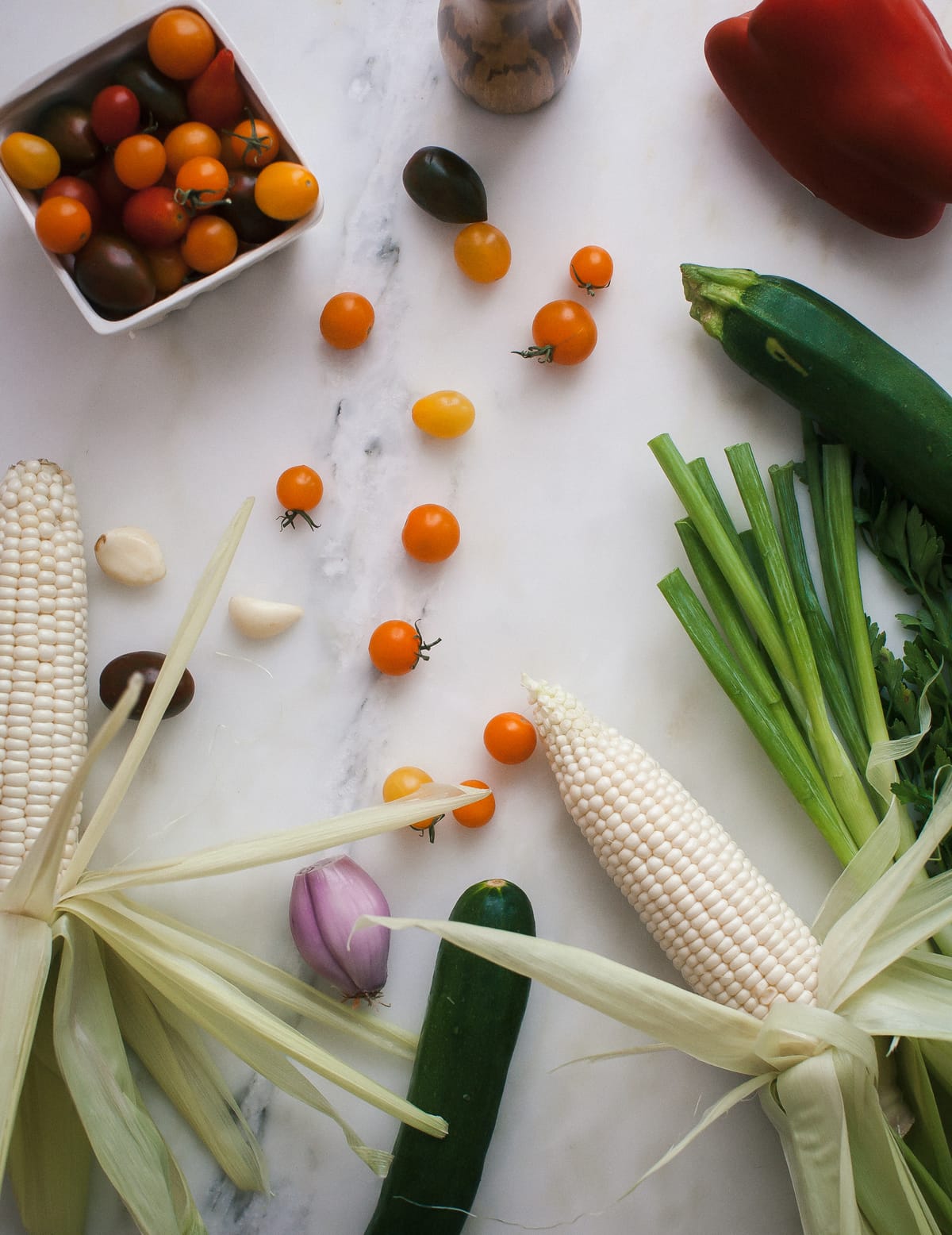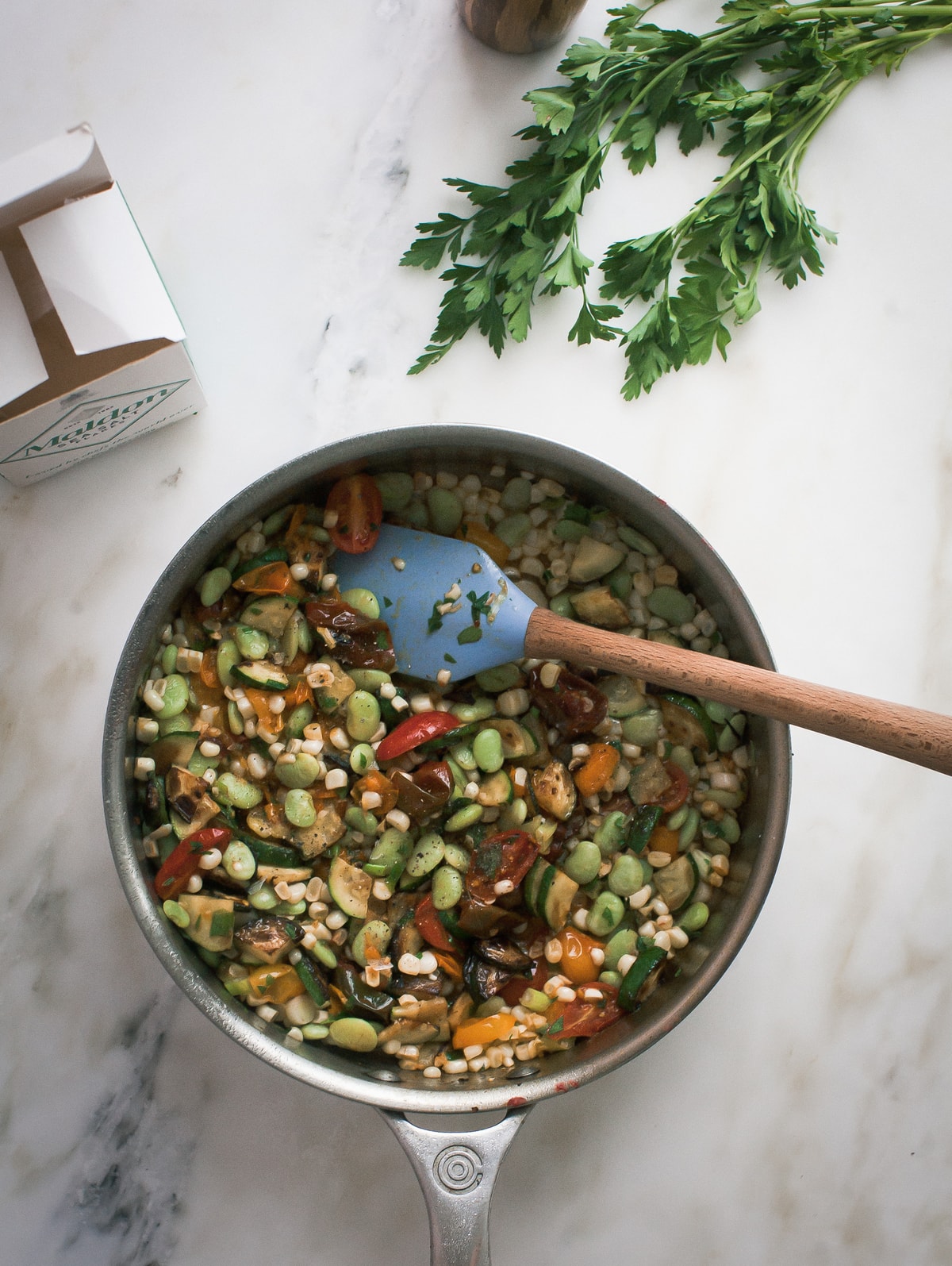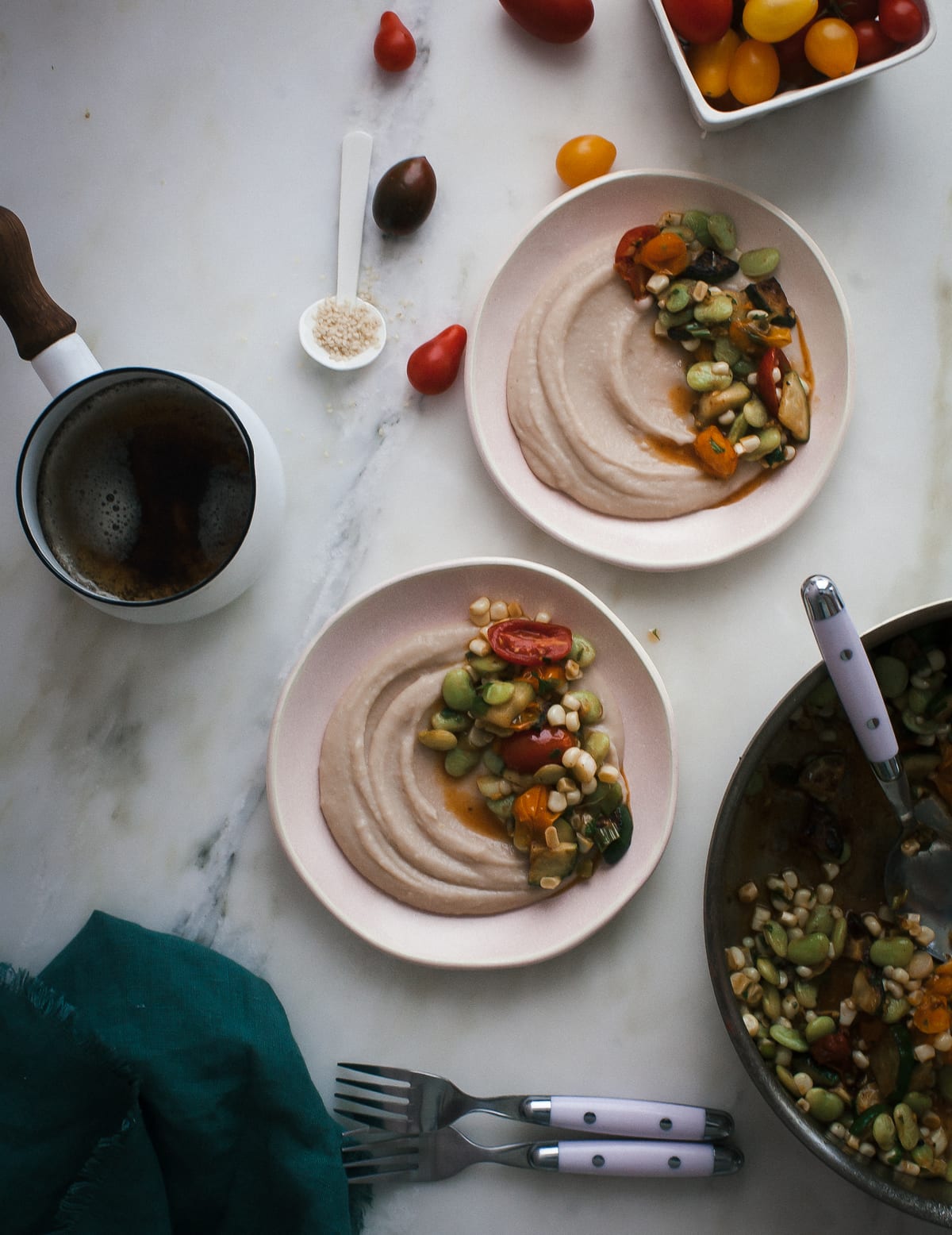 This white bean puree was a riff on something I made last year during the holiday season. Instead of the succotash it was a few seared scallops. I think I posted it on the 'gram but it's being annoying and not loading.
ANYWAY, I'm trying to get ahead of fall at the current moment, recipe testing every day and trying to shoot as much stuff as possible.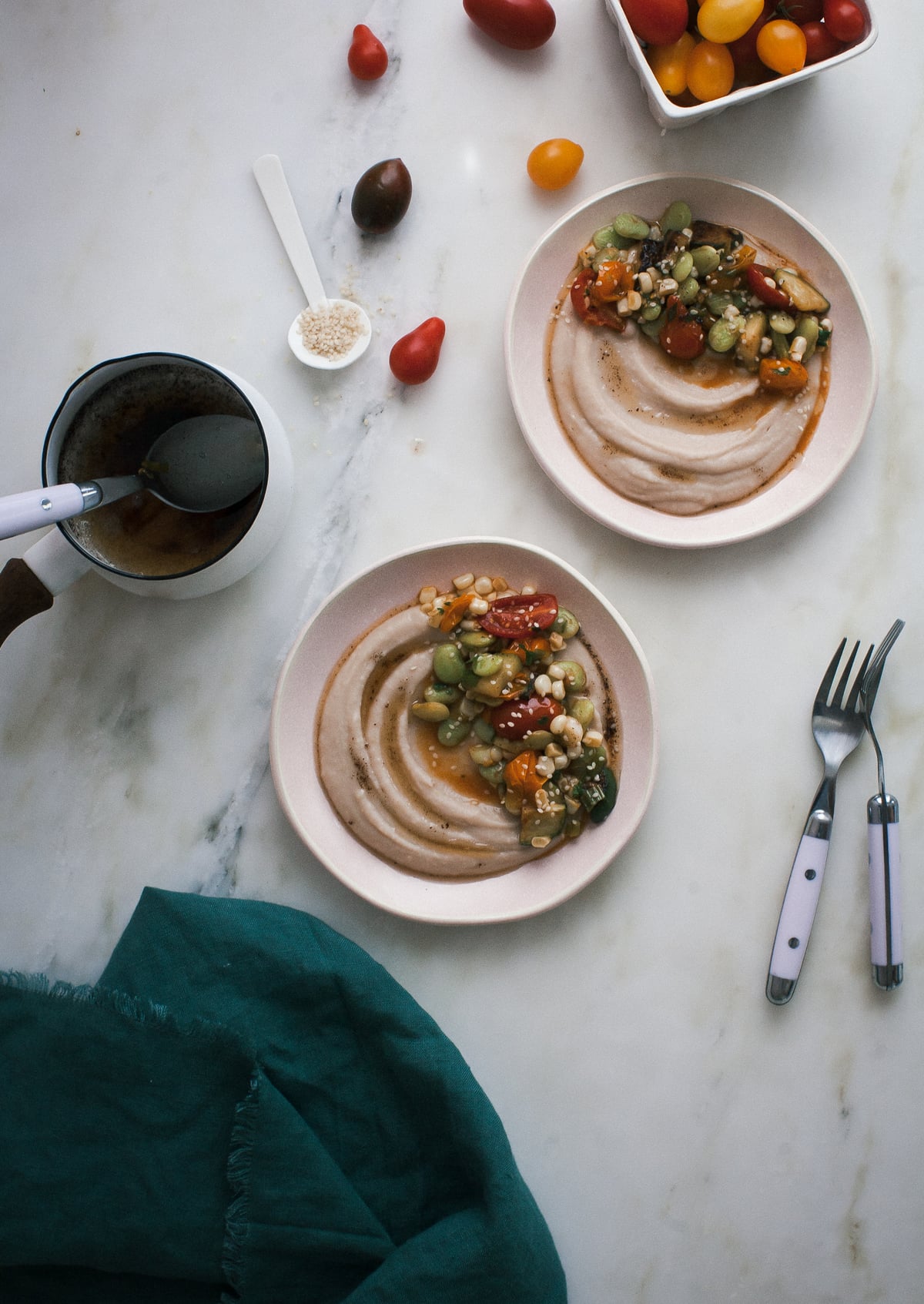 For a good bit of October, I'll be running all over the place. First, Virginia, then Atlanta and then I think somewhere else but not sure.
As much as I loved being in Copenhagen and Norway and New York, the minute I got back, I was SO excited to make this very thing for breakfast every morning.
Don't you love your routines? They keep us sane I think.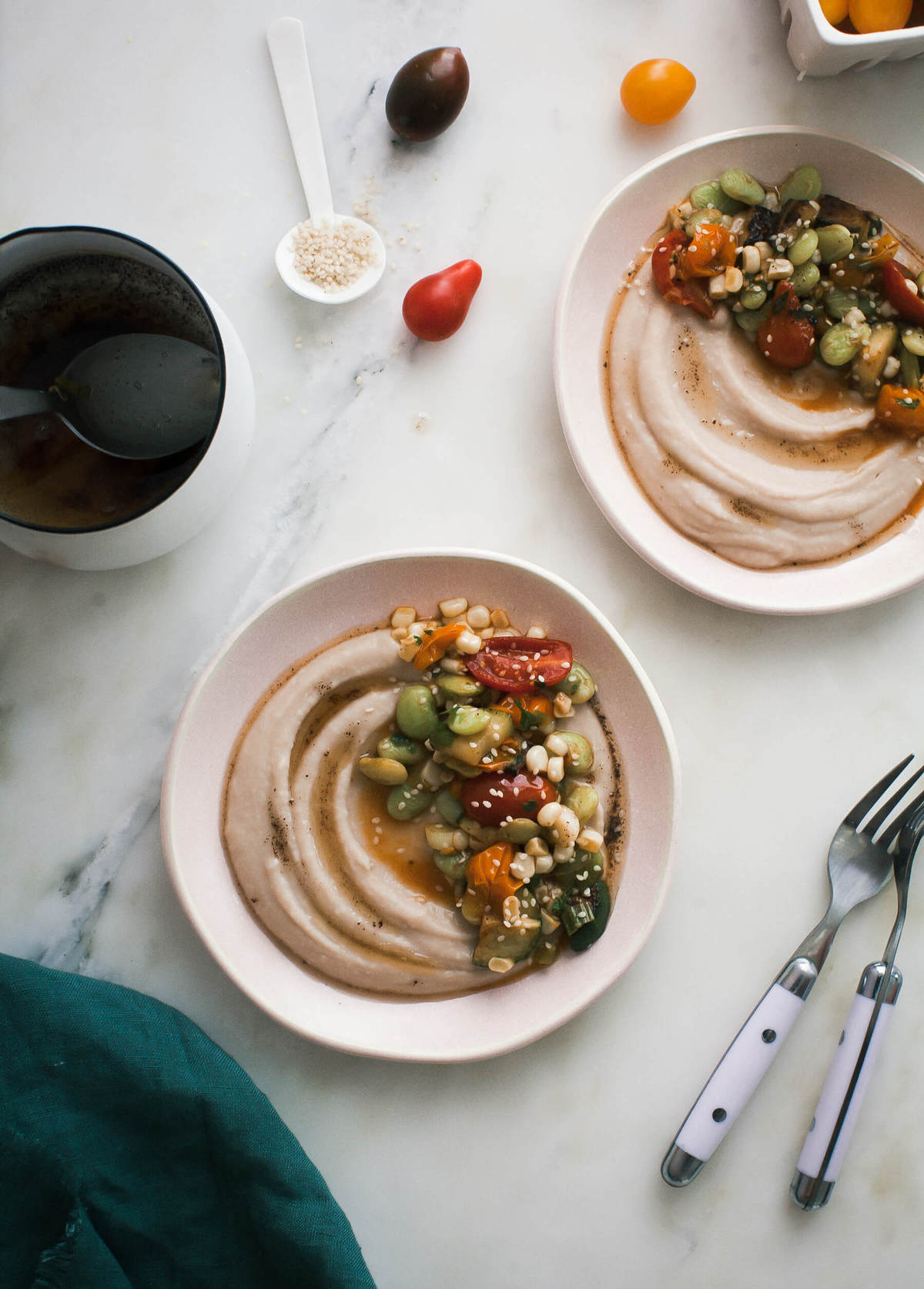 Print Recipe
Late-Summer Succotash with White Bean Puree + Brown Butter
Ingredients
White Bean Puree:
2

14-ounce cans of Great Northern white beans + 2 teaspoons water or olive oil

Pinch

of salt

Zest from 1/2 lemon
Succotash:
2

teaspoons

oil

2

zucchini

trimmed and sliced

1/2

pint

cherry tomatoes

halved

Salt

2

ears of corn

kernels removed

2

green onion

trimmed and sliced

3

garlic cloves

minced

2

tablespoons

minced italian parsley

1

cup

lima beans

fresh or frozen

Juice from 1/2 lemon

zest reserved for the white bean puree

Crushed red pepper

Sesame seeds

Brown Butter:

1/4

cup

unsalted butter
Instructions
To make the white bean puree: Add the white bean puree ingredients and pulse until very smooth. Give it a taste and adjust the salt to your liking.

To make the succotash: In a medium sauté pan, set over medium-high heat, add the oil. When hot (and you want it nearly smoking because we're going to sear the heck out of the zucchini and tomatoes), add the zucchini and cherry tomatoes. Cook, shaking the pan frequently, until the tomatoes and zucchini are blistered and lightly golden brown, about 2 minutes. Next, turn the heat down to medium, add the corn, green onions, garlic cloves and a few pinches of salt.

Give it a good stir and allow it to cook for about 2 to 3 minutes. Next, add the Italian parsley, lima beans, lemon juice, a pinch of two of crushed red pepper. Cook for an additional 2 to 3 minutes. Give it a taste and add the salt according to taste. Turn down to low while you make the brown butter.

To make the brown butter: In a small saucepan, add the butter. Heat over medium flame until the butter melts and the water begins to cook out, bubbling. Cook the butter until lightly golden brown and then turn off the heat (it'll get a bit more color while you're assembling).

To assemble: If you like, you can warm the white bean puree in the microwave. I ate it room temp with the warm veggies. Add a few tablespoons of white bean puree to each plate. Top with a few spoonfuls of the succotash. Sprinkle with the sesame seeds and then lastly, drizzle the white bean puree with a teaspoon or two of brown butter.