Rice Hoecakes with Succotash
32
Aug 26, 2014, Updated Dec 22, 2018
Disclosure: This post may contain affiliate links, which means I may earn a commission if you click on the link and make a purchase.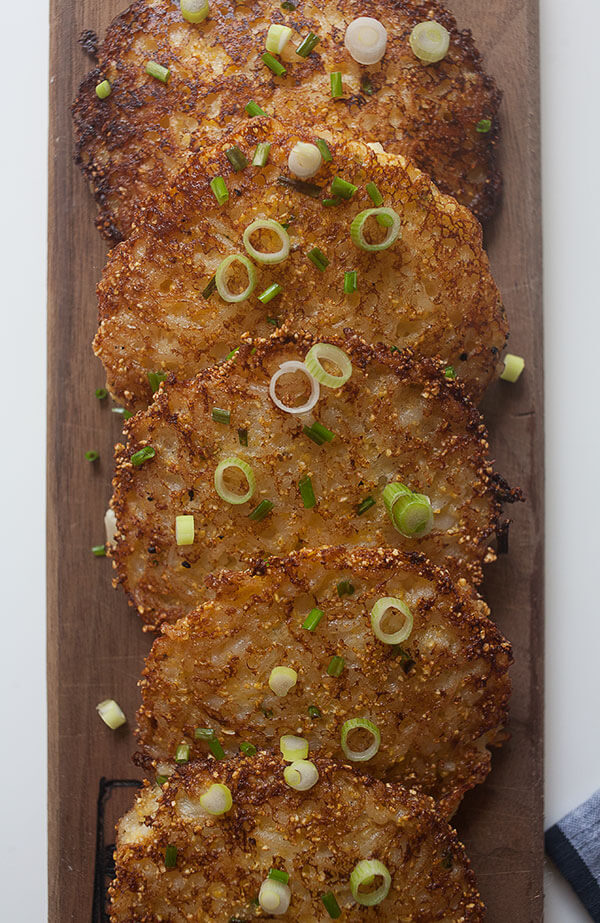 One of my favorite summahtime memories was in college. I got a job on a film set in Maryland for a few days and instead of flying, which they offered, I took it as an opportunity to go on a solo road-trip through the south.
It wasn't too far, actually, maybe six or seven hours. And instead of opting for highway only, I went for the route that took me on a lot of one lane roads, running straight through a bunch of small towns in North Carolina and Virginia.
I packed a large sweet tea, made a super long mix-CD and filled up my Jetta.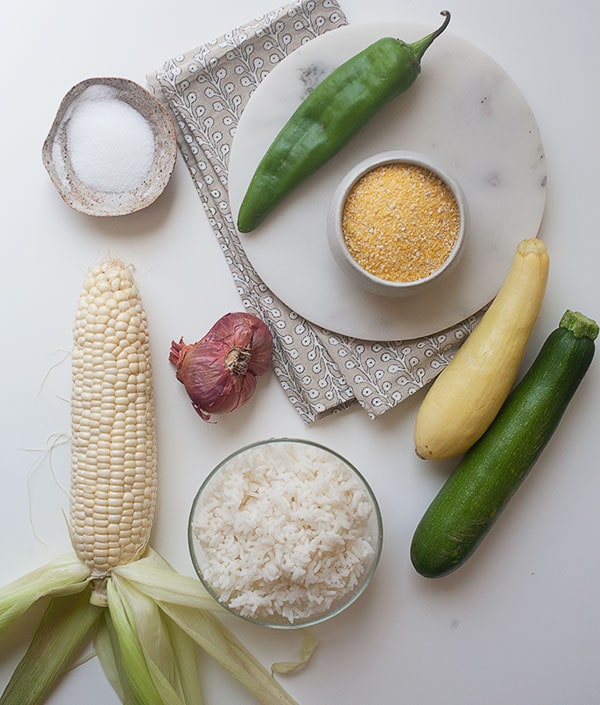 Nothing crazy happened. I stopped off at a diner, had hoecakes and ate Western North Carolina BBQ. At dusk, fireflies helped light up the roads. I listened to music my parents did. But mostly I remember thinking that everyone seemed so happy and normal and maybe this whole idea of moving to Los Angeles to work in the film industry, which is inherently sort of abnormal, was maybe flawed. Maybe they had it right and I had it all wrong.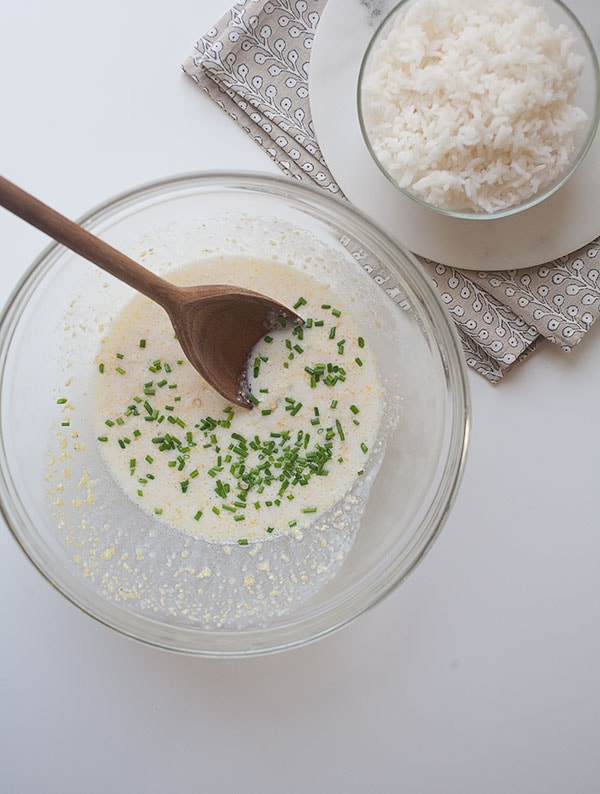 I often times think about that road-trip. I still think about moving back sometimes.
A few weeks ago I watched all of the Sean Brock, Mind of a Chef, in nearly one sitting. I haven't eaten at Husk, but man do I want to. The way he cooks Southern food makes me so happy. Not everything is fried, not everything is pork-driven and not everything is bad for you. It's actually quite the opposite; vegetable-driven, even.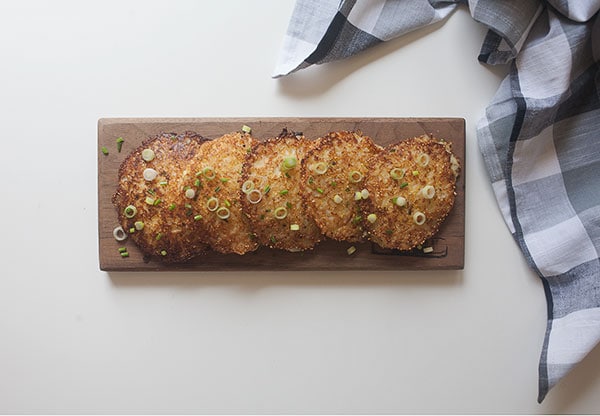 In one episode he makes a rendition of these rice hoe cakes with Carolina rice. It's like a combo of cornbread with rice folded in. The patties are pan-fried in not too much oil and in my case, I topped them with a succotash, which really is just a medley of fresh vegetables.
Instead of the vegetables being cooked in bacon fat, I chose to fold it in after. I didn't want it to taste just like bacon. The vegetables are SO good this time of year that I think we should taste the zucchini and sweet corn and spicy hatch chile. The mix-in of diced bacon adds just the right amount of smokiness and salt.
Unlike a lot of pancakes or griddle cakes, these taste really good hours after. I ate two cold and was OMG I LOVE LYFE.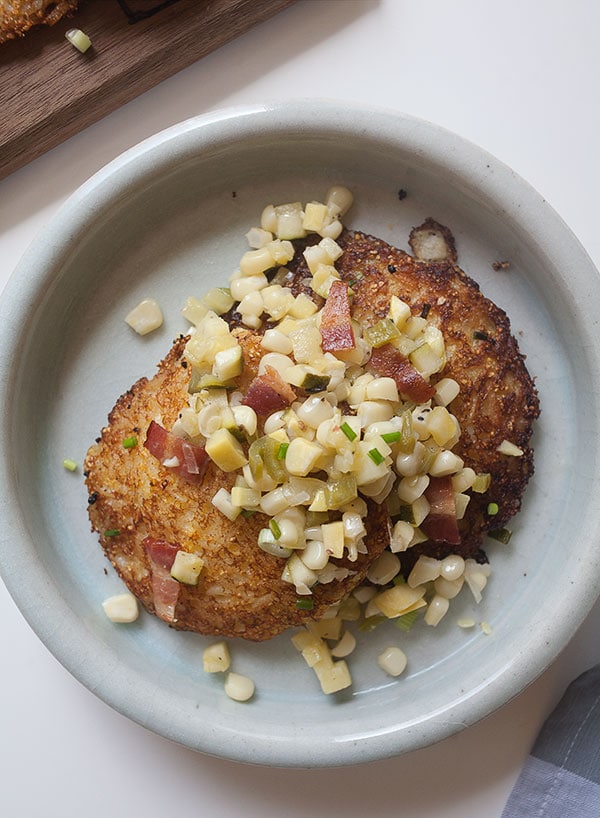 Rice Hoecakes with Succotash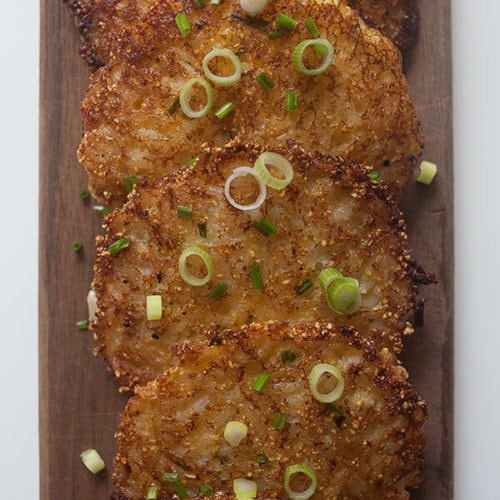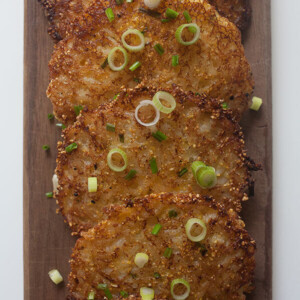 Ingredients
1/2

cup

long-grain rice

1/2

cup

water

1/4

cup

stone-ground yellow cornmeal

1/2

teaspoon

salt

1/2

teaspoon

baking soda

1/2

cup

,

plus 1 tablespoon, buttermilk, shaken

1/2

an egg

,

beaten

1

tablespoon

unsalted butter

,

melted and cooled slightly

1 1/2

tablespoons

diced fresh chives

1

tablespoon

butter

1/2

shallot

,

minced

1

zucchini

,

diced

1

corn on the cob

,

kernels cut off

1

small yellow summer squash

,

diced

1/2

hatch chile

,

seeds and membrane removed and diced

Salt

Pepper

2

slices

of bacon

,

cooked and diced
Instructions
In a medium bowl, whisk together the cornmeal, salt and baking soda. Set aside.

Combine the rice and water in a bowl of a rice cooker and cook until the rice is cooked. Alternatively, you can cook this in a small saucepan. Combine the rice and water and bring the water to a simmer over medium-low heat. Cover the pan and cook until the rice is tender and the water has evaporated, about 10 to 15 minutes. You should end up with about 1 cup, plus 1 tablespoon, of rice. If you end up with more, only use 1 cup, plus 1 tablespoon; consider any leftovers a snack! Place the rice in a bowl and transfer to the fridge so it can dry out a bit, about 1 hour. You can also cook this the night before.

In a measuring cup, measure out the buttermilk, and whisk in the half of an egg and melted butter. Pour the buttermilk mixture into the cornmeal mixture and whisk until combined. Fold in the cooled rice and chives.

Heat 3 tablespoons of olive oil in a cast iron skillet over medium heat. When the oil is hot and shimmering (you can test it by dropping a few pieces of rice in it; if it sizzles, it's ready), drop a few tablespoons of the rice mixture, pressing them down gently to flatten. You may also find it helpful to shape the cakes a bit with a spatula. I did this so they were more perfect circles. Cook them until golden brown and crispy on both sides, about 4 minutes per side. Transfer the cakes to a bed of paper towels to drain.

To make the succotash, melt the butter in a medium saute pan, set over medium heat. Throw in the shallot, zucchini, corn kernels, yellow squash, hatch chile and a few pinches of salt and pepper. Cook for about 2 to 4 minutes, until the zucchini bright green and tender. No over cooking veggies here! Fold in the diced bacon and cook for an additonal minute, just until it's warmed.

To serve the cakes, divide amongst plates, I gave people about two per person. Top with a few spoonfuls of succotash. Yum!
Notes
I separated the cooking instructions for the griddle cakes and succotash just so it's a bit easier to read. But you should totally make the succotash while the rice is drying out in the fridge and then warm it up when you're ready to serve.
Also, a side note of an apology for the annoying "half of an egg" situation. I found it necessary to keep the hoe cakes together. I gave the rest of the beaten egg to Amelia. Hopefully you have a dog too!
Nutrition
Nutrition information is automatically calculated, so should only be used as an approximation.