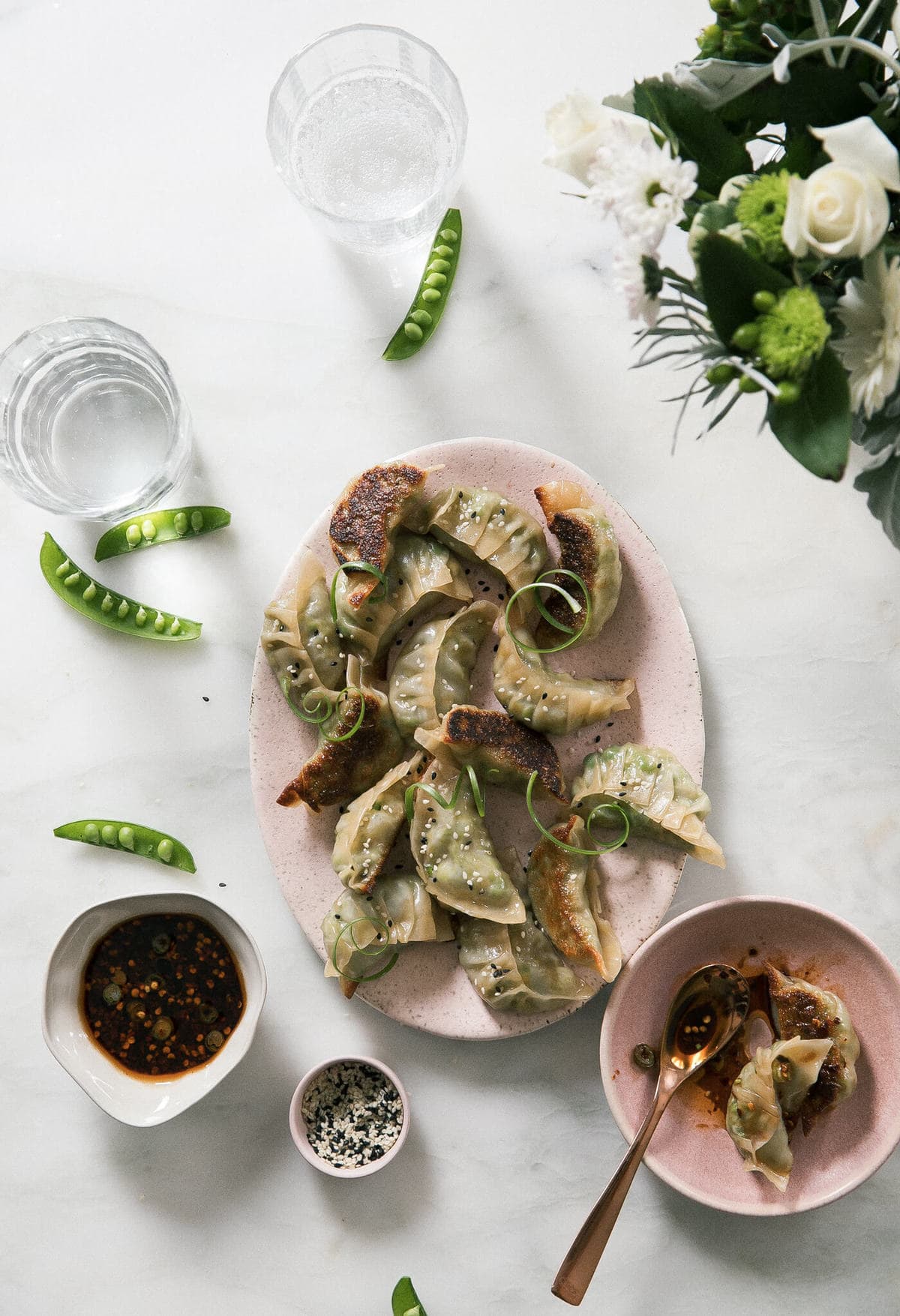 Last month I made pot stickers for the first time and I have to say, I was V impressed with them. They're now one of my favorite things to make at home and are a million times easier than I thought they were. And yes, most of that has to do with the fact that I don't make my own dough for the wrappers; even though that also doesn't seem that hard to make, so maybe next time I'll give it a try.
There were some days last week that felt like summer but I refuse to let go of spring for a long time. So we're still in full effect with spring on this here blog for a long time.
These are filled with mashed peas (and some whole peas). The addition of sautéed buttery leeks also adds a nice flavor note. These are SO good. I love them so much.
The flavor here is all about sautéed leeks and barely cooked peas. The inspiration behind these pot stickers comes from Lisa Lin's Instagram. Do you follow her? Her food looks so good. I could stare at it all day long.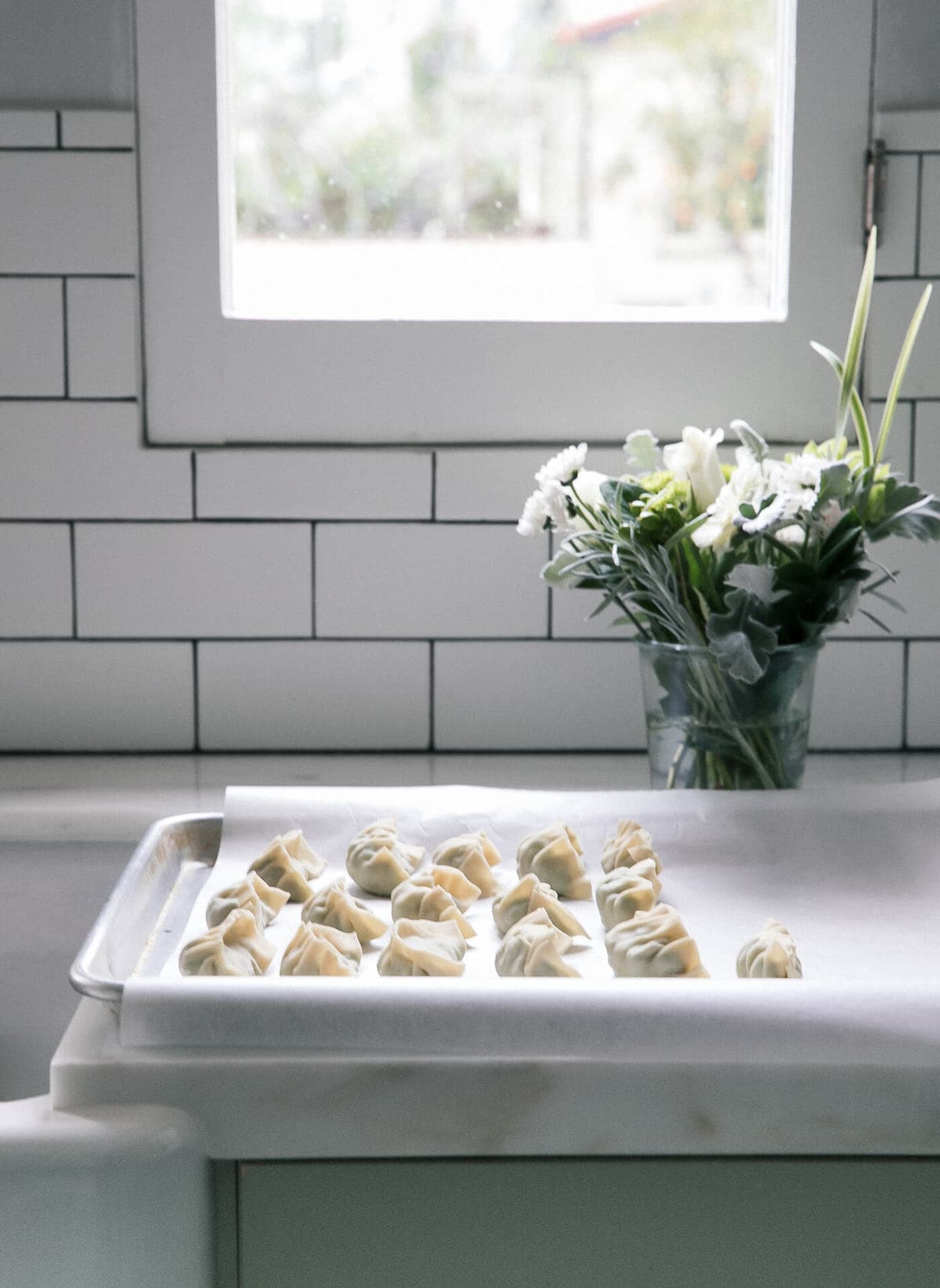 My favorite part about making pot stickers is the part where you add a bit of water to very hot pan and then immediately cover it with a lid. And it gets all steamy and gorgeous.
This dipping sauce is pretty spicy and I'm in love with it. Feel free to scale the crushed red pepper a bit. Add less if you're into moderately spicy and add a full teaspoon if you like that fire!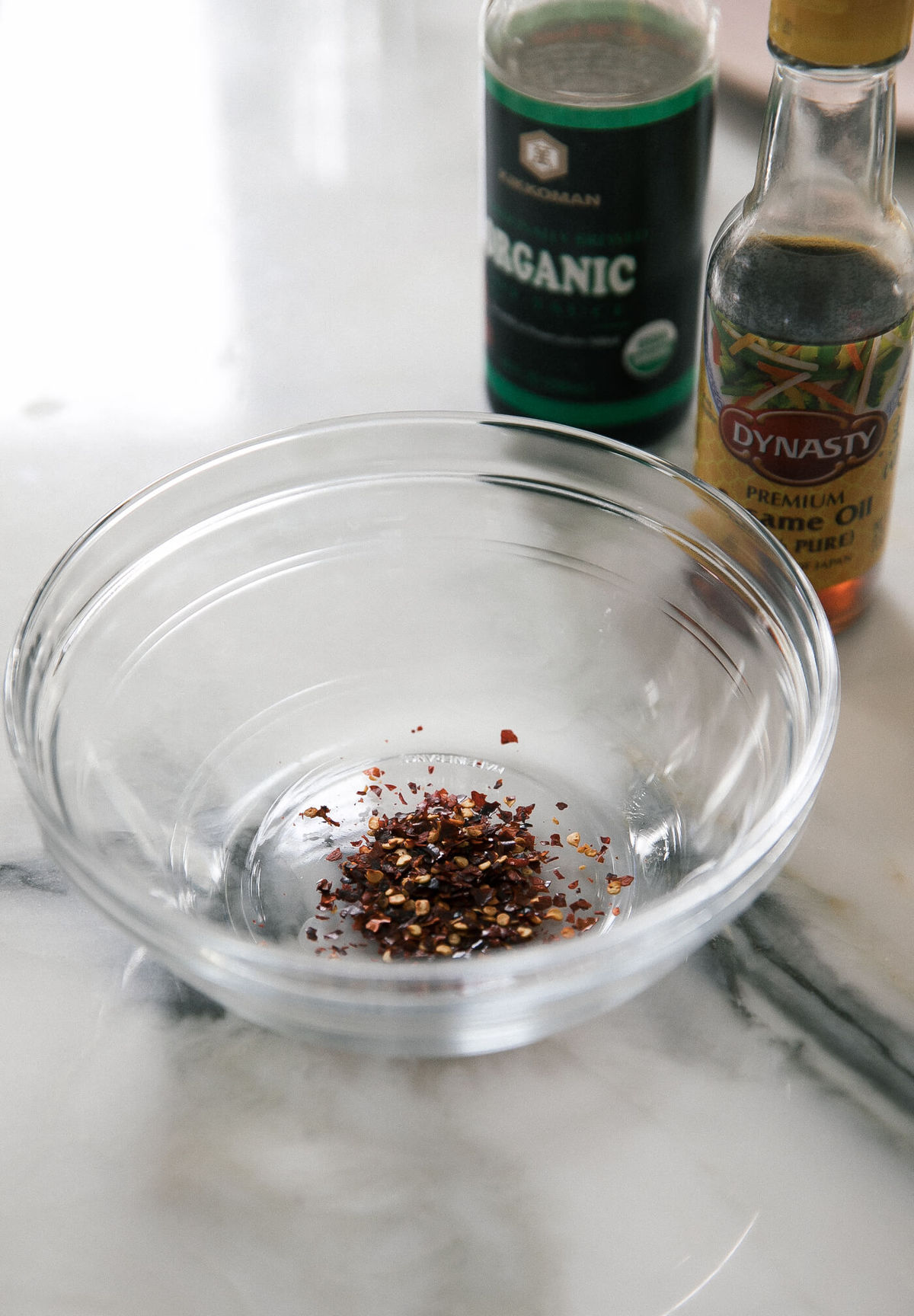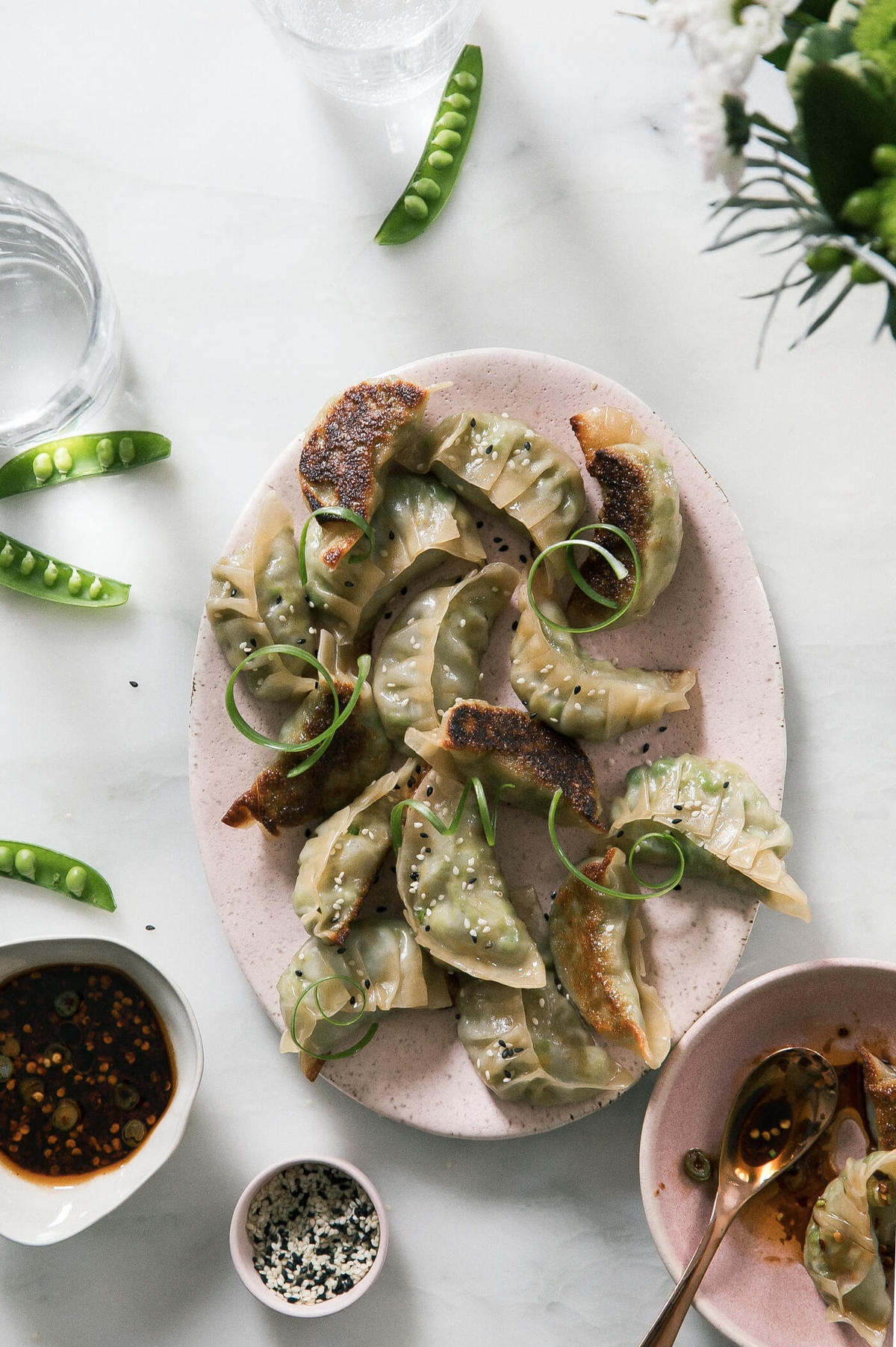 Obviously I chose that fire and went full teaspoon!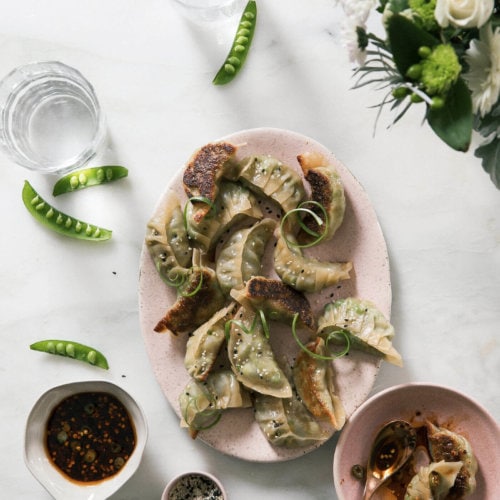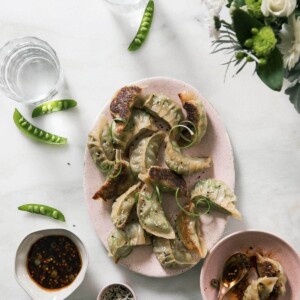 Spring Leek and Pea Vegetable Pot Stickers
Ingredients
For the Potstickers
2

cups

frozen or fresh peas

,

thawed if frozen, divided

2

teaspoon

sesame oil

2

tablespoons

unsalted butter

2

leeks

,

thinly sliced and cleaned

1/2

teaspoon

salt

1/2

teaspoon

cracked black pepper

1

tablespoon

soy sauce

3

garlic cloves

,

peeled and minced

1

teaspoon

grated ginger

24

pot sticker wrappers or won ton wrappers
For the Dipping Sauce
1/2-1

teaspoon

crushed red pepper

2

tablespoons

toasted sesame oil

3

tablespoons

soy sauce

1

tablespoon

rice wine vinegar

1

tablespoon

thinly sliced green onion
Directions
To Make the Potstickers:
In a blender or food processor, add 1 cup of peas and 1 teaspoon of sesame oil. Blend until mostly smooth. A chunky mixture is good! It's not supposed to be totally smooth. Set aside.

In a medium skillet, set over medium-low heat, add the butter. When melted, add the leeks, a liberal pinch of salt and a few rounds of black pepper. Cook until the leeks are soft, stirring regularly, about 10 minutes. Add the soy sauce, minced garlic, and grated ginger and cook for 1 minute more, until the garlic is fragrant. Add the reserved mashed peas and whole peas. Give it a good mix and transfer to a bowl. We're not really cooking the peas a whole lot—we want that fresh flavor! Give it a taste and adjust the salt, if you like.
To Make the Sauce:
In a small bowl, add the crushed red pepper. In a small bowl or small warming pot, add the sesame oil. Heat until very warm, but not scalding. Pour the sesame oil over the crushed red pepper and allow to steep for 5 minutes. Next, whisk in the soy sauce, rice wine vinegar and add the thinly sliced green onions.
To Assemble the Pot Stickers:
Place one wrapper in your hand. Add a teaspoon of filling to the center of the wrapper and moisten hallway around the edge with a wet finger. To seal, using the thumb and forefinger of one hand, form tiny pleats, pressing the edges together. Stand the dumpling up on a baking sheet. Repeat with the remaining pot stickers.

*NOTE: If you're cooking these in a few hours, transfer them to the freezer. And cook them straight from the freezer.
To Cook the Pot Stickers:
To a 10-inch, non-stick skillet, set over medium heat, add a few teaspoons of oil. When the oil is hot, add the pot stickers so they're standing up right. Cook, uncovered until the bottoms are light golden brown, about 2 minutes.

Add 2 tablespoons of water and then quickly cover with a lid. Cook until bottom is crispy and dumplings are steamed, about 3 to 4 minutes. Remove the lid and cook for an additional 2 minutes. Remove from the pot and serve alongside the sauce. Garnish with sliced green onion and sesame seeds. Serve immediately
Nutrition Facts
Spring Leek and Pea Vegetable Pot Stickers
Amount Per Serving (4 g)
Calories 0
* Percent Daily Values are based on a 2000 calorie diet.