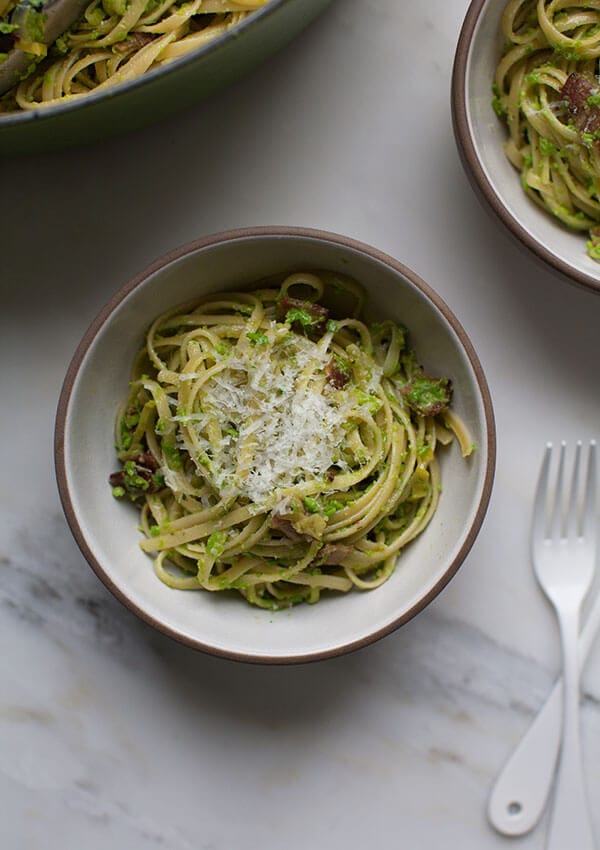 Dis pasta.
It's my everything rite now. I went for a good three weeks totally obsessed with rhubarb. Now, I've moved on to peas. I hope you're not tired of them yet because we're just getting started, my friends.
I took a little pause; it honestly feels like I haven't posted in forevrrrr. I've been working on a big recipe testing project for a private client's cookbook so while I've been super busy in the kitchen, I haven't been busy working on stuff for youuu all.
But, I took a break a few days ago from said project to make this pasta because I wanted the taste of spring in form of carbs.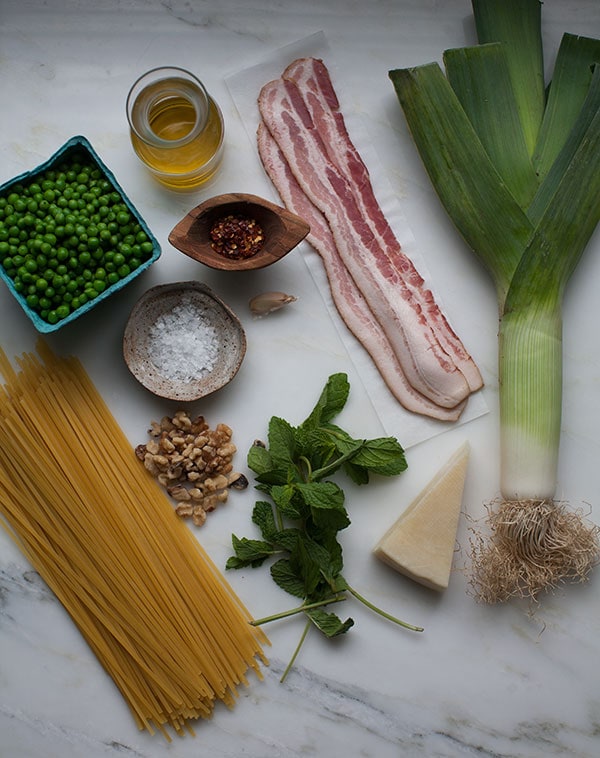 A few people on Instagram were like, MINT AND BACON?!!? I'll admit, that's a bit of a weird combo but the pesto has mint and the bacon is cooked separately.
Hopefully that eases some of you that might be like, MINT AND BACON?!
The mint isn't strong in the pesto, just a hint. It gives a wonderful refreshing flavor that isn't aggressive. It's chill. It's passive.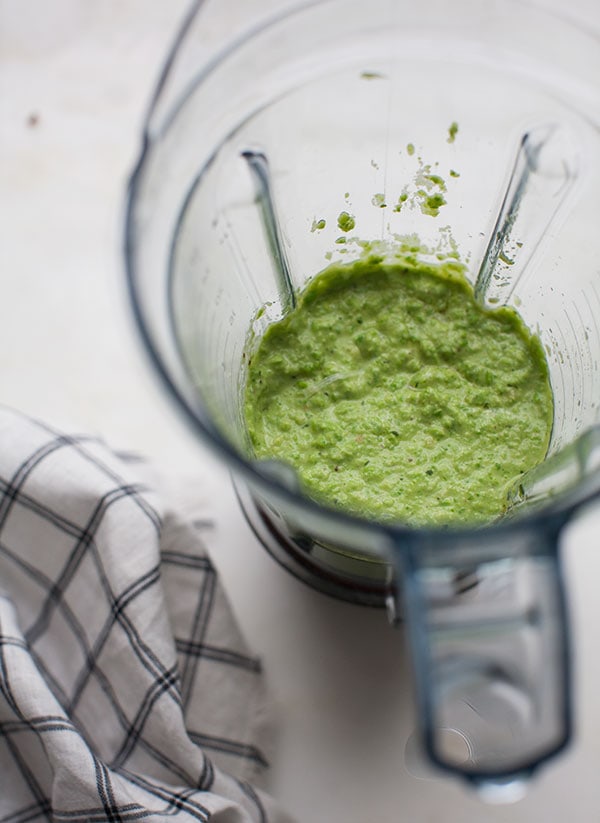 The leeks are cooked and melted in the bacon fat because that's how we do things around these parts. It means this pasta is an awesome balance of indulgent but feeling so fresh and clean.
The best part about it is that you can use frozen peas if you're feeling super lazy. And it takes about thirty minutes to throw together. It's chill. It's perfect for when you're super busy but starving.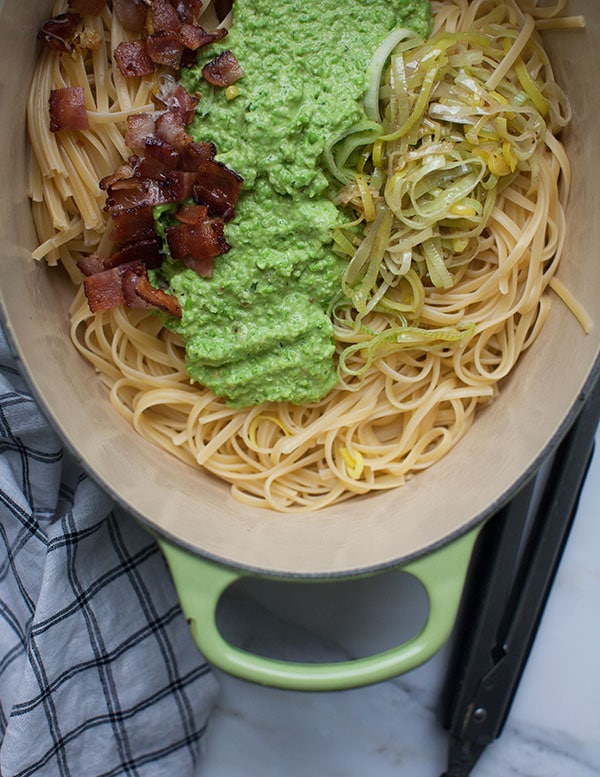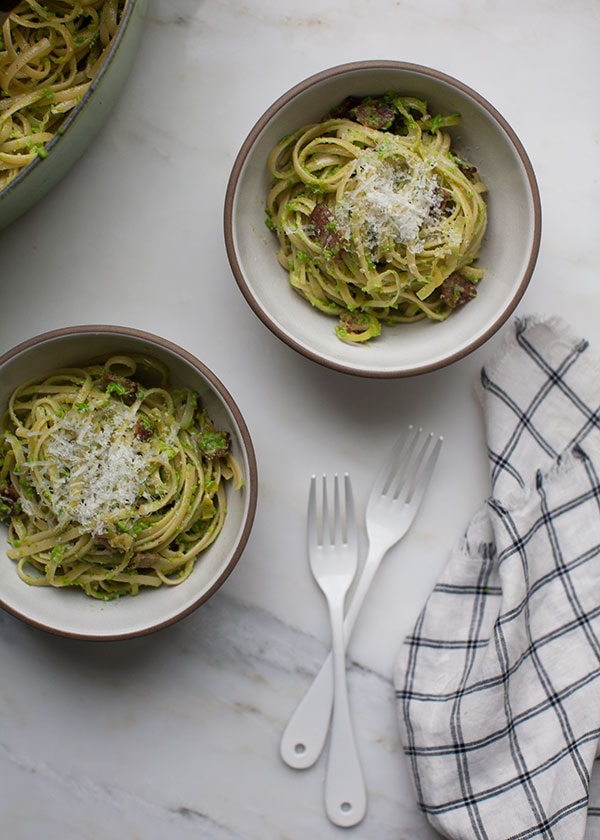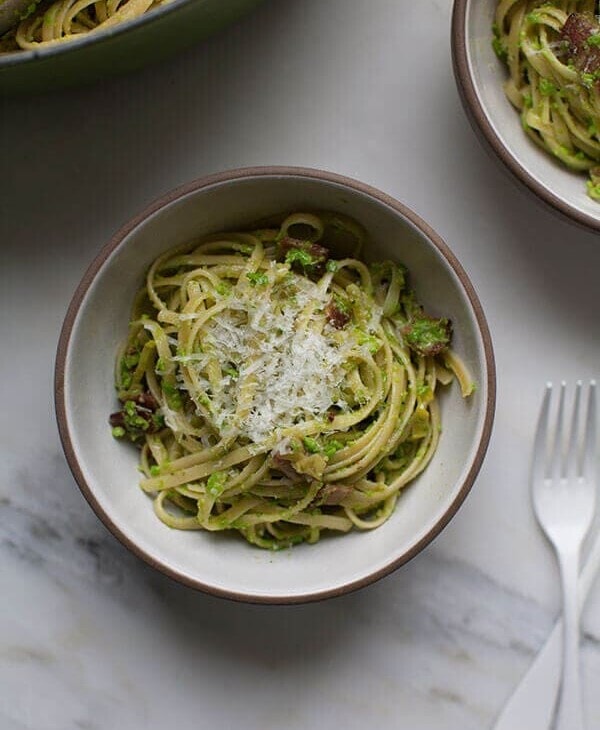 Print Recipe
Spring Pea Pesto with Bacon and Leeks
Ingredients
3

slices

bacon

cubed

1

large leek

sliced and washed thoroughly

¾

pound

peas

fresh or frozen (if frozen make sure they're defrosted)

4

mint leaves

1

garlic clove

Small handful of walnuts

¼

tablespoons

olive oil

3

tablespoons

grated Pecorino Romano

Pinch

of red pepper flakes

½

teaspoon

salt

1

pound

linguine or other type of pasta
Instructions
In a medium pan, set over medium heat, add the cubed bacon and cook until crispy and browned, stirring it every so often, about 5 minutes. Using a slotted spoon, remove the bacon from the pan and transfer it to a paper towel to drain. Turn the heat down to medium low and add the leeks. Cook until the leeks are softened and flimsy but not until they're overcooked, about 2 to 3 minutes. We still want them to have a lil' bit of structure. Transfer them to a small bowl.

To a food processor or blender, add the peas, mint leaves, garlic clove, walnuts, olive oil, Pecorino Romano, red pepper flakes and salt. Pulse until the pesto is smooth-ish, some bits of peas are ok. Give it a taste and adjust the flavors to your liking. Add more olive oil if you want it smoother. Add more salt if it needs it. You know, make decisions, you're in charge.

Bring a large pot of salted water to a boil; cook the pasta according to the package's instructions. You want al dente. Drain the pasta, transfer it back to the pot and toss with the reserved bacon, leeks and pea pesto. Divide the pasta amongst bowls. Garnish with more cheese because CHEESE! Enjoy this spring pasta. Isn't spring delicious?