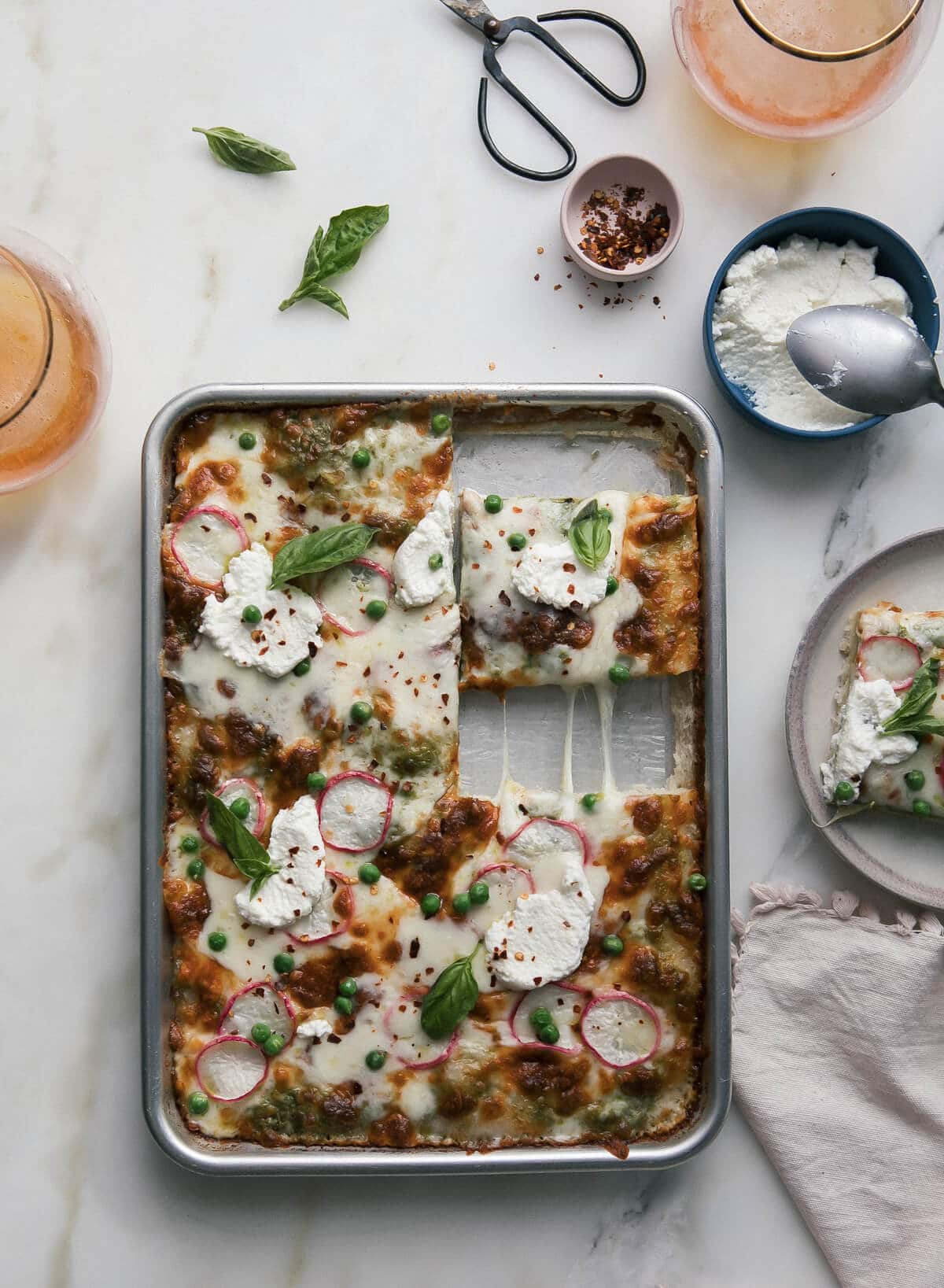 If you have talked to me in the past three months, like, in person I have most likely brought up:
1. working out (I've been doing a lot of that), specifically Kayla.
2. how fast the year is going (OMG HI APRIL!)
3. how much I love podcasts lately (more on that tomorrow)
4. and how obsessed I am with Detroit-Style pizza
5. how to make detroit-style pizza
I had Detroit-Style pizza, like, six months ago when a pop-up popped up in Chinatown serving just that. I had never had it before. I had seen the beautiful photos of Emmy Squared on the Instagram but since I am allergic to going to New York (and whenever I am there it's always for a blip), I haven't been.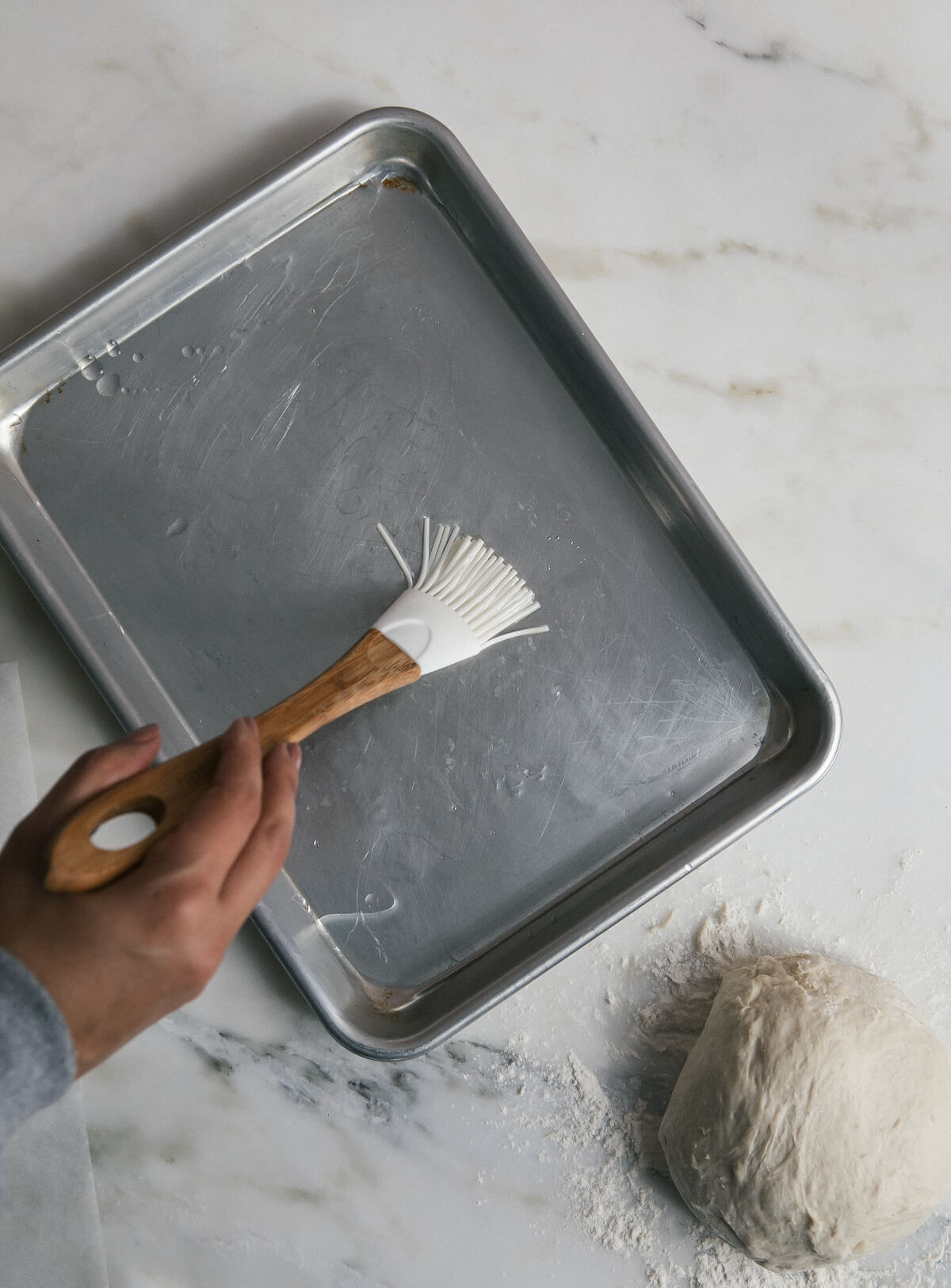 But when I went to this pop-up in Chinatown, I thought the pizza was like a dream. The crust is crispy, like a cheese crisp, because the cheese is taken all the way to the edge of the pan, while the center is fluffy, similar to focaccia.
I'm pretty sure it's taken first place as my favorite style pizza EVER. I even went to Detroit a few weeks ago and didn't have the chance to eat pizza there and was so bummed. 🙁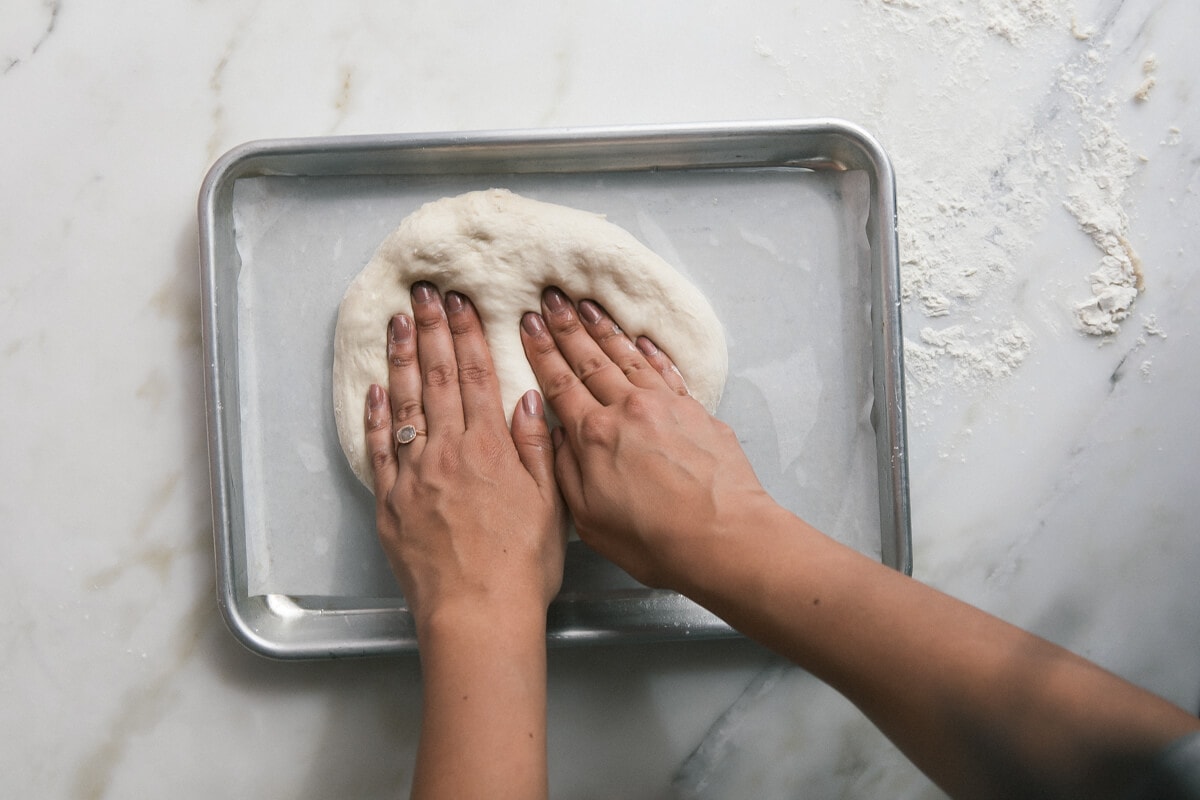 I decided to take matters into my own hands and make it! Luckily, when I decided to embark on my journey Kenji Lopez had just posted, a mere two days earlier, a recipe for it! WHAA!
So I tried it, thinking that perhaps I would only half like it. I figured I'd probably move onto another recipe and try a few others. But, guys, it was perfect.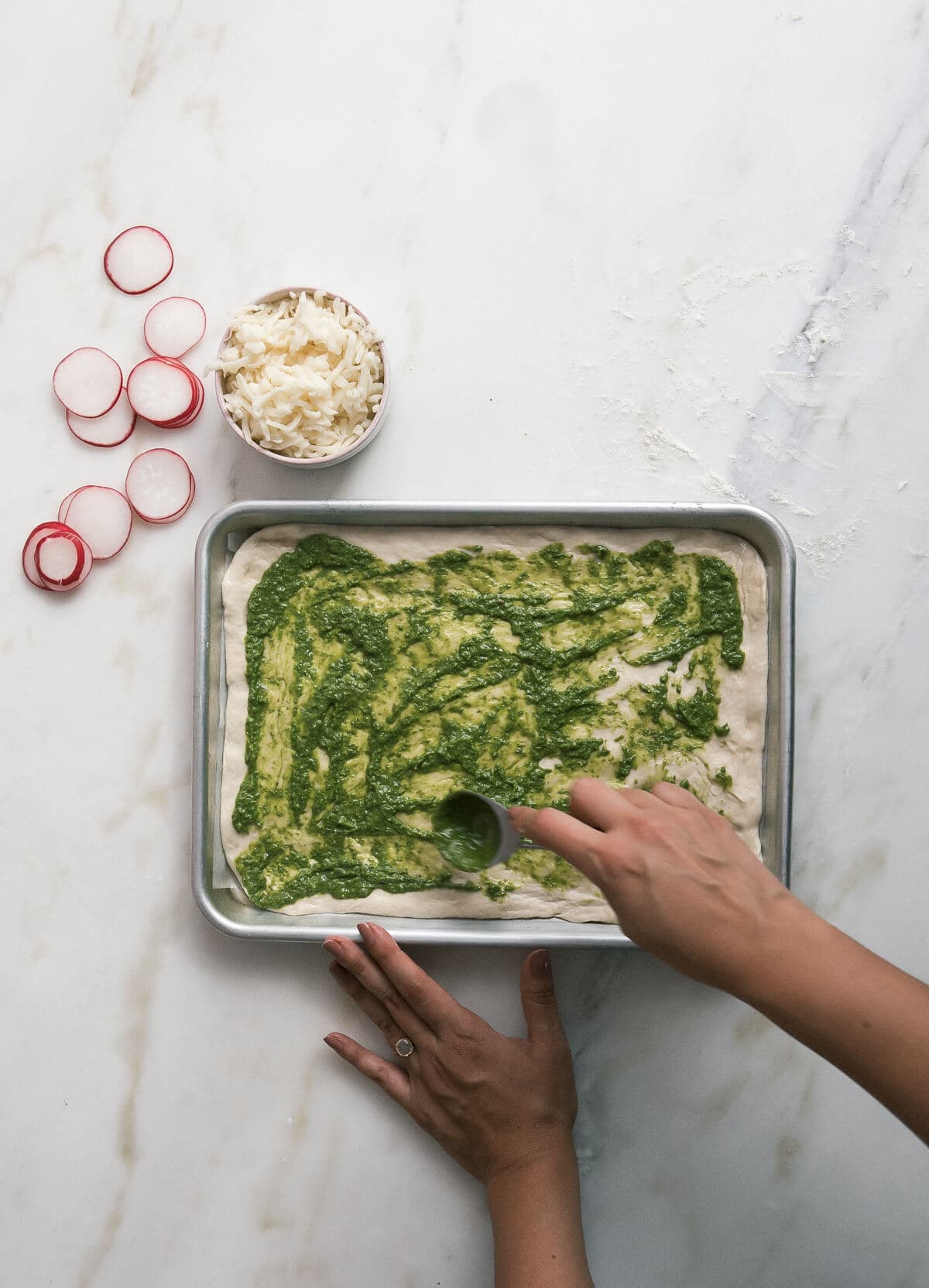 I guess that's not a huge surprise since his recipes are so dang reliable.
So here's the link to his recipe. Use that crust recipe AND then get creative.
This is for a very spring-forward Detroit-style pizza. Probably toppings you'd never get in Detroit.
This one has radishes that are tossed in a bit of olive oil and salt and pepper. The sauce is an arugula pesto. The cheese is tons of mozzarella (a must) and dollops of ricotta with sprigs of basil, crushed red pepper on top and peas.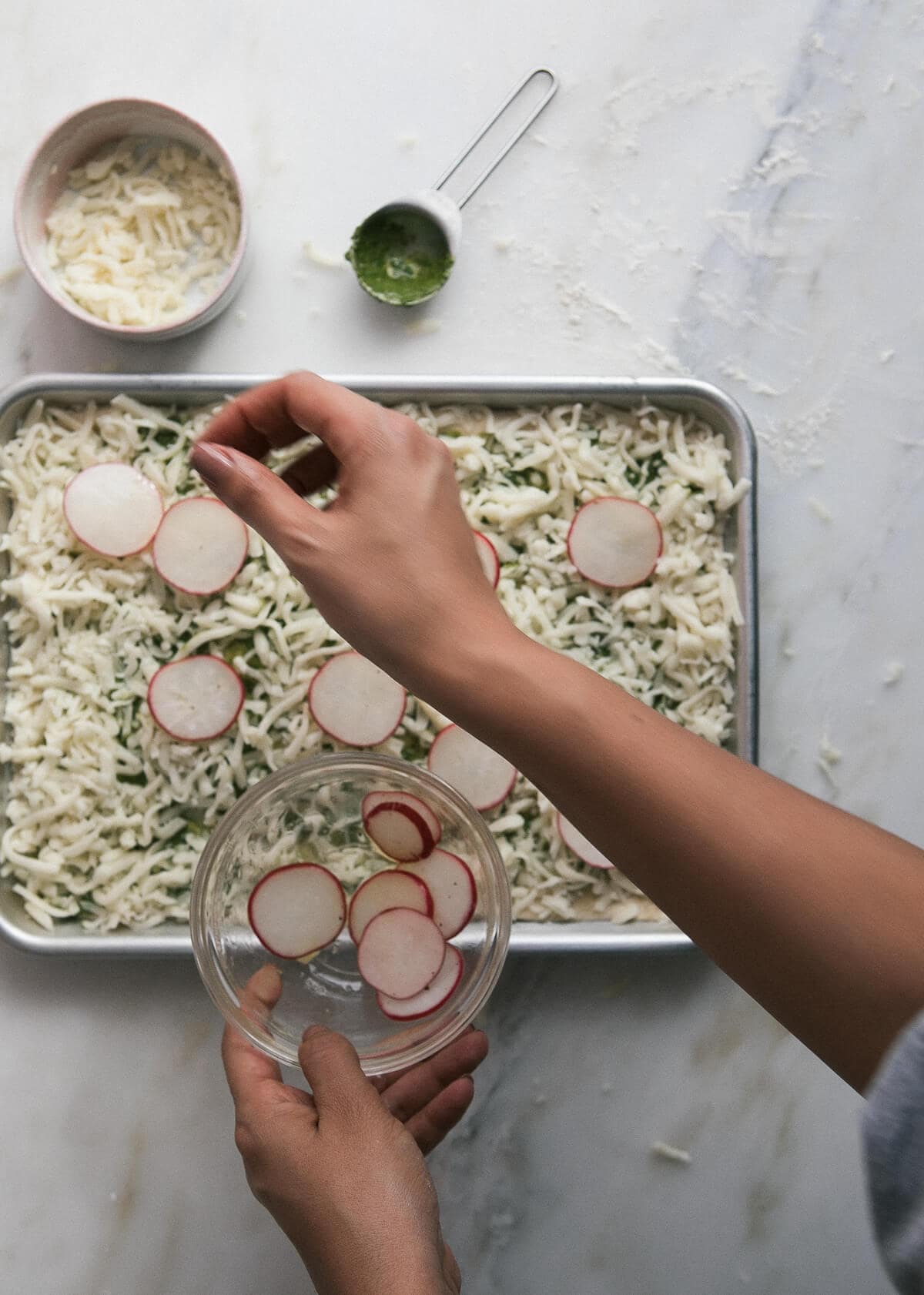 Some tips I found:
1. I used a quarter baking sheet. I use these for all sorts of things in my kitchen and decided to use it for this pizza because I couldn't justify buying a specific pan for Detroit pizza.
2. I lined it with parchment because the first time around it stuck and I almost cried trying to pry it off the bottom.
3. I rubbed the edges of the pan with olive oil and it helped with the cheese sticking and cleaning.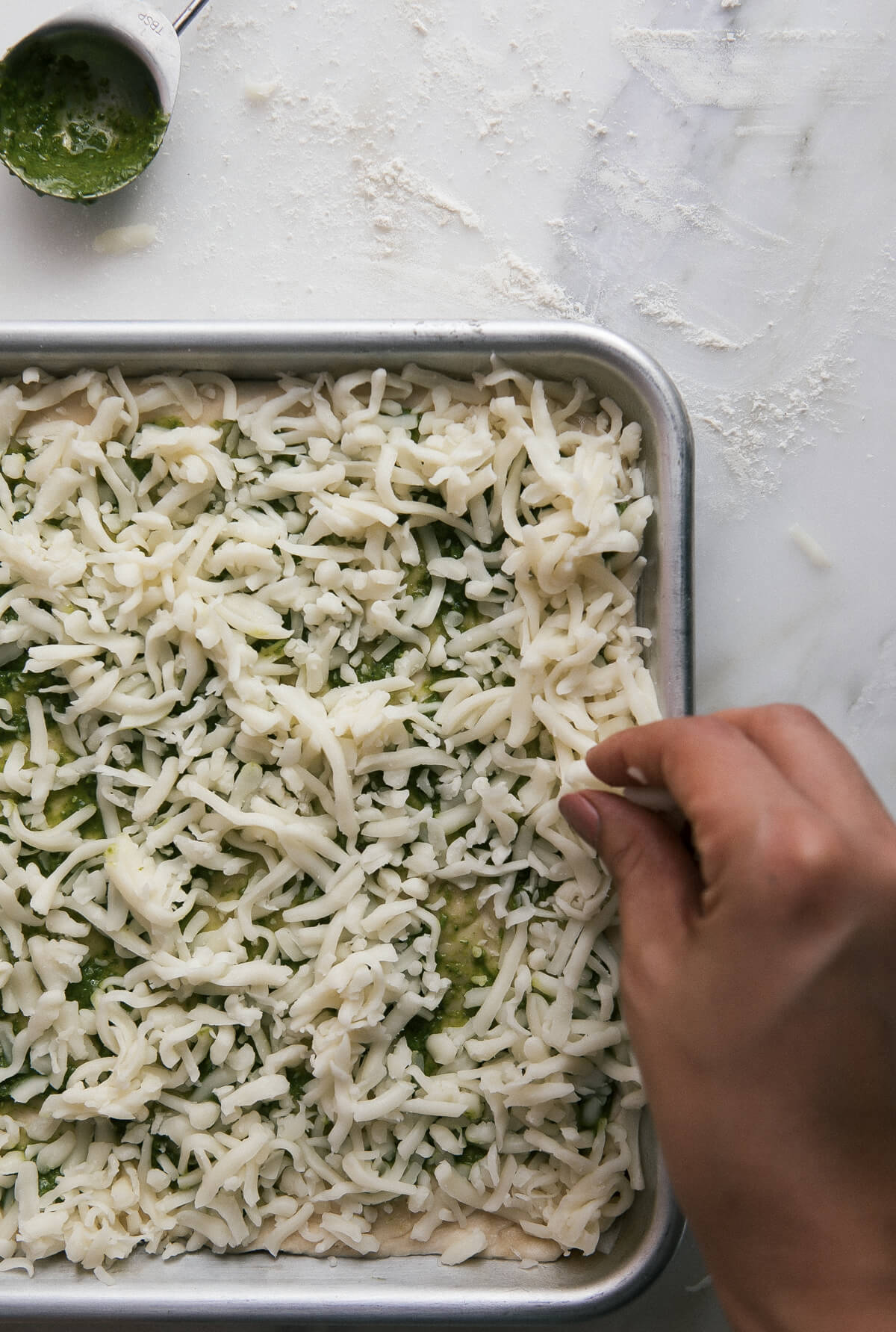 4. I used the entire dough recipe for a quarter sheet pan, which is different than his recipe. He advises you to halve it. I found it to be too difficult to spread out and not thick enough.
5. He also recommends using an 8×8-inch baking pan (think: brownie pan) as an alternative. So if you have that, use it!
6. "Brick cheese" is not very easy to find (unless you live in Michigan and/or Wisconsin). I looked and whenever I can't find anything here in LA, I figure you guys probably won't be able to find it either. I was totally happy with tons of shredded low-moisture mozzarella (I say splurge and use a good quality mozz).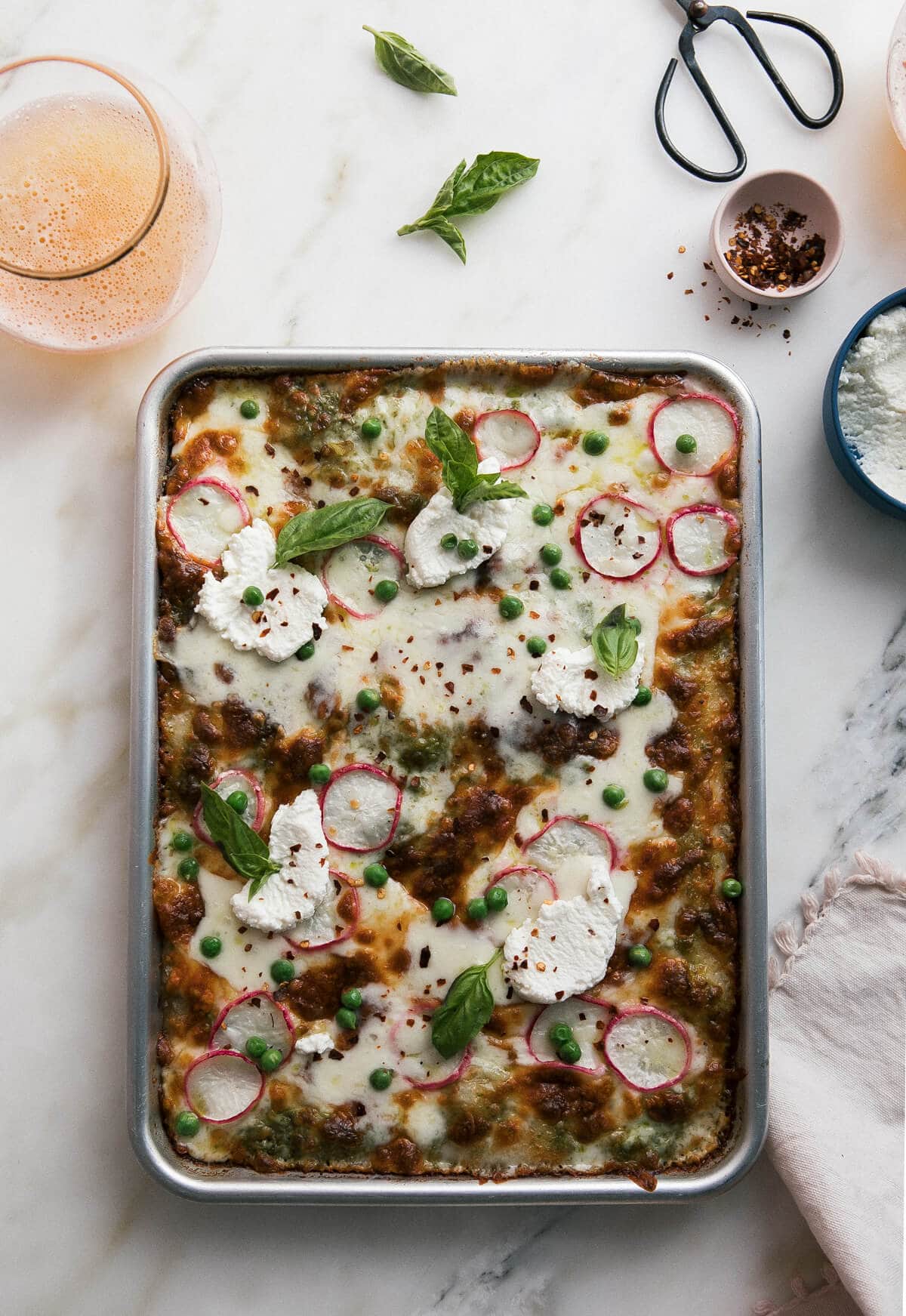 7. If you think my spring-forward one is boring, put good ol' classic marinara, mozzarella and pepperoni on it! I won't be mad.
8. Don't try and bake 2 or 3 at once in the same oven. This post was originally three different types of Detroit pizza but they ended up soggy and gross. This is because there was just too many of them in the oven. Don't do that! Bake one at a time.
I hope this has been a convincing pleas to try this style of pizza!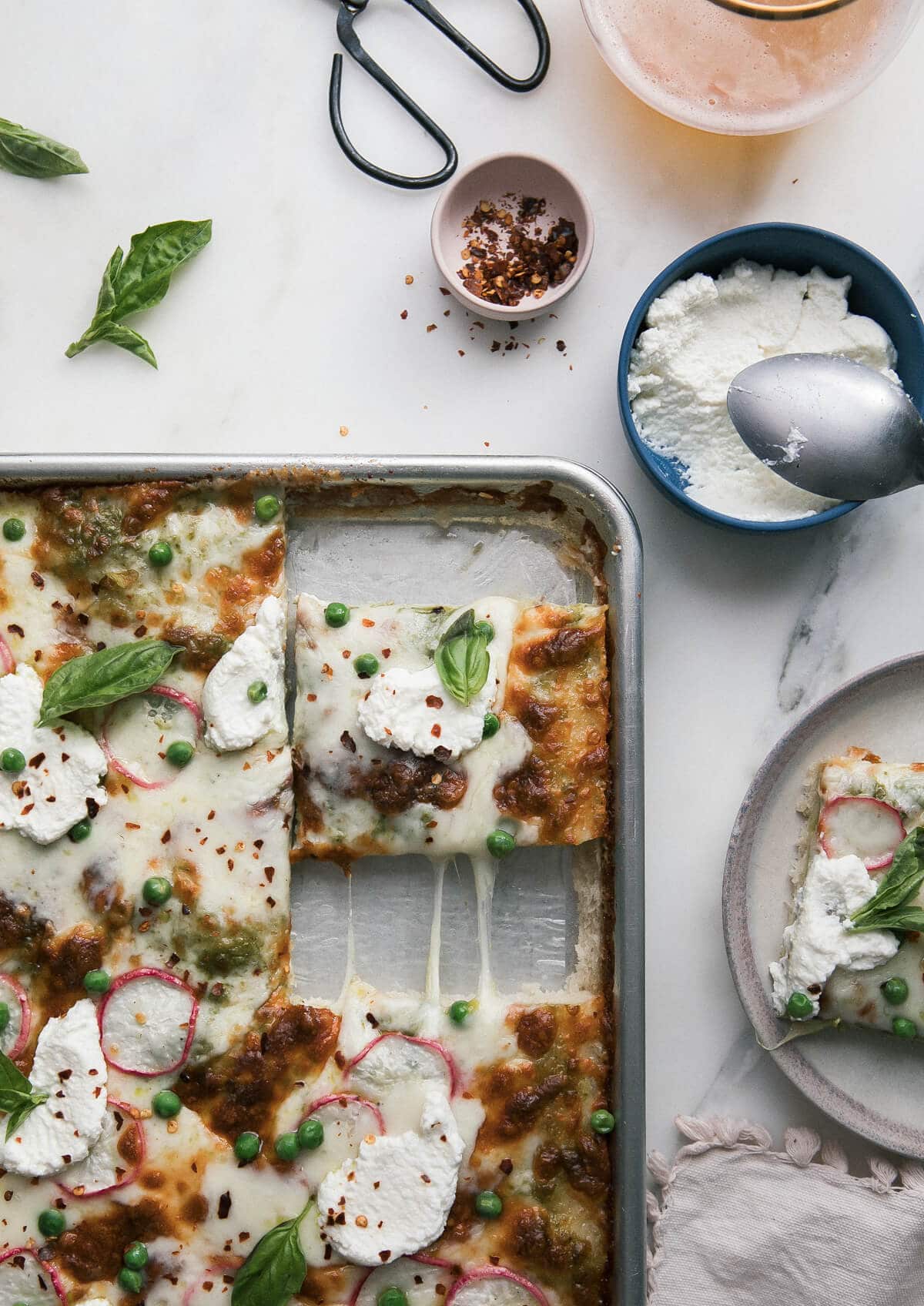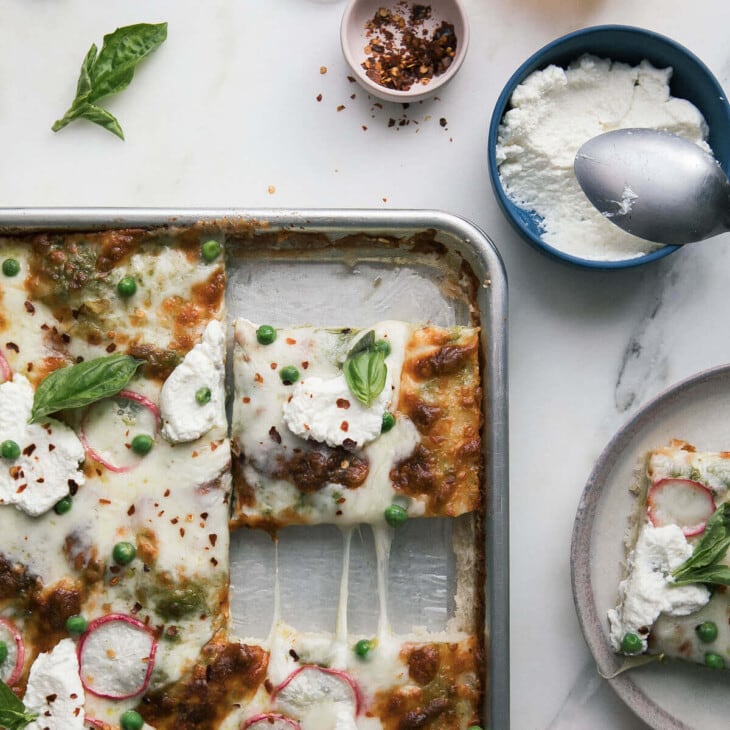 Print Recipe
Spring-y Detroit-Style Pizza
Serving Size:
(Detroit-style) pizza
Ingredients
Pesto:
2

tablespoons

olive oil

1

cup

basil leaves + more as garnish

1

cup

arugula leaves

1/3

cup

grated Parmesan-Reggiano

1/4

cup

pine nuts

Juice from 1/4 lemon

Pinch

of salt

Pinch

of crushed red pepper + more as garnish
Assembly:
1

batch of Detroit-style pizza dough

1 1/2

cups

low-moisture shredded mozzarella

1 to 2

radishes

washed and thinly sliced

1

teaspoon

olive oil

Salt and Freshly ground pepper

1/4

cup

frozen peas

thawed

1/4

cup

ricotta
Instructions
To Make the Pesto:
In a food processor or blender, add the olive oil, basil, arugula, Parmesan, pine nuts, lemon juice, pinch of salt and crushed red pepper. Pulse until smooth, scraping down the sides as needed. Give it a taste and adjust the salt per your liking.
To Assemble the Pizza:
Line a quarter baking sheet with a sheet of parchment. Rub the sides of the baking sheet with olive oil or grape seed oil. Transfer the ball of dough to the center of the baking sheet and push it and gently pull it until reaches the corners of the baking. If it's a teeny bit shy of the corners, no biggie! Lightly cover with a clean kitchen towel and allow to rise for about 15 minutes.

Meanwhile, preheat your oven to 450 degrees F. After the dough has risen for a second and last time, add a few tablespoons of pesto and spread atop the pizza dough. (I had some pesto leftover so I ended up serving some with the pizza and keeping more in the fridge for later.)

Top with the shredded mozzarella and make sure it reaches to the edge of the baking sheet (this part is important because it'll give you those nice, crispy edges!). In a small bowl, toss the radishes with the olive oil and a pinch of salt and pepper. Arrange the radishes atop the pizza.

Transfer to the oven to bake for about 8 minutes. Add the peas to the top of the pizza and bake for an additional 4 to 5 minutes (for a total of 12 to 13 minutes), until the edges are crispy and the cheese has melted.

Top with sprigs of dollops of ricotta and sprigs of fresh basil. Slice it up and serve (be careful the edges of the pan will be hot!).