Jalapeño Pizza is an amped up version of the pepperoni classic. The heat in the pepperoni pairs nicely with the bite of the jalapeño, taking place of the red pepper flakes you might usually use to top your pizza.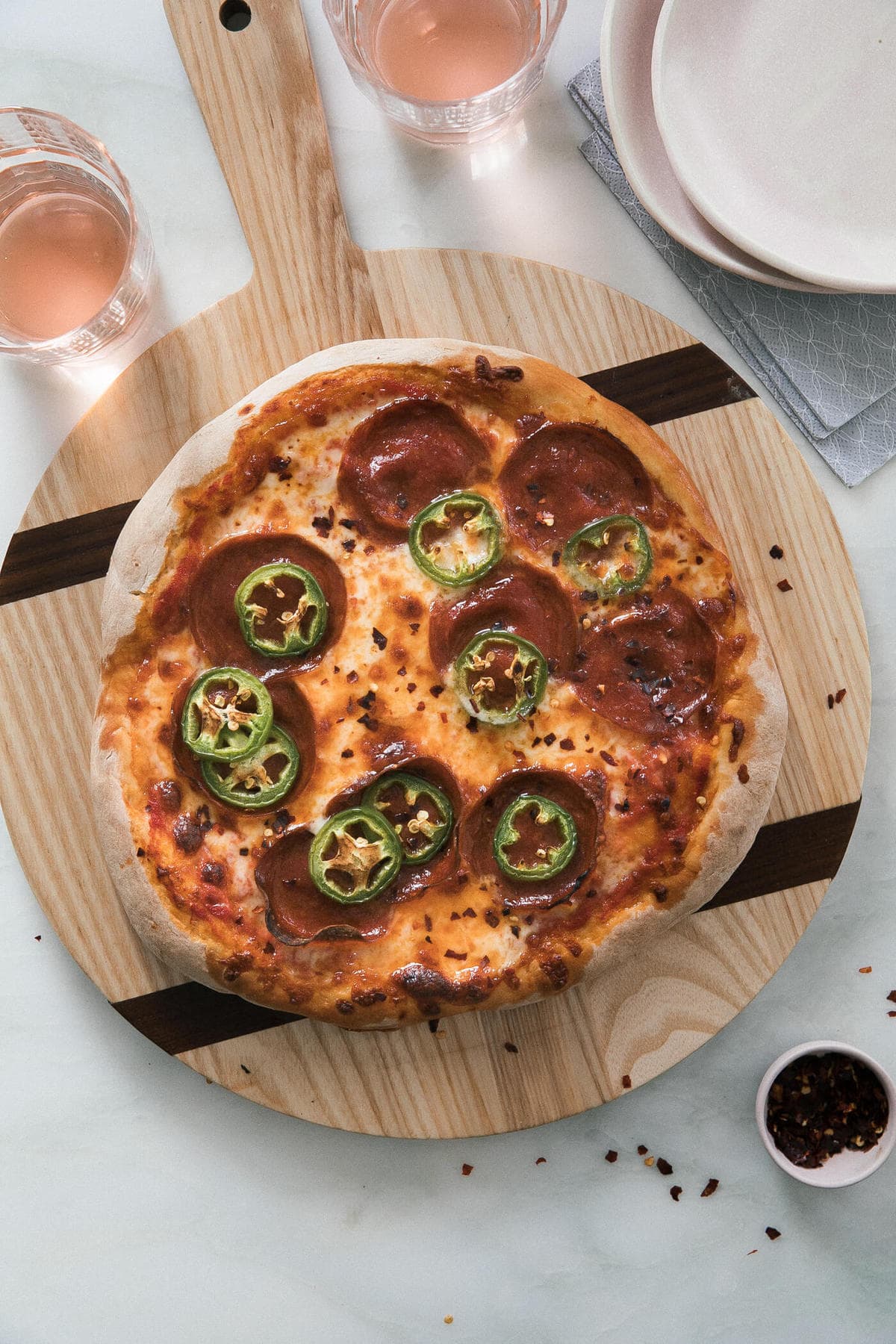 I am currently flirting with the idea of doing a Paleo diet for 30 days. And when I say flirting with the idea, I mean, I'm entertaining it…for like 10 minute increments and then I try and imagine if I could go 30 days with no wine and pizza. Truth is: I'm great at eating healthy for about 2 days and then something happens…
1. I bake a cake and want a slice…or two?
2. Friends come over and a bottle of wine opens up…
3. I meet a friend for dinner and how can we say no to fried calamari on the menu and maybe we should order the mozzarella sticks, too?!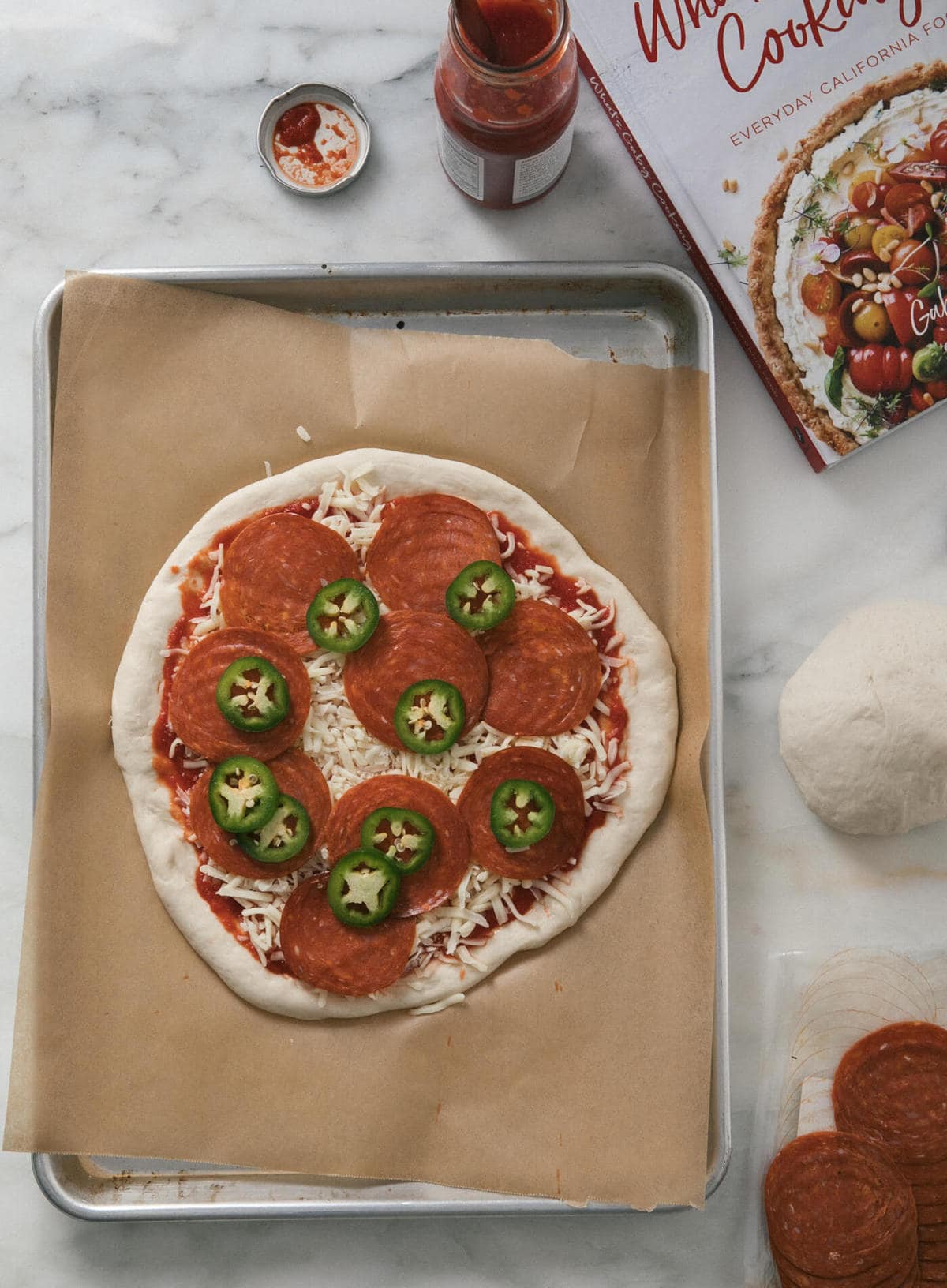 Balance is oh so hard. That's why I love Gaby's new book, What's Gaby Cooking. It's all about California living! And the food is filled with beautiful salads and healthy things like salmon on skewers with basil vinaigrettes…and then there's the fun stuff: burgers and tacos and lots of pizzas. It's about living that good California life that I adore so much.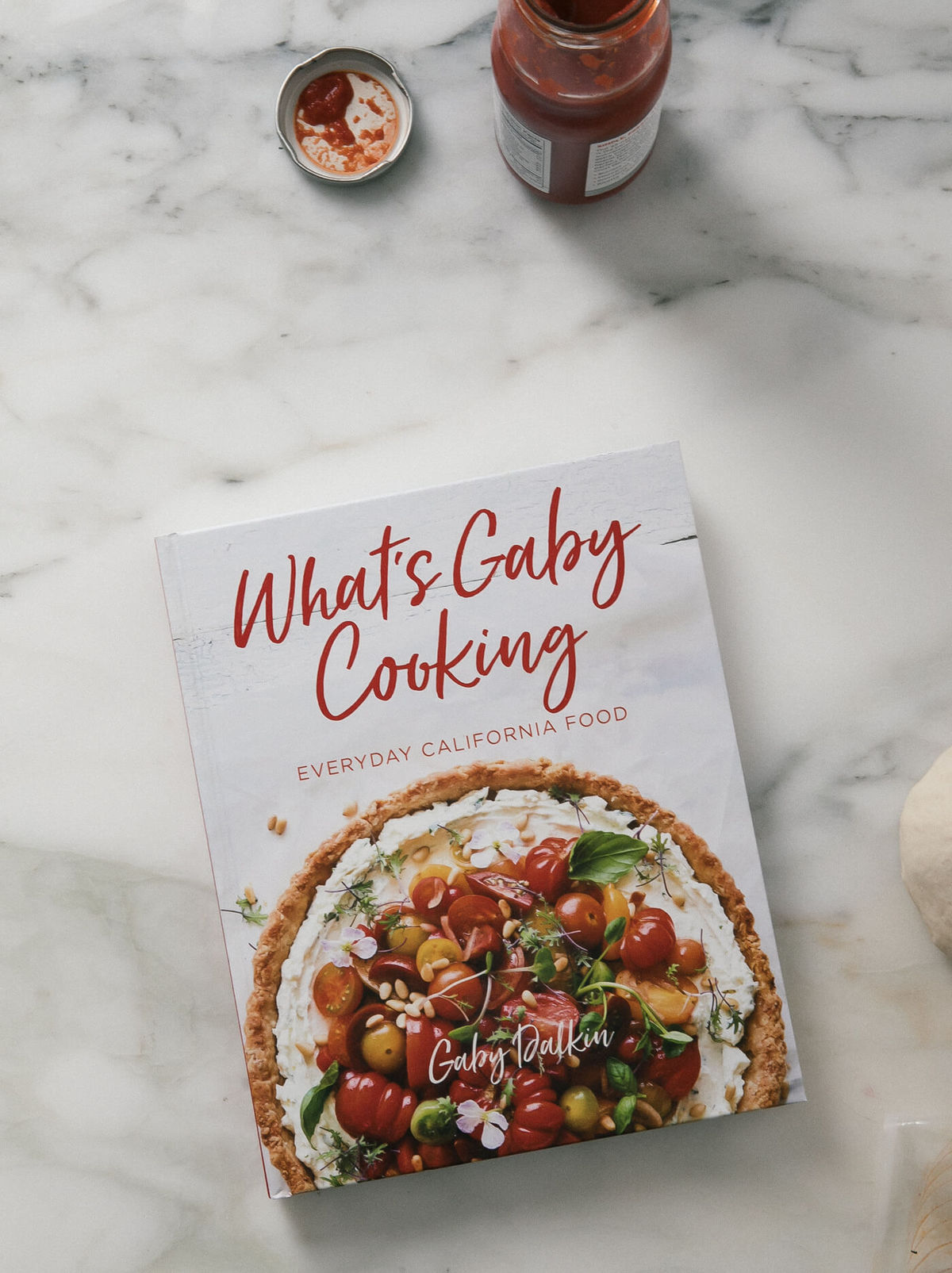 How to Make Jalapeño Pizza:
Prep or make the dough. If using store bought dough, just make sure you leave it out for an hour or two so it has time to come to room temperature and easier to work with.
Press out the dough. Or roll it out, just try to make the dough shape properly and fill up your pan.
Sauce it up. Spread out an even layer of sauce.
Top with cheese. Sprinkle a generous amount of cheese onto the pizza.
Add the Pepperoni. Don't be stingy, really lay on the pepperoni.
Finally, add the jalapeño. As much as you want, it will mellow out a little as it bakes.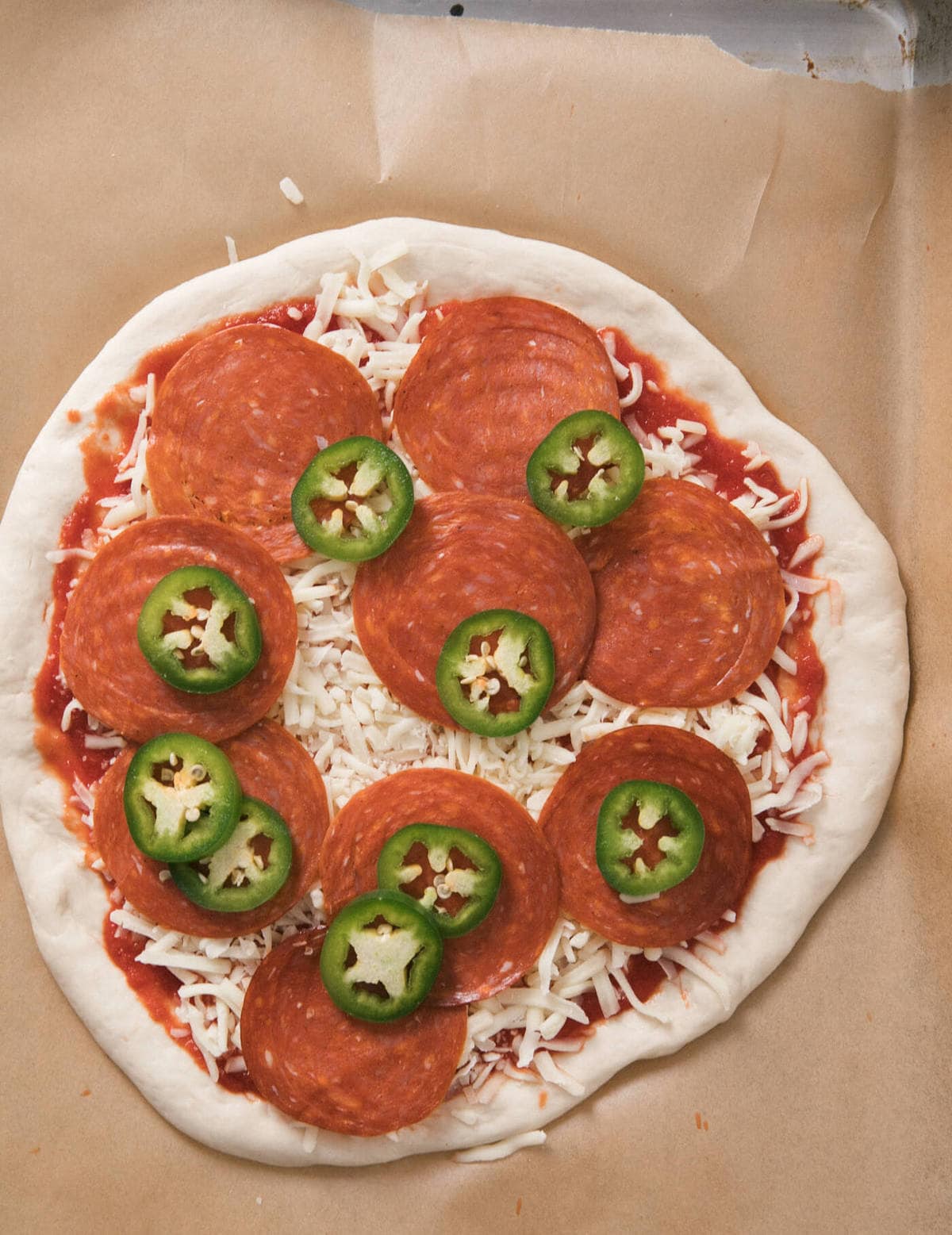 This pizza is probably not what you think of when you think of California but it's SO good and if you love spicy, then this pizza will satisfy your soul. It's spicy. If you want to make it less so, leave off the red pepper flakes and cut the jalapeños in half. But my spicy-loving-self thought it was perfect.
The jalapeños bake on top of the pepperoni and sort of infuse the oils and it's SO good. I loved it.
I used this trusty, very quick homemade dough recipe. It's always my go-to because it's so easy and tastes great. Of course, you can use a store-bought dough, OR you could get all fancy and use a fancy home dough recipe.
This pizza pairs perfectly with a crisp, cold glass of wine or beer. It complements the spicy vibes of this pizza.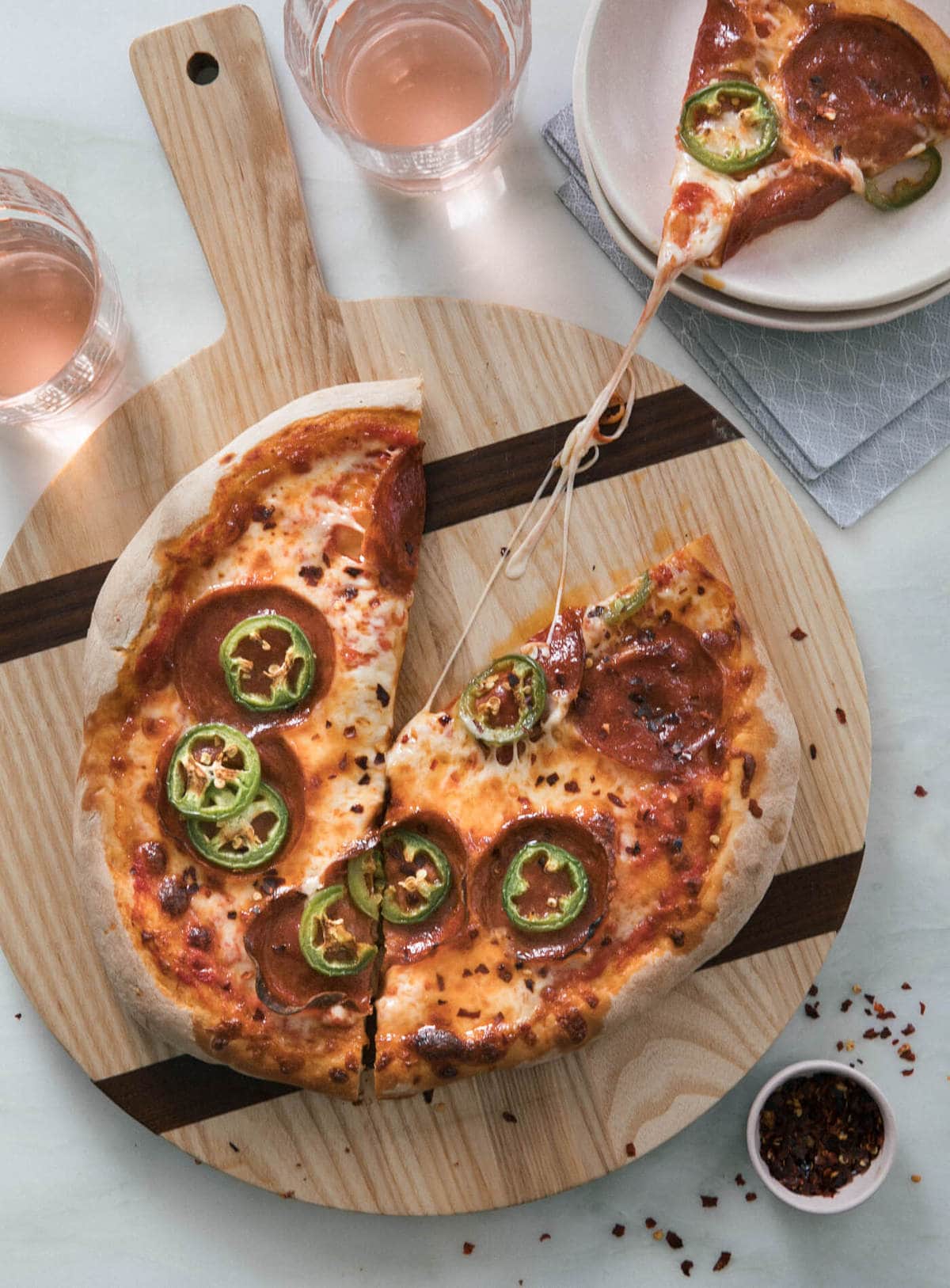 Should I use fresh or pickled jalapeños for pizza?
It's all a preference! The pickled jalapeños are always a nice option because they've got a slight briny flavor to them that's similar to olives. If you love olives on pizza consider pickled jalapeños next time you make your pizza.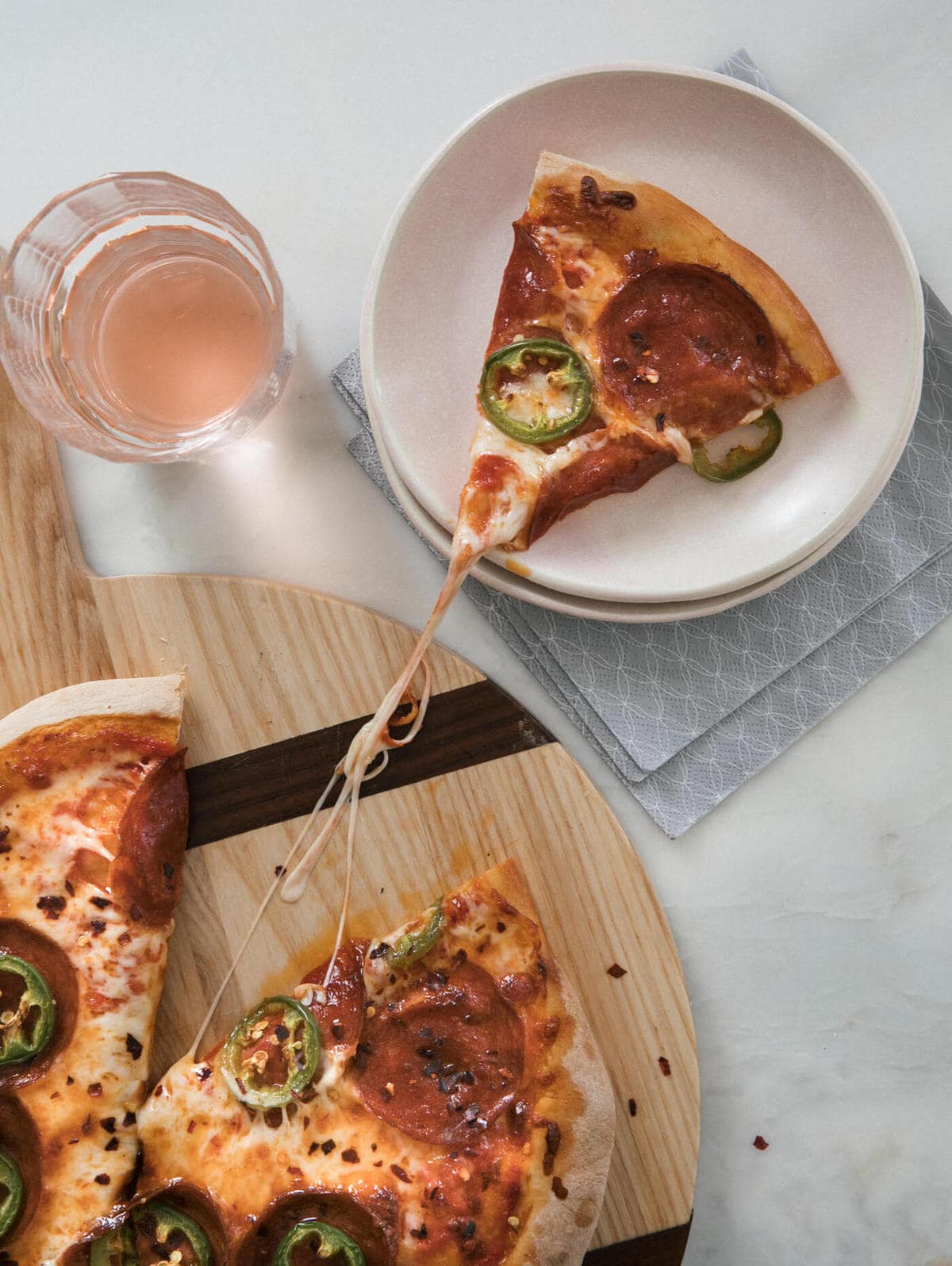 Here's a link to Gaby's new book and blog!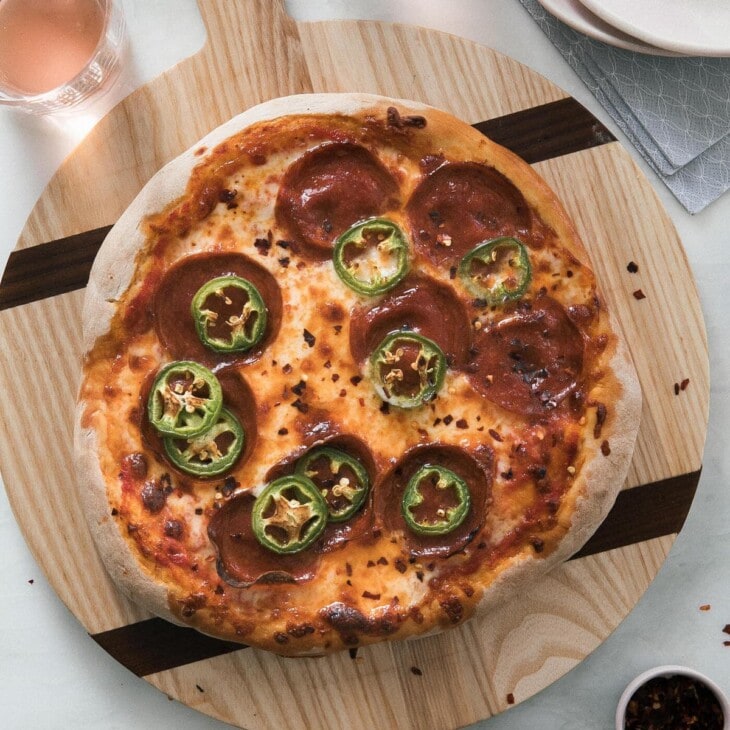 Print Recipe
Jalapeño Pizza Recipe
Spicy Jalapeño Pepperoni Pizza is an amped up version of the classic. The heat in the pepperoni pairs nicely with the bite of the jalapeño, taking place of the red pepper flakes you might usually use to top your pizza.
Ingredients
All-purpose flour

1

pound

pizza dough

store-bought or homemade

10

deli slices mozzarella cheese or 1 cup of shredded mozzarella cheese

1

cup

pizza sauce

15 to 20

slices

of pepperoni

1

teaspoon

crushed red pepper flakes

1

jalapeño chile

sliced

Kosher salt and freshly cracked black pepper
Instructions
Preheat the oven to 475 degrees F. Lightly flour a rimless baking sheet or pizza peel.

On a clean, floured surface, shape the dough into 2 medium-ish rounds. Let the dough sit for 5 minutes, then re-form it to make sure it's as big as you'd like it to be. Place the dough on the prepared baking sheet or pizza peel.

Distribute the mozzarella on top of the crusts. Spread the pizza sauce over the cheese and scatter with the pepperoni, red pepper flakes, and slice jalapeños.

Transfer the pizzas to the oven and bake for 10 to 12 minutes, until the cheese has melted and the crust is golden brown. Remove from the oven and season with salt, pepper, and extra red pepper flakes if you like. Serve immediately.
Nutrition
Calories:
294
kcal
(15%)
|
Carbohydrates:
57
g
(19%)
|
Protein:
10
g
(20%)
|
Fat:
4
g
(6%)
|
Saturated Fat:
1
g
(6%)
|
Sodium:
1141
mg
(50%)
|
Potassium:
203
mg
(6%)
|
Fiber:
3
g
(13%)
|
Sugar:
10
g
(11%)
|
Vitamin A:
265
IU
(5%)
|
Vitamin C:
4
mg
(5%)
|
Calcium:
8
mg
(1%)
|
Iron:
4
mg
(22%)
Did you make this recipe? Let me know on Instagram!
Looking for more pizza recipes? Here are some of my favorites: