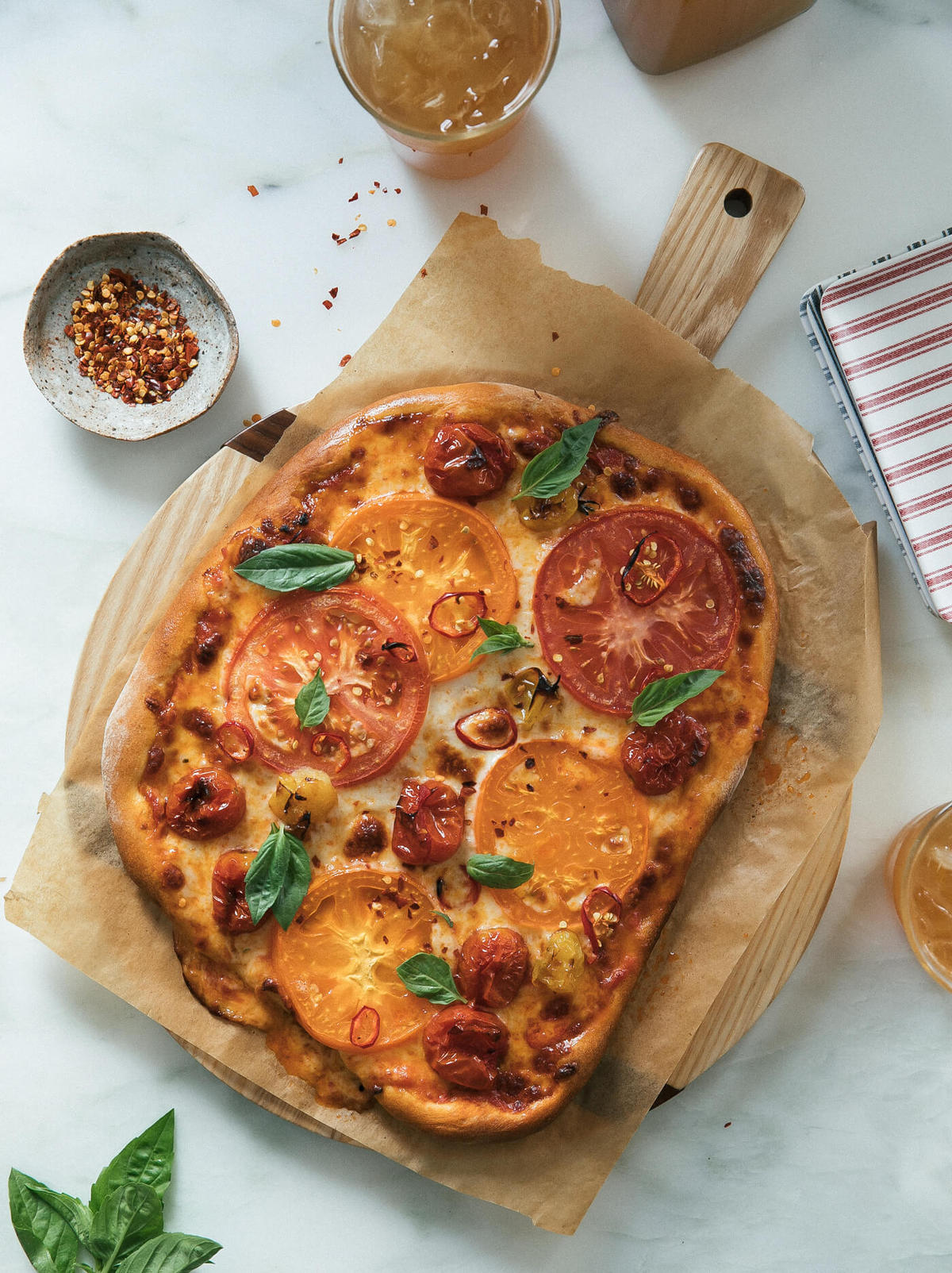 Billy has been out of town this entire week so it's just been me trying to paint on buttercream and catching up on a bunch of computer work, i.e., watching Lauren Servido's videos on Instagram and editing photos. It's been a glorious couple of days in my week, I have to say. Very peaceful!
You know what isn't peaceful is Target, man. I walk in thinking I'm going to see summer outdoor patio furniture but instead it was a huge display of back to school drama that just stressed me out. I'm not even in school, haven't been in years, but I'm stressed for the children—let them play!
I always went back to school in September so late July just seems a bit aggressive, don't you think? Though, I always did love a some fresh new school supplies. They felt so nice and clean.
Let's talk this pizza! This is a full summer time pizza. It's a celebration of tomatoes and spiciness.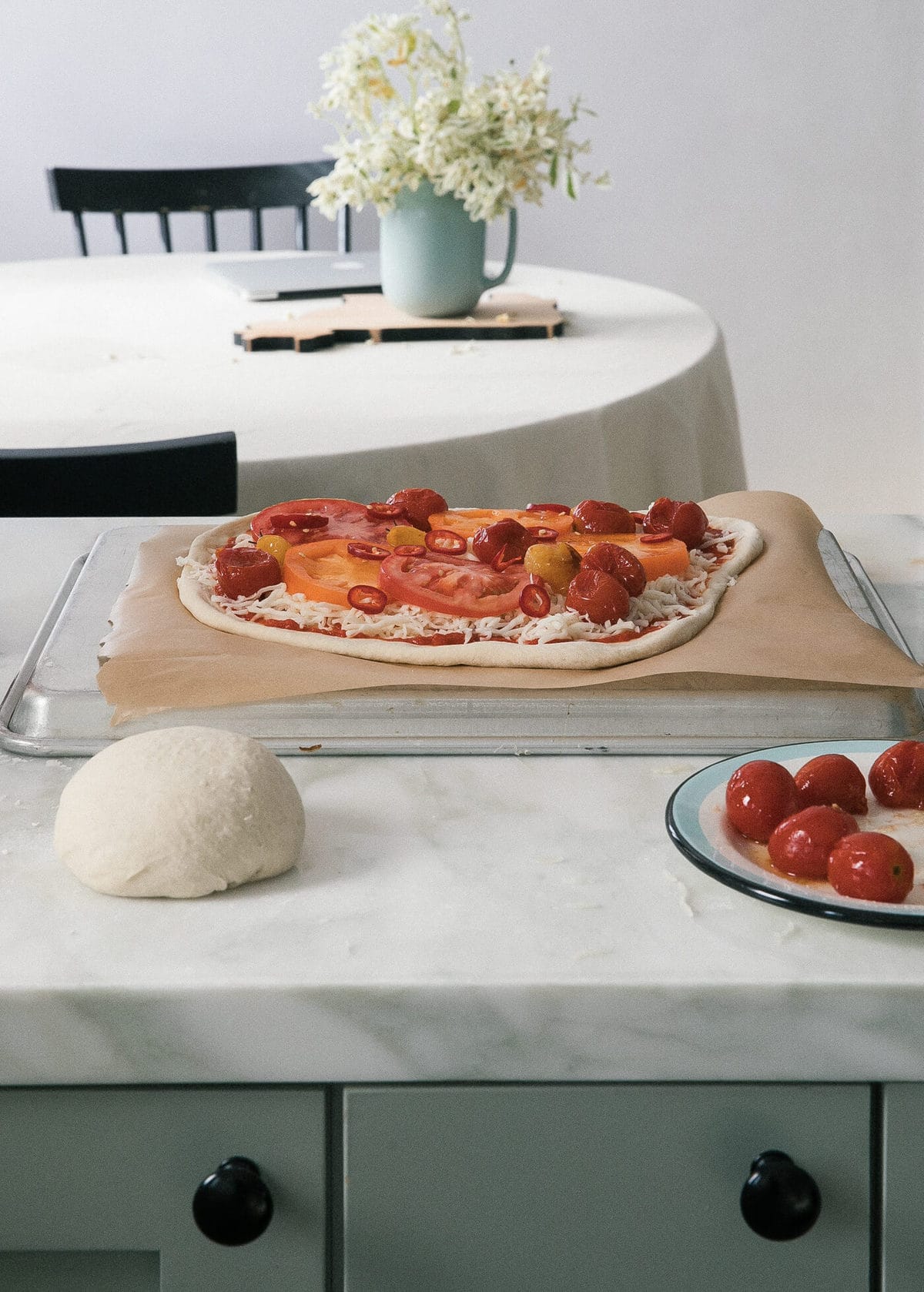 It's very difficult for me to go to the super market or farmer's market right now and NOT buy an heirloom tomato and a pint of cherry tomatoes. I eat them all the time.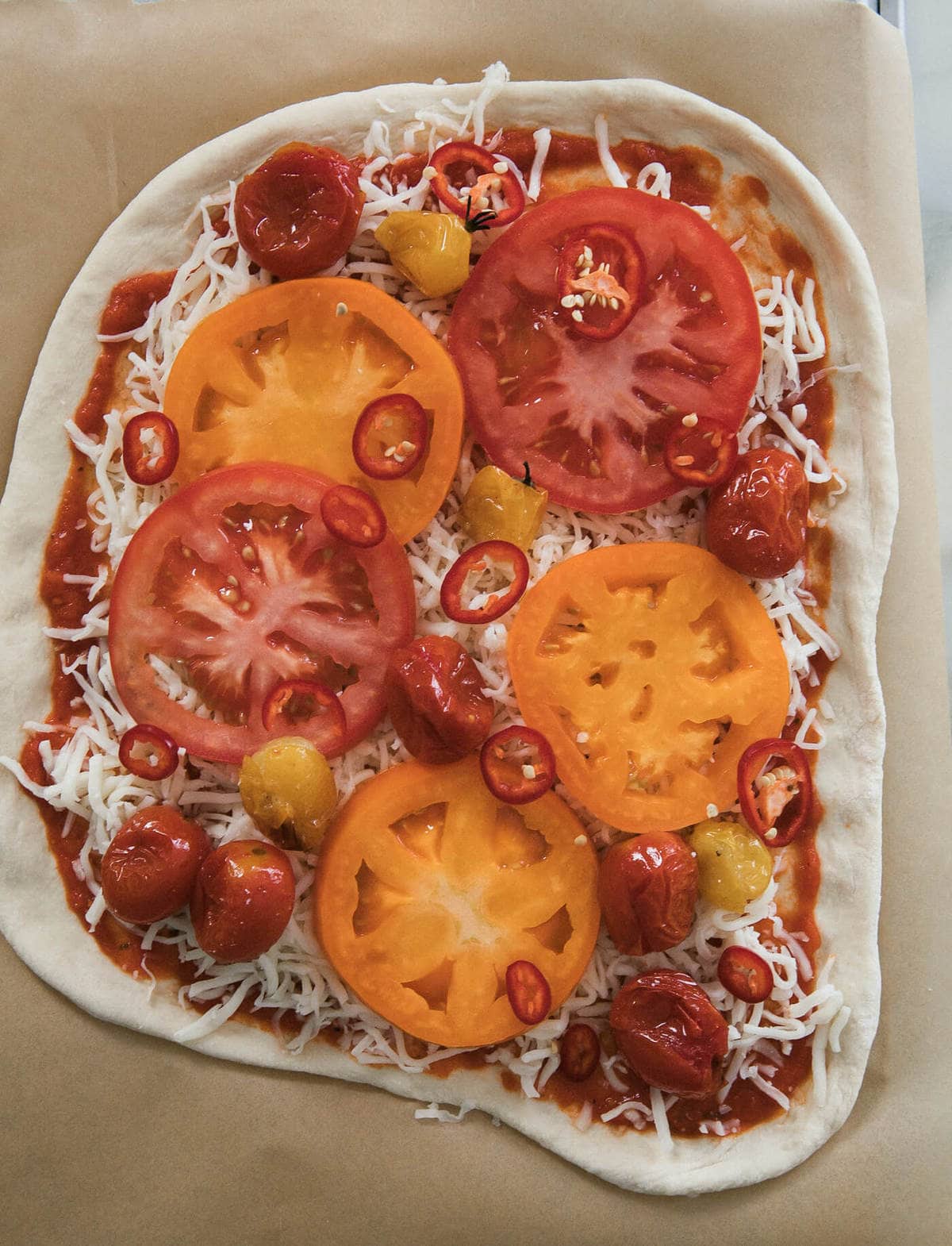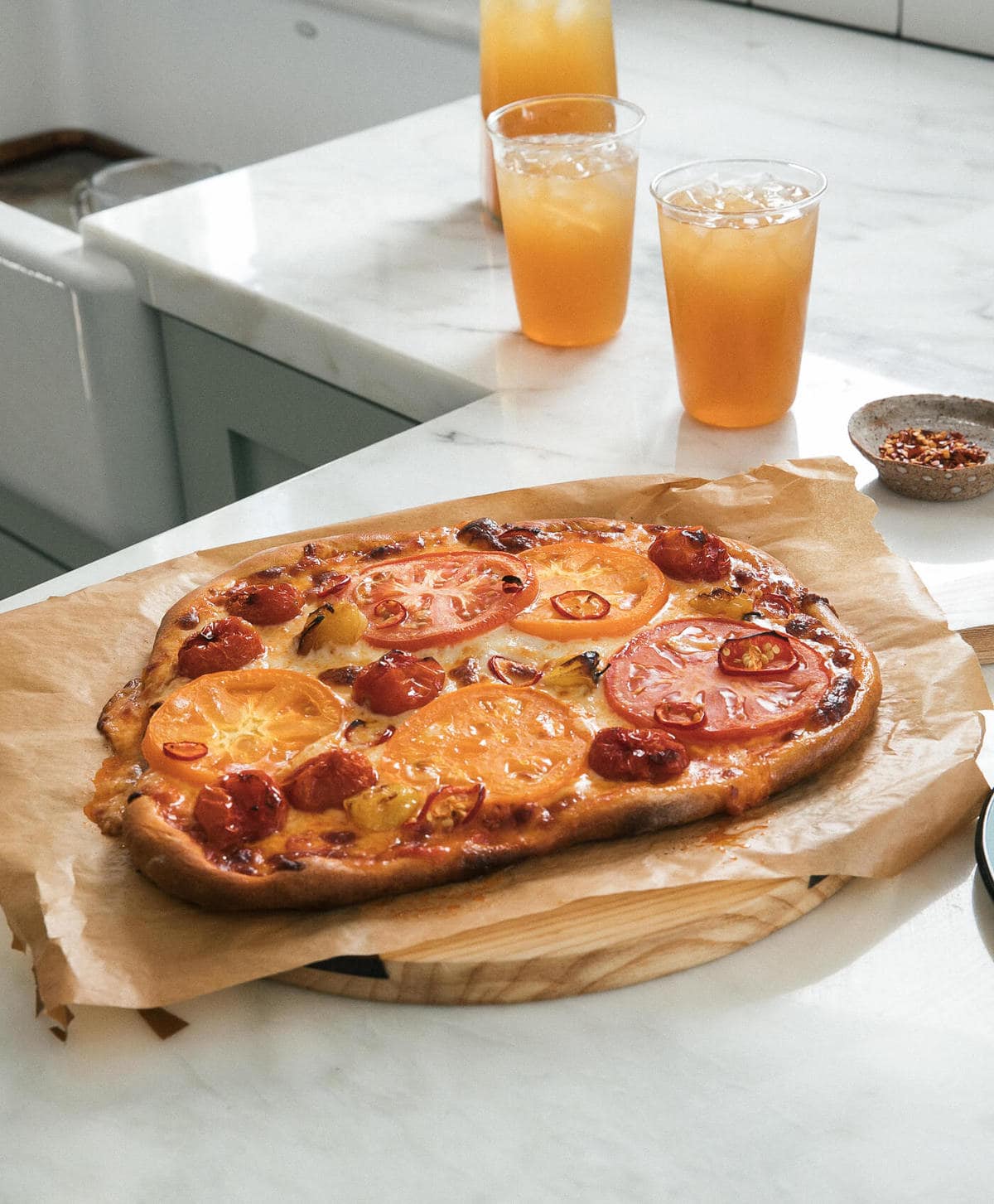 I eat sliced tomato on the side with a bit of lemon juice and salt
I eat cherry tomatoes in my tuna salad
I'll eat a tomato as a snack
I basically like tomatoes all the time.
On pizza they can be a bit tricky. You don't want them to leech out too much water so I always salt them and put them on a bed of paper towels or linen first. I sauteed the cherry tomatoes first in a bit of olive oil and salt. Just to get them a lil cooked. But that's it.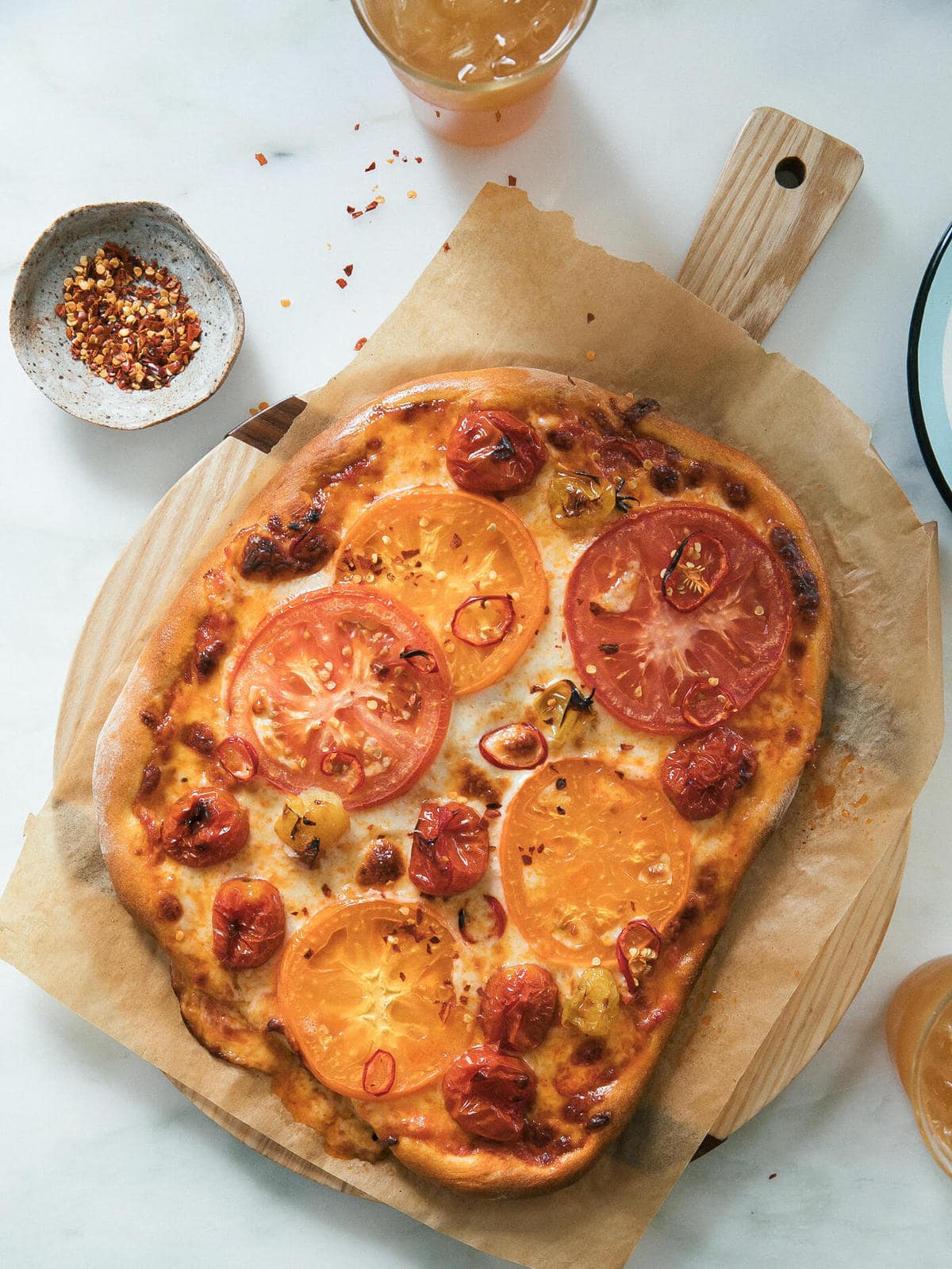 This is super simple.
I made a quick batch of pizza dough. You can obviously use store-bought if you like.
I like my pizza super thin so I rolled it out super thin and baked it on my baking steel. I got it a few years ago and it's still on my favorite things. It makes the bottom of the pizza super crispy.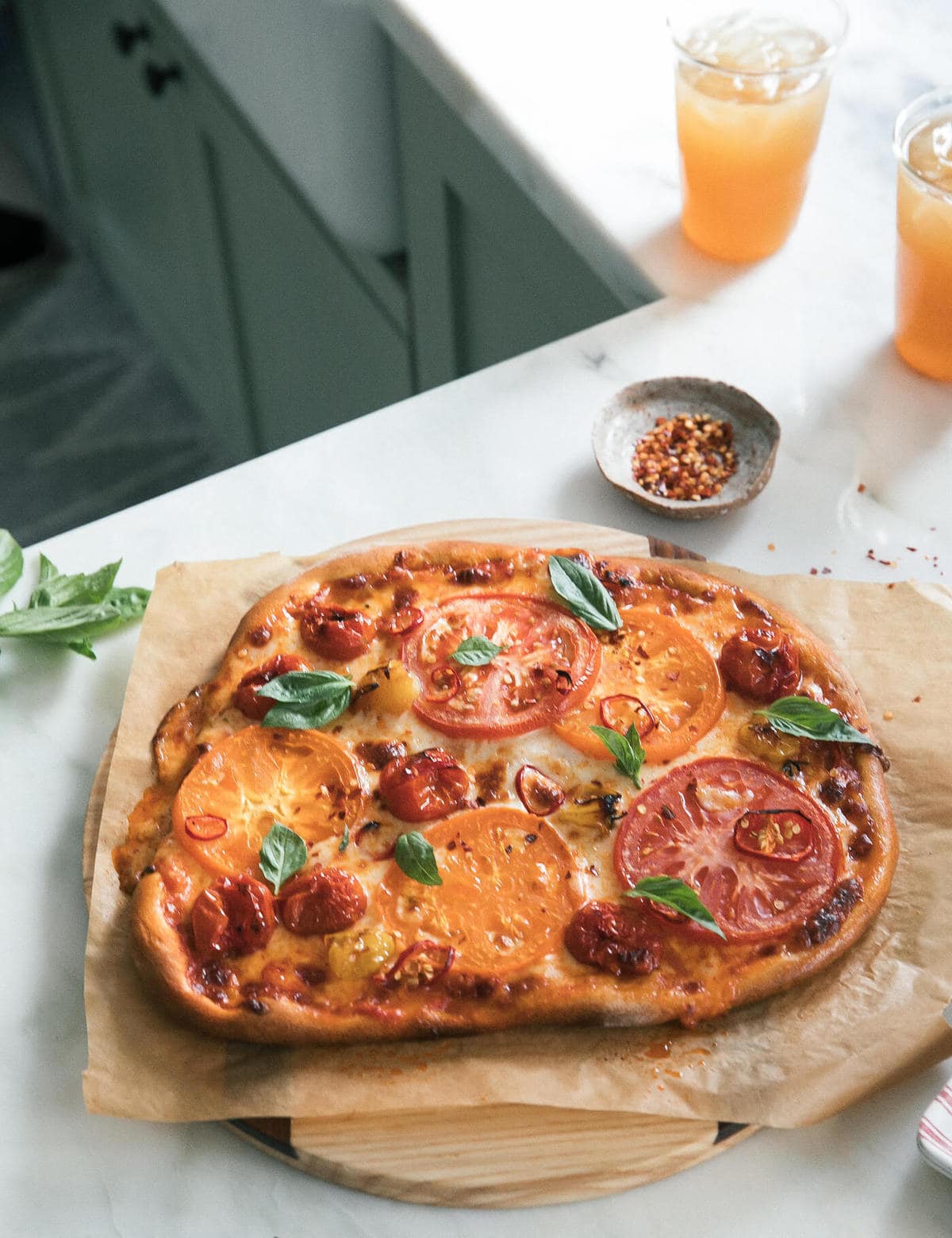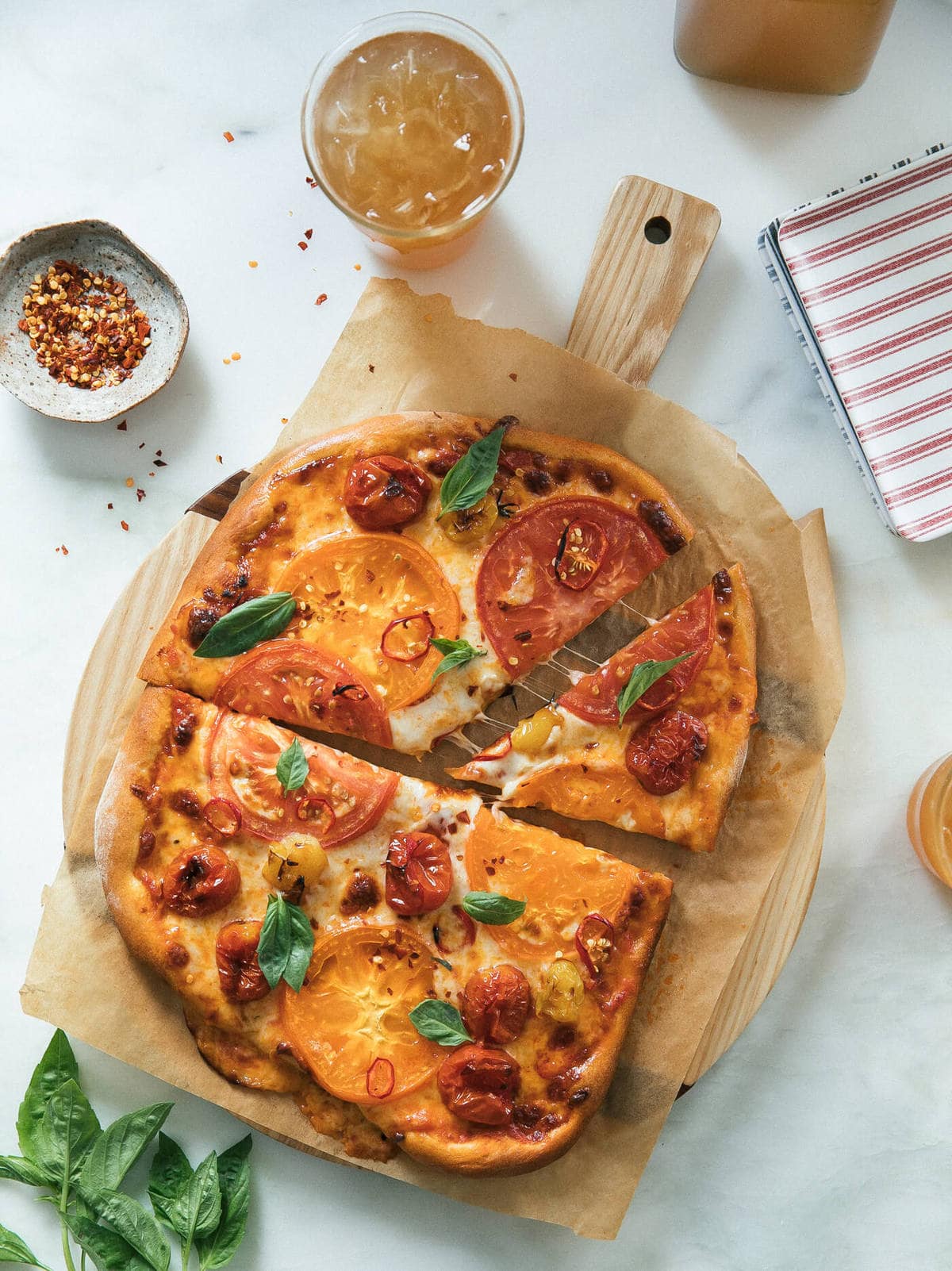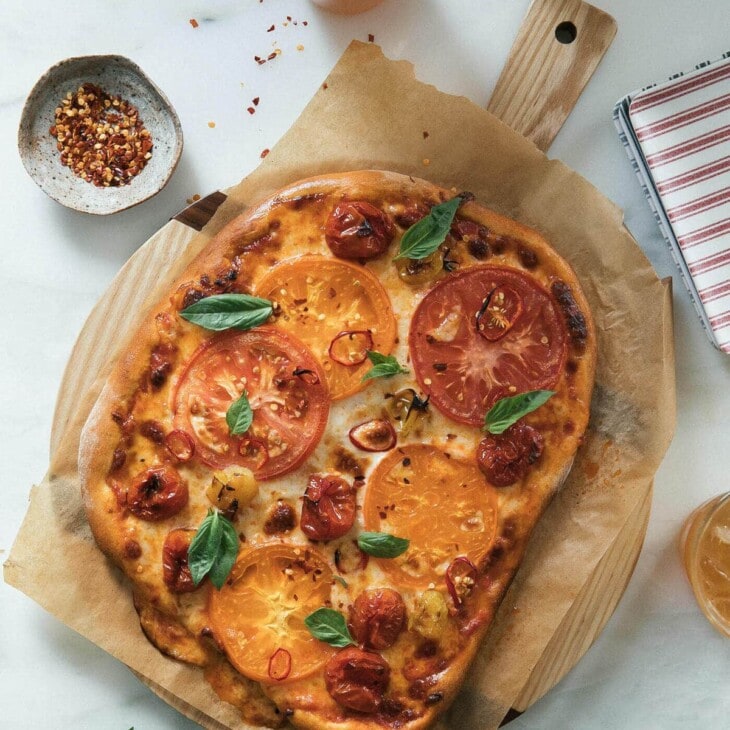 Print Recipe
Spicy Heirloom Tomato Pizza
Serving Size:
small pizza
Ingredients
1

tablespoon

neutral-flavored oil

1/2

pint

of tomatoes

1/2

heirloom tomato

sliced

1/2

pound

homemade pizza dough or store-bought

2

tablespoons

jarred tomato sauce

1

cup

shredded mozzarella

1/2

fresno chile

sliced

Salt

Fresh basil leaves

as garnish
Instructions
In a medium skillet, over medium-high heat, add the oil. When the oil is hot, add the tomatoes and cook until blistered, turning them over about half way through, for about 5. Remove and transfer to a bowl. Add a few pinches of salt. Add the slices of heirloom tomato to a paper towel or clean kitchen towel and sprinkle with salt. Allow to stand for about 5 minutes.

Place your pizza stone or pizza steel in the oven. If you don't have one, you can place a baking sheet in the oven. It won't be as crispy but it will still work.

Preheat your oven to 450 to 500 degrees F (some ovens only go to 450 degrees F so just go as high as you can). Dust your counter or cutting board with some flour. Roll the pizza dough into a thin round shape. I like to do a combination of pressing the dough down with my fingers, stretching it and rolling it out.

Transfer the dough to a piece of parchment paper. I like to add it to the back of a baking sheet or pizza peel.

Spread a few tablespoons of tomato sauce on the pizza, stopping about an inch from the edge. Sprinkle with the mozzarella and then arrange the cherry tomatoes, heirloom tomatoes and sliced chiles on top.

Transfer to the oven to bake for about 15 to 20 minutes. This time will depend on how hot your oven can truly get. Mine is about 450 and it took exactly 15 minutes.

Top the pizza with a few leaves of basil, and a sprinkling of crushed red pepper, if you like. Slice up and serve.