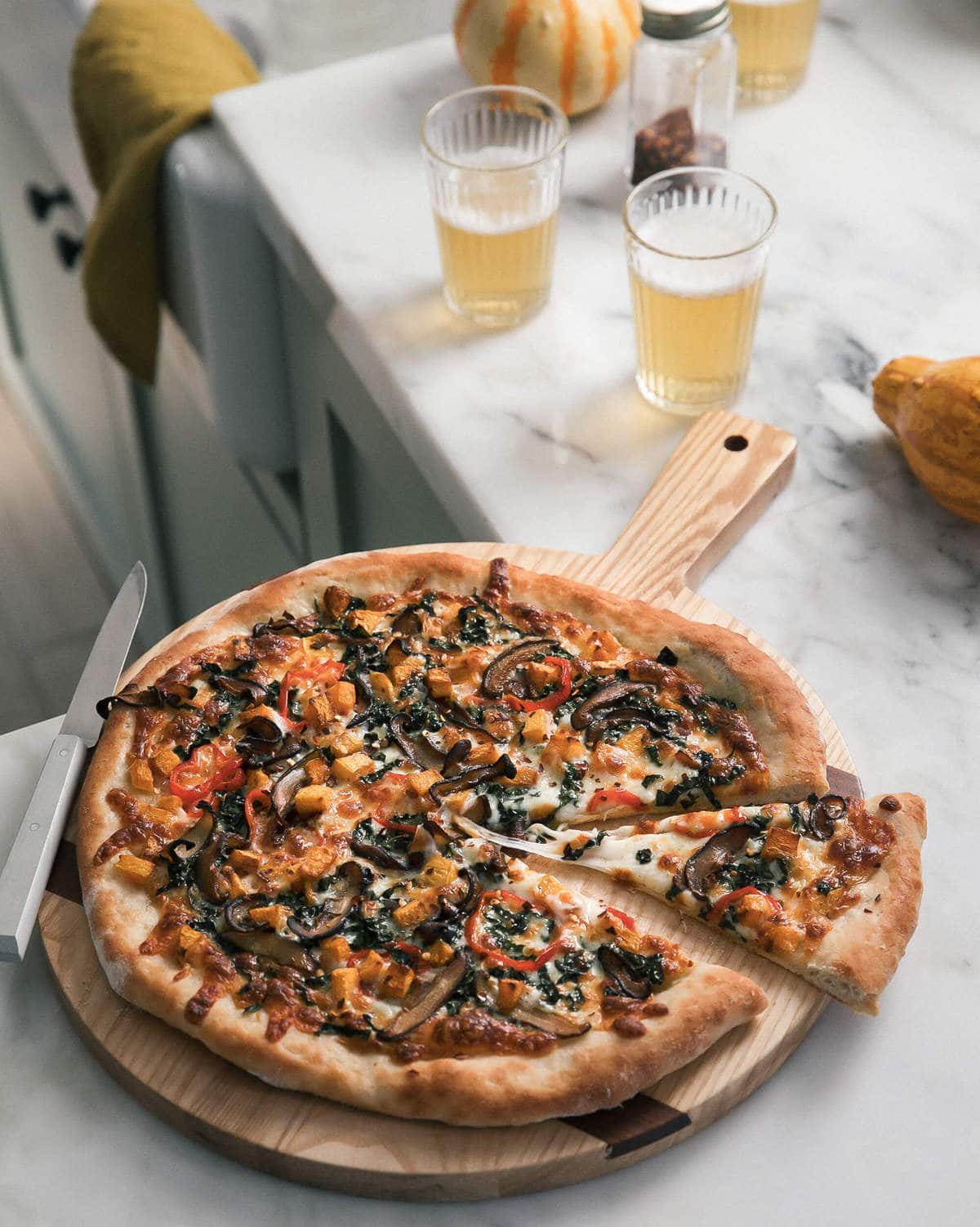 Today I'm super excited because it is Pizza Day on A Cozy Kitchen. This 30-Minute Fall Veggie Pizza is perfect for a weeknight meal. I've never thought of homemade pizza as a quick and easy meal, but this recipe, with its easy and quick rise, has changed my mind!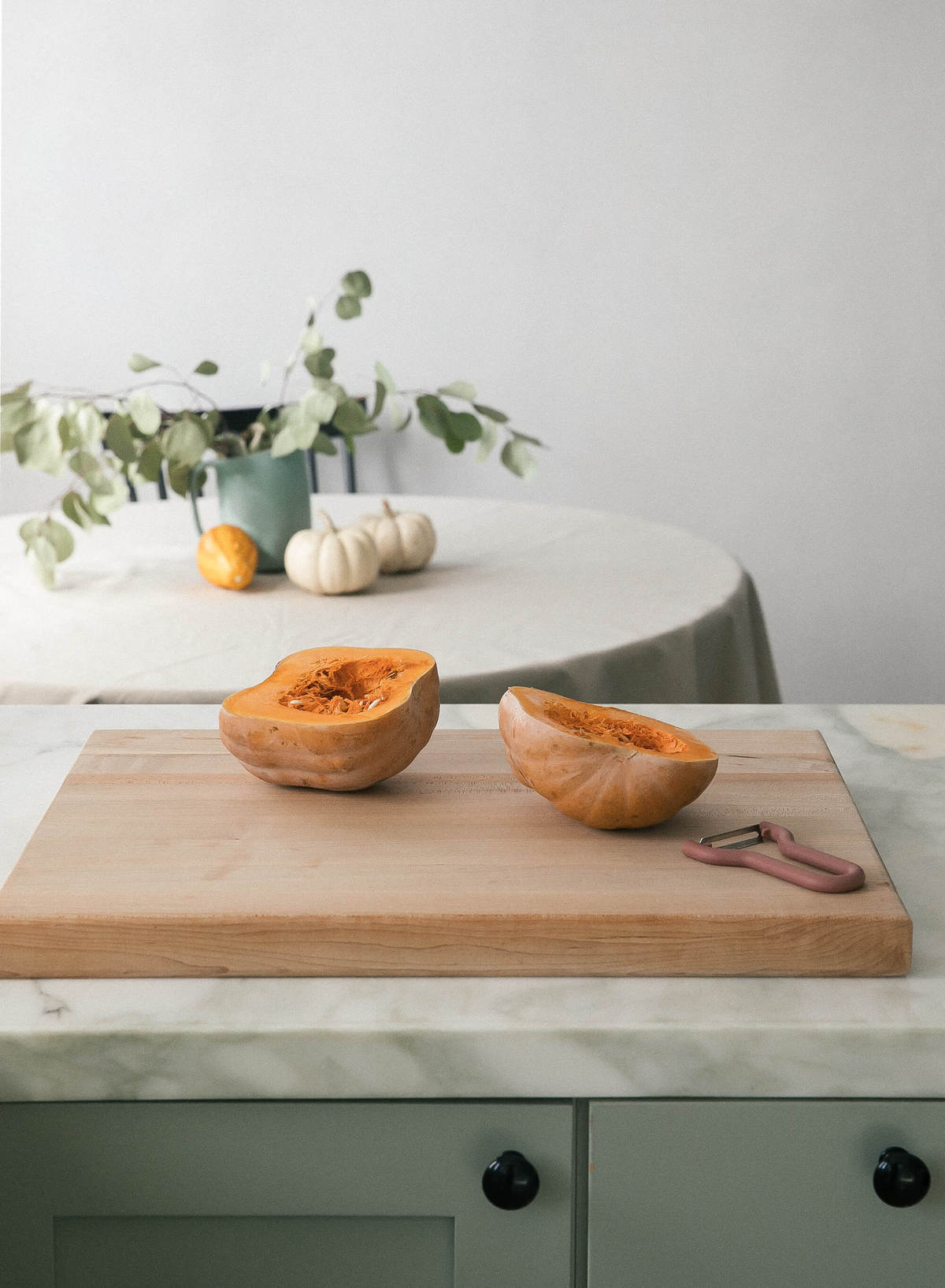 For this post, I teamed up with Fleischmann's® Yeast using their RapidRise® Yeast. If you've never tried it, it's pretty cool.
Most yeast requires you to get it started in water. Most of my recipes have you dissolve it into lukewarm water or milk and wait until it activates. Sometimes this can be finicky. It can take anywhere from 5 to 8 minutes for it to activate and get all nice and foamy.
But this RapidRise® Yeast is actually mixed within the dry ingredients—no activation required! This means no waiting around for it to be activated. You can mix and proceed with the recipe!
Believe it or not, this pizza dough takes about 5 minutes to be made and 10 minutes to rise. This is the perfect amount of time to sauté some veggies for the toppings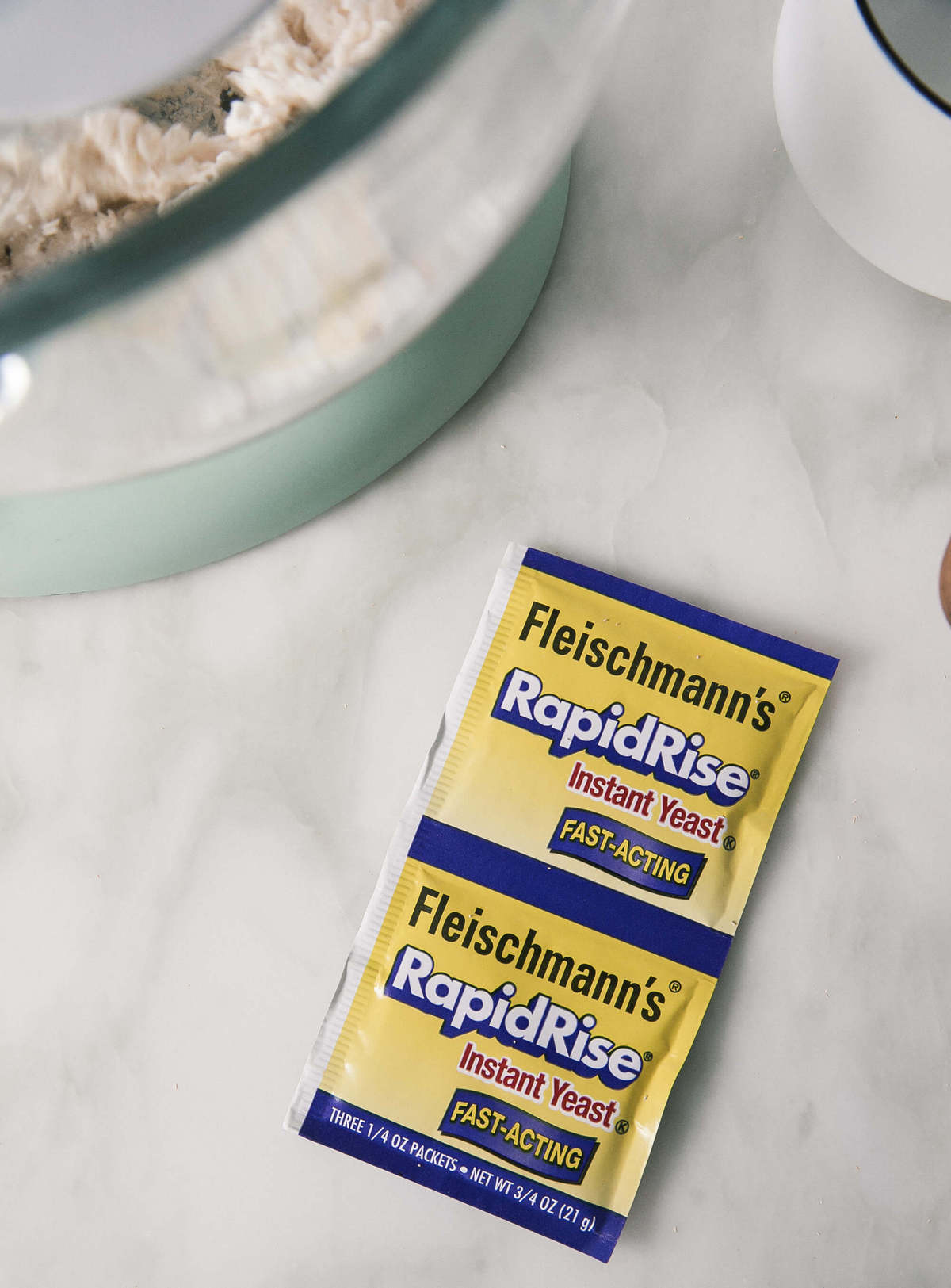 Fall Veggie Toppings
This is a white pie. The small amount of cream acts like a béchamel when the pizza is baked; hence the reason I season it with salt and a few rounds of pepper. You want every layer to have flavor and be seasoned.
I was out at the farmer's market this past weekend and picked up this Kogi Nut, made famous by Dan Barber. If you've never had one, they truly are one of the most delicious squashes. I cubed up the squash and roasted all of it. Obviously, this recipe only calls for about 1/2 cup of it.
The rest of the fall veggies used are thinly sliced kale, red peppers and a mushroom medley. I know we don't typically think of pizza as something light but truly this recipe is on the lighter side!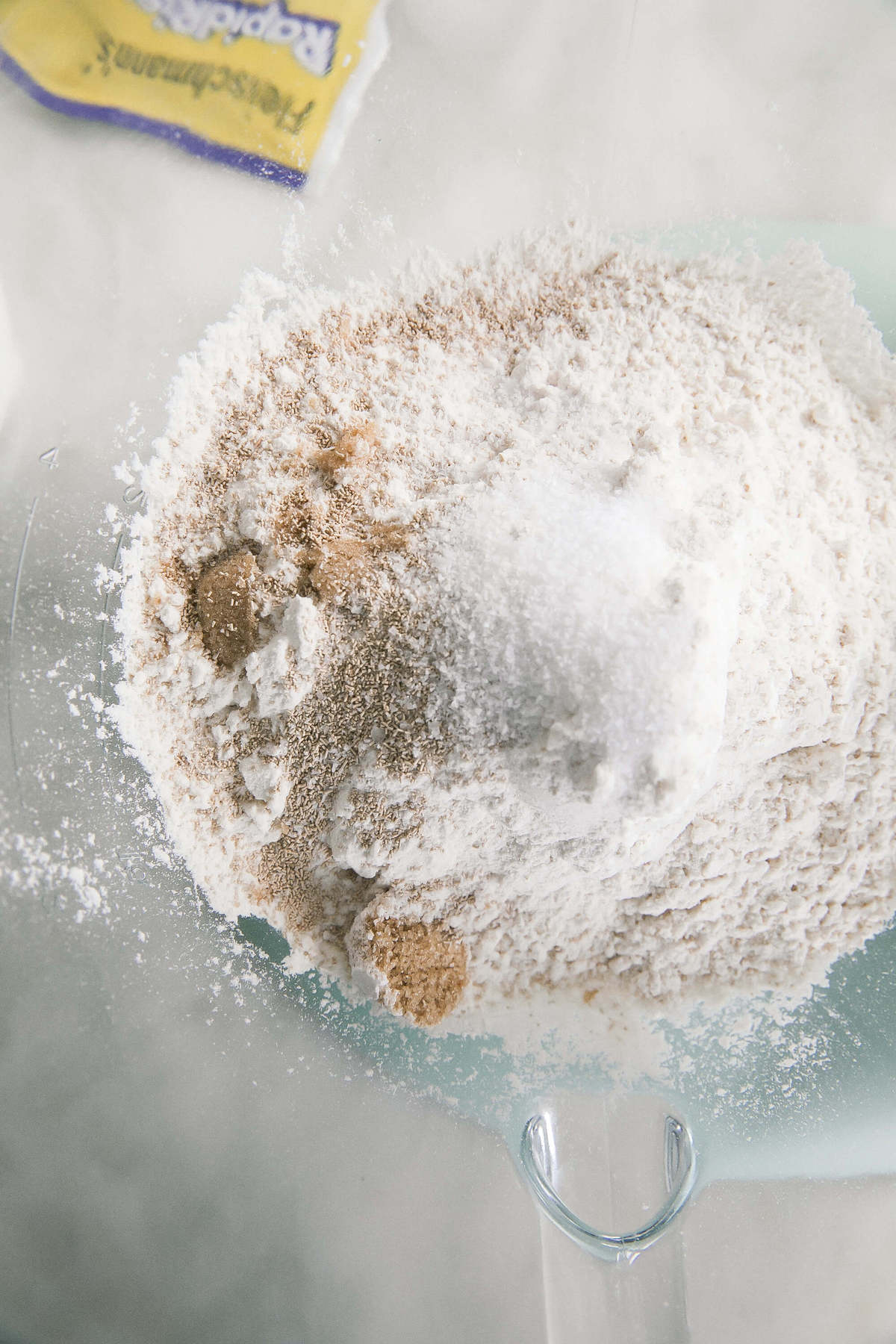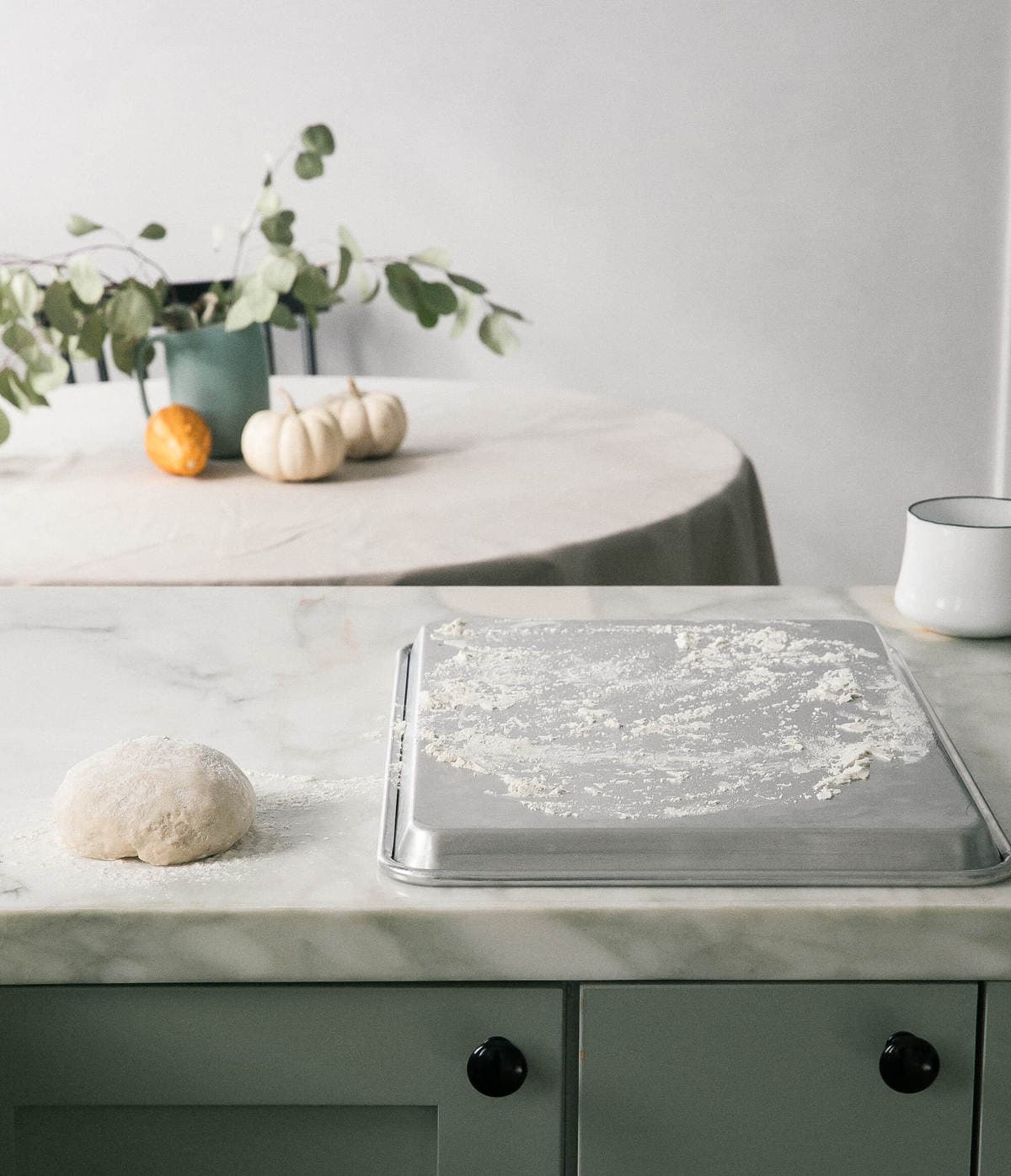 What if I Don't Own a Pizza Peel?
I like to think of myself as a crafty person. I used a baking steel/pizza in the oven and in order to get that amazing crispy bottom on the pizza, it has to go on there without any sort of parchment. But here's the dilemma I faced: I don't have a pizza peel!!
I considered running out and buying one, but I thought, "If I don't have one, you most likely don't either!" 
Solution: The bottom side of a clean baking sheet. The trick is to flour it with cornmeal or cornflour. And then assemble the pie directly onto this heavily floured baking sheet. You'll be able to slide it off onto the pizza stone/pizza steel. It works like a charm!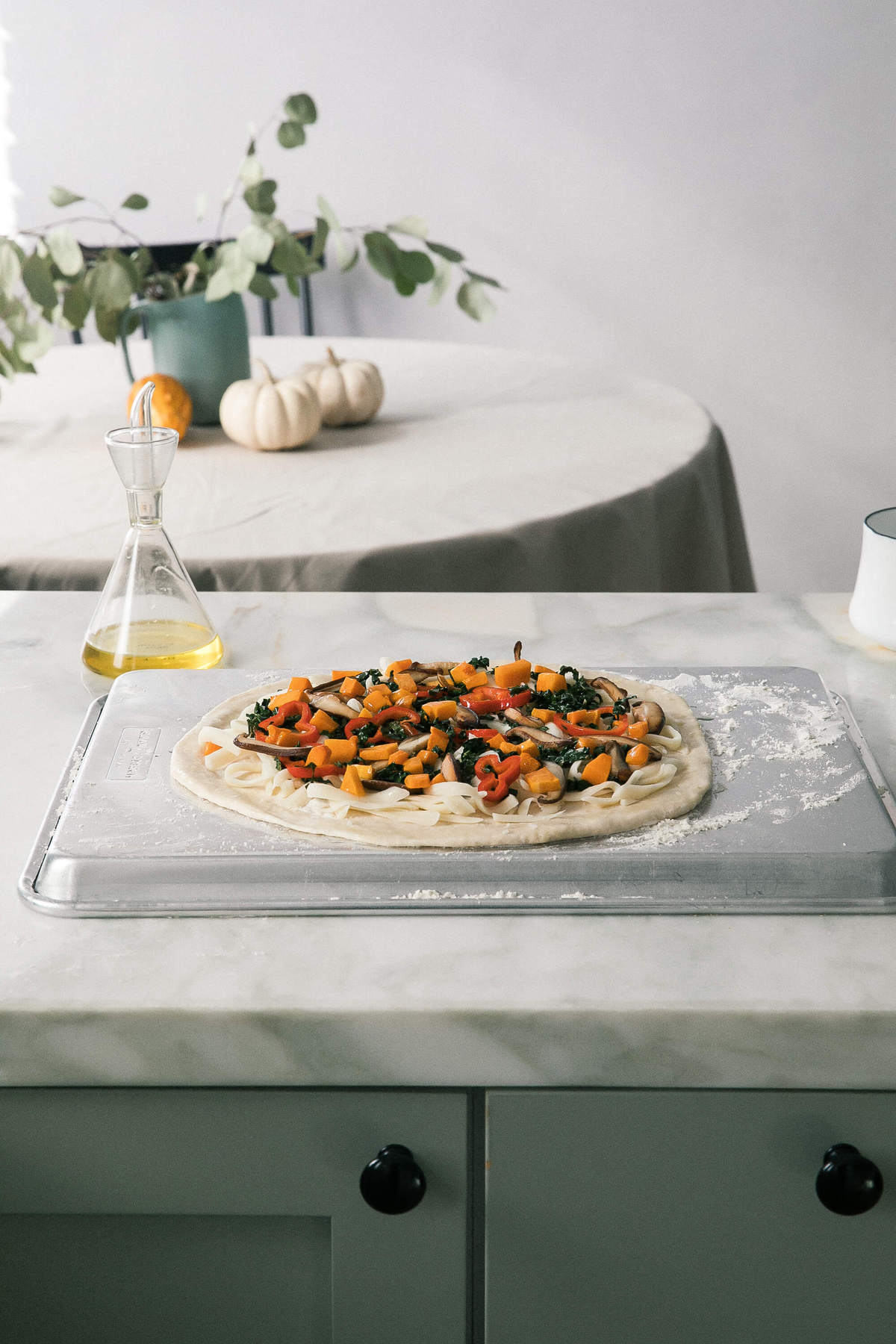 Last move is to definitely add a sprinkling of crushed red pepper. 🙂
I hope this 30-Minute Fall Veggie Pizza is in your future!!
Looking for more recipes? Here are a few more of my favorites: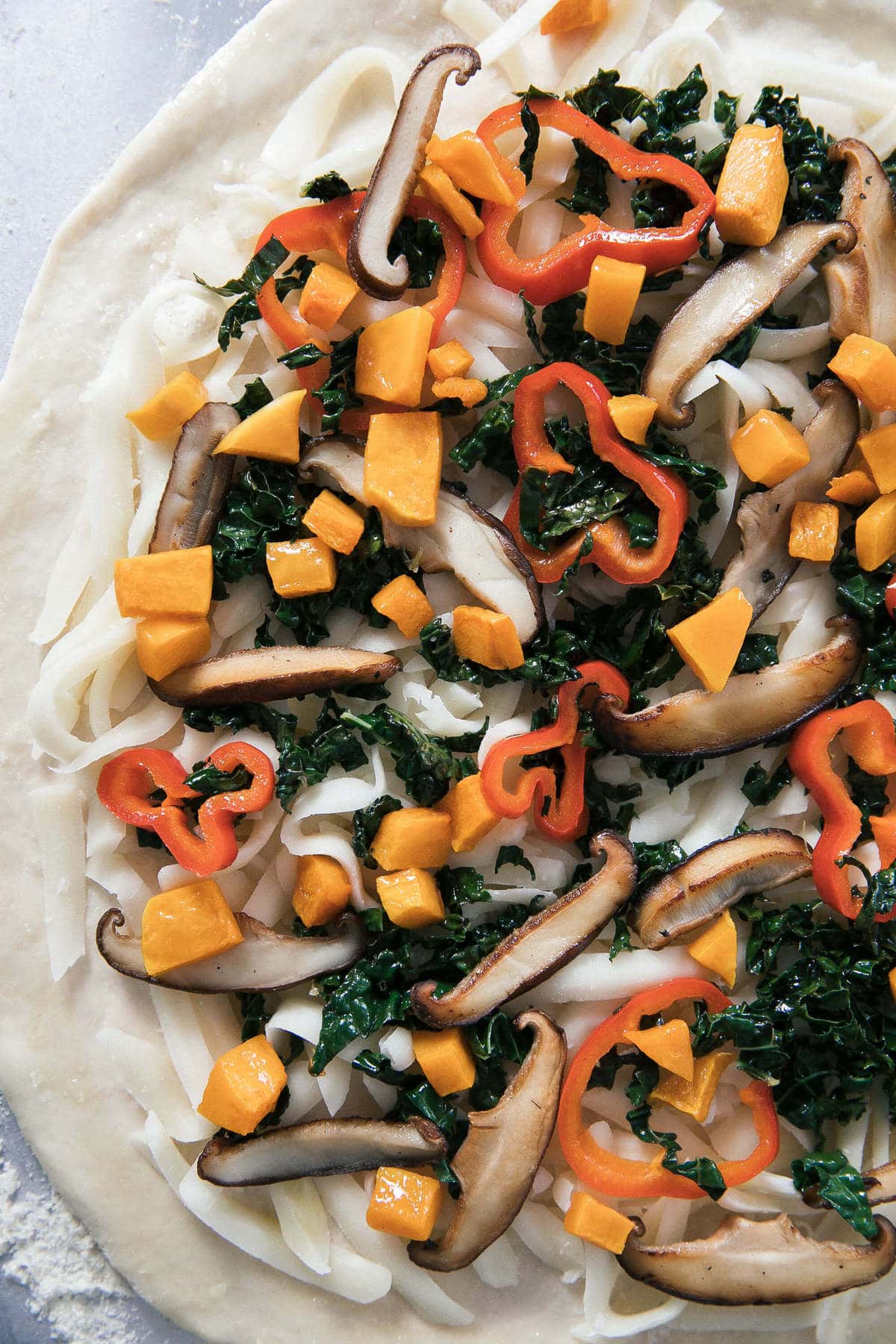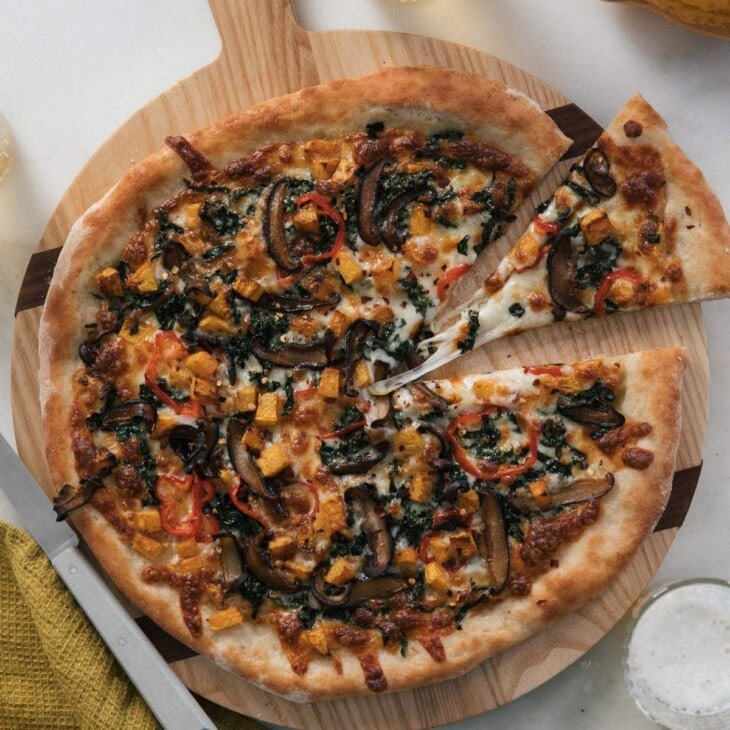 Print Recipe
30-Minute Fall Veggie Pizza
This 30-Minute Fall Veggie Pizza has a quick rapid rise and the roasted fall veggies are a nice light topping for any weeknight meal.
Ingredients
Toppings: 
Olive oil

1/4

squash

seeds and skin removed, cut into cubes 

Kosher salt

1/2

bunch

kale

thinly sliced

4-5

shiitake mushrooms

thinly sliced

1 1/2

cups

shredded mozzarella

3

tablespoons

heavy cream

Freshly ground pepper

Crushed red pepper

for garnish
RapidRise® Pizza Dough:
1 1/2

cups

all-purpose flour

1

teaspoon

kosher salt

1

teaspoon

brown sugar

1

teaspoon

Fleischmann's® RapidRise® Yeast

1/2

cup

+ 1 tablespoon warm water

1

teaspoon

olive oil

for brushing crust
Instructions
Oven Prep:
Preheat your oven to 475 degrees F. Some ovens will
only go to 450 degrees F and that's ok! Place a pizza stone or baking steel in
the oven. I like to allow mine to preheat for about 20 minutes. Ideally,
it's much longer but it's a weeknight! 
To Make the Veggies: 
In a medium skillet, set over medium heat, add the olive oil. When warm, add the cubed squash. Sprinkle with a bit of salt and allow to cook for about 5 to 7 minutes until tender with a fork. Transfer to a bowl and set aside. 

Add a teaspoon of olive oil more to the skillet. Add the kale and red pepper and season with a few pinches of salt; cook for about 2 to 3 minutes, until the kale is wilted and bright green. Transfer to a bowl and set aside. Repeat with the shiitake mushrooms, cooking them for about 5 minutes in more olive oil, if needed. And then set aside. 
To Make the Pizza Dough:
To the bowl of a stand-up mixer with the dough hook (you could also do this in a large bowl and knead the dough by hand), add the flour, salt, brown sugar and Fleischmann's® RapidRise® Yeast. Mix the dry ingredients together until everything is thoroughly combined. Next, pour in the water and turn the machine to medium speed. The dough will go from shaggy to a cohesive ball. Knead on medium speed for 2 minutes, until the dough is smooth. If you're doing this by hand, you'll need to knead the dough for about 5 minutes. 


Remove from the dough and form into a ball. Dust the counter with a bit of flour; place the dough atop the flour and dust its top with flour, too. Allow dough to rise for 10 minutes. 

To Assemble the Pizza:
Roll out the pizza dough until it's in an even layer (about a 10-inch round). I don't have a pizza peel; as a solution, I like to use the bottom of a clean baking sheet. Dust the bottom of the baking sheet liberally with cornmeal or corn flour. Place the pizza dough atop the bottom of the baking sheet and then assemble. 

Spread out the heavy cream into a very thin layer. Top with an even layer of cheese, a few rounds of freshly ground pepper and a few pinches of salt. Spread out the squash, kale, peppers and mushrooms. Brush the edges of the pizza crust with olive oil. 

Using the baking sheet like a pizza peel, swiftly slide the pizza off the baking sheet and onto the baking steel/pizza stone. Bake for 10 to 12 minutes and until the edges of the pizza crust are lightly golden brown. Remove from the oven and sprinkle the top with crushed red
pepper. Slice up and serve.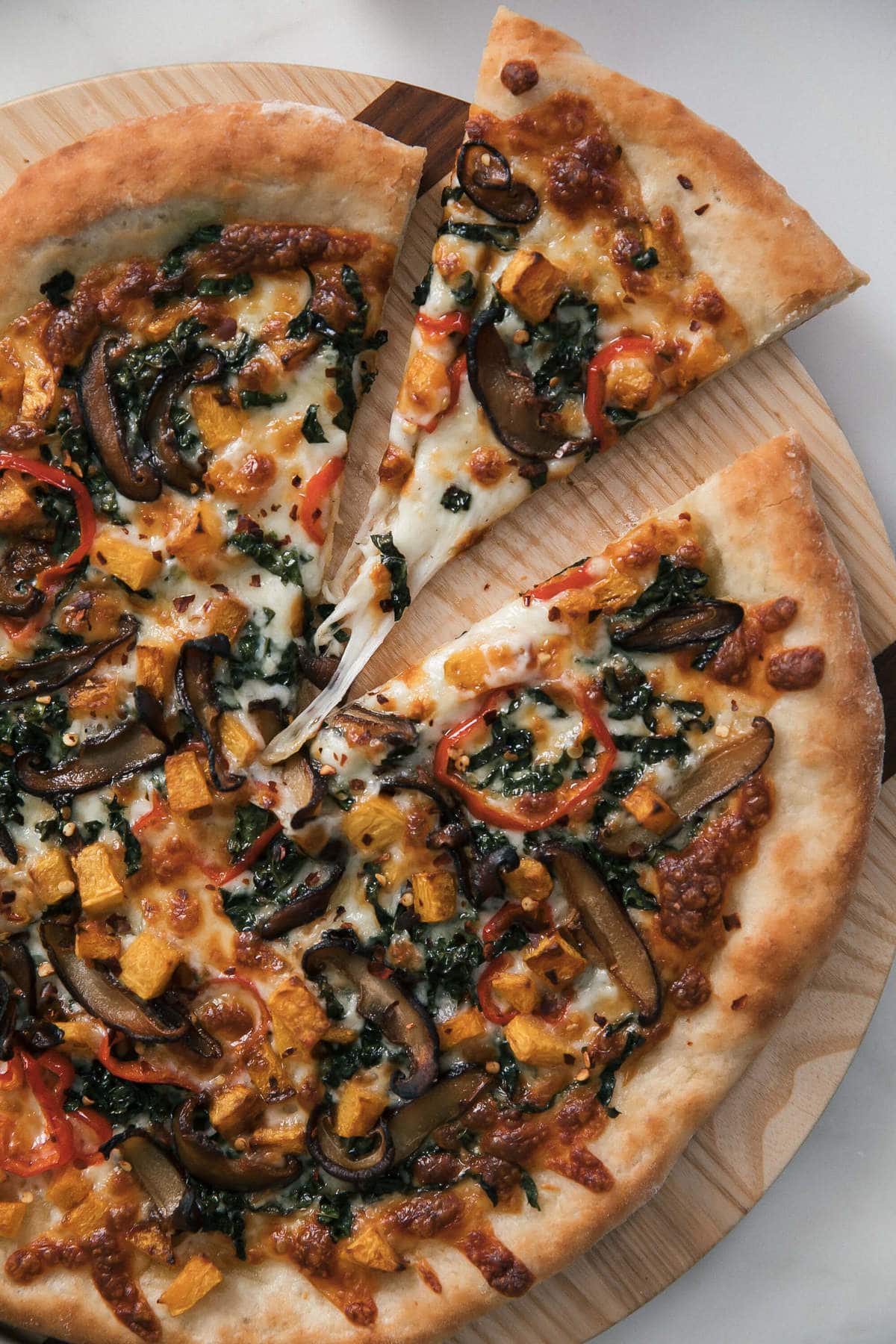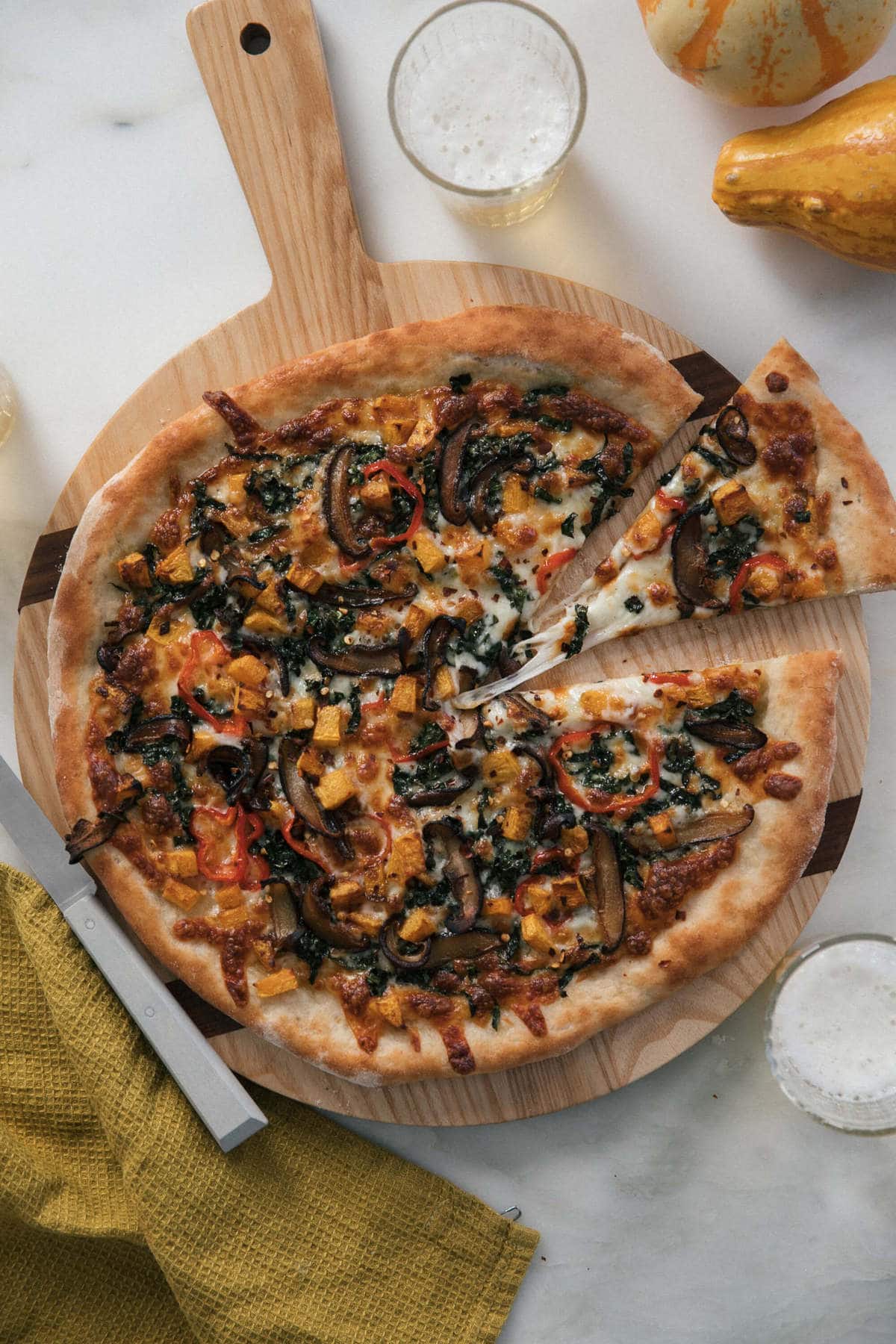 (This post is sponsored by Fleischmann's® Yeast. Thanks for supporting the sponsors that keep A Cozy Kitchen cozy.)