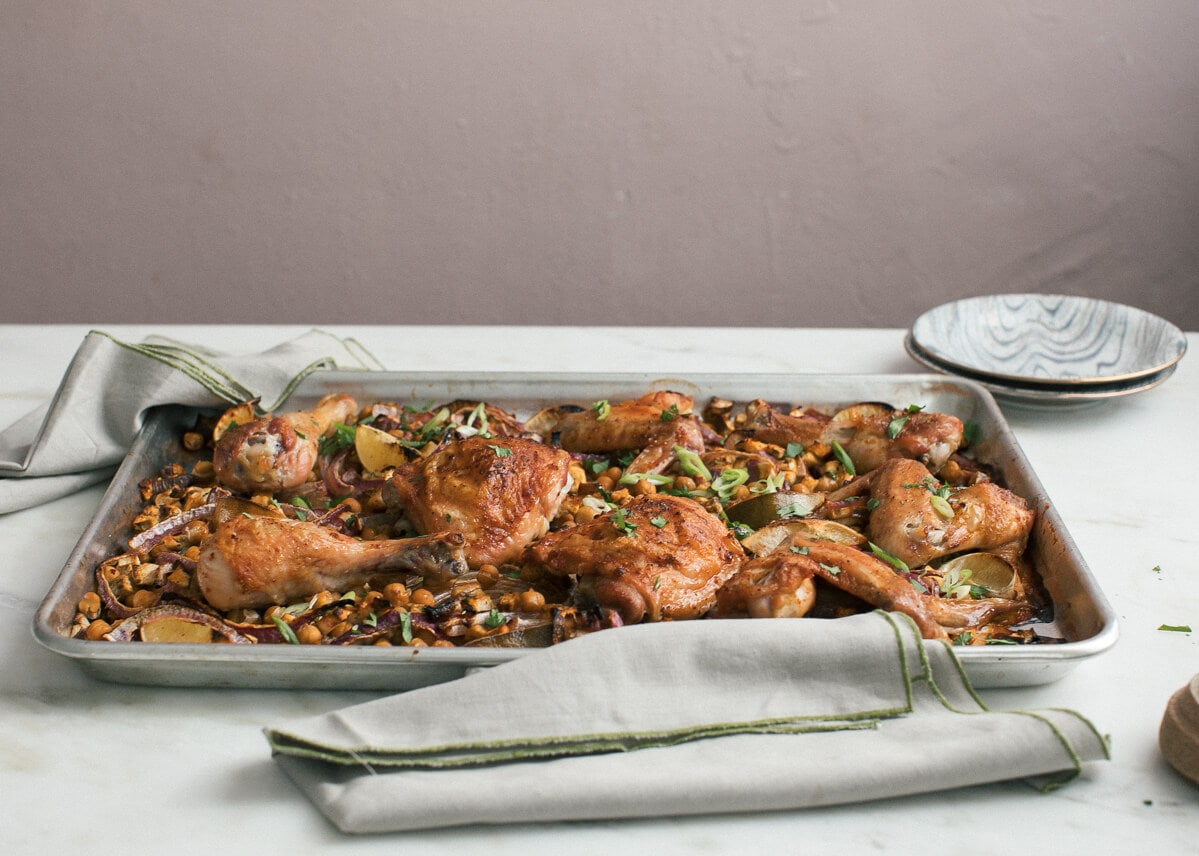 Thanksgiving was a total success. This site crashed because so many of you made things—thank you! And sorry for any problems the blog gave you. I was on cloud nine on Thanksgiving because all of you were sharing pies and macaroni and cheese and so many other delicious things that you made from this blog. It made me so grateful for this space—I love what we have here so very much.
We had a quiet Thanksgiving. I made mashed potatoes, veggie stuffing, some gravy and Josh made a turkey porchetta. We invited some friends over and it was chill vibes! Even though it seemed super lax, the next day I was so exhausted; I fell asleep at 7pm. Phew. Cooking and cleaning and hosting is a lot of work, I always forget. One of them is doable. But all three at the same time!! LAWD.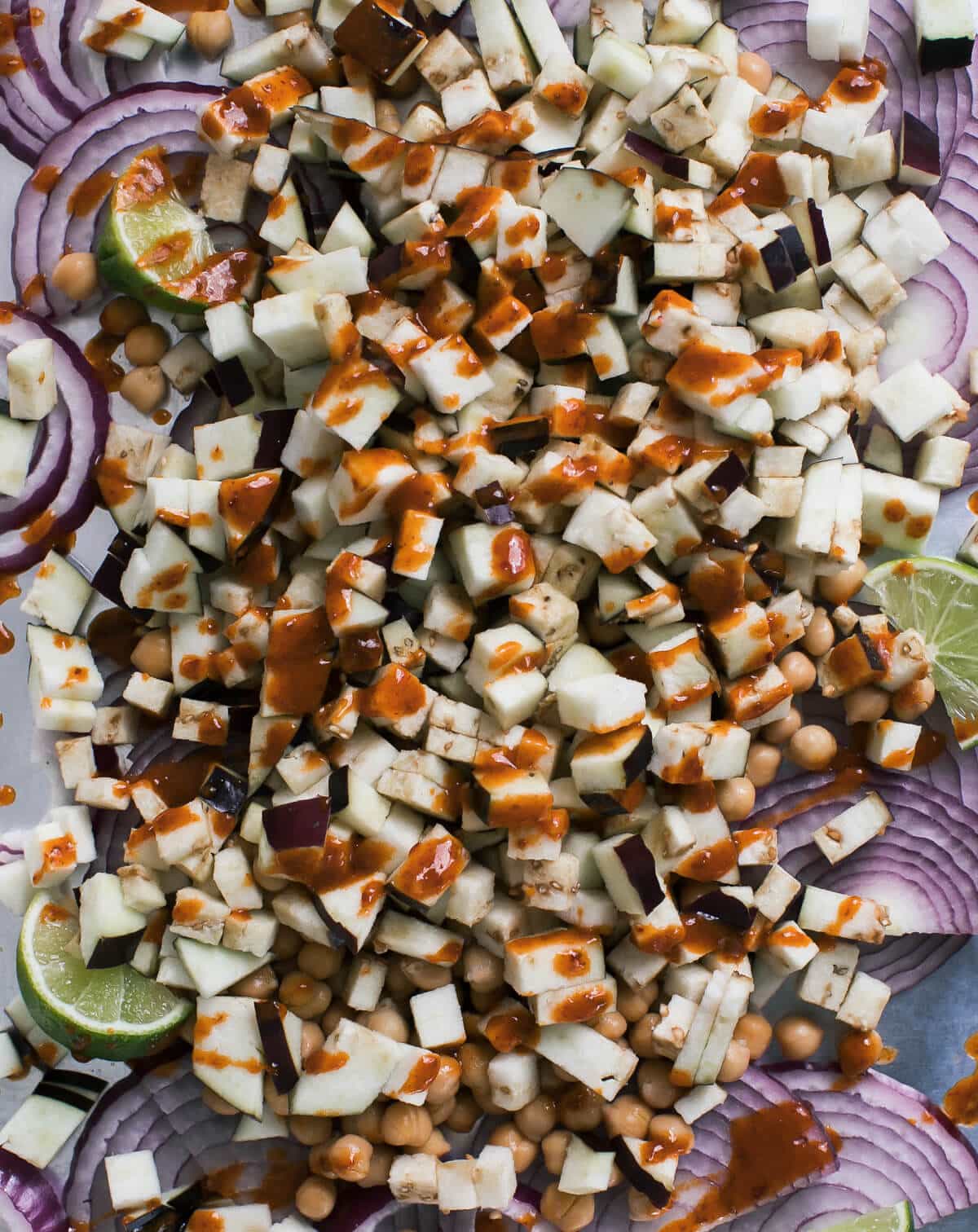 Anyway, we're back and the home stretch is near. I figured we'd get back into things with a super chill recipe that is literally the easiest thing to make ever. And it's on the healthier side because we probably could all use something that makes us feel good.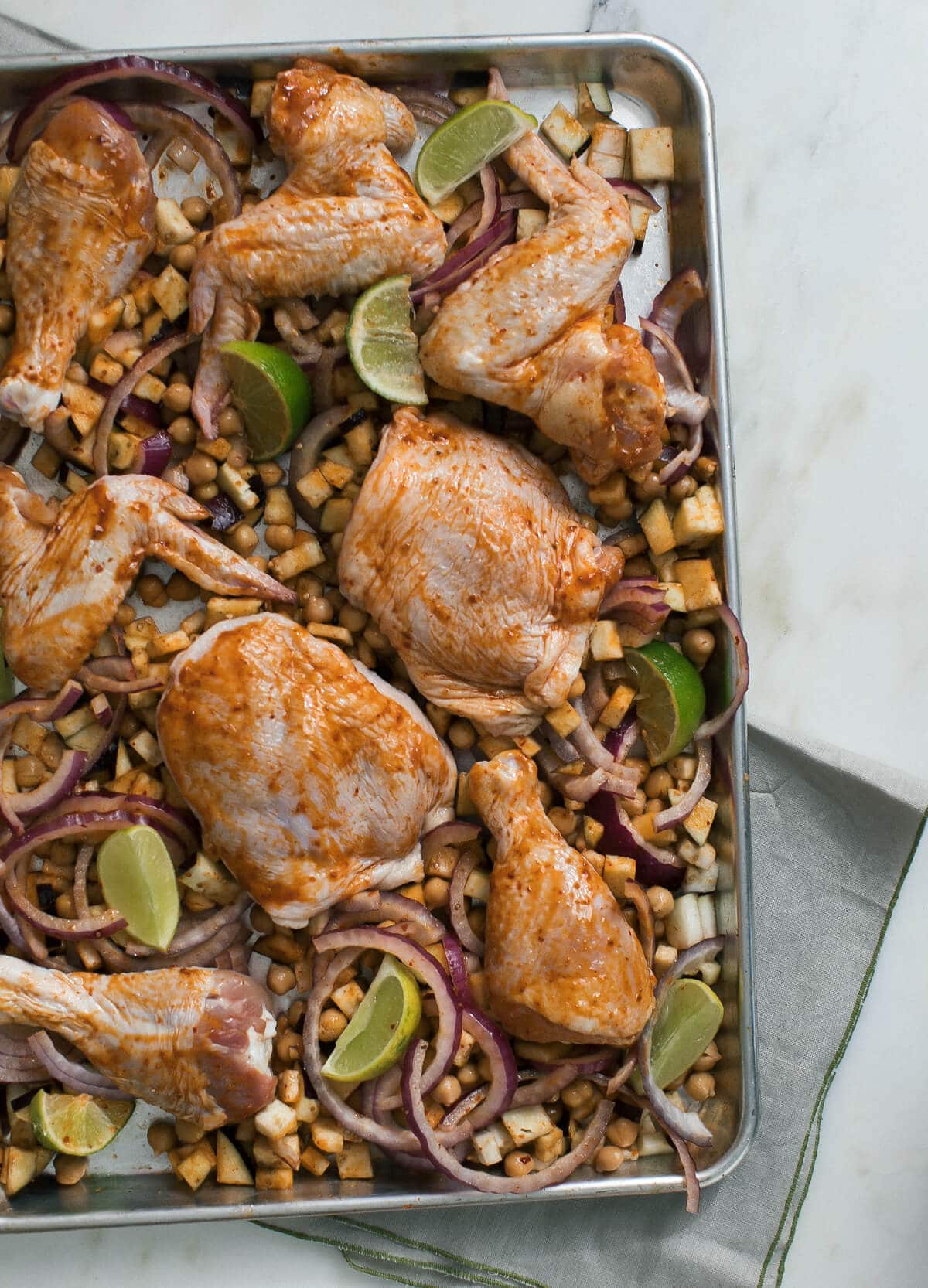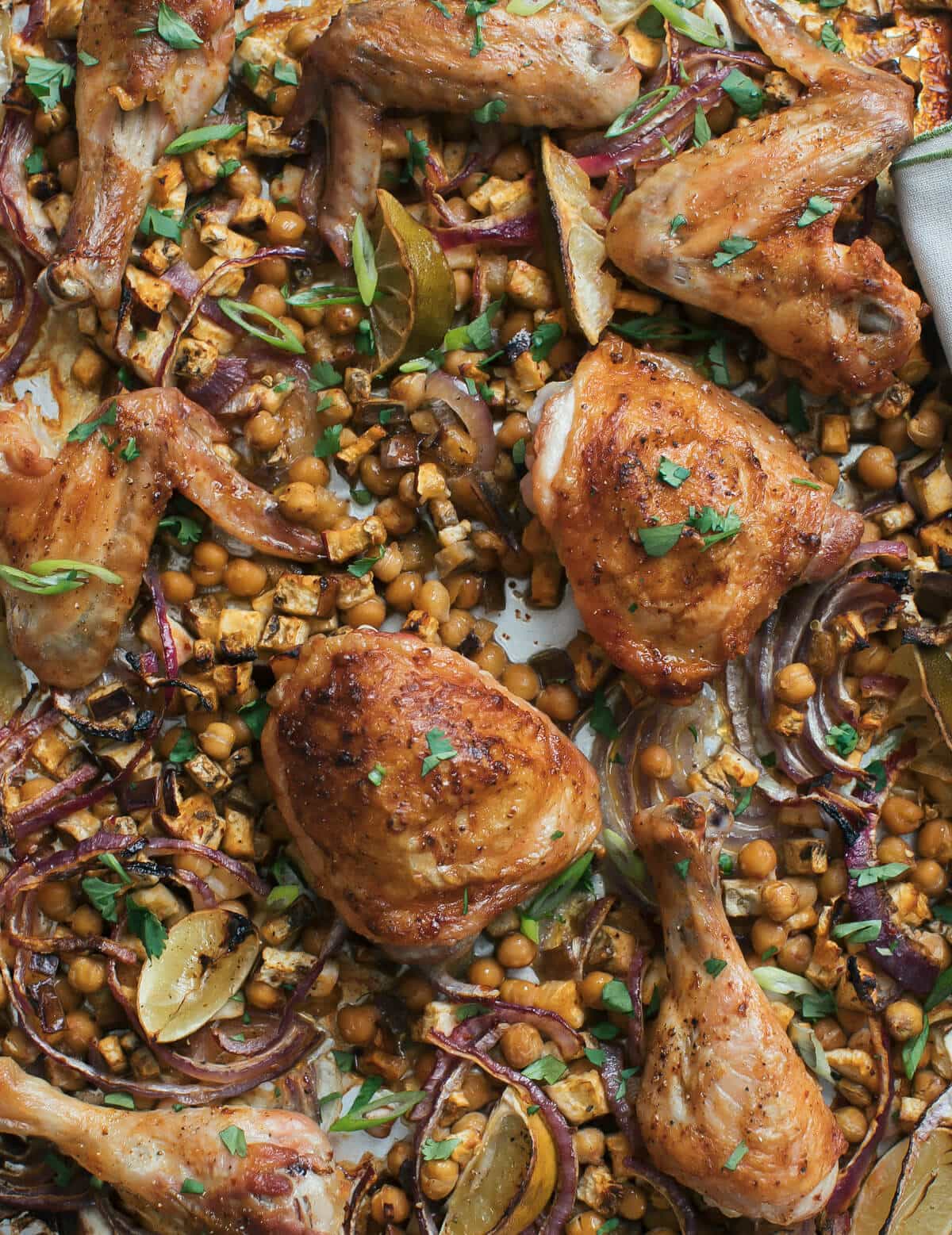 The harissa chicken is SO good. Everything on this sheet pan is so tasty and light. I love the chickpeas with the eggplant and the spiciness makes you want to keep eating it over and over.
Baking recipes to come…but for now, this!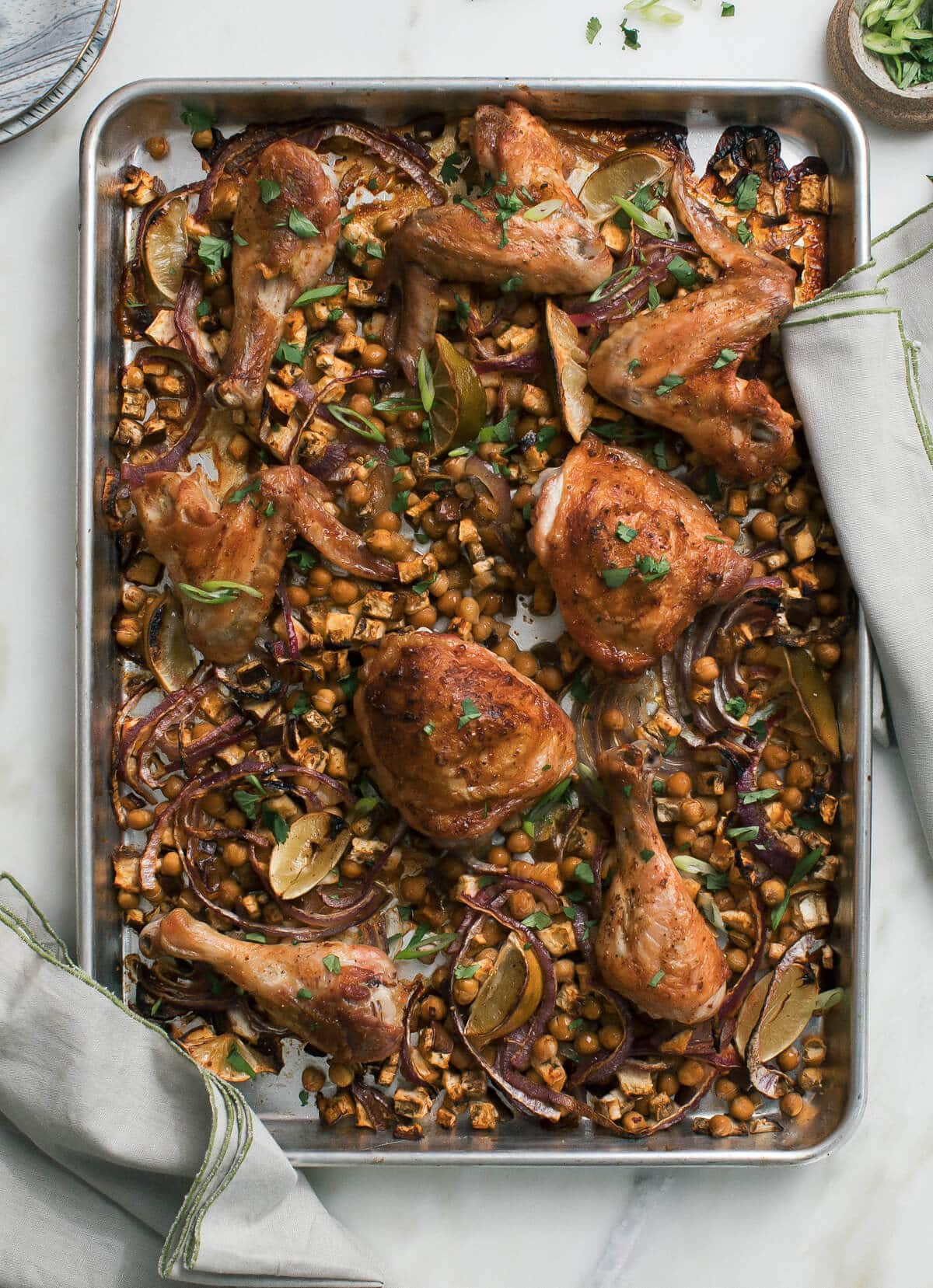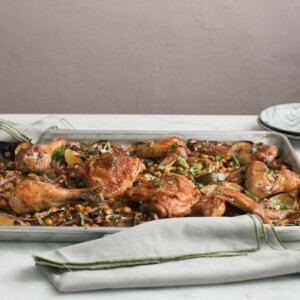 Ingredients
3

tablespoons

harissa paste

3

tablespoons

lime juice

,

from about 2 limes, plus more slices as garnish

2

tablespoons

olive oil

Salt

1

15-ounce can of chickpeas, drained and rinsed

1

eggplant

,

diced

1/2

red onion

,

peeled and sliced

1 1/2

pounds

chicken

,

I used a mix of thighs and drumsticks

1

teaspoon

minced cilantro

,

as garnish
Directions
Preheat oven to 400 degrees. Line a baking sheet with parchment paper. In a small bowl, add the harissa paste, lime juice, olive oil and a few pinches of salt. Whisk until combined.

To a sheet pan, add the drained chickpeas, diced eggplant and red onion. Add half of the harissa paste mixture and mix together until everything is covered in the sauce. Smooth it out into one even layer. Arrange the chicken on top. Sprinkle the chicken with a few pinches of salt. Brush the chicken with the harissa sauce and add the any remaining sauce to the chickpeas. Also add any garnish limes to the sheet pan, if you like.

Transfer to the oven to bake for about 35 to 40 minutes, until the chicken is golden brown. Divide amongst plates and garnish with some cilantro.
Nutrition Facts
Sheet-Pan Harissa Chicken with Chickpeas + Eggplant
Amount Per Serving (4 g)
Calories 0
* Percent Daily Values are based on a 2000 calorie diet.