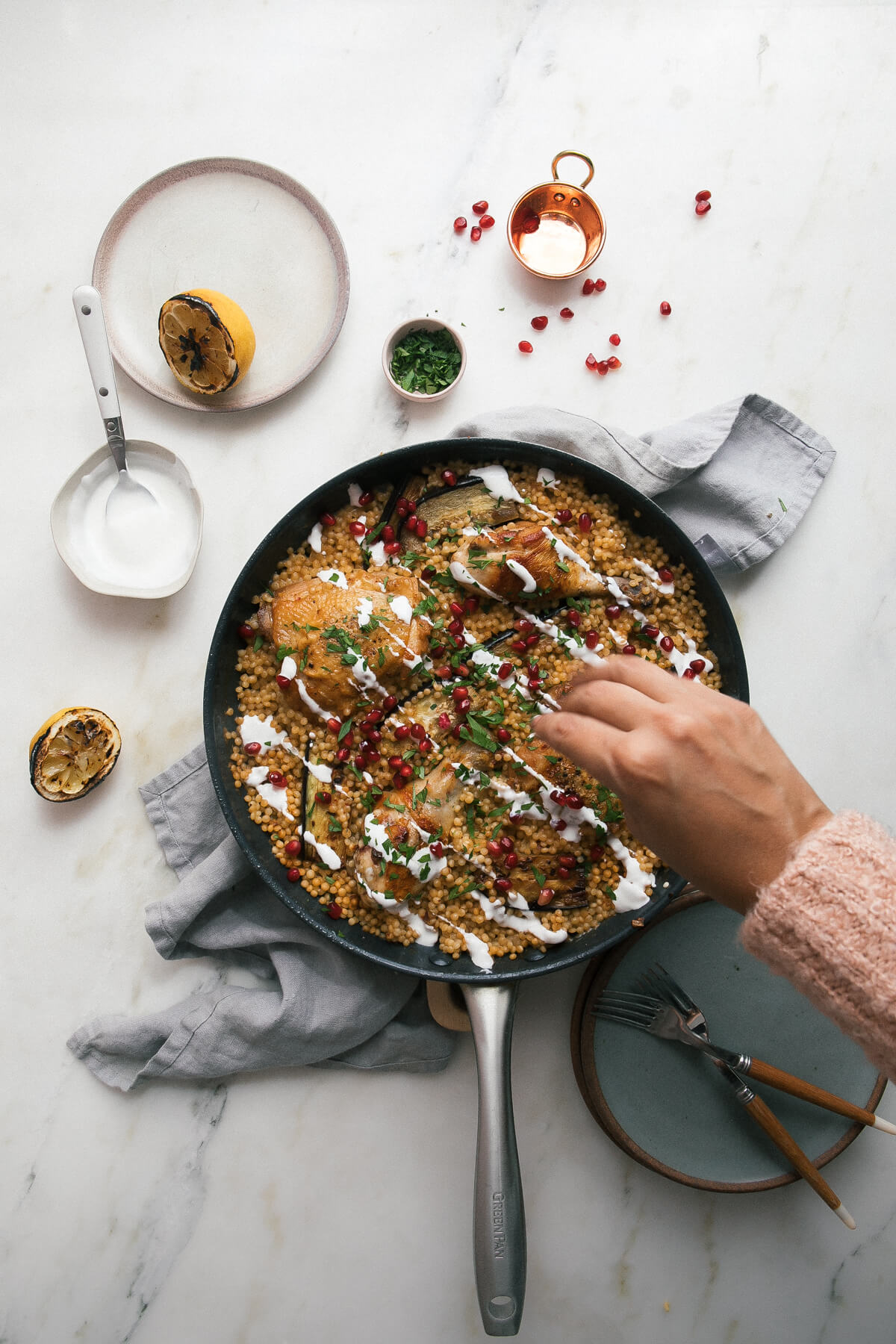 I'm currently getting all prepped to go to Italy on Tuesday and I'm so excited. Josh has psychotically made maps, coursing our tentative eating schedule. The past few weeks I've been purposefully eating on the healthier side so that I could save myself for loads and loads of pasta. I think it has been a wise decision.
One of the health-ish meals I've been making is this one-pan harissa chicken dish. It is SO delicious and Israeli couscous are my new favorite thing. They have such delicious toothsome texture.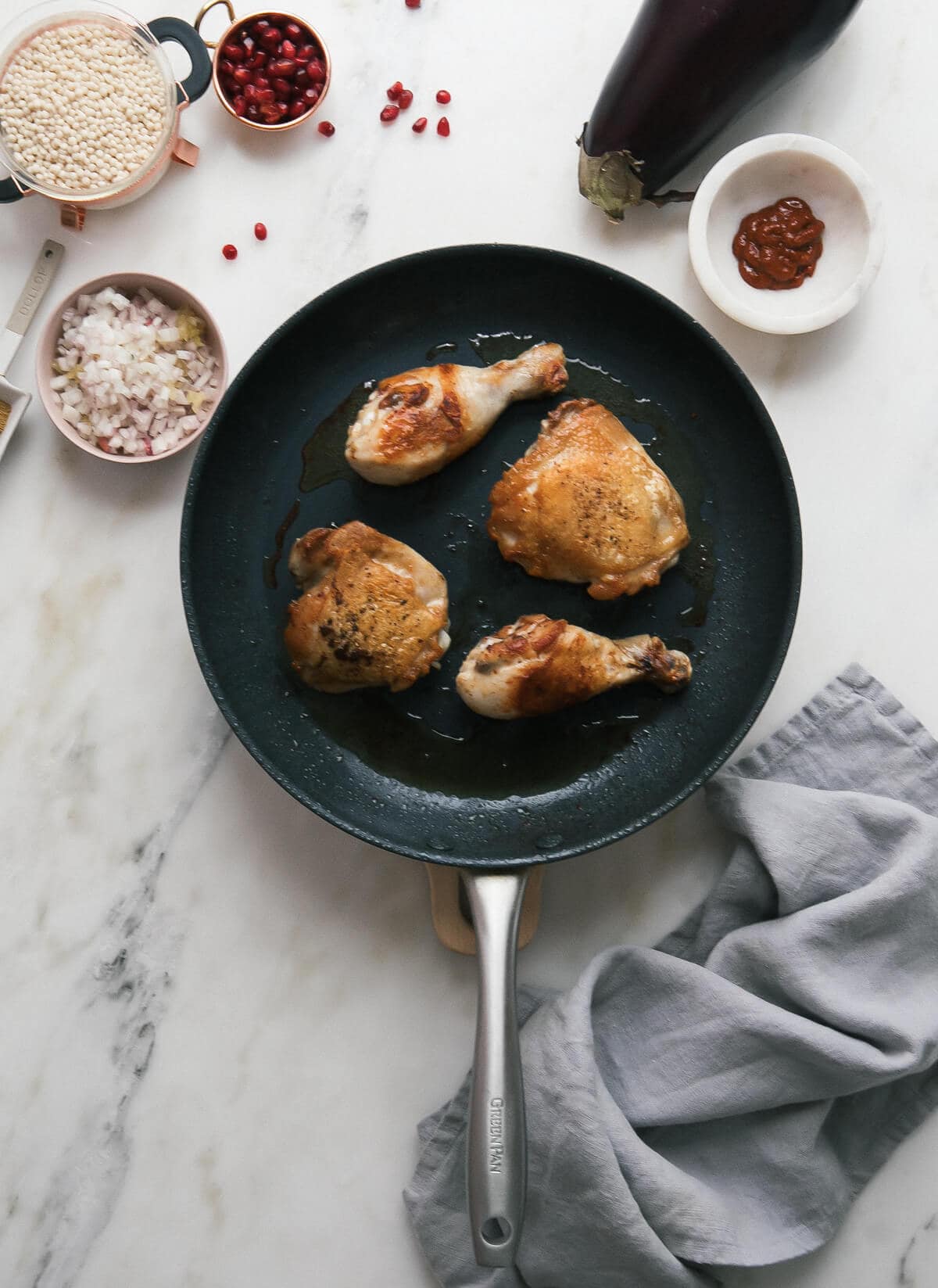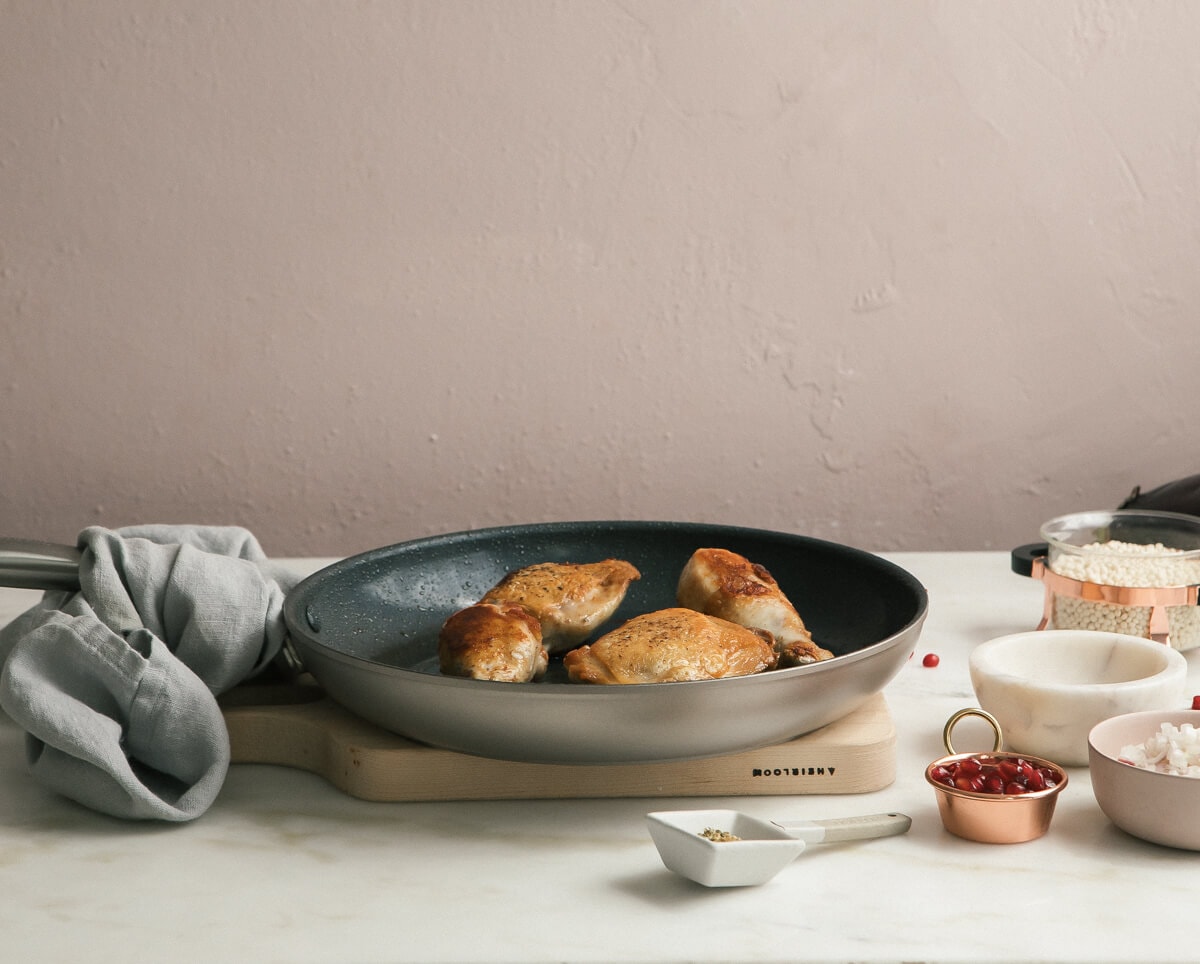 For this recipe and post, I'm super excited to partner with GreenPan and their healthy, ceramic, non-stick pans. They are so gorgeous in person (the bronze is super pretty) and I love that they're safe to cook with and super easy to clean.
I love these pans because they're coated in Thermolon, making them safer and healthier to use. They're super resistant to high heat (zero fumes come off the surface) and the coating, made from a sand derivative, will never flake or peel onto your food. All pluses!
The surface of the pan was ideal for searing this chicken and getting a super crispy skin and crust on it. And I didn't have to use a ton of oil (also a plus) so the meal is pretty light.
Right now you can get a limited edition 5-piece set for their 10th anniversary. An extra bonus? The All frypans are currently 20% off through October 24th! GET UR PANS!
Lately, I have been living my life for anything one-pan/one-pot. I've been craving ease and I think you have too because anything I make that can be made in one vessel, you guys have made over and over, which of course makes me so pumped.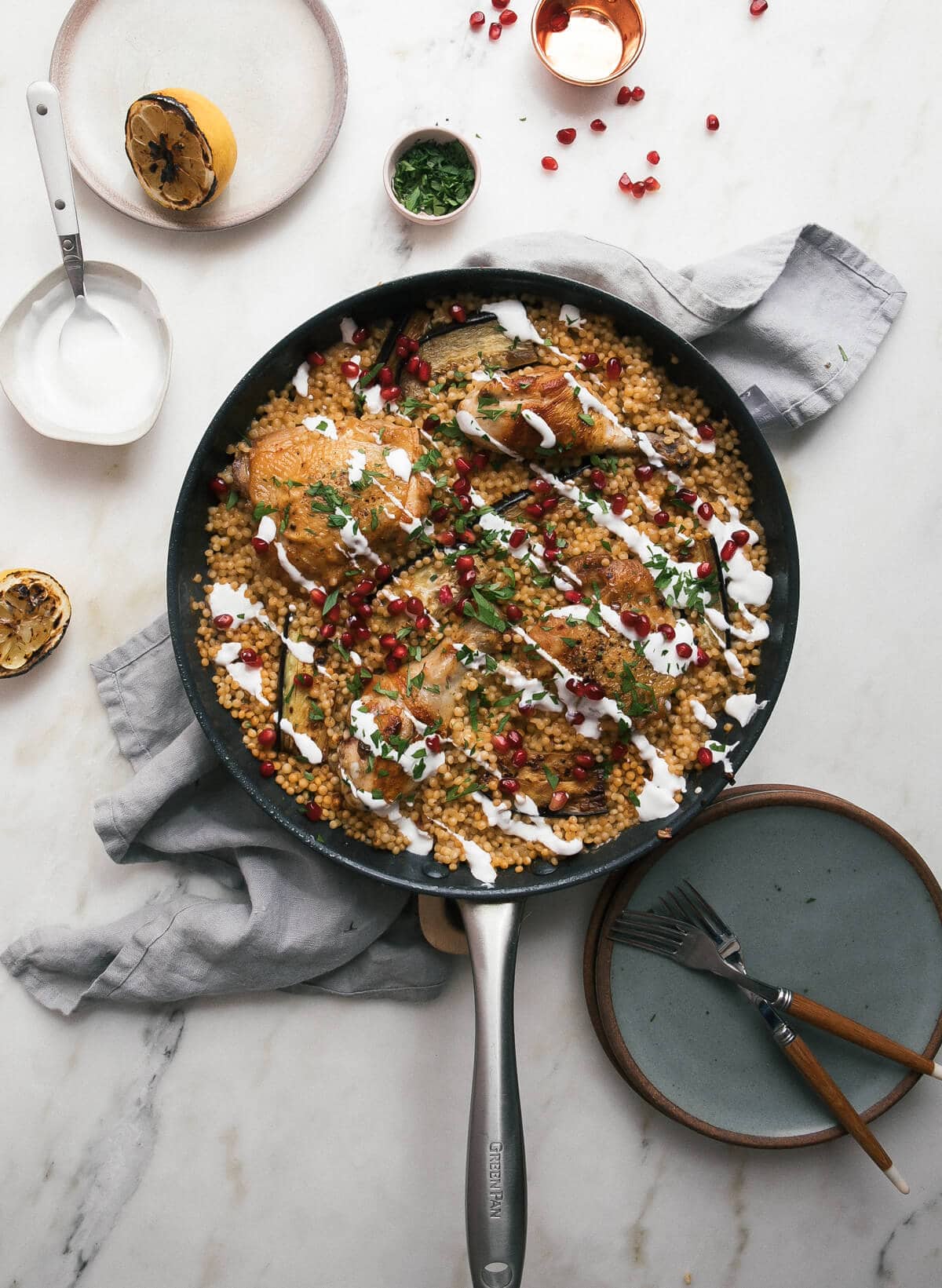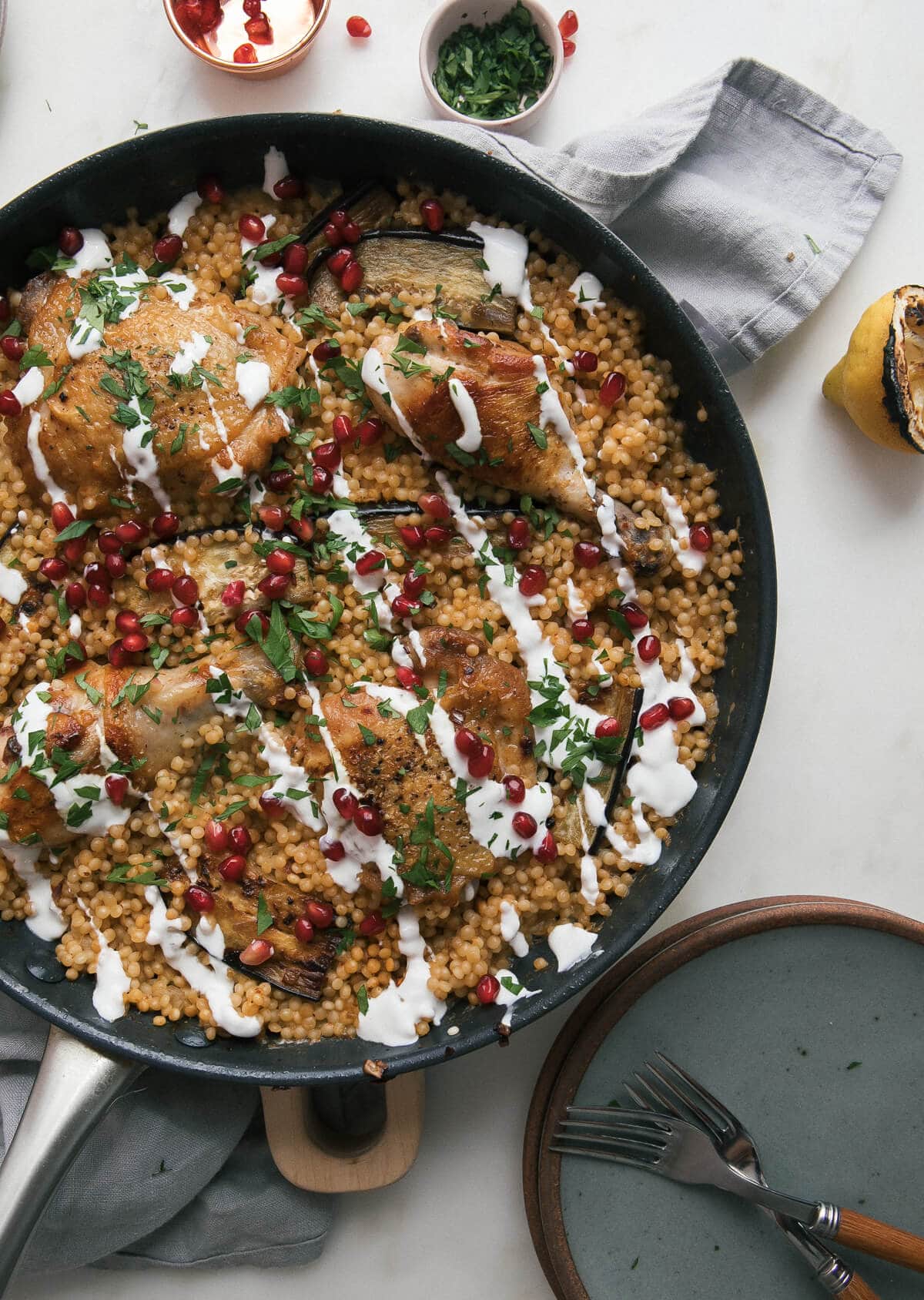 This recipe begins with cooking the thighs and drumsticks for a good amount of time. This is pretty hands off and allows you time to prep everything else that's in the dish. Then you just set aside the chicken after it's mostly cooked and sear the eggplant. And cook the onions and garlic and harissa and spices.
What I love about this recipe is that it's full of flavor. And whenever I cook healthy-ish foods, I need them to have spice, flavor and spices. This dish has so many things I love.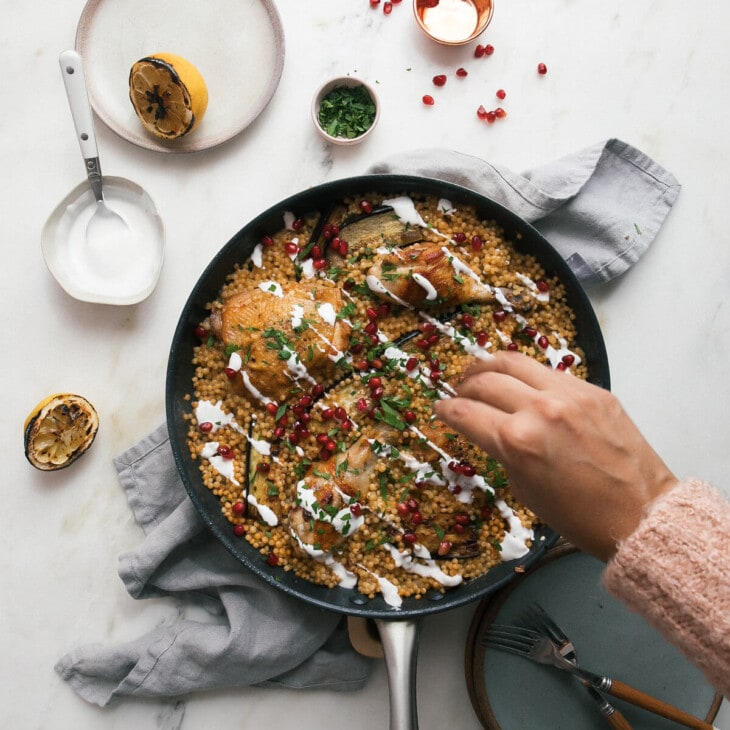 Print Recipe
Harissa Chicken over Fluffy Couscous + Pomegranate + Yogurt
Ingredients
Harissa Chicken:
2

bone-in chicken thighs 

2

bone-in chicken drumsticks

Salt

Freshly ground pepper  

2

teaspoons

oil 

1/2

small eggplant

sliced

1

shallot

minced

3

garlic cloves

minced

1

teaspoon

ground cumin

1/2

teaspoon

ground coriander 

3

tablespoons

harissa 

2

cups

Israeli couscous 

1 1/2

teaspoon

salt

3

cups

water or chicken broth 
Things for garnish:
1

lemon

sliced in half and grilled, as garnish 

2

tablespoons

yogurt

as garnish

2

tablespoons

pomegranate seeds

as garnish 

2

tablespoons

minced Italian parsley

as garnish
Instructions
This first step of cooking the chicken takes a bit of time (around 30 minutes) so I used this time to prep the rest of the dish. It worked out splendidly! 

Sprinkle both sides of the chicken thighs and drumsticks with a few pinches of salt and a few turns of freshly ground pepper. To a large nonstick GreenPan, set over medium-high heat, add the oil. When the oil is hot, swirl it around a bit and then add the chicken, skin-side down, and cook for about 15 minutes, until the skin is golden brown. Flip and cook on the opposite side for an additional 15 minutes. Remove the chicken from the pan and set aside.

Add the pieces of eggplant and cook for 2 to 3 minutes on each side. Add the eggplant to the plate with the par-cooked chicken.

Turn the flame down to medium-low and add the shallot, garlic, spices and salt. Cook for 2 to 3 minutes, until the shallot is translucent. Add the harissa, splash of water and mix until the harissa is combined with the water and spices. Add the couscous and mix until the couscous is covered and coated in the spice mixture, about 2 to 3 minutes. 

Nestle the chicken into the couscous and add the eggplant around the chicken. Pour the water or chicken broth (for the record, I used water and it was delicious!) in different spots hitting the couscous. Bring the flame to medium-high heat and simmer the couscous mixture for about 10 to 12 minutes. You'll notice that the water should be mostly evaporated. Give the couscous a try and if it needs a bit more time, keep it on the stove for an additional 2 to 3 more minutes. 

While it's cooking, prepare the garnishes. I grilled some lemon over my gas stove. I squeezed a bit of lemon juice and stirred in a splash of water to the yogurt and whisked it together to thin it out. And I chopped up some Italian parsley. 

Remove the harissa chicken dish from the heat and squeeze the grilled lemon over the chicken and couscous. Drizzle with the yogurt, sprinkle with the pomegranate seeds and Italian parsley. Serve immediately. 

This dish is delicious as leftovers and is good for up to 3 days when stored in an airtight container in the fridge. 
(This post is sponsored by GreenPan. Thank you for supporting the sponsors that keep A Cozy Kitchen cozy.)