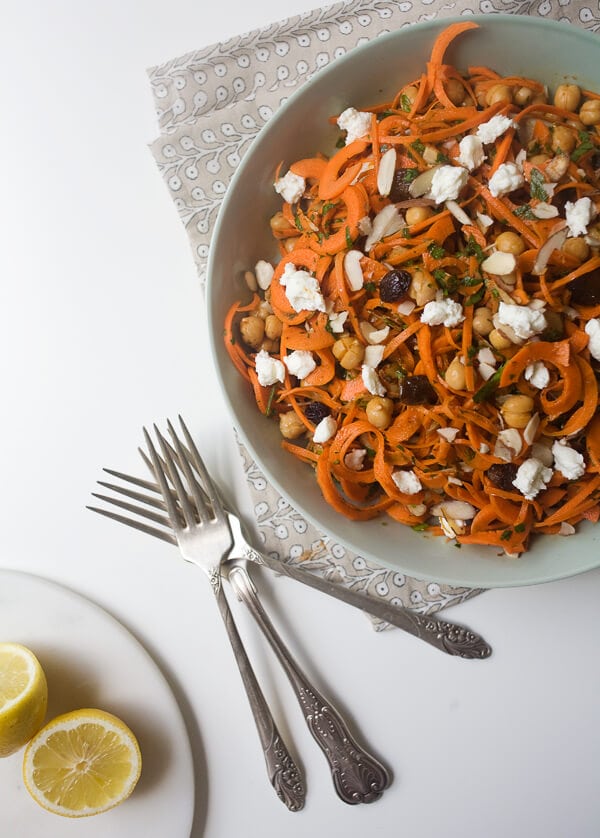 I feel like I've been on a bout of straight indulgence. In the last week's there's been a hash I ate all by myself for dinner, soft serve dripping with honey, my favorite burger in LA and don't get me started on last week's pimento cheese situation, which also transitioned into pimento cheese chilaquiles.
I need a reset button in form of some carrots. And probably a spin class because I mean, it's been a little reckless over here. Straight reckless livin'.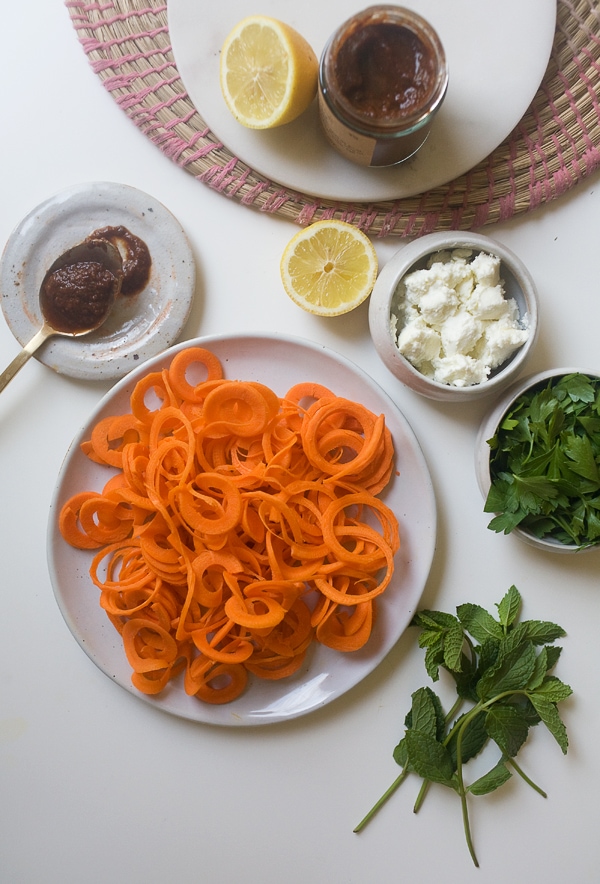 I made this salad using my spiralizer, which I'm trying to use on other vegetables besides the traditional zucchini. I have to say that it spiralizes zucchini a bit easier than carrots. This definitely works against its super sharp blades but there was some definite muscling.
I found that if you are using a spiralizer, the thicker the carrot the better; it made it much easier.
If you don't have a spiralizer, don't worry about it. You absolutely don't need it in this instance. A peeler or mandolin will do just fine.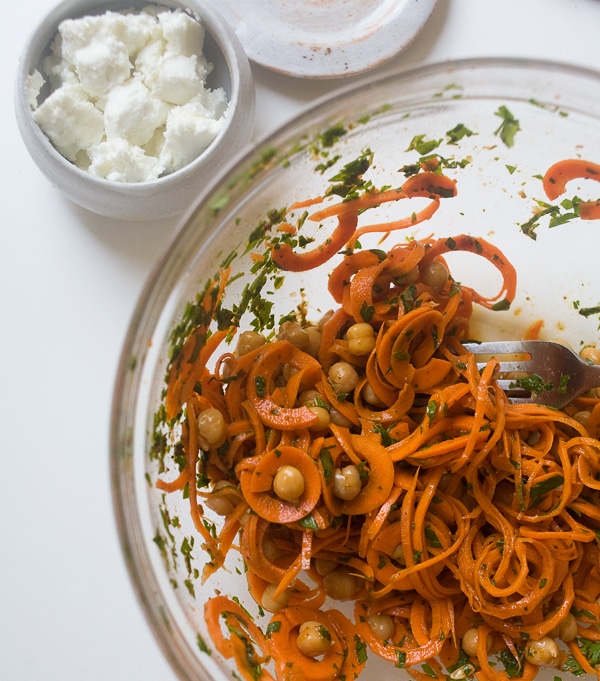 After the debacle of cutting the carrots, the work is done for you. All of the ingredients (minus the cheese) are mixed together in one big serving bowl and then marinating for a bit.
Right before serving you can sprinkle the last of the almonds on top and drop little dots of goat cheese all over the salad. It's a good mix of spicy, refreshing, filling (hello garbanzo beans!) and creamy.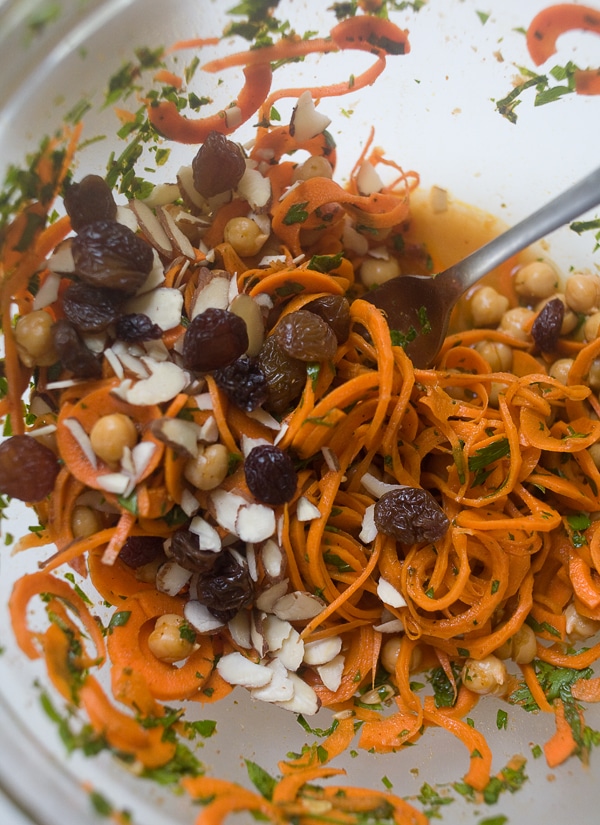 Reset button situation!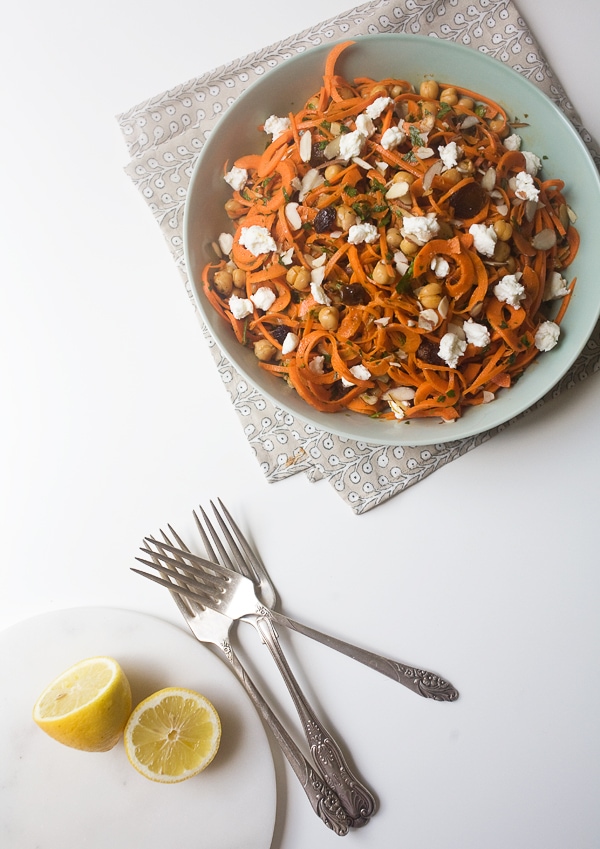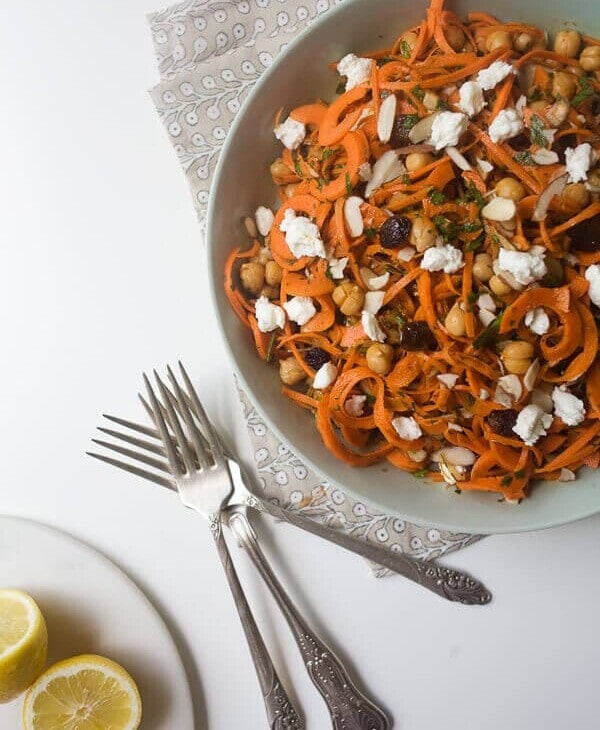 Print Recipe
Moroccan Carrot Noodle Salad with Golden Raisins, Goat Cheese and Harissa
Ingredients
3 to 4

large peeled carrots

shaved, thinly sliced or spiralzied

1

15-ounce can of garbanzo beans, washed and drained

Handful of flat-leaf parsley

minced

5-6

mint leaves

minced

Juice from 2 lemons

1

tablespoon

harissa

or to taste

1

garlic clove

finely minced

Salt

Small handful of sliced almonds

Small handful of golden raisins

2

ounces

goat cheese

crumbled
Instructions
Cut the carrots any way you like: using a box grater, a mandolin or a spiralizer. I used the spiralizer and it worked out great, but it's definitely not a must.

I was a little psychotic and shucked the garbanzo beans and discarded the skins. I personally like garbanzo beans this way but feel free to skip this step completely. If you want to be psycho, proceed with shucking every single bean. It'll take you about 5 to 7 minutes.

In a large bowl, add the carrots, garbanzo beans, flat-leaf parsley, mint leaves, juice from 2 lemons, harissa, garlic clove and a few pinches of salt; toss the entire salad together and allow to sit to marinate for 15 minutes. During this time the carrots will soften slightly. Give it a taste and adjust the salt to taste. I added an extra teaspoon of salt.

Right before serving, mix in the almonds and golden raisins. Garnish the salad with extra sliced almonds on top and a dots of goat cheese.