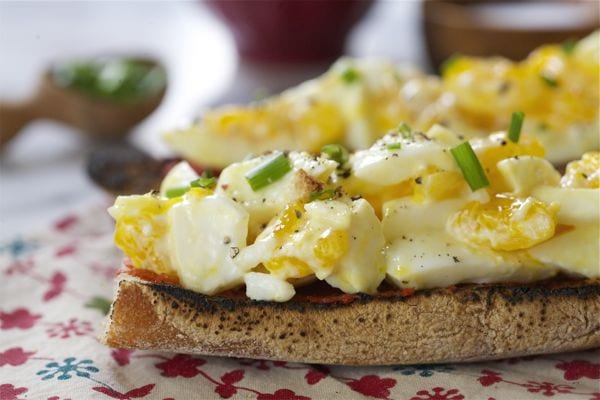 I really have so many thoughts about egg salad but GIRLS is playing in the background, so naturally my mouth is agape and I'm feeling all sorts of awkward. Seriously, any second I might jump behind the couch to hide.
I mean, Hannah jumping around the club with that sort-of-shirt on in Duane-Reade…and her cutting words to Marni (she deserved it), sheesh…
This show really does make you feel like you're watching something you shouldn't be allowed to watch. Like, you're eavesdropping/snooping in on someone's very weird and pretty normal life. If you're crazy nosey (like me) then this is dreamy.
Egg salad…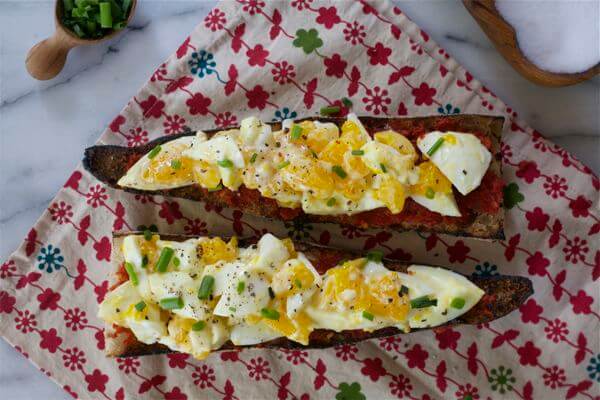 Egg salad is usually the opposite of dreamy; it's usually way meh. I mean, how many times have you seen it in the grocery store ready-made section looking all clumpy and gross. Yeah, me too.
Egg salad always seems to have way too much mayonnaise (says the mayo lover) with eggs that are overcooked and not a hint of acid or bite in sight. It's just a big ol' creamy and mayo-ey and slimy mess. No. Just no.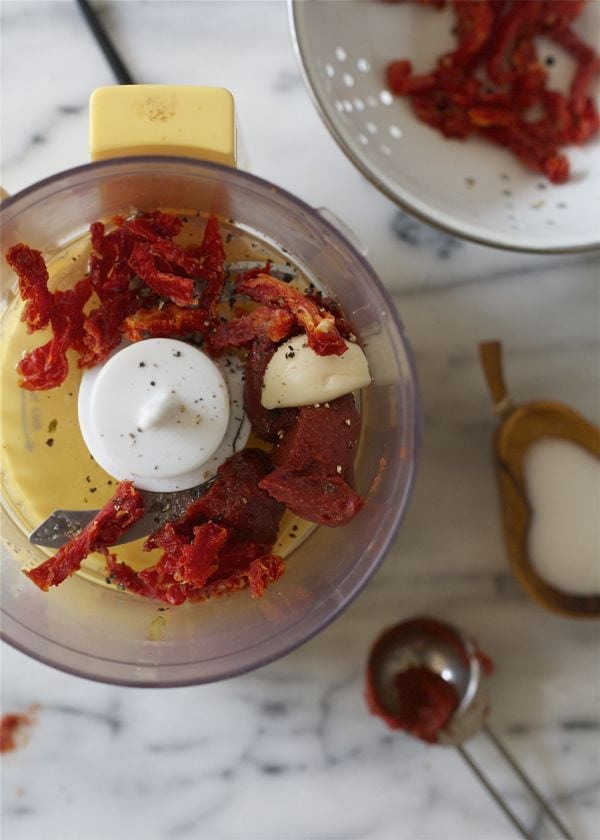 My egg salad attitude was flipped forever when I ate what I think is the best egg salad sandwich in the whole wide world from the LA bakery, Euro Pane. They serve all sorts of breads, pastries and croissants, but their real killer is their egg salad sandwich. MAJOR.
The sandwich is served open-faced; and the bread—usually an olive bread—flirts with being so toasted it's almost charred. (I personally love char.)
There's a very important smear of sun dried tomato sauce that adds two things: a bit of sweetness and a bit of tartness. The eggs are boiled to the point where they're still creamy and almost runny. They're chopped and barely bound together with the slightest bit of mayonnaise and Dijon mustard.
Egg salad has never been so complicated…yet so simple to make. ever.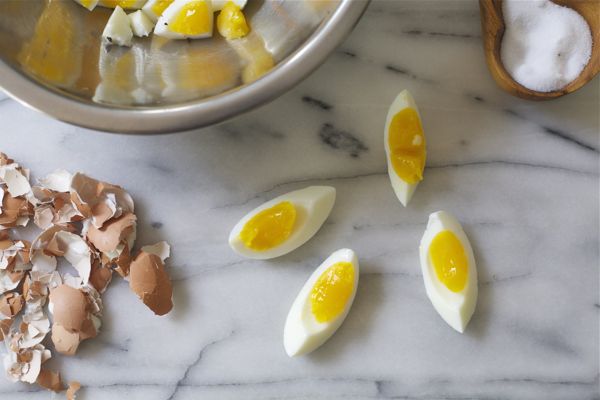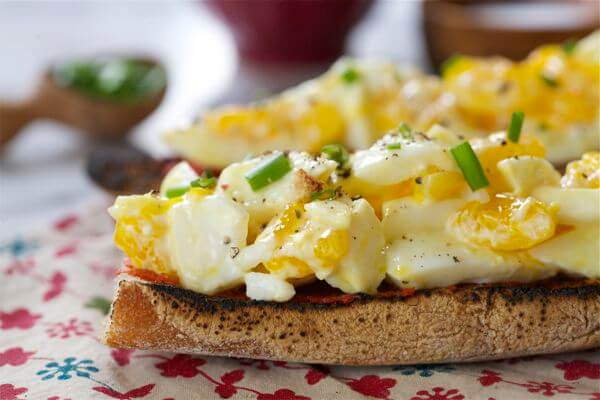 Print Recipe
Egg Salad with Sun Dried Tomato Sauce
Ingredients
Sun dried tomato sauce:
1/4

cup

sun dried tomatoes

2

tablespoons

tomato paste

5

tablespoons

extra-virgin olive oil

1

garlic clove

Salt

Freshly ground pepper
Egg Salad:
4

large eggs

1

tablespoon

mayonnaise

1

teaspoon

Dijon mustard

Freshly ground pepper

2

teaspoons

fresh chives

minced
Instructions
In a small bowl, add the sun dried tomatoes and cover them with water. Allow the sun dried tomatoes to soak for 5 minutes. Drain and pat dry with a few paper towels. Add the sun dried tomatoes, tomato paste, garlic, olive oil, a pinch of salt and a few cracks of pepper to the bowl of a food processor. Blend the mixture until smooth; the consistency should be slightly looser than a paste and will glisten. Set aside.

Add the eggs to a saucepan and cover them with cold water until it reaches about half way up their sides, about 1-inch. Place the eggs over high heat and once the water reaches a medium boil (between a simmer and a rolling boil), turn the heat off, cover the saucepan with a lid and set your timer to 8 minutes. This will give you an almost-runny, creamy, bright yellow yolk with whites that are set. Once the time is up, remove the eggs and run cold water over them and peel. Slice the eggs in half, quarter them and then cut those quarters in half, too. Add them to a bowl, along with the mayonnaise, Dijon mustard, a few cracks of freshly ground pepper and a pinch of salt. Gently toss the mixture together, making sure all of the eggs are coated in the mayonnaise mixture.

To assemble the sandwiches, smear a layer of sun dried tomato sauce onto each slice and top with a few spoonfuls of egg salad. Garnish with a heavy sprinkling of minced chives and a few cracks of black pepper.
Inspired by my all-time favorite egg salad sandwich from Europane in Pasadena, CA