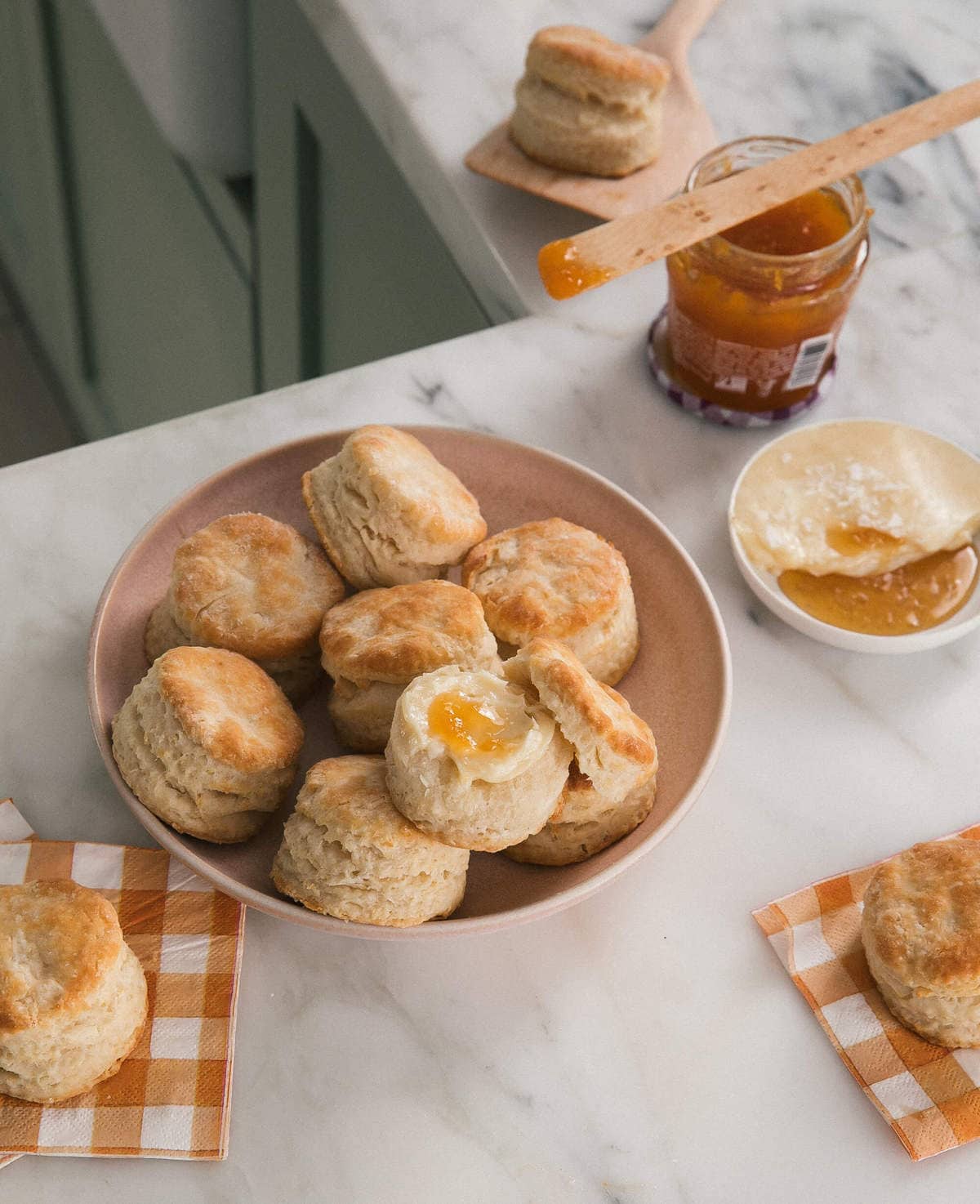 Even though I was born in the South (hi Fulton county), my love for biscuits didn't begin until I went to high school and would leave my four hour tennis practices depleted and hungry. Luckily there was a Popeyes right by the courts, but I never wanted to ruin my dinner completely so instead of getting chicken and a whole plate, I'd just order two biscuits with a side of butter and honey. Oh man, they were SO good. I couldn't be more excited to share these Flaky Buttermilk Biscuits!
That experience turned me into a hardcore biscuit-loving human. I love biscuits of all kinds but to be honest, ones made with shortening are it! And guess what, I've never baked them. I've always opted for full butter. And yes, they're good, delicious even, but they're not like this. I'm here to say that if you're shy to bake with shortening, so was I but we're here together, let's do it!!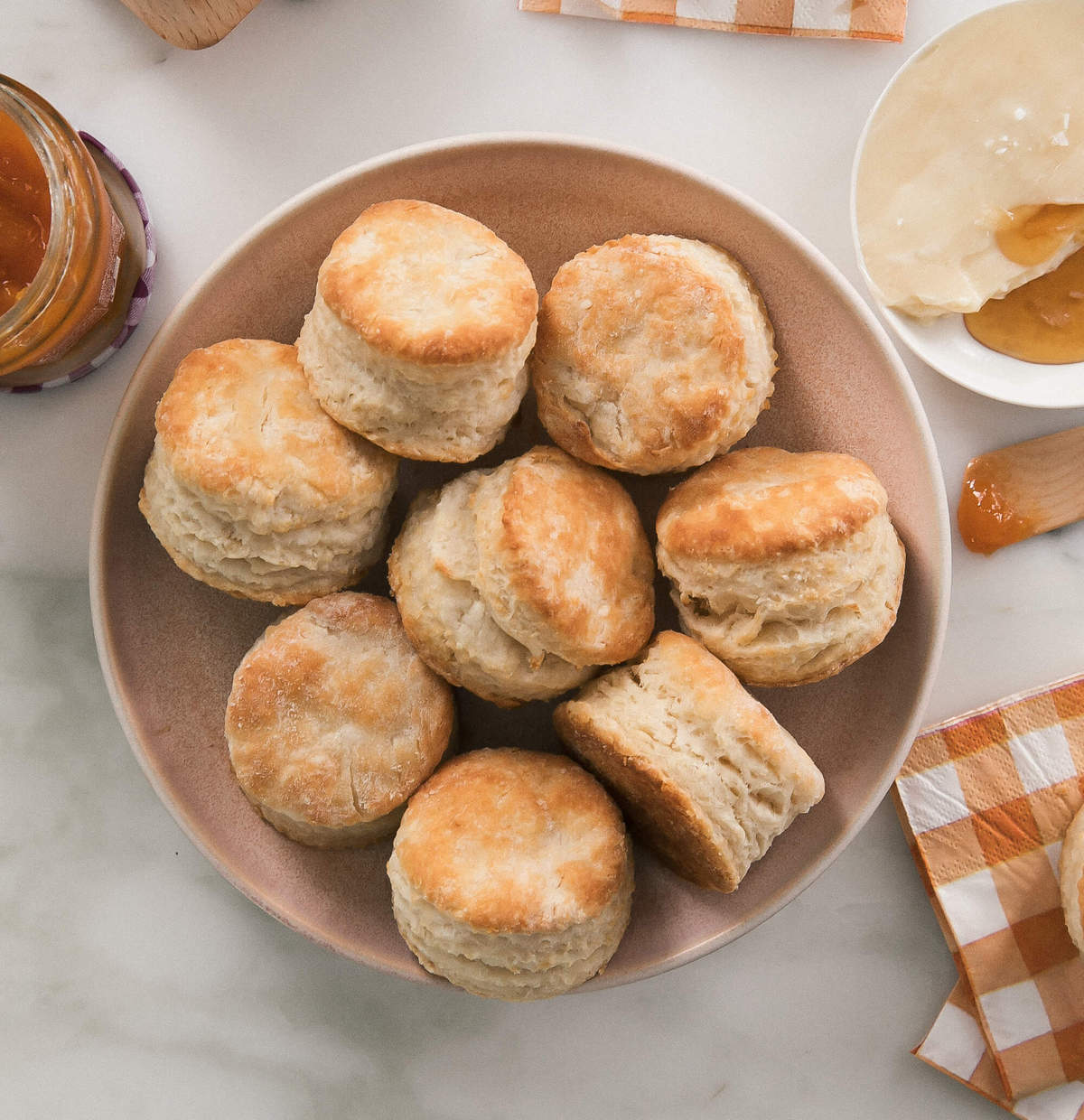 Last week I had the pleasure of going to lunch with Carla Hall and she was so amazing. We talked for a few hours about all sorts of things. I'm not gonna lie, I was a little nervous before, but once I sat down I was like, why was I so stressed?! She's such a beautiful person, even better in person than what you see and know from TV.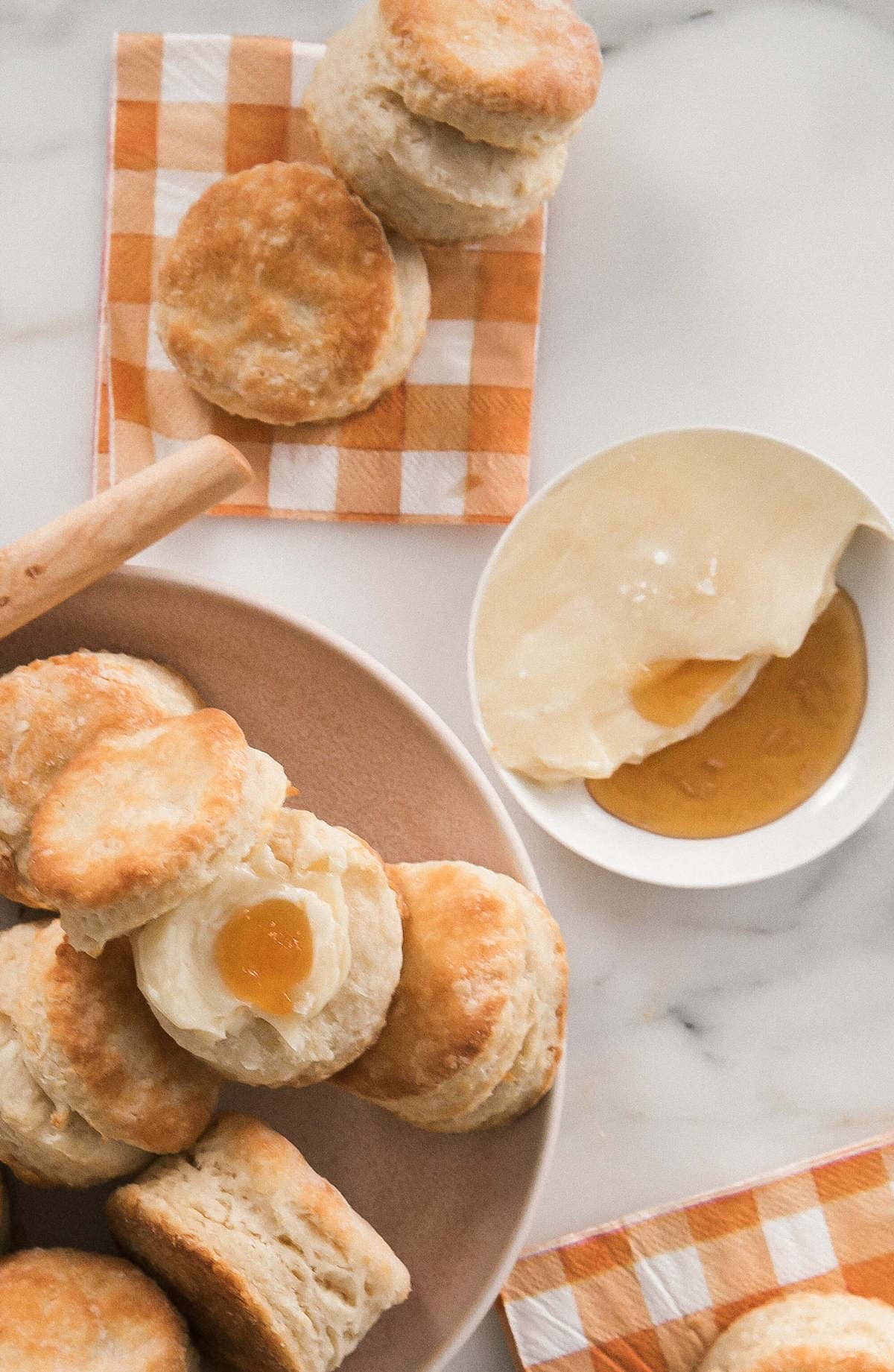 I'm so happy to be sharing this biscuit recipe from her latest cookbook, Carla Hall's Soul Food: Everyday and Celebration. I love how the book traces soul food's history from Africa and the Caribbean to the American South, giving me context in ways that warm my heart and teach me a whole lot.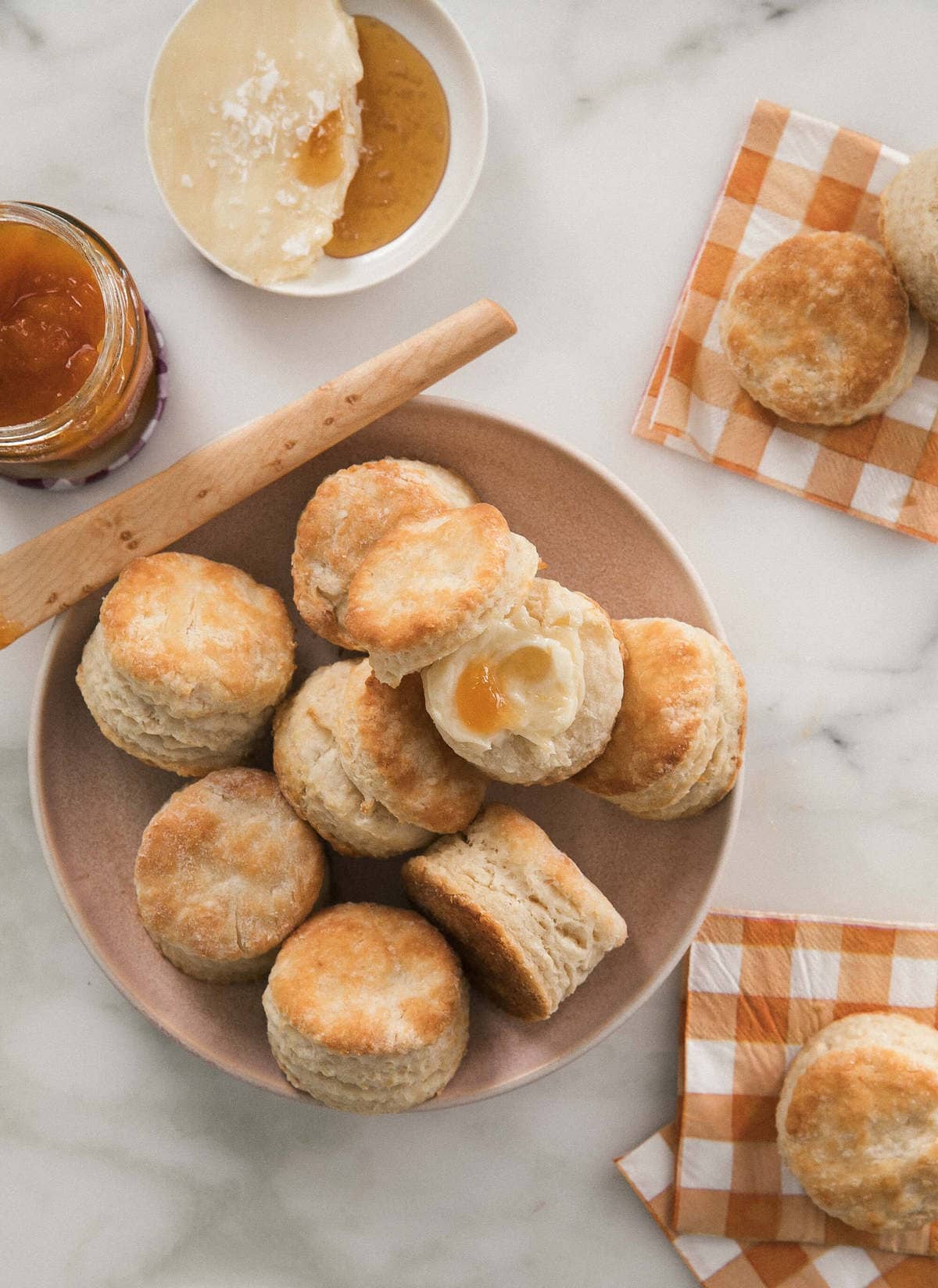 The book feels like her: warm and approachable. The recipes aren't all heavy and indulgent. The book divides the recipes into "Everyday" and "Celebration." A lot of the recipes are vegetable-driven, which I love. The Sorghum with Butternut Squash, Onion, Celery and Toasted Pumpkin Seeds looks SO good. The Curried Sweet Potato Salad sounds like a lovely twist on an old classic. But I had to make these biscuits because they looked bomb!
What I do love about this recipe is that it uses shortening and butter so you have the flavor of butter but a texture that you can only get with shortening. It's glorious. The recipe calls for trans-free shortening. I found some at Whole Foods that is by the brand Spectrum that was fair-trade as well.
These biscuits are SO good. Their texture is dreamy. Like little fluffy clouds. I'm making them for Thanksgiving for sure, and so should you.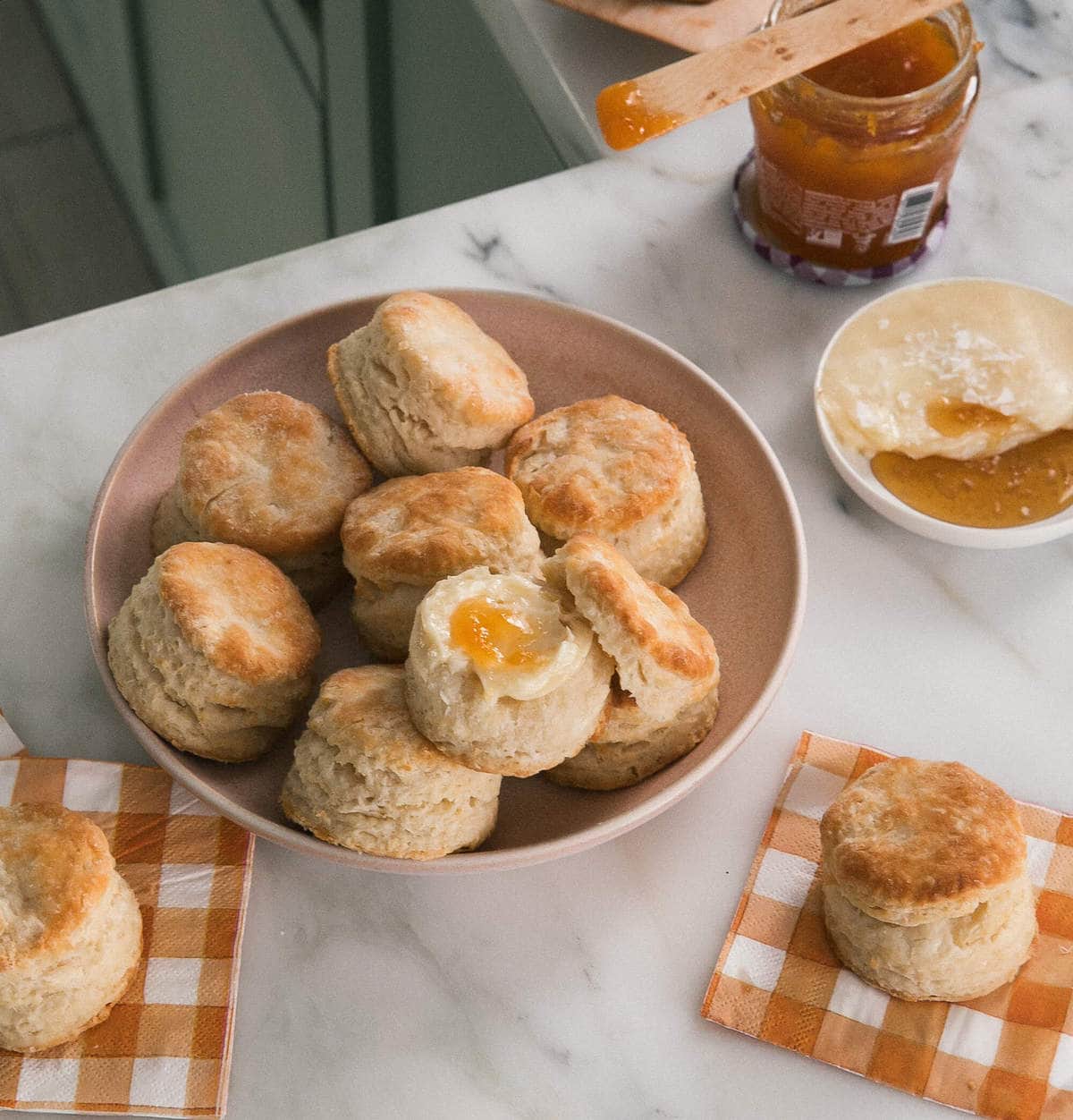 Here's a link to Carla's cookbook + Instagram.
And if you make these Flaky Buttermilk Biscuits let me know on Instagram!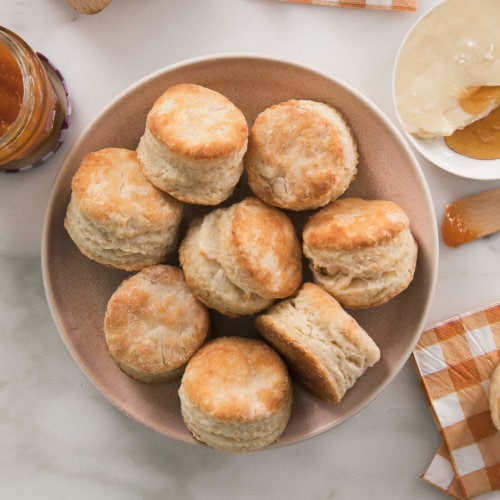 Flaky Buttermilk Biscuits
These Southern flaky buttermilk biscuits are perfection. Pair it with softened butter and apricot jam.
Ingredients
8

tablespoons

unsalted butter

,

rozen, plus more; for pan

2 1/2

cups

all-purpose flour

,

plus more for shaping the dough

1

tablespoon

baking powder

1

teaspoon

granulated sugar

1 1/2

teaspoon

kosher salt

1/2

teaspoon

baking soda

2

tablespoons

trans fat-free vegetable shortening

1 1/2

cups

cold buttermilk
Directions
To Make the Dough with a Food Processor:
Combine the flour, baking powder, sugar, salt, and baking soda in a food processor fitted with the blade attachment. Pulse a few times, until well mixed. Add the shortening and pulse until fine crumbs form. Switch to the grating disk attachment. With the machine running, push the frozen butter through the feed tube.

Transfer the mixture to a large bowl and toss to make sure all the butter shreds are coated with the floury crumbs. Add the buttermilk and fold in using a rubber spatula, running the flat of it through the center of the mixture and then around the edge while you rotate the bowl. Keep at it, being as gentle as possible, until the dry ingredients are evenly hoisted.
To Make the Dough by Hand:
Mix the flour, baking powder, sugar, salt, and baking soda in a large bowl with an open hand, using your fingers as a whisk. Add the shortening and use your fingertips to pinch it completely into the flour until the mixture resembles coarse crumbs.

Using a box grater, grate the frozen butter on the large holes into the flour. Toss until all the pieces are coated. Add the buttermilk to the flour mixture. Using your hand as a spatula, gently mix until there are no dry bits of flour left. The dough will be sticky.

Lightly coat your work surface with nonstick cooking spray, then flour. (The spray keeps the flour in place.)

Turn the dough out onto the prepared surface and gently pat into a 1/2-inch thick rectangle. Sprinkle the dough with flour, then fold it in thirds like a letter. Repeat the patting, sprinkling, and folding twice, rotating the dough 90 degrees each time. Pat the dough to 3/4-inch thickness. It should no longer be sticky.

Flour a 2-inch-round biscuit cutter and press it straight down into the dough. Transfer the round to the prepared pan, placing the bottom side up. Repeat, cutting the rounds as close together as possible and spacing them 1-inch apart on the pan. Stack the scraps, pat to 3/4-inch thickness, and cut again. Refrigerate the rounds until cold, at least 15 minutes.

Preheat the oven to 450 degrees F. Butter a baking sheet. Or line a sheet pan with parchment.

Bake until the tops are golden brown and crisp, about 16 minutes. Let cool for 5 minutes on the pan before serving hot.
Nutrition Facts
Flaky Buttermilk Biscuits
Amount Per Serving (6 g)
Calories 123
Calories from Fat 54
% Daily Value*
Fat 6g9%
Cholesterol 15mg5%
Sodium 254mg11%
Potassium 97mg3%
Carbohydrates 16g5%
Protein 2g4%
Vitamin A 175IU4%
Calcium 37mg4%
Iron 1mg6%
* Percent Daily Values are based on a 2000 calorie diet.