These Earl Grey Honey Scones with honey glaze are perfect for any brunch or breakfast scene. They taste just like earl grey tea.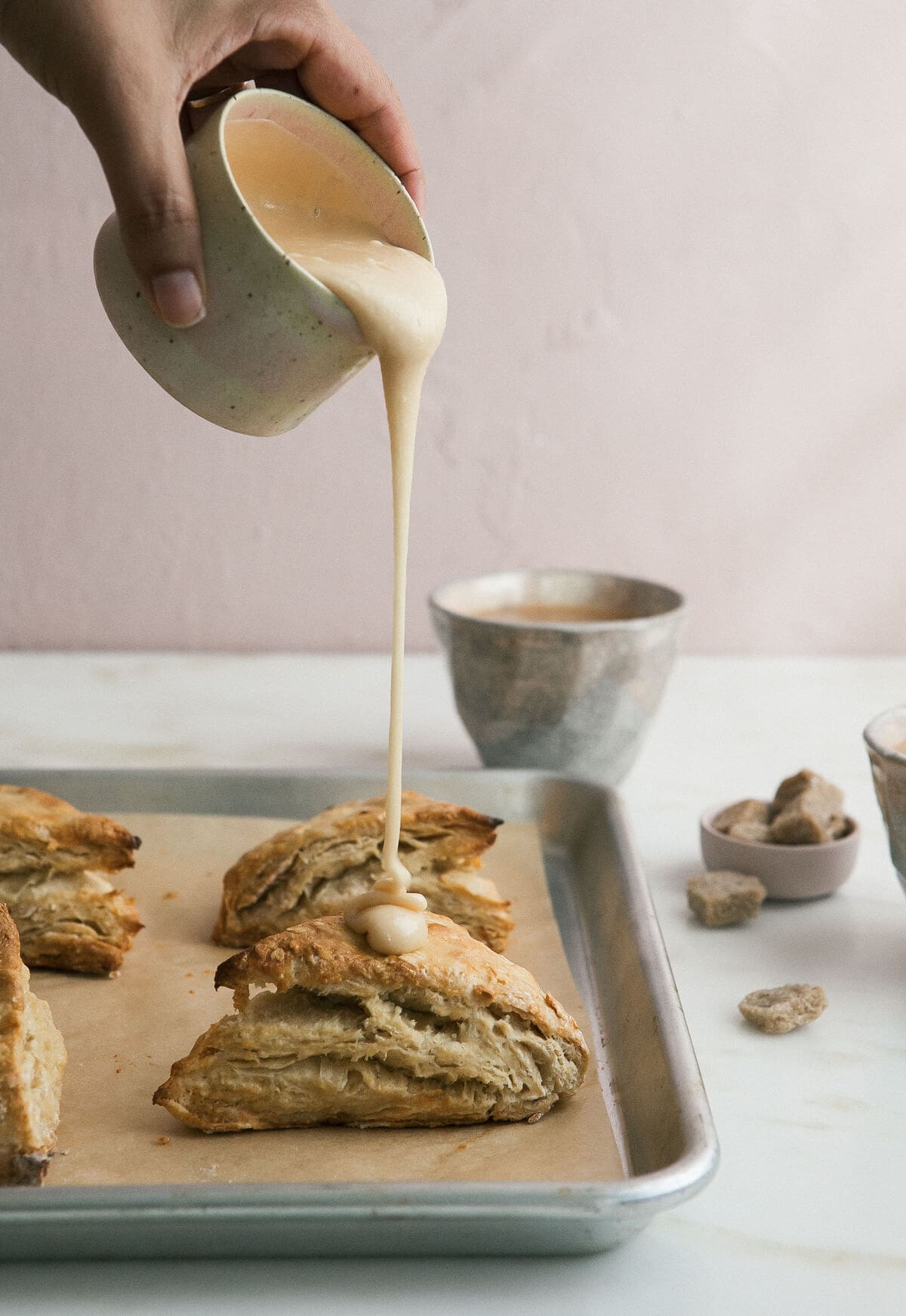 Before we dive into these Earl Grey Honey Scones…
I'm currently in Milan, eating SO much pasta and feeling so very full. I have a feeling that I might have to go on a bit of a pasta-cleanse upon my return. My hope is Amelia is excited to see me lol. I can't wait to tell you more about my trip but right now I'm currently staring at these scones, hoping you have time this weekend to make them because they are so good.
This fall, I want earl grey everything. Fun fact is that my favorite tea to drink during the day is definitely earl grey tea. I love it with a splash of almond milk—it's too good.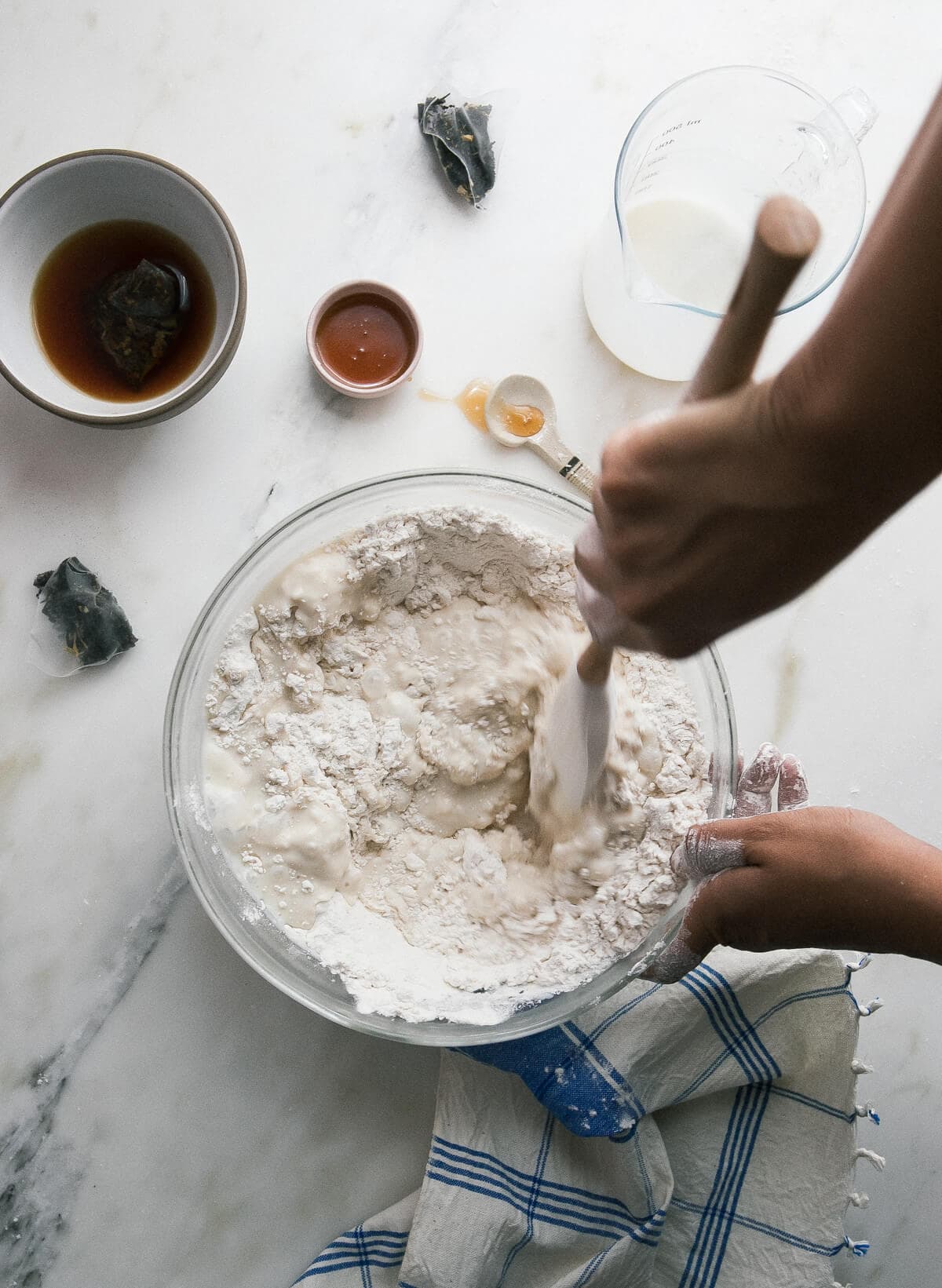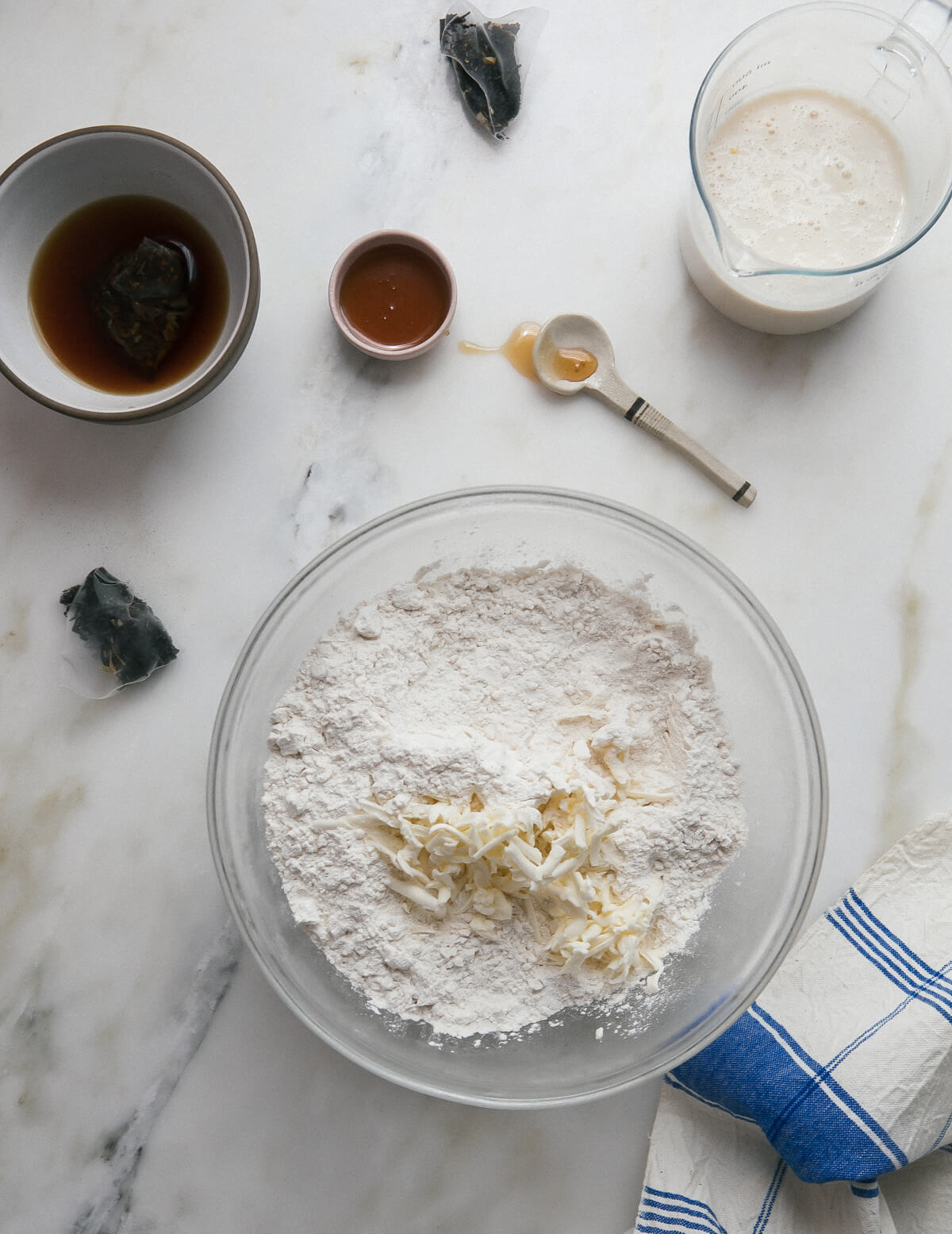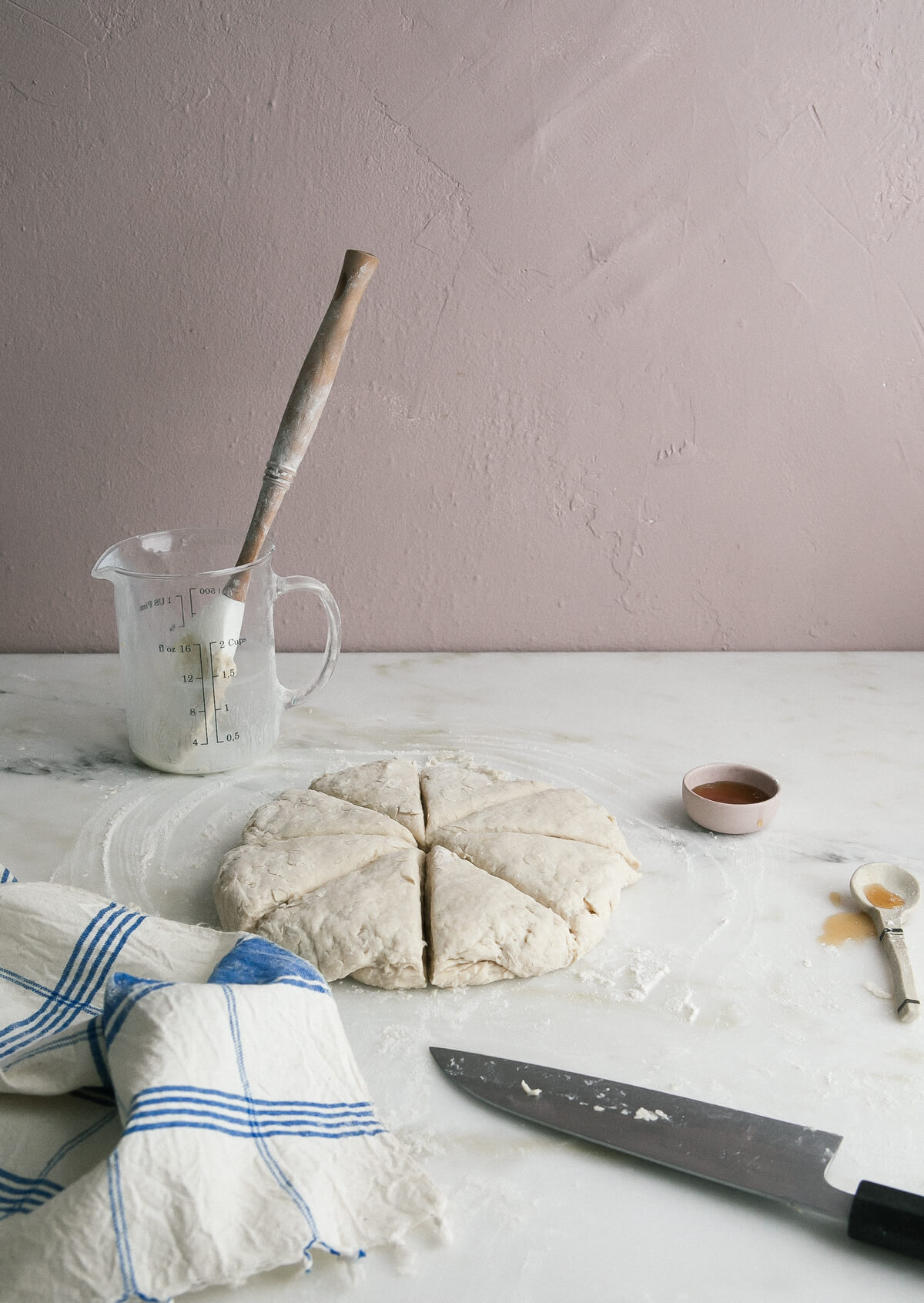 I wanted this recipe to be inspired by a big ol' cup of tea and I think I did that. Even though it kinda doesn't taste like so definitely eat it accompanied by a warm mug of tea.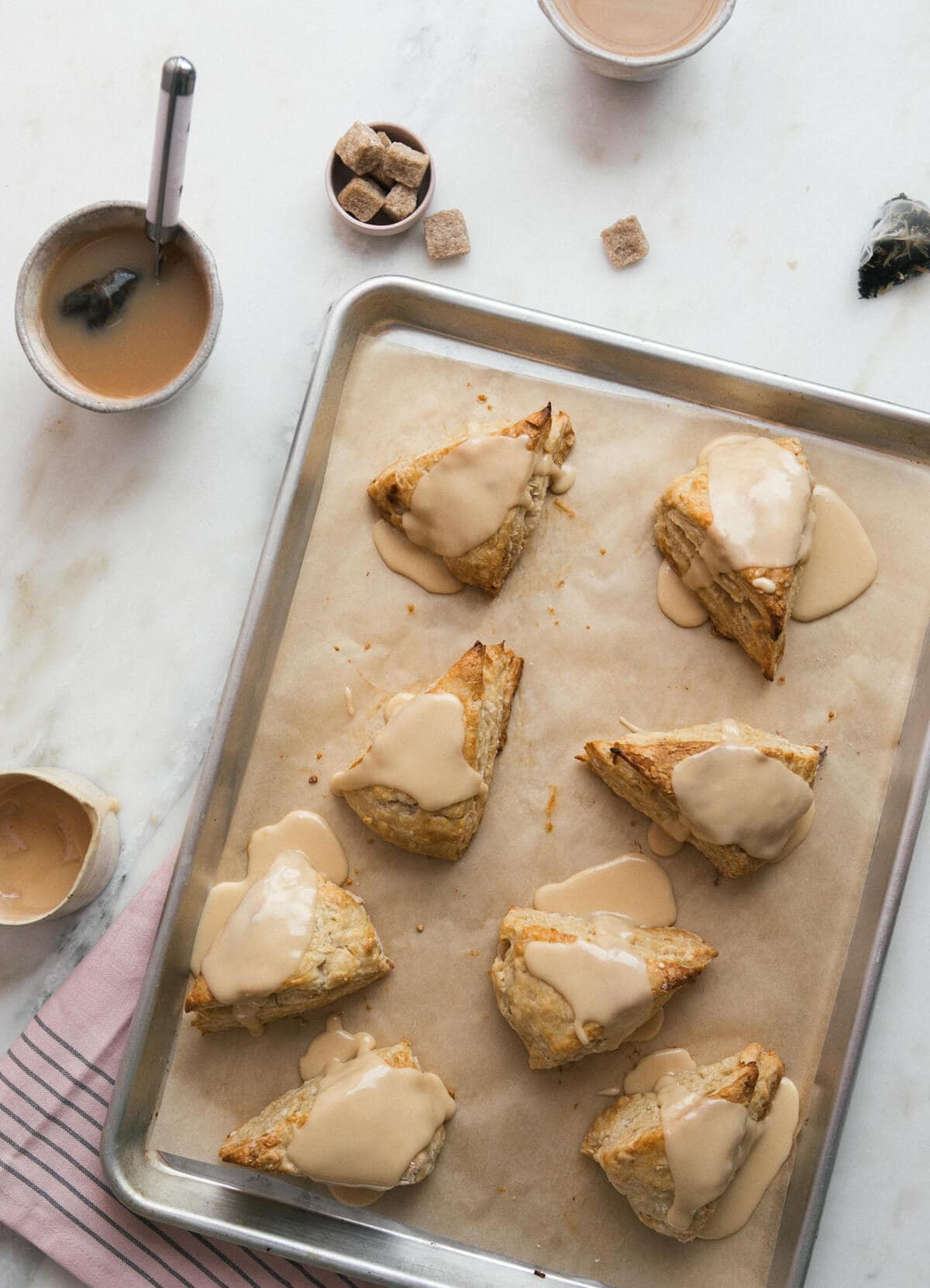 <
How To Make Earl Grey Scones
Scones are super easy to make. I love to shred up the butter using a cheese grater. This makes grating butter SO much easier. Scones DO NOT, I repeat, DO NOT have eggs. The cold butter is mixed into the flour and then after it's completely combined, the buttermilk is added. After a good mix, the dough will come together.
What Are Your Favorite-Shaped Scones
I like my scones in triangles. You form the dough into a circle and then slice it like a pie. Another popular shape is a circle. For this you'll need to roll out the dough and stamp it the scones out with a round cutter. You can choose what shape you like best!
Earlier I was watching European news and on BBC it was talking about the temperatures all across the United States and it's kinda warm. SO…you might not be in the mood to bake this up this weekend but I'm hoping fall-like temperatures hit all of us soon—I can't wait!
I have always been a scone fan! These Roasted Rhubarb Scones with Vanilla Bean Glaze are always a hit!
I hope you enjoy this recipe for Earl Grey Honey Scones!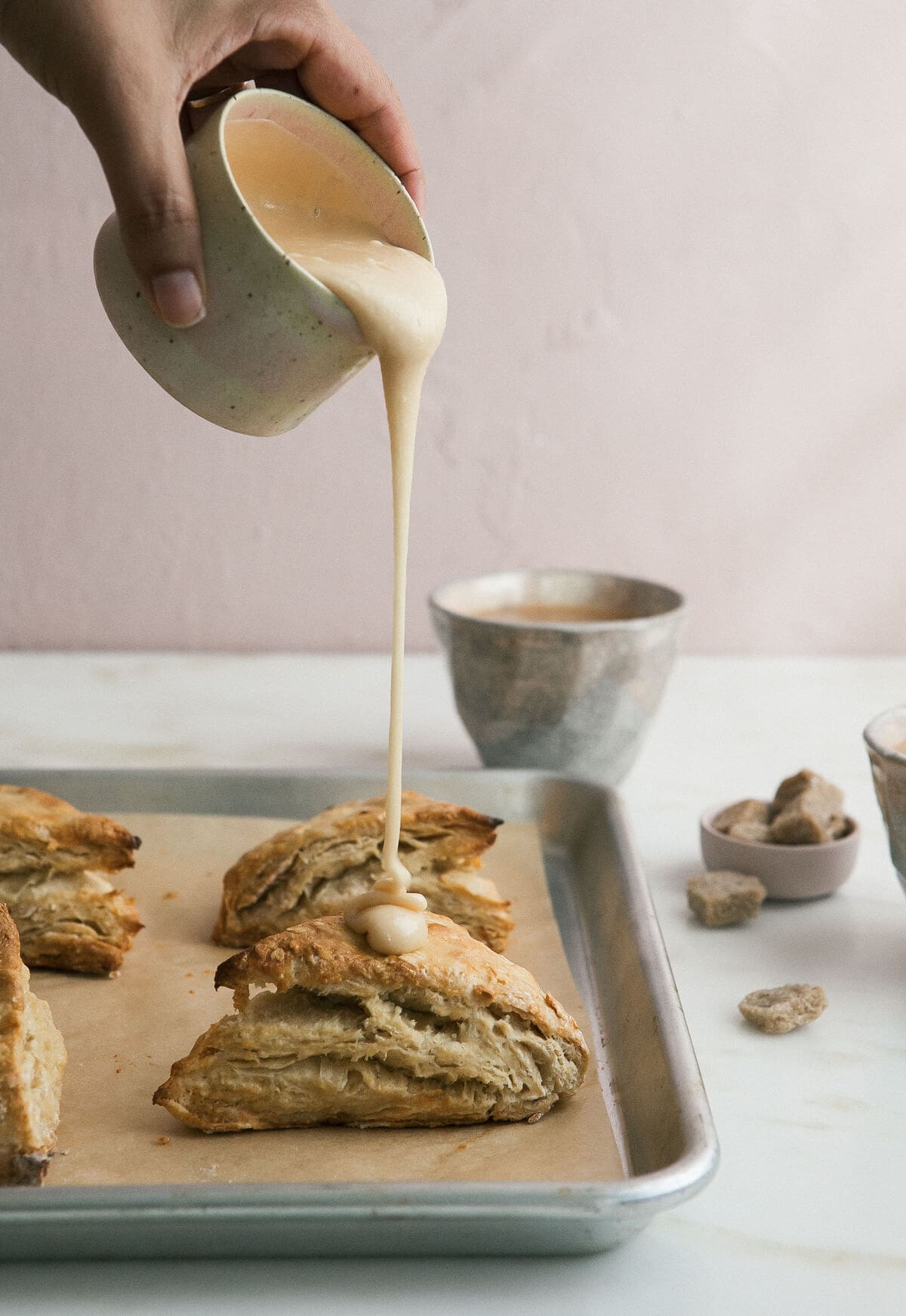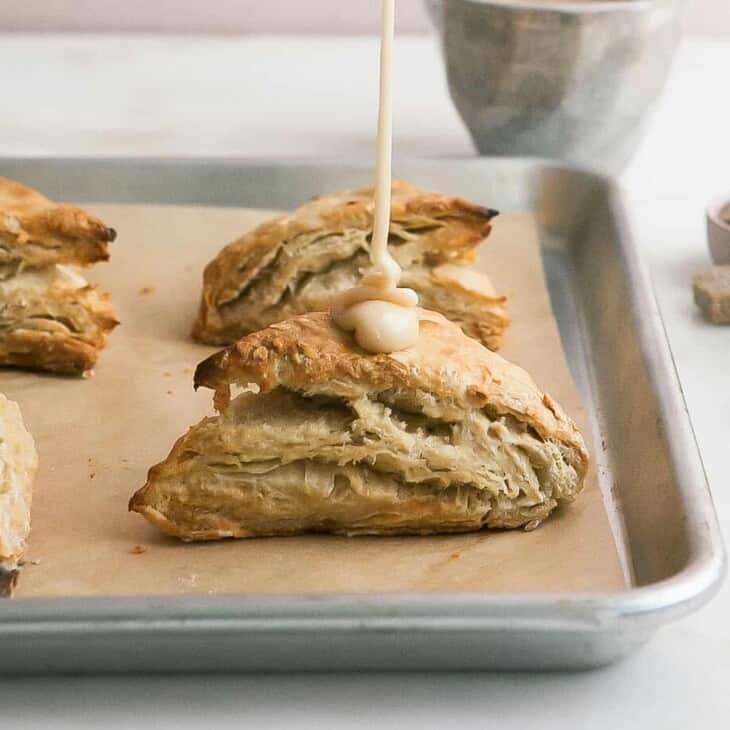 Print Recipe
Earl Grey Honey Scones Recipe
These Earl Grey Honey Scones with honey glaze are perfect for any brunch or breakfast scene. They taste just like earl grey tea.
Ingredients
Honey Scones:
1

cup

buttermilk + 1 tablespoon

3

tablespoons

honey

3

cups

all-purpose flour

1

teaspoon

baking soda

1/2

teaspoon

sea salt

4

tablespoons

unsalted butter

very cold
Glaze:
2 to 3

tablespoons

earl grey

1 tea bag + 1/3 cup boiling water

1 1/2

cups

powdered sugar

sifted
Instructions
To Make the Scones:
In a measuring cup, measure out the buttermilk and whisk in the honey. Set aside.

In a medium bowl, whisk together the flour, baking soda and salt. Using a box grater, grate the butter atop the flour mixture and transfer to the freezer to chill for 5 minutes. Remove from the freezer and toss the butter with the flour until it's evenly coated. Mix the butter throughout the flour, pressing the butter into the flour using your fingers.

Create a well in the center of the flour mixture and pour in the buttermilk mixture. Mix until it comes together. Dump out onto a lightly floured work surface and knead until it comes together (about 3 to 4 times). Press into a circle that's about 1-inch thick. Cut right down the middle of the circle and then across, creating 4 big scones. Cut those 4 big scones in half, leaving you with 8 scones. Transfer them to the prepared sheet pan. Transfer to the freezer to chill for 15 minutes.

Meanwhile, preheat your oven to 375 degrees F. Brush the scones with buttermilk and transfer to the oven to bake for 12 to 15 minutes, until the tops are light to medium golden brown and the scones have risen. Remove and allow to cool.
To Make the Glaze:
In a measuring cup, measure out 1/3 cup boiling water. Add the tea bag and allow to steep for about 5 to 10 minutes. Remove the tea bag and discard.

Whisk together the powdered sugar and 2 tablespoons of earl grey tea together. Whisk until smooth, thick and barely pourable. This is a bit of a touch and go sort of recipe so if it's too thick, add a teaspoon of liquid and if it's too thin, add a few tablespoons of powdered sugar.

Pour the glaze over the scones and serve.
Notes
To Make Ahead:
If you'd like to make these scones ahead of time, easy! Make them and form and cut the scones. Place them on a baking sheet and transfer to the freezer to flash freeze. Chill for 1 hour. And then place them in a freezer-safe plastic bag or container. Bake from frozen for an additional 1 or 2 minutes. 
Equipment: 
Baking Sheets | Glass Mixing Bowls | Silicon Spatula | Cheese Box Grater | Pastry Brush |
Nutrition
Calories:
332
kcal
(17%)
|
Carbohydrates:
65
g
(22%)
|
Protein:
5
g
(10%)
|
Fat:
6
g
(9%)
|
Saturated Fat:
4
g
(25%)
|
Cholesterol:
15
mg
(5%)
|
Sodium:
285
mg
(12%)
|
Potassium:
50
mg
(1%)
|
Fiber:
1
g
(4%)
|
Sugar:
29
g
(32%)
|
Vitamin A:
175
IU
(4%)
|
Calcium:
9
mg
(1%)
|
Iron:
2
mg
(11%)
Looking for more breakfast recipes, here are some of my favorites: