These Classic Crispy Waffles are what you want from a perfect waffle: their crispy exteriors complement their soft and sweet interior. They have a lovely tang thanks to the buttermilk, hints of butter and the perfect shatter-in-your-mouth texture.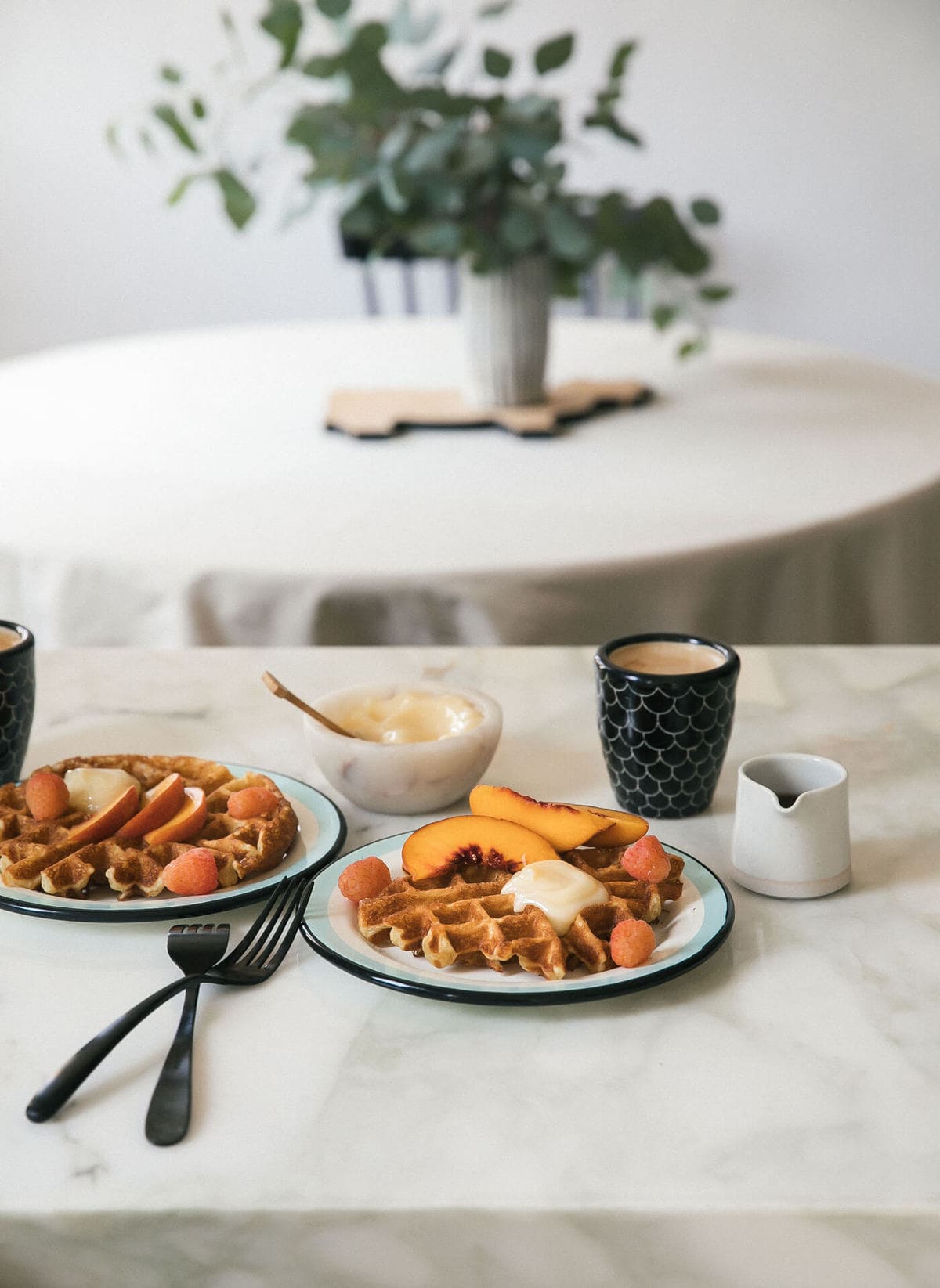 I put this recipe for Very Crispy Waffles in The Cozy Coloring Cookbook a few years ago (I can't believe it came out two whole years ago) and realized I have never ever shared it! This recipe was developed by Billy, while I was developing another recipe.
Sometimes we work that way. I'll give him an idea, a jumping off platform, he'll do the research and begin. And then I'll work on something else and by the end of our trials we usually have things for the other person to try. And then we tweak and adjust from there.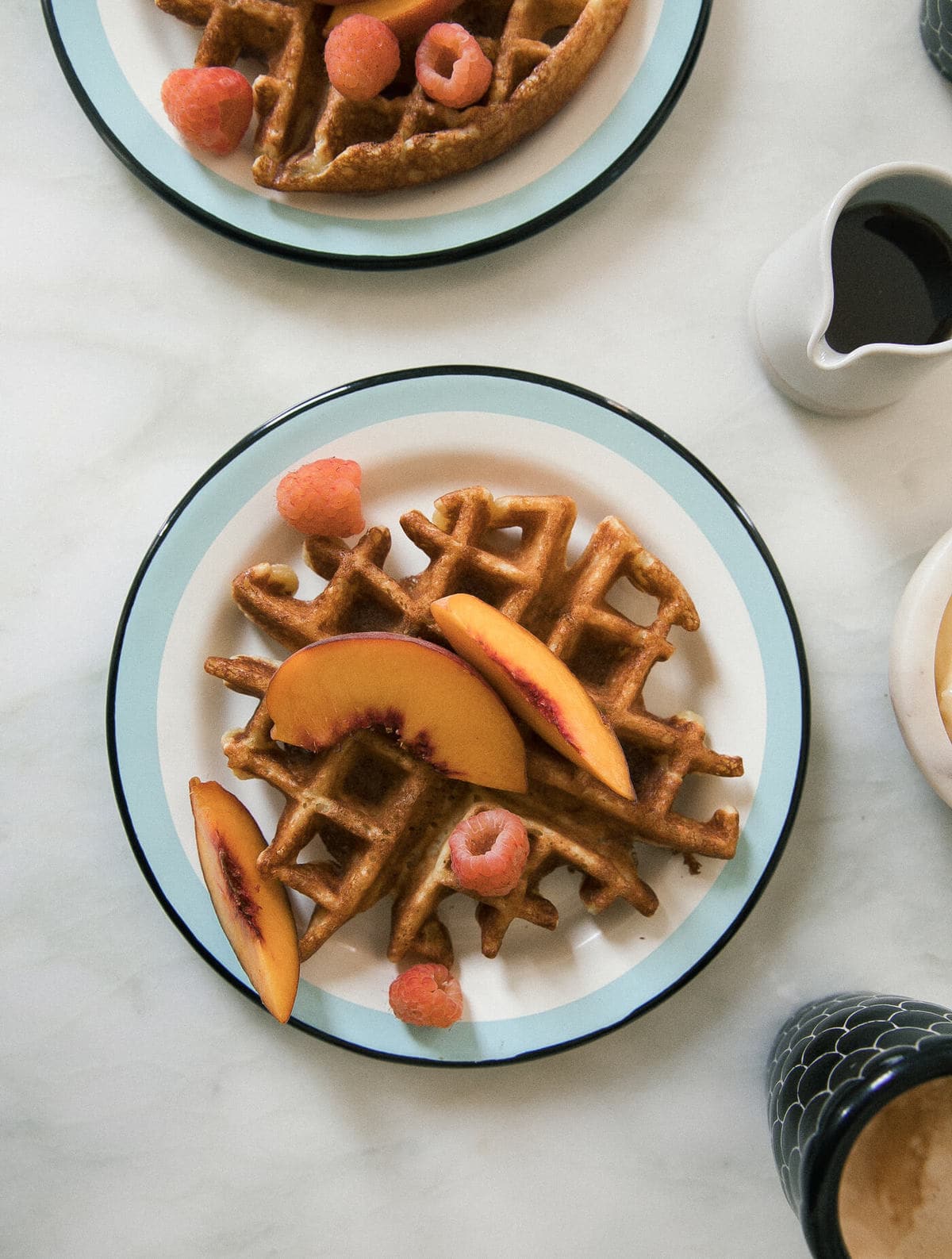 These were inspired by the waffles at Dinette in Los Angeles. Maybe the best waffle I've ever had. It's super crispy and VERY sweet (not my favorite aspect of them, tbh) and then they're topped with sea salt and some maple syrup. THEY ARE SO GOOD.
In the name of research, we headed to Dinette in Echo Park to eat them. These waffles have actually been something I've really missed about not living in Echo Park. I think of them constantly lol. So I figured I'd better learn how to make something similar.
Why is It Called a Waffle?
I love discussing food history and word etymology. How interesting! How fascinating! The word waffel derives from the Dutch word wafele. "Wafele" means woven, so makes sense!
What to Add to a Waffle To Make It Better
Let's discuss the art of making dope waffles. We found that the fastest and quickest way to crispy waffle world was separating the egg yolks from the egg whites and whipping the egg whites with some sugar. Basically creating a loose meringue. And then folding that into the batter. When they come out of the waffle iron, they're not that crispy, but give them 30 seconds and BOOM! So much crispness.
We tested a few versions where we didn't add sugar to the whipped egg white and it was less crispy. That sugar addition really helps in aiding to the crispiest waffles you can make at home.
The only thing with these is that they must, and I mean MUST be eaten warm. If they cool down they'll get soft. If you transfer them right to the oven to stay warm, they'll be ok. But honestly, they taste best eaten straight from the waffle maker onto the plate.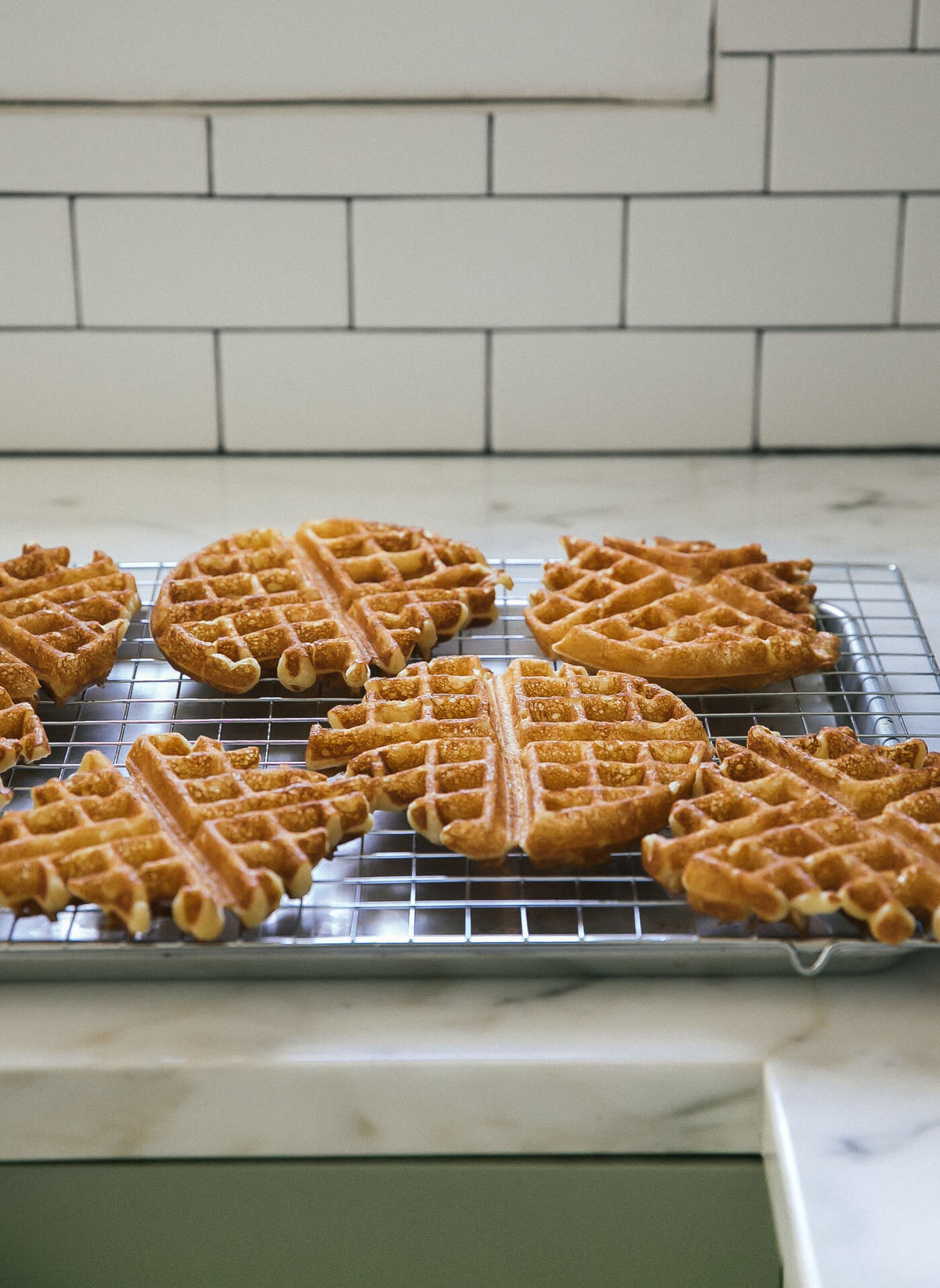 How Do You Make Waffles Crispy
Whisk together the dry ingredients. We have all-purpose flour, corn starch, baking powder, baking soda and kosher salt.
In a medium bowl OR you can use a large measuring cup (my go-to), measure out the buttermilk, whisk in the egg yolks, melted butter and vanilla extract.
Pour the wet ingredients into the dry ingredients and mix.
Using an electric mixer, beat the egg whites until foamy. And then pour in the sugar. It should take about 3 to 4 minutes to get to the point where the egg white is super stiff. They should be glossy and fairly thick! As a result, we'll have super crispy waffles!
Fold the egg white into the rest of the batter. You don't have to be too gentle with it. Mix it in until you no longer see any egg white flecks.
Add about 1/4 cup of batter to each side of the waffle maker. This may depend on your waffle maker so adjust accordingly.
Cook according to your maker's instructions.
Serve with maple syrup or honey butter!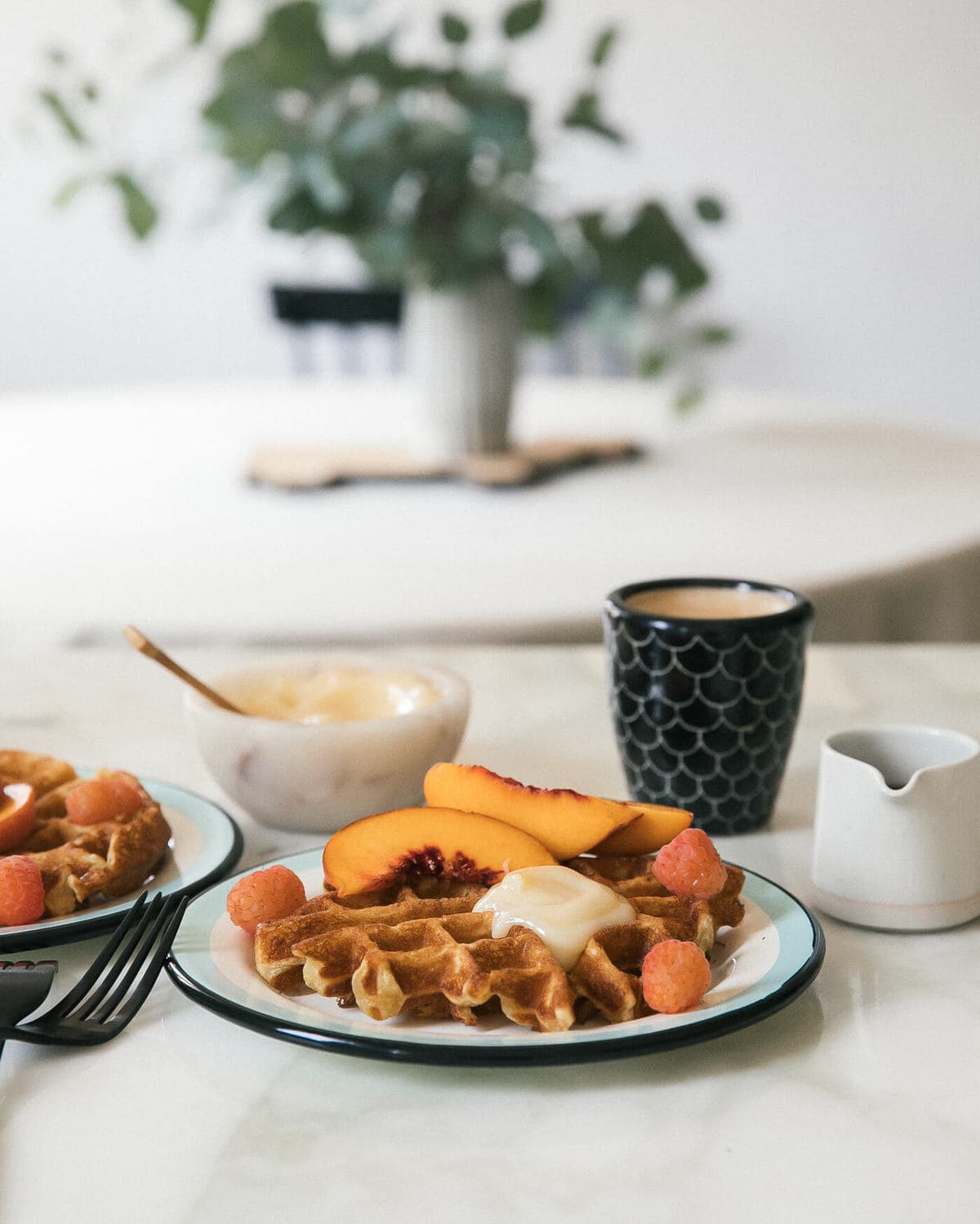 What to Serve Classic Crispy Waffles With
I made some salted honey butter because honey butter is my favorite memory from playing high school tennis. I hated playing tennis (and I played for a solid 15 years) but loved the snacks lol. A mom would always bring a bag of bagels and salted honey butter to practice and I've never forgotten that butter.
So, now I try and put it on everything…including these very crispy waffles.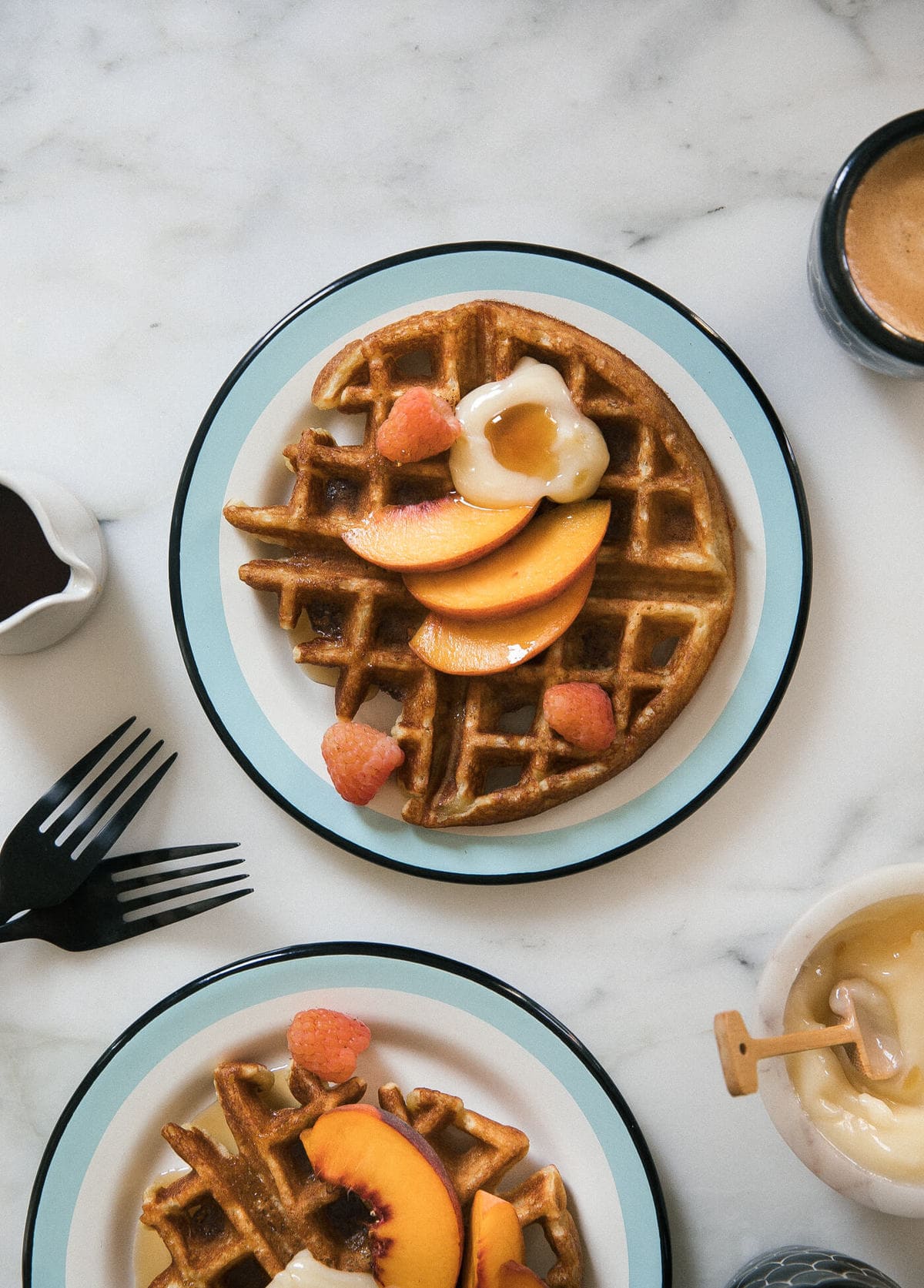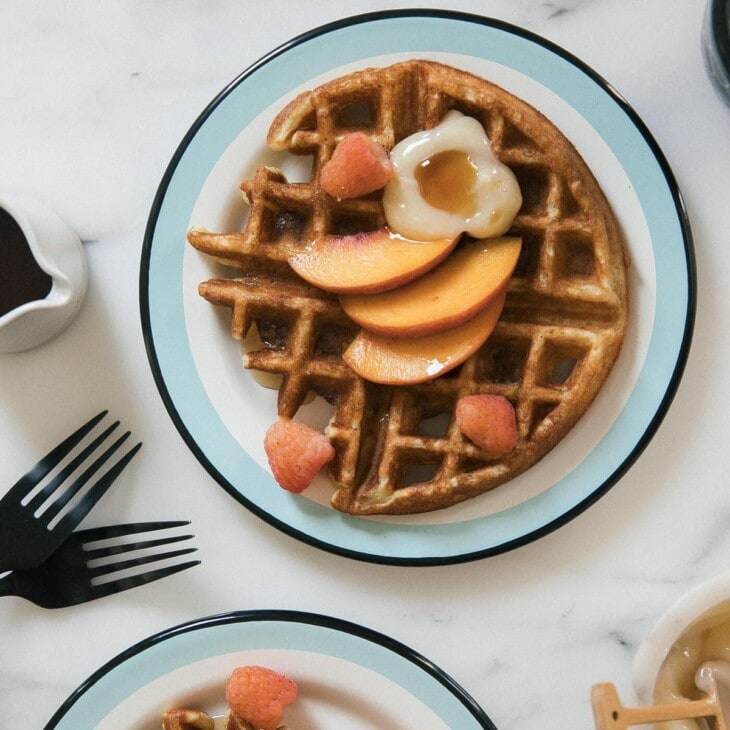 Print Recipe
Crispy Waffles Recipe
Very Crispy Waffles! This recipe will lead you to incredibly crispy waffles that are soft on the inside. Whipped egg white with sugar leads to the crispy waffles.
Ingredients
Salted Honey Butter and Toppings:
1/2

cup

unsalted butter

(at room temperature)

2

teaspoons

good-quality honey

Pinch

of flaky sea salt

1

peach

(sliced, as garnish)

Pure maple syrup

(as garnish)
Very Crispy Waffles:
1 1/2

cup

all-purpose flour

1/2

cup

cornstarch

1

teaspoon

kosher salt

1

teaspoon

baking powder

1

teaspoon

baking soda

2

cups

buttermilk

(shaken)

2

large

egg yolks

(1 egg white reserved)

12

tbls

unsalted butter

(melted and cooled)

2

teaspoon

vanilla extract
Egg White:
2

large egg white

6

tablespoons

white sugar
Instructions
To Make the Salted Honey Butter:
To a small bowl, add the softened butter, honey and salt. Mash it together until smooth and combined. Give it a taste and add more salt, if you like. Set aside.
To Make the Crispy Waffles:
Preheat the oven to 200 degrees. Place a cooling rack on top of a baking sheet and place it in the oven. In a large bowl, whisk together the dry ingredients: all-purpose flour, corn starch, salt, baking powder and baking soda.

In a large measuring cup, whisk the wet ingredients together. Pour the wet mixture into the dry ingredients and mix until just combined. Set aside.

In another bowl, using a hand-mixer, beat the egg whites until foamy. Add the sugar and continue beating until medium, glossy peaks form. Fold the egg whites into the batter until just combined.

Every waffle iron is different so you may have to sacrifice a waffle or two to get the hang of it.

Cook the batter according to your waffle iron's instructions. Mine cooked in about 3 minutes.

Transfer the waffles to a plate to be eaten immediately, or place in the preheated oven to keep warm while you make the remaining waffles.

Top waffles with a dollop of honey butter, a few sliced peaches or other fruit and serve with maple syrup.
Nutrition
Serving:
6
g
|
Calories:
239
kcal
(12%)
|
Carbohydrates:
25.8
g
(9%)
|
Protein:
4.1
g
(8%)
|
Fat:
13.4
g
(21%)
|
Saturated Fat:
7.8
g
(49%)
|
Cholesterol:
67
mg
(22%)
|
Sodium:
420
mg
(18%)
|
Potassium:
146
mg
(4%)
|
Fiber:
0.7
g
(3%)
|
Sugar:
8.5
g
(9%)
Looking for more breakfast recipes? Here are some of my favorites: