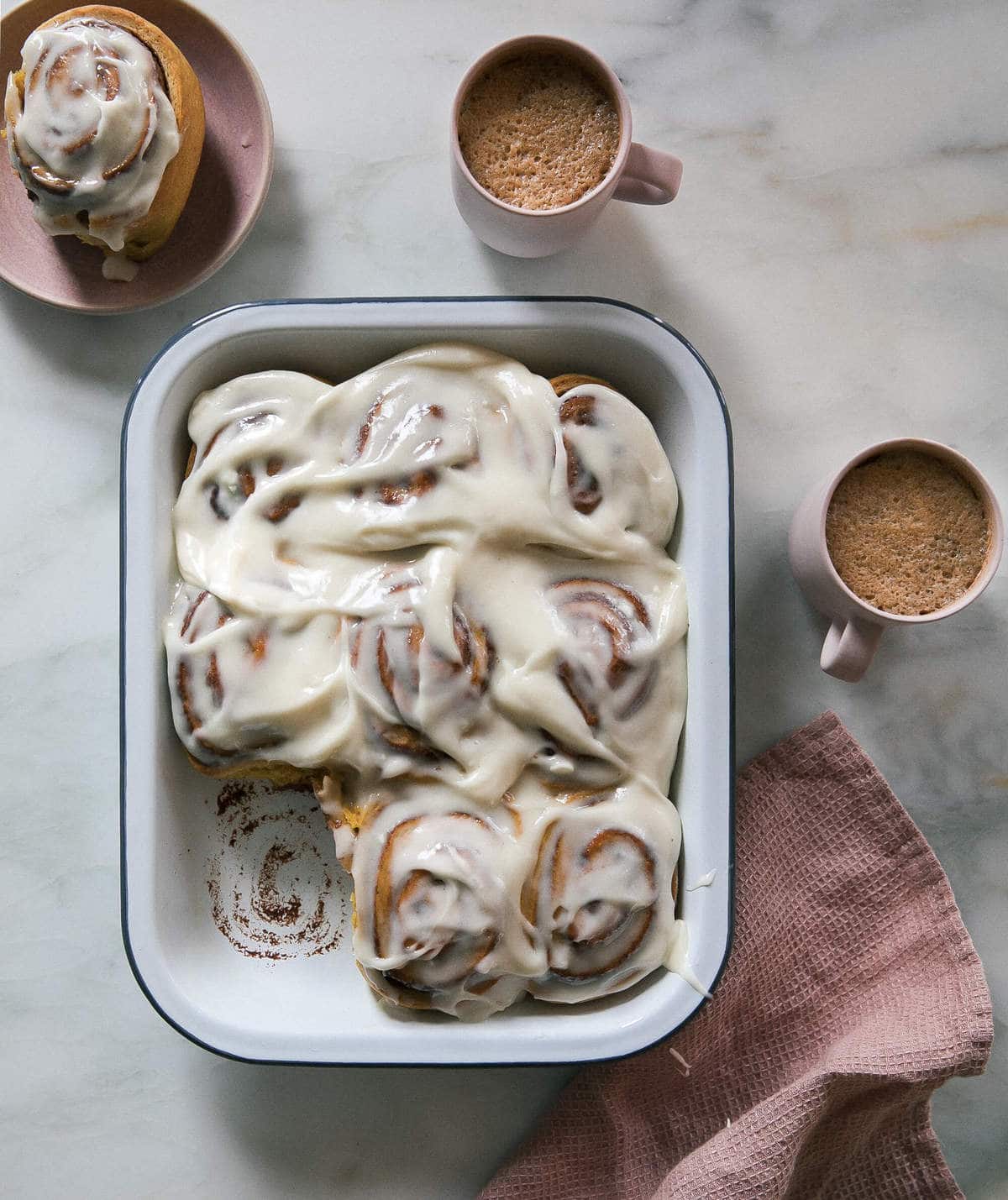 Fall has officially hit and I am here for it. Every year it takes so much self-control to not make pumpkin everything once Labor Day is over. I was waiting until we were in proper fall. No pre-matureness here! It's time for these Pumpkin Cinnamon Rolls with Maple Frosting to shine!
For this post, I teamed with ALDI, the place I go for all of my fall essentials. I stocked up on all the sugars, vanilla, pumpkin pie spice, cinnamon and lots more. I also picked up their Simply Nature Organic Pure Pumpkin Puree and it has the loveliest texture (not too watery, not too thick) and prettiest bright orange color.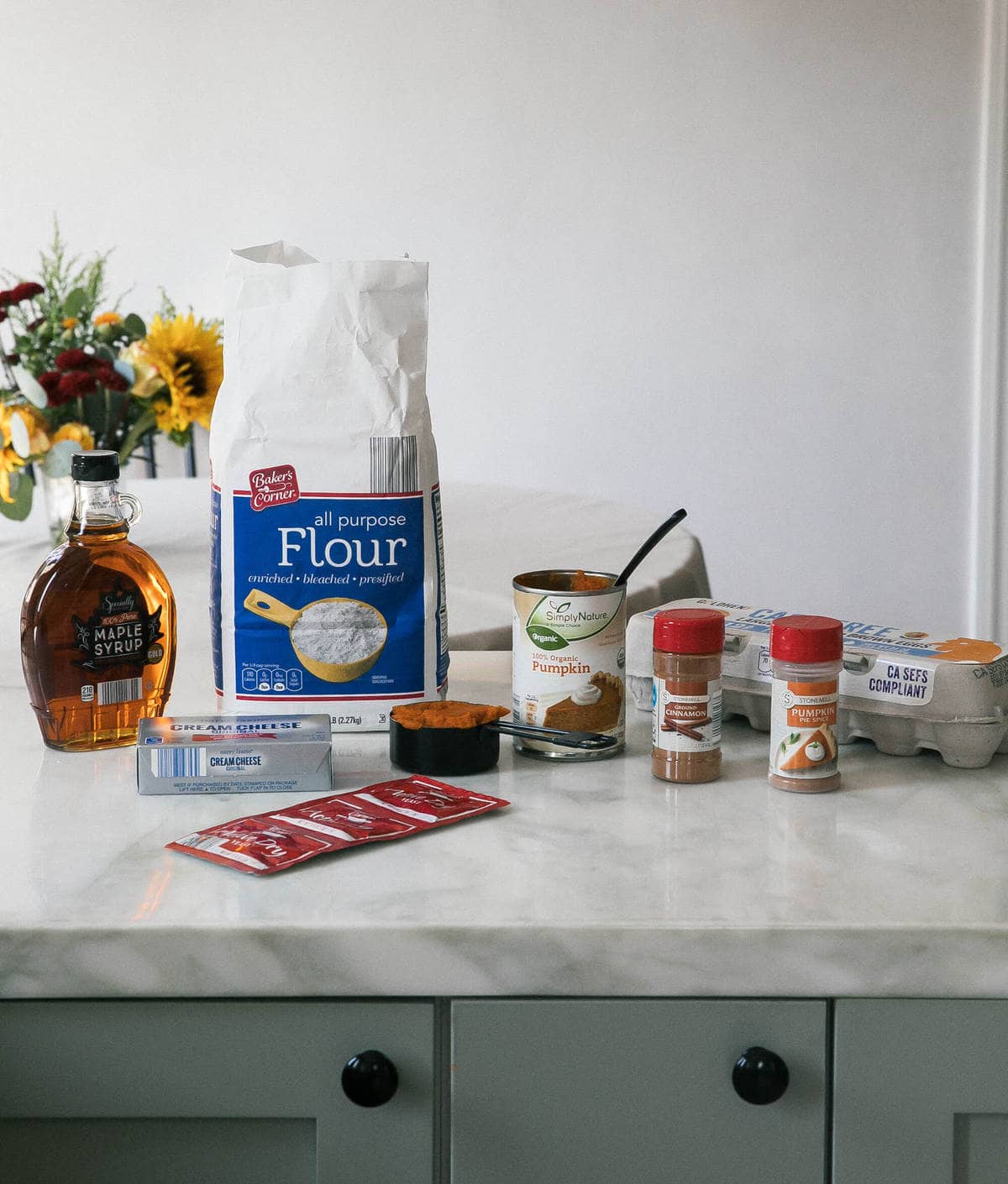 Here is how these differentiate from regular cinnamon rolls.
Replacing some of the eggs with pumpkin.
I adapted my cinnamon roll recipe and added less eggs. The pumpkin took its place. That's the commonality you'll find in many pumpkin baked goods: The pumpkin can act like an egg…but not entirely. I made sure to still include 1 egg (my other recipe calls for 3 eggs). Baking is interesting, isn't it!?!?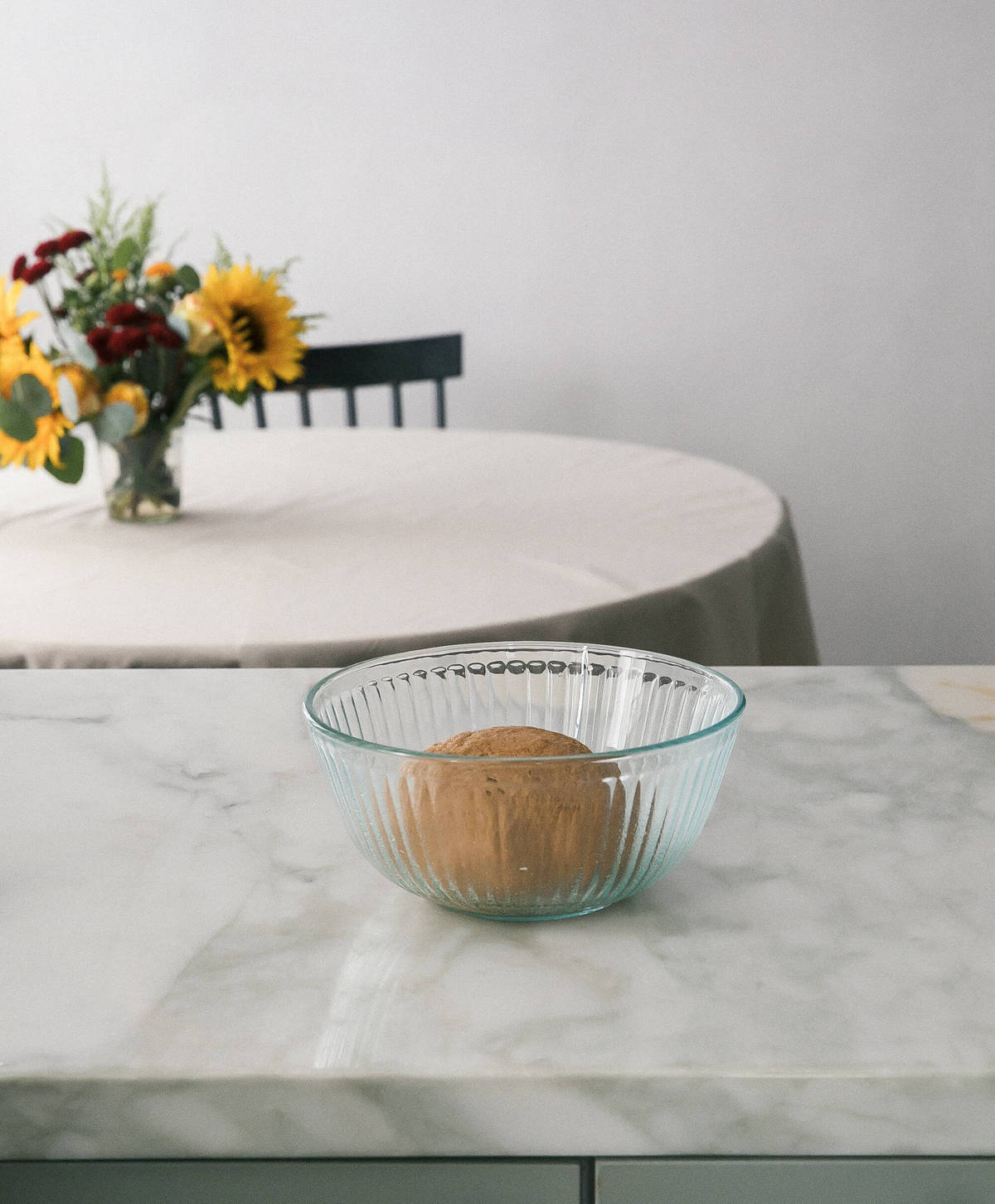 The amount of pumpkin pie spice needs to be on point.
Too much and it tastes medicinal and just tacky. Too little and you're like THIS IS BLAND. One of the first recipe tests was a bit bland so we added more. We went for balance so there's a bit in the dough and some in the filling. The pumpkin pie spice also accentuates the pumpkin flavor.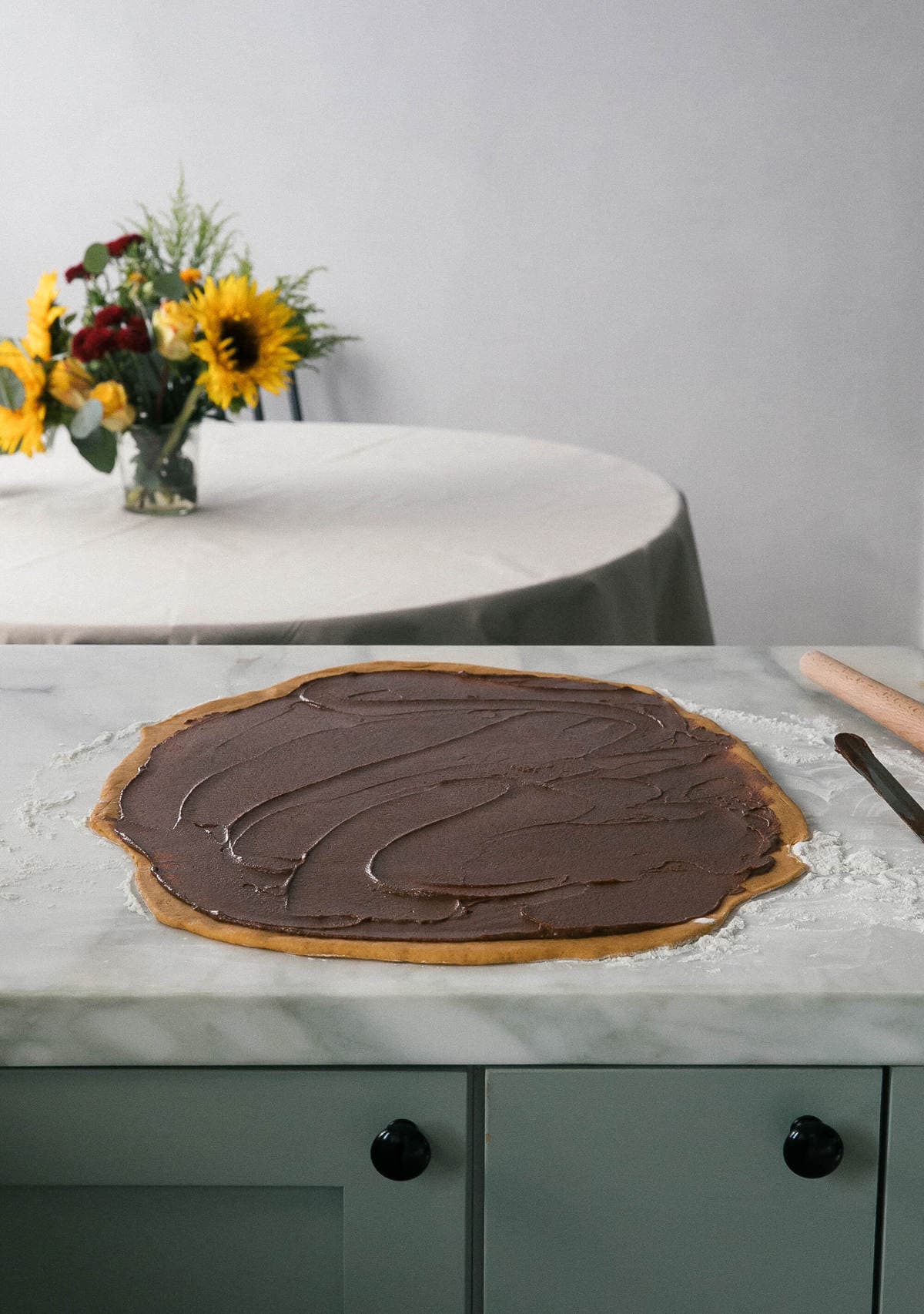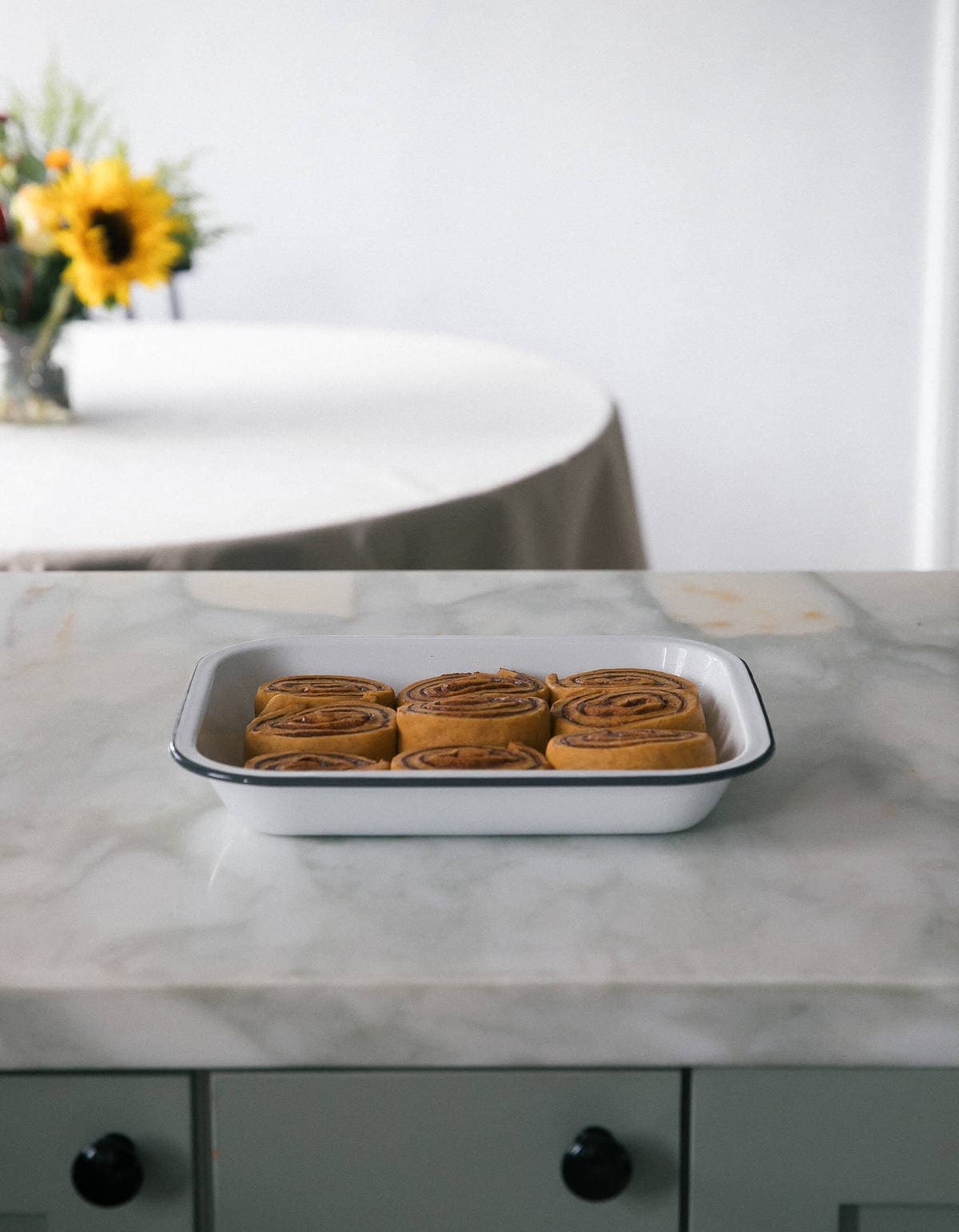 The cream cheese frosting needs heavy cream.
I make buttercream frosting similarly. I find that a tablespoon of heavy cream makes frosting or any glaze super fluffy and light. I love the maple syrup flavor because it's sort of savory and deep. I used the Specially Selected 100% Pure Maple Syrup from ALDI and it was delicious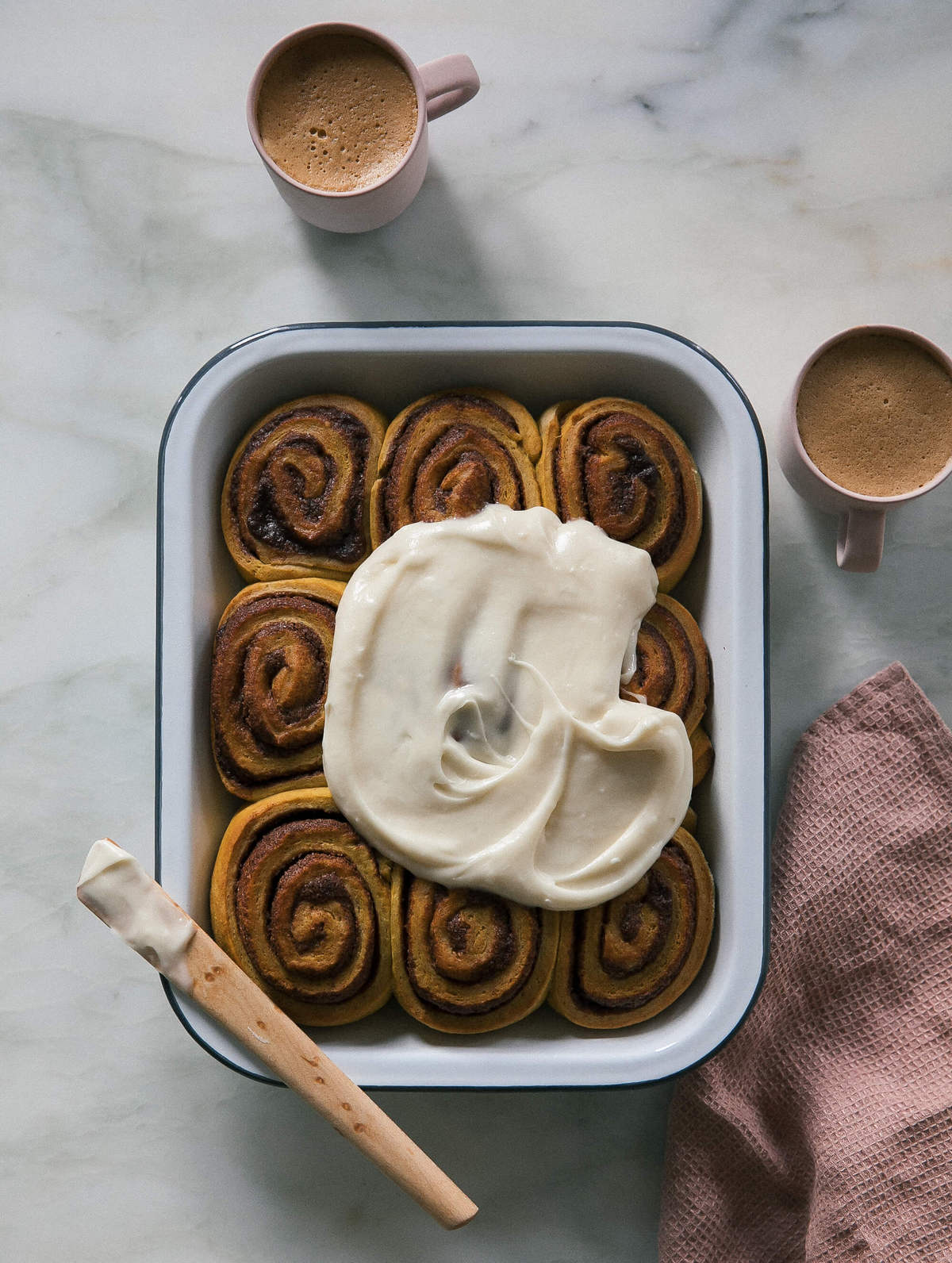 Beating the sugar and butter together for the filling.
A lot of cinnamon rolls recipes will have you melt butter and then spread it over the dough. Then you'll just sprinkle sugar on. Look, this works. I just find it to be super messy and I think it's MUCH easier to make a paste. It spreads easier, it won't leak out of the cinnamon roll. I also read recently that doing this will make some dry cinnamon rolls because the melted butter will absorb into the dough and the center won't be buttery. I dunno if this is true, I just find this method easier. It does take the foresight to make sure you have a good amount of room temperature butter ready.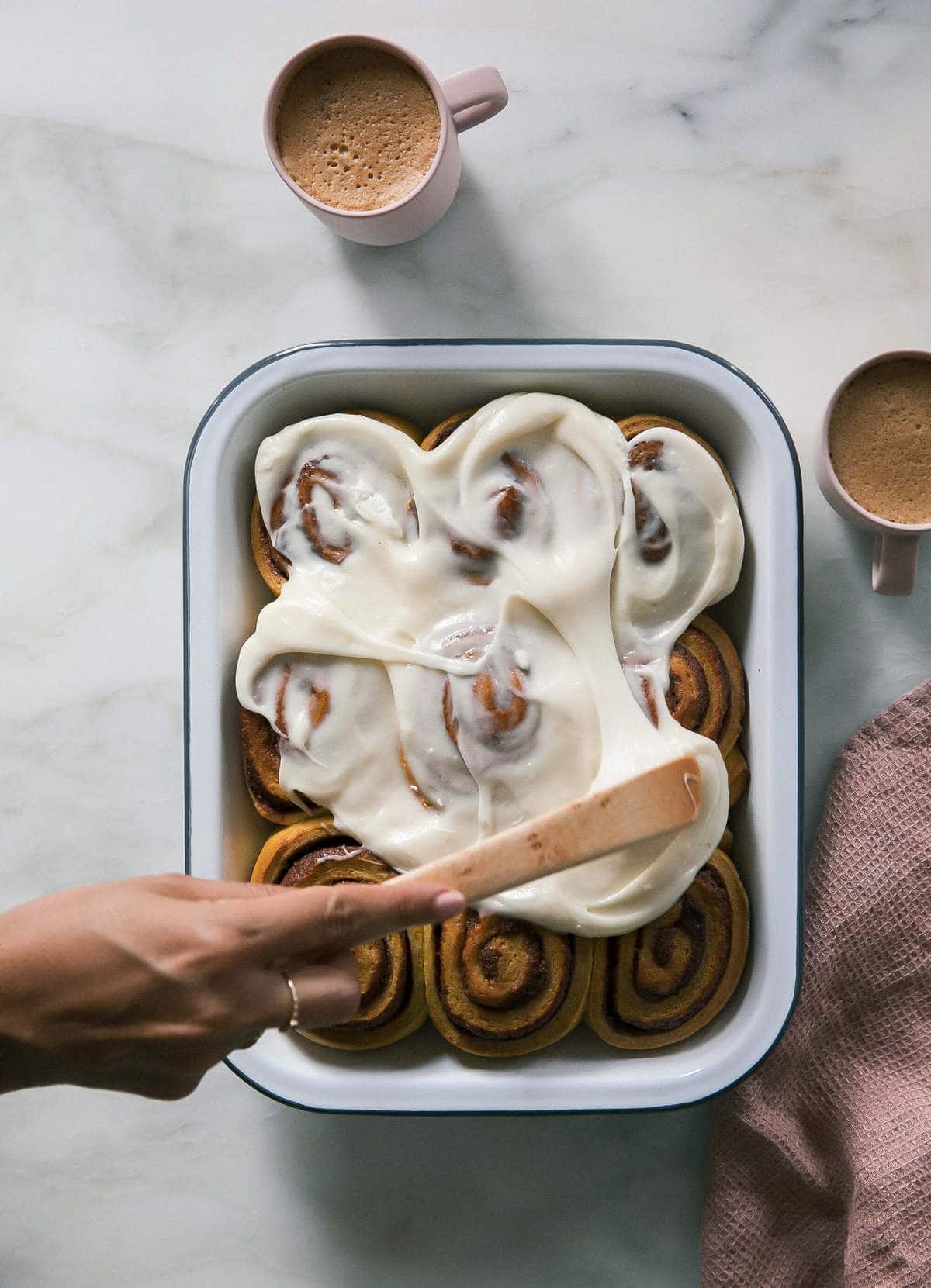 The freezer is your friend. But not required.
Do you ever see people cutting these perfect rounds of cinnamon roll dough? Most likely they stuck it in the freezer to chill. By the time the dough rises and you roll it out, spread out the filling and roll it up, the dough is super warm and loose. This makes it REALLY difficult to slice. A super sharp knife helps but it can still be tough. I find that sticking the entire roll in the freezer helps a lot. It chills the dough and makes it really simple to slice up. The caveat: the second rise will take a bit longer because the dough will have to come to room temperature before it can start rising. It takes about 15 minutes longer. Not the end of the world, I find.
I hope you celebrate this new season with these Pumpkin Cinnamon Rolls with Maple Frosting!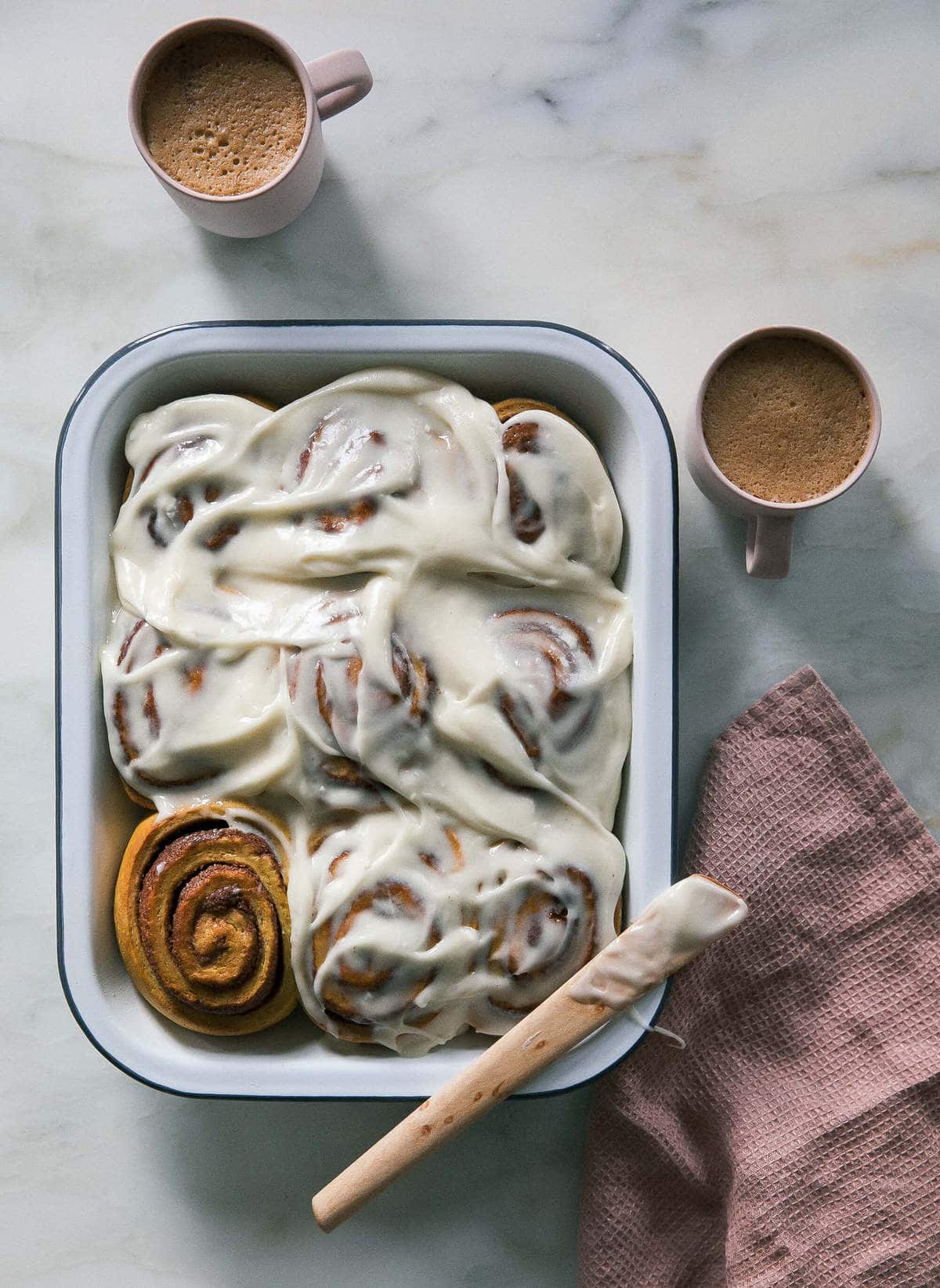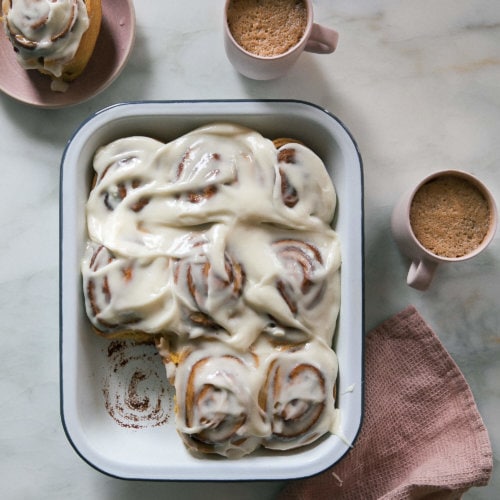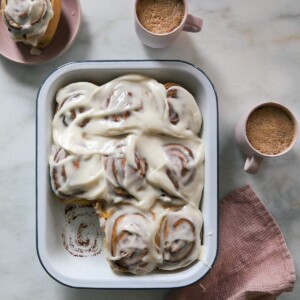 Pumpkin cinnamon rolls with maple icing are the perfect indulgence. Pumpkin pie spice and pumpkin puree make these cinnamon rolls taste like autumn. Then they're topped with fluffy maple cream cheese icing.
Ingredients
Dough:
1/4

cup

lukewarm milk

1

tablespoon

active dry yeast

3

cups

all-purpose flour

2

teaspoons

Stonemill Pumpkin Pie Spice

1

teaspoon

kosher salt

1/2

cup

Simply Nature Organic Pumpkin

3

tablespoons

white granulated sugar

1

large egg

,

beaten in a bowl

1/2

cup

unsalted butter

,

cubed and at room temperature
Cinnamon Filling:
1/2

cup

unsalted butter

,

at room temperature

2

tablespoons

Stonemill Ground Cinnamon

1

teaspoon

Stonemill Pumpkin Pie Spice

1/3

cup

brown sugar

1

teaspoon

pure vanilla extract

Pinch

of kosher salt
Maple Cream Cheese Glaze:
3

tablespoons

unsalted butter

,

at room temperature

4

ounces

cream cheese

,

at room temperature

1 1/2

cups

powdered sugar

,

sifted

1

tablespoon

maple syrup

1/4

teaspoon

vanilla extract

Pinch

of kosher salt

1

tablespoon

heavy cream
Directions
To Make the Dough:
To the bowl of a stand-up mixer (alternatively, you can do this in a large bowl by hand), add the lukewarm milk. Mix in the active dry yeast and allow it to stand and activate, about 8 minutes, until foamy and alive!

To a medium bowl, whisk together the flour, pumpkin pie spice and salt.

To the bowl of the mixer (with the yeast), mix in the pumpkin, sugar and egg. Then all at once, add the flour mixture. Attach the dough hook to your mixer and mix on low until the dough starts to become cohesive. With the mixer running on low, slowly add the cubes of butter.

Knead on medium speed for about 5 minutes. Alternatively, if you're doing this by hand, you'll need to knead the dough for about 10 to 15 minutes. The dough will go from crumbly and separate to completely cohesive and smooth. The dough shouldn't be sticky. Remove the dough from the hook and the bowl and form it into a ball.

Transfer the ball of dough to a clean, lightly greased bowl (I used the flour bowl and just wiped it clean with a kitchen towel and then greased it). Cover with plastic wrap or a clean kitchen towel and transfer to the fridge to rise for at least 2 hours or overnight. (If you're going to let it rise overnight, place it in the fridge.)
To Make the Filling:
To the bowl of a stand-up mixer (with the paddle attachment) or using a medium bowl and a fork, add the butter, cinnamon, pumpkin pie spice, brown sugar, vanilla and salt. Mix and mash until the filling is completely smooth.
To Assemble the Cinnamon Rolls:
Remove the dough from the bowl. Lightly flour your work surface and place the dough into the center. Lightly flour your rolling pin and roll the dough into a 1/8-inch thick rectangle that measures 15"x22" If it's not a perfect rectangle, then that's totally ok.

Add the filling to the rectangle of dough, spreading it out into an even very thin layer, stopping from about 1/2-inch from the edges. Roll the dough starting closest to you and going up. Divide the dough into two and transfer to a cutting board. Place it in the freezer to chill for 10 minutes. I find that slicing cold dough is WAY easier.

Remove from the freezer and slice the rolls into 2-inch rolls, about 9, trimming the ends off.  You might have some ends or skinnier pieces. You can place those in a smaller baking dish and still bake them up, if you like!

Transfer the cinnamon rolls to a greased 9 x 9 baking dish. Cover with a kitchen towel and allow to rise for an additional 45 minutes.

Preheat the oven to 350 degrees F. Bake for 18 to 20 minutes.
To Make the Cream Cheese Icing:
To the bowl of a stand-up mixer (or a large bowl) with the paddle attachment, mix together the butter and cream cheese until smooth. Add the sifted powdered sugar, maple syrup, vanilla extract, salt and heavy cream. Beat for about 1 minute, until light and fluffy
To Serve:
When the cinnamon rolls come out of the oven, pour the icing over the cinnamon rolls and smother them with icing.
Notes
To Make these Ahead of Time: 
You are more than welcome to make them ahead a few different ways. The first way is the make the dough/filling/cream cheese frosting and place them all separately in the fridge overnight. The dough will proof slowly in the fridge. You can continue the recipe in the morning, rolling the dough straight from the fridge, cold. This makes it easier to handle and slice. You will need to bring the filling and frosting to room temperature first before using. 
Another way is to assemble the cinnamon rolls and instead of setting them out on the counter to proof, transfer them to the fridge to proof overnight. You can bake them straight from the fridge as long as they have doubled in size. 
Here are a list of other cinnamon/morning roll recipes that I love:
Chocolate Cardamom Morning Rolls
Chocolate Orange Morning Rolls 
(This post is sponsored by ALDI. Thanks for supporting the sponsors that keep A Cozy Kitchen cozy.)