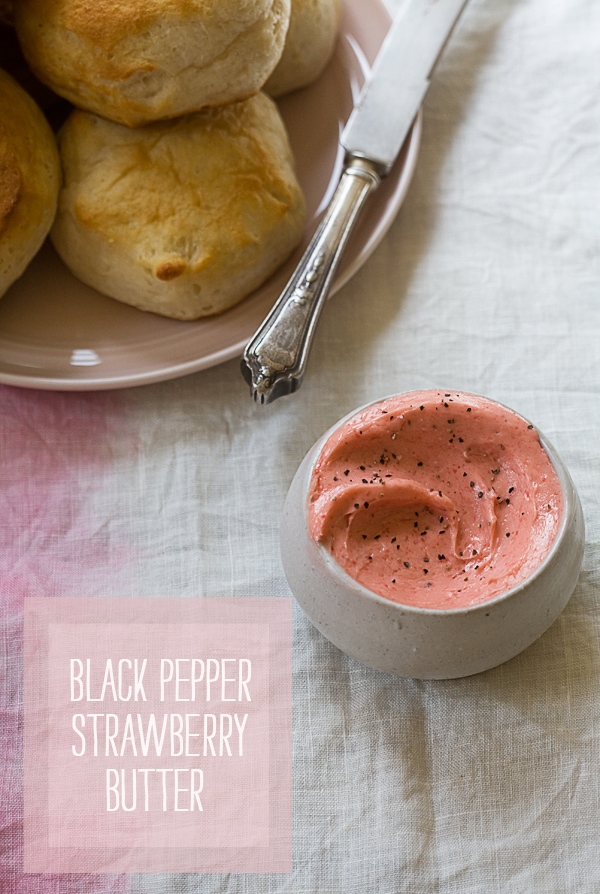 I've always loved flavored butters. I think it all started as a teenager when we'd get bagels at our tennis tournaments and there were always some sort of flavored cream cheese and butters. It was usually the honey butter that'd lure me in. And I'd be there all lady-like in my tennis skirt, smothering way too much honey butter on this un-toasted (the worst!) bagel. The butter made everything better. As it usually does.
My flavored butter love affair continued in the PANCAKES book. One of my favorite recipes in that book isn't a pancake recipe, but actually the recipe for Berry Butters. That recipe goes something like this: you mash up berries, fold them into softened butter and add a few pinches of salt. The berries are very present in the butters and it's nice.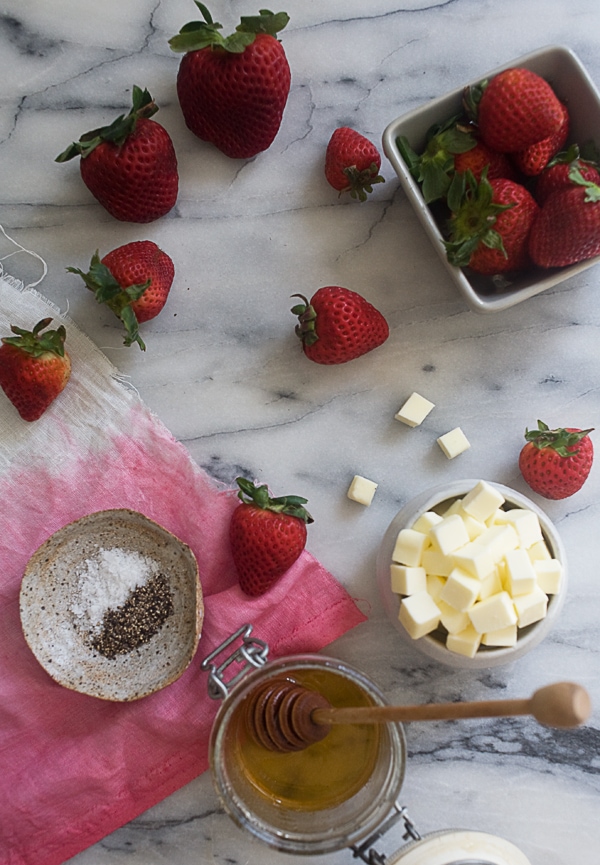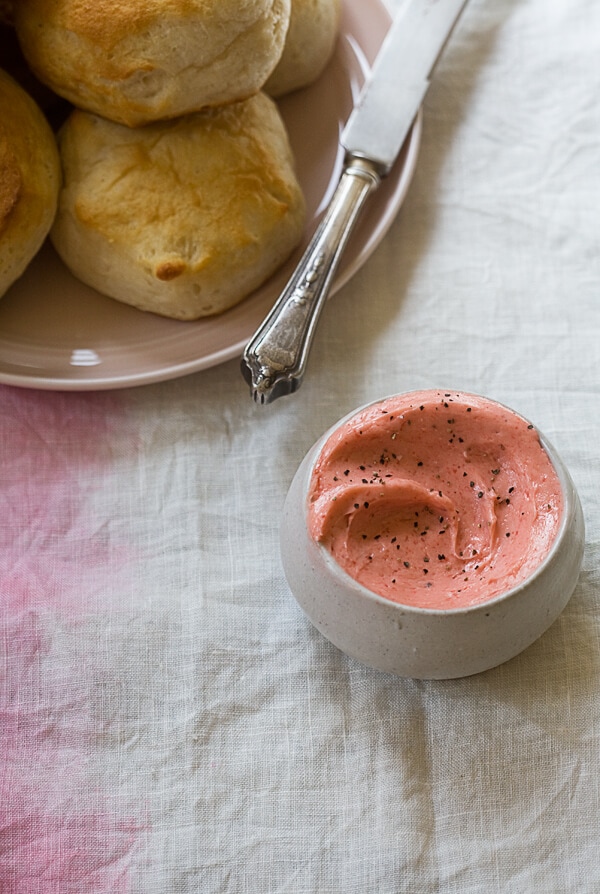 This recipe right here is a lil' different. The strawberries are made into a purée and slowly worked into the butter, so they incorporate completely. There's honey for some added sweetness and the black pepper acts as this spicy little kick that works so wonderfully.
This weekend you should take an hour and make some biscuits (these biscuits, specifically) and make some dang flavored butter. I mean, look at this color. It's just so pretty.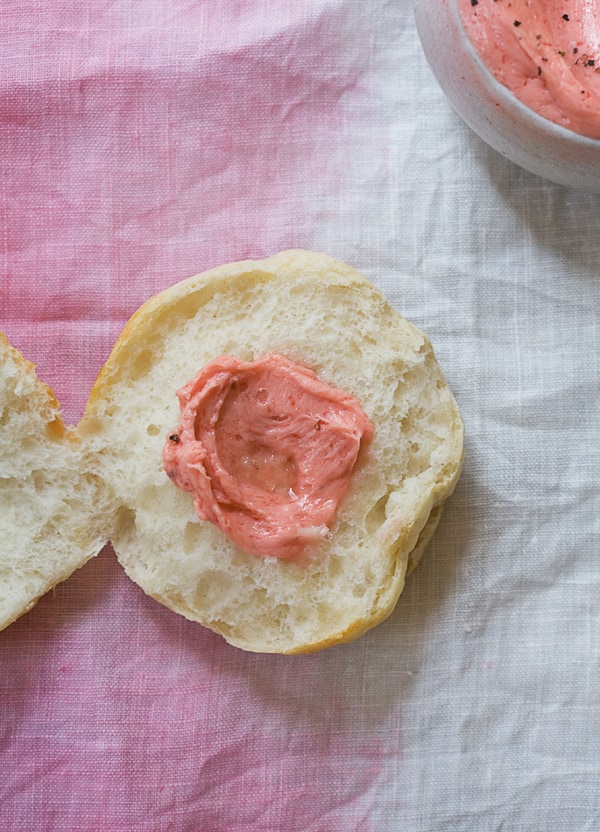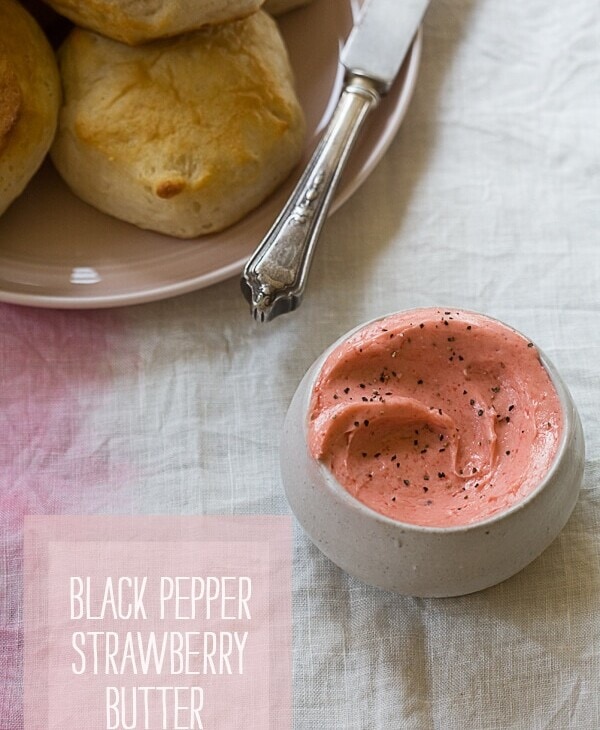 Print Recipe
Black Pepper Strawberry Butter
Serving Size:
/2-2/3 cup butter
Ingredients
1/2

pint

strawberries

about 5 to 7 strawberries, stems trimmed

1

stick of unsalted butter

room temperature

1/4

teaspoon

black pepper

1/4

teaspoon

sea salt

2

tablespoons

honey
Instructions
In a blender or food processor, puree the strawberries until very smooth. Run the purée through a strainer and discard the pulp. It should measure out to be a little over 1/4 cup of puree. Season with salt and pepper.

In a medium bowl, add the butter, honey and 2 tablespoons of puree. (We're going to incorporate this slowly.) Using a hand-mixer or a stand-up mixer, beat until smooth. At first the mixture will separate but the more you beat the butter, the more it'll come together. Once it's combined, add an additional 1 tablespoon at a time, adding about 3 more tablespoons. This will total to be about 1/4 cup, plus 1 tablespoon. Give it a taste and add a bit more honey or salt, if you like.

Serve at room temperature, if you like, or you can transfer it to the refrigerator until you're ready to use it.