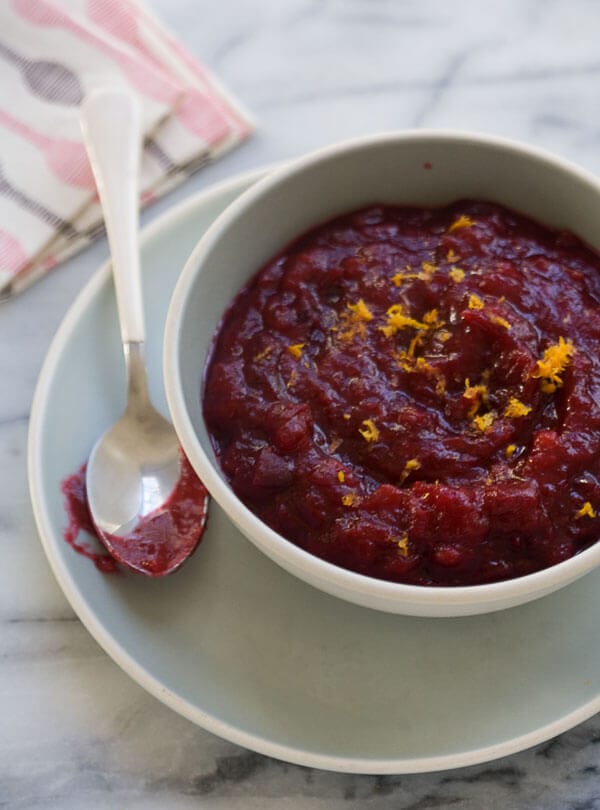 I know this week I've thrown you some renditions of Thanksgiving classics, but when it comes to cranberry sauce I like my stuff simple. Classic Cranberry Sauce. Don't throw sage in my dang cranberry sauce. Don't put bacon in my cranberry sauce. I'll get an attitude.
I have very fond memories of buying cranberry sauce from the can and plopping it onto a plate and carefully slicing it in between the can-rivets. I loved it. For years, even after I got into cooking, I'd still buy cranberry sauce from the can–it was emotional, I think! But now I just can't do it, especially considering how simple and easy and delicious homemade cranberry sauce is.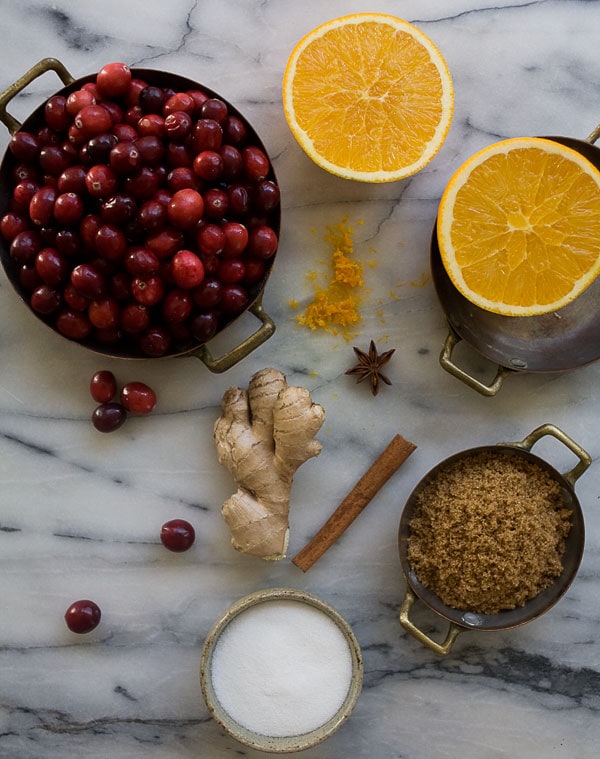 The tartness of the cranberry sauce is so essential when you've been consuming nothing but stuffing and gravy and potatoes and more bread. It's the brightest thing on the table and it's the thing that makes the days after so special. Thanksgiving sandwiches NEED cranberry sauce. I don't think anyone would disagree with me.
This cranberry sauce is definitely traditional. It's not weird or strange with surprising new-to-me-and-you ingredients, but it is special. I love the combination of sugars. I love the orange zest and orange juice (critical to cranberry sauce, in my opinion) and I love love the freshly grated ginger and essence of cinnamon and star anise.
Everything is pretty balanced–you won't take away a strong ginger-y or cinnamon-y or star anise-y flavor, but together it's magical. I hope you make it, I hope you love it!
While I love Thanksgiving savory foods, what I love even more is pie. Monday is pie week on this here lil' blog and I'll be starting things off with the basics and then move into a variety of pies that have become my favorites. I can't wait!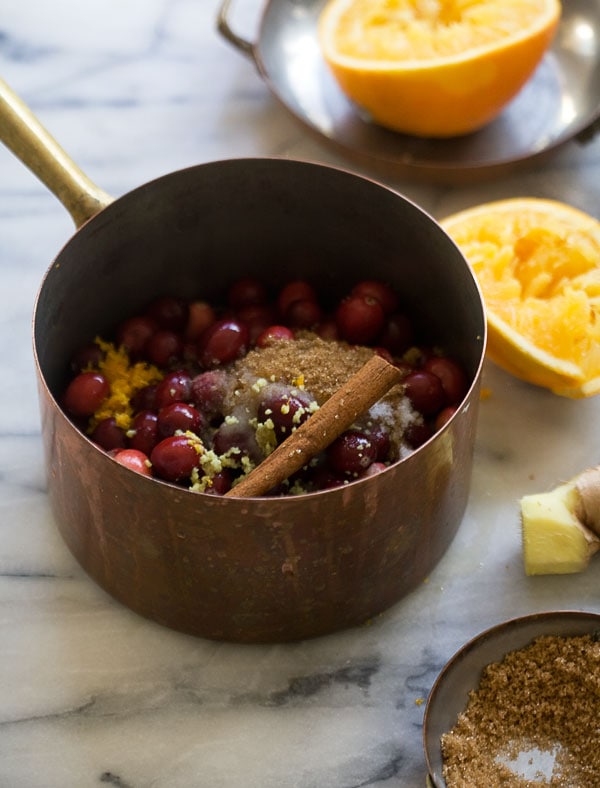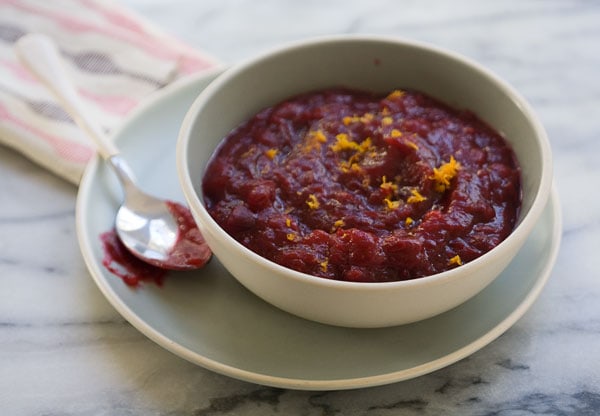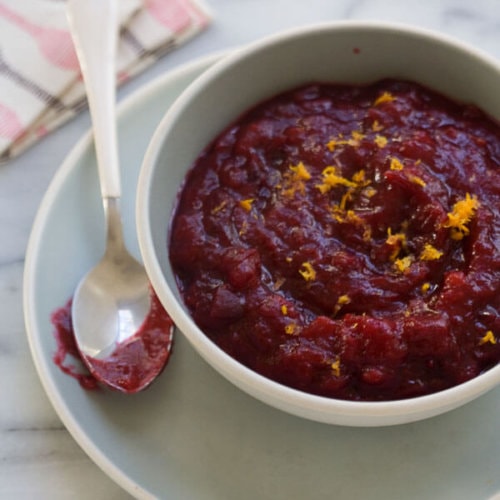 Classic cranberry sauce is so easy to make. It's a million times better than the canned stuff. This is perfectly spiced with the most delicious hint of vanilla.
Ingredients
1

(12-ounce)

bag of fresh cranberries

1/4

cup

light brown sugar

1/4

cup

white sugar

1/4

teaspoon

kosher salt

1/2

cup

water

1

teaspoon

orange zest

Juice from 1 orange

,

about 3 to 4 tablespoons

1

teaspoon

vanilla extract

1/2

teaspoon

freshly grated ginger

1

cinnamon stick

1

star anise
Directions
In a medium saucepan, set over medium heat, add all of the ingredients. Bring to a simmer and cook for about 10 to 15 minutes, until the cranberries have burst and the sauce has reduced slightly. Give it a taste (be careful, it'll be hot!) and adjust the seasonings.

You may want it to be a bit sweeter. Remove the star anise and cinnamon stick and discard. Transfer to the refrigerator to chill. The cranberry sauce will thicken as it cools.
Notes
To Make Ahead: 
This recipe is great to make-ahead. Make the recipe in its entirety and transfer to an airtight container. When completely cool, place a lid on it and keep it in the fridge for up to 3 days. Reheat, if you like, over low heat and serve.