This past weekend Josh gave me his very cute cold so I've been trying to lay up in bed and rest. I got some good rest on Saturday AND also was able to decorate the kitchen for the holiday season. I can't wait to show little glimpses of the kitchen because it's almost all done and ready. I probably won't be able to do that until January because we're still waiting on a few pieces to arrive to get it up and fully running. I'm grateful that I can now make tea and dinner (on the stove-top only)—it feels so nice!
I baked this cranberry apple pie at my apartment and it was inspired by a cable knit sweater. Billy was like, the top should really feel like a sweater. And I couldn't agree more but I didn't really know how to do that. We settled on strips of braids and simple strips going only in one direction.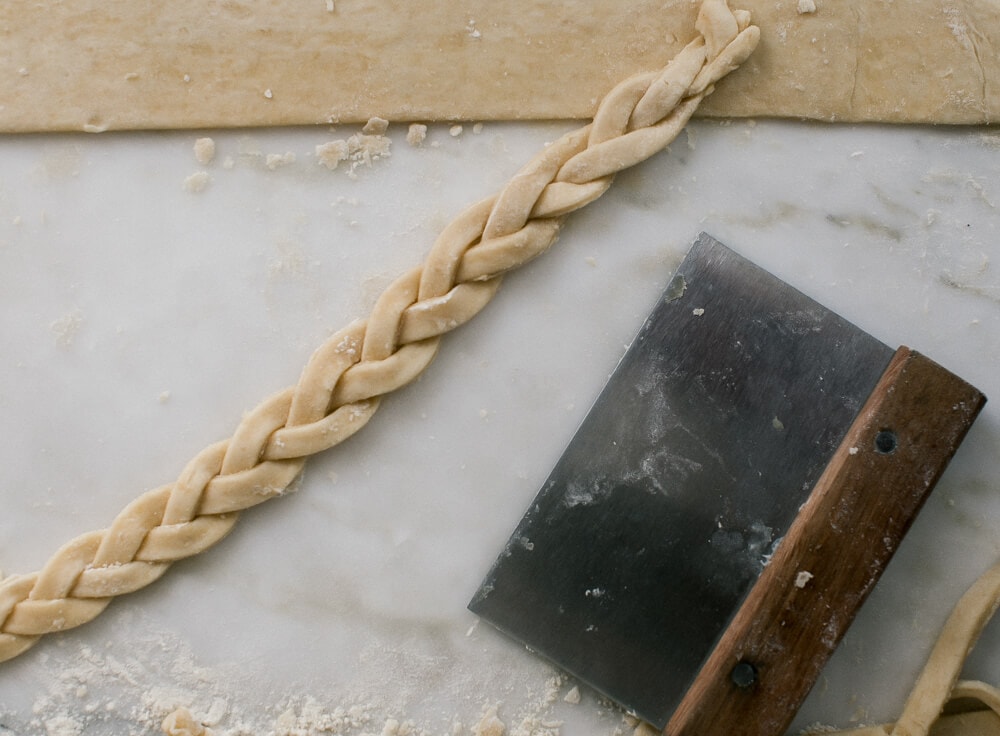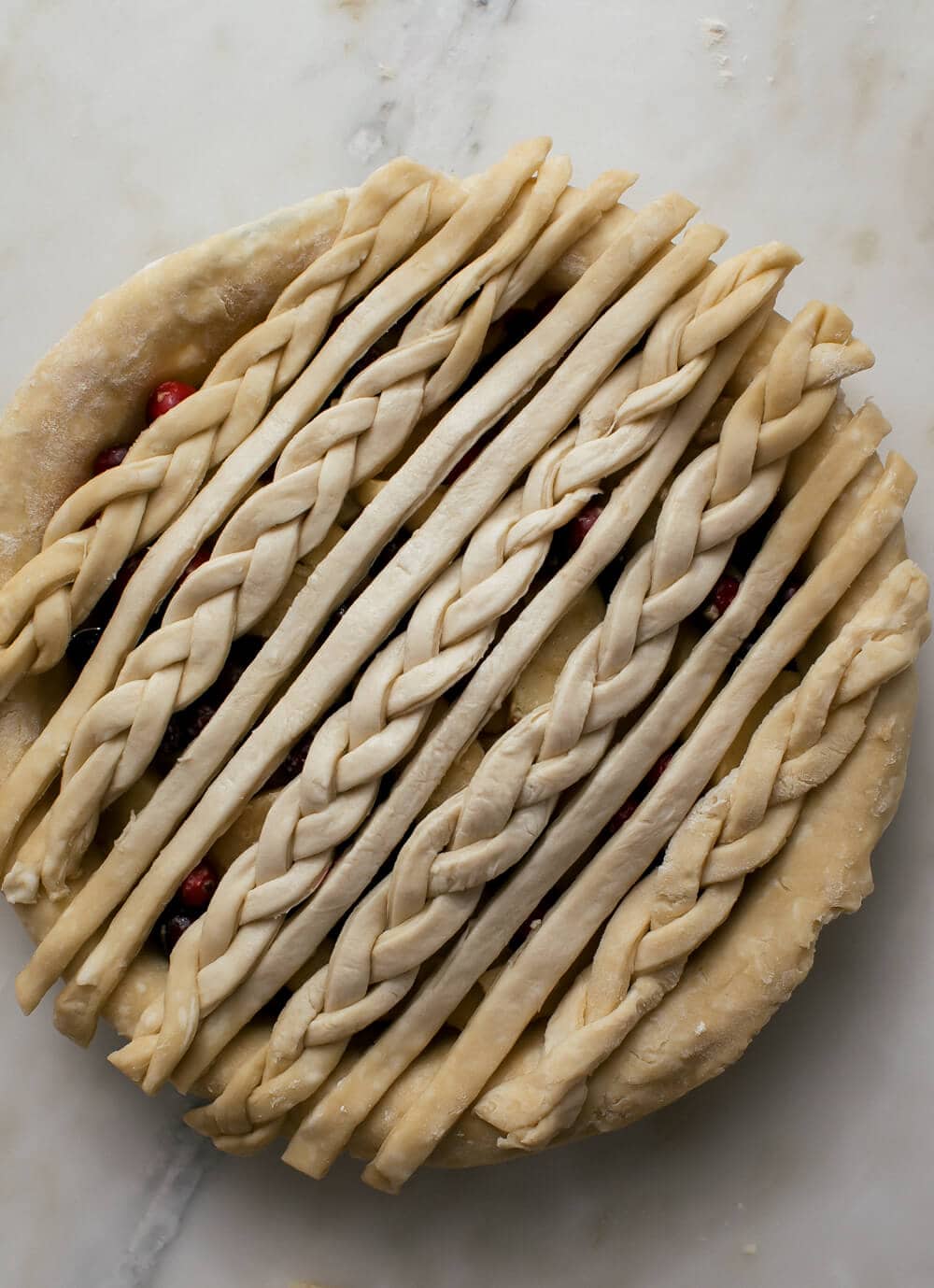 The braid was added later because it needed something a bit more. AND the dusting of powdered sugar was there to look like snow on the coldest day.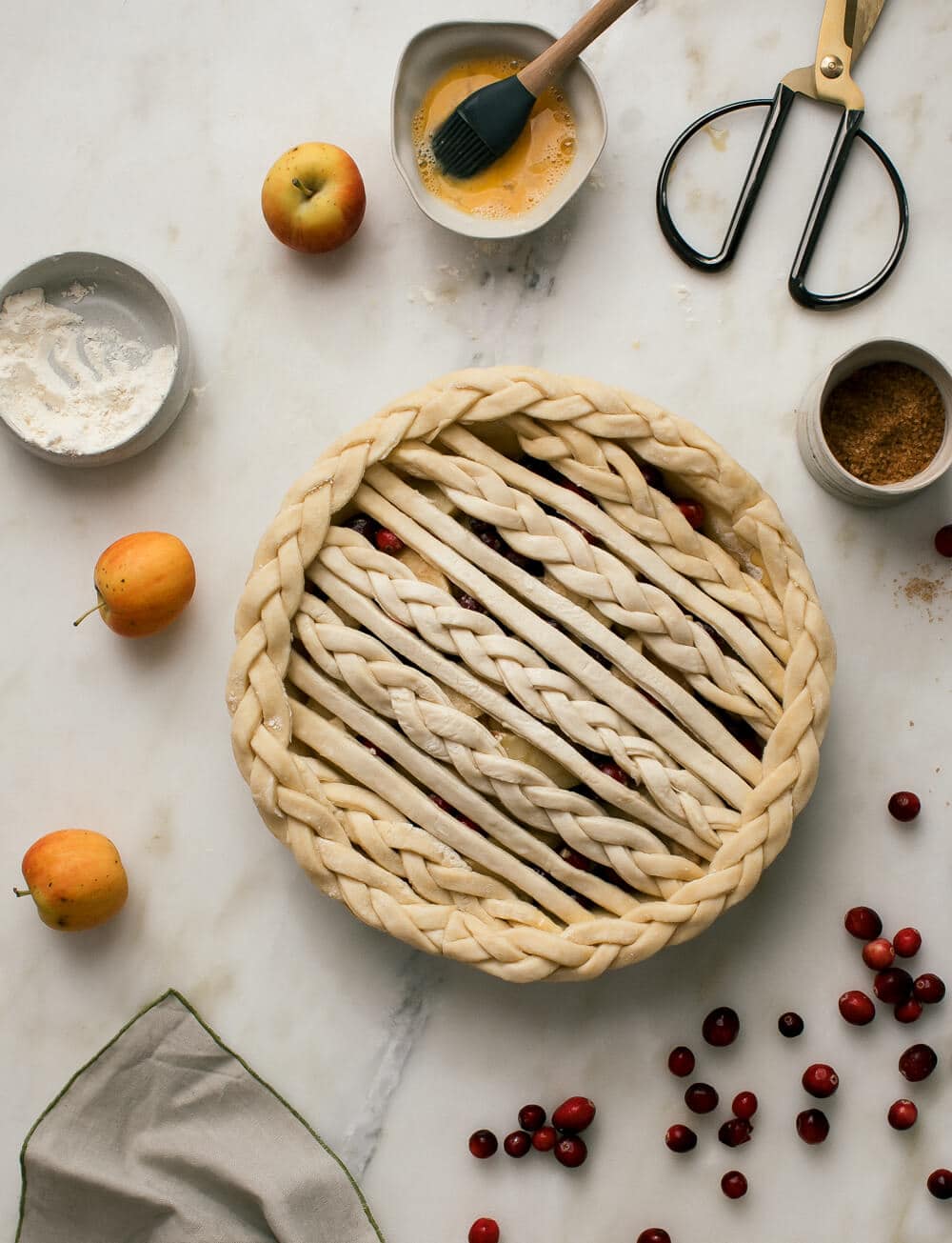 Do you see the artistic direction we take?!?! Haha.
I kid, sorta. But in all honestly this pie is delicious. I know that December is technically all about cookies and cakes but pie is also still delicious. A warm slice of pie with cold ice cream and a fire going in the background. I mean I can't even think of something better. Can you?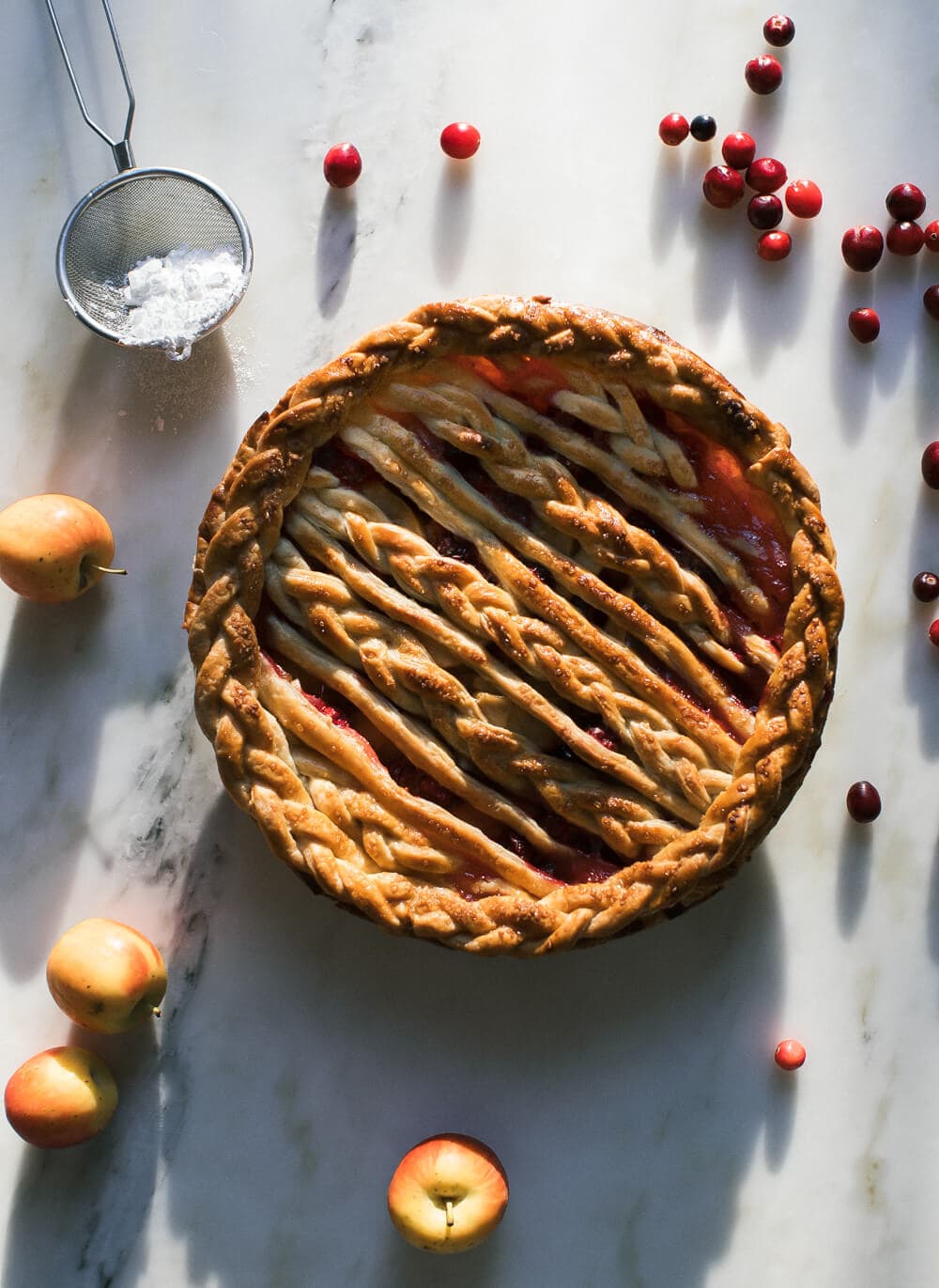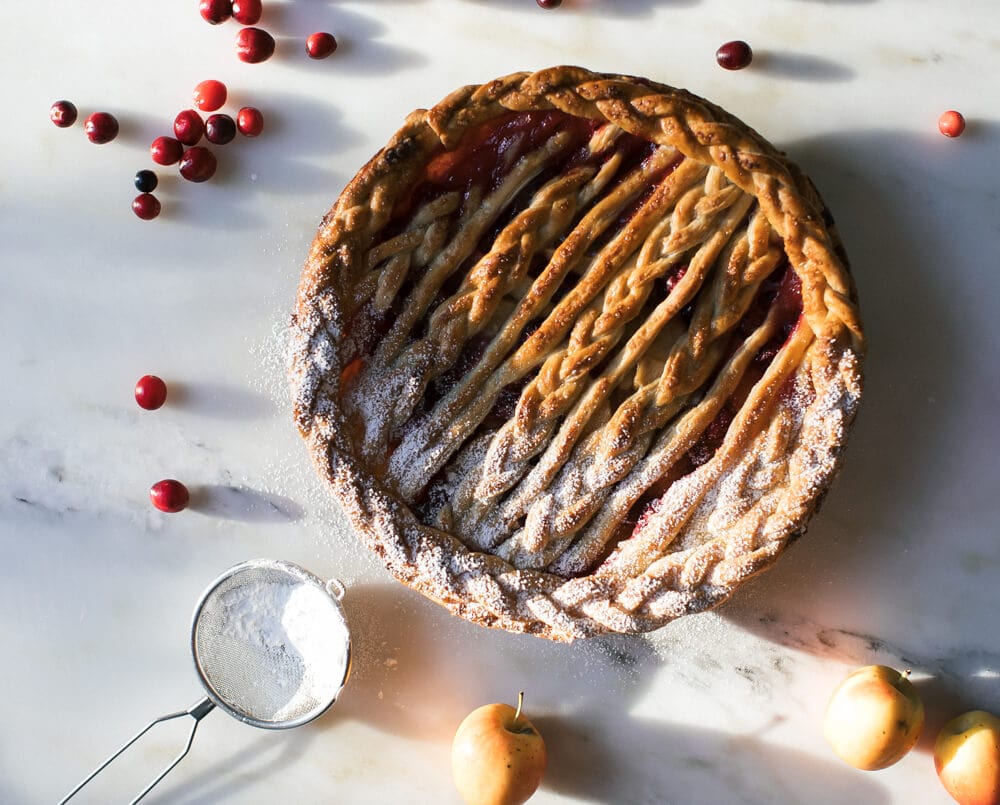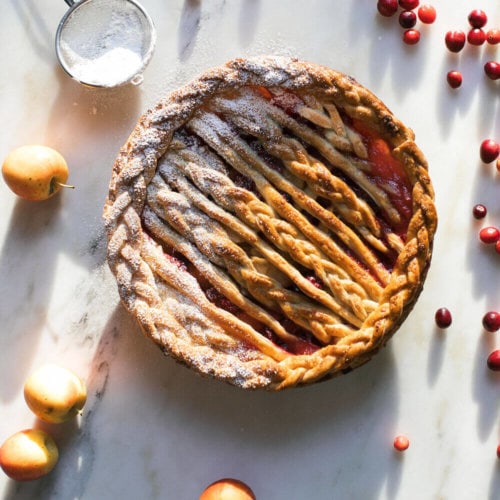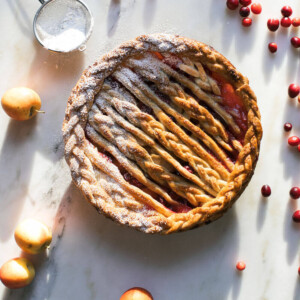 Ingredients
3

pounds

of good baking apples

,

I used Honey Crisps and they were amazing, as always, cored and sliced into 1/2-inch slices

1/2

cup

cranberries

1/2

cup

brown sugar

1

tablespoon

cornstarch

1

teaspoon

vanilla extract

1/4

teaspoon

salt

1

double pie crust

,

store-bought or https://www.acozykitchen.com/pie-crust-101/ (If you want to do a crazy braided edge, you will definitely need an extra single pie crust)
Directions
To a medium bowl, mix together the sliced apples, cranberries, brown sugar, cornstarch, vanilla extract and salt. Set aside.

Lightly flour your work surface and rolling pin. Roll out the first pie crust, rotating and flouring it every so often so it doesn't stick to the surface, to a 13-inch circle. Roll the dough over the rolling pin and place it over a 9-inch pie dish. Transfer to the fridge while you roll out the second pie crust.

Roll out the second disk of dough and create a topping however you like. Do a normal lattice, an intricate lattice, make braids. The possibilities are endless, just remember that the freezer is your friend. If your pie dough ever becomes too soft to manage, be sure to put it on a cutting board and stick it in the freezer for 5 to 10 minutes. It'll instantly become easier to work with. I did a few strips of braids, simple strips and a big braid to go all the way around.

Remove the pie dish from the fridge and pour in the filling, including all the juices that the apples and cranberries have released—this is the good stuff! Place the pie crust on the top however you like and seal it up! Transfer the whole pie to the freezer for about 20 minutes (this will firm it up and eliminate the possibility of shrinking like crazy).

Meanwhile, preheat the oven to 400 degrees F. Brush the top of the pie with egg wash. Place the pie on a baking sheet and place it in the oven. Bake for 30 minutes or until the pie is lightly golden brown. Turn the heat down to 350 degrees and bake for an additional 30 minutes.

Allow the pie to cool for at least 30 minutes, if you're impatient. If you want sliceable slices that stay in tact, allow the pie to cool for 2 to 3 hours. Dust with powdered sugar for that proper sweater weather look.
Nutrition Facts
Cranberry Apple Pie
Amount Per Serving (6 g)
Calories 0
* Percent Daily Values are based on a 2000 calorie diet.