Apple Pandowdy is a sort of pie cobbler hybrid, gooey apple filling topped with tiles of pie crust. I added some extra flavor to mine by adding butterscotch flavors to the filling.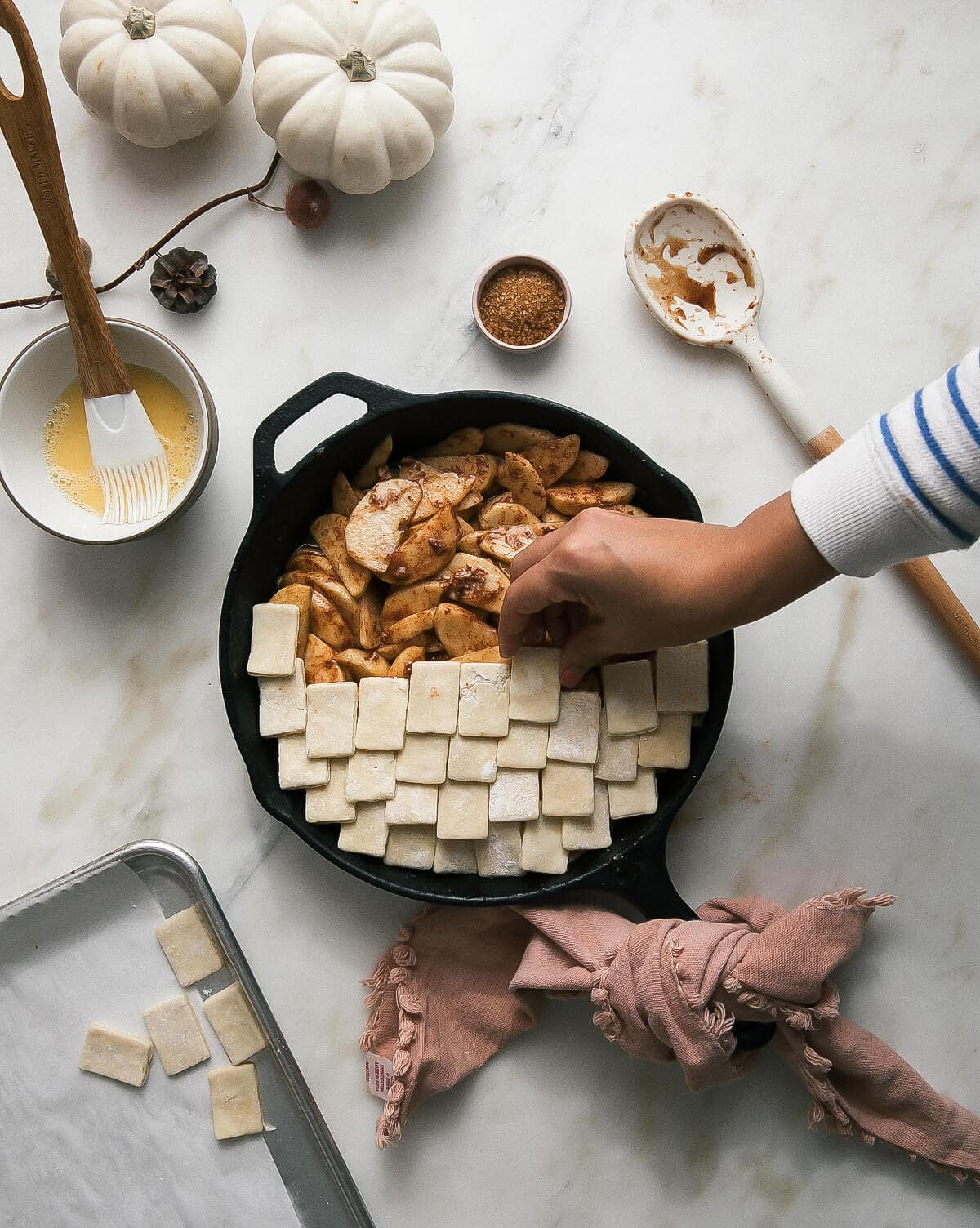 A pandowdy is not something I invented, it's an old school American dessert that originates in Pennsylvania.
I honestly had never heard of it until Josh told me about it. He said that his mom made them all the time. I guess it makes sense I'd never heard of it; my family isn't from the United States so this isn't something my grandmother or great grandmother would have ever made.
With this recipe, it starts by making a butterscotch in the pan the apples are made in so it's suuper simple. And then you add the apples and top it with the pie crust cut outs. It goes in the oven and DONE!
It's a super simple recipe for someone who wants the flavor of pie but wants to skip the whole process! I, of course, used a homemade pie crust but you could use store-bought too.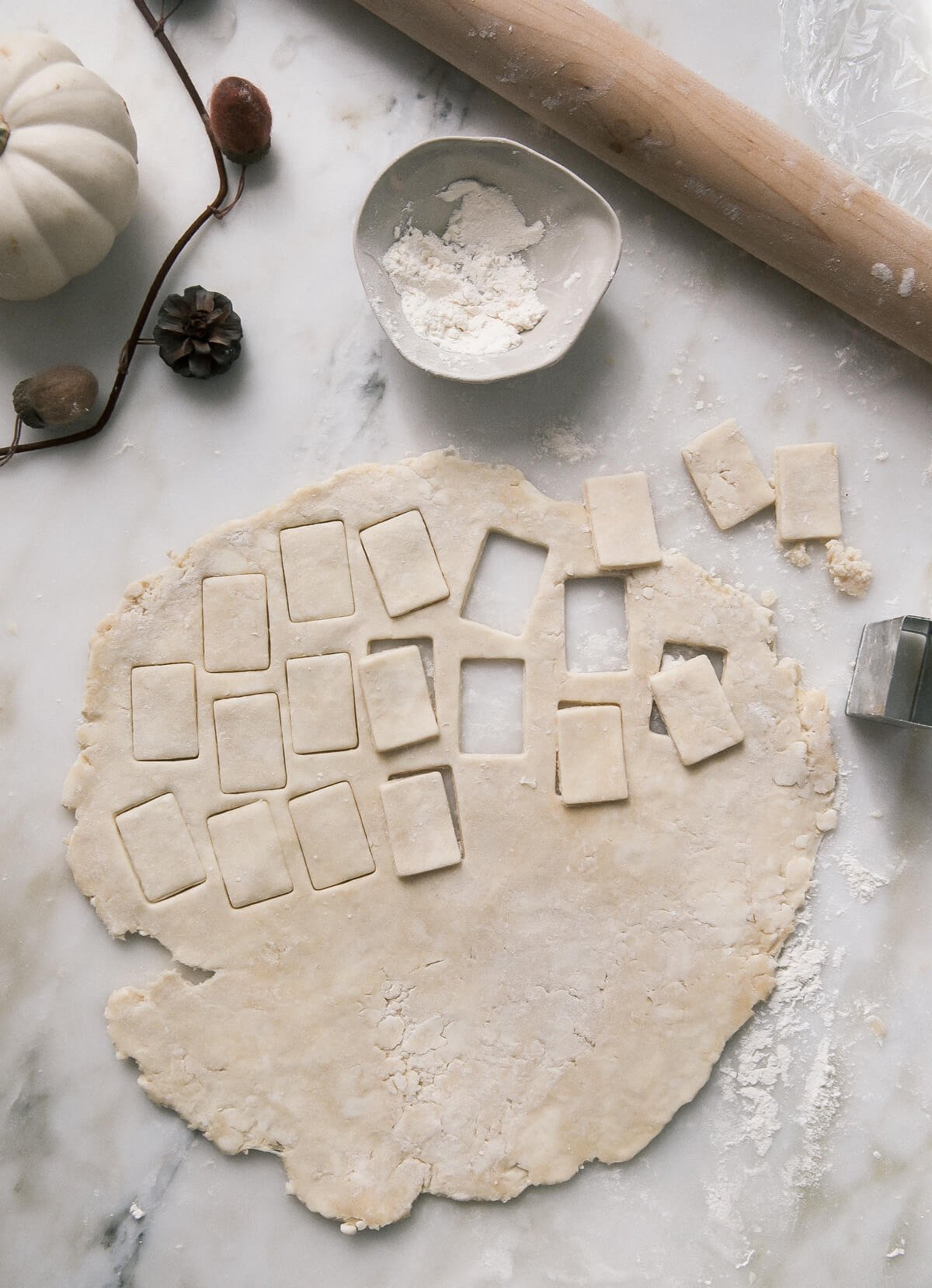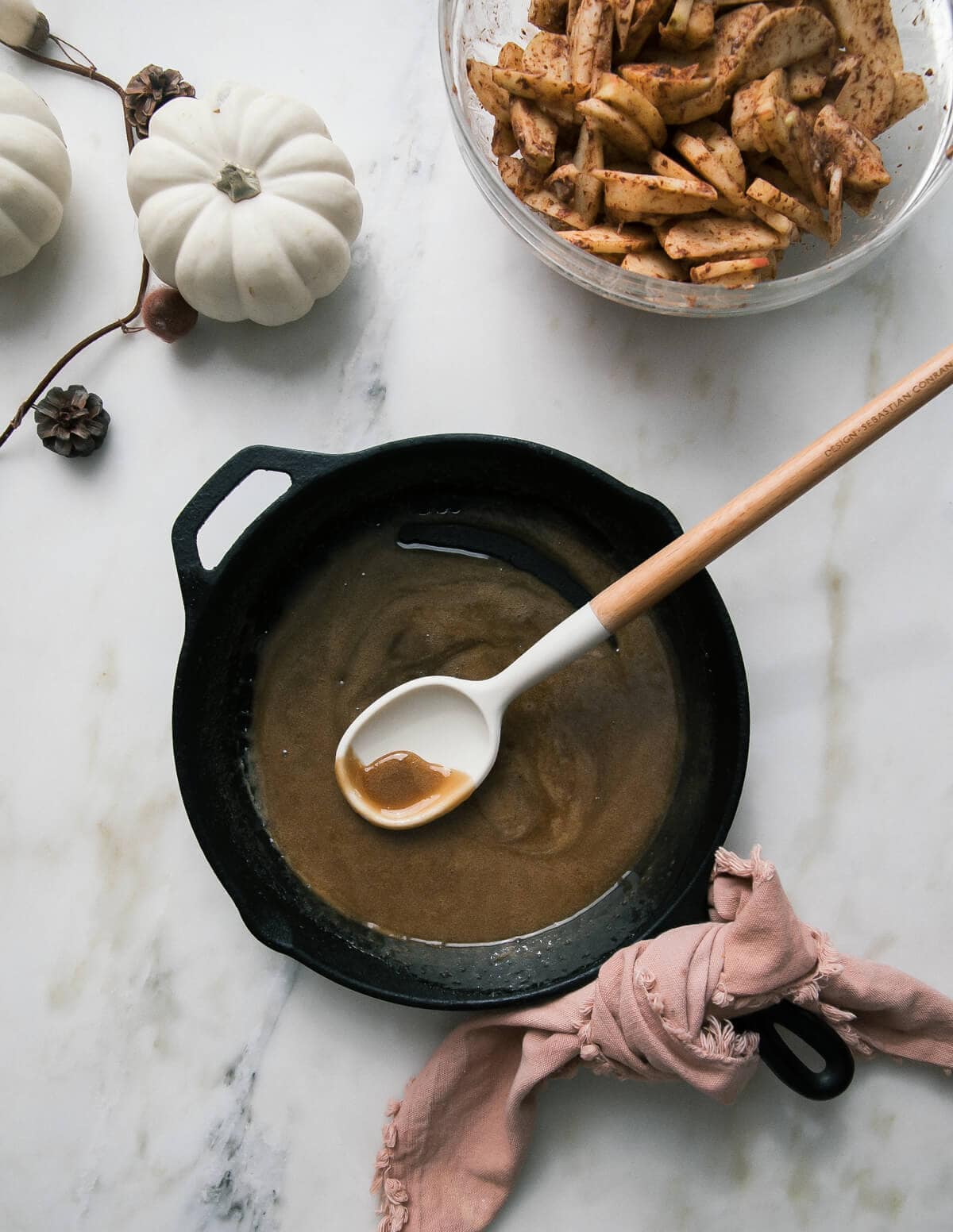 Where is Apple Pandowdy from?
Pennsylvania Dutch Country! It dates back to colonial times and over time has sort of evolved to a different dessert depending on what part of the U.S. you grew up in.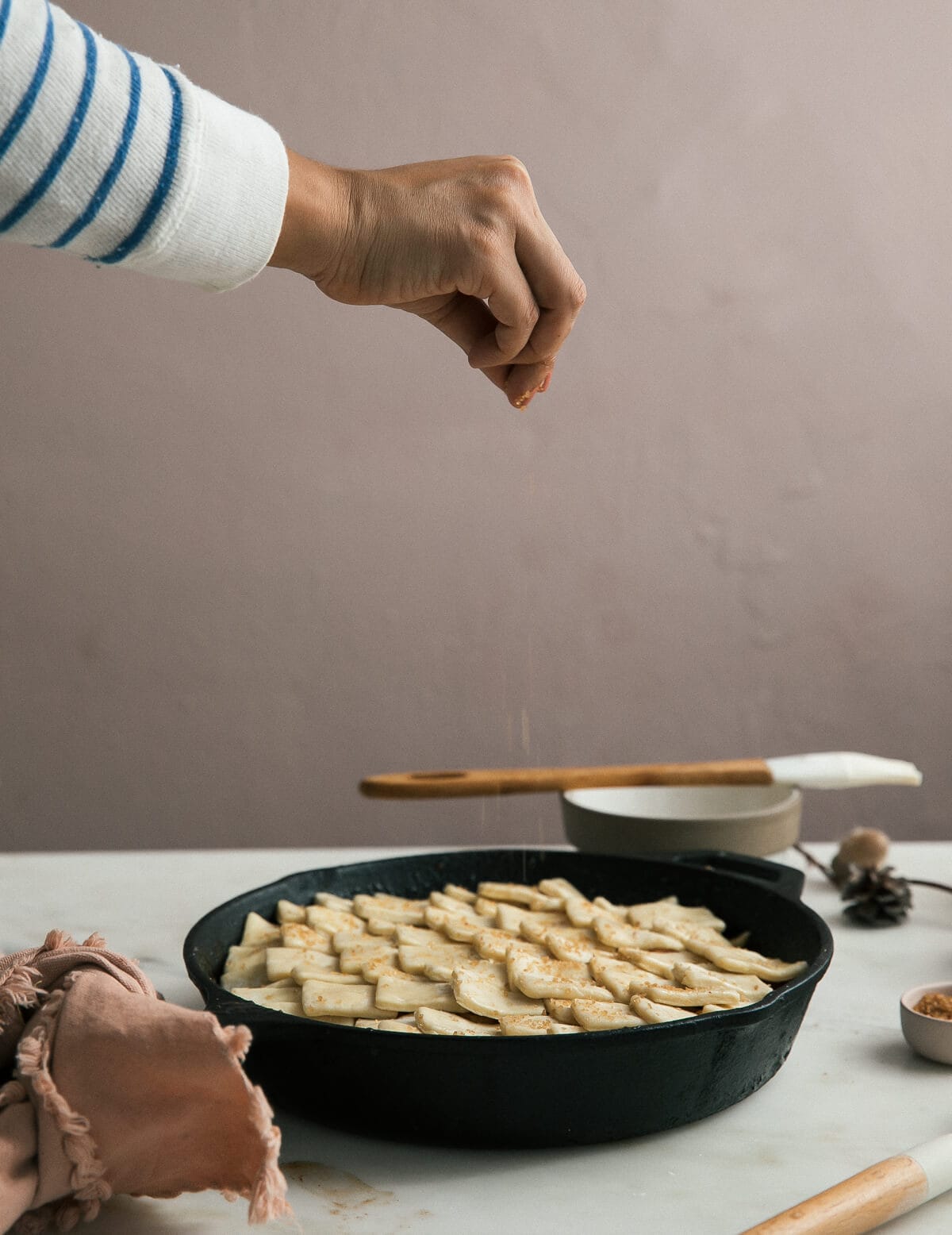 What is Apple Pandowdy?
It's basically a skillet full of apples that are baked with just a pie crust on top. The only thing you have to do is roll out the pie crust and then cut it out using a cookie cutter. You could also just use slices, like abstract triangles that you could make with a knife. And that's it! It's super simple.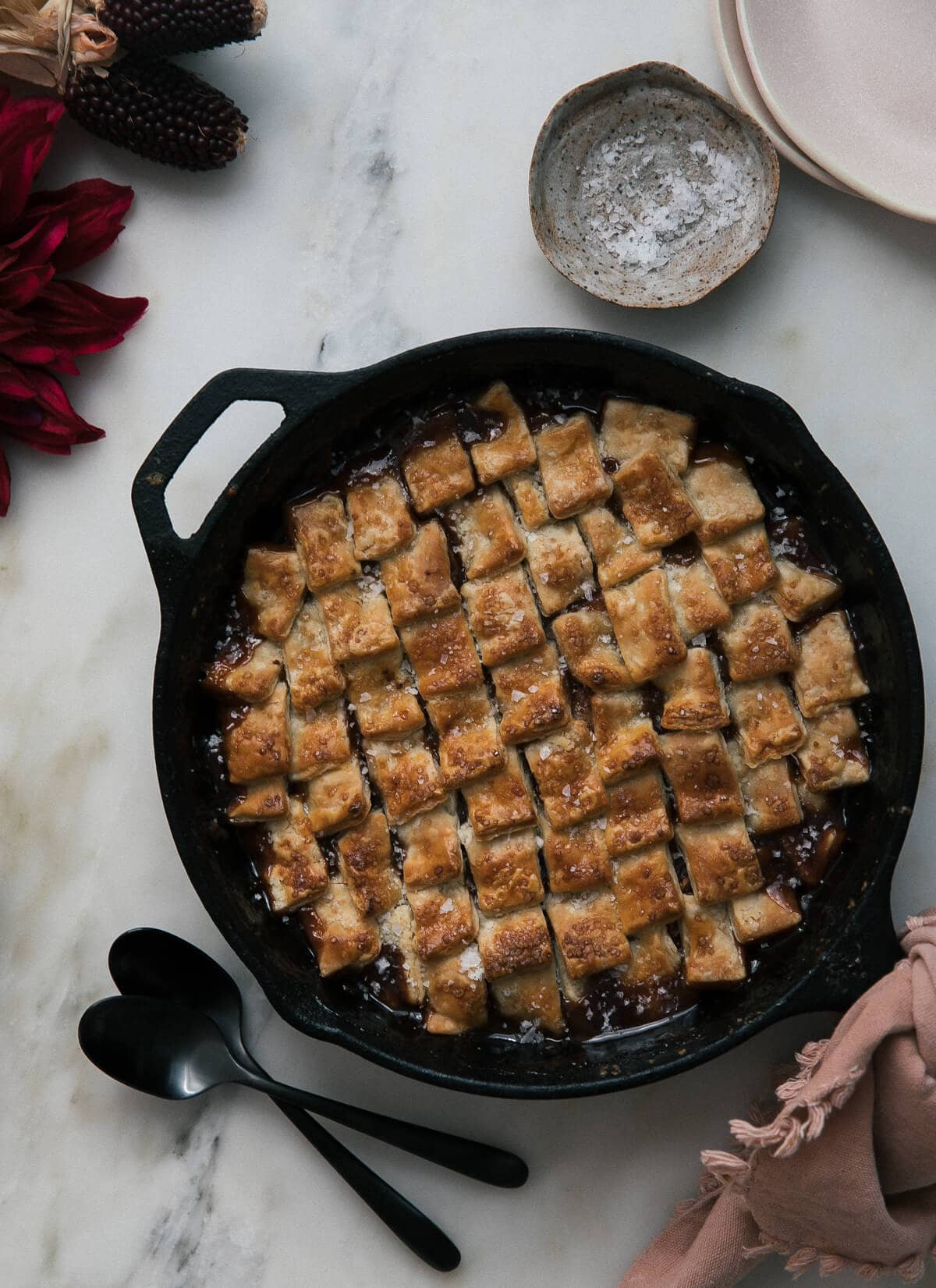 How to make Apple Pandowdy:
Make the pie crust pieces. Using either store bought or homemade pie crust, cut up the dough into a bunch of little rectangular pieces.
Prep the apples. Peel and slice the apples then toss them with the sugar and spices.
Make the butterscotch. Mix together the brown sugar, heavy cream, and butter in a small saucepan. Bring to a boil and cook for 3 minutes.
Make the filling. Let the butterscotch cool slightly then mix it together with the apples. Add it to a cast iron skillet or baking dish.
Assemble the pandowdy. Place the pie crust all overlapped over the filling and brush with egg wash.
Bake! Bake the pandowdy until the filling is bubbly and the crust is golden brown.
Serve. With vanilla ice cream. Always vanilla ice cream.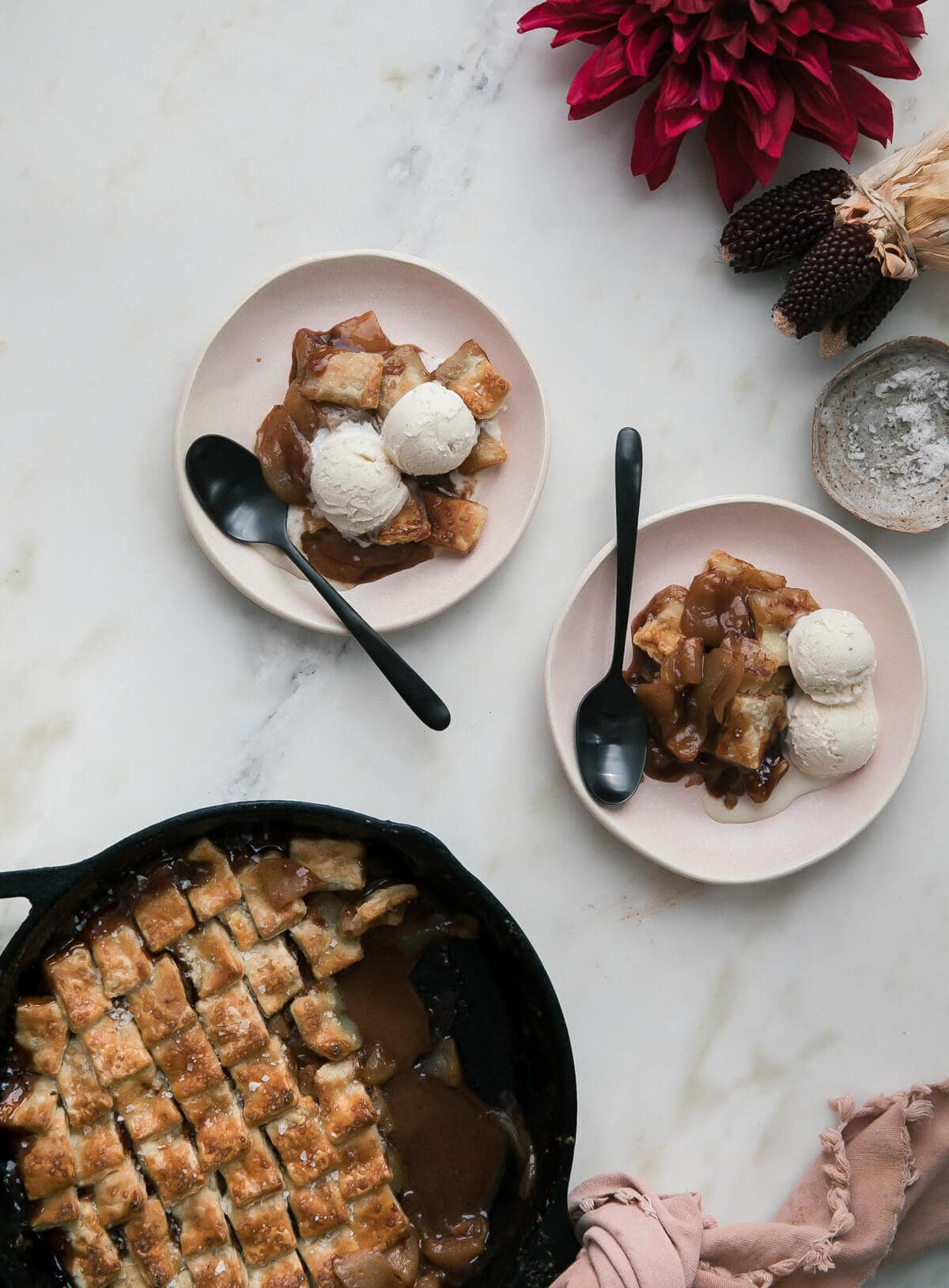 Tips and Tricks:
I used honey crisp apples here because I think they're perfect for baked apple desserts but you could also use any other variety that can hold up to baking. Try to avoid varieties like golden and red delicious.
If you're in a hurry, you can use store-bought pie crust but I highly suggest making my recipe.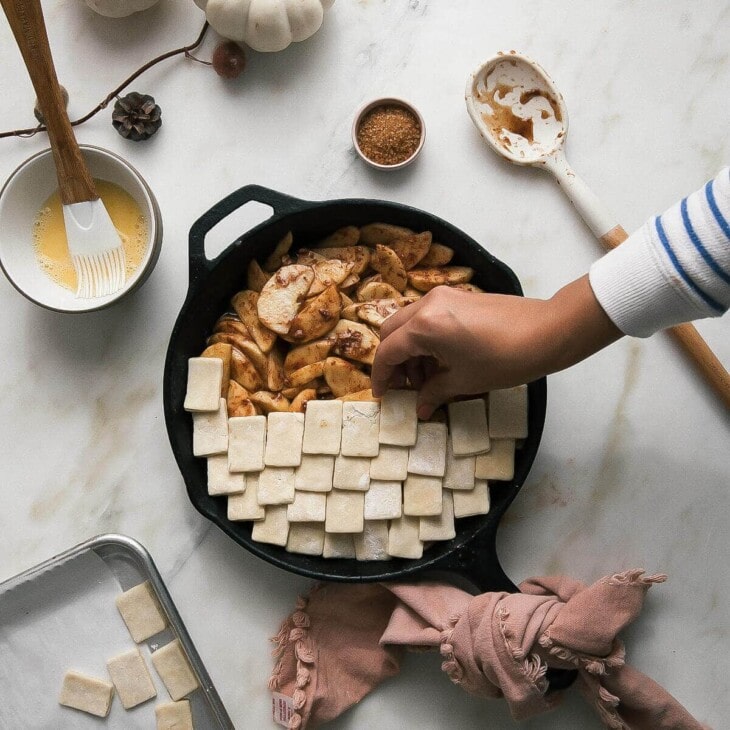 Print Recipe
Apple Pandowdy Recipe
Apple Pandowdy is a sort of pie cobbler hybrid, gooey apple filling topped with tiles of pie crust. I added some extra flavor to mine by adding butterscotch flavors to the filling.
Ingredients
Pie crust:
1

single pie crust

homemade or store-bought
Apples:
2

pounds

honey crisp apples

peeled and sliced

Juice from 1/2 lemon

3

tablespoons

all-purpose flour

2

teaspoons

ground cinnamon

1/2

teaspoon

ground all-spice
Quick Butterscotch:
2/3

cup

brown sugar

2

tablespoons

heavy cream

2

tablespoons

unsalted butter
For Topping:
1

teaspoon

turbinado sugar

1

teaspoon

flaky sea salt
Instructions
To Make the Pie Crust Pieces:
Using homemade or store-bought, cut out the crust however you like. I used a rectangular cookie cutter, creating a shingle-like topping. Feel free to use any cookie cutter you like. You can also roll out the dough and using a knife make shapes, triangles, etc. Get creative! Place the pieces of pie crust on a baking sheet and stick them in the freezer to chill while you make the remaining pandowdy.
To Make the Apples:
In a bowl, add the apples, lemon juice, flour, cinnamon and all-spice. Toss together until evenly coated.
To Make the Butterscotch:
In a 9-inch or 10-inch (I used a 10-inch) cast iron skillet, set over medium-low heat, add the brown sugar, heavy cream and butter. Stir it until the butter melts and allow it to come to a boil; cooking at a gentle boil for 3 minutes. Turn off the heat, add the apples and gently mix together until the apples are coated in the butterscotch.

Preheat oven to 375 degrees F.

Flatten the apples into one even layer and add the pie crust pieces on top, overlapping them slightly (the crust will shrink so the overlapping is important). Brush the tops of the pie crust pieces with egg wash and sprinkle with turbinado sugar. Transfer to the oven to bake for 35 to 45 minutes, until the crust is golden brown and the butterscotch is bubbling.

Remove from the oven and allow to cool for about 10 minutes. Sprinkle with the sea salt. The butterscotch is going to be too hot to eat right away. Scoop out mounds into bowls or on plates and serve warm with vanilla ice cream.
Nutrition
Calories:
361
kcal
(18%)
|
Carbohydrates:
74
g
(25%)
|
Protein:
1
g
(2%)
|
Fat:
9
g
(14%)
|
Saturated Fat:
5
g
(31%)
|
Cholesterol:
25
mg
(8%)
|
Sodium:
17
mg
(1%)
|
Potassium:
291
mg
(8%)
|
Fiber:
6
g
(25%)
|
Sugar:
60
g
(67%)
|
Vitamin A:
408
IU
(8%)
|
Vitamin C:
10
mg
(12%)
|
Calcium:
59
mg
(6%)
|
Iron:
1
mg
(6%)
Did you make this recipe? Let me know on Instagram!
Looking for more apple recipes? Here are some of my favorites: