Asian Pear Apple Pie 
29
Sep 21, 2016, Updated Oct 09, 2019
Disclosure: This post may contain affiliate links, which means I may earn a commission if you click on the link and make a purchase.
Whisk your senses away to a place where the warmth of homemade Asian Pear Pie and Apple Pie fills the air, marrying the delicacy of exotic pears with the robust charm of heirloom apples—all wrapped in a flaky, golden crust that's a tribute to autumn itself.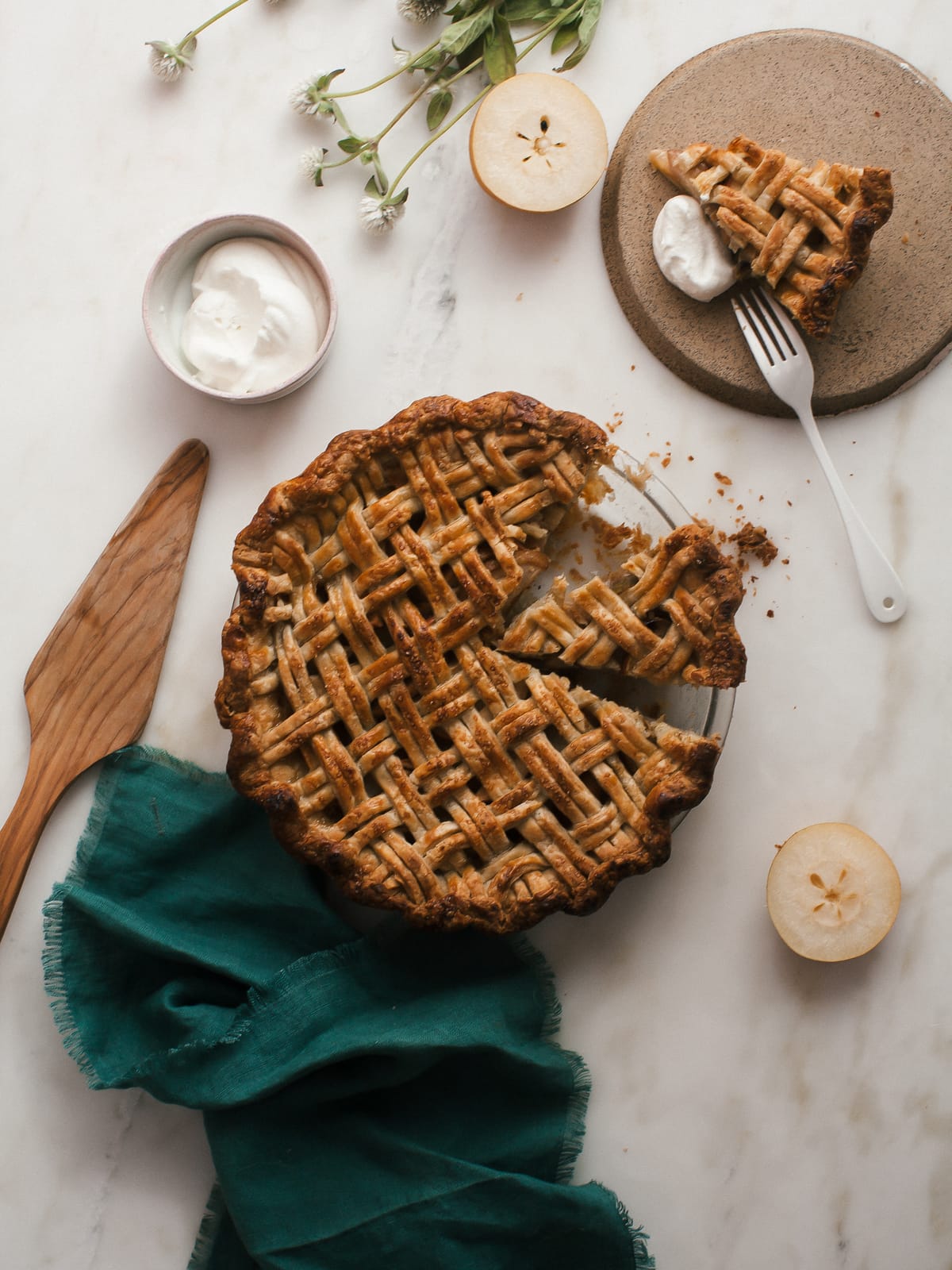 Savoring the Seasons: Seasonal Pie Ingredients That Captivate

The secret to an unforgettable Asian Pear Pie and Apple Pie lies in the tender embrace of seasonal ingredients. Imagine the symphony of flavors as Asian pears and heirloom apples come together, creating a masterpiece that is as much a feast for the eyes as it is for the palate.
Have you ever wondered what makes an apple pie truly stand out? It's the heirloom apple varieties that hold the power to transform a good pie into a classic. Biting into a slice of pie made with these apples is like stepping back in time, into a world where each flavor tells its own story.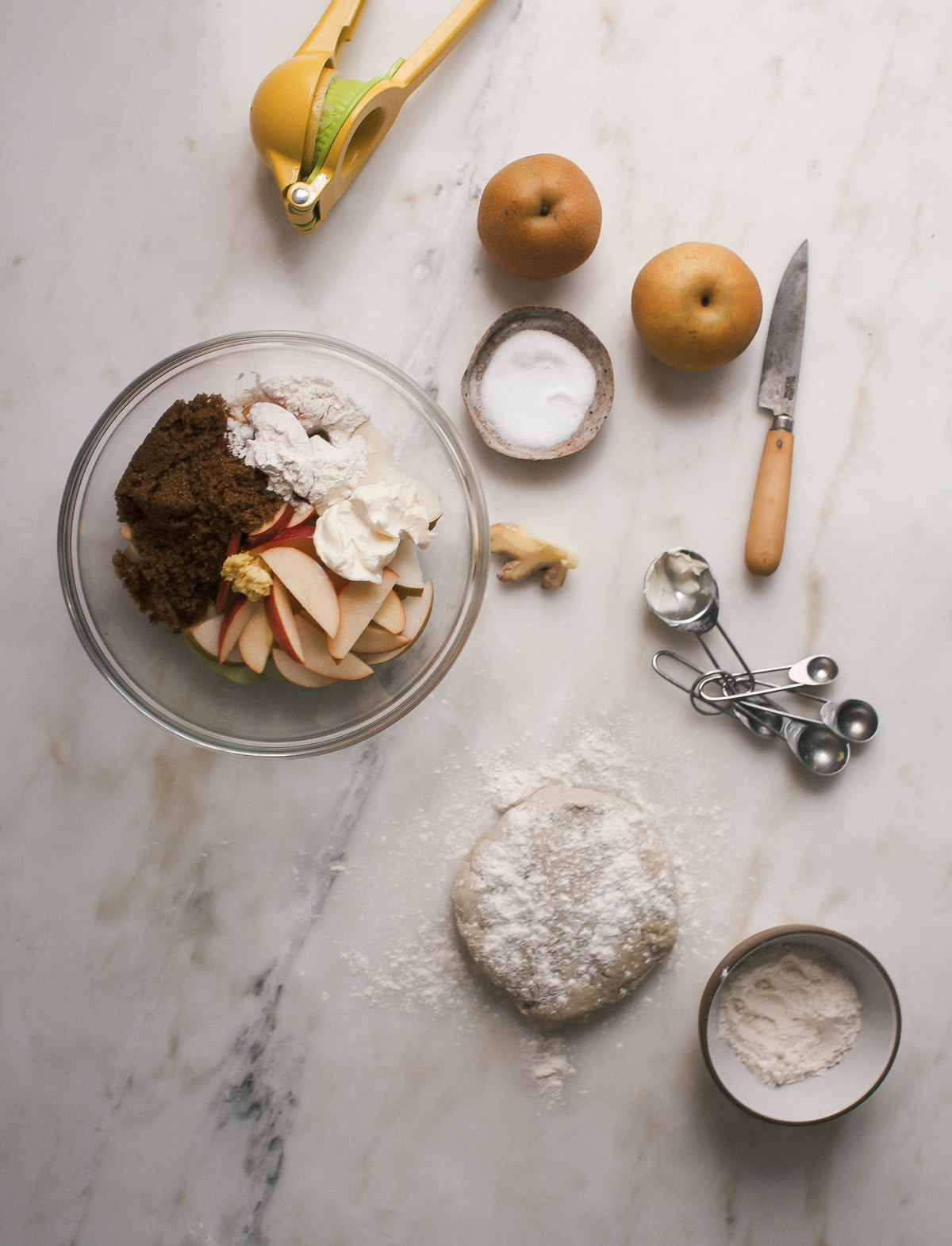 A Twist on Tradition: Exotic Pear Desserts
Asian pears, with their delicate sweetness, transform the conventional into the extraordinary. Dive into an Asian pear and apple pie adventure, where textures and tastes play in a delicious melody of fall flavors.
The pie's crust isn't just a cover; it's a canvas. Through intricate lattice crust designs, your pie becomes a masterpiece, with each woven strip a brushstroke of edible artistry.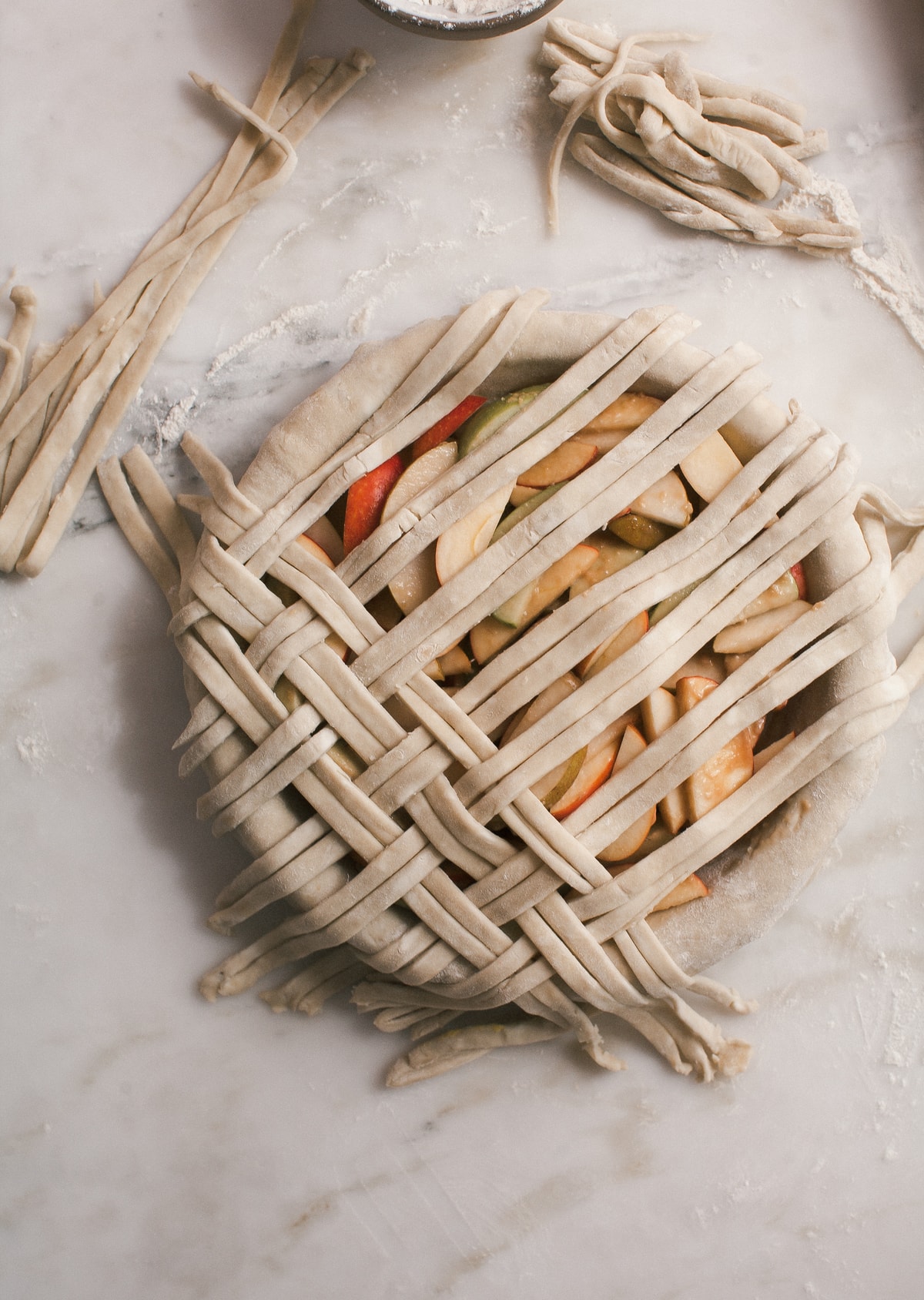 A Dash of Warmth: Crafting Homemade Pie Spices
I think I enjoy this process…building and assembling, building and assembling. I enjoy methodical, repetitive things, especially when they pertain to pie.
I've been wanting to make a basket weave-ish kind of pie topping. I think I did it with this. It's actually MUCH simpler than it looks because you basically just cut the pie crusts in smaller strips and then place them side-by-side like you would one singular strip.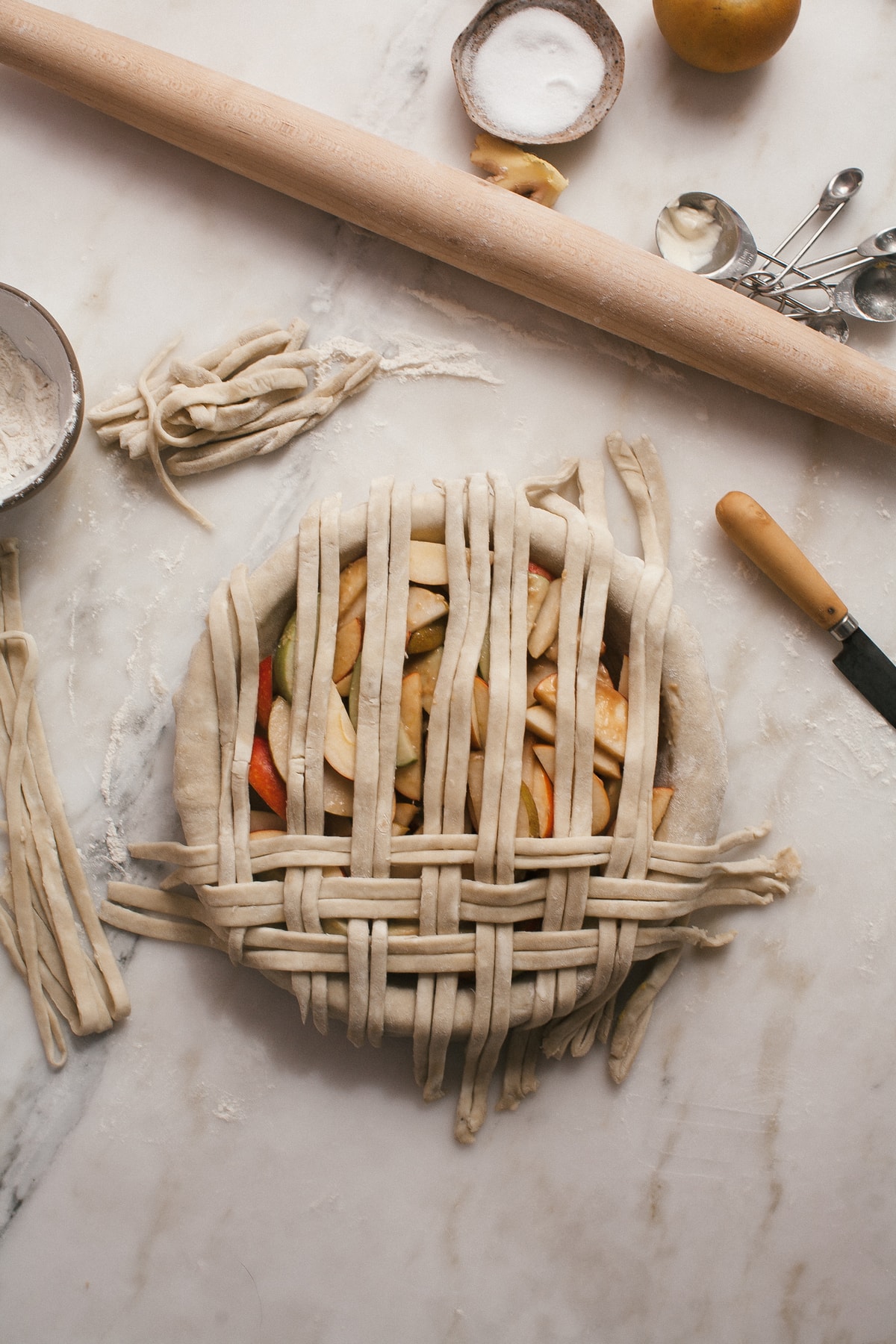 A big tip, put the sheet of pie crust on a cutting board and chill them for 10 minutes. This makes it easier to slice AND move around.
Asian Pears Are Amazing!
I actually had never put Asian pears in a pie before. I kinda thought maybe they wouldn't work all that well. It turns out, they're amazing in a pie.
They're pretty floral so their floral quality works well with apple. I added some creme fraiche, brown sugar, ginger, a pinch of salt and vanilla to this pie.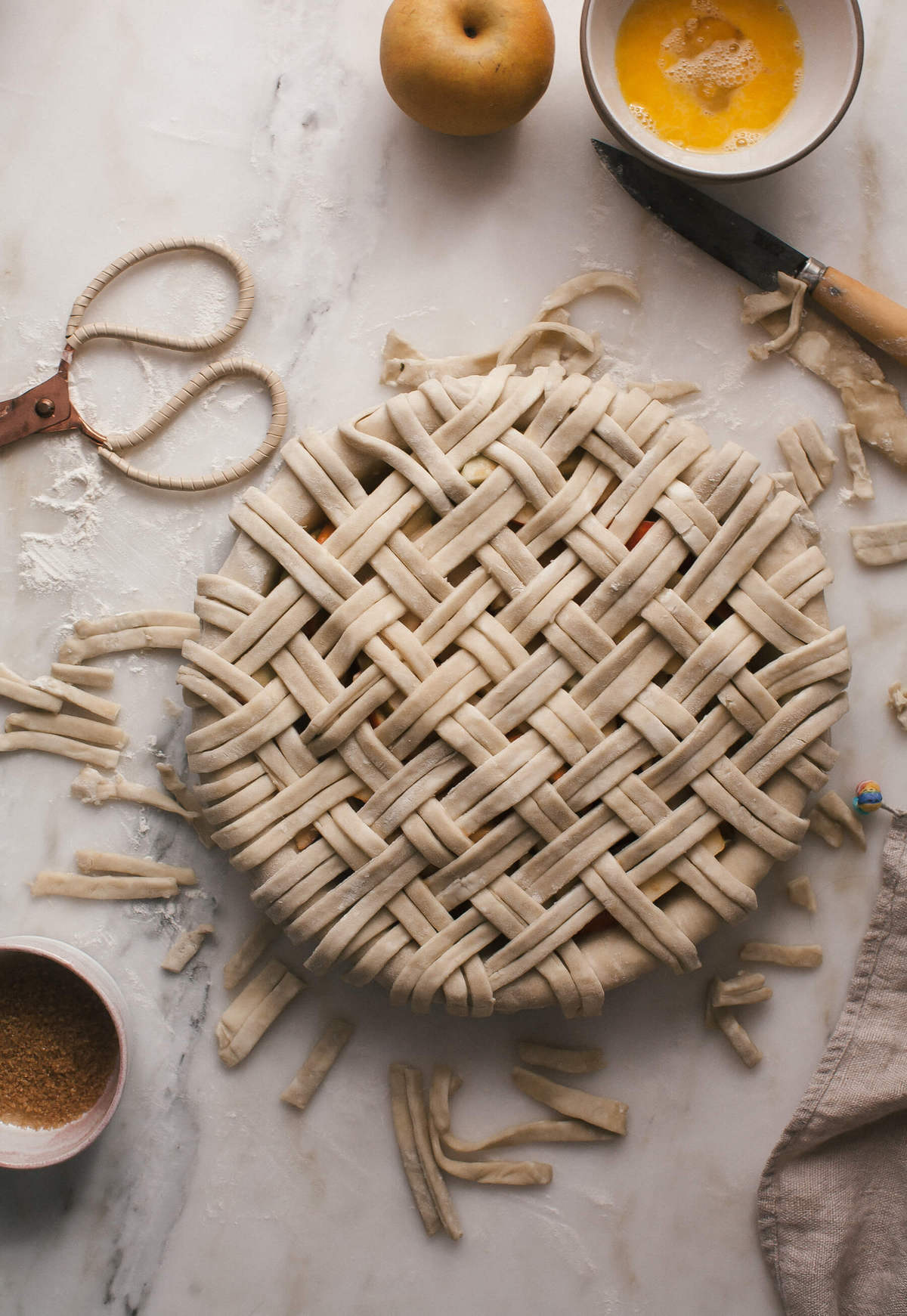 The creme fraiche and brown sugar cook together, creating almost like a caramel of sorts in the pie. IT IS SO GOOD. AND, MUCH EASIER THAN MAKING CARAMEL.
I learned this little trick when Nicole and I were recipe testing for our upcoming pie workshop and she suggested we add sour cream to the inside of the pie.
I'd never tried it (I think she had). And the results were literally like an apple caramel pie. It was AMAZING. Try it the next time you make an apple pie, or better yet, try this one.
TIPS AND TRICKS
Keep it Cool: Your dough needs to be as cool as a crisp autumn breeze before rolling it out. This little tip is crucial for that flaky, perfect crust.
Spice it Right: A little extra dash of cinnamon or a whisper of ginger can elevate your spiced Asian pear apple pie from delicious to divine.
Sweet Symphony: Balancing the sweetness is key—too much and you'll overpower the nuanced flavors of the fruit, too little and the pie's natural tartness might steal the show.
Thickness Matters: Cut your fruits evenly to ensure they cook uniformly, melding their flavors beautifully within the pie.
RECIPE FAQs
What sets Asian pears apart in a pie recipe?
Asian pears lend a floral and crisp twist to your Asian Pear Pie and Apple Pie, making each slice a discovery of new textures and flavors.
Can I find a gluten-free version of this delectable pie?
Absolutely! Gluten-free crust alternatives are abundant, ensuring everyone can indulge in the joy of an Asian Pear and Apple Pie.
Is there a secret to achieving the perfect pie crust?
The crust is the foundation, and the secret lies in its flakiness. The right balance of cold butter and expert handling promises a crust that is simply unparalleled.
More recipes you may enjoy!
Unleash the Flavors: Garlic Braised Ribs
Loved it? Rate it!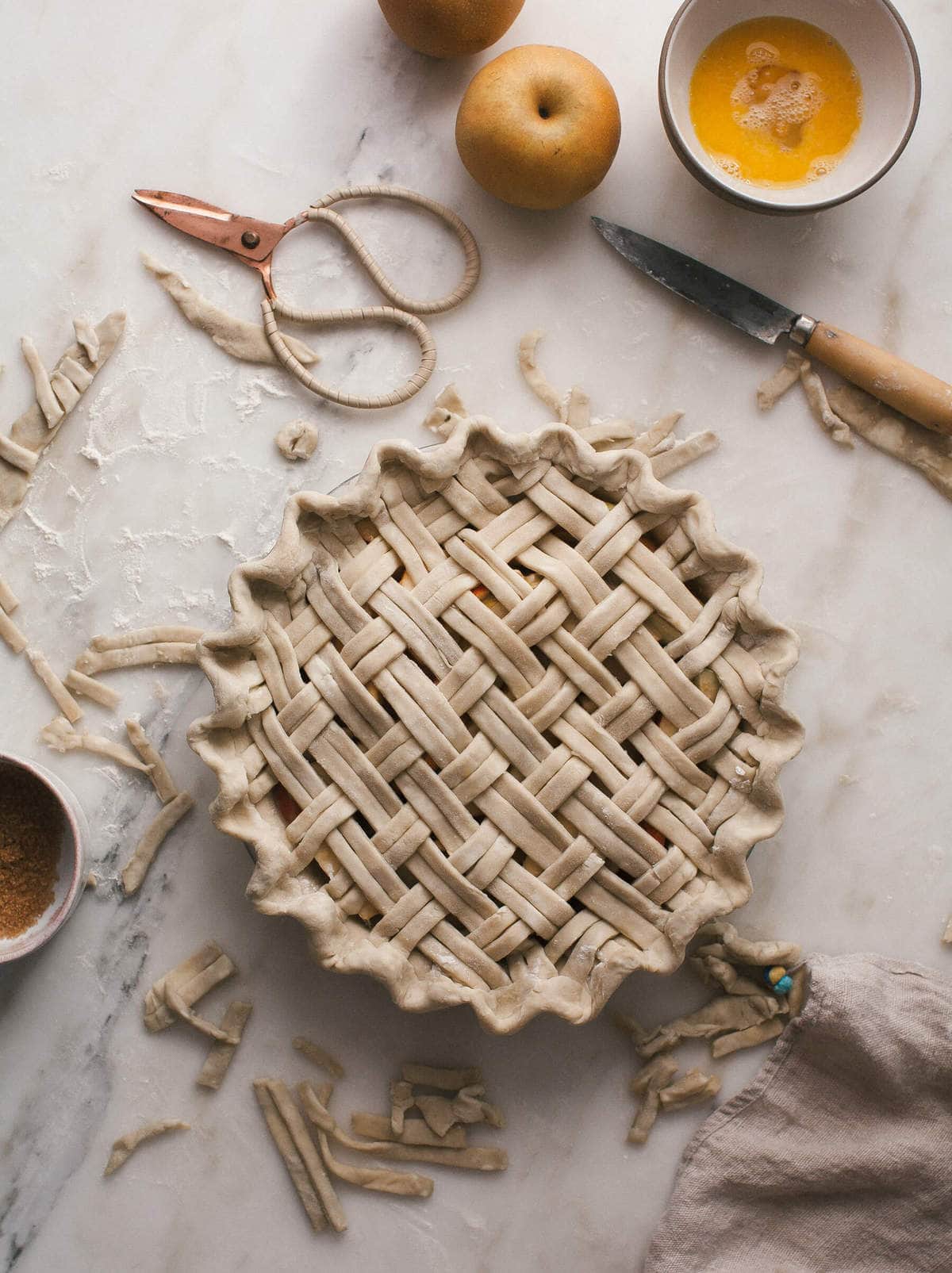 Asian Pear Pie and Apple Pie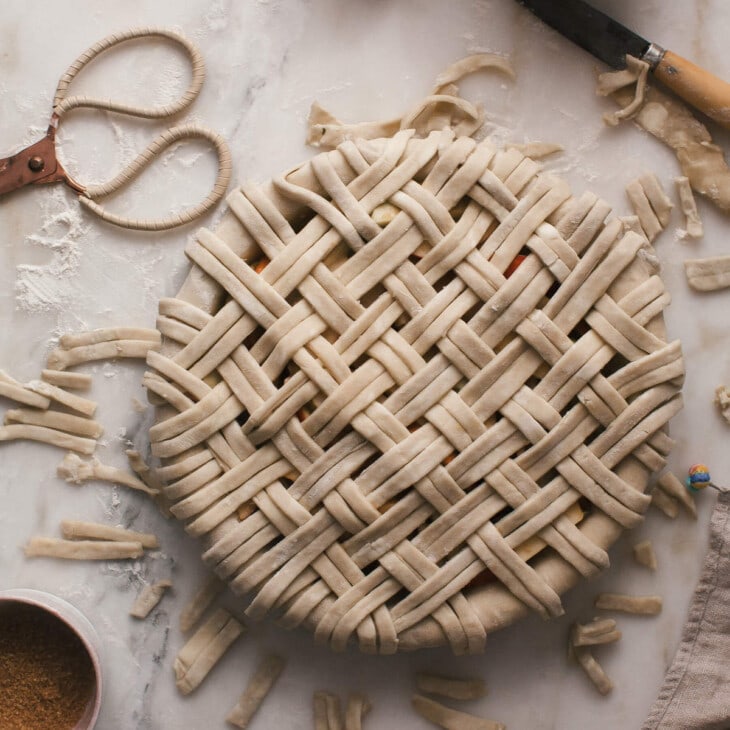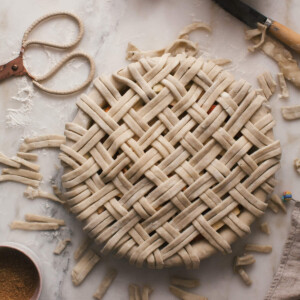 Asian Pear Apple Pie is so fragrant and delicious. Floral asian pears are combined with apples to make a delicious autumnal favorite pie.
Ingredients
2 to 3

peeled firm Asian pears

,

cut into 1/2-inch slices

2 to 3

small apples

,

I used Pink Lady but Gala, Honeycrisp or Golden Delicious are all good!, cut into 1/2-inch slices

3

tablespoons

all-purpose flour

1/2

cup

light or dark brown sugar

1/2

cup

creme fraiche or sour cream

1

teaspoon

freshly grated ginger

Juice from 1/2 lemon

Pinch

of salt

2

homemade or store-bought pie crusts

1

large egg

,

beaten, for egg wash

1 to 2

teaspoons

turminado sugar

,

as topping
Instructions
To a medium bowl, mix together the sliced pears, apples, brown sugar, creme fraiche or sour cream, flour, ginger, lemon juice and salt. Set aside.

Lightly flour your work surface and rolling pin. Roll out the first pie crust, rotating and flouring it every so often so it doesn't stick to the surface, to a 13-inch circle. Roll the dough over the rolling pin and place it over a 9-inch pie dish. Transfer to the fridge while you roll out the second pie crust.

Roll out the second disk of dough and create a topping however you like. Do a normal lattice, an intricate lattice, make braids. The possibilities are endless, just remember that the freezer is your friend. If your pie dough ever becomes too soft to manage, be sure to put it on a cutting board and stick it in the freezer for 5 to 10 minutes. It'll instantly become easier to work with.

Remove the pie dish from the fridge and pour in the filling, including all the juices that the pears and apples have released—this is the good stuff! Place the pie crust on the top however you like and seal it up! Transfer the whole pie to the freezer for about 20 minutes (this will firm it up and eliminate the possibility of shrinking like crazy).

Meanwhile, preheat the oven to 400 degrees F. Place the pie on a baking sheet and brush it with egg wash and sprinkle the top with turminado sugar. Transfer to the oven and bake for 30 minutes or until the pie is lightly golden brown. Turn the heat down to 350 degrees and bake for an additional 30 minutes.

Allow the pie to cool for at least 30 minutes, if you're impatient. If you want sliceable slices that stay in tact, allow the pie to cool for 2 to 3 hours.
Notes
*I don't peel my apples but you're welcome to if you like. I personally like the texture.
*I did, however, peel the Asian pears because their skin is a bit tougher.
*If you want to make this EXACT topping, you'll need to make a larger amount of pie crust. Here's the recipe for the triple pie crust.
*Easily make this an all apple pie. OR if you can't find Asian pears, replace them with Bosc pears.
Nutrition
Nutrition information is automatically calculated, so should only be used as an approximation.