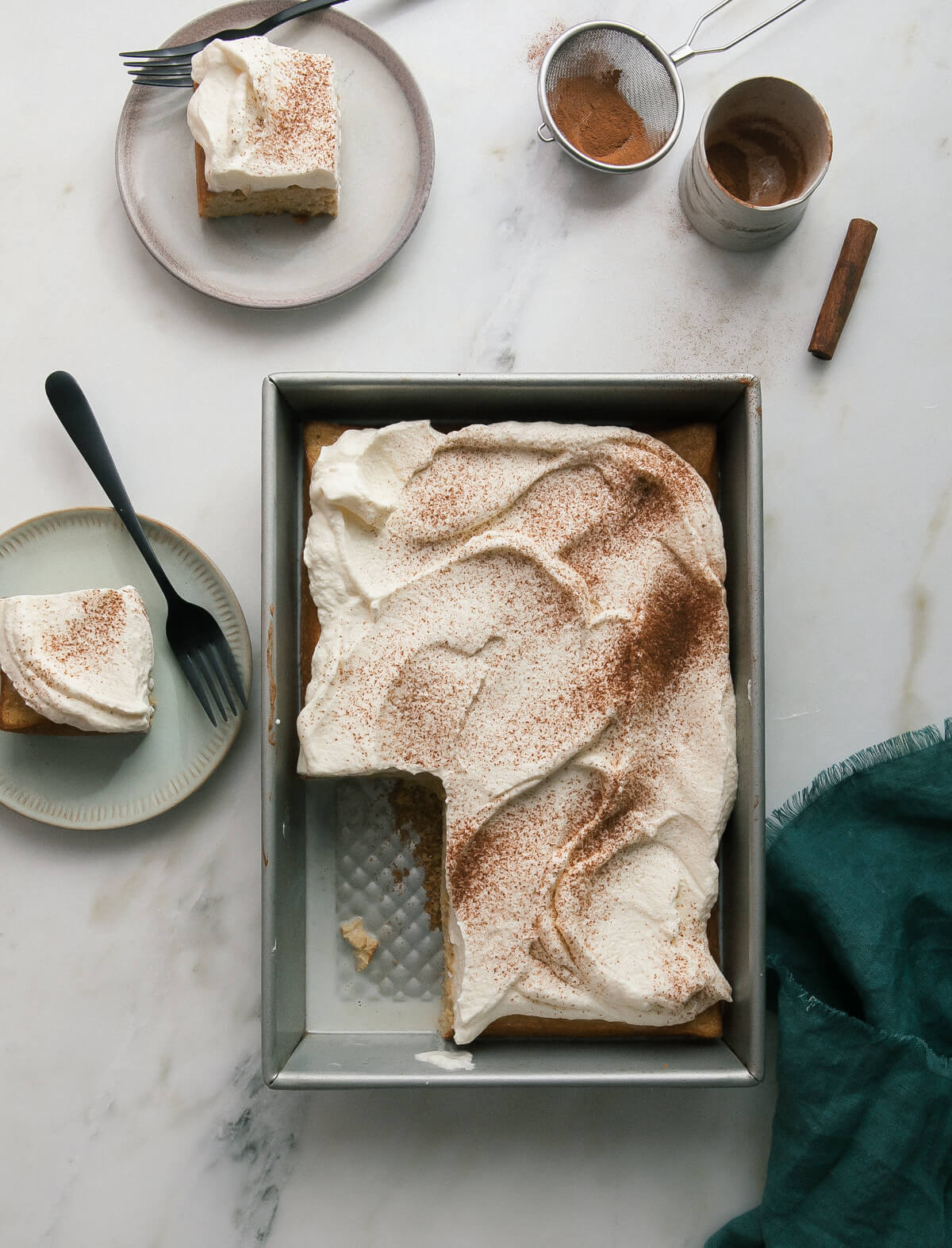 I know it's pie season and all but sometimes we want something else besides pie. We want cake! I posted this tres leches cake a while back on the Instagram but figured I'd put the here in a more permanent, printable place.
I never understand how people cook off of an Instagram post but people love Insta recipes. I like it to be on my computer so I can reference it in a larger, more visible way. Maybe I'm just getting old and am having trouble seeing my phone. Haha. I did change the text to be slightly bigger and I don't care—everything is so much more clear now!
This pumpkin tres leches is DELICIOUS. It is pumpkin-y and yet still light. Not the easiest thing to do. It definitely took us a few tries to get right. And when I say "a few," I mean like five tries.
But we finally nailed it and I was so excited when we did. Also when I say "we" I mean Billy and myself.
Anyway, this cake is inspired by the classic Tres Leches that I'm going to post next month and I'm super excited about that too.
There's also a small chance I might make a horchata tres leches cake. OKAY. Also, I'm sorry there's only one photo; I took more photos but I can't seem to find them on my gigantic terabyte drive because I'm terrible at labeling and being digitally organized.
Happy-almost Thanksgiving!
xo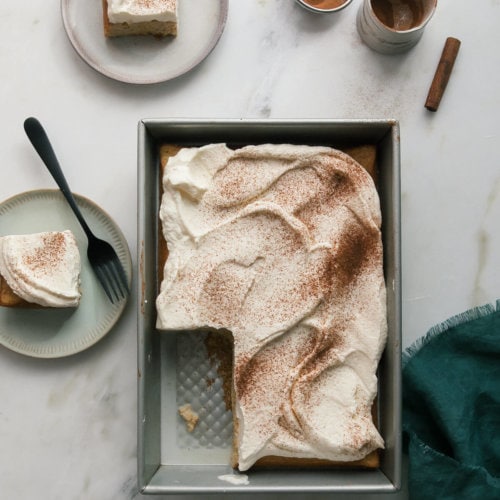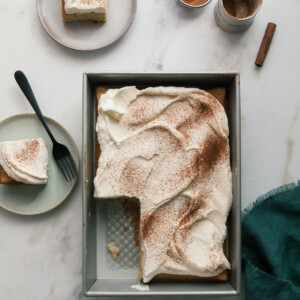 Ingredients
Wet Mix:
4

large eggs

,

separated

1

cup

white granulated sugar

,

divided

2/3

cup

pure pumpkin puree

1

teaspoon

pure vanilla extract
Dry Mix:
3/4

cup

all-purpose flour

1

teaspoon

baking powder

2

teaspoon

pumpkin spice

1/4

teaspoon

salt
The three milks:
3/4

cup

whole milk

1

14-ounce can of sweetened condensed milk

1

cup

light coconut milk

Whipped Cream

,

for topping

1/2

teaspoon

ground cinnamon or pumpkin pie spice

,

for topping
Directions
Preheat the oven to 350 degrees. Grease a 9x13 cake pan and set aside.

Add the egg whites and 1/2 cup sugar to the bowl of a stand-up mixer (with the whisk attachment) and beat on high until stiff peaks about 3 to 4 minutes. Scoop it out and put it into another bowl.

Place the bowl back on the stand-up mixer (no need to clean it out) and add the remaining 1/2 cup sugar and egg yolks. Beat until pale yellow and double in volume. Next, mix in the pumpkin puree and vanilla.

Place a sieve atop the bowl on the stand-up mixer and sift in the flour, baking powder, pumpkin spice and salt. Mix until just combined.

Fold in the egg whites until you no longer see any speckles of remaining egg white.

Pour the batter into the prepared 9x13 cake pan and transfer to the oven to bake for 15 to 18 minutes, until a skewer when inserted into the center comes out clean. Let cool completely in the pan before proceeding with the rest of the recipe.

In a large measuring cup, add the coconut milk, whole milk and condensed milk. Whisk until combined. Using a skewer or fork, create little holes on the top of the cake. Pour the milk mixture over the cake (it may seem like a lot but it will absorb!). Transfer to the fridge to 2 to 3 hours, ideally overnight.

Just before serving, top the cake with fluffy whipped cream and dust with cinnamon or pumpkin pie spice. Slice and serve.
Nutrition Facts
Pumpkin Tres Leches
Amount Per Serving (12 g)
Calories 0
* Percent Daily Values are based on a 2000 calorie diet.