These Chicago Style Hot Dogs are as close as you're going to get without having to buy a ticket to Chicago. I'm going to go through all the specific toppings and show you how to D.I.Y. a poppyseed bun.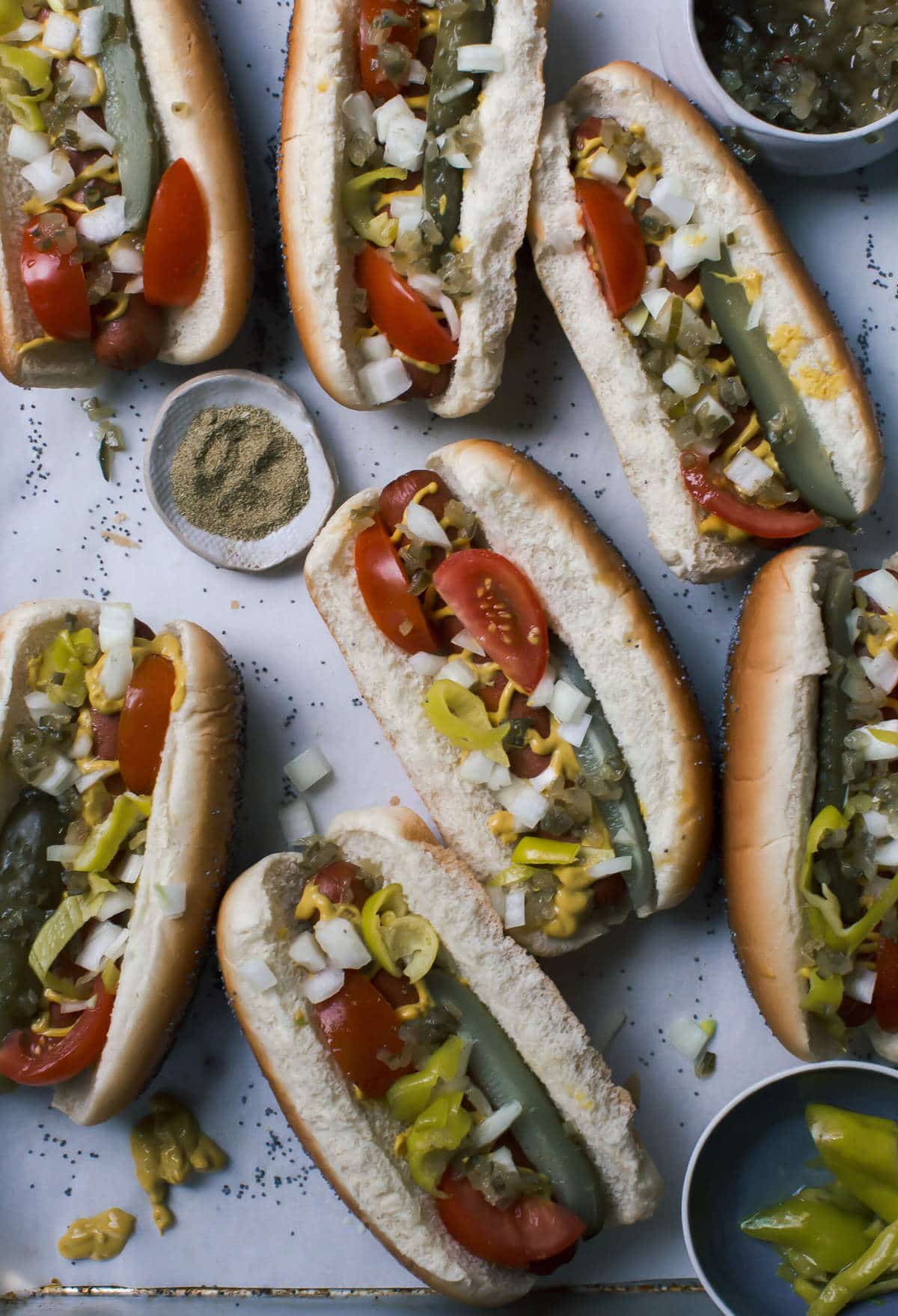 Last year I went on my first trip to Chicago and had da best time evrrr! It's definitely one of my favorite cities in the country. Josh and I actually thought about moving to Chicago after that trip but the winters…oof.
I began to envision myself walking down the street in January with two handfuls of groceries, with wind and snow and more wind all up in my face and it sort of stressed me out. So, for now, I'm just gonna make Chicago dogs.
Fourth of July is this weekend and I figured it was the perfect time to make one! If you've never had one, man, you're in for a treat. On that trip to Chicago, I had my first Chicago dog and it was so memorable.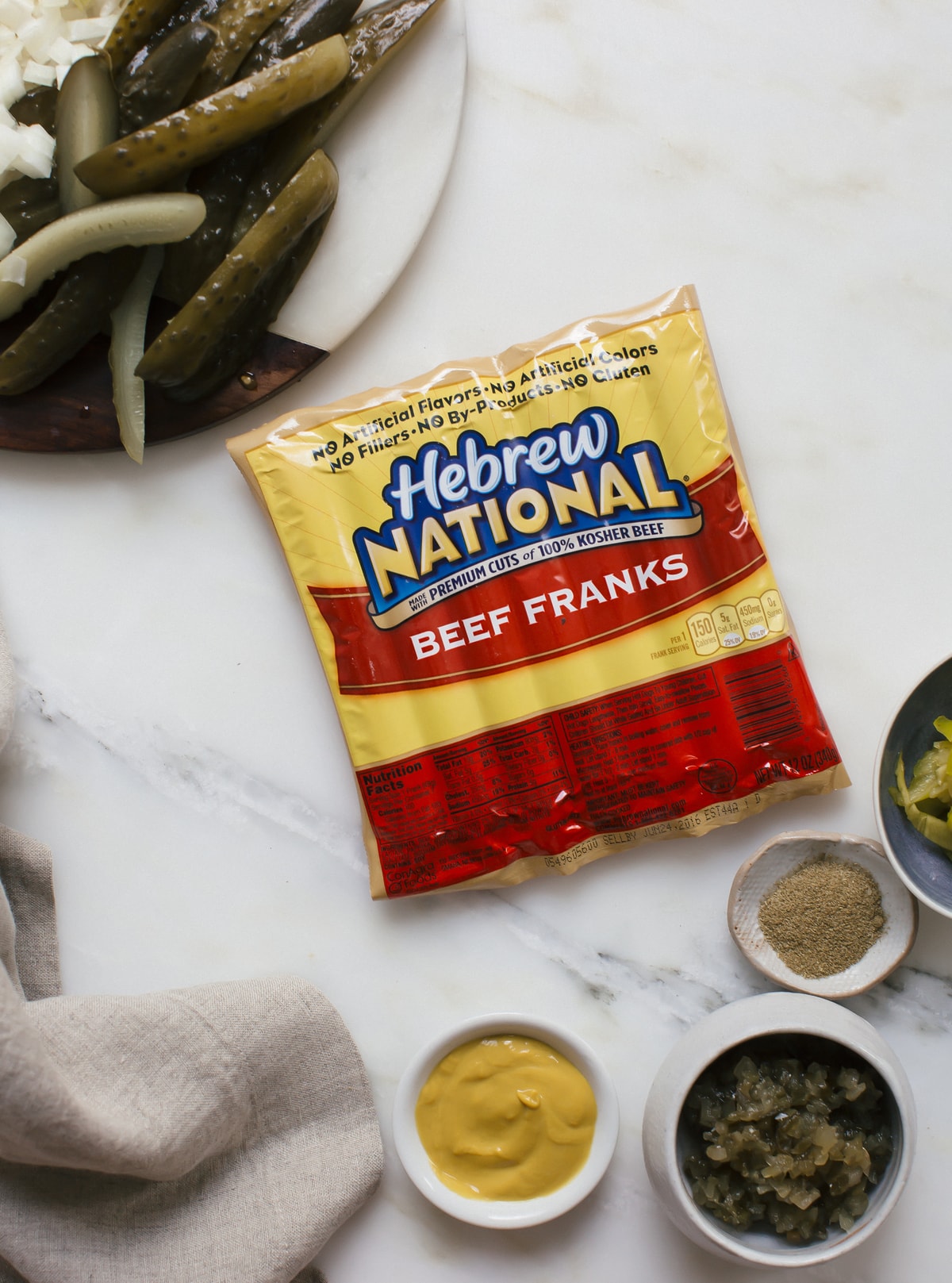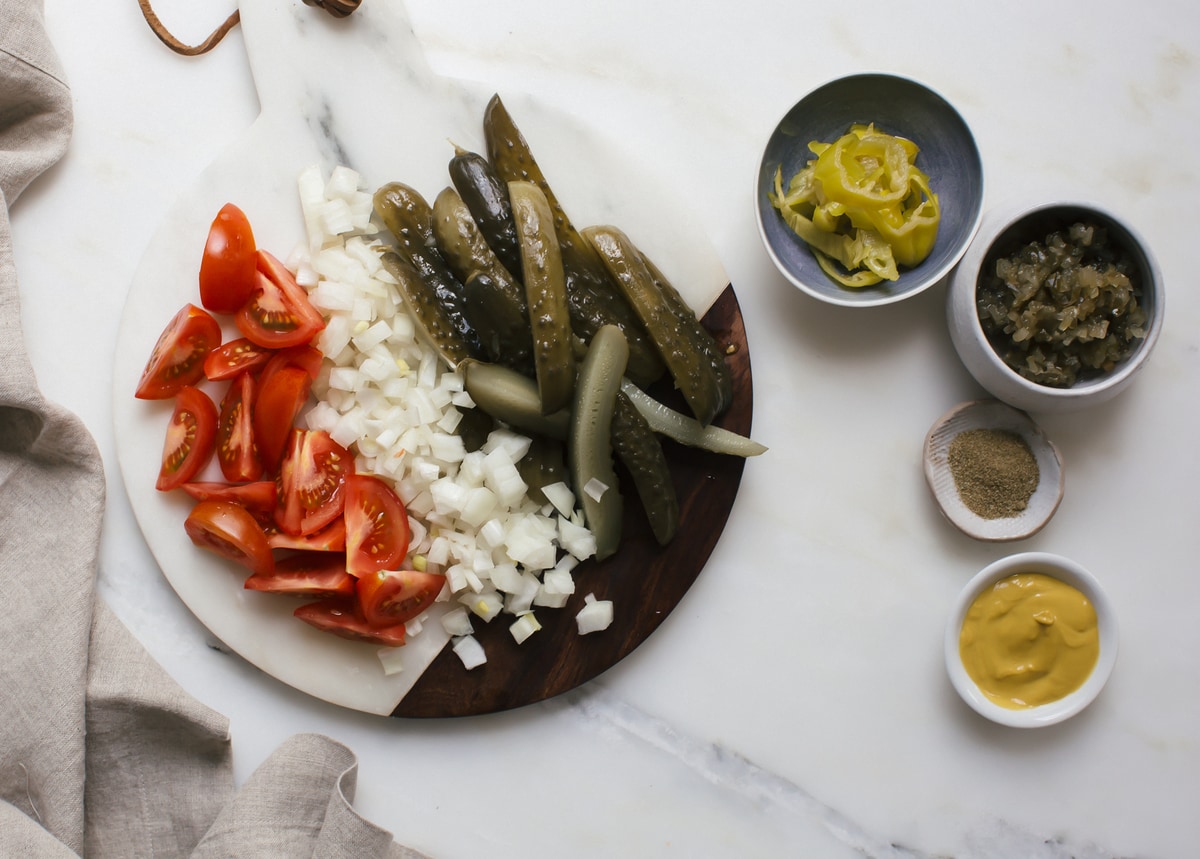 What is a Chicago Dog?
The Hot Dog: Most Chicago dogs are boiled, which is usually against everything that I believe in but I love these boiled. But, if you find yourself near a grill because, well, 4th of July, put them on the grill! I say put the tomatoes and peppers on the grill too. I say get wild, get weird.
There are a few things that have to go on a Chicago dog, and they are as follows:
tomatoes (sliced into a wedge)
sweet relish, sport peppers or pepperoncini
diced white onion or yellow onion
a dash of celery salt
and lots and lots of mustard
This combo seems a little strange, not gonna lie, but it all makes sense when you bite into it. The buns MUST be soft, with poppy seeds. Most hot dog buns don't have poppy seeds on them, but don't worry, I have a solution down below in the recipe.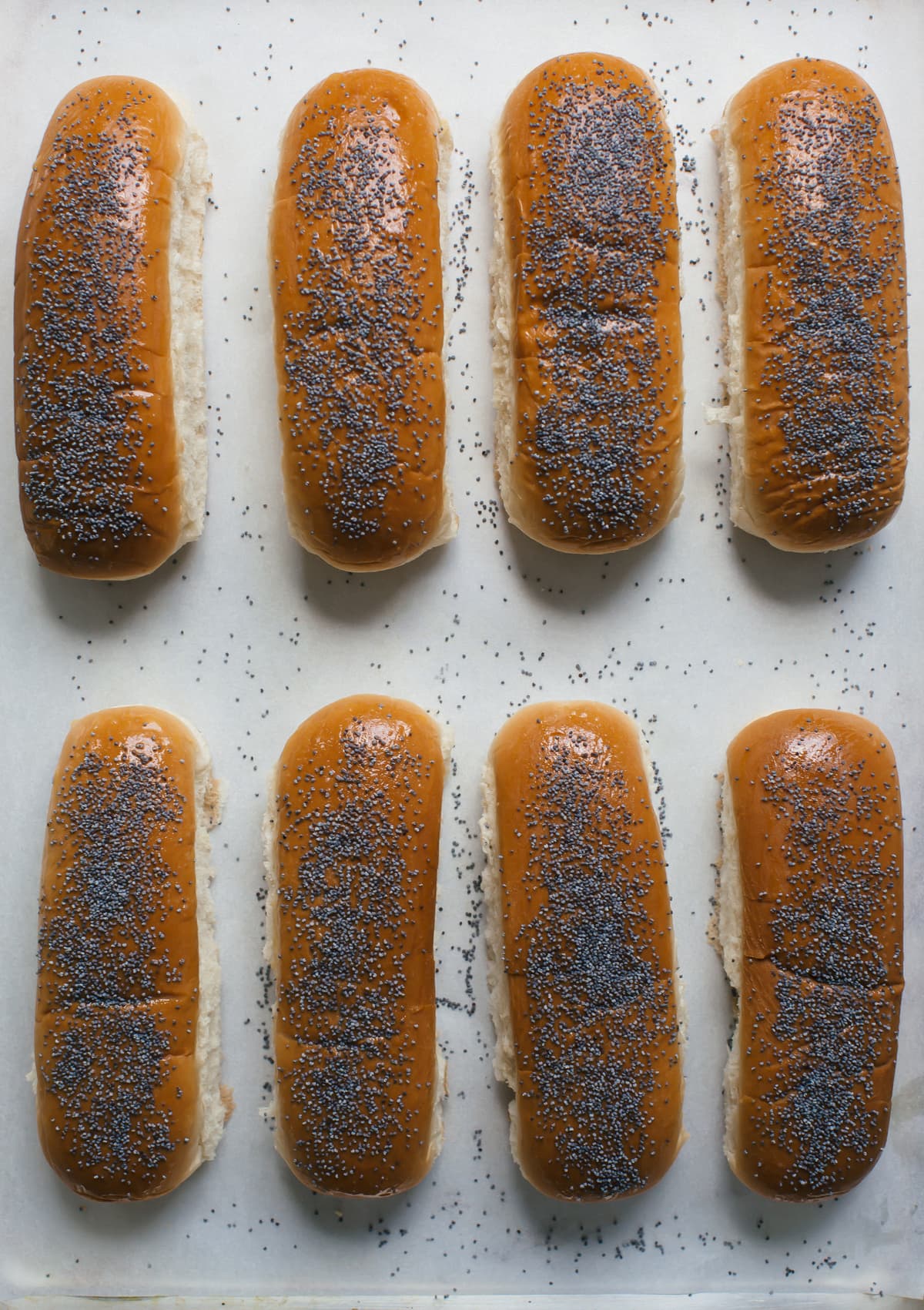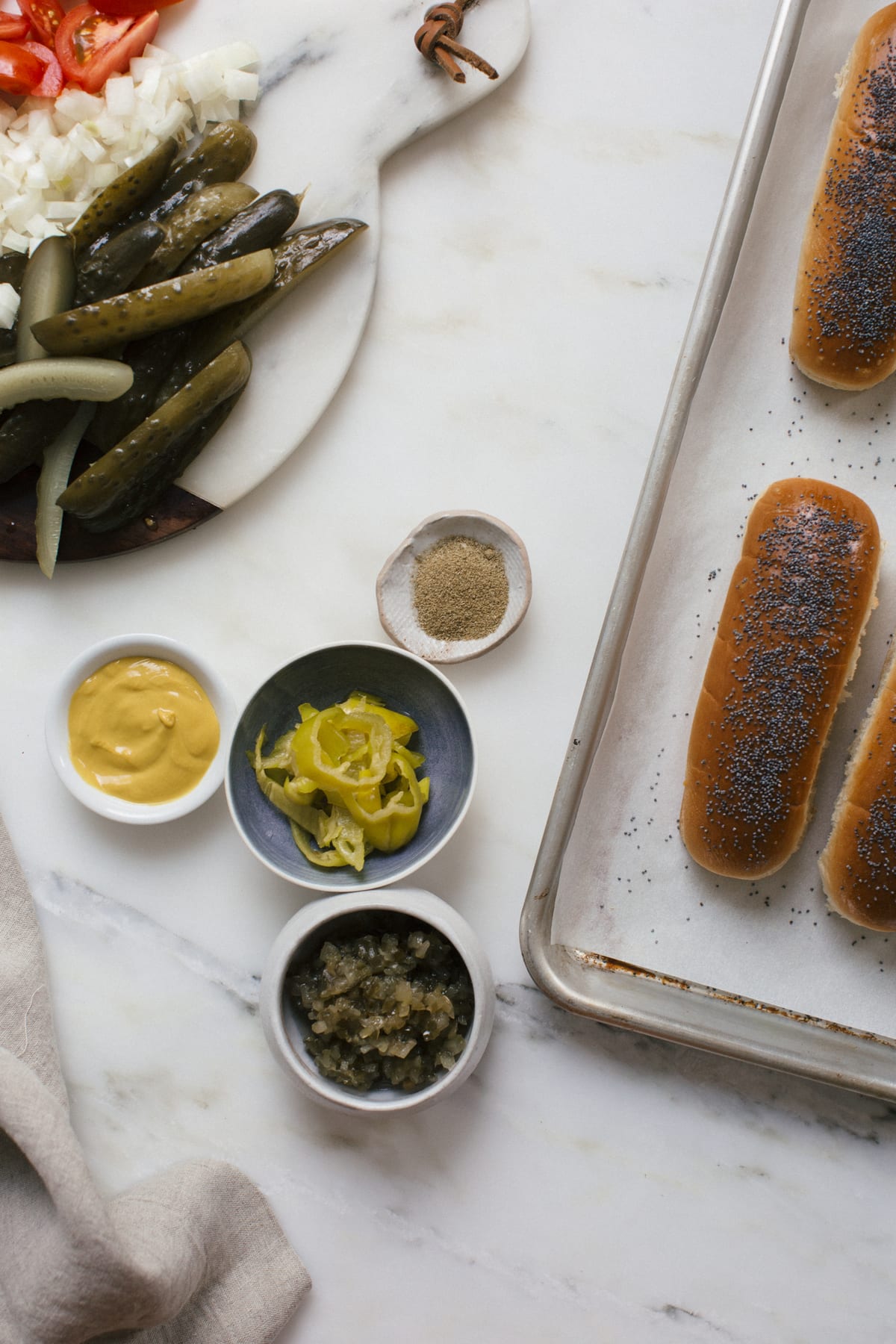 How to Make a Chicago Style Hot Dog:
Cook the Hot Dogs. The main thing about Chicago Style Hot Dogs is that they're boiled. I'm usually not on team boiled hot dog, but for this I like it because all the toppings need to shine.
Prep the toppings. While the hot dogs boil, slice and dice all the vegetables.
Assemble! When you're ready to serve, assemble the hot dogs and top with the tomatoes, relish, celery salt, white onion, and mustard in a poppyseed bun.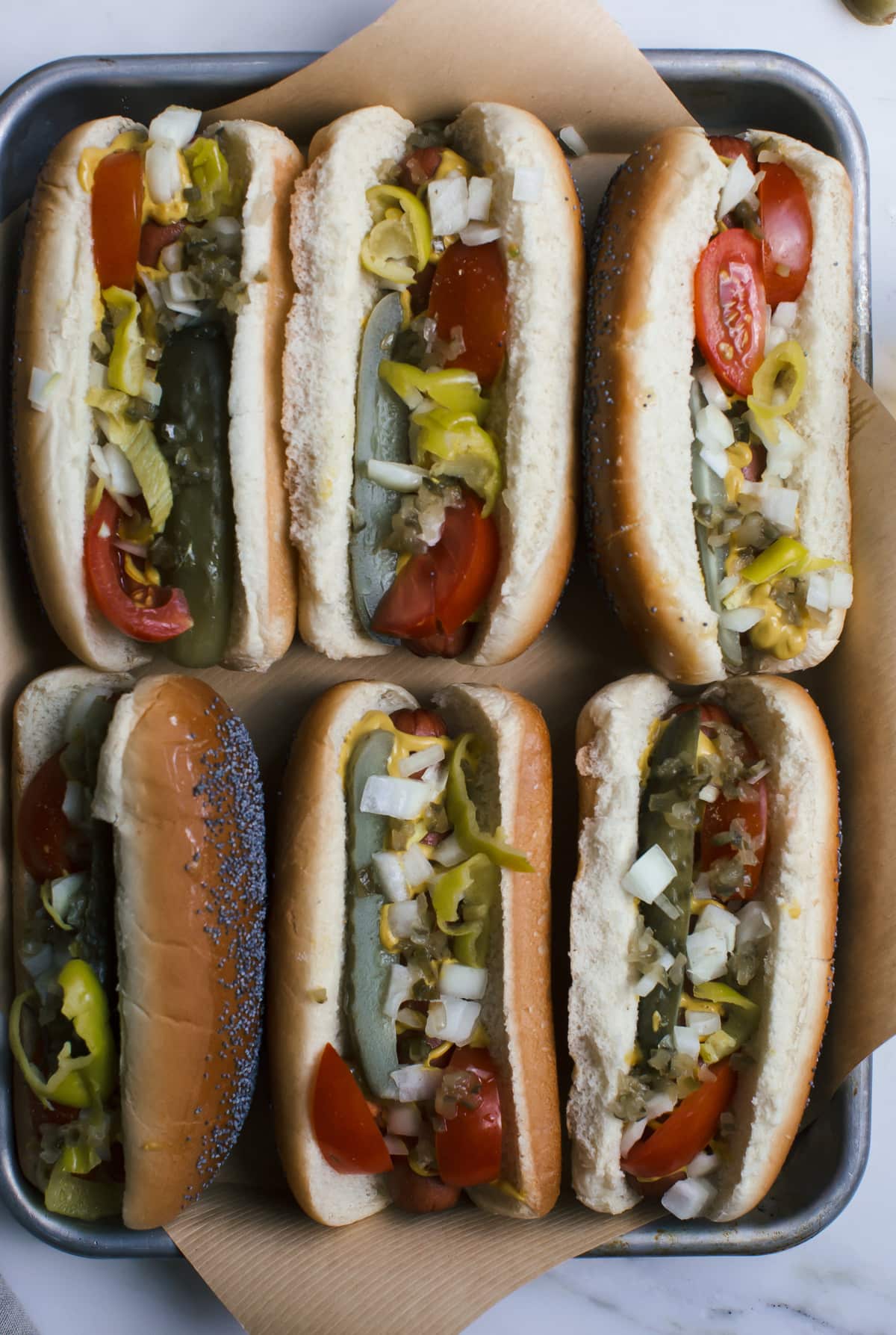 How to make a Poppyseed Bun:
Chicago Style Hot Dog Buns are specific in that they need to be eaten in a poppyseed bun. These can be kind of hard to find outside of Chicago so I went ahead and figured out a way to doctor up a regular hot dog bun.
Brush the buns with an egg wash. Place the buns on a baking sheet and brush the tops and sides with a beaten egg.
After that, Sprinkle. Add poppy seeds to all the parts of the bun that were brushed.
Bake. Bake in the oven to help set the egg wash and warm up the buns.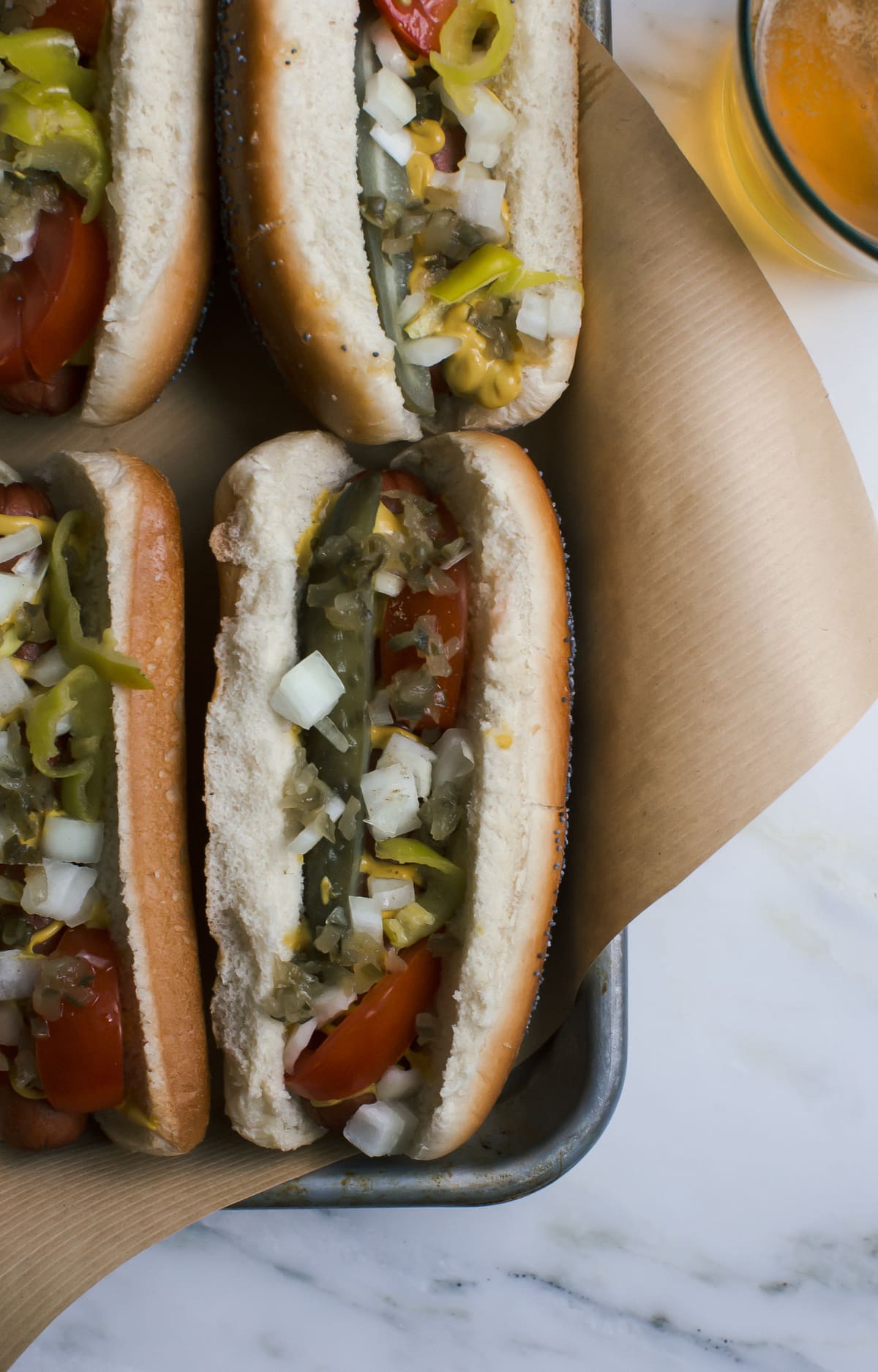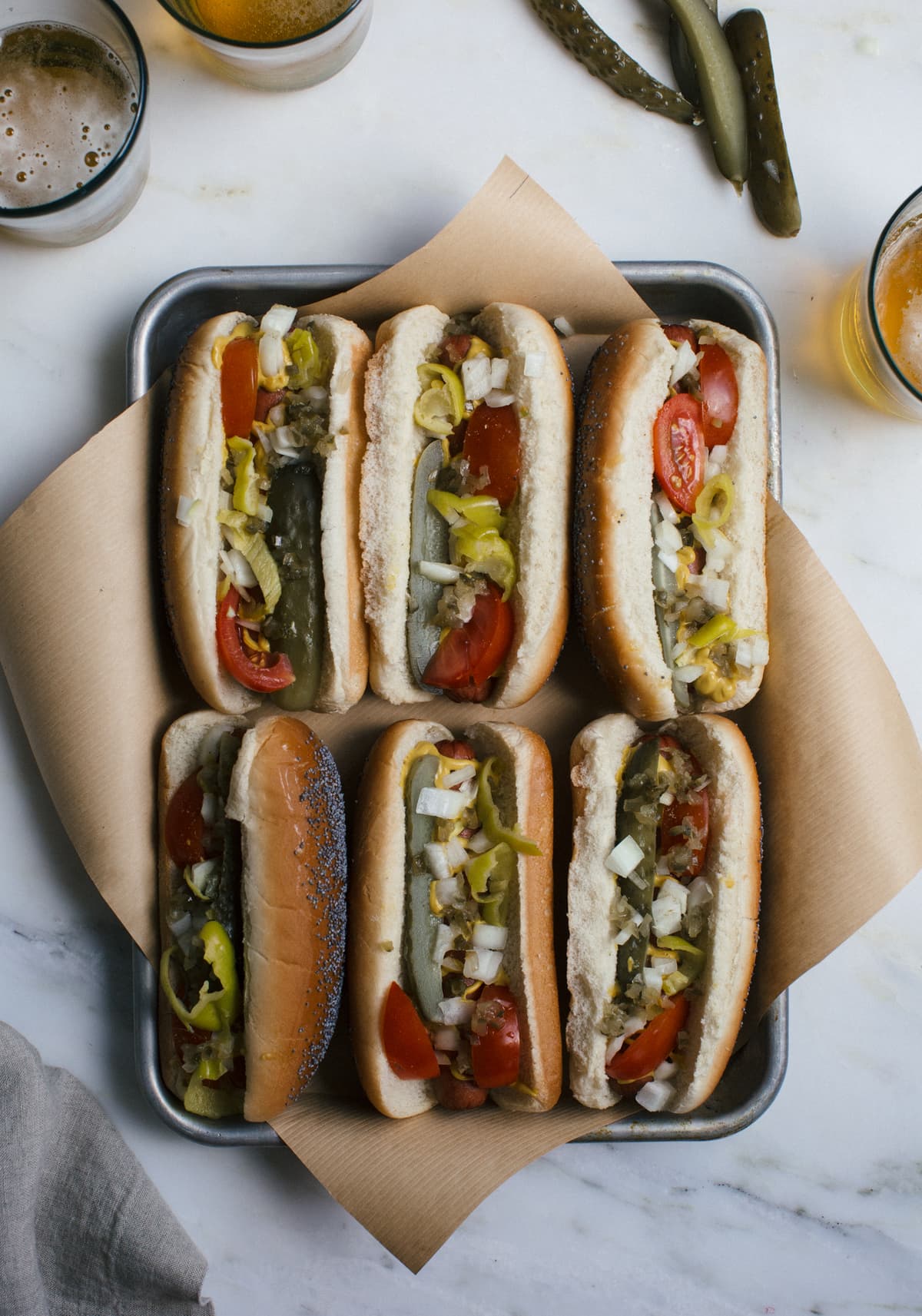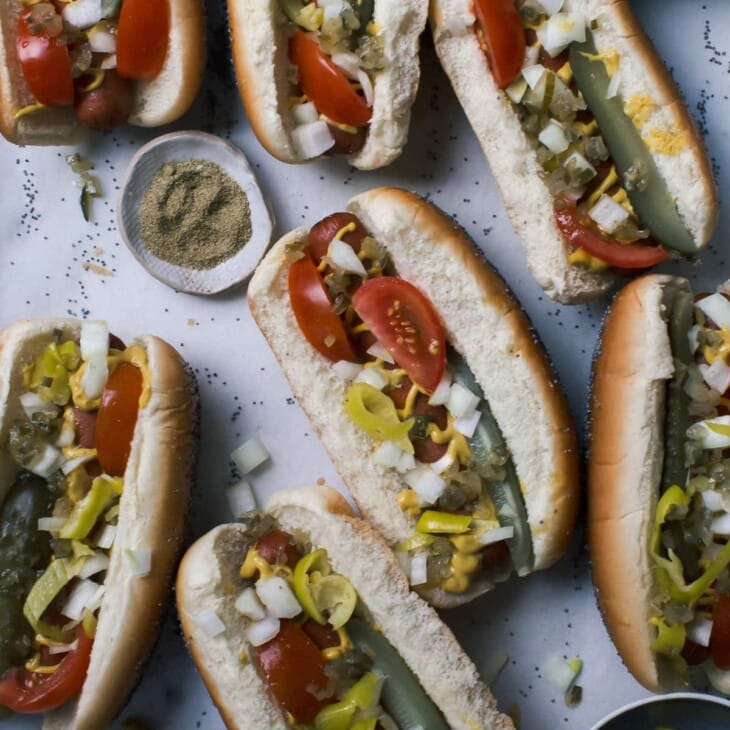 Print Recipe
Chicago Dogs
These Chicago Style Hot Dogs are as close as you're going to get without having to buy a ticket to Chicago. I'm going to go through all the specific toppings and show you how to D.I.Y. a poppyseed bun.
Serving Size:
to 8 hot dogs
Ingredients
6

hot dog buns

1

large egg

1

tablespoon

poppy seeds

6

all-beef hot dogs 

Yellow mustard

3

dill pickles

cut into wedges

2

tomatoes

cut into wedges 

1/2

small yellow or white onion

peeled and diced

6

sport peppers or pepperoncini peppers

3

tablespoons

sweet relish

Celery salt 
Instructions
Preheat the oven to 350 degrees F. Line a baking sheet with parchment paper. Place the hot dog buns side by side on the baking sheet. In a small bowl, beat together the 1 egg. Brush the top sides of the buns with the egg wash and sprinkle on the poppy seeds. Transfer to the oven to bake for 5 minutes. Remove and set aside. 

Bring a medium pot filled with water to a boil. Drop the hot dogs into the water and then immediately cover, turn off the heat and allow to stand for 5 minutes. Place the hot dogs inside each of the hot dog buns. Top each hot dog with a squiggle of yellow mustard. Then, add a handful of diced onion, a teaspoon of sweet relish, a few pepperoncini, tomatoes and a dill pickle. Add a pinch of celery salt to each hot dog. Eat and serve immediately. 
Nutrition
Calories:
147
kcal
(7%)
|
Carbohydrates:
27
g
(9%)
|
Protein:
5
g
(10%)
|
Fat:
2
g
(3%)
|
Saturated Fat:
1
g
(6%)
|
Sodium:
560
mg
(24%)
|
Potassium:
192
mg
(5%)
|
Fiber:
2
g
(8%)
|
Sugar:
6
g
(7%)
|
Vitamin A:
492
IU
(10%)
|
Vitamin C:
6
mg
(7%)
|
Calcium:
113
mg
(11%)
|
Iron:
2
mg
(11%)
Did you make this recipe? Let me know on Instagram!
Looking for more summer recipes? Here are some of my favorites: