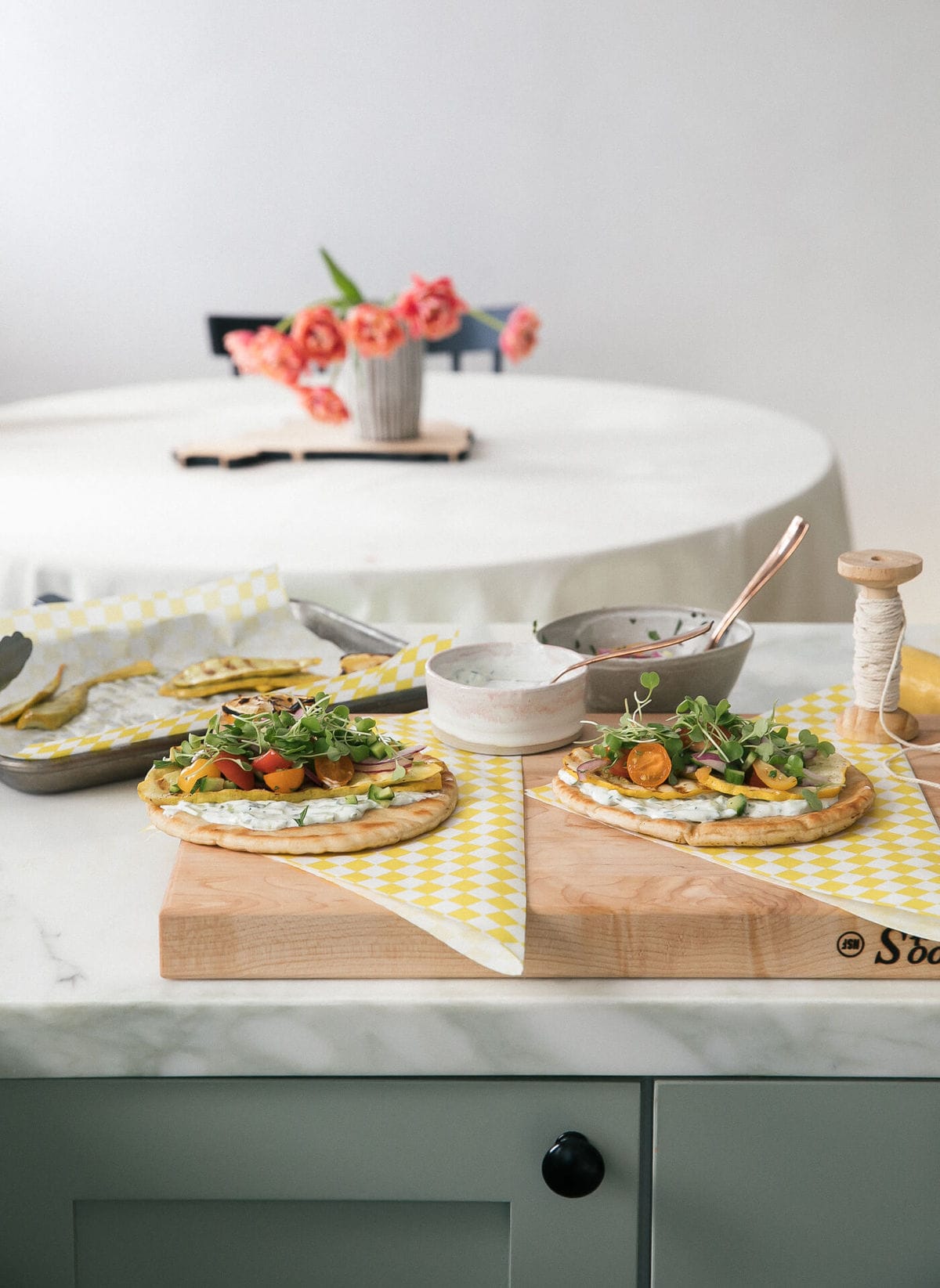 A few weeks ago I hopped on a plane and went to a place I'd never been before: Burlington, Vermont. I was super excited. In my brain when I think of Vermont, I think of maple trees and green grass, clean air and rolling hills and lots of farms. My imagination was correct because that's exactly what I experienced and I loved it so very much.
I was invited by Stonyfield to visit their network of organic family farms, learn about their history, present day goals and future. And let me tell you, it was a fascinating experience. Their co-founder, Gary Hirshberg, was so inspiring and warm and charming. (If you want to hear more about his fascinating story, here's a link to his episode on NPR's How I Built This.)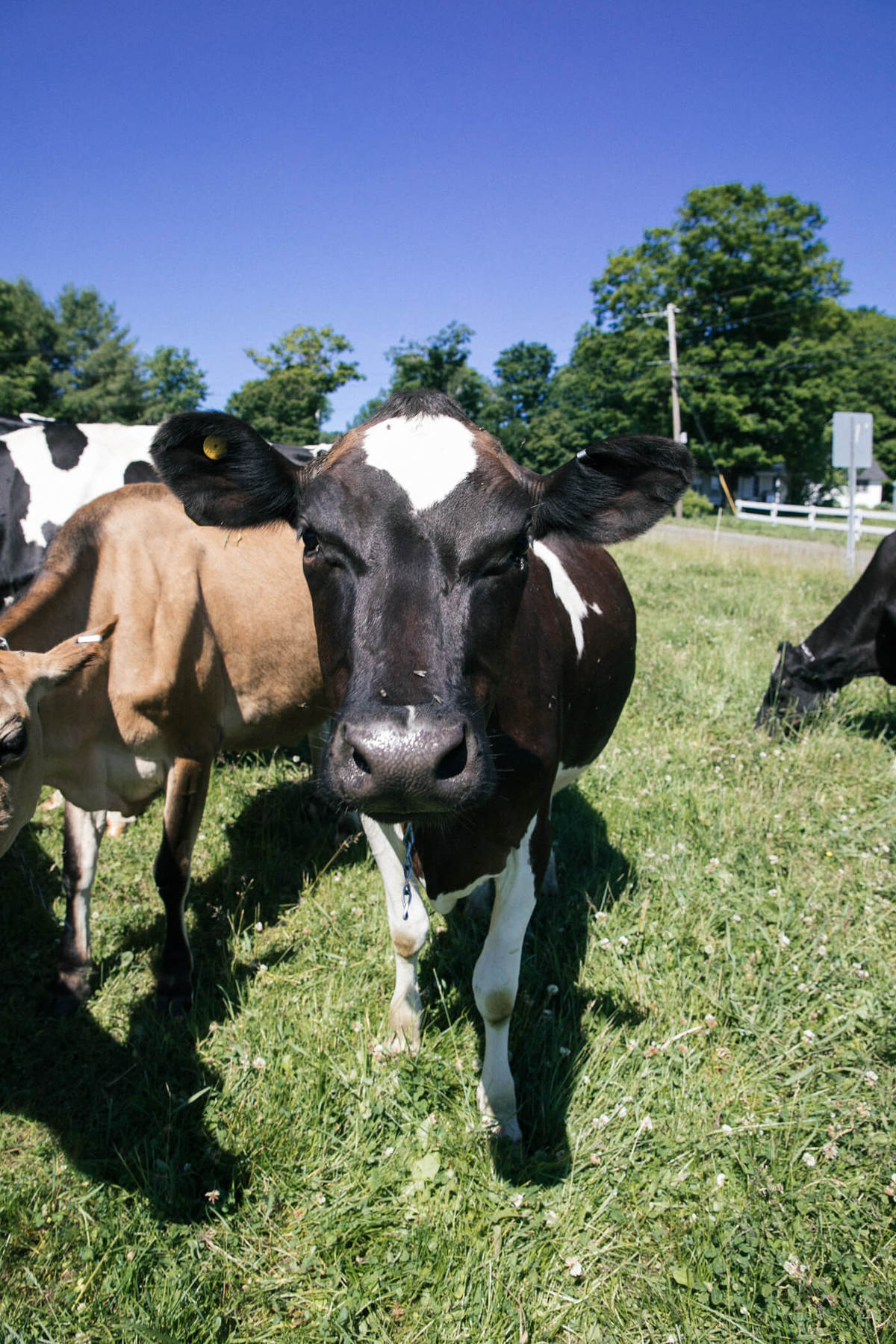 The first farm we visited was my favorite because it had what I love on any farm: baby animals. And lots of them.
When we arrived to Julie Wolcott's farm, she was tardy showing us around because two cows were about to give birth (she assists their births to make sure mama is ok). We ended up meeting the baby calves and they were only an hour old. They were so beautiful, I maybe almost cried a little.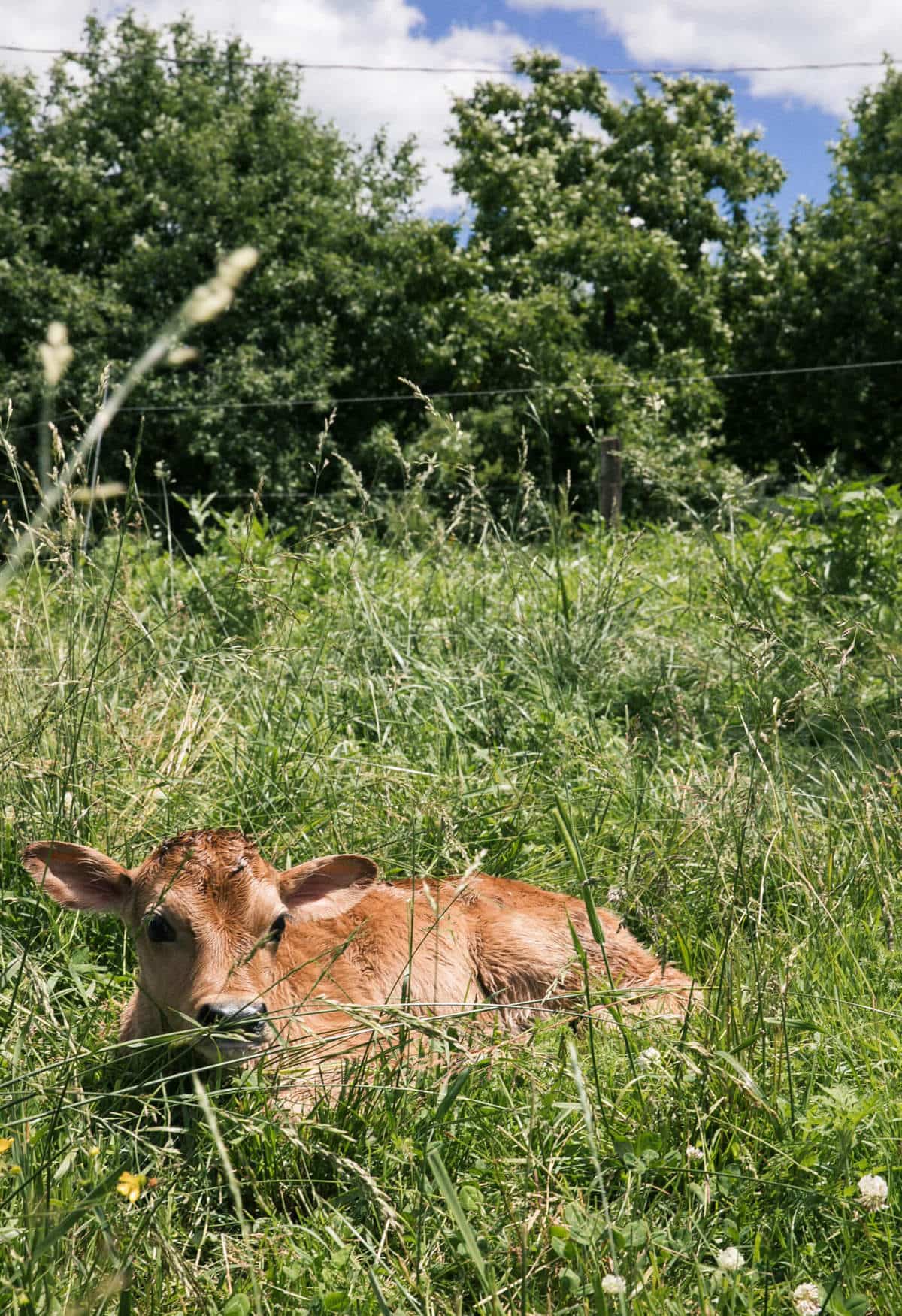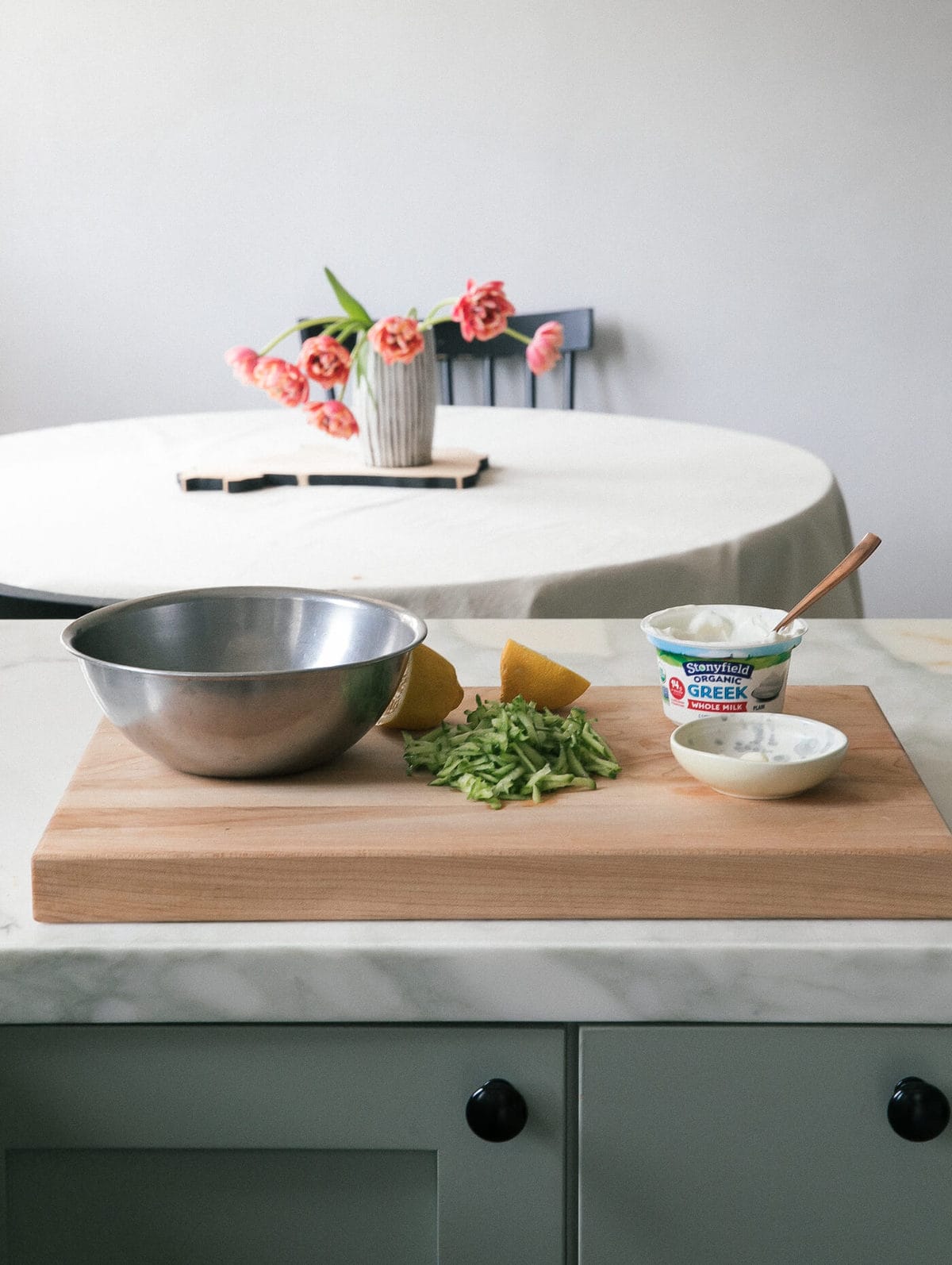 On her farm, she has about twenty-five cows that roam the beautiful grassy fields of Vermont.
Her farm used to be a conventional farm, but she switched it to organic a few years ago, with the help of Stonyfield. She said her switch to organic actually made their births much easier. She said she doesn't know what exactly attributes to this but the mamas have easier and more relaxing and quicker labors. I thought that part was fascinating.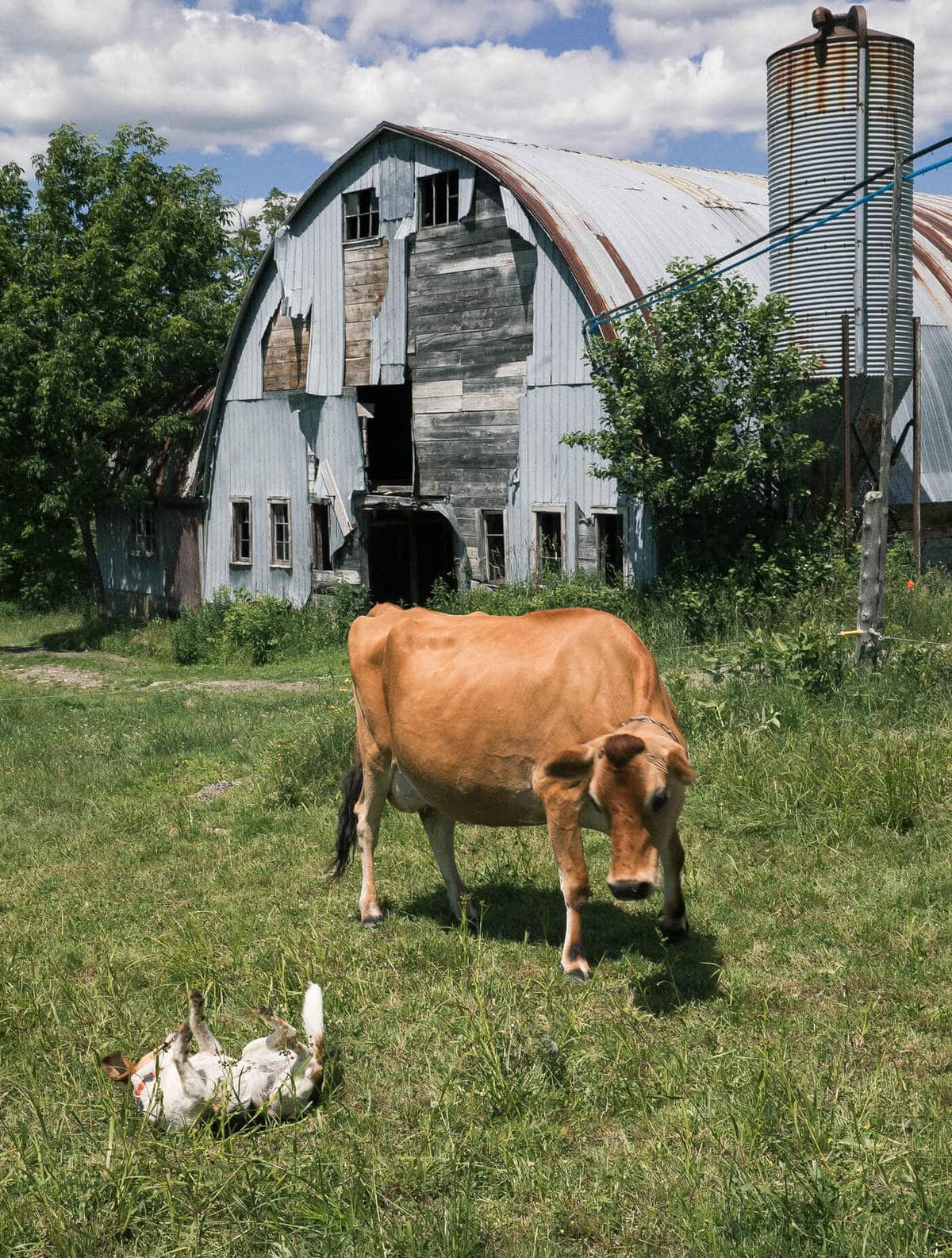 She also said she now spends less on her dog's vet bill than she does for her whole herd of cows. The overall health of her cows has improved after transitioning to organic by a long shot. One of the main concerns for farmers going organic is not being able to use antibiotics. But Julie said that after she switched, she didn't need it. Her cows no longer got sick, which I found really interesting.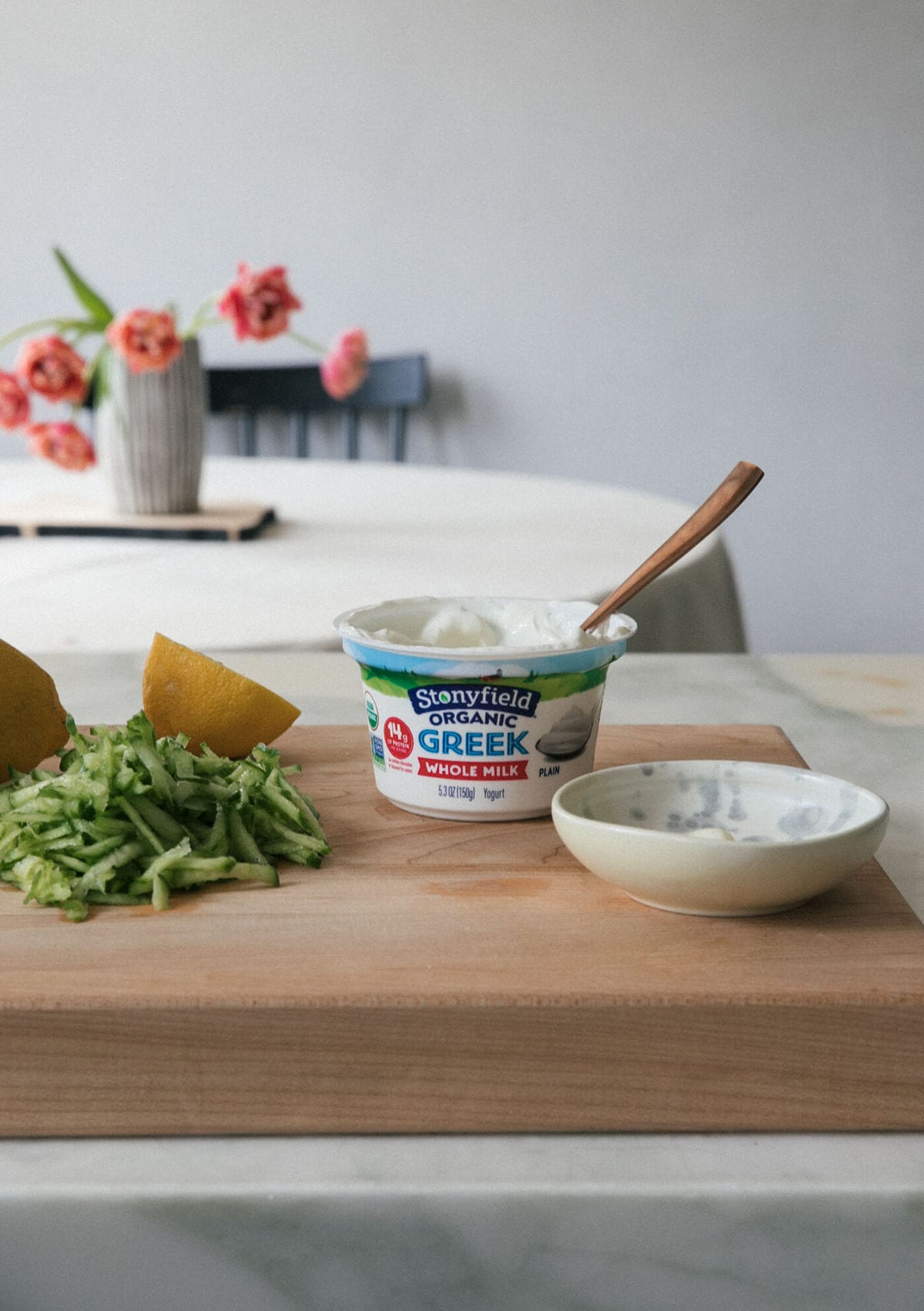 It made me feel happy to see these cows living their best lives, living their lives as nature intended.
We had a gorgeous farm lunch of carrot and ginger soup, pound cakes made from yogurt and homemade garlic bread.
I also learned that dogs and cows are confused by one another. And when the dog acts wild and rolls around, the cow is scared and weirded out. I don't blame the cow!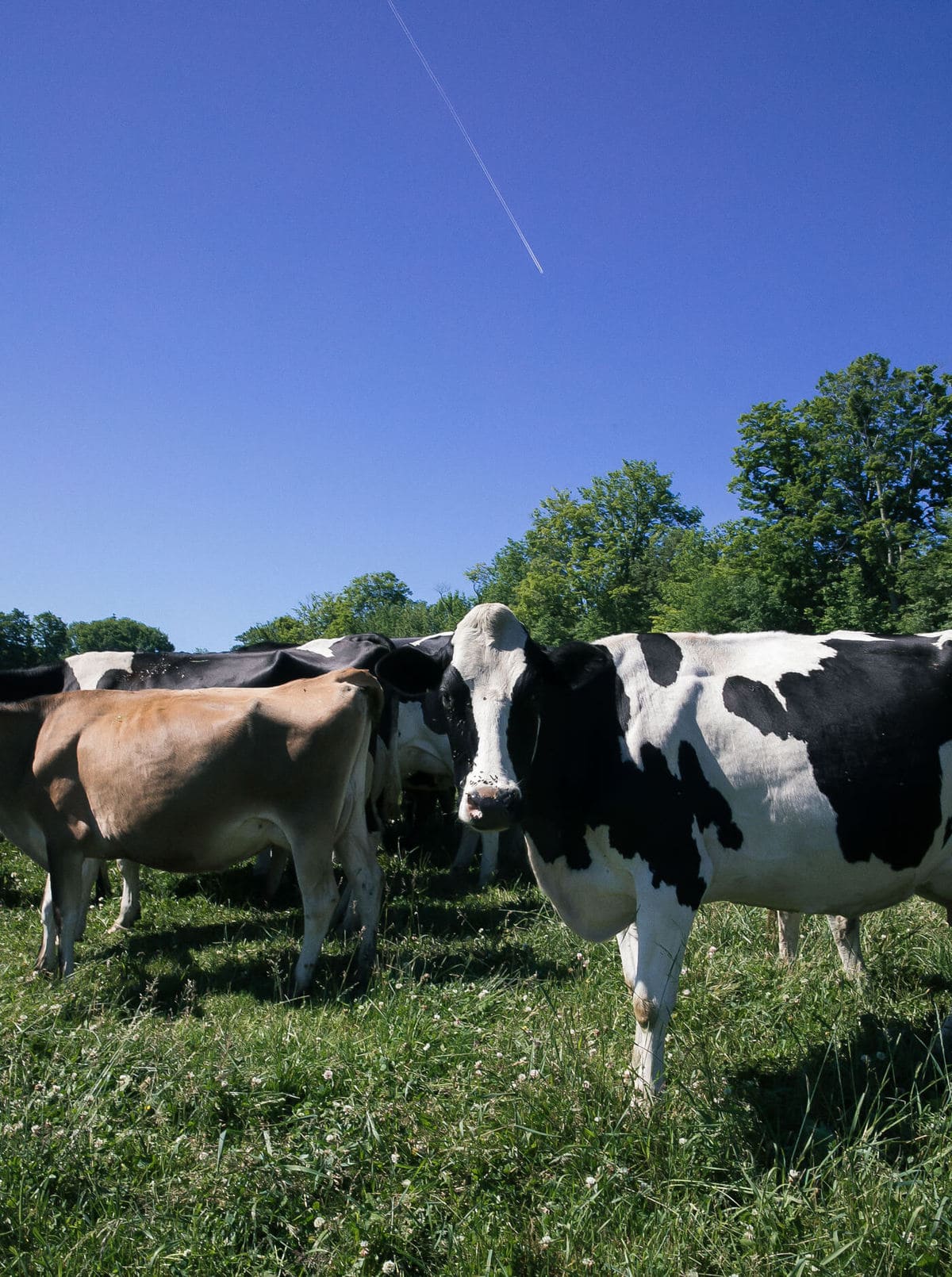 I do know that while organic produce and food and dairy is always preferred, sometimes it's hard for everyone to afford it. This has always been my biggest concern; I know it's not realistic for everyone. This is one of the main reasons why I've never used this blog to preach about organic foods. I know that each of us has a different budget and it's not always realistic.
I really liked that Gary addressed that several times with our group. Right now organic food makes up of about 5% of the market. If it increases, then scalability will be possible. It's also important to remember that every small change adds up. Every time you make a purchase, you're voting with your dollar and can vote for brands that support organic family farms, healthy cows, and healthy ecosystems. You don't have to change everything, just begin by starting small.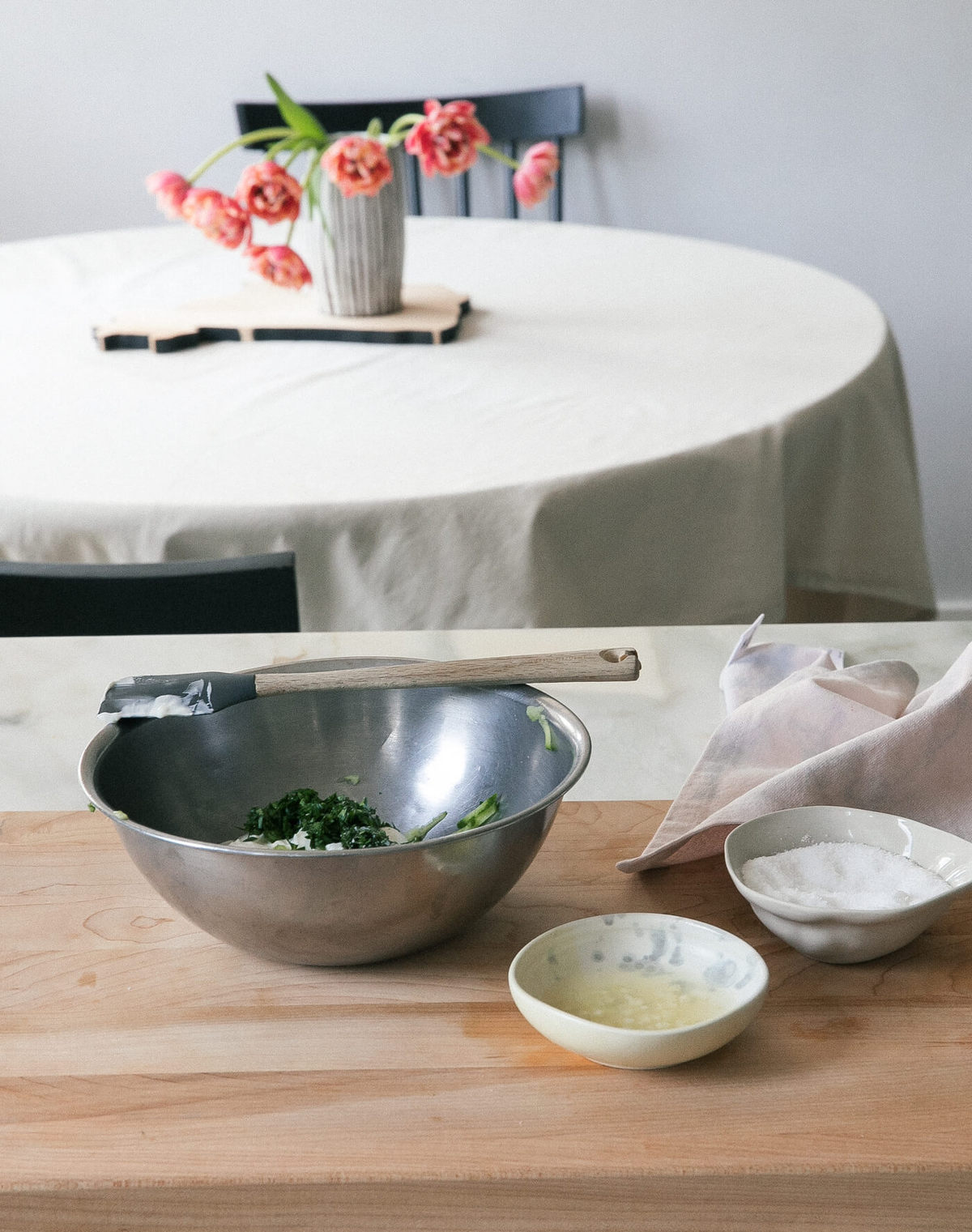 We also had the chance to have a dinner at Philo Ridge Farm, hosted by the Culinary Team from Blue Apron. The chefs informed us about Blue Apron's commitment to sourcing sustainable ingredients. They also cooked a seasonal, farm-inspired  dinner that was part interactive.
There were carrots in "dirt" consisting of quinoa and nuts and seeds. We made ricotta together. And they served the most amazing ramp pesto with gnocchi that was SO delicious.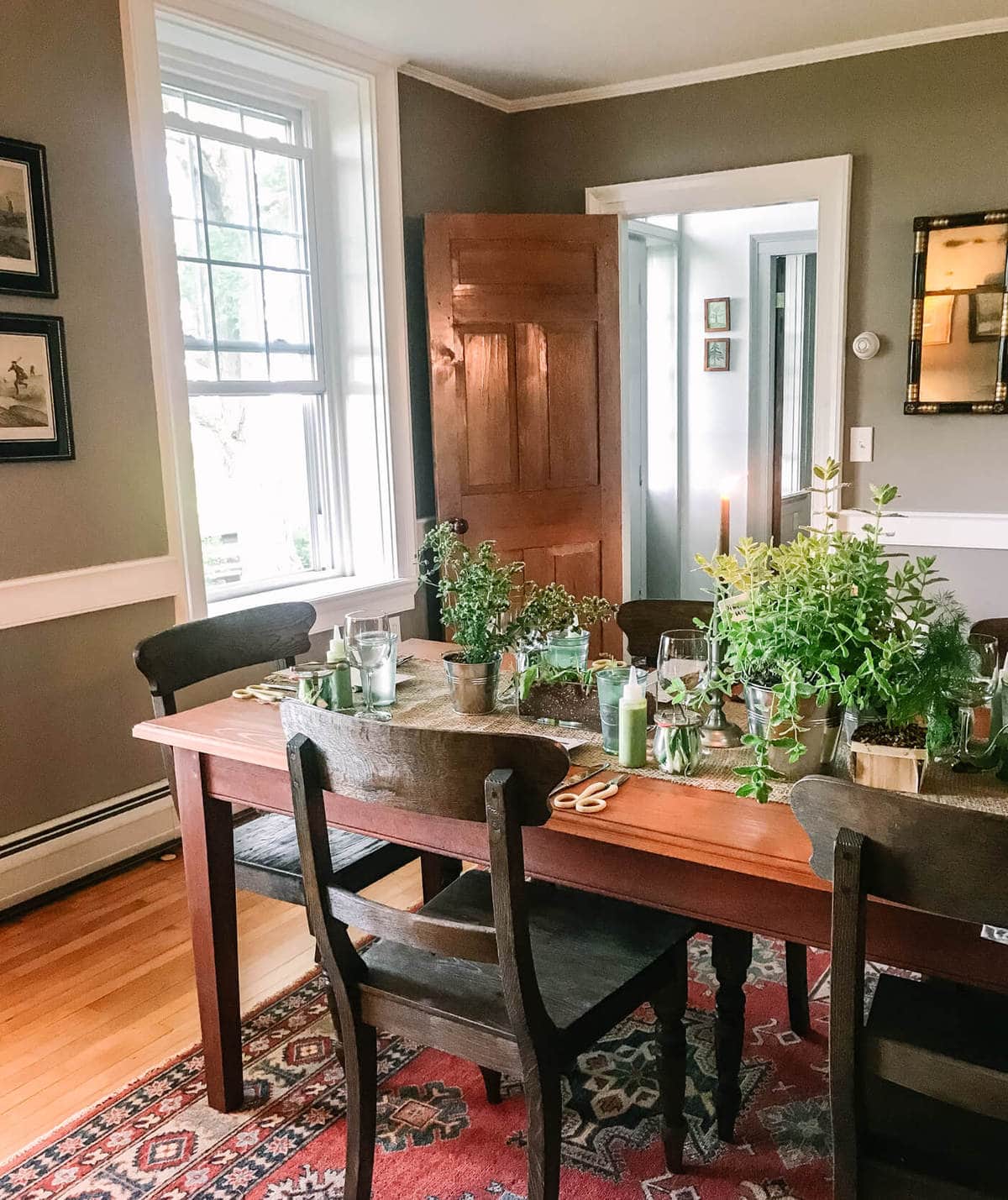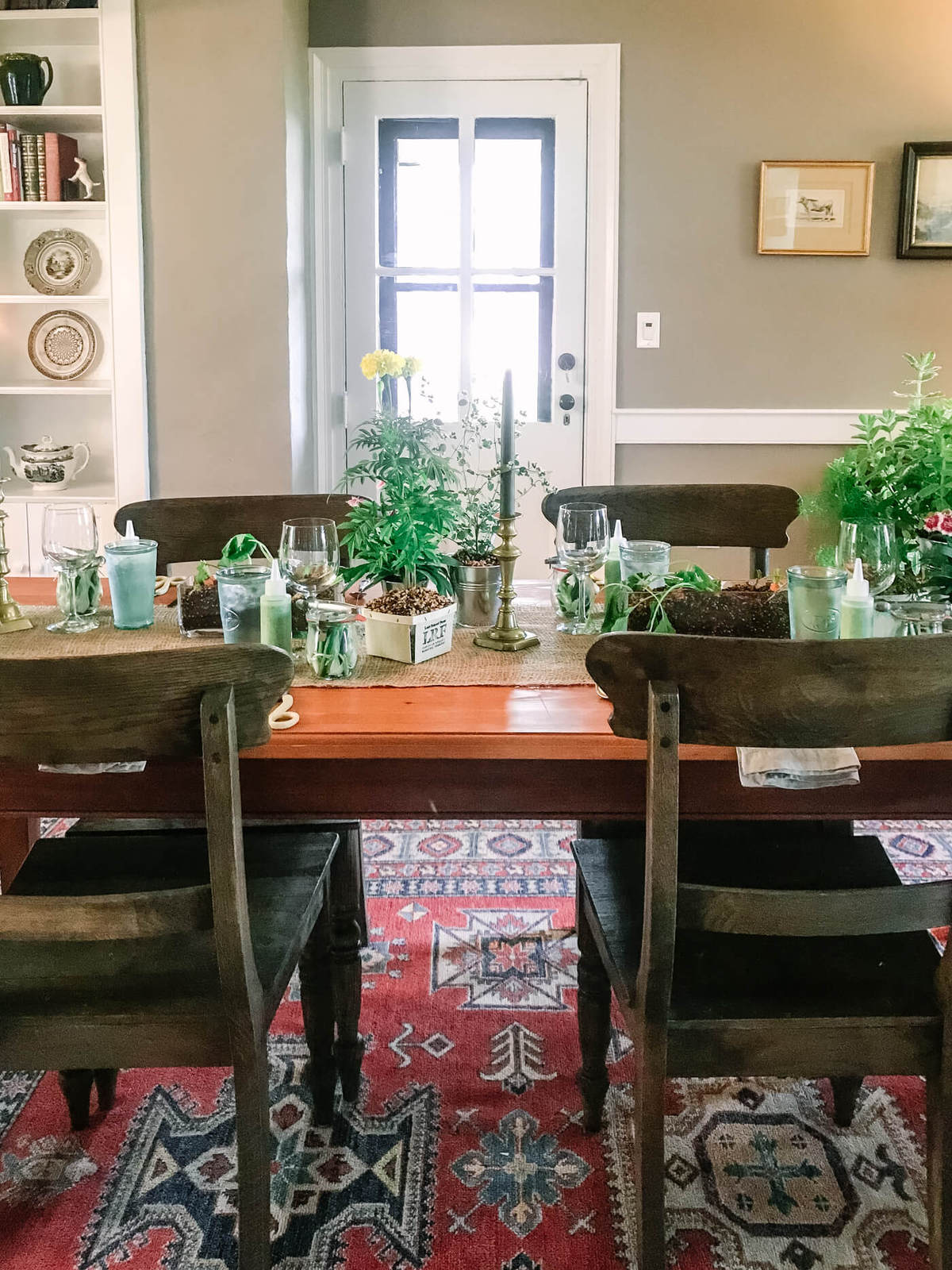 While we were driving through the hills of Vermont, I was dreaming up of recipes using yogurt. I REALLY wanted to make something that tastes like maple cream, but I couldn't come up with a recipe that was summer-y. Maybe I'll revisit this for fall. We're closing in on the Dog Days of Summer and I wanted something savory and delicious and refreshing.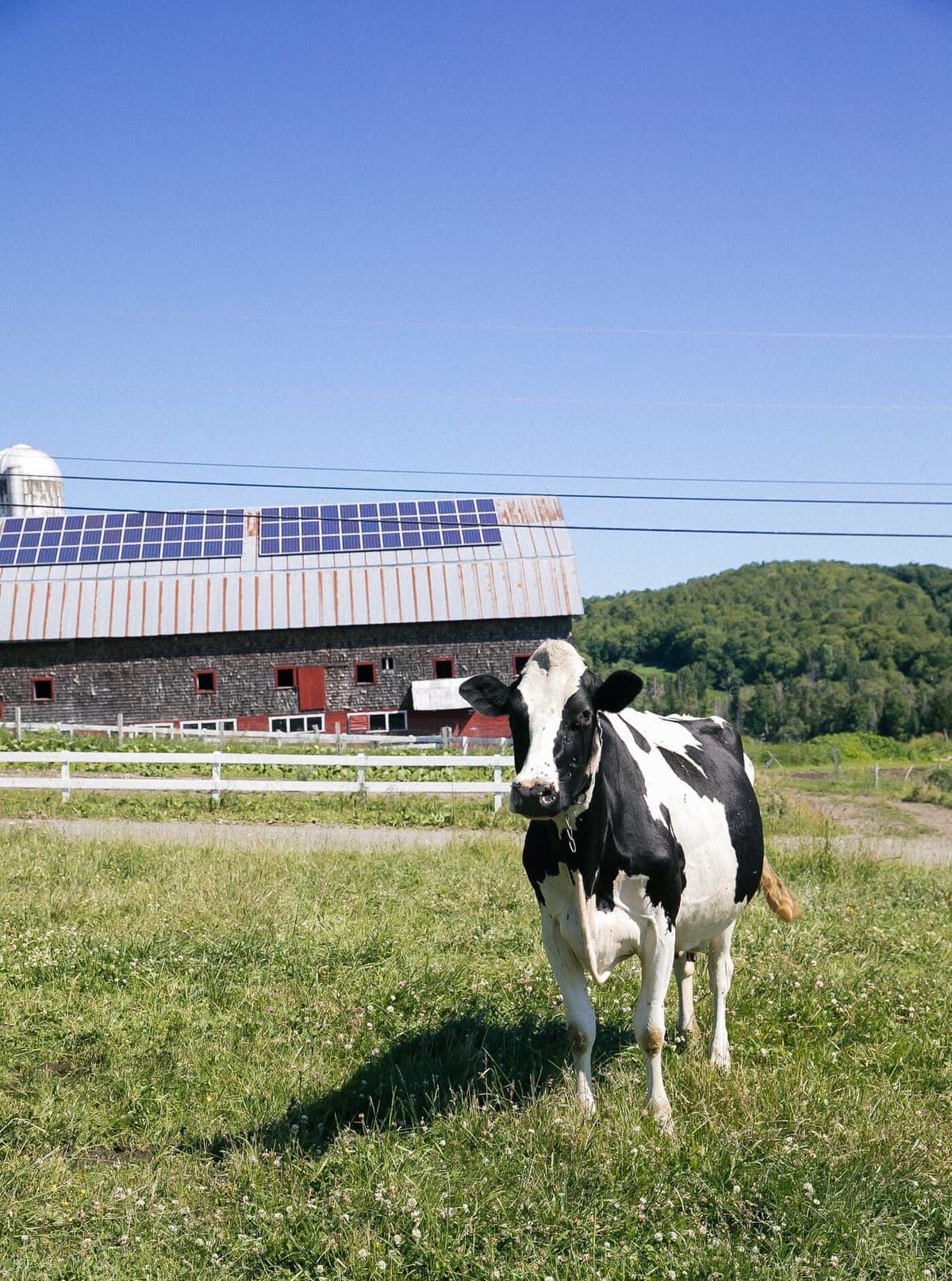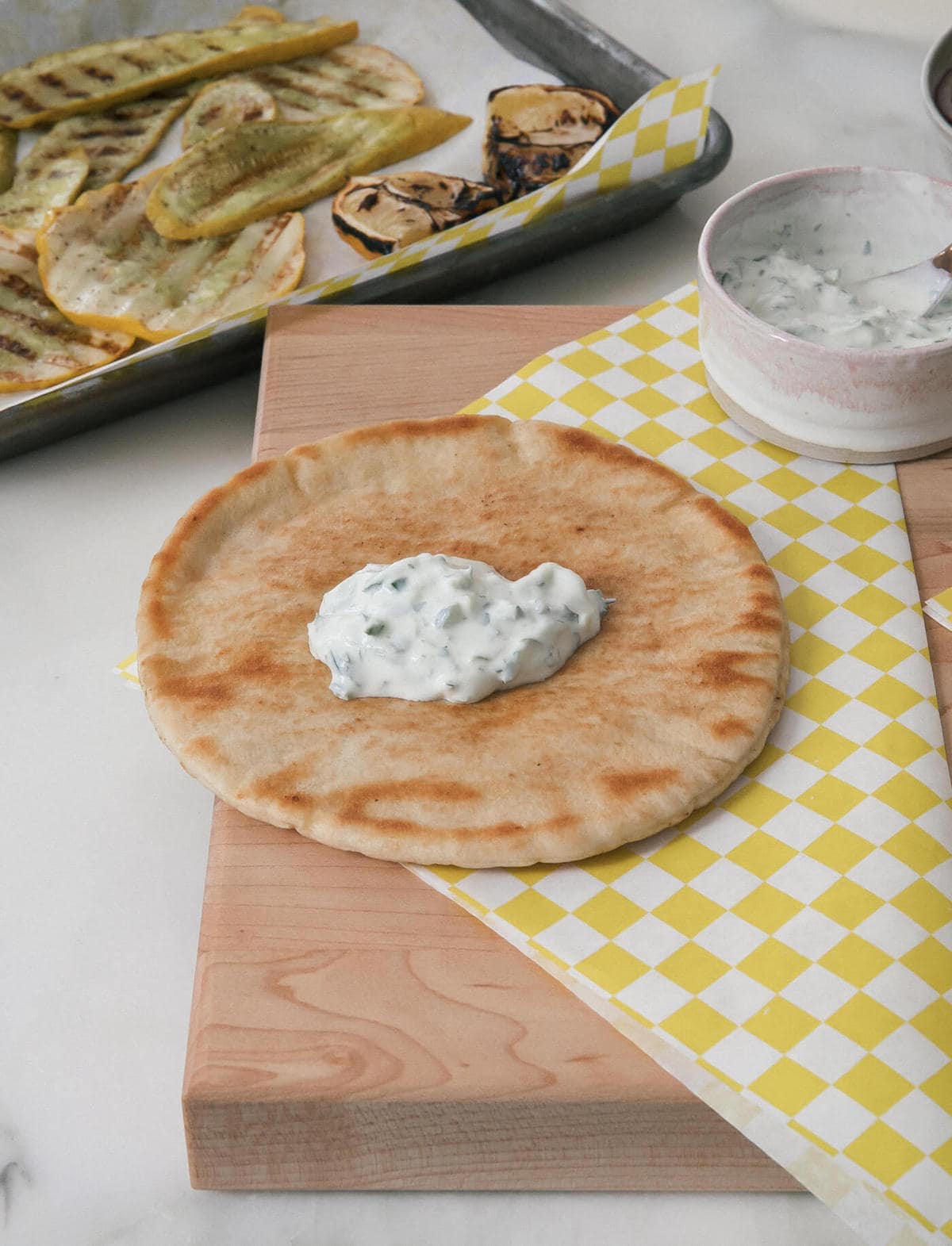 These gyros are filled with tzatziki (which I forgot how much I loved), grilled summer squash, arugula microgreens, tomatoes and cucumbers. It is so simple and delicious and it tastes light and refreshing.
Oh and I grilled the summer squash on a grill pan because I wasn't feeling starting up the whole grill just to cook some vegetables. But if you have a propane grill, then by all means—do it!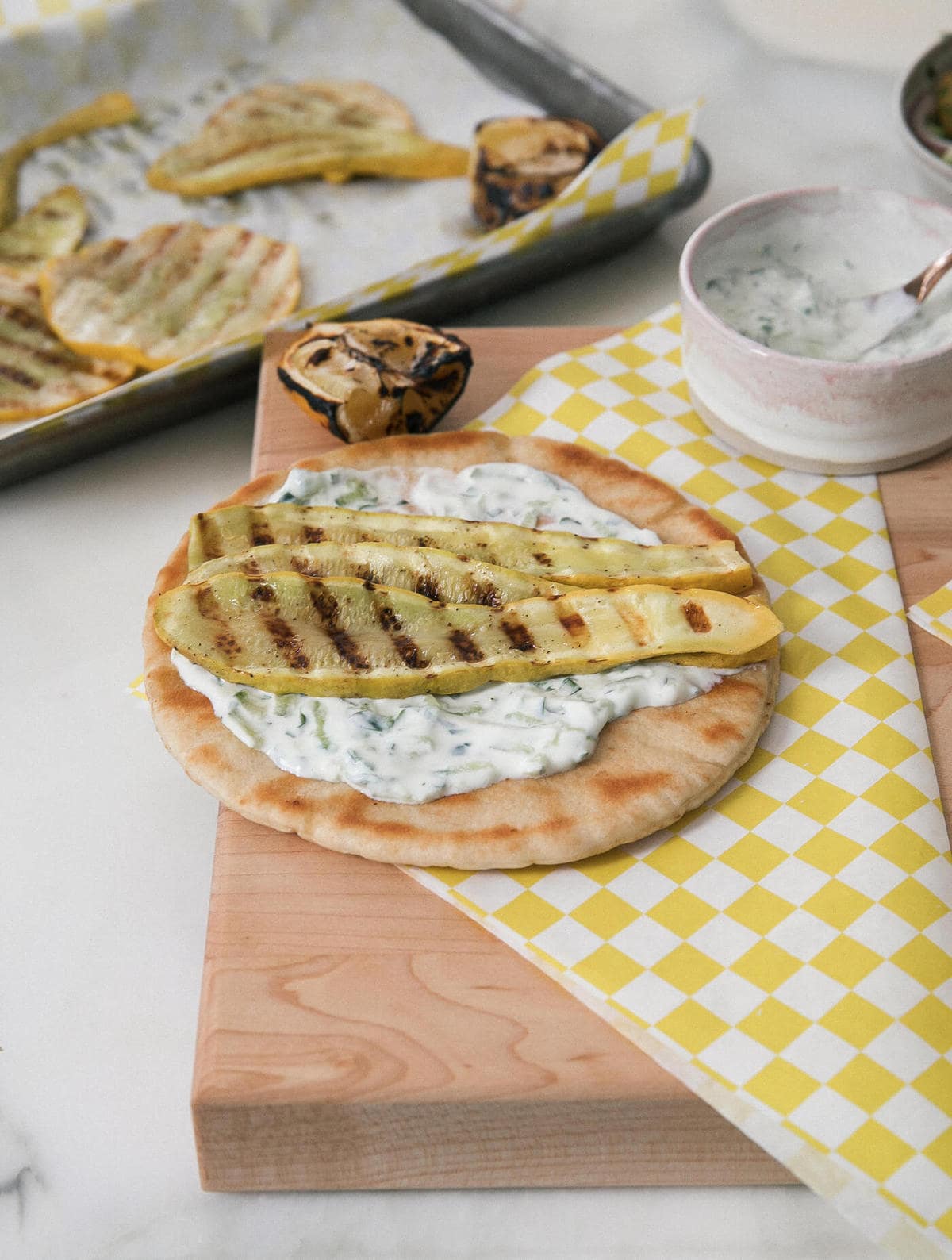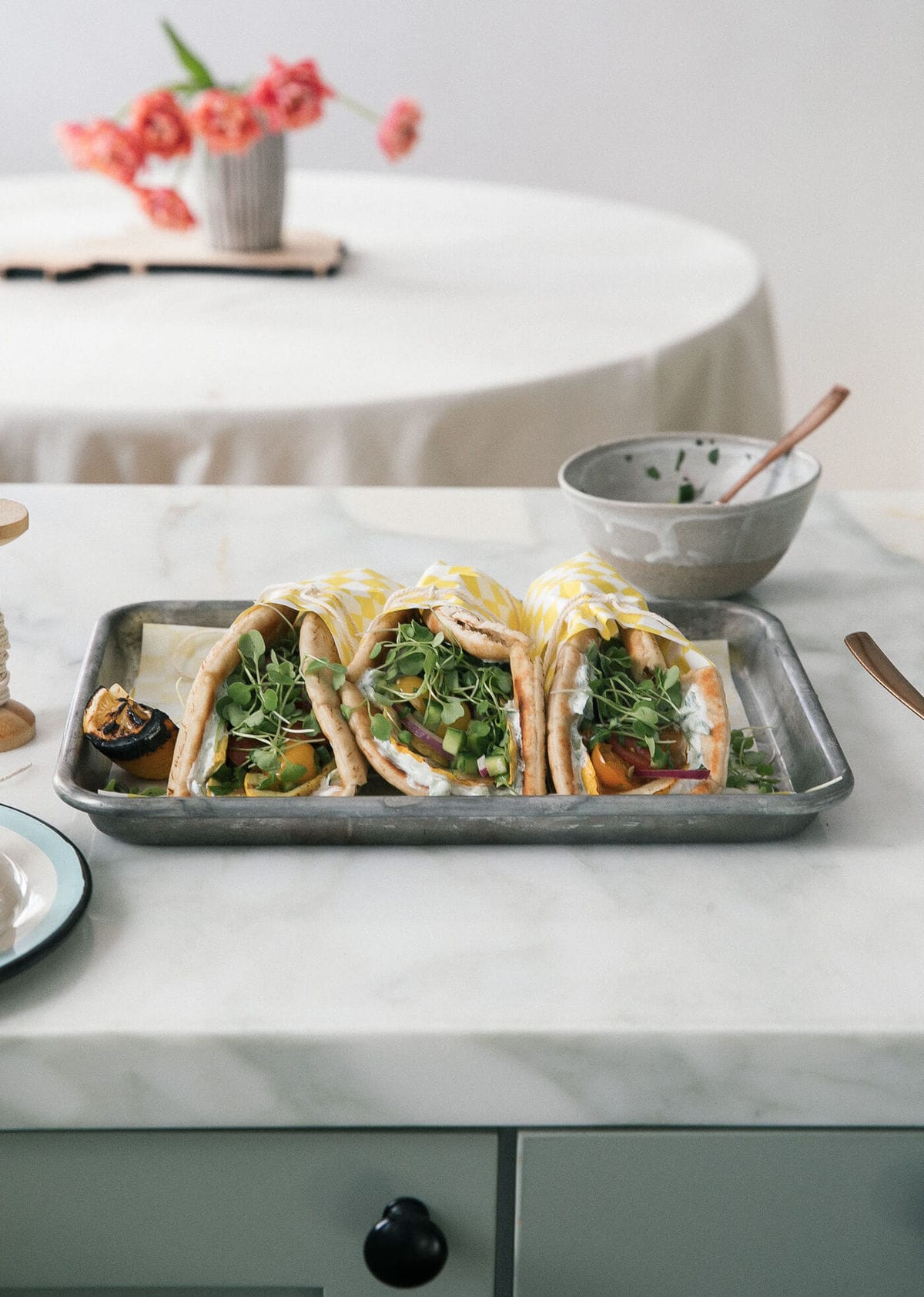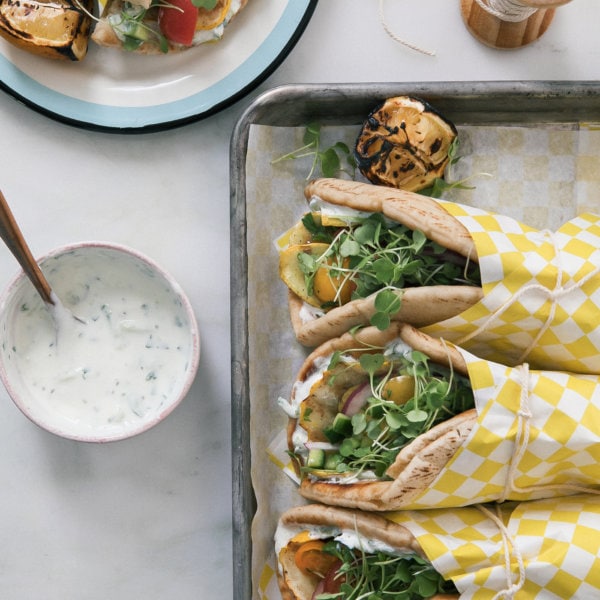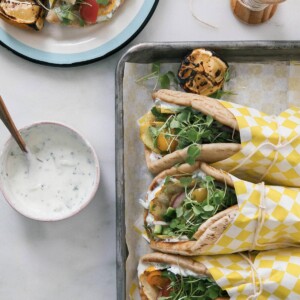 Grilled Summer Squash Gyros with Herbed Tzatziki
Ingredients
Tzatziki: 
1

5.3 ounce container of Stonyfield Organic Whole Milk Greek Yogurt

Juice from 1/2 lemon

1

Persian cucumber

,

trimmed and shredded 

1

tablespoon

minced Italian parsley 

Pinch

of salt 
Gyros: 
4

pita pockets 

2 to 3

summer squash

,

ends trimmed and sliced lengthwise  

Olive oil 

Salt

2

Persian cucumbers

,

diced 

1

pint

of cherry tomatoes

,

halved

Juice from 1 lemon

Salt

Pinch

of crushed red pepper

1

tablespoon

minced Italian parsley

1

teaspoon

minced mint 

Bunch of microgreen arugula OR regular arugula 
Directions
To Make the Tzatziki: 
To a medium bowl, add the Stonyfield Greek Yogurt, lemon juice, shredded Persian cucumbers, Italian parsley and salt. Mix until combined. Transfer to the fridge while you make the rest of the gyros. 
To Make the Gyros: 
Preheat the oven to 250 degrees F. Place the pita on a baking sheet and transfer to the oven to warm the pita. 

To a small bowl, combined the diced cucumber, cherry tomatoes, lemon juice, a few pinches of salt, crushed red pepper, Italian parsley and mint. 

Using a grill or grill pan, bring the heat to medium-high. Brush the squash with a bit of olive oil. Cook on each side for about 2 to 3 minutes, until the squash has softened slightly and you begin to see grill marks. Transfer to a plate and sprinkle with a few pinches of salt.

To assemble the gyros, grab the tzatziki from the fridge. Add a dollop to the center of the pita and spread it around into an even layer. Add a few slices of squash, top with a few spoonfuls of tomato and cucumber salad and a handful of microgreens.  If you want to make it extra cute, wrap it in sandwich paper and tie it with a piece of twine. 
Nutrition Facts
Grilled Summer Squash Gyros with Herbed Tzatziki
Amount Per Serving (4 g)
Calories 0
* Percent Daily Values are based on a 2000 calorie diet.
(This post is sponsored by Stonyfield Yogurt and Blue Apron. Thank you for supporting the sponsors that keep A Cozy Kitchen cozy.)