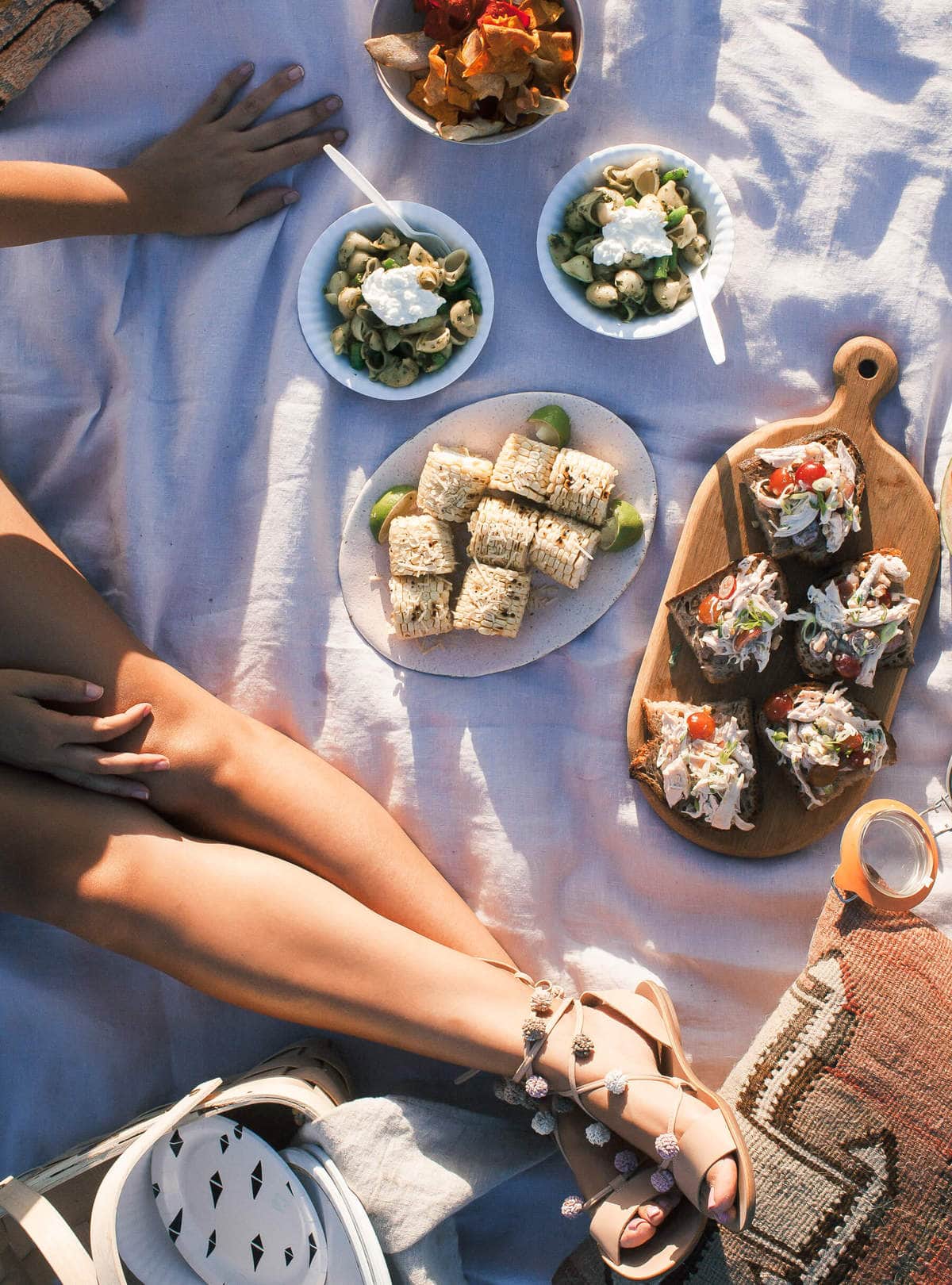 Every summer I have these very grand ideas that maybe, just maybe, this will be the year that I go camping. On the surface camping seems like SO much fun. The campfires, cooking salmon over cedar planks, the rivers, the s'mores. But when I begin to logistically think about it, I'm not so sure. I have a tendency to over-pack. It's taken me years to pack appropriately for a 3-day weekend so I know that when it comes to camping I'll probably bring my entire apartment.
That will of course to lead to too much work, so every year, I abandon my camping ambitions. BUT! Luckily there are picnics, which are way easier. I know they're not the same but you sort of get that nature-y-let's-eat-outside-vibe going on.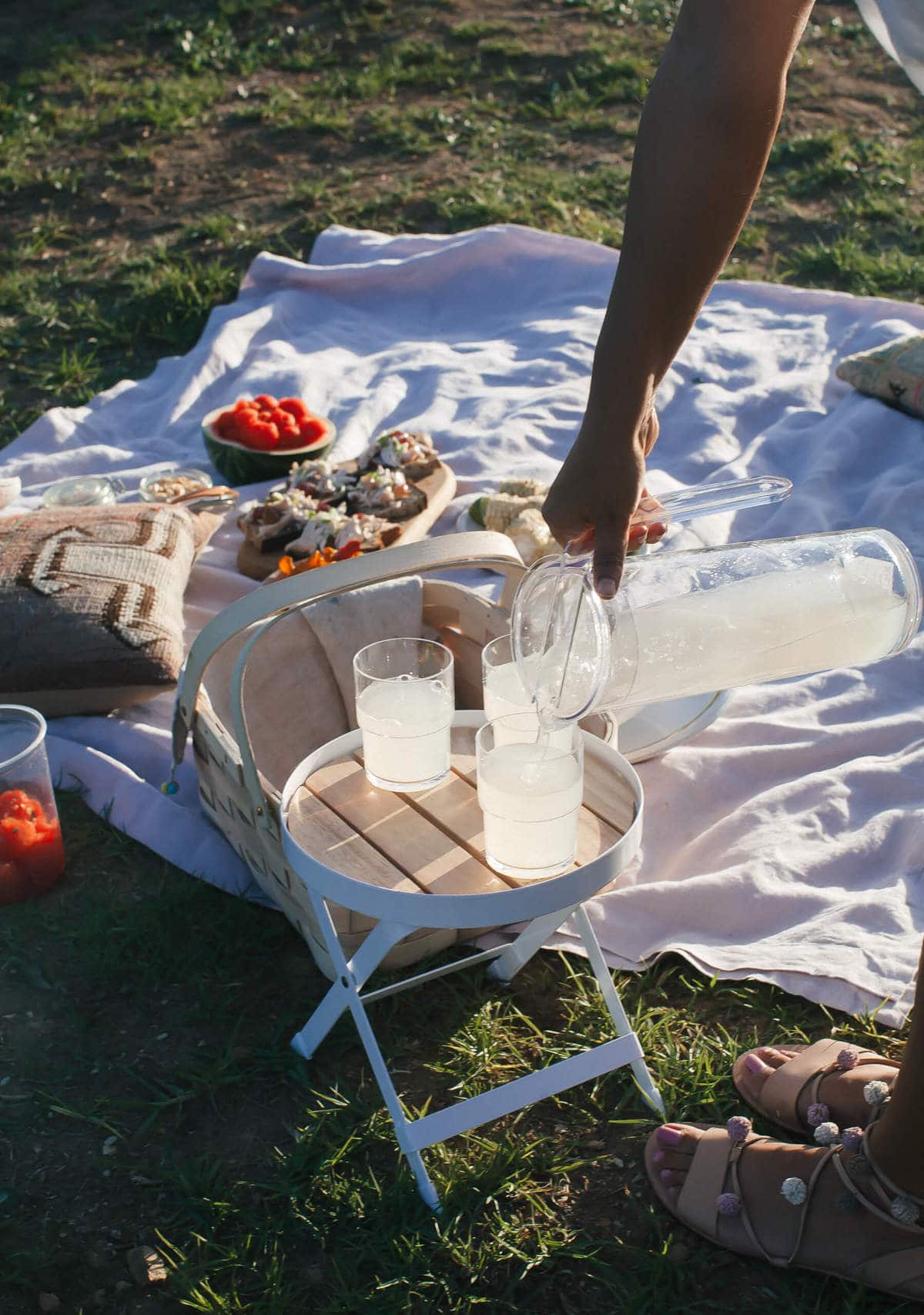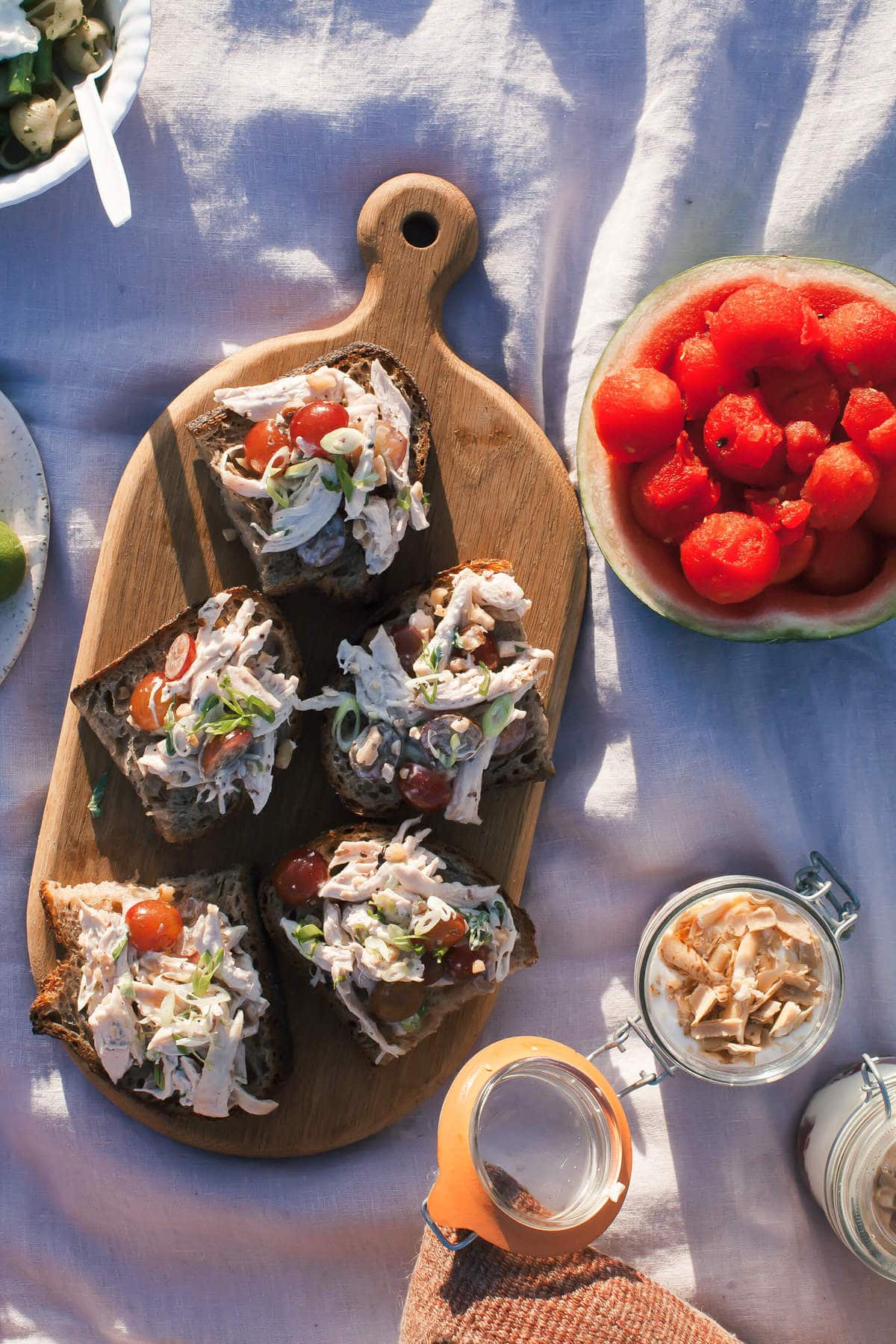 And guess what, I totally over-packed for this one, too. I mean I brought a stool! Haha. Who does this? ME.
For this post, I teamed up with ALDI. I went there on a Saturday morning, bought all of the goods and prepped everything the day before. All of these recipes hold really well in the fridge and on the go.
I wanted it to be a super cute picnic with Amelia, Josh and me, but the problem is that when we got there and started to set up, Amelia wanted to eat everything so that's why it almost looks like I'm on a picnic by myself. Mainly because she's a corgi monster and needs an insane amount of wrangling.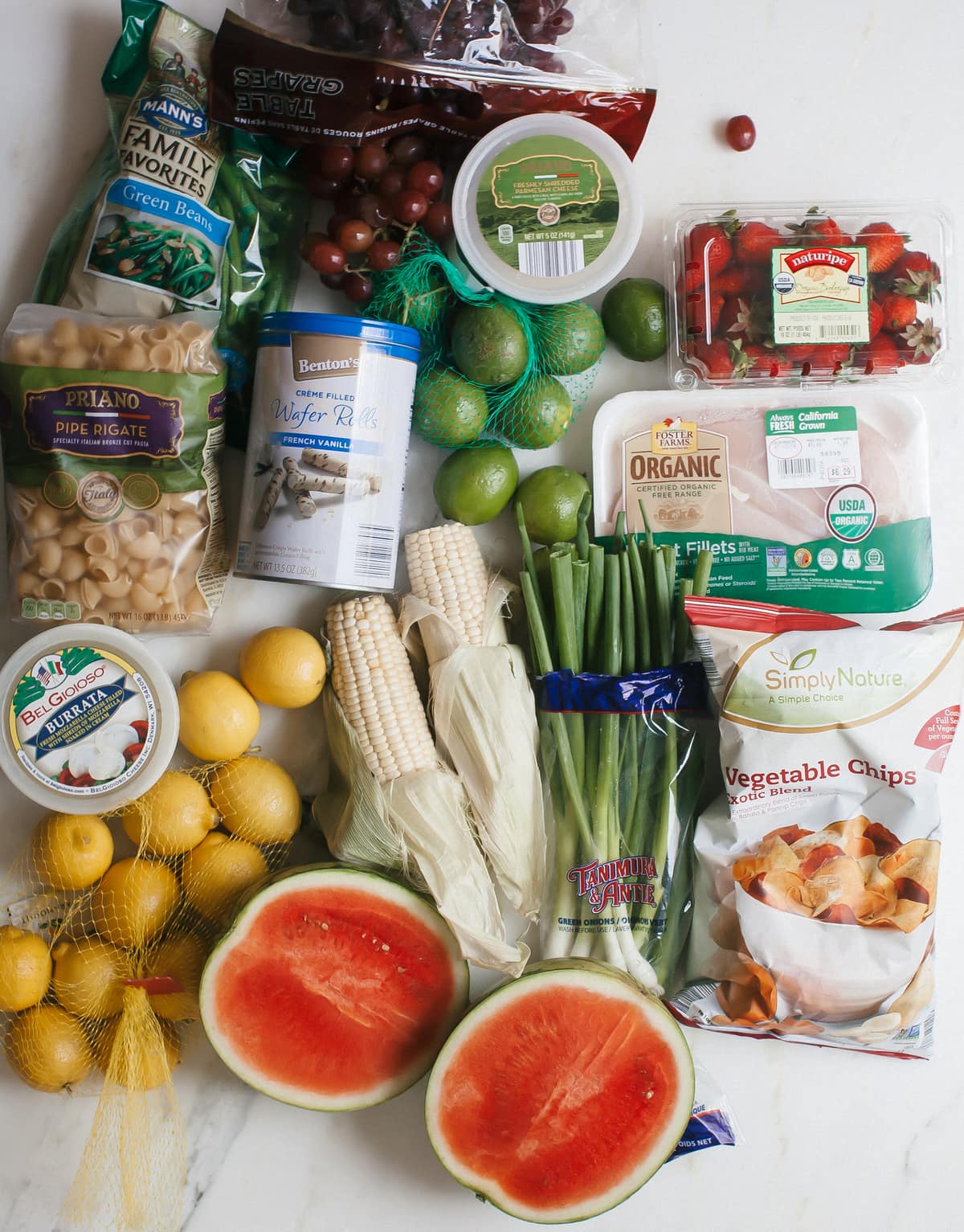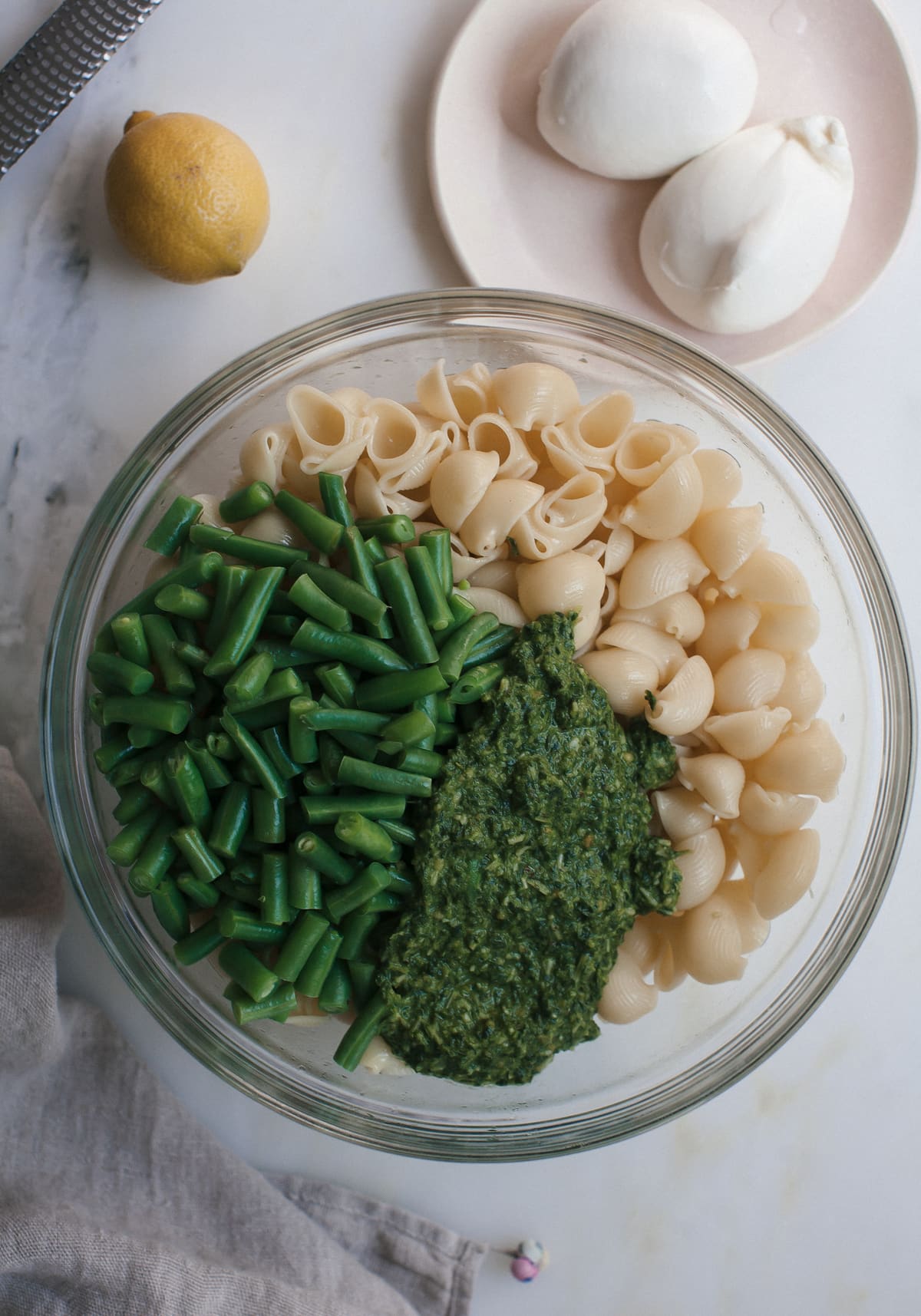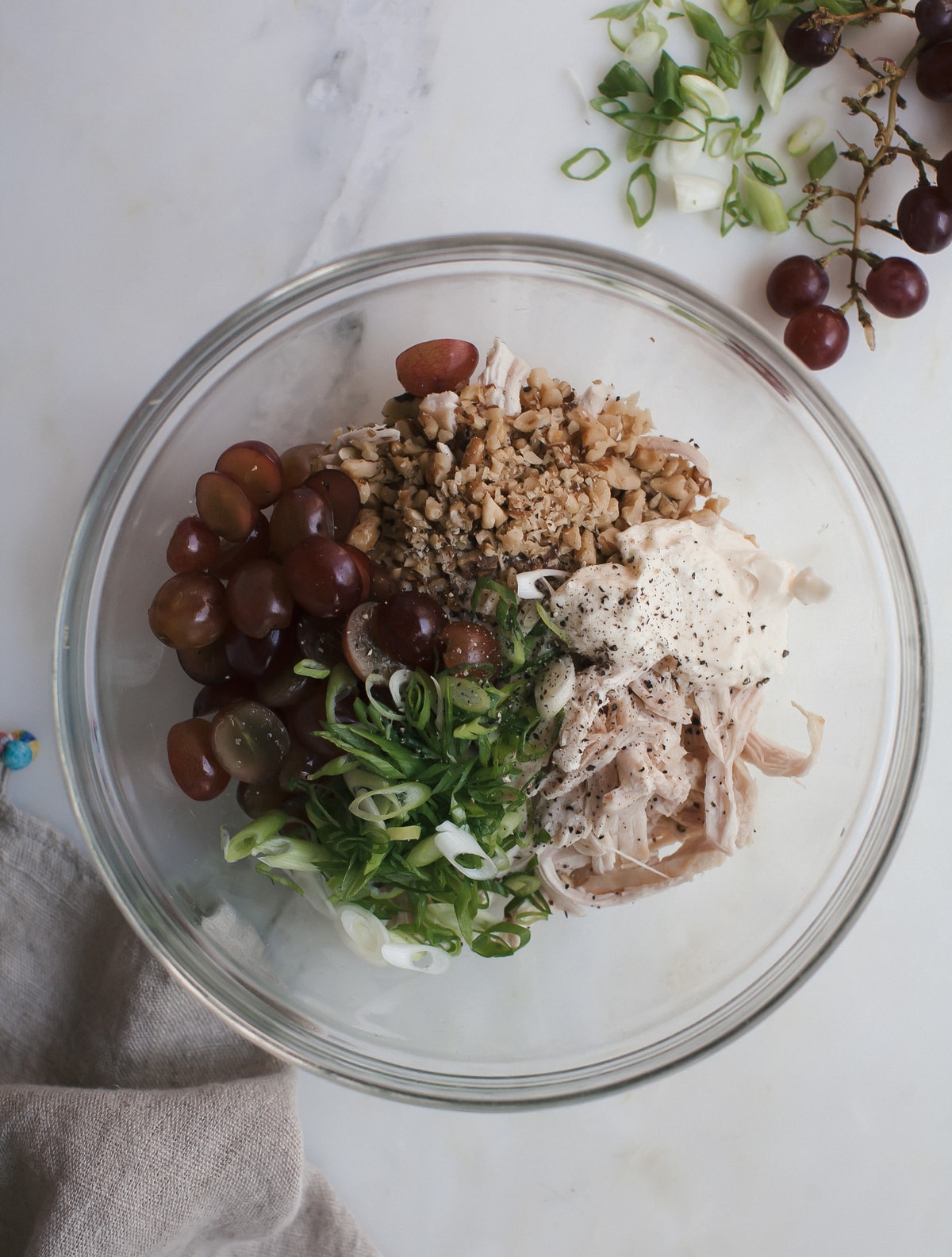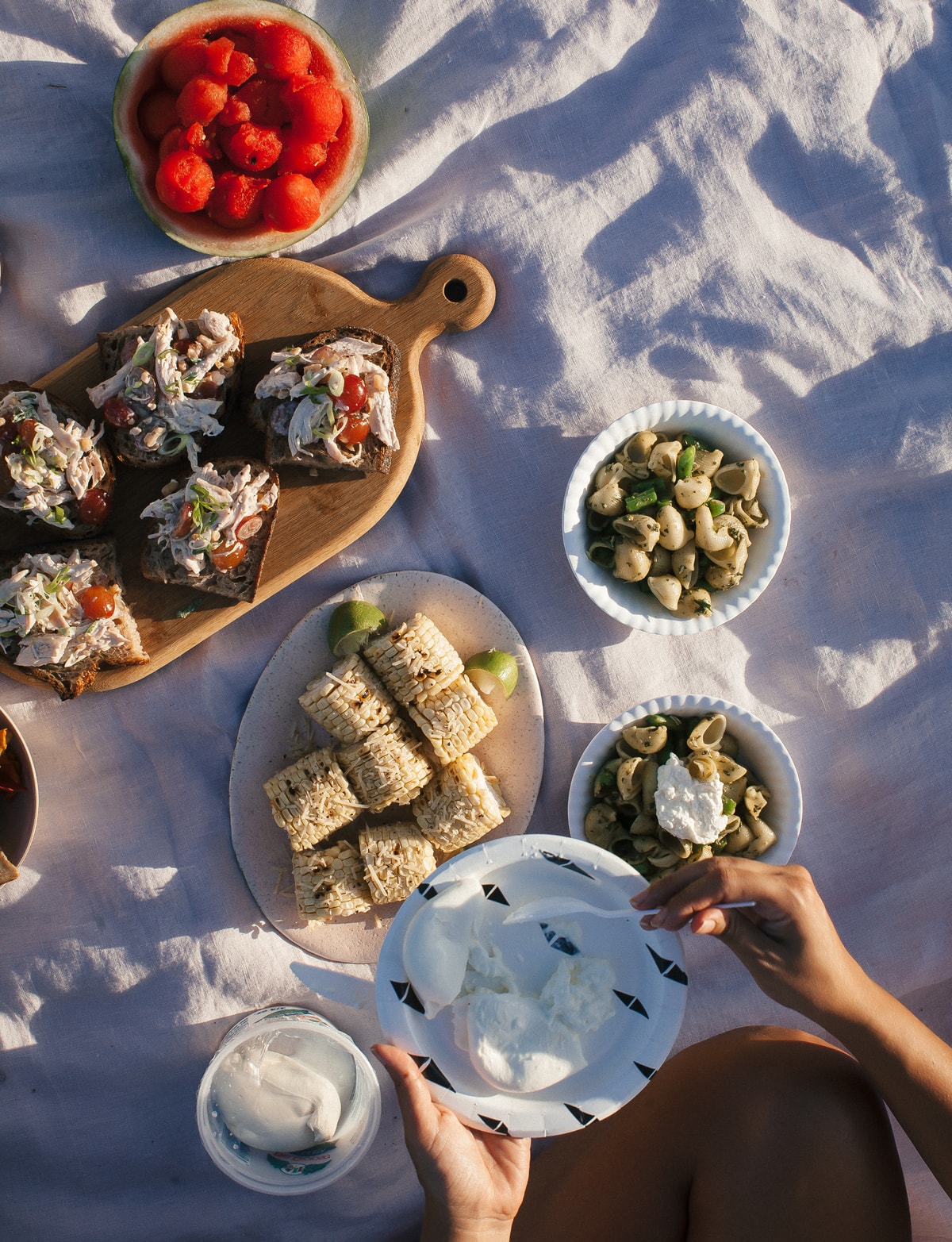 This pasta salad is SO good. A simple spicy pesto, pasta with green beans and burrata on top. It's super delicious.
The corn is super simple, too. Grilled corn topped with lime, parmesan cheese and lots of black pepper. It gives off cacio e pepe vibes.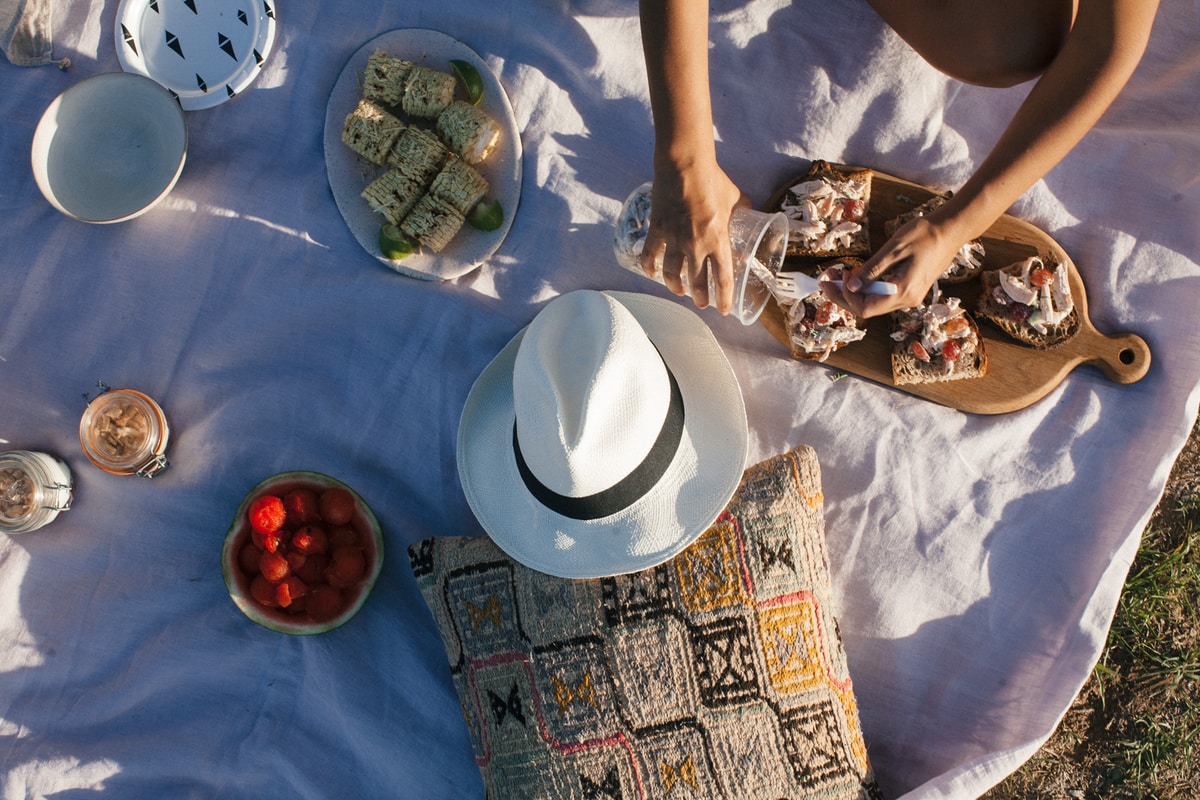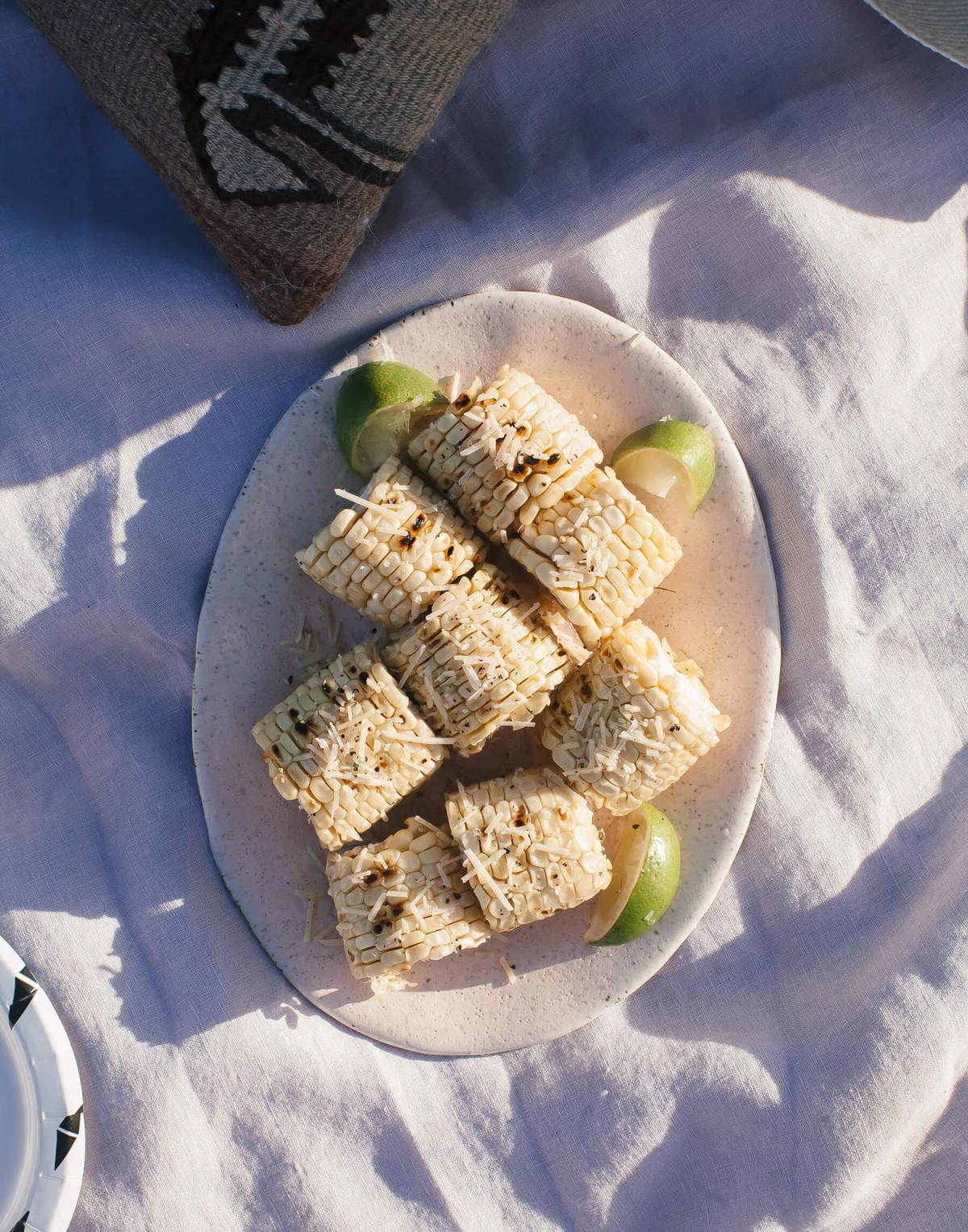 And then there's the chicken salad, which is my favorite. It's loaded with grapes and walnuts and green onions and lots of pepper and just a little bit of mayonnaise.
Everything is so transportable and easy to put together. Much of it can be assembled right on a picnic blanket. Just be sure your dog is far, far away because he/she will want to eat it ALL.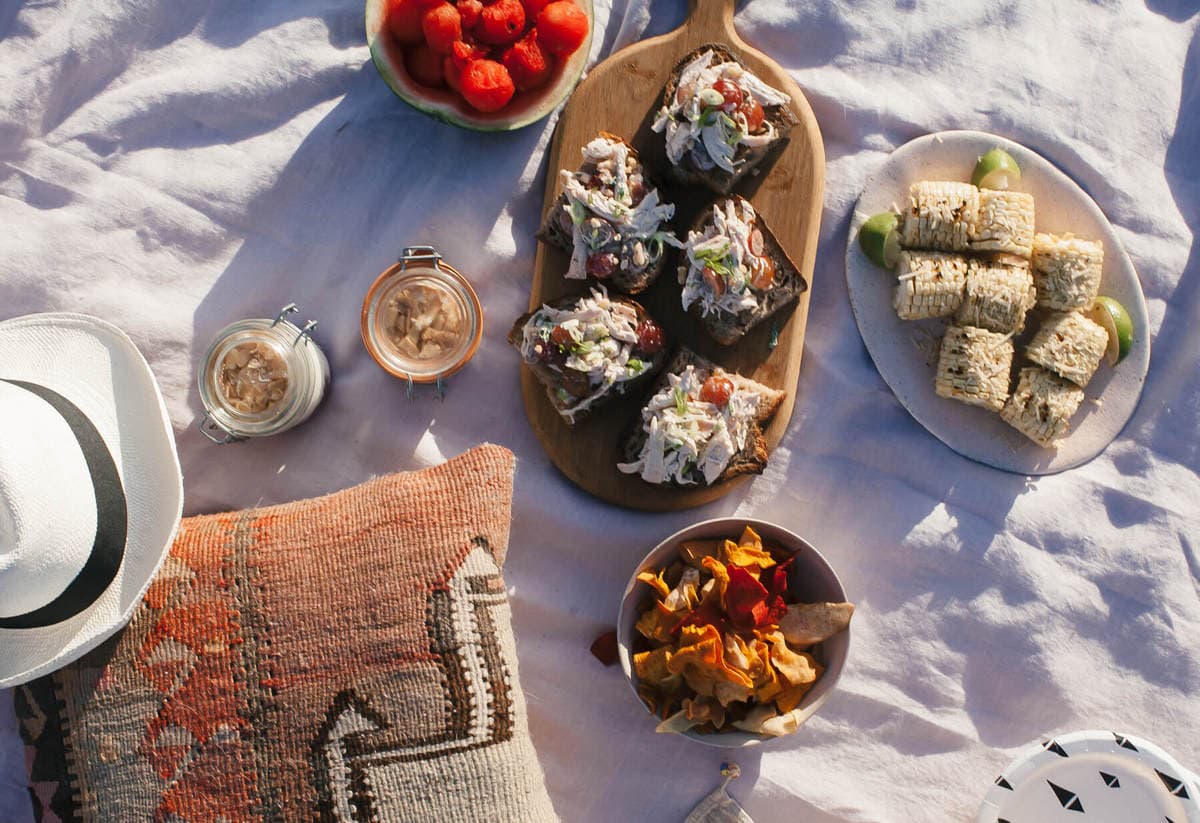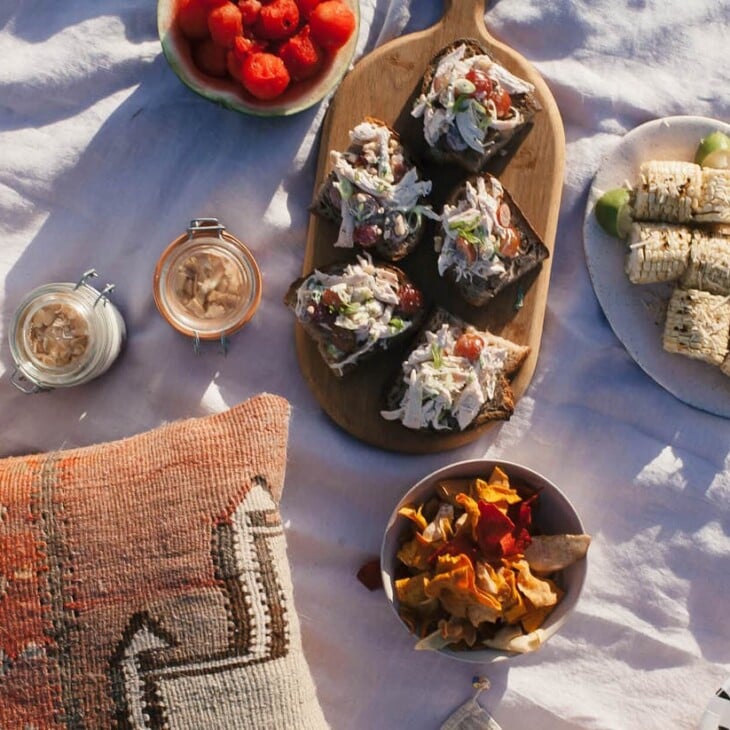 Print Recipe
Pesto Pasta Salad with Burrata
Ingredients
6

ounces

Mann's Green Beans

1

pound

Priano Bronze Cut Pipe Rigate Pasta

2

cups

fresh basil 

1/3

cup

Carlini 100% Pure Olive Oil 

Juice from 1 lemon

1/2

habanero or 1 jalapeño

stem removed

1/4

cup

Southern Grove Walnuts 

2

tablespoons

shredded Priano Parmesan Cheese Wedge

Stonemill Essentials Sea Salt Grinder

8

ounces

BelGioso Burrata Cheese
Instructions
Bring a large pot of salted water to a boil. Add the green beans and cook just until bright green, about 1 to 2 minutes. Remove with a slotted spoon and rinse with cold water; chop into bite-sized pieces and set aside. To the same water (no need to start a fresh batch), cook the pasta according to the package's directions, until al dente, about 8 to 9 minutes. Drain the pasta and rinse with cold water. Immediately add to a large bowl and toss the pasta with a teaspoon of olive oil (this will prevent the pasta from getting sticky). 

Transfer the pasta to the fridge to chill, for about 1 hour. Meanwhile, let's make the pesto. To the food processor, add the basil, 1/3 cup olive oil, lemon juice, habanero or jalapeño, walnuts, parmesan cheese and 1 teaspoon of salt. Pulse until very smooth, scraping down the sides and then blending once more. If you want a looser consistency, feel free to add an additional tablespoon of olive oil. 

Pour on top of the pasta, along with the chopped green beans. Toss until combined. Give it a taste and adjust the salt according to taste. When you're ready to serve, divide amongst bowls and top with a scoop of burrata. Top burrata with a few pinches of salt.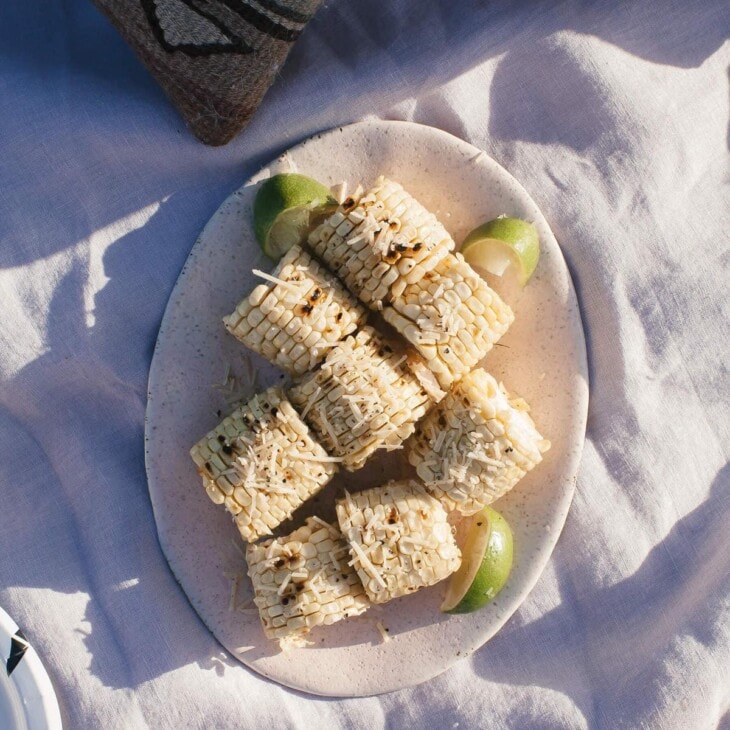 Print Recipe
Cacio e Pepe Corn 
Ingredients
2

ears of corn

husks removed

1/4

cup

shredded Priano Parmesan Cheese Wedge

Stonemill Essentials Peppercorn Grinder

Fresh limes
Instructions
Cut ears of corn into 3-inch pieces. This makes it easier for a picnic. Grill the corn on a grill or in a grill pan over high heat, until nice and toasty on both sides, about 1 minute per side. Immediately top with a squeeze of fresh lime juice, a handful of parmesan cheese and a few pinches of freshly ground pepper
Print Recipe
Classic Chicken Salad Open-Faced Sandwiches
Ingredients
1

pound

boneless Organic Foster Farms Chicken Breasts
1 teaspoon Carlini 100% Pure Olive Oil
Stonemill Essentials Sea Salt Grinder
3 tablespoons mayonnaise
3 tablespoons thinly sliced green onions + more as garnish 
1/2 cup red grapes halved
1/4 cup chopped Southern Grove Walnuts

Instructions
Preheat oven to 375 degrees F. Line a baking sheet with parchment. On the parchment, add the chicken breasts. Toss with the olive oil and sprinkle both sides of chicken with a few teaspoons of salt. Transfer to the oven and roast until the chicken is fully cooked and juicy, about 45 minutes, or until a thermometer into the center reads 165 degrees F. Set aside and allow to cool completely. When cool enough to handle, using two forks, shred the chicken. 

Transfer to a medium bowl. Add the mayonnaise, black pepper, green onions, grapes, walnuts and a few pinches of salt. Give it a taste and adjust the flavor according to your liking. Spoon over your bread of choice and top with a few extra green onions.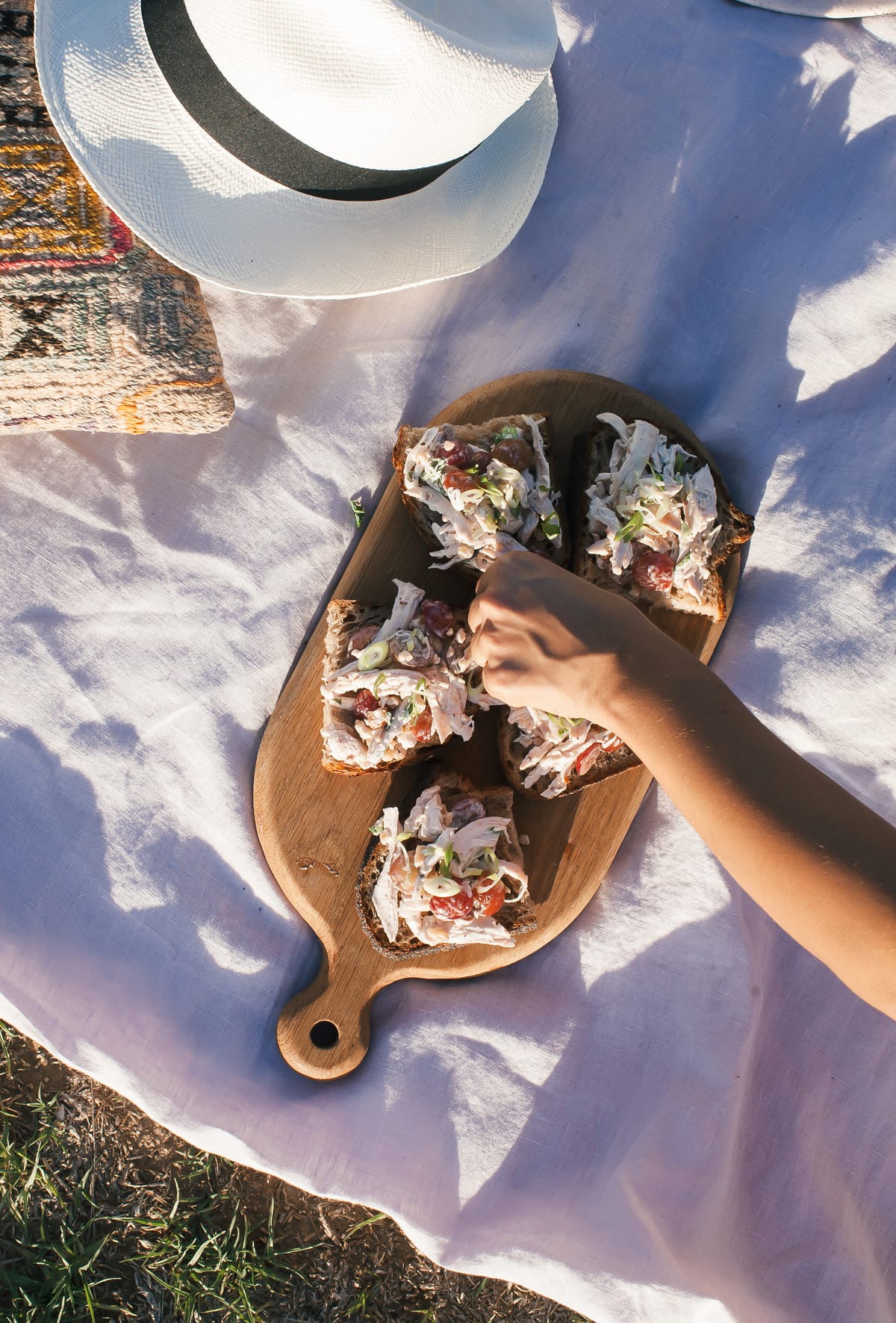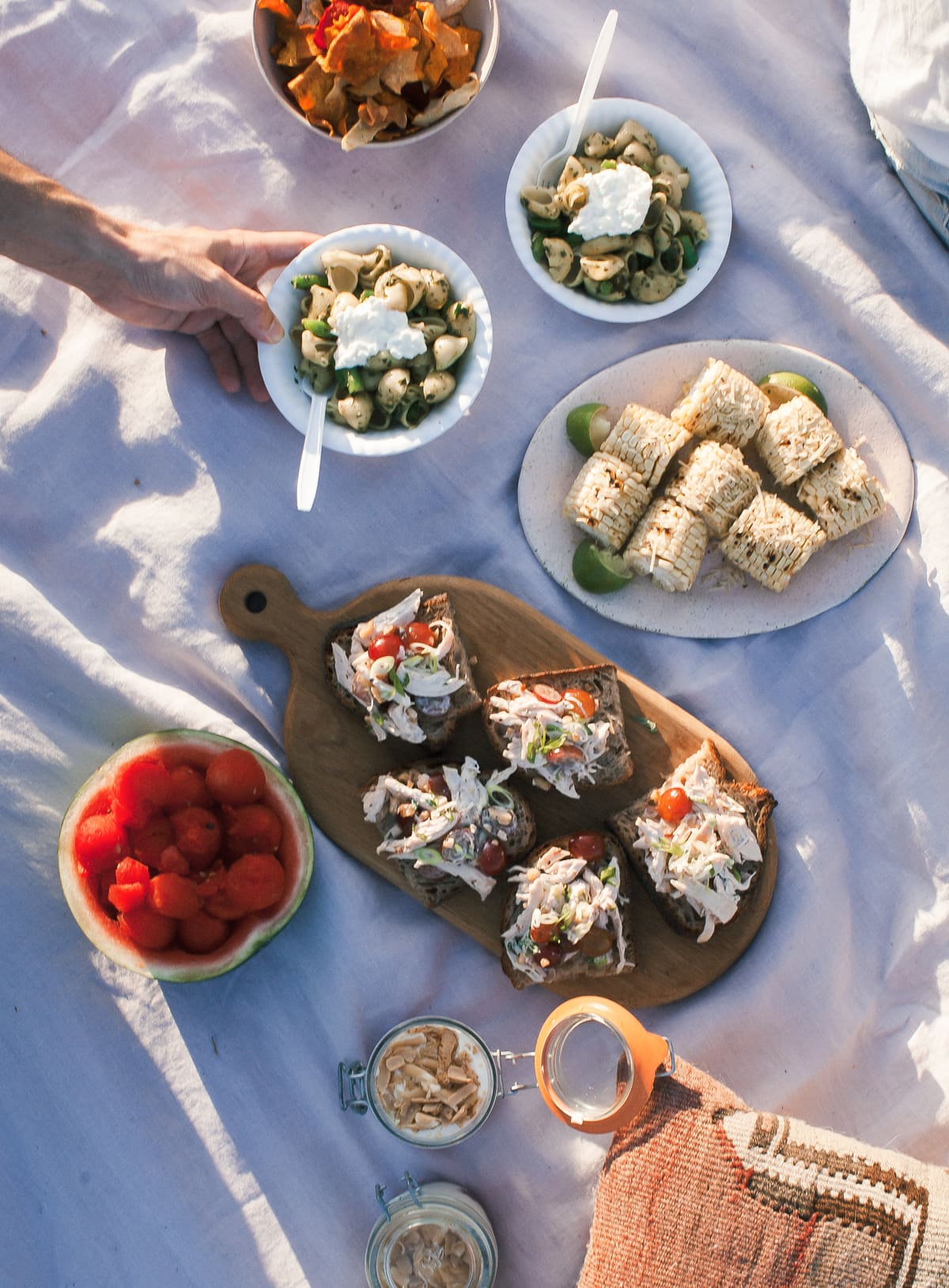 (This post is sponsored by ALDI. You can find them on the internets: Facebook, Twitter, Instagram and Pinterest. Thanks for supporting the sponsors that keep A Cozy kitchen cozy.)

Photos taken by my fwend Billy Green from Wit and Vinegar