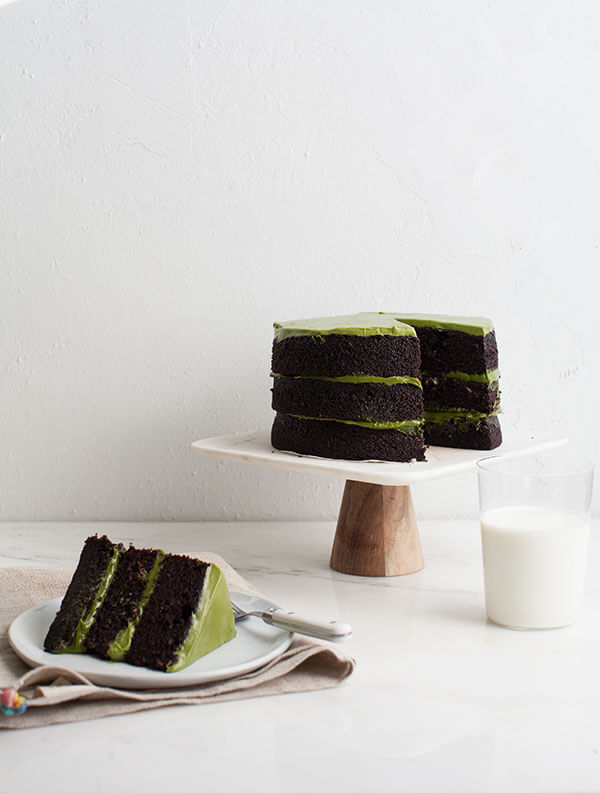 One of the things I want to do in 2015 is push myself toward new adventures. I know that sounds sort of cheesy and dumb but I really want to make new things.
Most of us love doing what we do well. Me included. Being sucky at something doesn't feel that great.
On my list is a whole variety of things I want to be better at, including but not limited to, decorating cakes. I feel like I can crimp a pie, I got that! But decorating cakes…oof…not so much. Cake decorating requires a ton of practice. A TON. So, consider this my first example of what I want to get better at.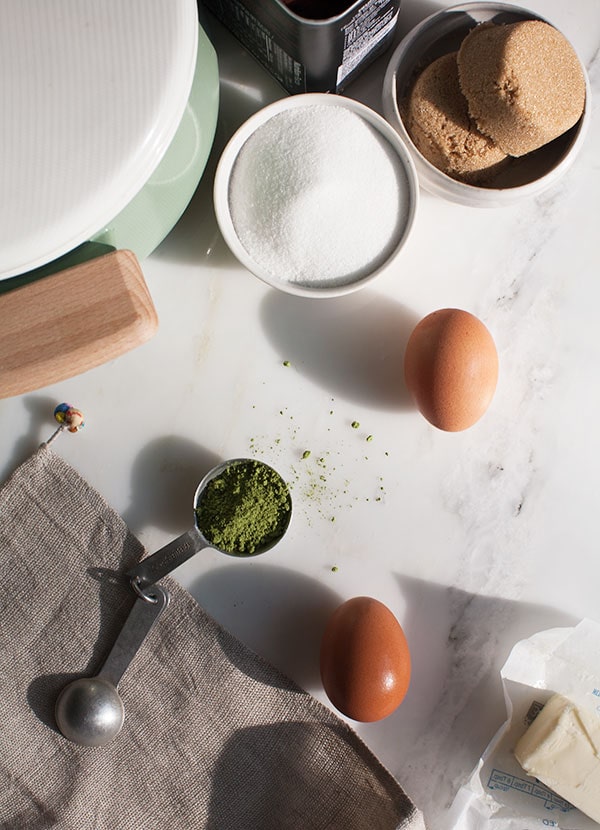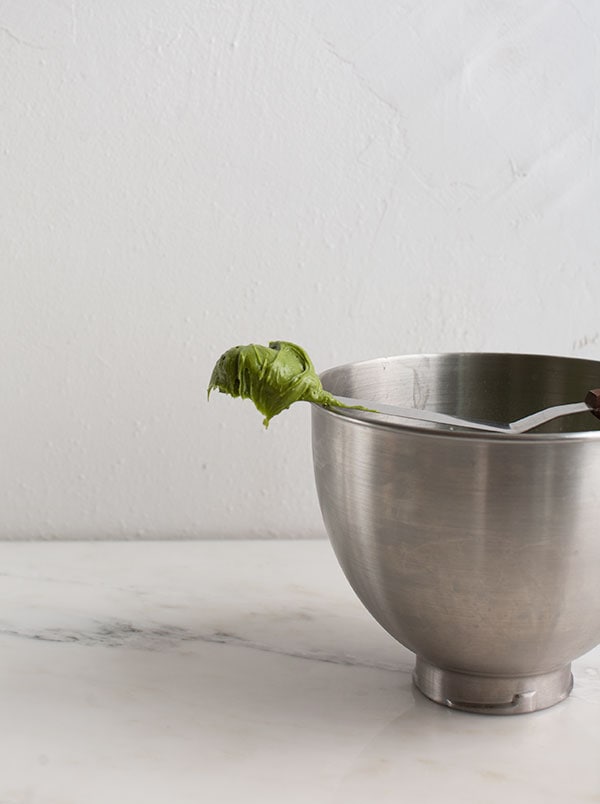 I love the cake recipe. It's chocolatey and rich and decadent. The frosting is really interesting and it doesn't hurt that the green color is really beautiful.
Have you seen Molly's cakes?! GOOD GRACIOUS! That is one woman who decorate a dang cake. Baby steps, my friends, baby steps! This is my first step at getting better at it.
I've actually considered buying a bunch of box mixes and just practicing with quick cakes. I think I might do that.
In the interim, here is this naked cake thingy, which is great if your cake decorating skills aren't the best.
Just an FYI: for this cake I splurged and used really good Valhrona cocoa powder. You don't need to do this (this recipe will also work with normal ol' cocoa powder but it did add to the richness and dark color). I used this type of Matcha powder and found it at Whole Foods.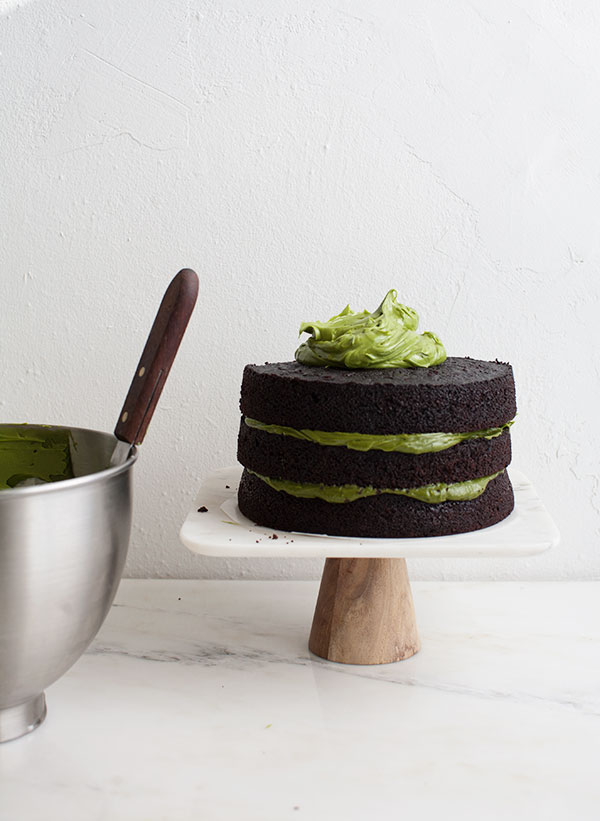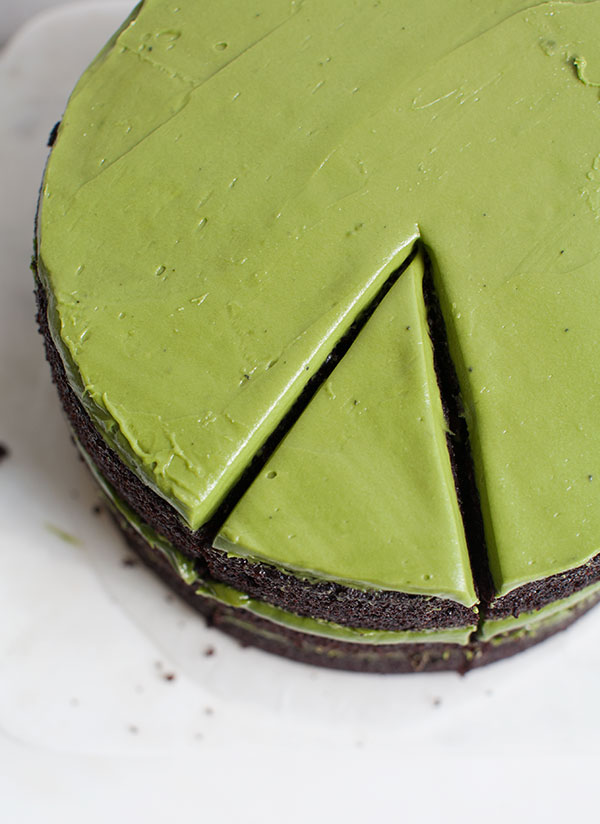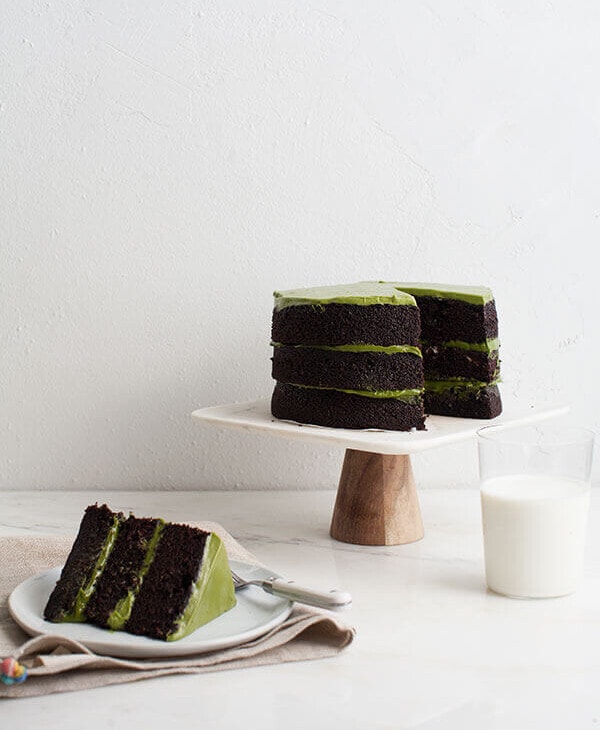 Print Recipe
Triple Layer Chocolate Matcha Cake
Serving Size:
(three-layer) 8-inch cake
Ingredients
Chocolate Cake
2 2/3

cups

sparkling water

1 1/3

cups

dark unsweetened cocoa powder

1/2

cup

plus 3 tablespoons (155g), unsalted butter, cubed (plus more for cake pans)

2

cups

granulated sugar

3/4

cup

brown sugar

2 2/3

cups

all-purpose flour

2

teaspoons

baking soda

2

teaspoons

salt

3

large eggs
Frosting
3

sticks unsalted butter

room temperature

4

cups

powdered sugar

2

tablespoons

matcha powder

2

teaspoons

whole milk
Instructions
Preheat the oven to 325 degrees F. Generously butter the inside of three 8-inch cake pans. I didn't line the bottoms with a circle of parchment, but if you're nervous about it, feel free to line them! If you want the cake layers to be very flat and even, see the link below for "baking flat cake layers."

In a medium saucepan, heat the sparkling water, cocoa powder, and butter over medium heat until the butter is melted. Add the white sugar and brown sugar and whisk until dissolved. Remove from the heat and let cool. In a large bowl, whisk the flour, baking soda, and salt together.

In a small bowl, whisk the eggs until just beaten, then whisk them into the cooled cocoa mixture until combined. Gently fold the flour mixture into the cocoa mixture. The batter will be slightly lumpy–do not overbeat, as it could cause the cake to be tough.

Divide the batter amongst the prepared cake pans and bake for about 30 minutes, rotating the pans halfway through the baking time, until a small skewer inserted into the cakes come out clean. Transfer the cake pans to a wire rack to cool completely for about 10 minutes, until the cakes begin to separate from the sides of the pans. Turn over onto a wire rack and tap the bottom of the pan a few times until it releases. Cool cakes completely before assembling and frosting. Just an FYI: feel free to make the cakes the night before. Cakes will be moist and delicious for up to 2 days if wrapped tightly in plastic wrap.

To make the frosting, add the butter to the bowl of a stand-up mixer with the paddle attachment. In a separate bowl, sift together the powdered sugar and matcha powder together. Beat the butter until smooth and then add the powdered and matcha powder, in a few batches, to the butter. Pour in a teaspoon of milk and beat until smooth. You may need to add an additional teaspoon of milk to get the right consistency.

To assemble the cake, place the first layer on a plate or cake stand. Add a few spoonfuls of frosting and spread as evenly possible. Top with the second layer and repeat the frosting process. Add a few generous spoonfuls of frosting to the very top and smooth it out. This is a naked cake! If you want enough frosting to go all up the sides you'll most likely need to double the frosting recipe. Slice and enjoy.
Notes
Here's a link to my post:
How to Bake Cake Layers Flat
Just a heads up: The frosting turns a darker color green as the cake sits out. It doesn't affect the flavor at all but it does change a bit. If you're concerned about this, I'd recommend assembling the cake right before serving.