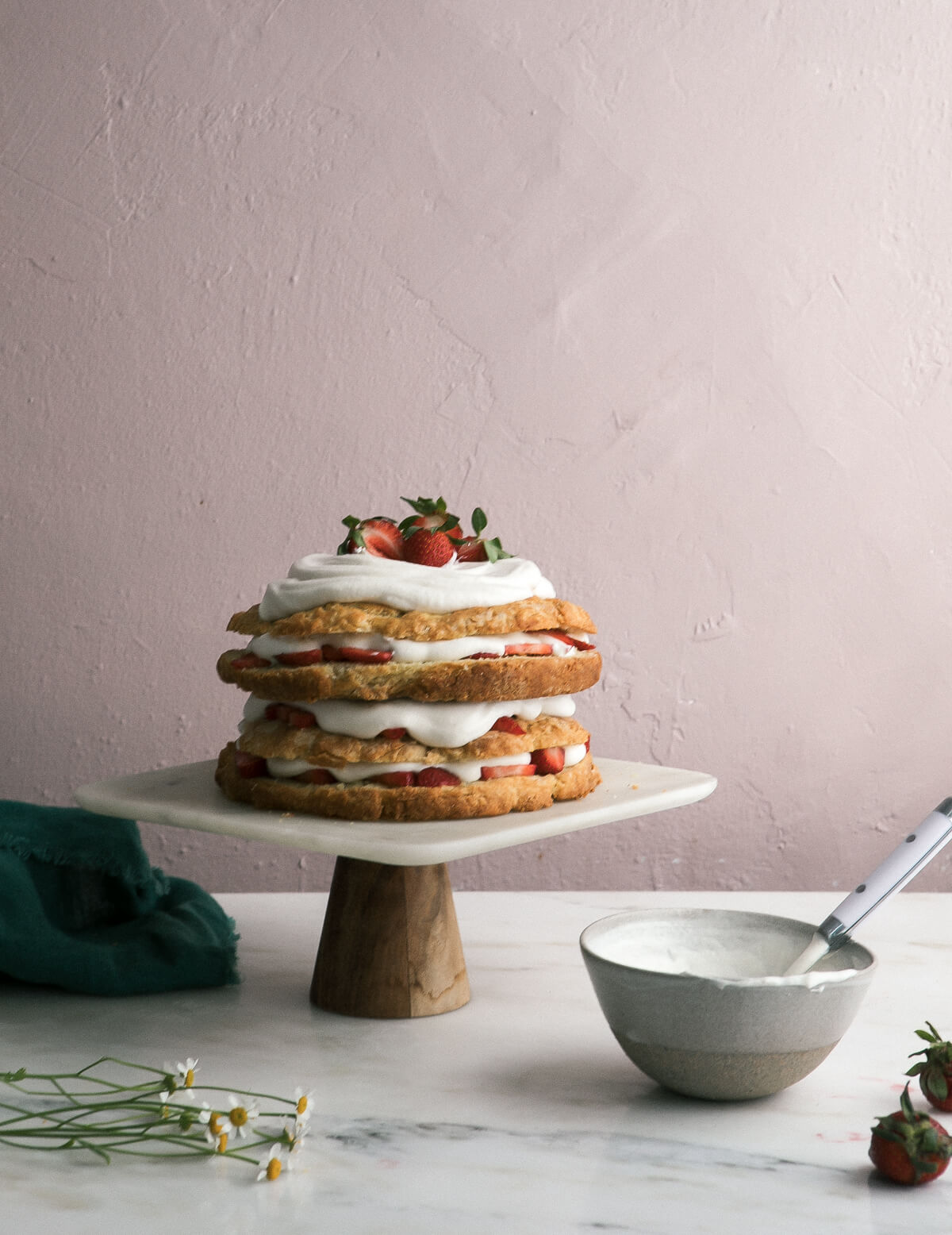 I love strawberry shortcake, biscuit-style.
When I was doing some brain-storming a few weeks ago, I turned to Billy and said, "What if I made a big-ass biscuit and layered it with strawberries and sweet, softly whipped cream?!" He nodded YAS.
And here we are. You might be mentally preparing for Mother's Day brunch. It's actually one of my favorite times of the year because brunching is in high gear. And we're not all sweating yet.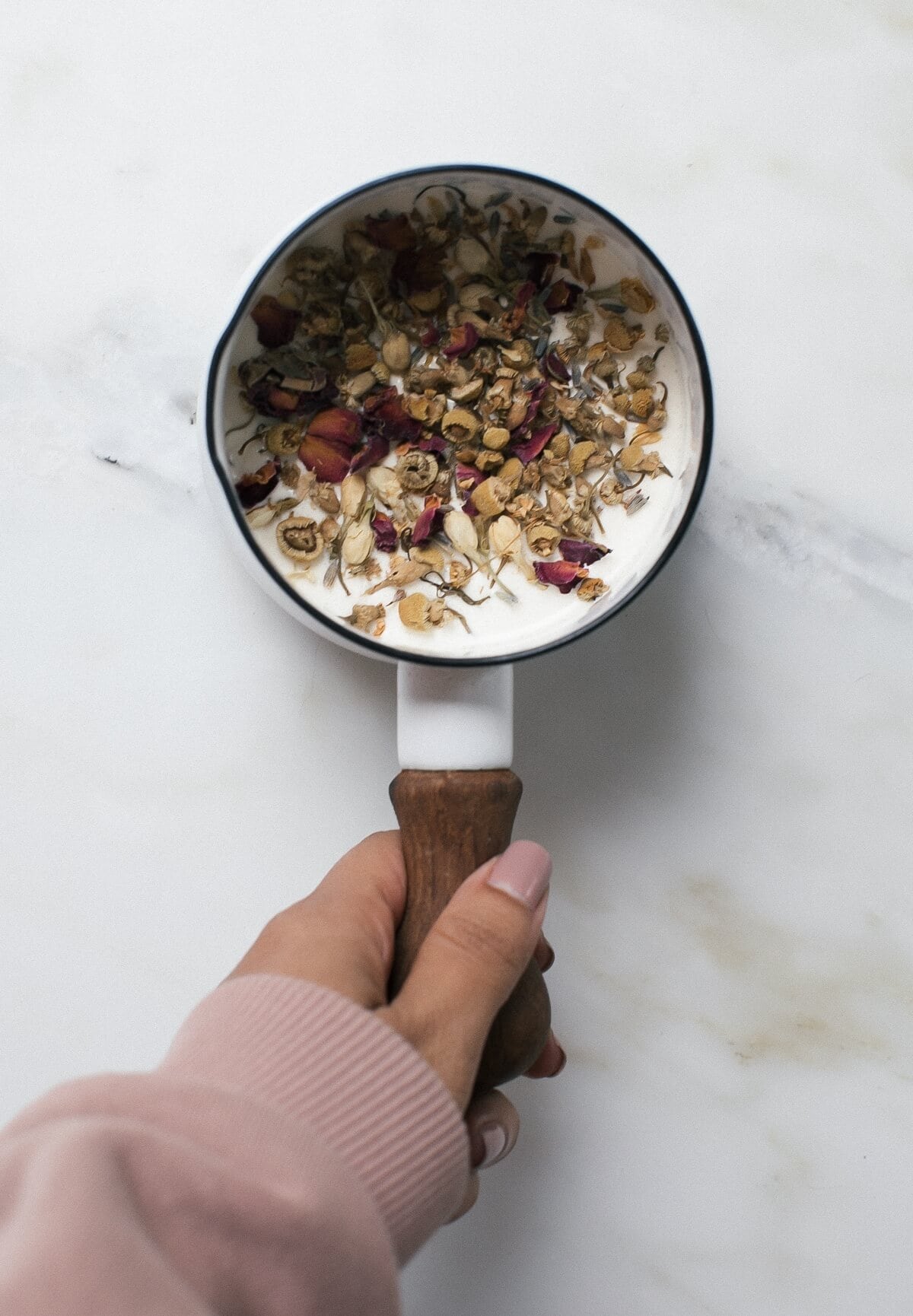 I made these gigantic ol' biscuits in two 8-inch cake pans to "guide" the size of the biscuit but really you can do it on a baking sheet.
I love the debate of egg vs. no egg in biscuits. I nerded out on that Food52 article and was VERY flattered they used my biscuit recipe as an example.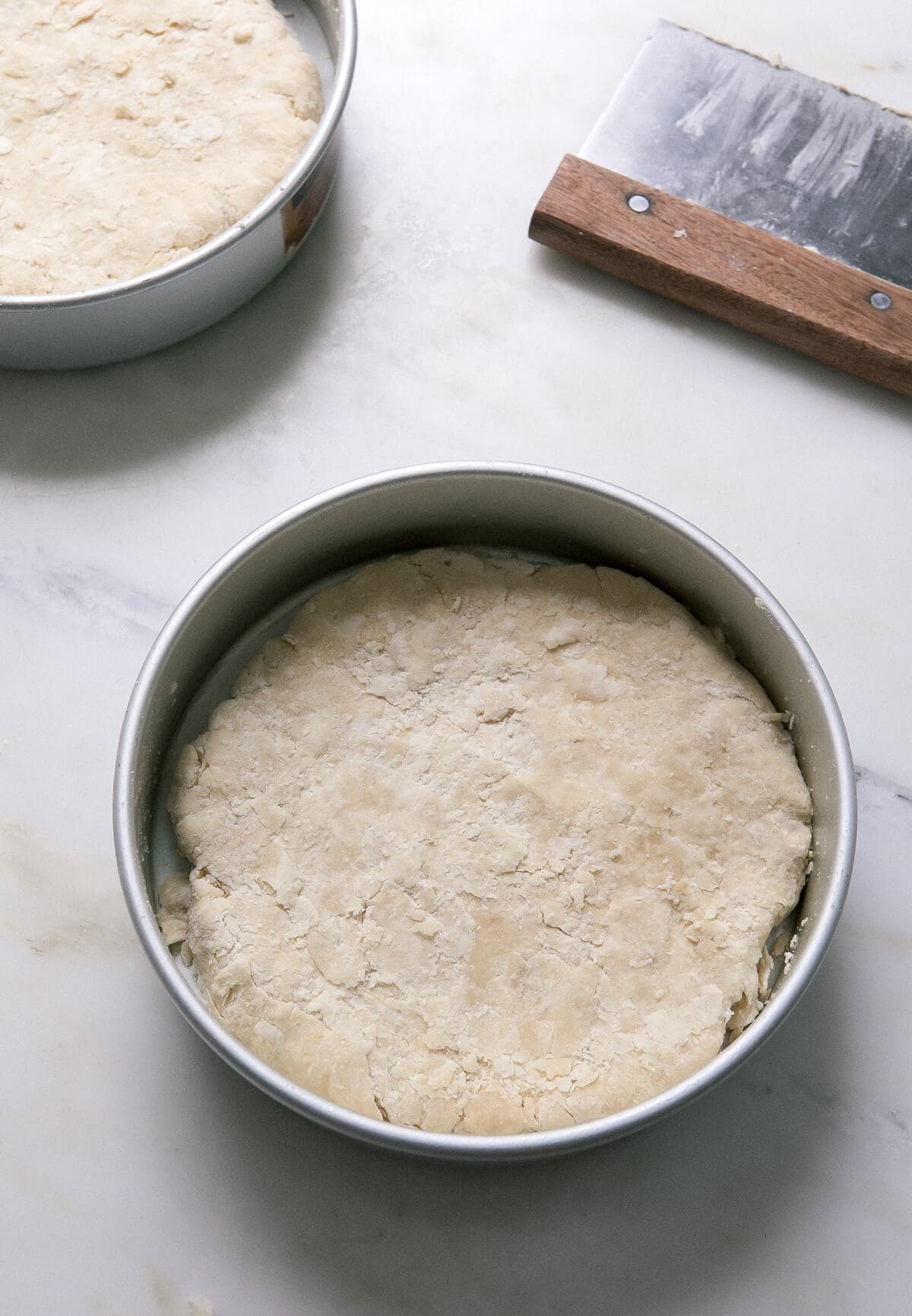 I've been really itching to try a shortening + no egg biscuit. But for this one, it definitely needed an egg so that it had a better structure. Because it's so big, it needs some help in that department.
ALSO, the trick to assembling this is to really let the biscuit cool completely so you can slice it and move it around.
A bread knife really helps with slicing this biscuit.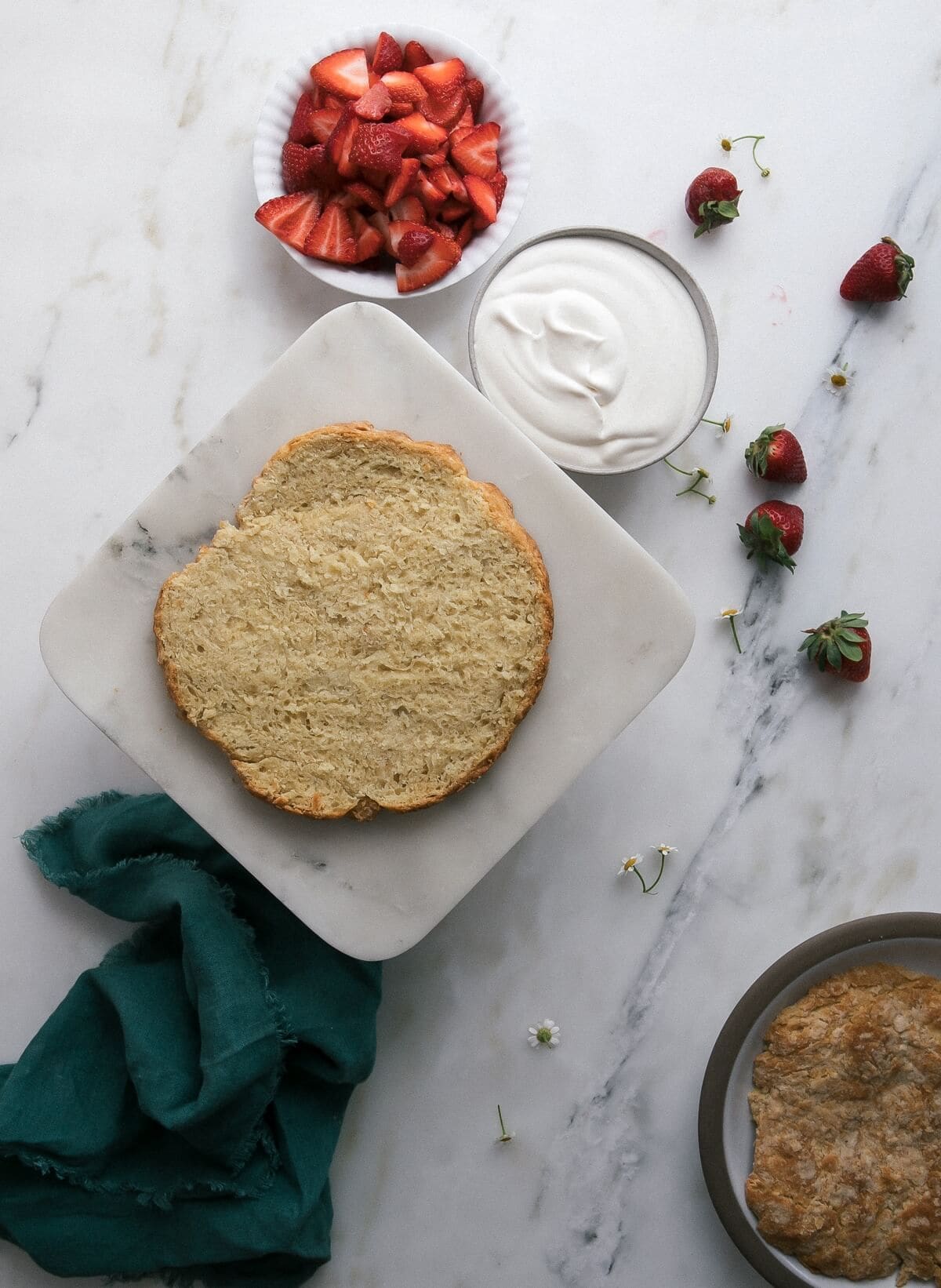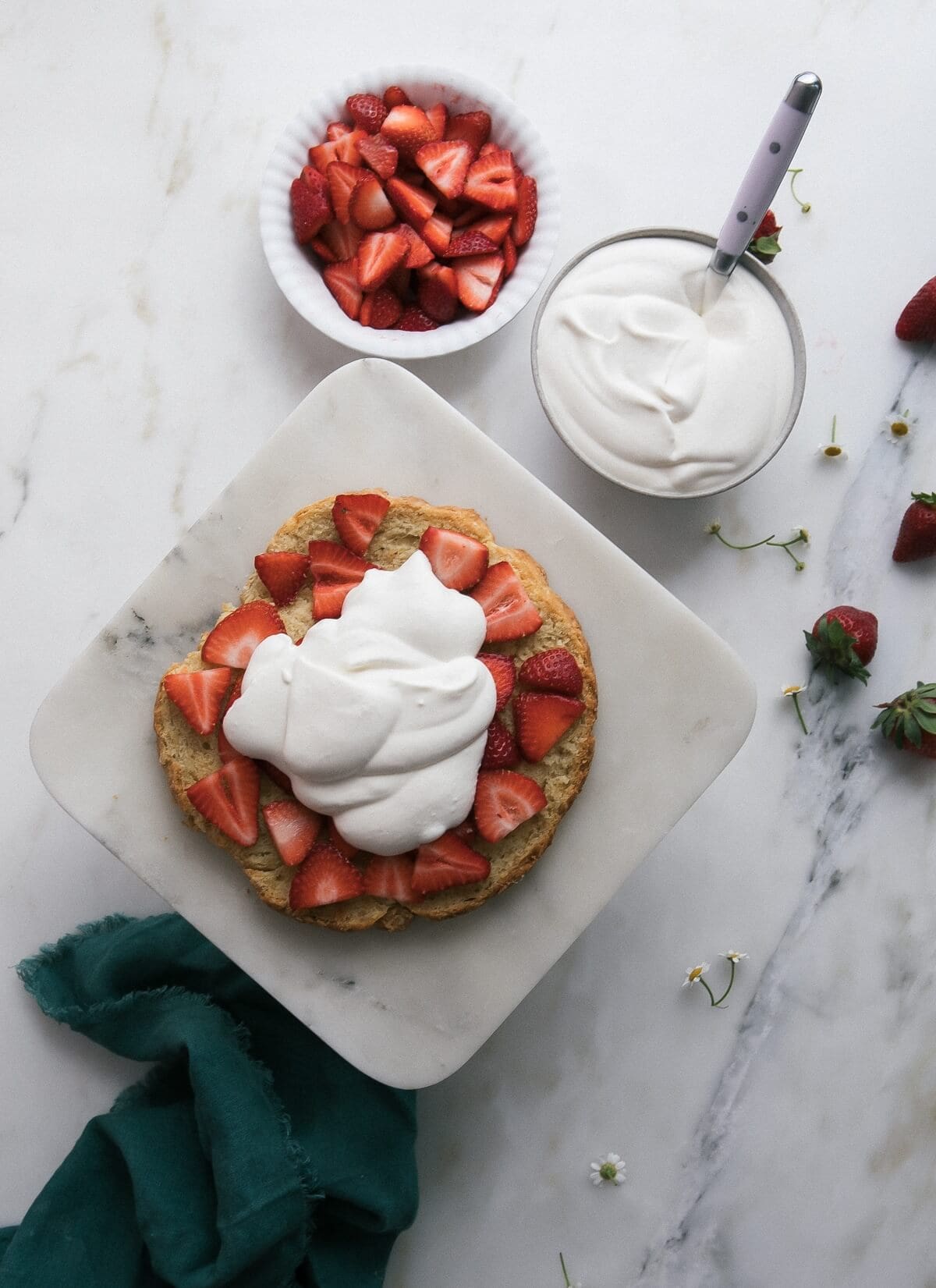 I found a pancake spatula to be the easiest way to move it around. The slices aren't perfect or pretty but I figured I'd include a photo because, as a blogger, I like to live an authentic life lol and give you guys a good idea of how the slices will actually look. They won't be GORGEOUS but who cares.
I say slice it up the best you can and serve them in bowls. And if you served it with a scoop of vanilla ice cream, no one would be mad at that either.
Another thing to know: this is best assembled and then served. The whipped cream can sometimes break if it sits for too long. Another alternative is to use Cool Whip which really can sit for as long as you like but, you know, isn't organic or natural AT ALL so proceed with caution.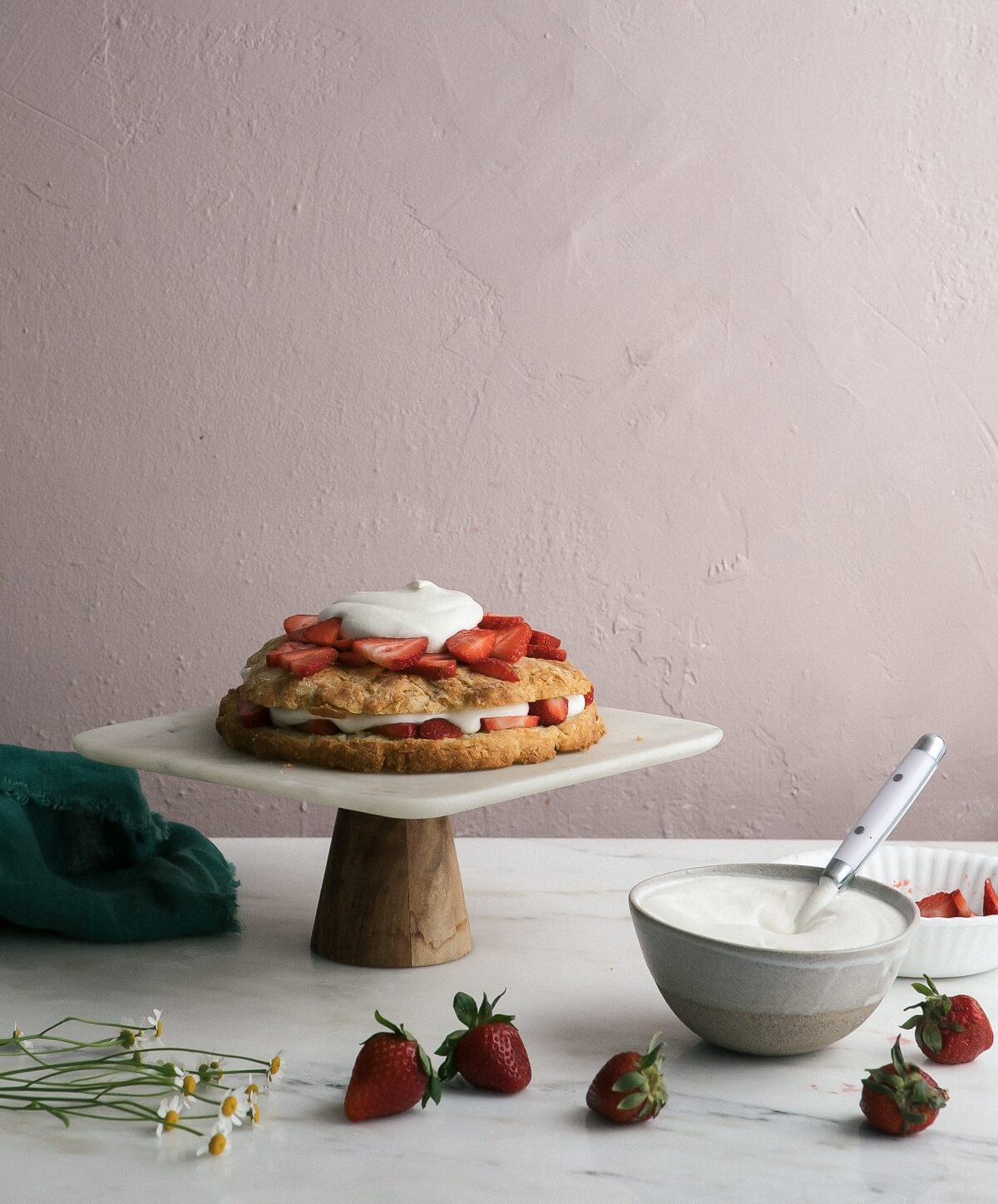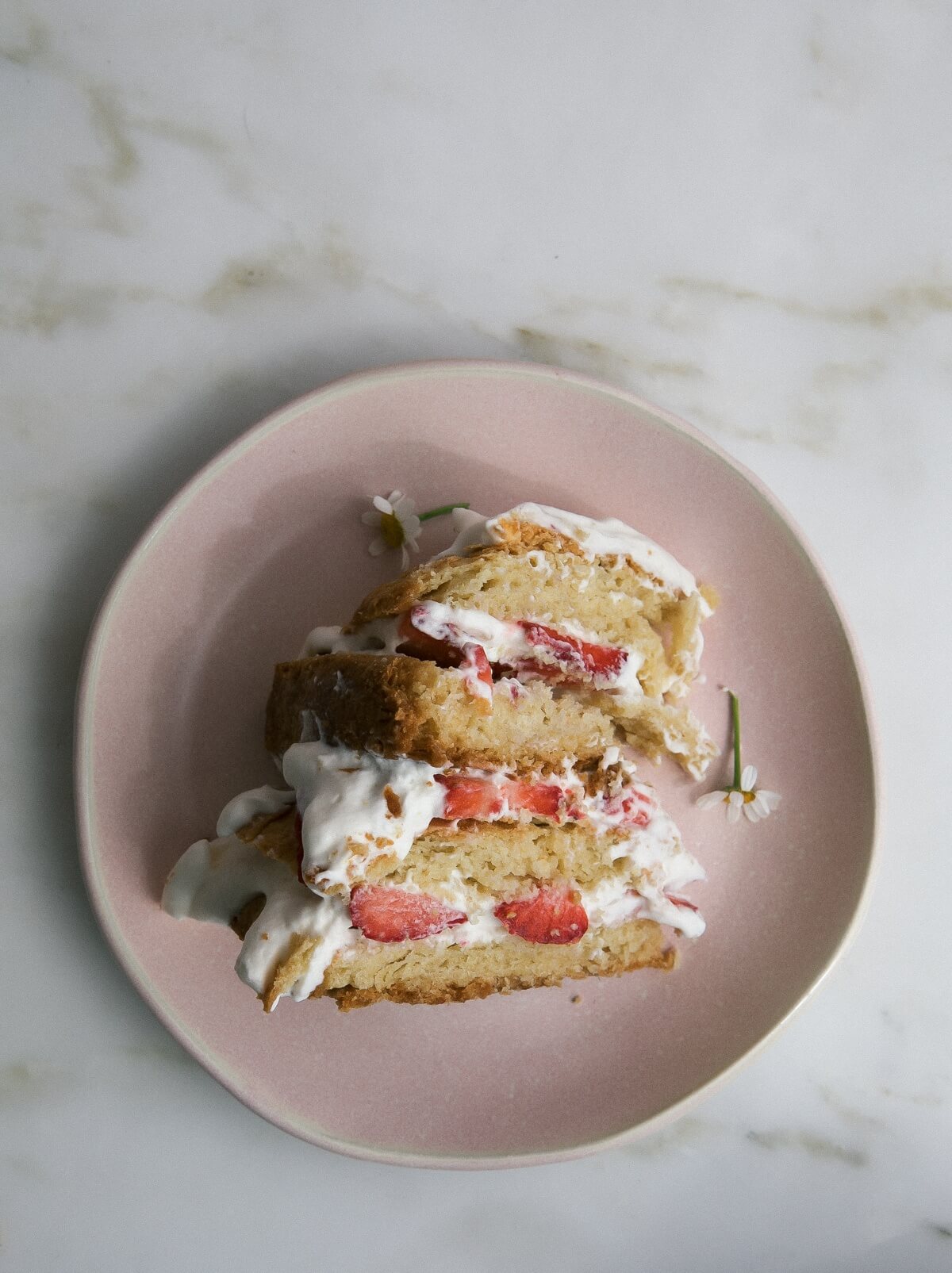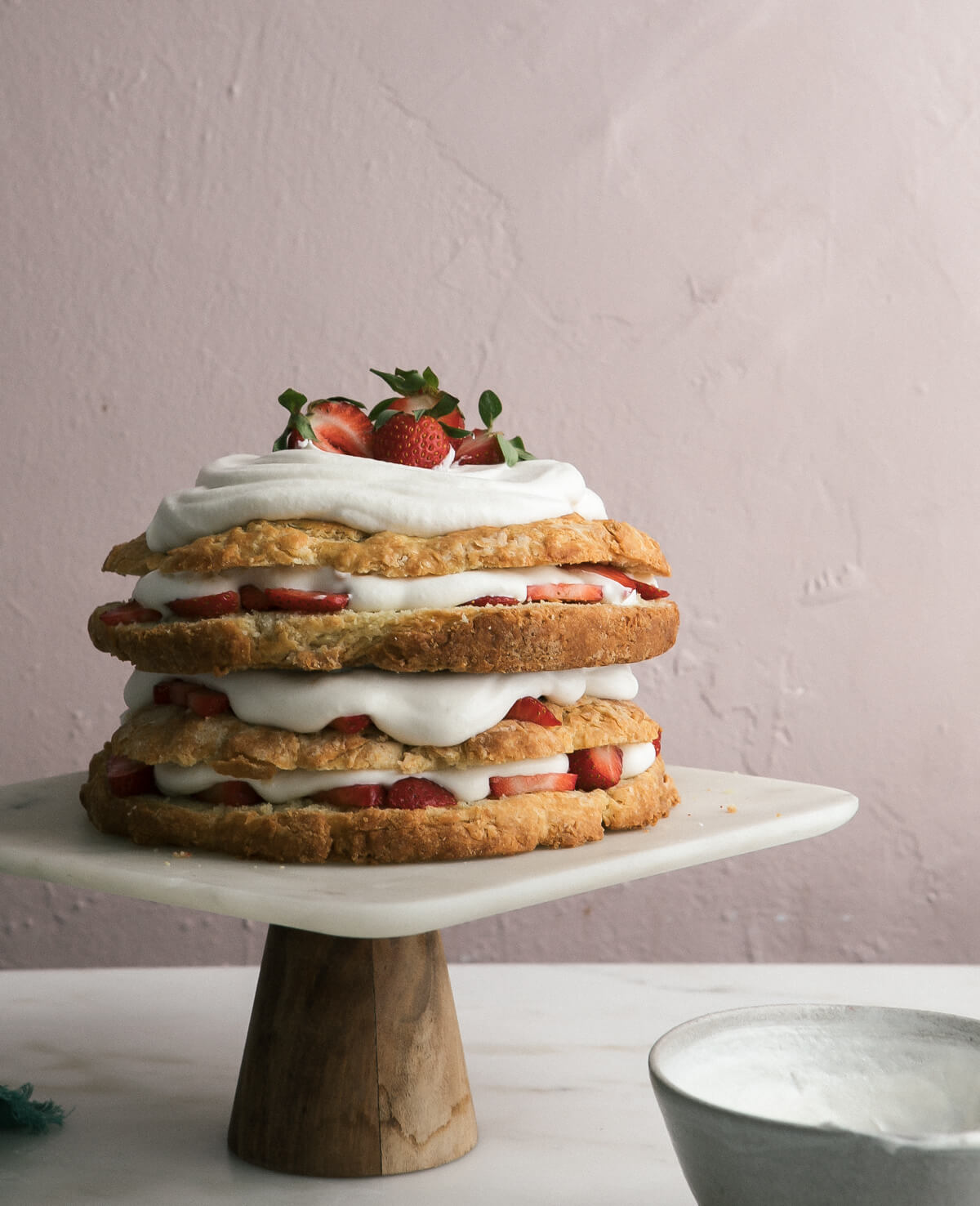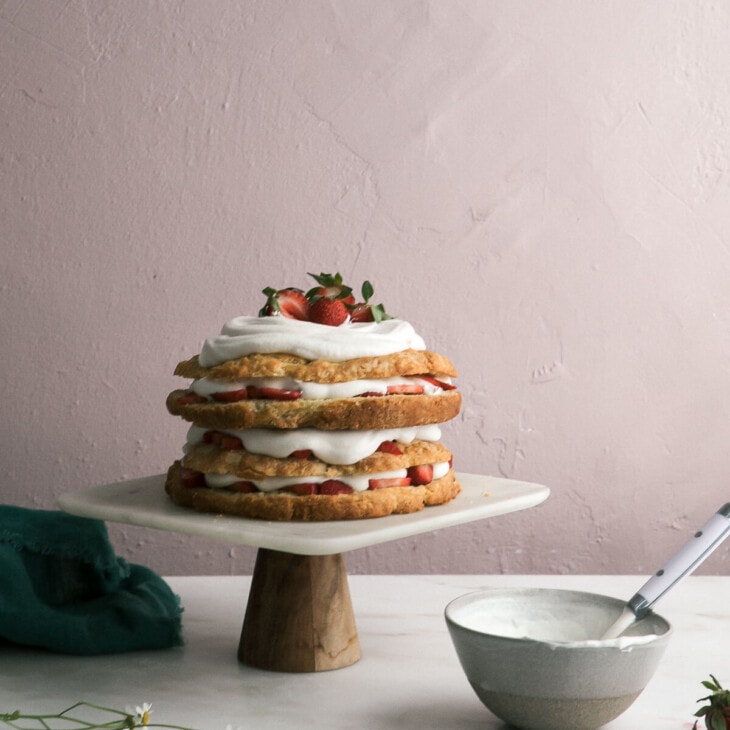 Print Recipe
Big-Ass Biscuit Strawberry Shortcake with Chamomile Whipped Cream
Serving Size:
(7-inch) biscuit strawberry shortcake
Ingredients
Chamomile Whipped Cream:

3/4

cup

heavy cream

2

tablespoons

loose-leaf dried chamomile OR 3 bags of chamomile tea

3

tablespoons

powdered sugar

sifted
Big-Ass Biscuit:
3

cups

all-purpose

4

teaspoons

baking powder

1 1/2

teaspoon

baking soda

1 1/2

teaspoon

salt

1

cup

unsalted butter

very cold

3/4

cup

heavy cream

cold and shaken

2

large eggs
Egg Wash:
1

large egg

1

tablespoon

milk or water
For Assembly:
1

pint

of strawberries

hulled and sliced
Instructions
To Make the Chamomile Whipped Cream:
In a saucepan, set over medium heat, add the heavy cream and chamomile or tea bags, if using. Heat until hot to the touch, about 2 minutes. Once it's hot to the touch, immediately take it off the heat and cover, allowing to steep for 30 minutes. Run the cream through a sieve and discard. If using tea bags, simply remove them and discard. Transfer to the fridge to chill until very cold, about 20 minutes. (If you're strapped for time, the freezer comes in handy too.) When you're ready to serve, transfer the cold chamomile cream to a stand-up mixer or bowl (you can use an electric mixer or do it by hand if you like). Sift in the powdered sugar. Beat until very soft peaks form, about 2 minutes.
To Make the Big-Ass Biscuit:
Preheat oven to 400 degrees F. Line two 8-inch cake pans with parchment. OR you can also do this on a parchment-lined baking sheet.

In a medium bowl, add the flour, baking powder, baking soda and salt; mix until combined. Using a box grater, grate the butter atop. Transfer to the freezer to chill for about 10 minutes.

Meanwhile, in a measuring cup, measure out the heavy cream and crack in the two eggs. Whisk until combined. Remove the bowl from the freezer and create a well in the center. Pour the heavy cream mixture into the flour mixture; mix until combined. Lightly flour your counter and dump the almost-mixed-dough onto it. Knead the biscuit dough a few times, 4 to 5 times until it comes together.

Divide the dough in half. Transfer the first half to the cake pan and press until it almost reaches the edge. (Mine were more like 7-inches in diameter. It should be about 3/4-inch thick.) Repeat with the second half of dough. If you're free-forming it, do the same thing but transfer it to the parchment-lined baking sheet. Do your best to make them the exact same size. Whisk together the egg wash ingredients (egg + water or milk) and brush the tops of the big biscuits with it. Transfer to the oven to bake for 15 to 17 minutes, until the tops are golden brown. Remove and allow to cool to room temperature.
To Assemble the Strawberry Shortcake:
Using a bread knife, slice the two biscuits in half, trying your hardest to cut it in half. Place the first bottom layer on a plate or cake stand. Add an even layer of strawberries side-by-side. Top with a few tablespoons of whipped cream (you can eyeball this measurement) and spread it out into an even layer so it reaches the edges of the strawberries. Repeat until you've worked your way through all of the biscuit layers. Top with a generous dollop of whipped cream and a few strawberries. Slice it up (it'll be messy!) and serve in bowls.