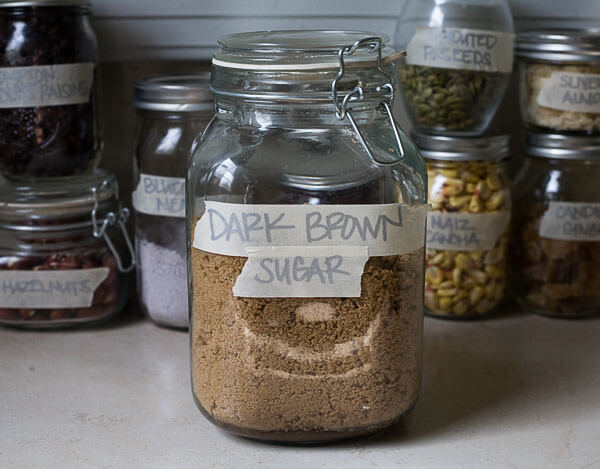 How to Soften Hard Brown Sugar is a step-by-step tutorial on softening brown sugar. Duh. Have you ever gone to your pantry wanting to make cookies and then realize that the brown sugar is totally hard? It's such a bummer.
I found about 5 or 6 bags of hard brown sugar and I wanted to do something about it!
My grandmother never taught me to do this. I learned about this years ago from Google and Instagram.I'm pretty sure I was baking at midnight (my favorite time to bake) and wanted to make cookies (obviously), only to find that the brown sugar was hard and looked like McDonald's chicken nuggets.
If this isn't obvious advice to you and you really would like to know how to save your brown sugar, continue…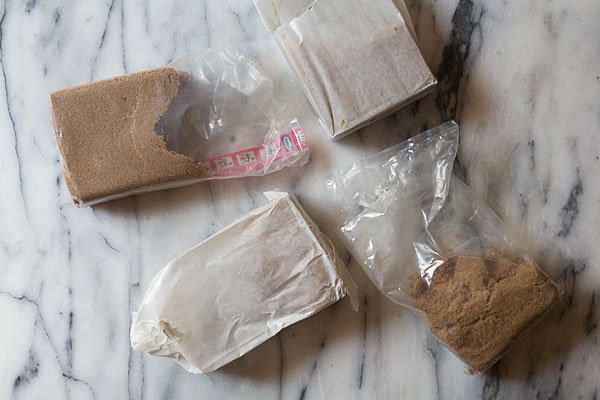 There are a few methods on how to soften brown sugar:
The Best Ways To Soften Brown Sugar:
Option 1 to Soften Brown Sugar
Using an apple. You can actually place a sliced apple into your brown sugar bin and the moisture from the apple should transfer to the brown sugar. (But then your brown sugar sort of has an essence of apple?)
Option 2 to Soften Brown Sugar:
Using clay tiles. They sell clay tiles specifically for keeping brown sugar moist. Most bakeries use these and they are very effective. (Definitely the move but didn't feel like going to the nursery.)
Option 3 to Soften Brown Sugar:
Microwaving the brown sugar. You can always add the brown sugar and a drop of water or two to a bowl. And then turn the microwave on high for 1 minute. This works like a charm. (I don't own a microwave. I know, I know…)
Option 4 to Soften Brown Sugar:
White Bread! This is my favorite method. Grocery stores should really sell a few slices of bread, instead of a loaf. I'd be pretty into it.
How to Soften Brown Sugar with Bread:
I added the blocks of brown sugar to a bowl and added a slice of bread I cut in half.
I wrapped the bowl in plastic and since I wanted to time the whole process, I wrote the time I started on the plastic wrap.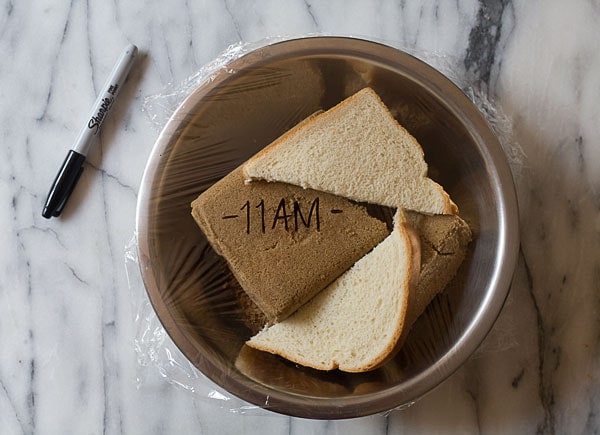 When I returned nine hours later, only half of the brown sugar had softened. And the bread felt dry and stale. All of the bread's moisture had transferred to the brown sugar. MAGIC!
Some of the brown sugar was still dry so I added one more slice and left it overnight.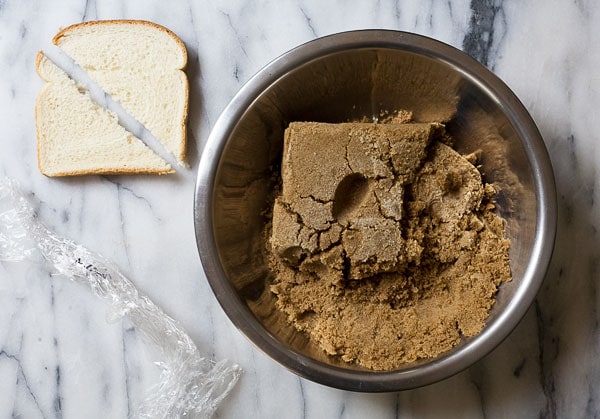 When I woke up in the morning, all of the brown sugar was soft.
You'll need two slices of white or wheat bread. And normal, store-bought bread works best!
Why Does Brown Sugar Go Hard?
First we have to discuss, what is brown sugar. Each granule of sugar is coated in a thin layer of molasses. That's really what brown sugar is: brown sugar coated and mixed with a bit of molasses. When the sugar is fresh and moist, the molasses that coats it, slips against the other granules easily. When it looses its moisture, that molasses hardens.
Is Hard Brown Sugar Bad?
The good news with hard brown sugar is that it can easily be re-hydrated. Molasses can absorb moisture from either bread or a clay plate or water (see above) and then you can proceed to use it in whatever recipe or way you like.
My Favorite Recipes that Use Soft Brown Sugar!
Brown Butter Chocolate Chip Cookies
Oatmeal Chocolate Chip Cookies