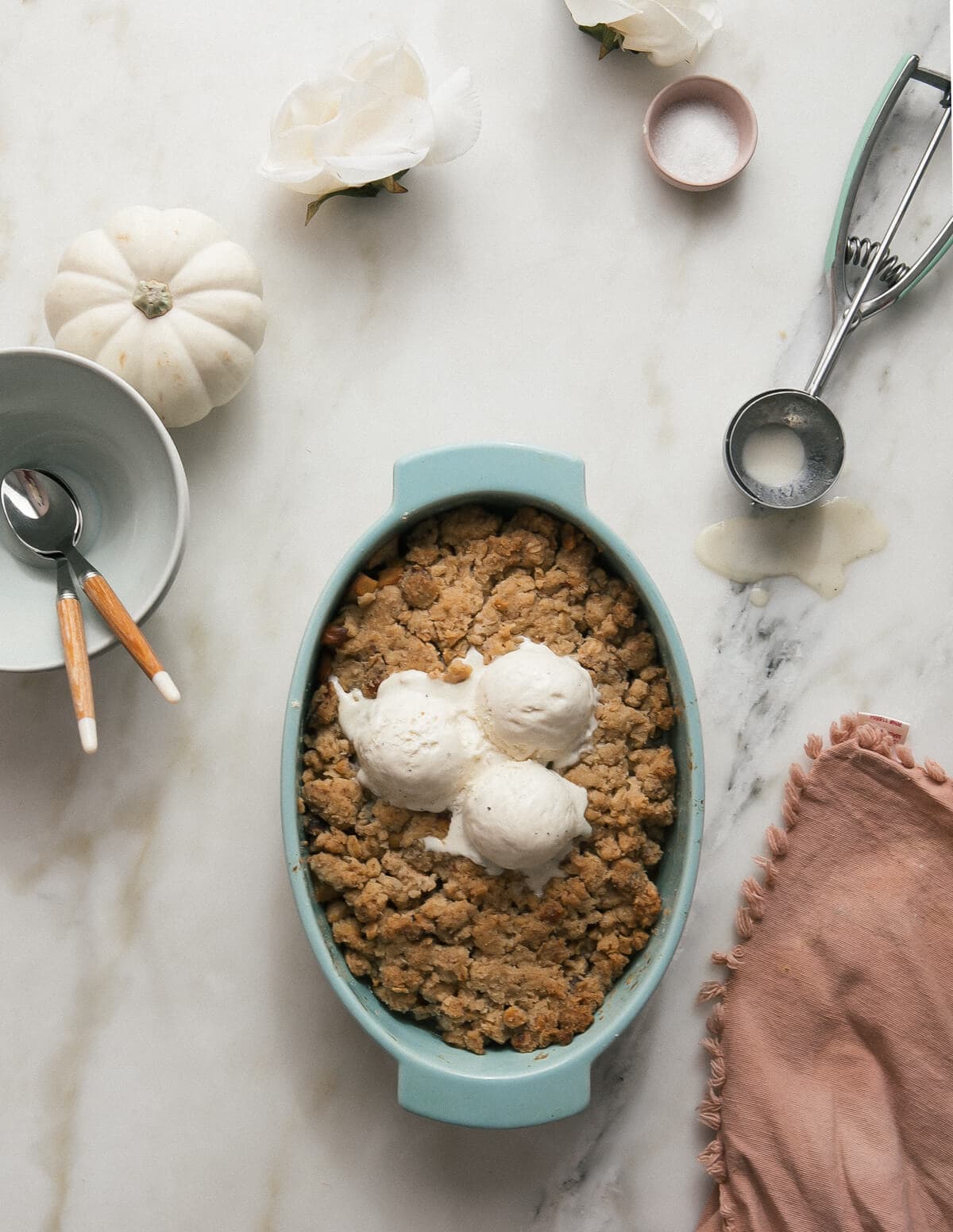 Hello from heatwave land. It's going to be 100 degrees today in Los Angeles. And then 101 tomorrow. I can barely compute these numbers in late-ish October and frankly, they make me angry.
I know that's probably not a sensible emotion over weather. I understand. But it really does feel relentless. I'm craving permanent sweater-weather. But the Dodgers are in the world series! So that's good, I guess. I barely watch sports, which means I don't at all. I know that they're in the world series because every LA person is in a Dodgers hat with a gigantic smile on their face. Lol. I'm happy for them! Don't we all need a lil' happiness and distraction in our lives?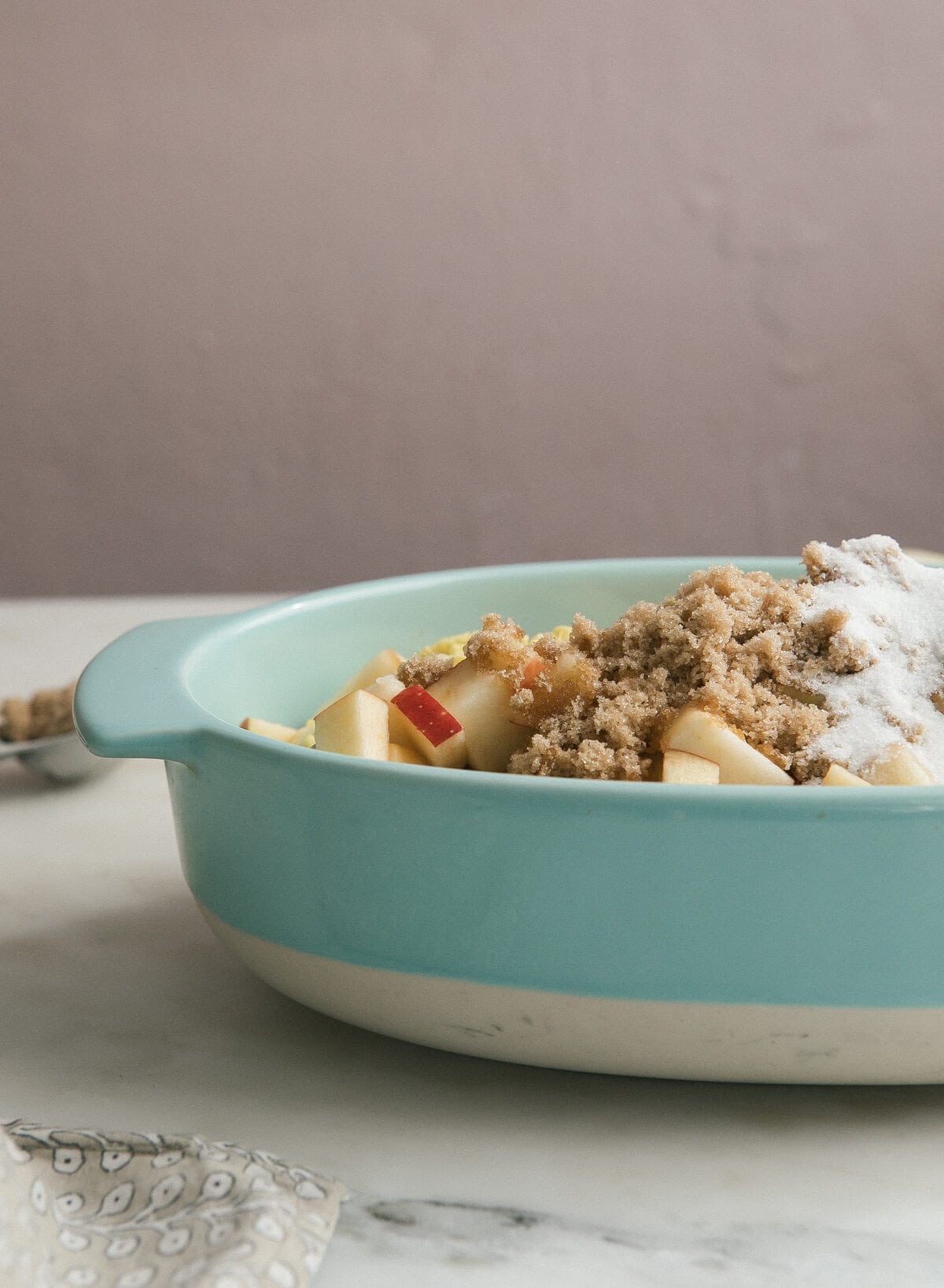 I feel like we've deserved it this year. This recipe is from The Year of Cozy. Remember when I made that book?! I loved that little book and I have some exciting news about it (AAHHH! I'm being annoying) coming soon!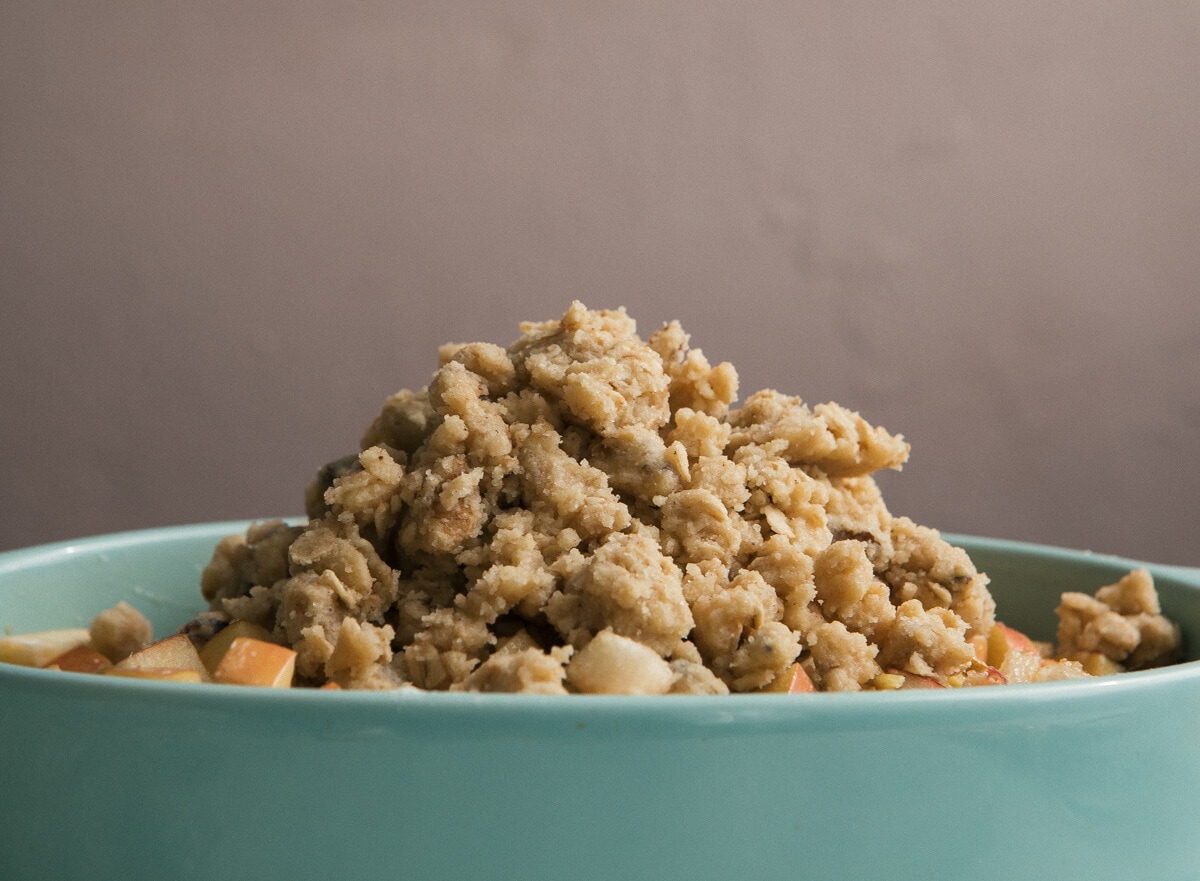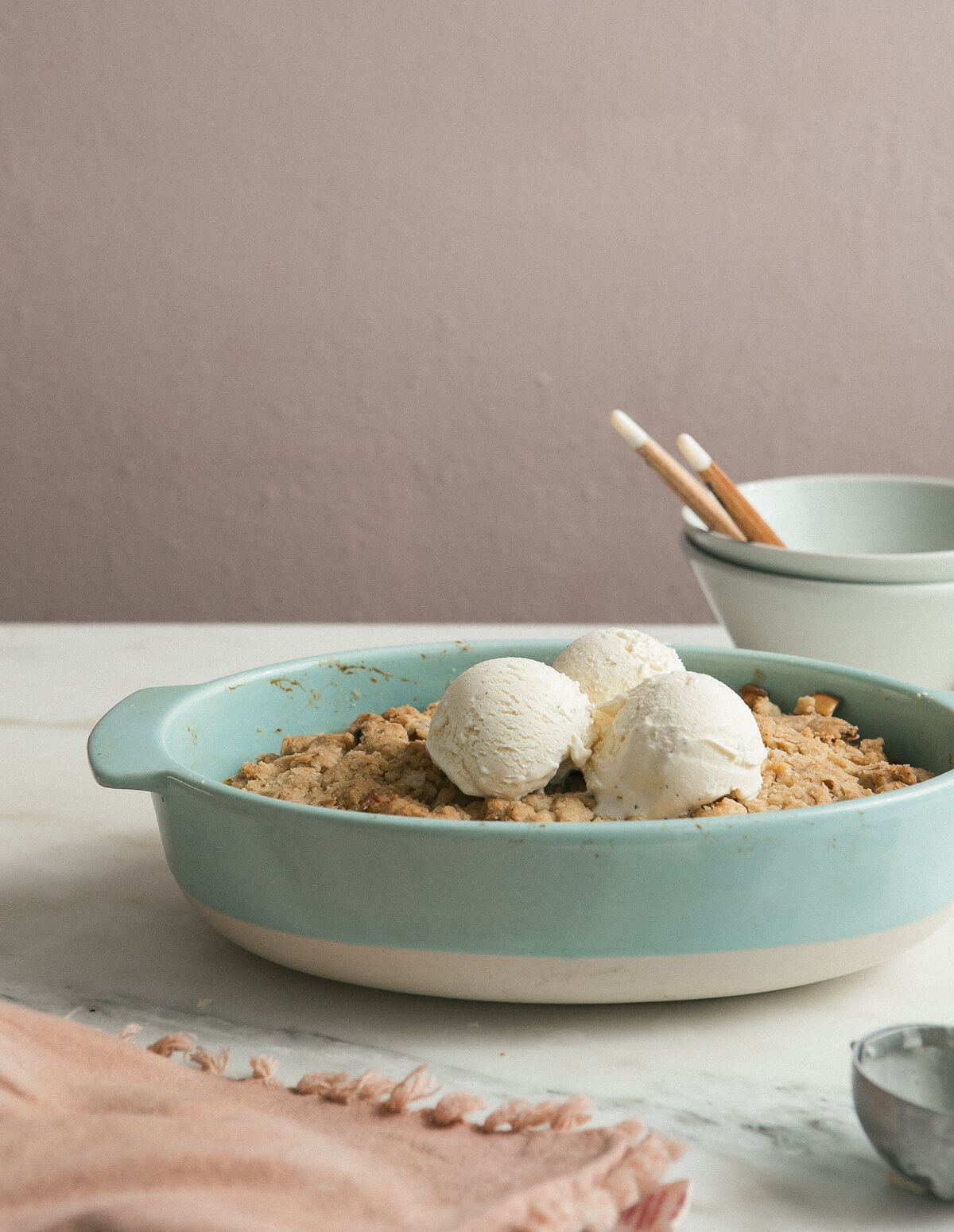 In the meantime, I wanted to share this recipe from the October month in the book. It's a simple ginger pear crumble with burnt butter. IT IS SO GOOD. I remember testing this recipe and eating it warm with cold ice cream and just being so in love.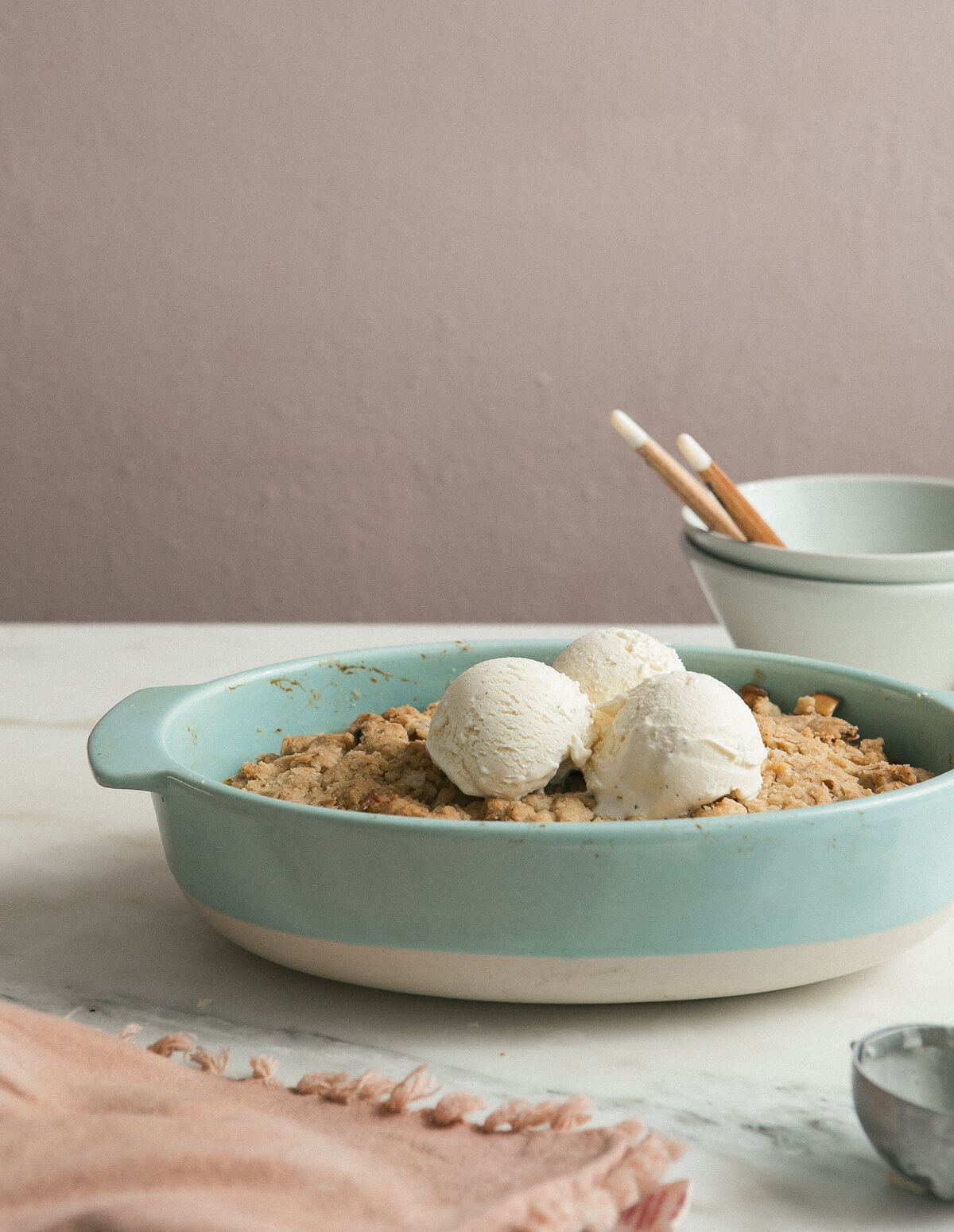 I added some apple because why not but really it's the same recipe. I hope you love this recipe. The crumble top has a simple mix of burnt butter, yes, very burnt butter (it tastes so good), walnuts and rolled oats.
And if you haven't read da book, here's a link!
I'm going to be sharing a few other recipes in the next upcoming months AND we're doing a big giveaway with a bunch of fun stuff. And maybe even Amelia will be doing a giveaway. I dunno but I'm excited!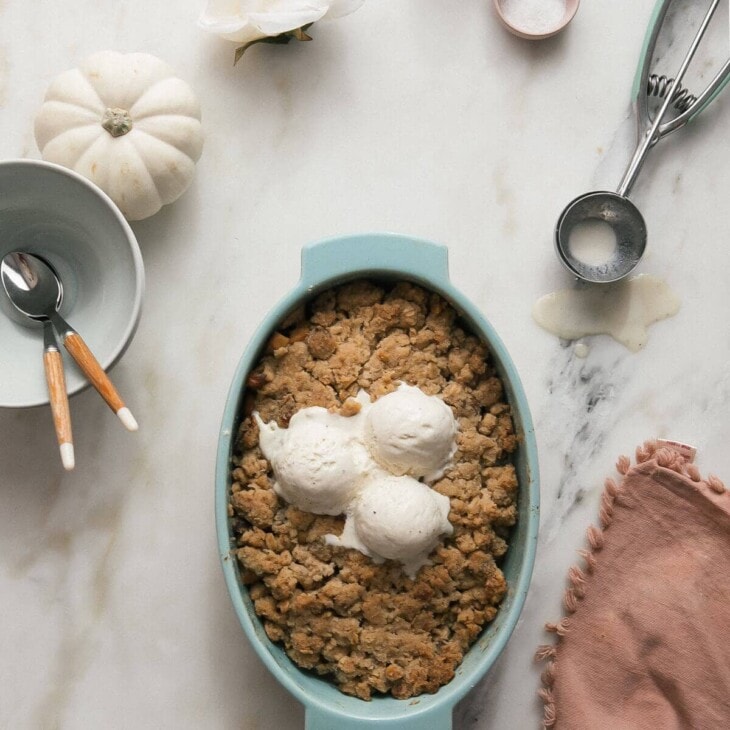 Print Recipe
Burnt Butter Pear + Apple Crumble
Ingredients
Filling:
3 to 4

baking pears

cored and diced

1

apple

cored and diced

1/4

cup

white sugar

1/4

cup

brown sugar

2

tablespoons

all-purpose flour

1/2-

inch

knob of fresh ginger

minced

1

teaspoon

pure vanilla extract

1/4

teaspoon

salt
Crumble Topping:
1

cup

all-purpose flour

1/3

cup

white granulated sugar

1/4

cup

oat flakes

1/2

cup

walnuts

roughly chopped

4

ounces

unsalted butter

1 stick, cubed
Instructions
Preheat the oven to 350 degrees F. In a 8 x 8-inch baking dish (or something equivalent), add the pears, apples, white sugar, brown sugar, all-purpose flour, minced fresh ginger, vanilla extract and salt. Toss until pears are thoroughly coated. Set aside.

To a medium bowl, whisk together the all-purpose flour, brown sugar, oat flakes and chopped walnuts.

In a small saucepan, set over medium-high heat, add the cubed butter. Brown the butter until it goes from yellow and bubbling to a very, very dark brown color. It might appear burnt and it is, but not to worry, it'll taste delicious. Pour the burnt butter into the medium bowl that's holding the flour and oat mixture. Using a spoon, mix the mixture until clumpy and everything is coated in butter. Pour the crumble atop the filling and spread it out evenly. Transfer it to the oven to bake for 35 to 40 minutes, until the crumble is bubbling and the top is golden brown.

I'm not a super bossy person, but you must, you MUST eat this crumble warm with a scoop of cold vanilla ice cream.