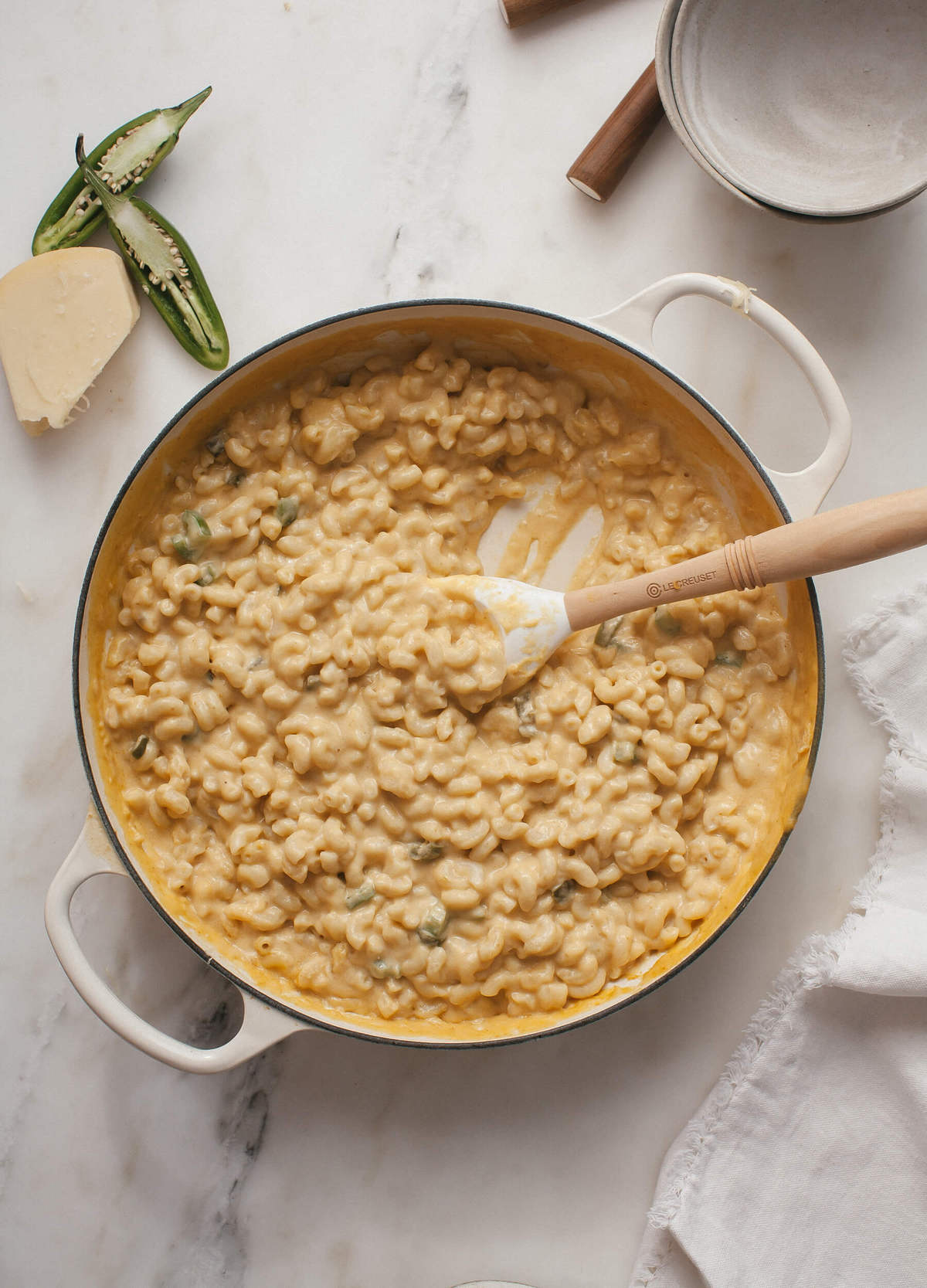 Before we dive into this Pumpkin Raclette Macaroni and Cheese, I want to give thanks.
Every morning, when the sun breaks, my Abuelita Renee sits at the edge of her bed with her rosary in her hand and she recites prayer, bead after bead. She's probably done this every single morning since she was probably 12 years old in Peru. She's 82 now.
I'm not all that religious but I think the act of thankfulness, faith and hope is so very beautiful. I think what she does every morning is special. And I know it helps her throughout her day. I was thinking this past weekend what I'm thankful for…
The world feels like it's crashing, things feel off and full of unrest but in my little world that I've created that's full of friends and close family and Josh and Amelia, I'm happy. I feel thankful that we get to go on walks together.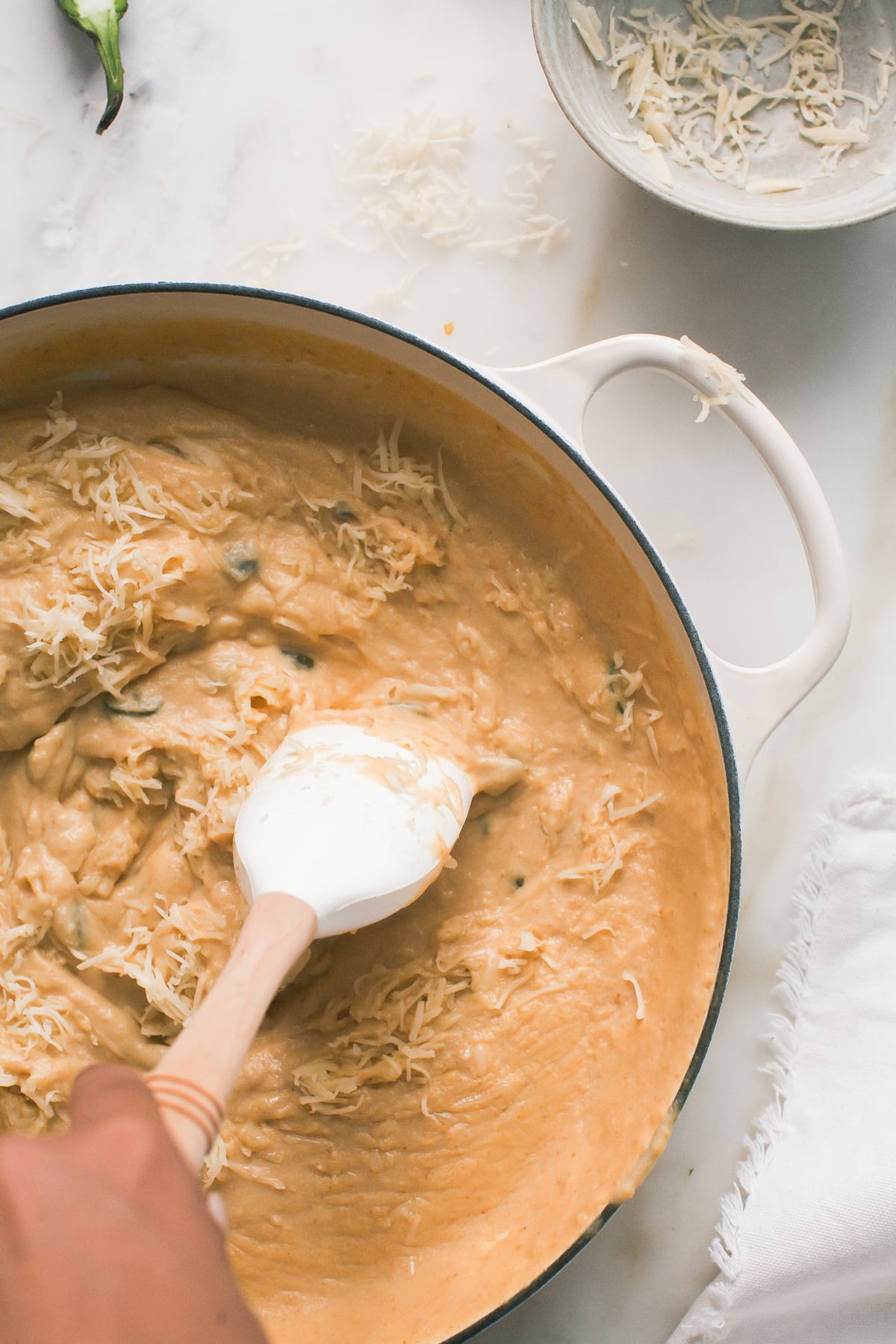 I'm thankful that I'm healthy and wake up every single day feeling good.
And I'm thankful for this space on the internet that let's me create and make money all at the same time.
I'm thankful that my family sacrificed so much to come to this country so I could lead a better life.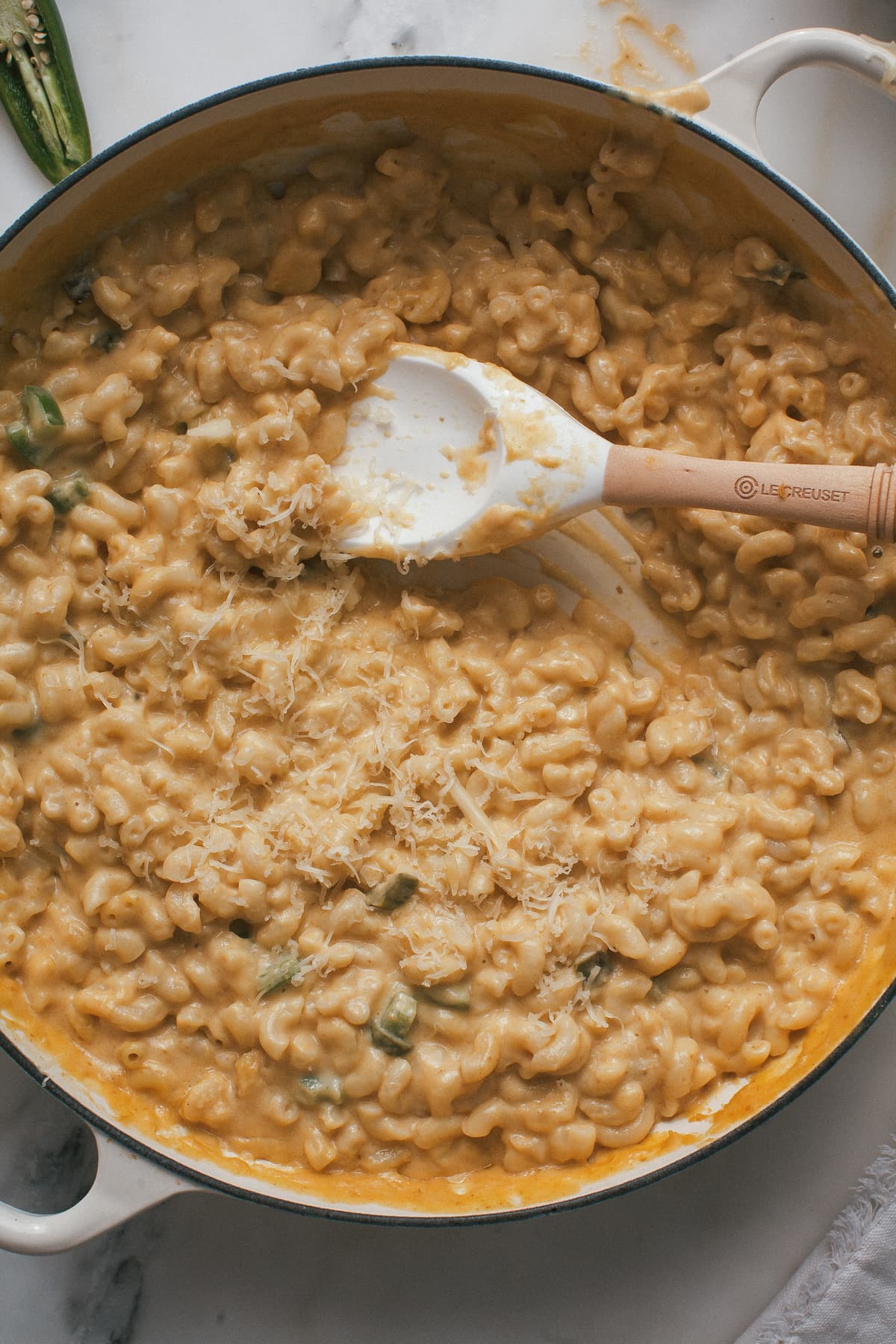 And I'm thankful that you're all here.
I'm thankful that Josh and I can laugh and talk for hours and hours at a time. We still love each other so very much. That feels good to me.
I'm thankful for the opportunities that have come my way. I try and honor them by working even harder.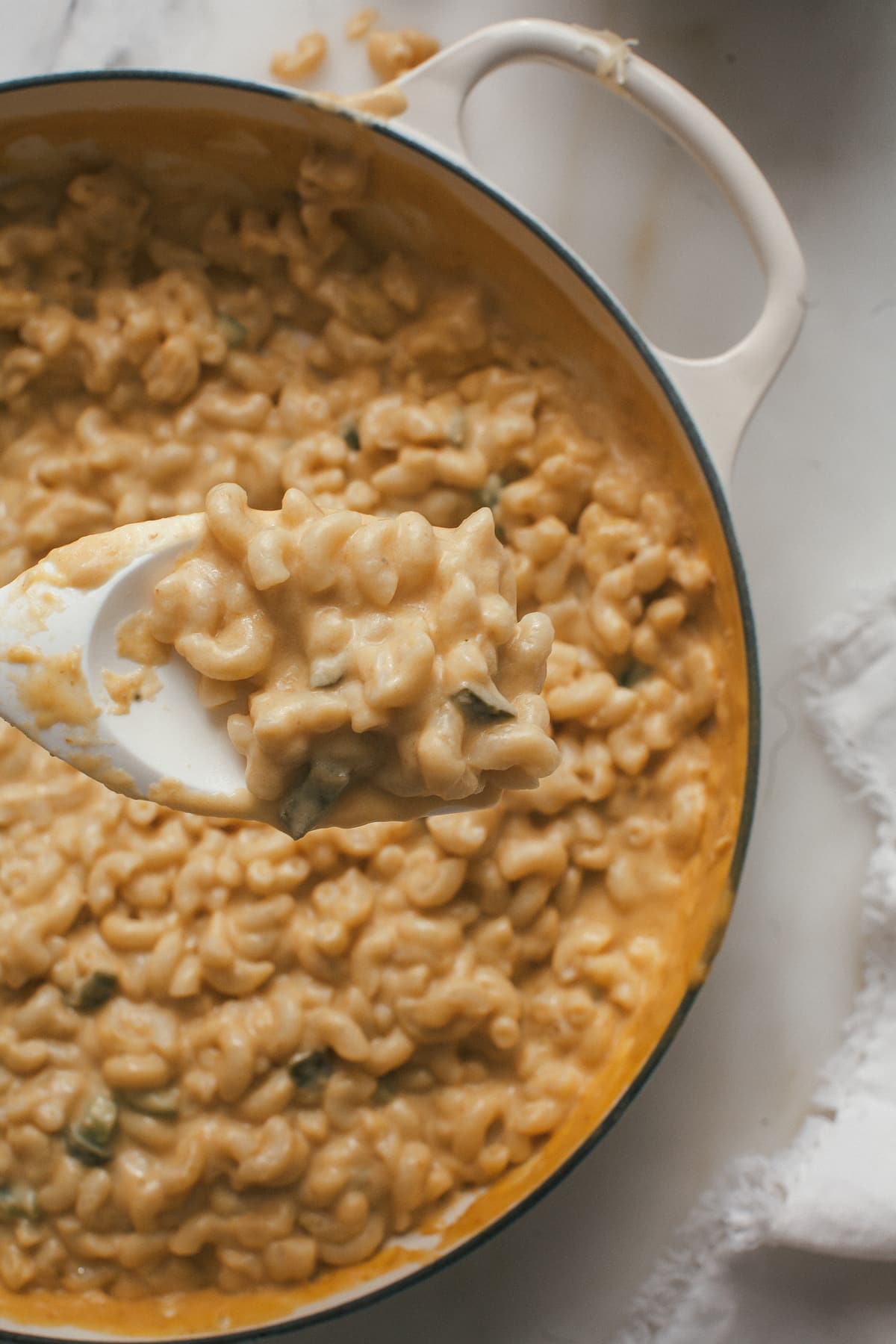 I'm thankful for things that make me laugh like TV and movies and my friends who are comedians. They bring me joy.
When I was like 18 years old my friend and college roommate, Kim, told me to read Assata Shakur's memoir, so I did. It taught me so many things that my suburban-raised self didn't know about the world but the thing that I remember from her story that changed a whole lot for me was toward the end, when she thought she was near death and she didn't have very much hope.
She started to think about the things she would miss about living. She thought about how much she loved the taste of strawberries in the summer. It was the simplest thing.
Whenever I'm going through a hard time or lightness seems so far away, I think of her. We have so many things to look forward to. We have so many things to enjoy in this world.
I'm thankful for them all.
xo
Adrianna
Let's dive into this Pumpkin Raclette Macaroni and Cheese!
Leftover Central
This recipe is perfect for that leftover pumpkin puree that might be lurking in the corner of the fridge, lonesome, trying to find a home. You might have leftover cheese, too. Use it in this. If you don't have raclette, use more Gruyere or Manchego or fontina; basically, anything that's melty.
Stove-Top Macaroni and Cheese vs. Baked
This is a celebration of stove-top macaroni and cheese so this means no bread crumbs! It takes quicker to cook because it doesn't require a second round of baking.
And if you want one more, leftovers recipe, put some shredded turkey in these cornbread chicken and dumplings. You won't regret it!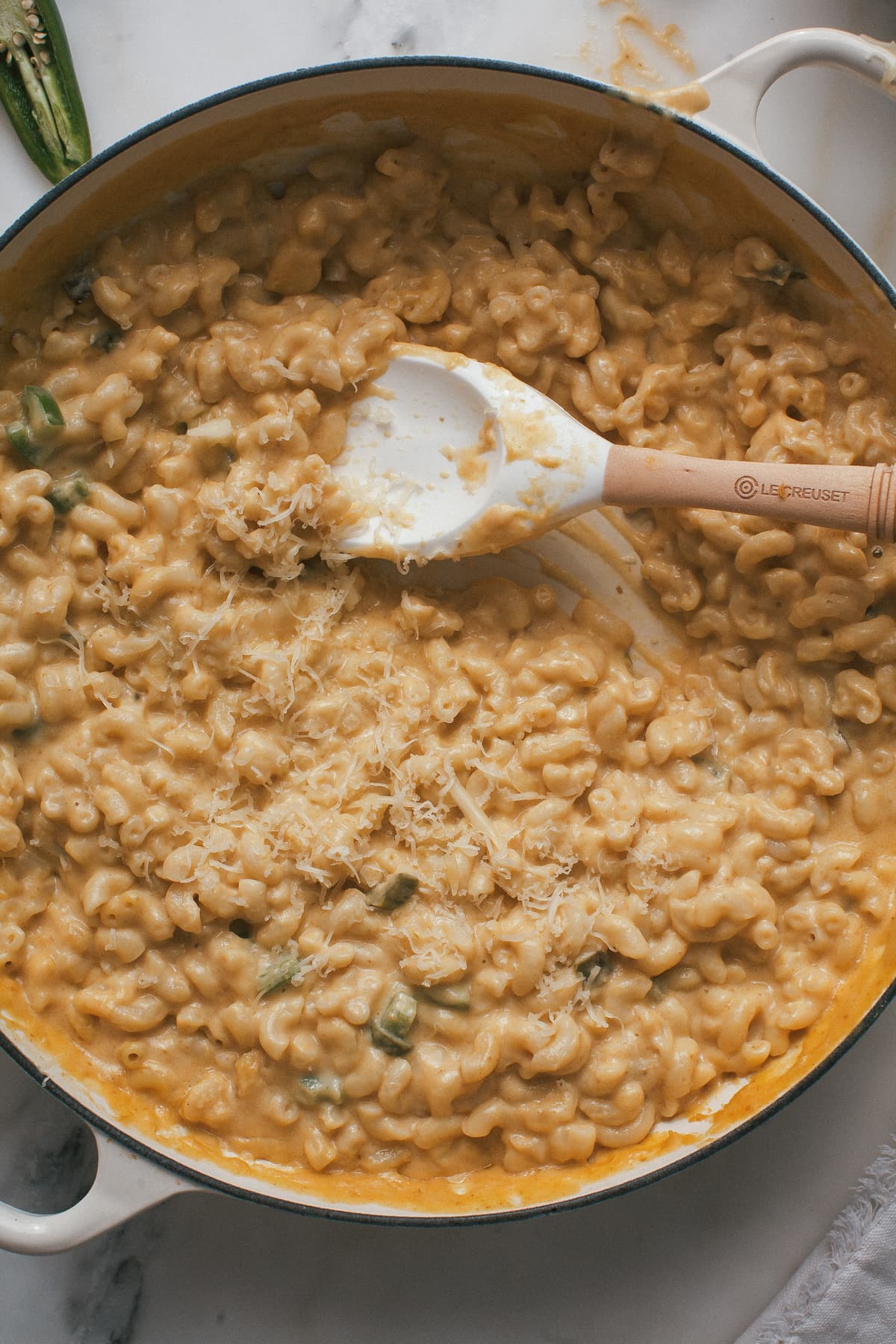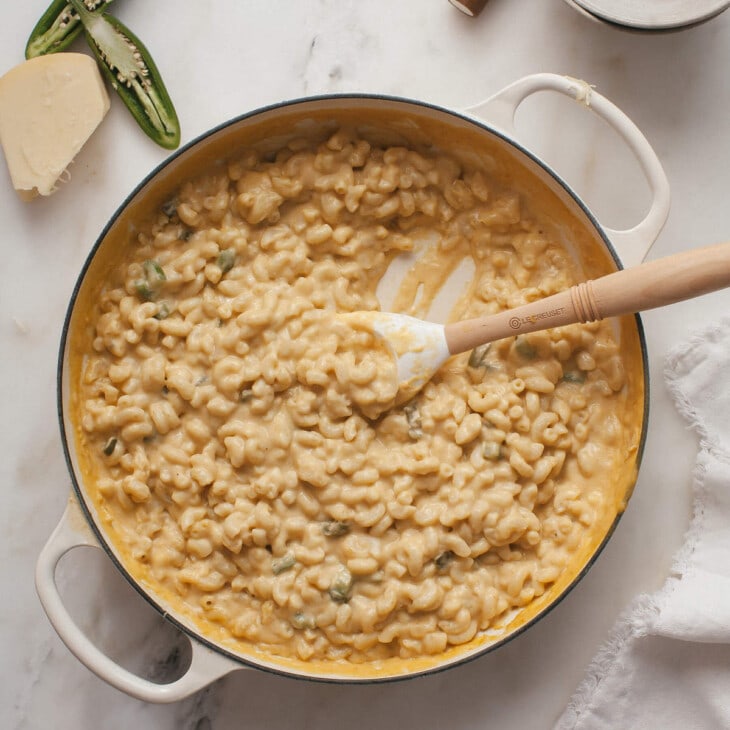 Print Recipe
Pumpkin Raclette Macaroni and Cheese
Creamy Pumpkin Raclette Stove-Top Macaroni and Cheese with Jalapeños is a delicious addition to any fall table.
Ingredients
1

pound

uncooked elbow macaroni

2 to 3

jalapeños

deseeded and diced

5

tablespoons

unsalted butter

5

tablespoons

all-purpose flour

2 1/2

+ 1/2 cup whole milk

divided

1

cup

pure pumpkin puree

4

ounces

raclette cheese

finely grated

4

ounces

Gruyere cheese

finely grated

Kosher salt

to taste
Instructions
Bring a pot of salted water to a boil. Pour in the macaroni and cook until al dente, about 5 to 6 minutes, or as directed per the instructions on the package of pasta.

To a medium saucepan set over medium-low heat, add the jalapeños, butter and flour. Cook the roux, until the butter melts and a paste forms. Whisk in the 2 1/2 cups of milk and bring the sauce to a very slight boil, whisking the entire time, and cook for about 5 to 6 minutes. Turn the heat off and allow the milk mixture to cool for about 3 minutes. Stir in the pumpkin and cheeses. If it's a bit too thick, you can add a 1/4 cup to 1/2 cup milk. Give it a taste and add salt to taste; I added about 2 teaspoons of salt.

To the pot, add the macaroni and toss with the cheesy sauce. Give it another taste and adjust the salt to taste (I added a bit more). Serve immediately.
Notes
If you don't have access to raclette cheese, you can substitute with other melty cheeses, such as: 
gruyére 
jarlsberg 
comté
morbier 
Equipment
1 (4-quart) Dutch oven or large skillet
Nutrition
Serving:
6
g
|
Calories:
273
kcal
(14%)