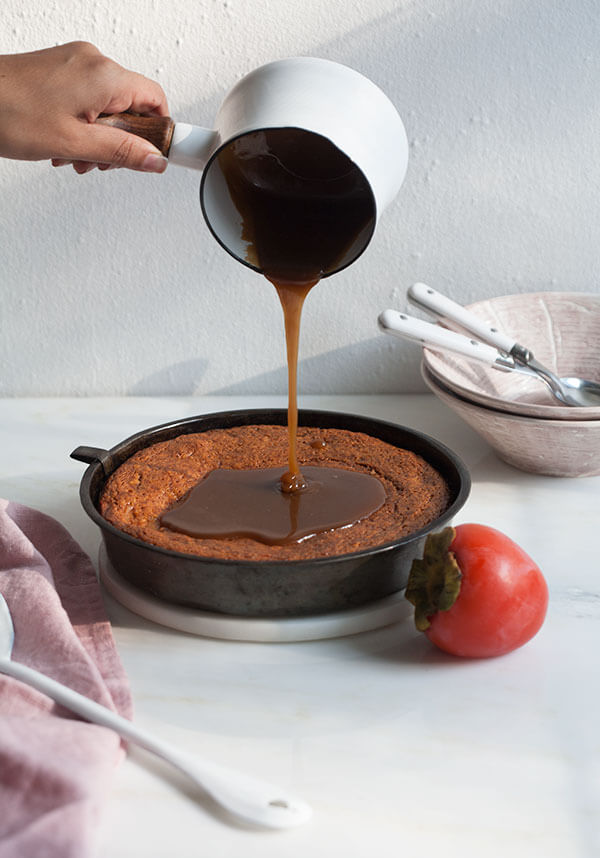 Thanksgiving is all about pie. But if you can believe it, there are people out in the world that dislike pie. I know many of them; they prefer cake or cookies or ice cream. While part of me would like to talk all sorts of trash on them, I sort of get it.
I used to dislike fruit pies and would skip the fruit part all together and just dip the crust in whipped cream. That was before I learned that there are apples in the world that should be baked and others that should never ever be touched with heat. This made the world of difference.
Because these people who hate pie exist, I wanted to give you an alternative. This persimmon pudding is like a spongy cake with hot salty and sticky toffee sauce poured on top. It's warm and soft and salty and sweet and ahhh! I made this a couple times and each time I was like, This might be better than apple pie!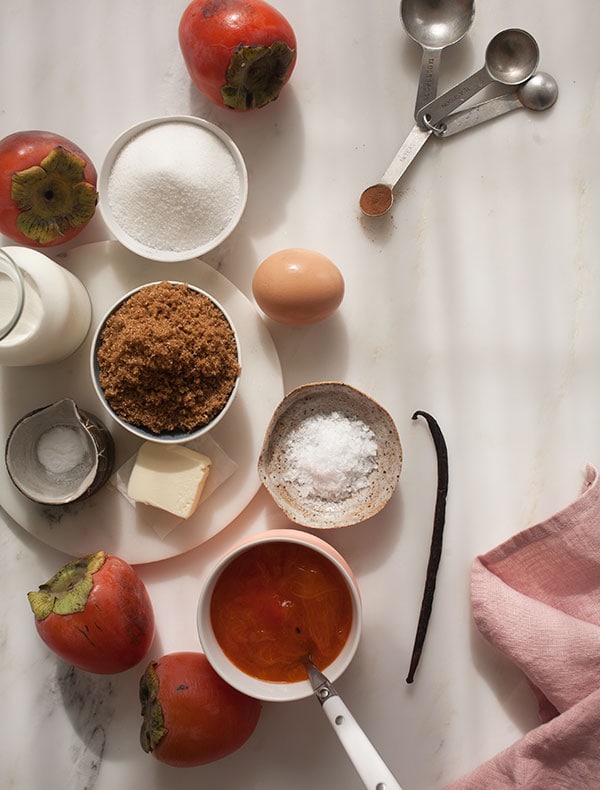 For this recipe, I teamed up with McCormick Gourmet to bring you a spin on a traditional favorite. This spin includes my favorite fall fruit: the hachiya persimmon.
There are two types of persimmons: fuyus and hachiyas. Fuyas are round and stout and eaten best when they're firm.
They're perfect for salads or even in stuffing. Hachiyas should be eaten when they're very, VERY soft. The ones I had were so soft I thought they were going to burst.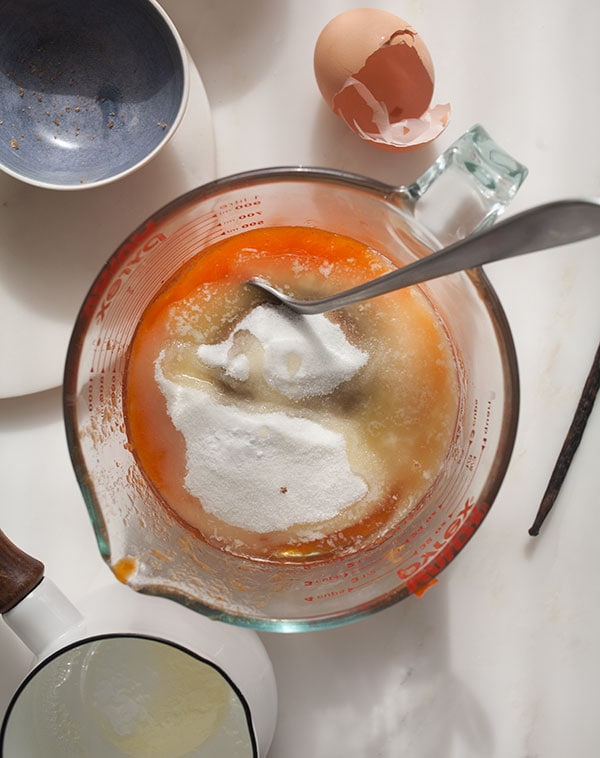 With hachiyas you can make cookies…but really you should make this. I love those cookies, but this is a million times better.
This is a mash-up of the old British dessert, sticky toffee pudding, and the American classic, persimmon pudding. Why these two haven't merged to make one is beyond me; it's a marriage that makes complete sense.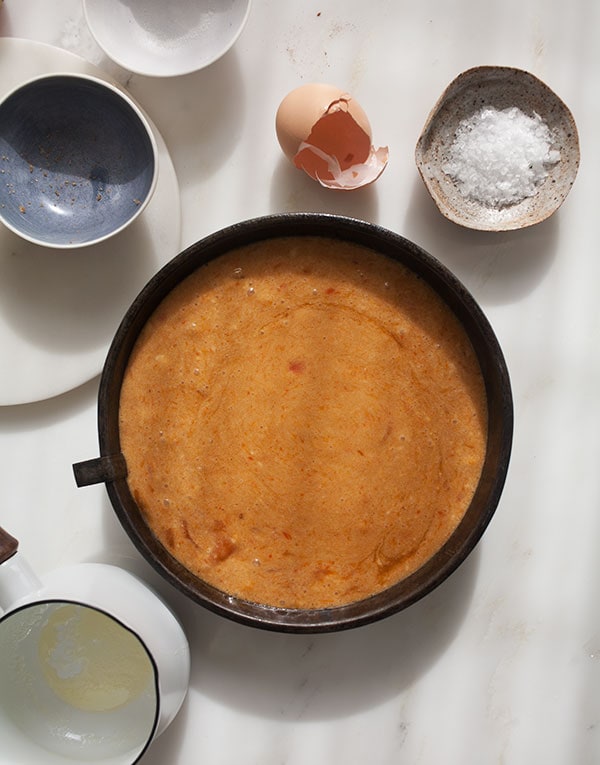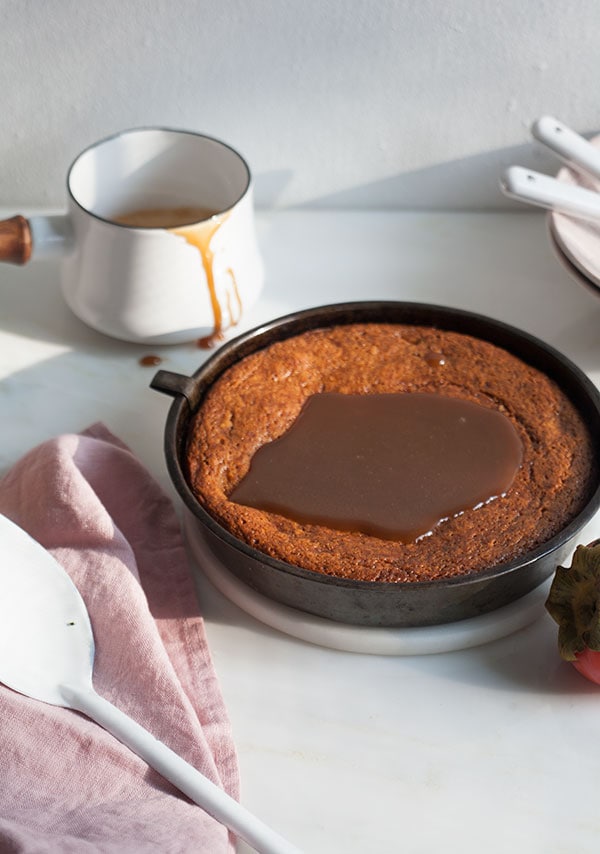 In other news, I'm completely obsessed with Serial and the worst part about Thanksgiving is that they're skipping a week and we'll have to wait for the first Thursday in December to get another episode. I've thought a lot about the case, in sort of obsessive ways, but mostly I'm just hoping we find out what really happens. Are you listening? If you haven't, I am completely jealous you can listen from the beginning. Listening to each episode as you prep Thanksgiving sounds like a day from heaven. DOOO IT!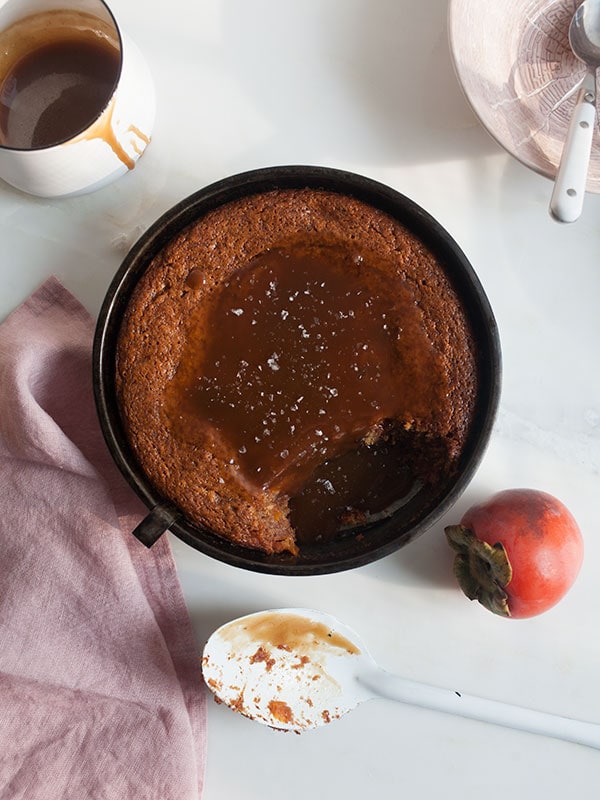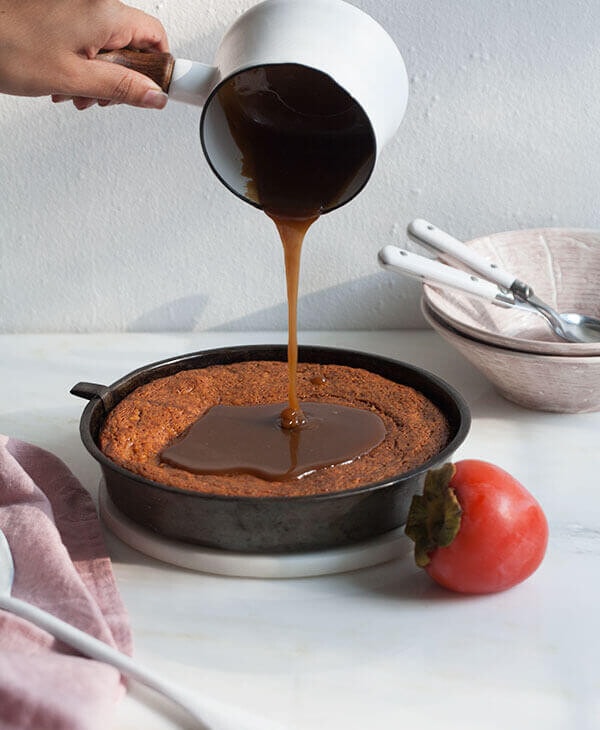 Print Recipe
Sticky Salty Toffee Persimmon Pudding
Ingredients
1

cup

hachiya persimmon pulp

3 very soft and ripe hachiya persimmons

1/4

teaspoon

baking soda

1/2

cup

white granulated sugar

1/2

cup

light or dark brown sugar

2

tablespoons

melted butter

1

large egg

1/2

teaspoon

vanilla extract

1

cups

all-purpose flour

1

teaspoons

baking powder

1/4

teaspoon

McCormick Gourmet Ground Saigon Cinnamon 

1/4

teaspoon

salt

3

tablespoons

unsalted butter

1/3

cup

light or dark brown sugar

1/4

vanilla bean

scraped 

3

tablespoons

heavy cream 

Plus more salt for garnish
Instructions
Preheat the oven to 325 degrees F. In a 4-cup measuring cup, measure out the persimmon pulp; give it a good mash with a fork until it's resembles a smooth(ish) puree. Stir in the baking soda, white granulated sugar, brown sugar, melted butter, egg and vanilla extract

In a medium bowl, whisk together the all-purpose flour, baking powder, cinnamon and salt. Pour the wet ingredients into the dry ingredients and mix until combined, being sure not to over mix the batter. Transfer to a 7-inch round baking dish (alternatively you could use a 8x5 or 9x5-inch loaf pan). Bake in the oven for 45 to 50 minutes, until the center puffs up slightly and the edges pull away from the pan. 

While the pudding is baking, make the toffee sauce. In a small bowl, mix together the vanilla bean caviar and brown sugar together. In a medium saucepan, set over medium low heat, add the vanilla brown sugar and butter. Cook until the butter has melted and the brown sugar begins to caramelize, about 2 to 3 minutes. When the brown sugar begins to bubble, add the heavy cream and stir. Cook for an additional 3 minutes. During this time the toffee sauce will thicken and reduce by a little bit.

When the persimmon pudding comes out of the oven, pour the warm toffee sauce over the pudding and sprinkle with a few generous pinches of sea salt.