Mini Caramel-Chai Spiced Apple Pies
16
Mar 02, 2017, Updated Nov 25, 2020
Disclosure: This post may contain affiliate links, which means I may earn a commission if you click on the link and make a purchase.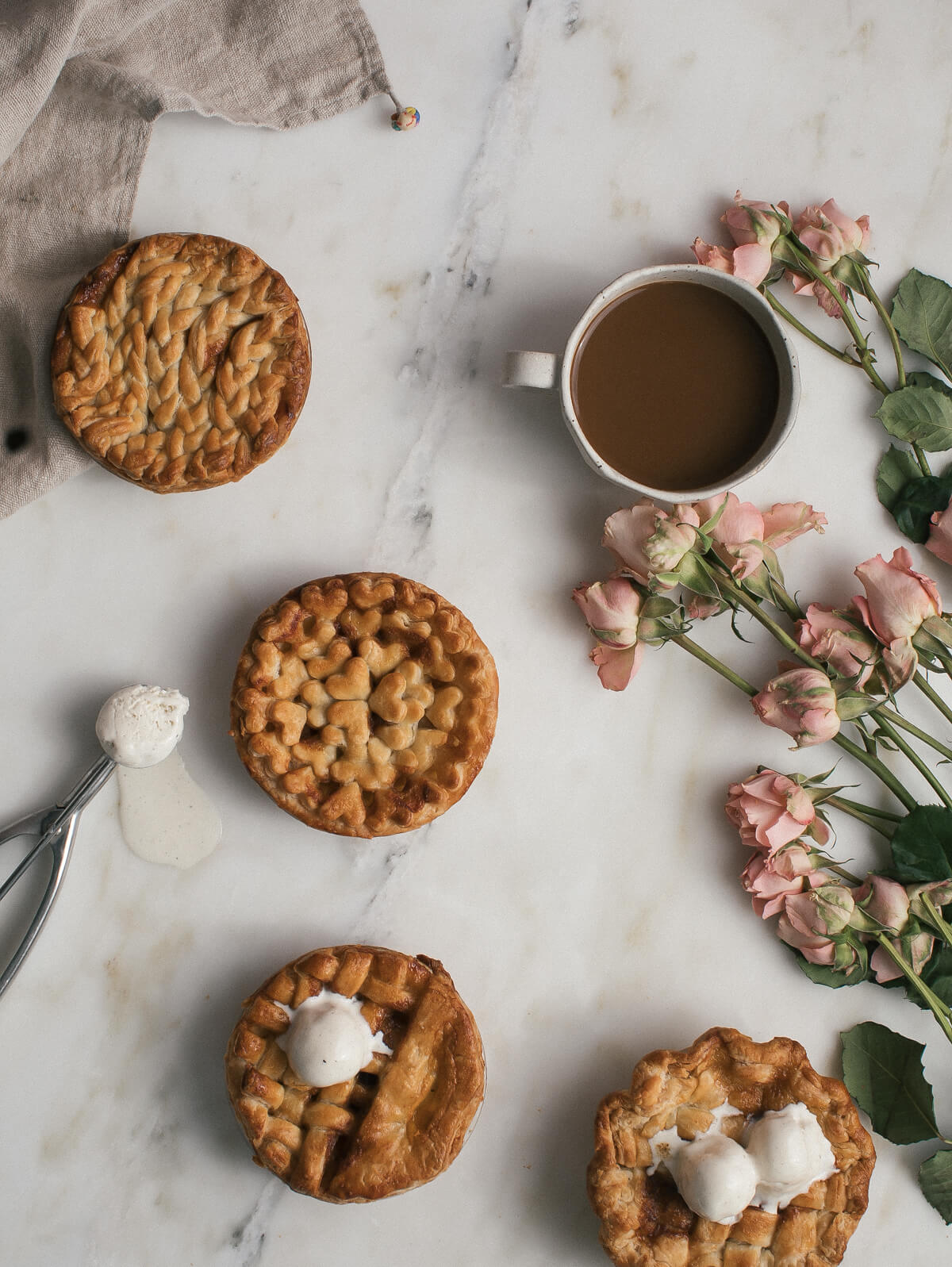 I'm gonna be honest with you…I made these mini pies because I needed to make something that I knew would work.
For the past few weeks, I've had a cake and pan dulce recipe in rotation, recipe testing them whenever I have some time. And OMG they've been so stubborn and annoying. I made the cake four times. And the pan dulce…well, I've lost count at this point.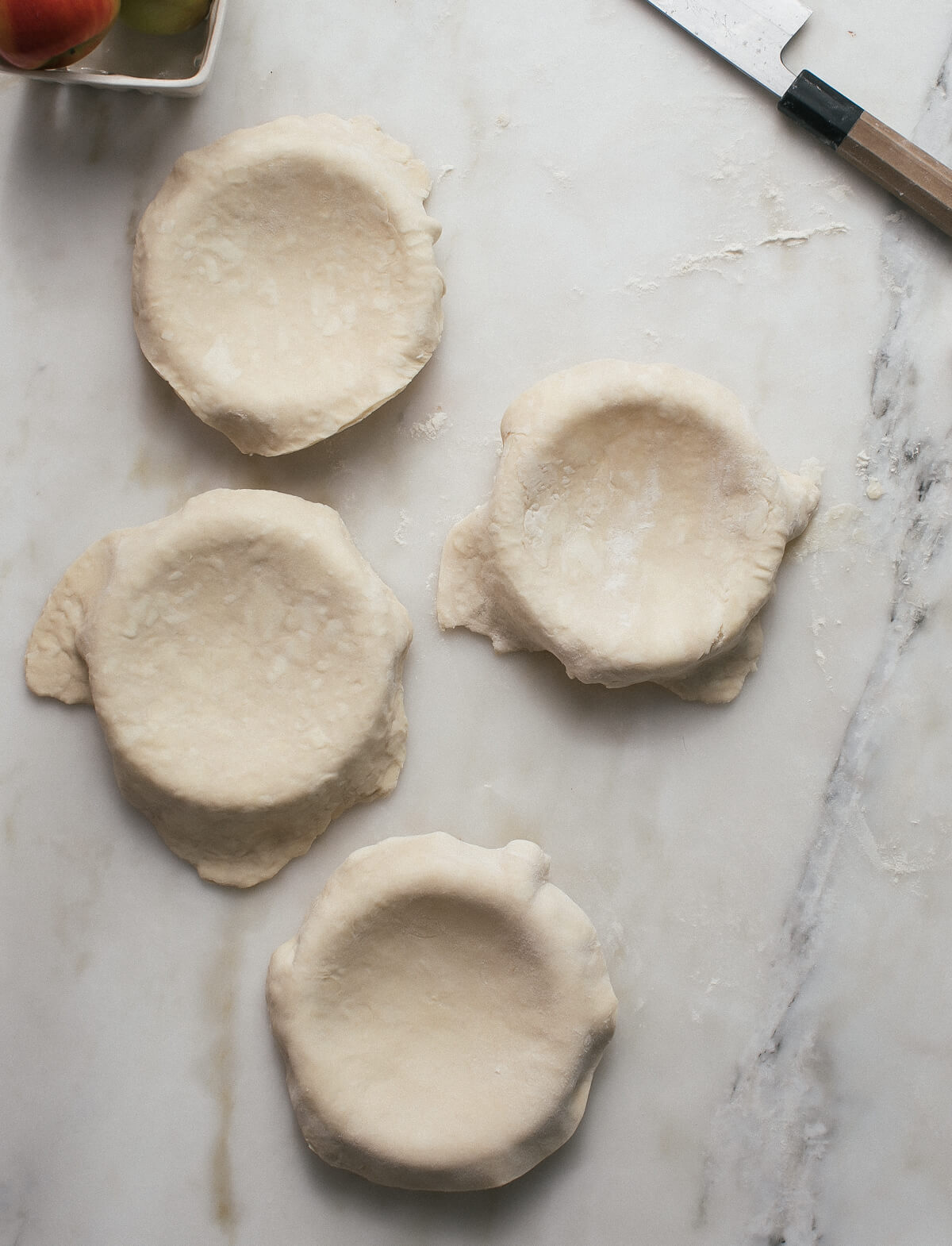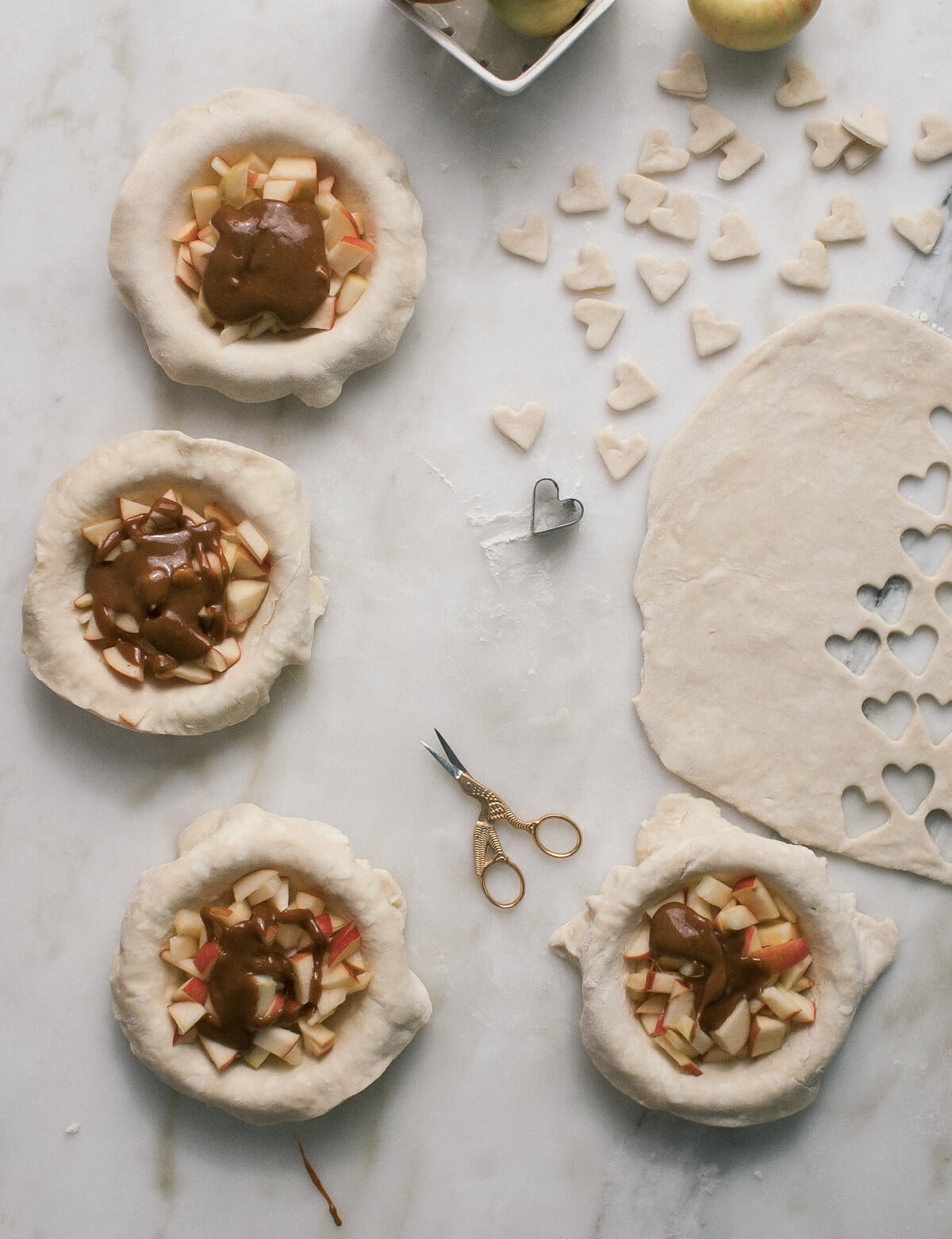 Luckily, the cake is at a great place but the pan dulce…eh, not so much. Especially after I went to Boyle Heights and had a REALLY good one. It made me realize I'm not that close. The top isn't as crunchy, not as crisp as it should be. The foundation is nearly perfect tho so maybe after a weekend of rest and relaxation in Chi-town, I'll be ready to figure out how the hell I'm supposed to make the top shatter-in-your-mouth-amazing.
But these pies…are perfect.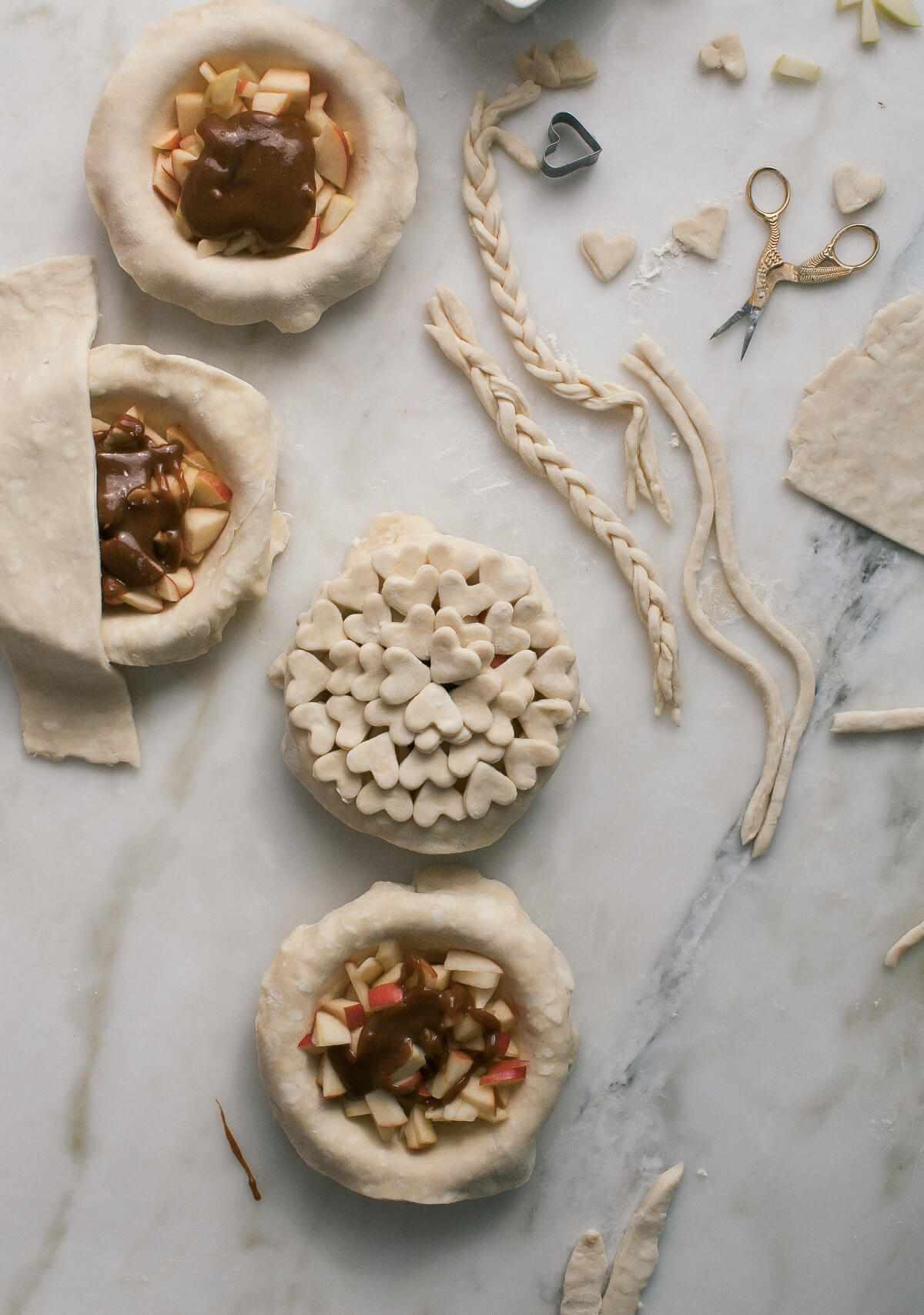 They caramel is chai-spiced. Oh yes. I think chai-spiced everything is delicious but caramel just makes complete sense. The cardamom and cinnamon and cloves all work their magic with apples.
I was sort of shy to use apples in a pie but we're way too early to do rhubarb and strawberries and too late for persimmon or pear. Apples though still look good!
They're my year around pie go-to.
I made them mini because I put these mini pie dishes in my Amazon basket and accidentally didn't remove them when I bought something else. Oh well…so I used them!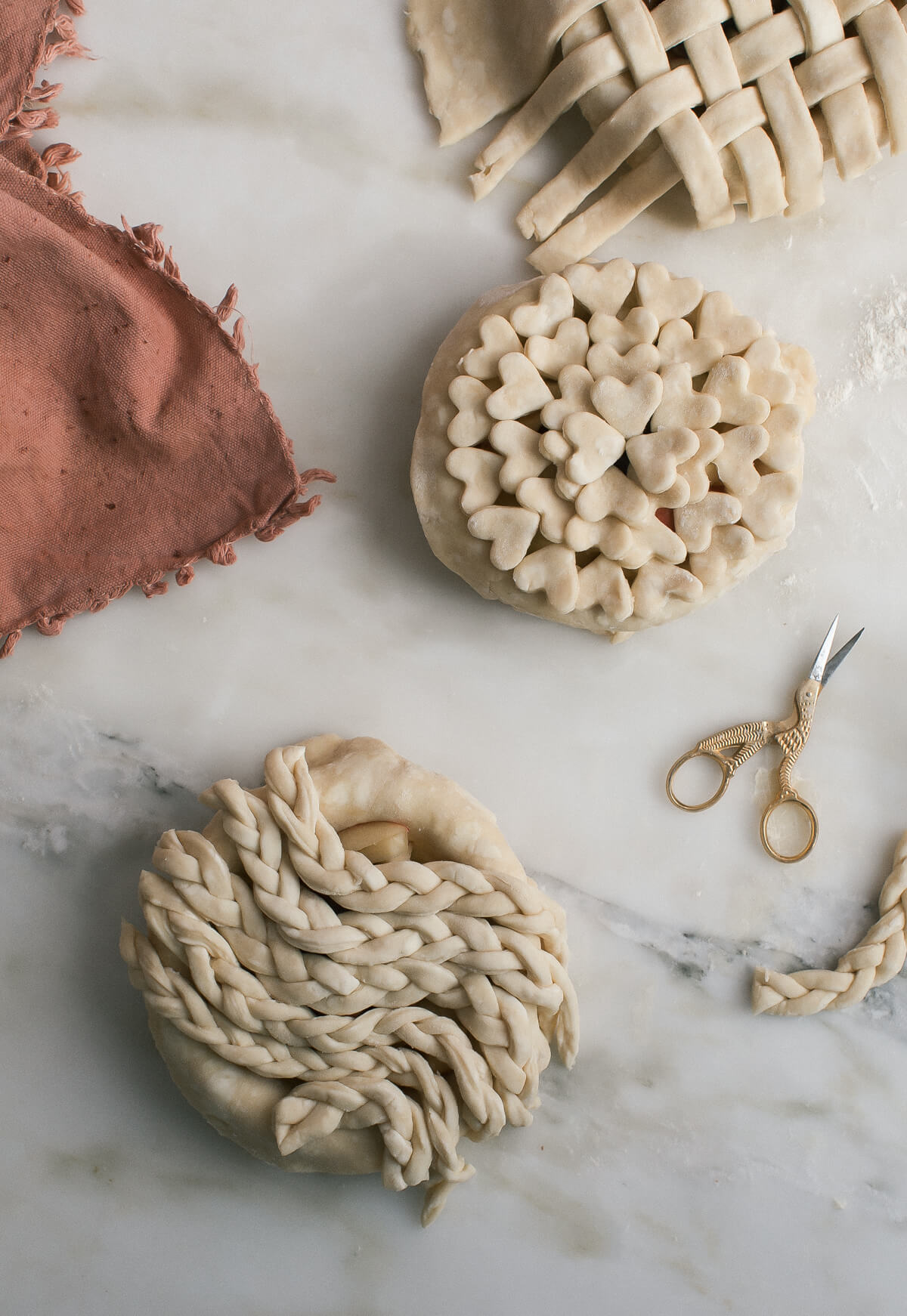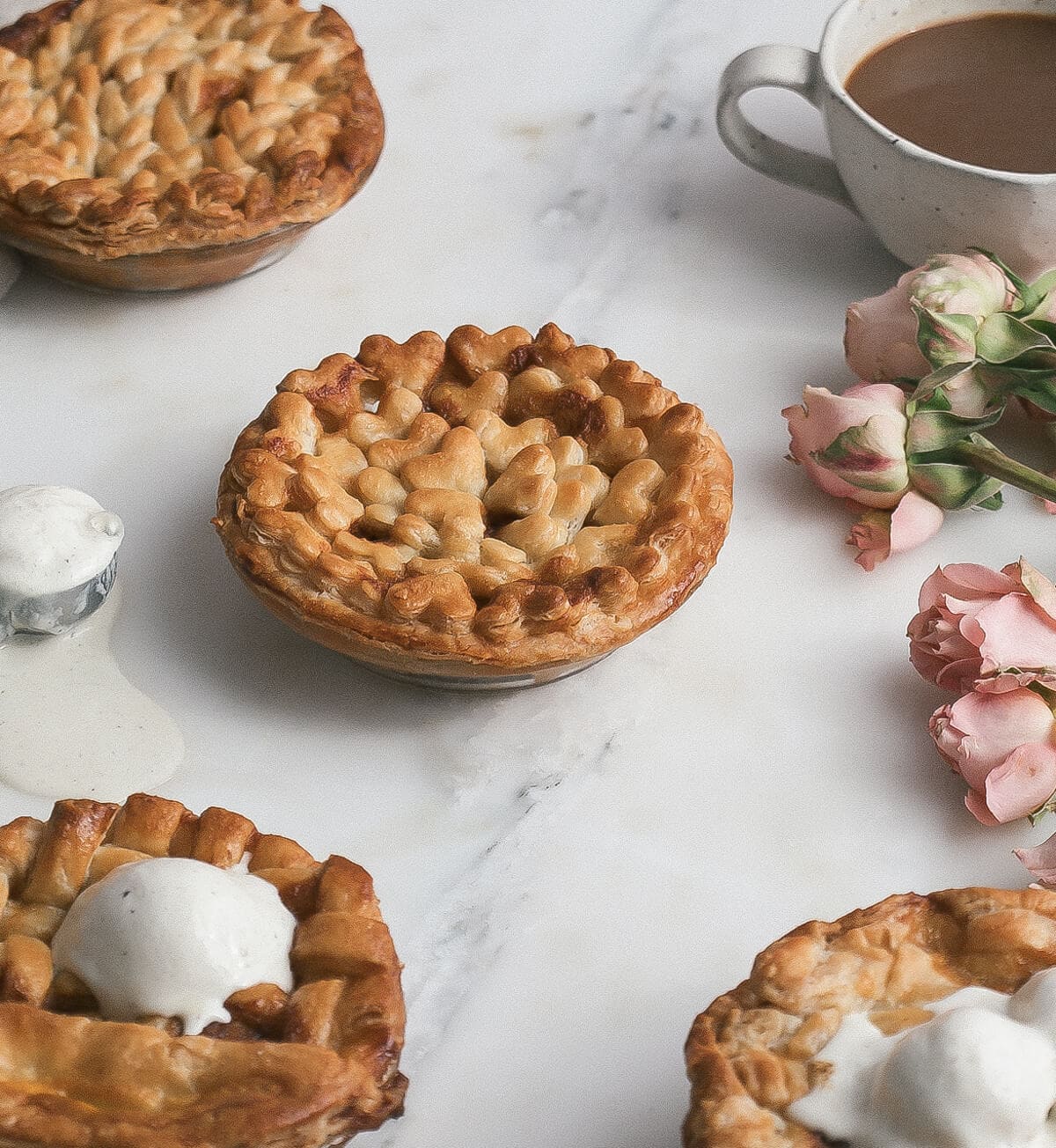 I'm glad they didn't go to complete waste.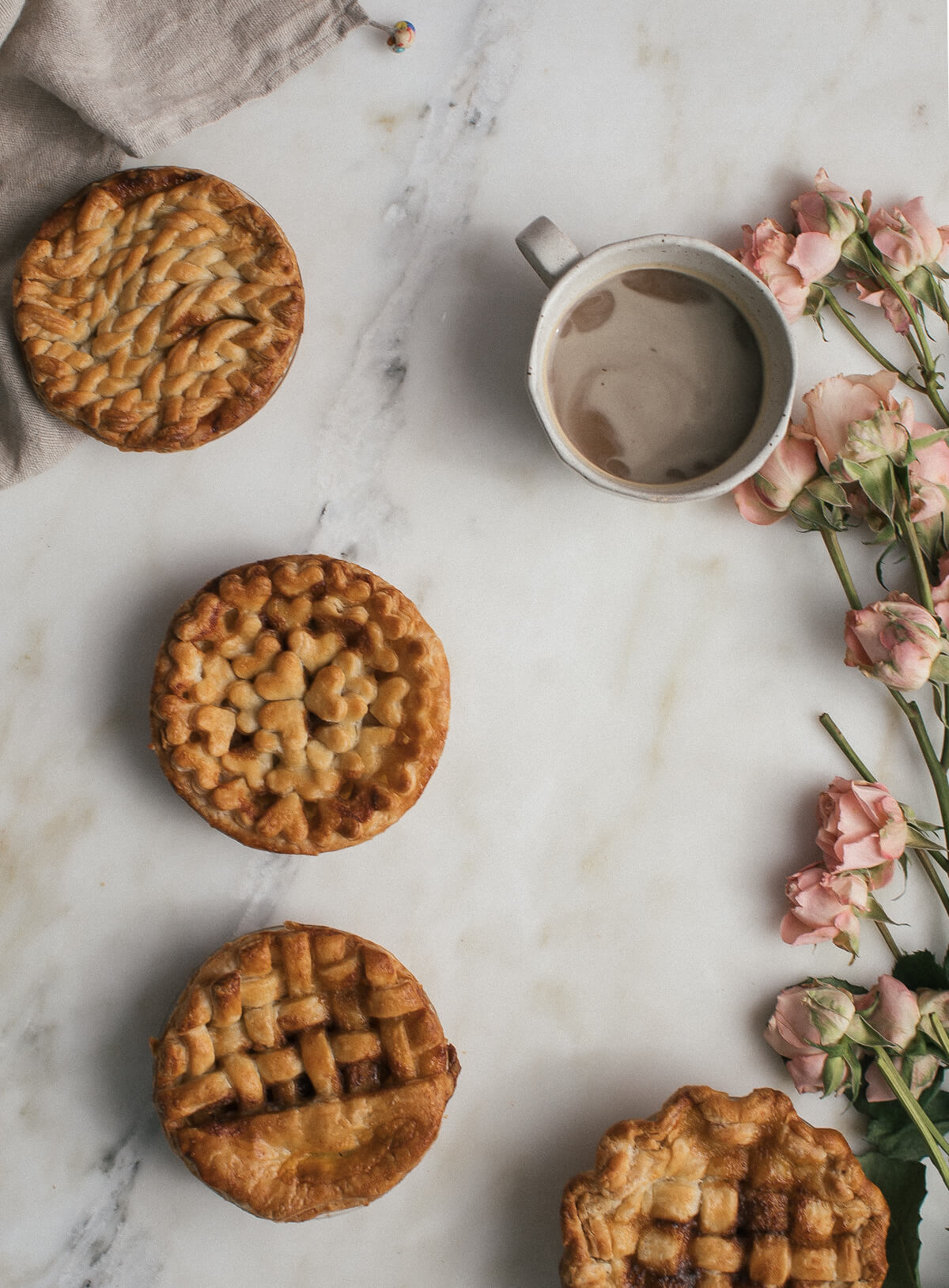 Tips and Tricks
Get those spices in every layer – the apples, the caramel, even a pinch in the crust.
If you're feeling zesty, a bit of orange zest in the apple mix won't hurt.
For mini pies, muffin tins are your friend – they make for perfect single servings.
Let your pies cool before serving to let that chai caramel set a bit – patience pays off.
Serve with a dollop of chai-spiced whipped cream for a double whammy of flavor.
Recipe FAQs
How do I make sure the apples are tender but not mushy?
Slice them thin and don't overcook before they hit the pie crust. They'll soften up nicely in the oven.
Can the chai caramel be used in other recipes?
Absolutely, it's a versatile beast – drizzle it over ice cream, pancakes, or even into your morning coffee.
What if my caramel hardens before I use it?
No stress! Gently reheat it, stirring constantly until it's back to drizzling consistency.
How can I prevent my pie crust from getting soggy?
Blind bake your crust if you've got time, or lay down a sprinkle of breadcrumbs to soak up those apple juices.
Can I make these pies as one large pie instead of individuals?
For sure, just adjust the baking time – bigger pie, longer bake.
Mini Caramel-Chai Spiced Apple Pies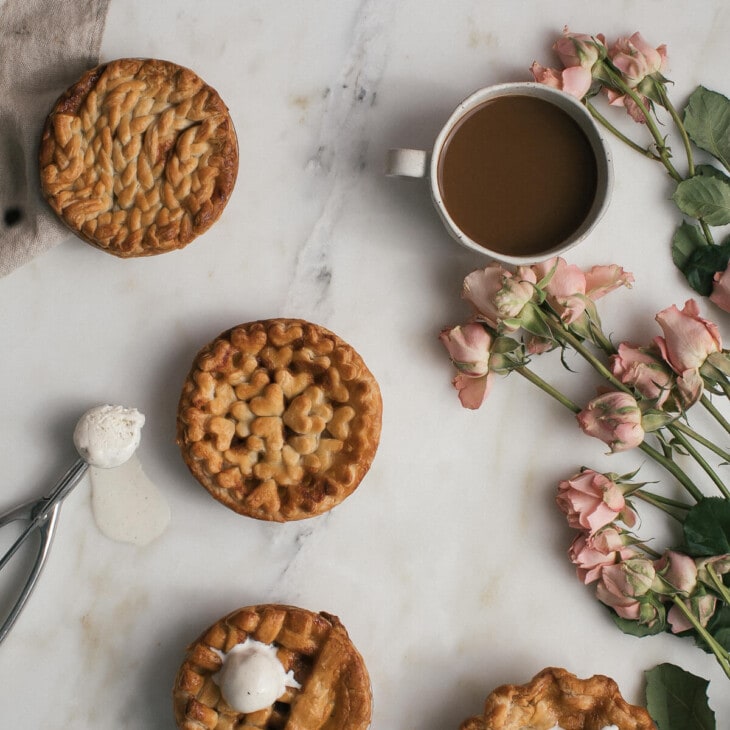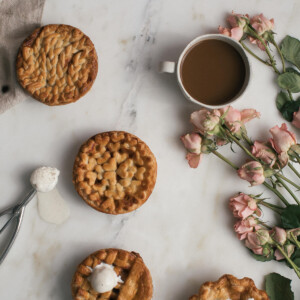 Savor the fusion of flavors in Chai-Caramel Spiced Apple Pies. Click to get the recipe and indulge in autumn's best!
Ingredients
Chai-Spiced Caramel
2

tablespoons

heavy cream

1/2

cup

white granulated sugar

2

tablespoons

unsalted butter

,

at room temperature and cubed

1/8

teaspoon

ground cinnamon

1/8

teaspoon

ground ginger

Pinch

of ground allspice

Pinch

of ground cardamom

Pinch

of ground cloves

Pinch

of salt
Apple Pie Assembly:
4

small Honey Crisp apples

,

cored and diced (the only reason I'm dicing them is because the pies are mini; if you're making a big ol' apple pie just slice them)

Juice from 1/2 lemon

1

double-batch pie crust

,

store-bought or homemade
To Bake:
1

large egg

,

whisked with 1 tablespoon of water
Instructions
Chai-Spiced Caramel:
To make the chai-spiced caramel: In a small saucepan, set over medium heat (or you can use a microwave to do this), warm the heavy cream and then set aside.

In a medium saucepan, set over medium heat, add the sugar. Shake it around a bit until there's an even layer of sugar on the bottom of the saucepan. Cook the sugar, staying close by so you can keep an eye on it, until the edges of the sugar begin to dissolve and turn a light golden brown. At this point, give it a stir until it becomes an even light brown color. Turn off the heat. Pour in the warmed heavy cream (it may bubble up a bit but that's ok) and keep stirring until smooth. Whisk in the spices and the butter, until melted. If at any time you need to, feel free to turn the heat back on. The color should be a light to medium brown. Set the caramel aside. *Note: Right before you use it, you may need to reheat it over medium-low heat. It may seem like it turned into a big caramel candy, but reheating it and whisking it will make it super smooth and pourable again.
Apple Pie Assembly:
In a medium bowl, add the diced apple and lemon juice and toss until evenly coated.

Flour your rolling pin and work surface lightly. Roll out the first disk of pie dough, being sure to rotate it every so often, as to avoid it from sticking. If you're using mini pie tins or pie dishes, flip them over and place them on the pie dough; using a knife, stencil a circle, leaving about a 2 to 3-inch border around the pie dishes (we'll need that extra room for the trim). Cut out the stencils and line your mini pie dishes with the pie crust.

Divide the diced apple mixture amongst the mini pies. Add about two tablespoons of caramel to each mini pie.

Add any top you like. I went for a variety. I used a mini heart cookie cutter to add a heart top. I did a lattice. I did a braid. Get creative!

Transfer the pies to a baking sheet and stick 'em in the freezer to chill for 1 hour.

(Fun fact: You can also keep the pies in the freezer for up to 1 day to 2 days. Bake straight from the freezer!)
To Bake:
When you're ready to bake the pies, preheat the oven to 350 degrees F. Brush the tops of the pies with egg wash. Transfer to the oven to bake for 25 to 35 minutes, or until the tops are golden brown. You may need to rotate the pies at the 15 minute mark (this is if your oven bakes unevenly (mine does!)).

Remove from the oven and serve with vanilla ice cream.
Nutrition
Calories:
477
kcal
|
Carbohydrates:
71
g
|
Protein:
5
g
|
Fat:
21
g
|
Saturated Fat:
9
g
|
Polyunsaturated Fat:
2
g
|
Monounsaturated Fat:
8
g
|
Trans Fat:
0.2
g
|
Cholesterol:
64
mg
|
Sodium:
204
mg
|
Potassium:
263
mg
|
Fiber:
5
g
|
Sugar:
44
g
|
Vitamin A:
444
IU
|
Vitamin C:
8
mg
|
Calcium:
33
mg
|
Iron:
2
mg
Nutrition information is automatically calculated, so should only be used as an approximation.