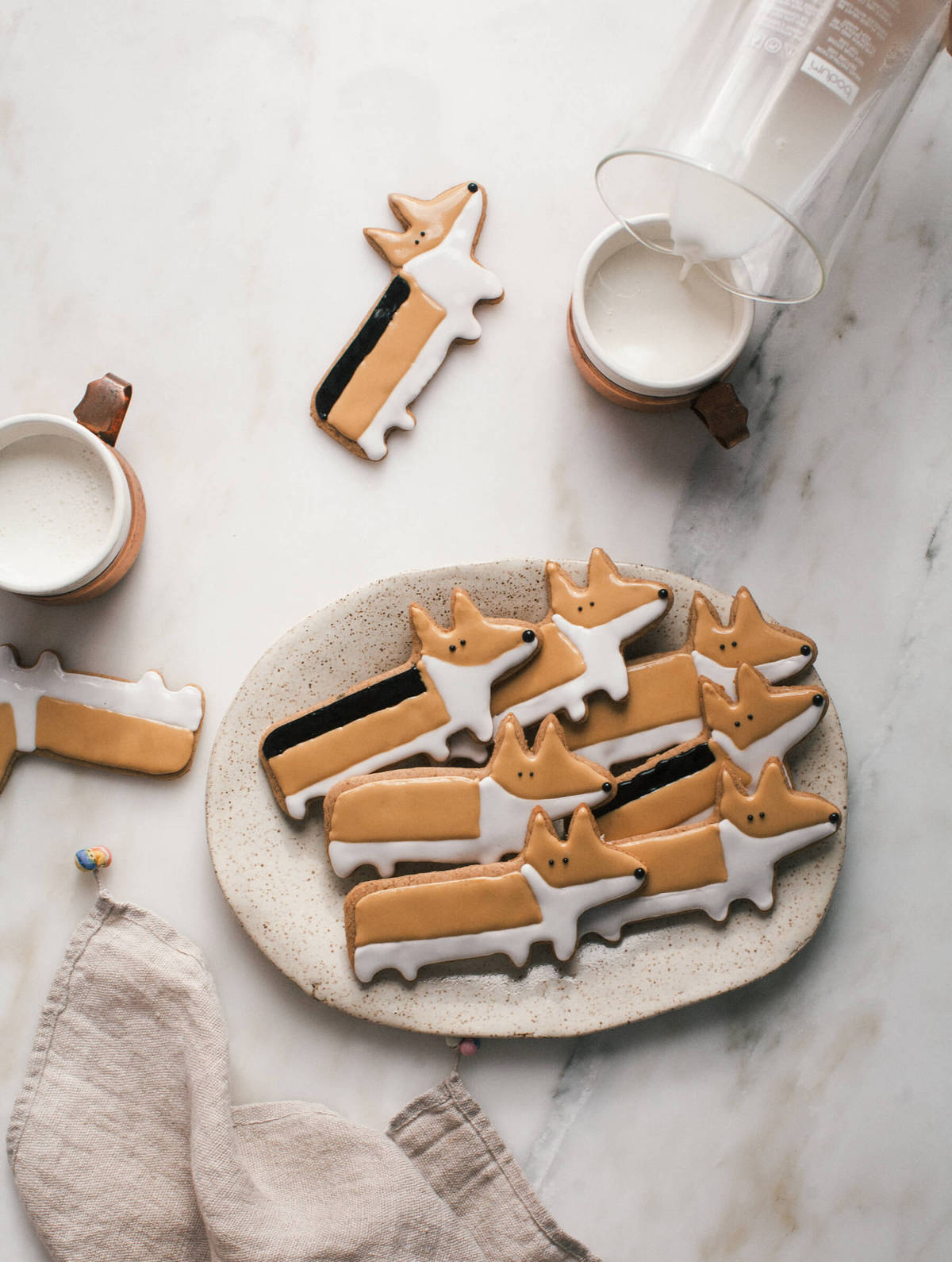 I made Amelia into a cookie! And then ate her. Sounds a little dark, doesn't it?! It's not I promise. She's alive and thriving.
These corgi cookies are inspired by Stephanie's cookies that she made last year. When I first saw them my eyes popped out of my head and immediately turned into heart shapes.
I figured it'd be a good time to share one of my favorite recipes from A Cozy Coloring Cookbook, which are chai sugar cookies. They are so spicy and flavorful and taste like, well, chai-like. In the book they're in the shape of snowmen and Christmas trees and chai gingerbread men. You obviously don't need a corgi cookie cutter to make these but if you do want to buy one, here's where you can do that.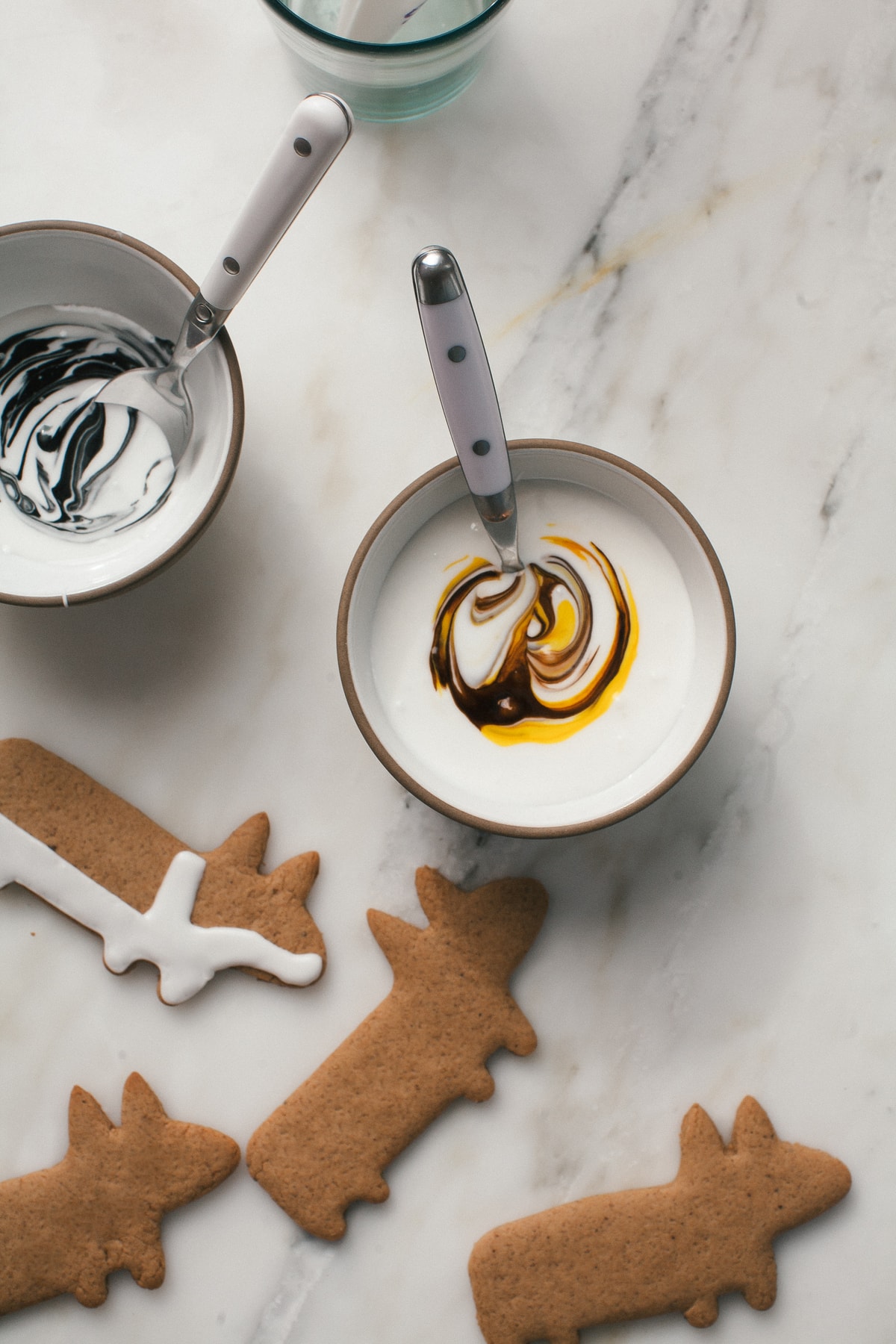 Unlike gingerbread cookies, there's no molasses and instead a bit of cardamom, black pepper and ground ginger and cinnamon and honey. All the good spices!
I don't make sugar cookies a lot but this is the very first time I've ever used meringue powder and can I tell you, I am never going back to using regular egg whites. IT IS SO MUCH EASIER.
There is no separating eggs and trying to find a home for egg yolks. There is no waiting for them to go from frothy to sort of stiff to very stiff. With meringue powder it seriously takes like no time at all for it to come together.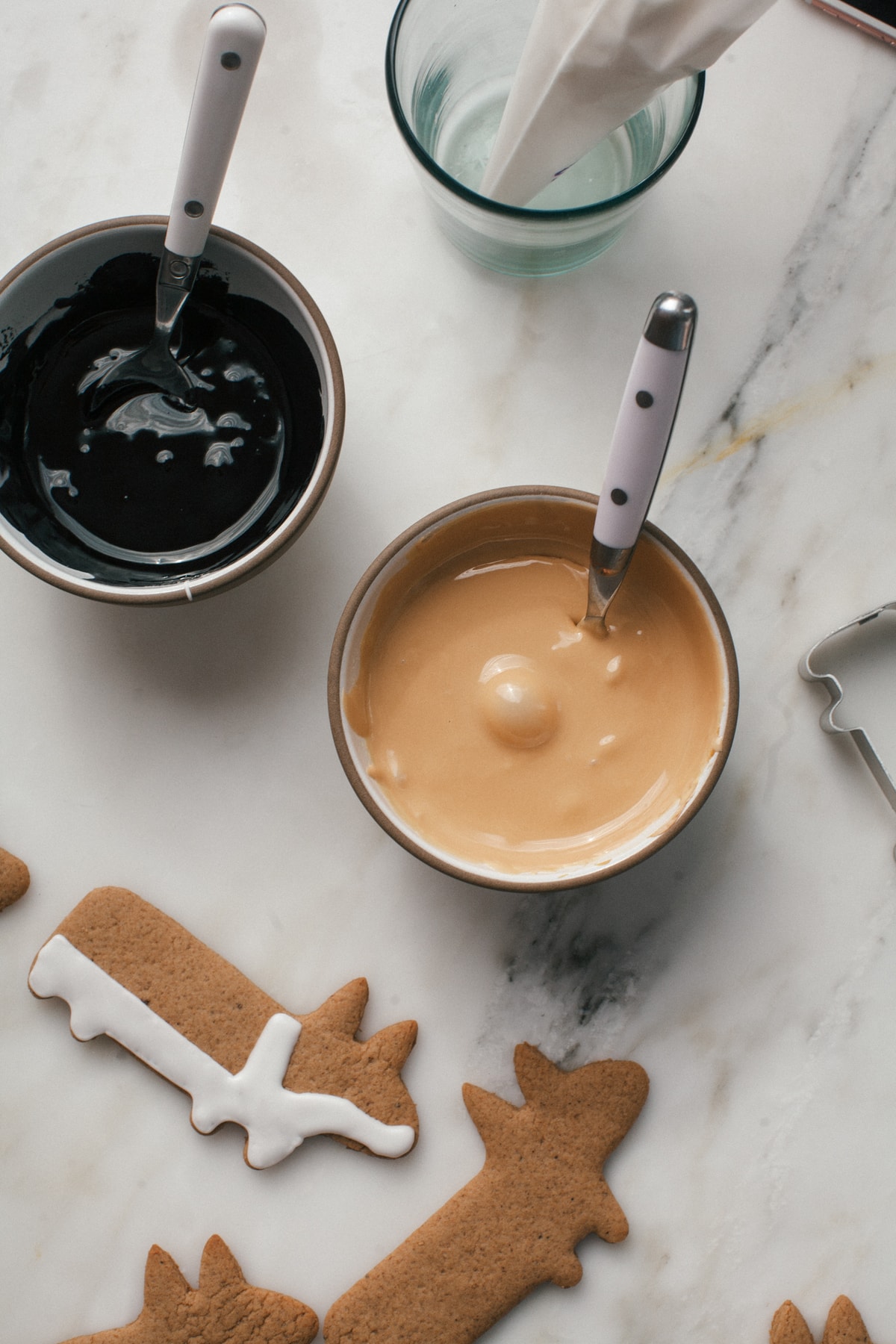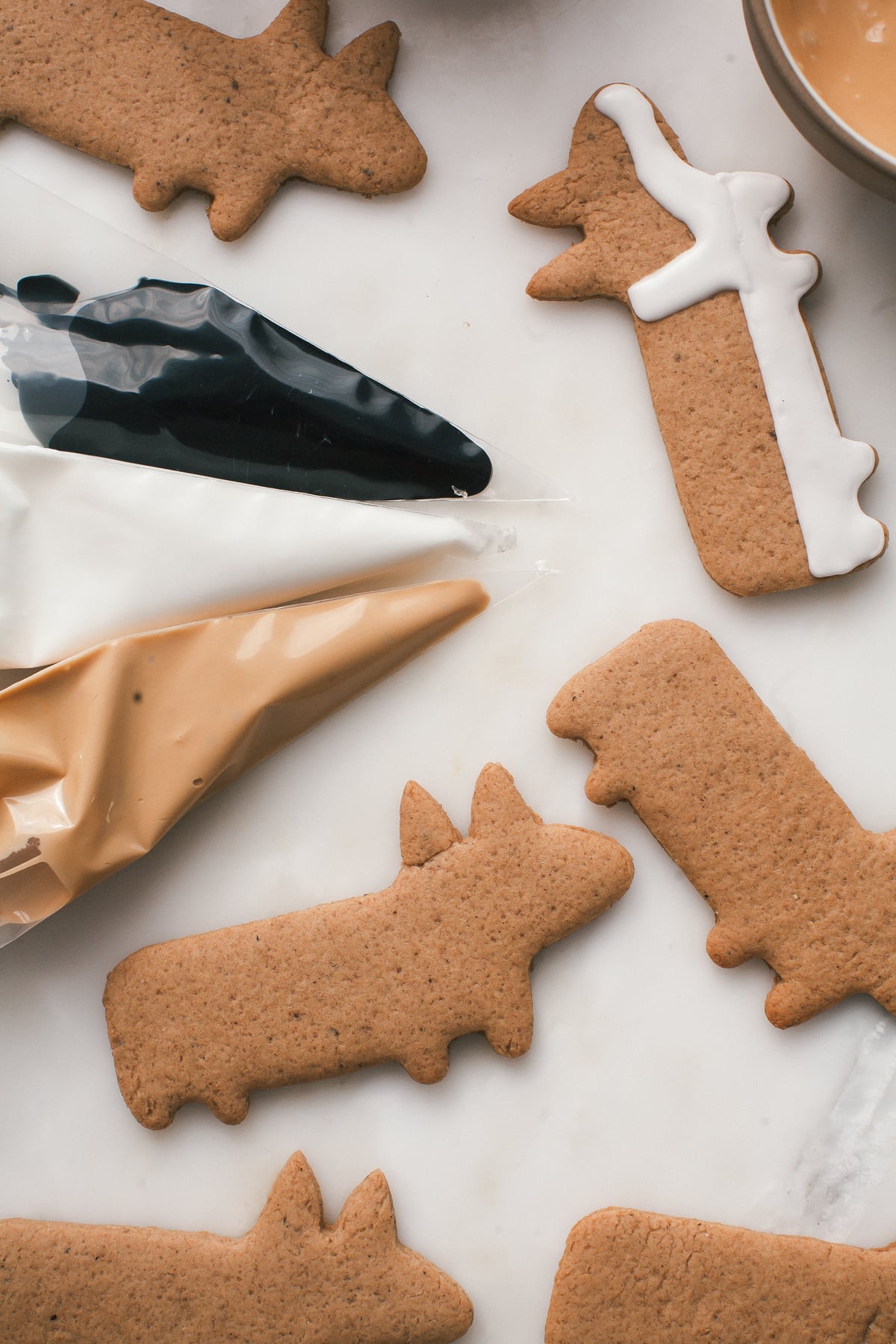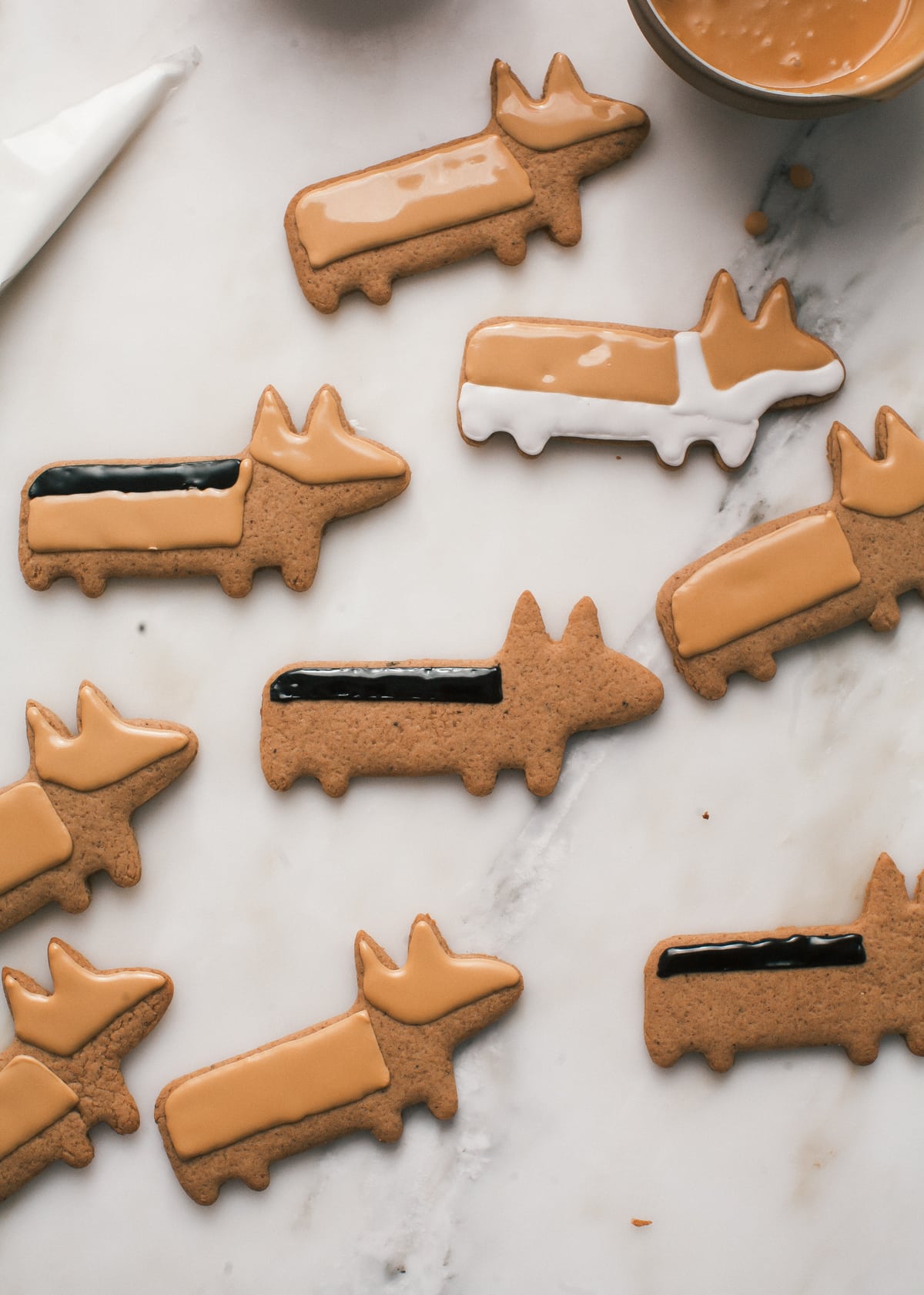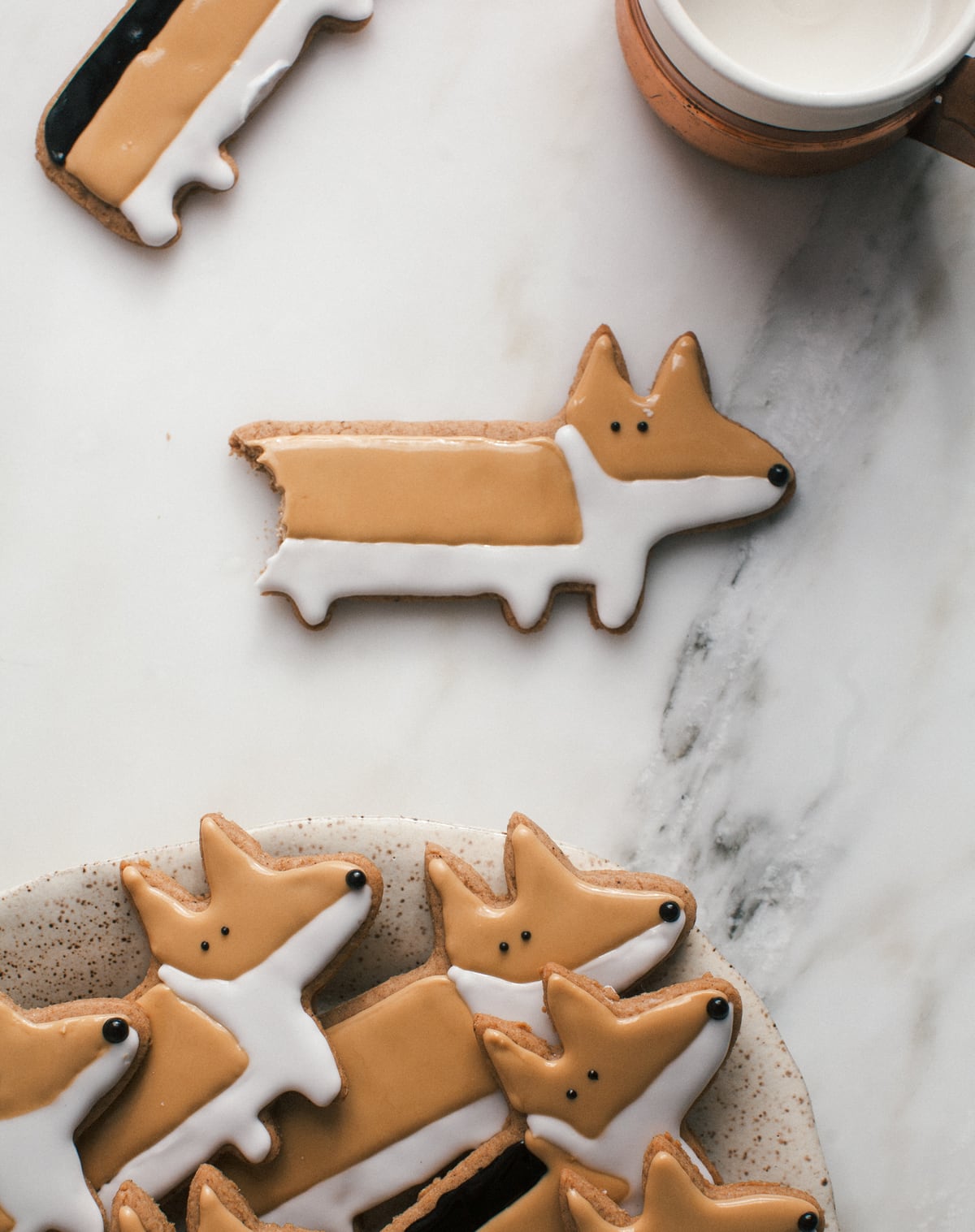 Since Amelia is a tri-colored corgi, I figured I'd add a few of those to the bunch but man is it hard to take frosting from white to black. I definitely recommend getting black gel for that.
I recently went to Michael's and luckily didn't have any crazy experience (did you hear about that? people be wildin'!) and found this Wilton set where you can make all the custom colors. It's pretty cool and it's my new favorite thing.
'Tis the season for cookie-making!
*Also fun tip since I love Michael's, when you go be sure to download their app because it's always filled with coupons. My favorite is the 40% any full-price item. HASHTAG UNSPONSORED. HASHTAG SHOUT OUT MICHAELS.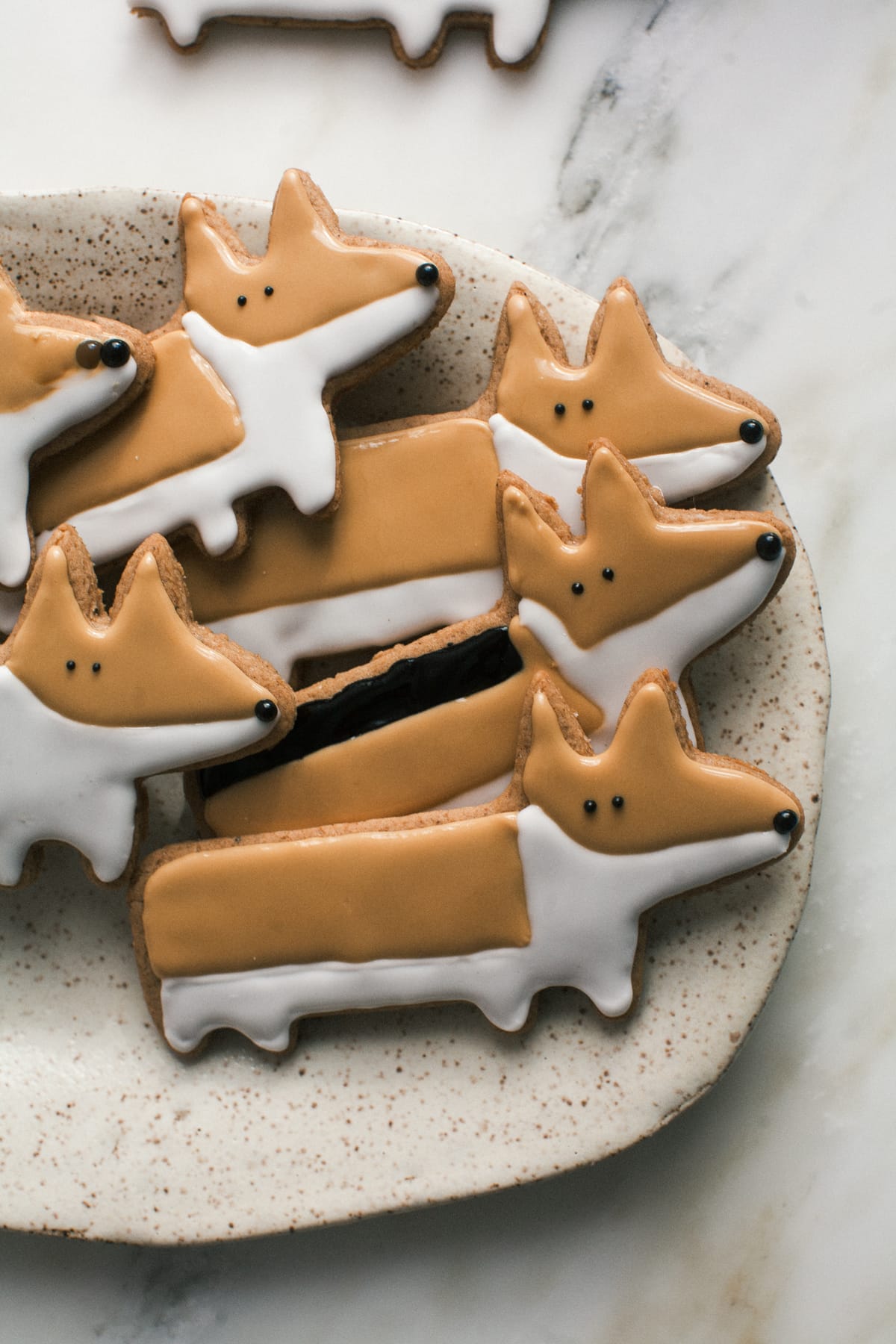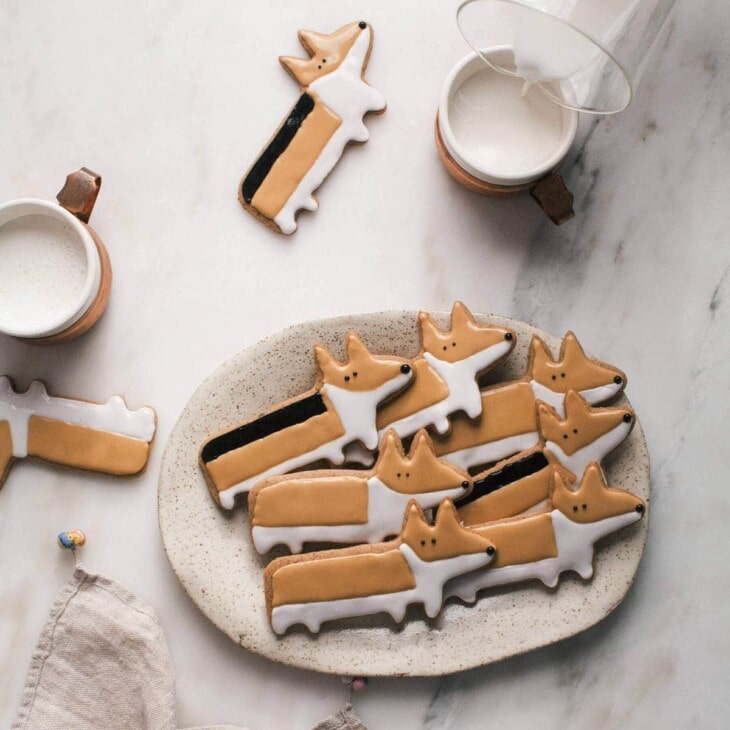 Print Recipe
Corgi Chai Cookies
Serving Size:
to 10 corgi cookies (these cookie cutters are big though so you should get 16 to 18 with smaller cutters)
Ingredients
Chai Cookies:
1 1/2

cups

all-purpose flour

1/4

teaspoon

baking powder

1/4

teaspoon

baking soda

1/4

teaspoon

salt

1

teaspoon

ground ginger

1

teaspoon

ground cinnamon

1/4

teaspoon

ground cardamom

1/4

teaspoon

ground cloves

1/4

teaspoon

ground black pepper

3

tablespoons

unsalted butter

at room temperature

1/3

cup

firmly packed brown sugar

1

large egg yolk

1/4

cup

honey

1

teaspoon

vanilla extract
Royal Icing:
1

pound

about 1/2 bag powdered sugar

1/3

teaspoon

salt

2 1/2

tablespoons

meringue powder

1/2

teaspoon

pure vanilla extract

2

tablespoons

to 4 tablespoons warm water

Brown food dye

Yellow food dye

Black food dye
Instructions
To make the cookies: In a medium bowl, whisk together the flour, baking powder, baking soda, salt, ginger, cinnamon, cloves, and pepper.

In a large bowl, combine the butter and brown sugar. With an electric mixer on high speed, beat the mixture until creamy. Add the egg yolk, honey, and vanilla and mix until combined. Add the flour mixture. Mix on low speed until combined. Knead the dough until it comes together in one large mass. Wrap the dough in plastic wrap and press it down so it's a flat disk; refrigerate for at least 2 hours, or ideally overnight.

Preheat the oven to 350 degrees F. Line a baking sheet with parchment paper. On a lightly floured work surface, roll out the dough until it's 1/2" thick. Stamp out cookies using any cookie cutter you like. Recombine the scraps and repeat the process with the remaining dough. Transfer to the baking sheet and bake for 7 minutes, or until the edges are light golden brown. Allow to cool completely on the baking sheet. Repeat with the remaining cookies.

To make the royal icing: In a large bowl, combine the powdered sugar, salt, meringue powder, vanilla extract and 2 tablespoons warm water. With the whisk attachment of the electric mixer, beat on high for 5 minutes or until thickened and glossy. If it needs to be thinned out, feel free to add an additional tablespoon of water. Add about 1/2 cup of icing to two bowls (you can eyeball this). To make the "corgi brown color," add 2 drops of brown food coloring and 1 of yellow (adjust as needed). To make the "tricolor black," add black food coloring or black food gel until the icing turns black. Transfer all three colors to three different piping bags.

To decorate cookies: line out the tricolor black strip on a few corgis. Allow to dry. Meanwhile, line out the face and long body part with the brown icing and then fill in. Allow to dry and then fill in the chest and feet with the white icing. Allow to dry completely and then eat, enjoy, stack on a plate!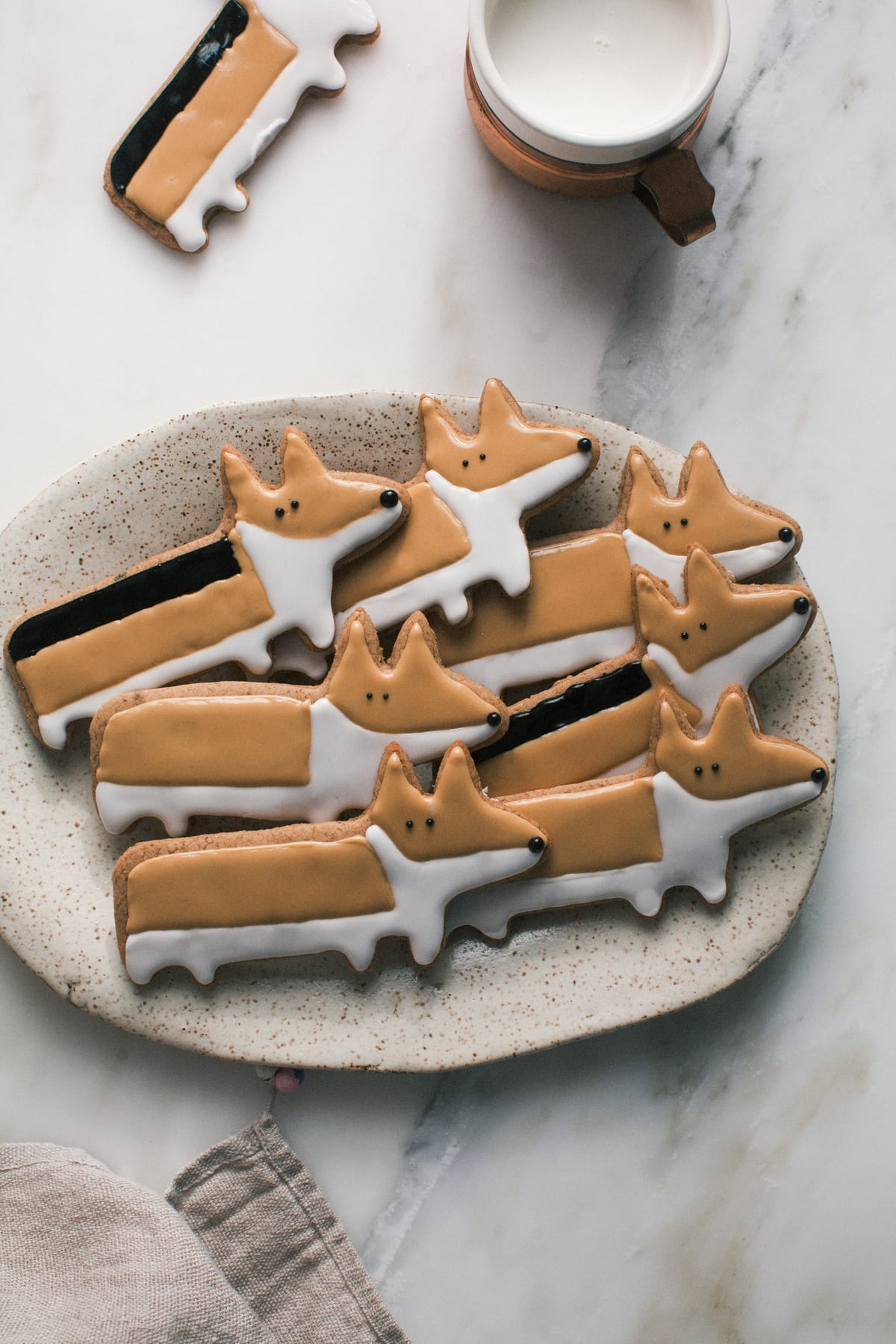 Recipe from A Cozy Coloring Cookbook