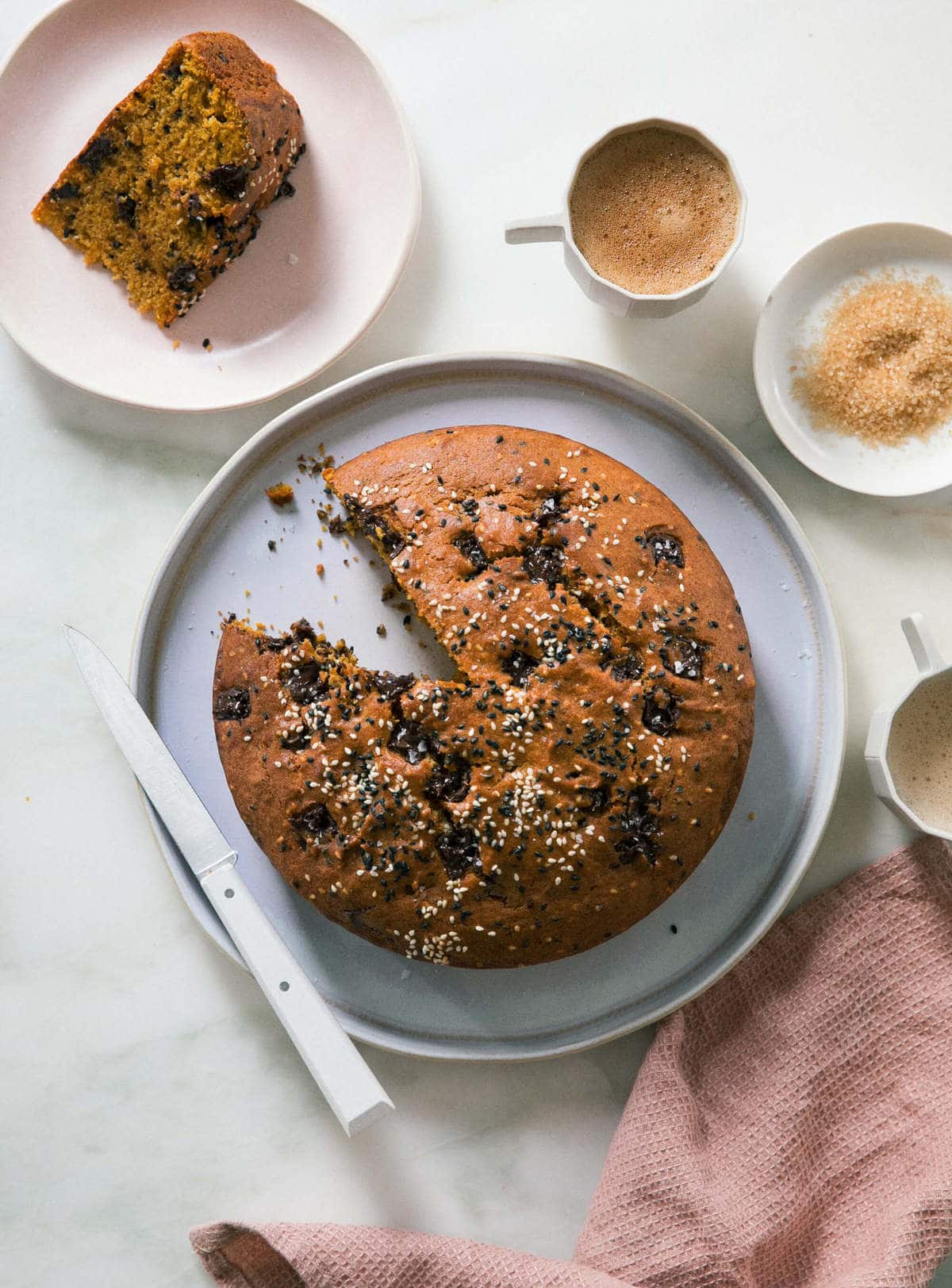 First of all, I'd like to apologize to anyone experiencing a heat wave in the United States. I know how frustrating is when all you want to do is go to Homegoods and buy fall stuff, wear scarves and a hoodie and you're forced to wear sandals and sweat. Despite the wonky weather, I brought fall today in form of this Sesame Pumpkin Chocolate Cake.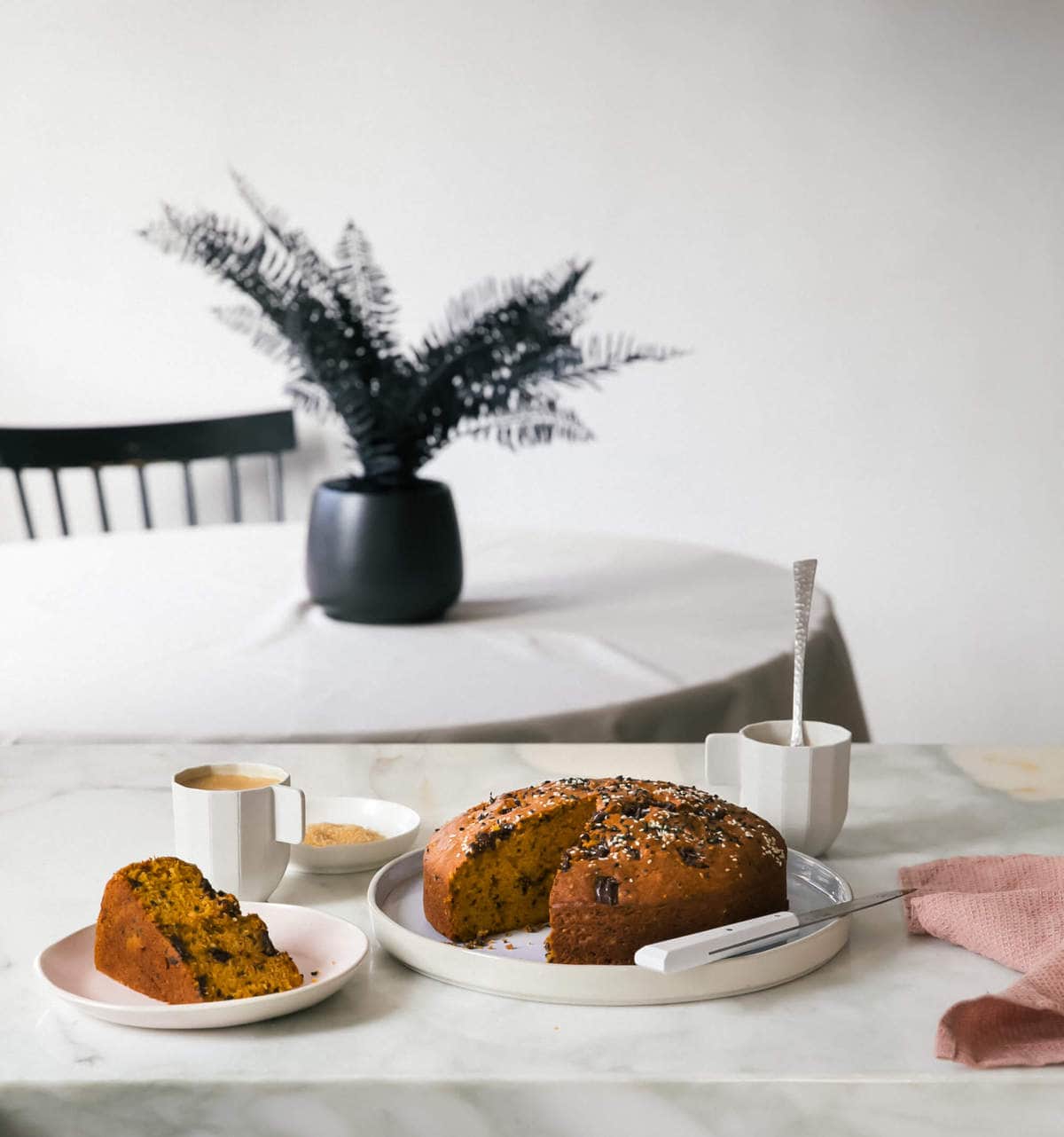 For all intensive purposes, this cake is a snacking cake. You snack on it when you probably should just make yourself a meal. You bake this and then keep it on your counter for as long as possible (it probably won't last long). It's a great way to live!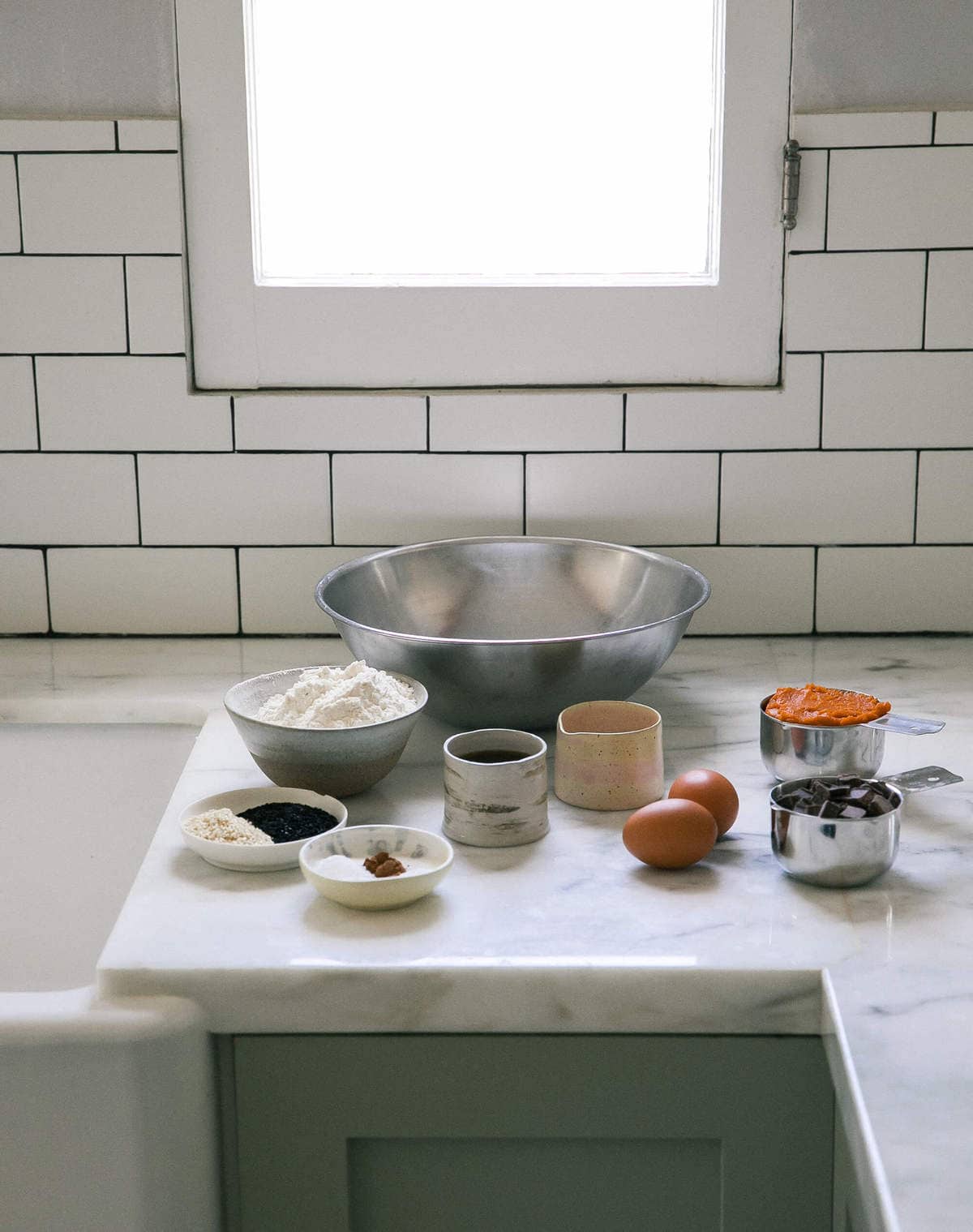 Here's why this Sesame Pumpkin Chocolate Cake amazing. Ready?
-This cake requires one-bowl
-If you want, you can leave out the chocolate. You have freedom.
-The flavor of toasted sesame oil and sesame seeds with pumpkin are surprisingly lovely.
-The chocolate adds a lovely gooey touch to this cake that I am into.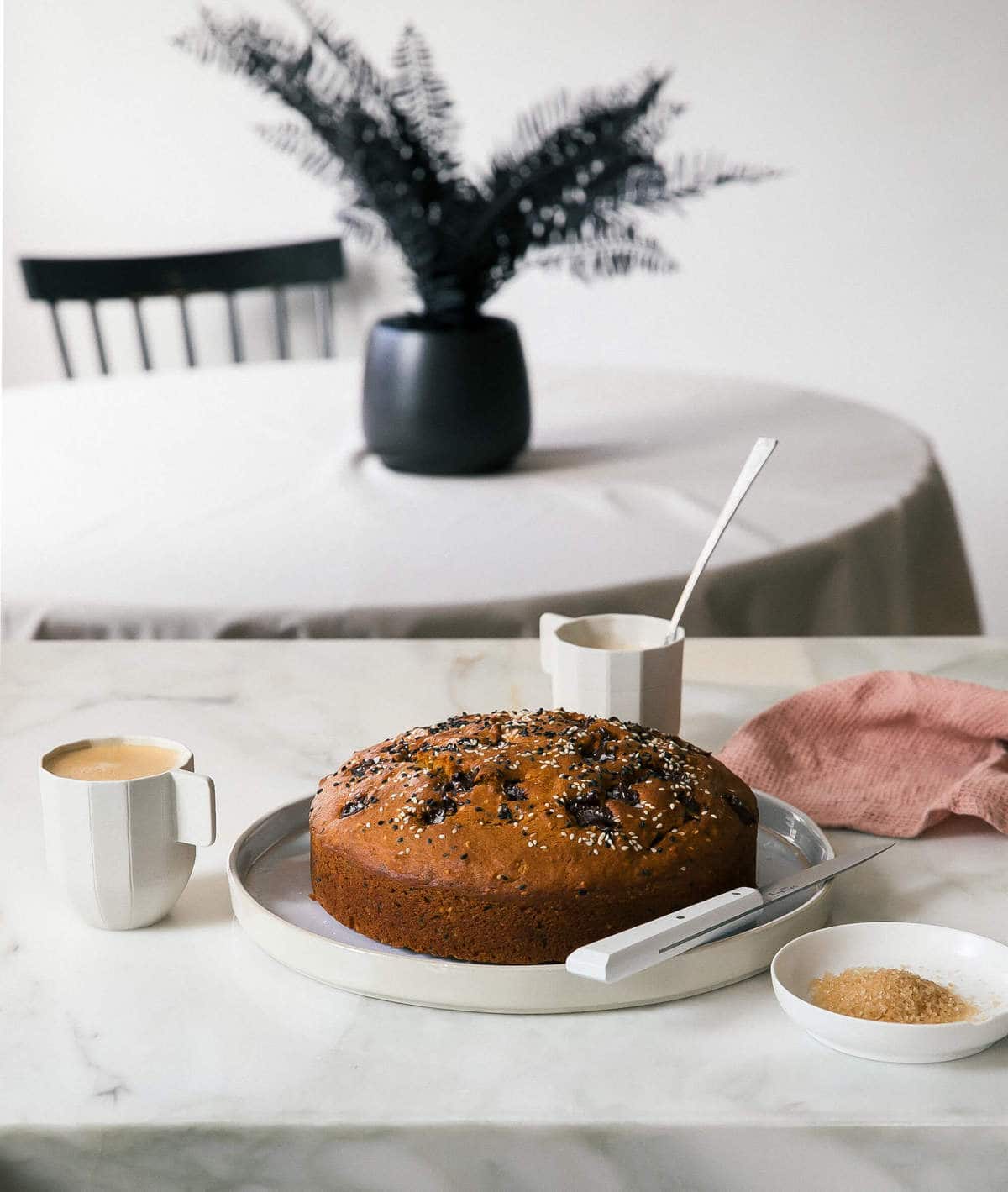 I'm into lazy cakes like this. It really should have a whole new section on this blog. And of course, this cake was inspired by my these sesame chocolate chip cookies that I made last year.. If you haven't made them, dooooo it!
I tested this recipe a few weeks ago and took it over for a friend gathering. I love getting feedback. People were torn between keeping the chocolate or excluding it. Many felt like it muddled things up. At the time the sesame wasn't as prominent as it should've been so I added a bit more.
I kept the chocolate because I liked eating little bits of chocolate throughout. But obviously, feel free to leave it out!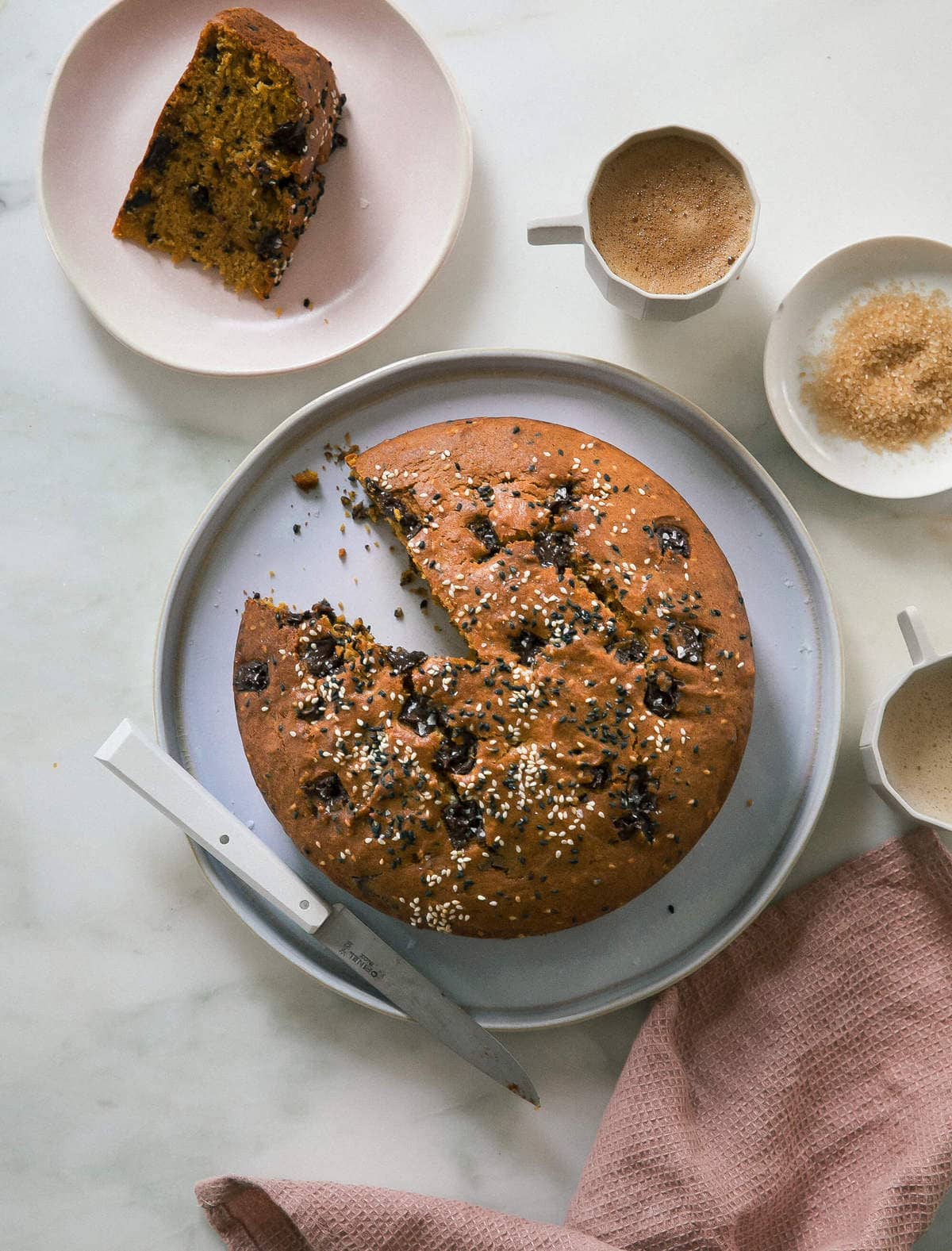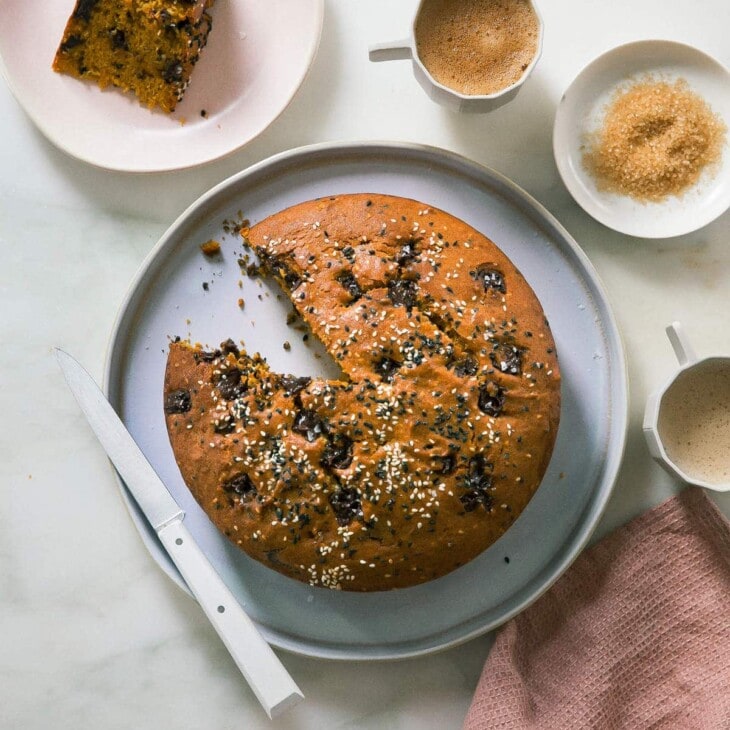 Print Recipe
Sesame Pumpkin Chocolate Cake
Sesame Pumpkin Chocolate Cake has a splendid combo of flavors that taste like fall. This cake is the perfect cake to snack on.
Ingredients
1

cup

pumpkin puree

3

tablespoons

neutral oil (such as avocado oil or grape seed oil) 

1/4

cup

sesame oil 

2

large

eggs

1/4

teaspoon

pumpkin pie spice

1

cup + 2 tablespoons

white granulated sugar

1 1/2

cups

all-purpose flour

2

tablespoons

white sesame seeds

2

tablespoons

black sesame seeds

1

teaspoon

kosher salt

1

teaspoon

baking powder

1/2

teaspoon

baking soda

4

ounces

dark chocolate chunks or chips (about 3/4 of a cup)

reserving a few pieces for the top
Instructions
Preheat the oven to 350 degrees F. Grease and line a 8-inch round baking pan (or you could use a 8x4-inch loaf pan. Alternatively you can also use a 9x5-inch loaf pan (but your loaf will be a bit more stout). 

In a large bowl, whisk together the pumpkin puree, neutral oil, sesame oil, eggs, pumpkin pie spice and sugar. You want it to be well combined so mix it with a whisk or spatula for a good minute or so. Next, add the flour, sesame seeds, black sesame seeds, kosher salt, baking powder and baking soda. Mix once more until mostly combined. Lastly, add most of the chocolate (reserving a few pieces for the topping) and mix until no more speckles of flour appear; being sure NOT to over-mix the batter. 

Transfer the batter to the prepared baking dish and smooth it out into an even layer. Sprinkle the top with a small handful of black sesame seeds and white sesame seeds, along with a few chunks of chocolate. 

Place in the oven to bake for 40 to 45 minutes, until a skewer inserted into the center comes out clean.