Have you ever looked at that list that Google publishes each year, listing out the most Google-d recipes?! It's sort of fascinating and it's really no surprise that banana bread is usually on the list.
People love making banana bread. And it's sort of a duh, of course they do kinda thing because how often have you bought bananas with really good intentions.
You probably wanted to slice them over a bowl of oatmeal, put them in smoothies, eat them with a dollop of almond butter, etc. but then you prob forget about them only to find them brown AF on your counter, wilting away.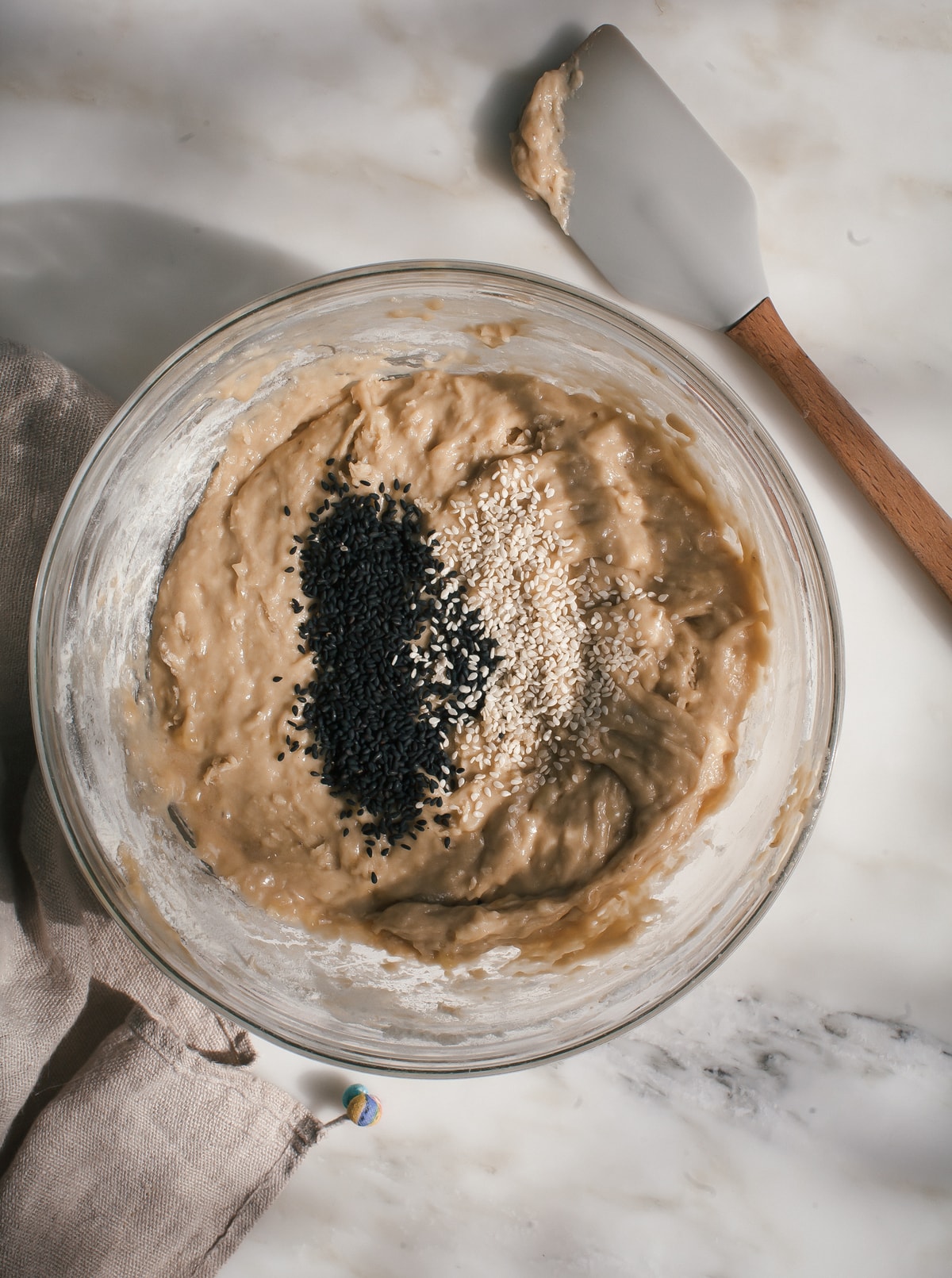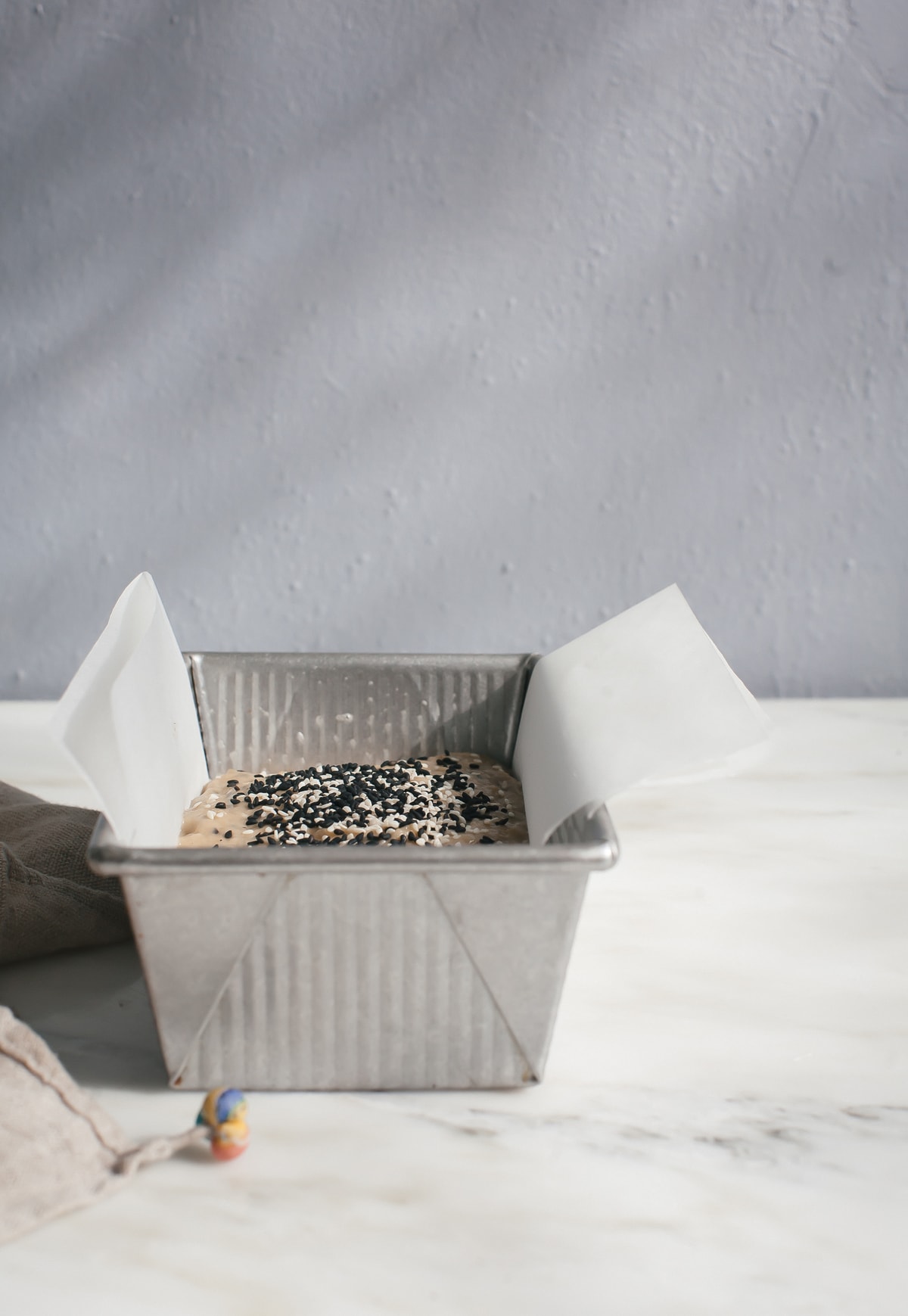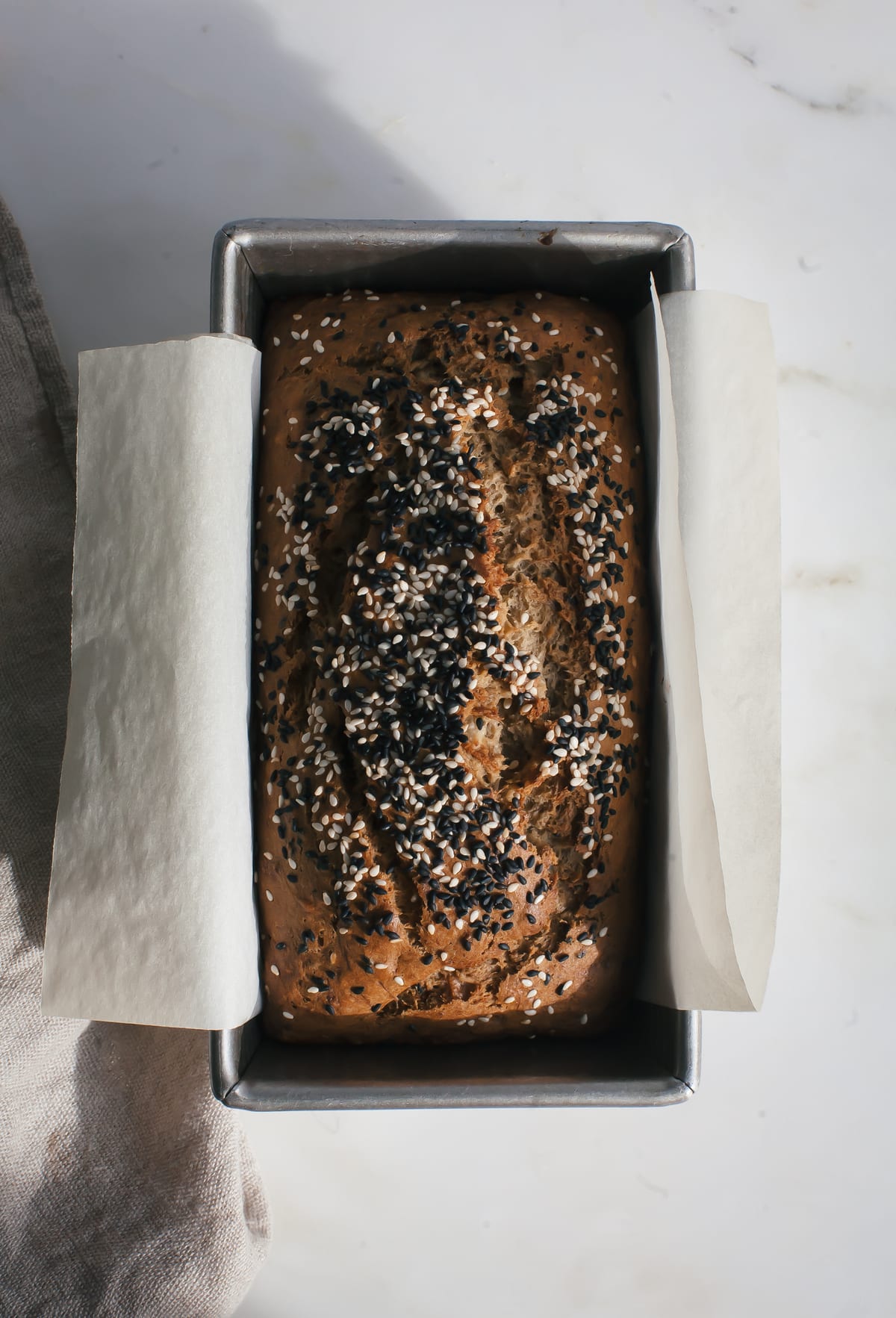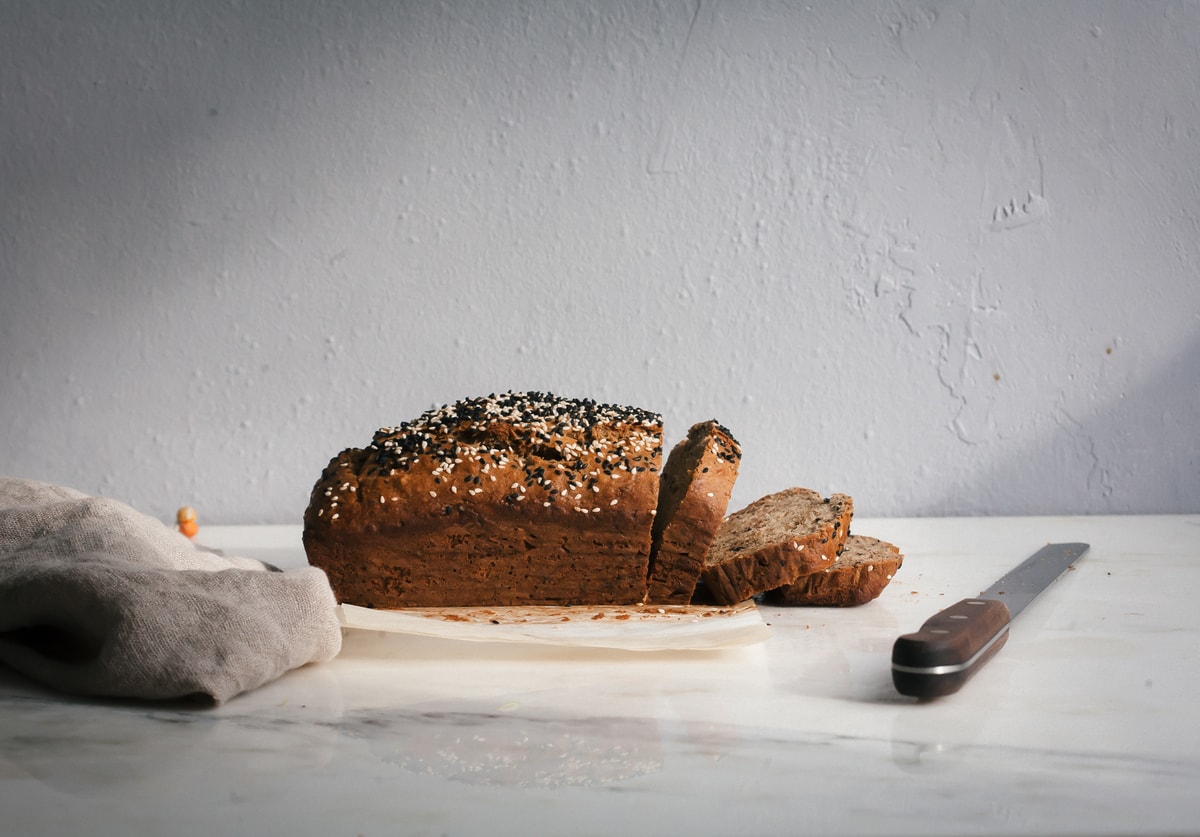 (For the record this doesn't happen in my house a ton because Amelia eats bananas like every single day because I'm a weird hippie mother.)
If you're victim to rotting banana ville, this is for you! Especially if you're searching for a bit of a twist on the regular banana bread.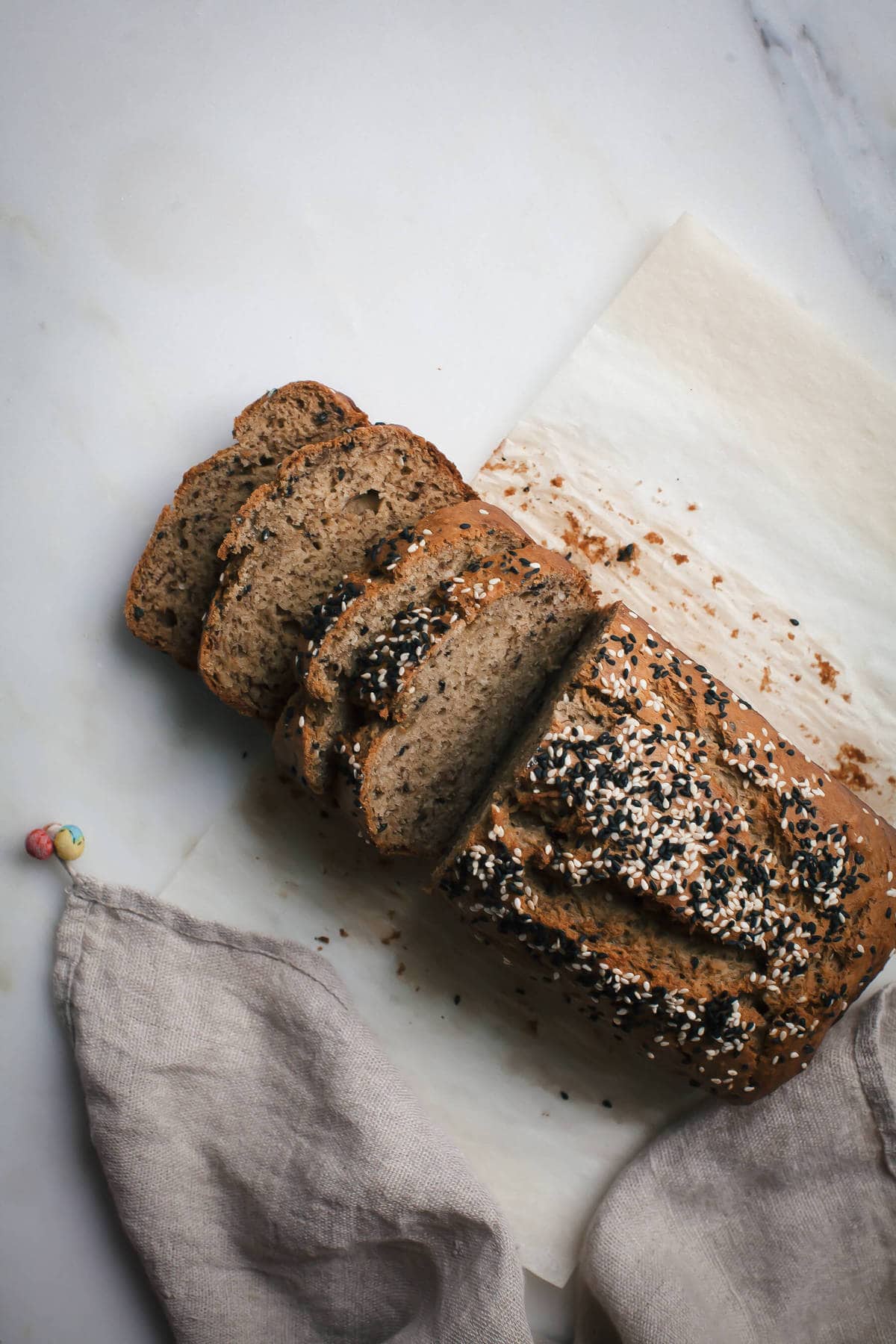 The tahini adds a nice nuttiness to it that's really pleasant. The brown sugar and tahini results in major emoji heart eyes. It's SO good. Also, I thought this was like the most original idea in the world but then a quick Google action and I saw that it's not unique at all. Lol. 🙁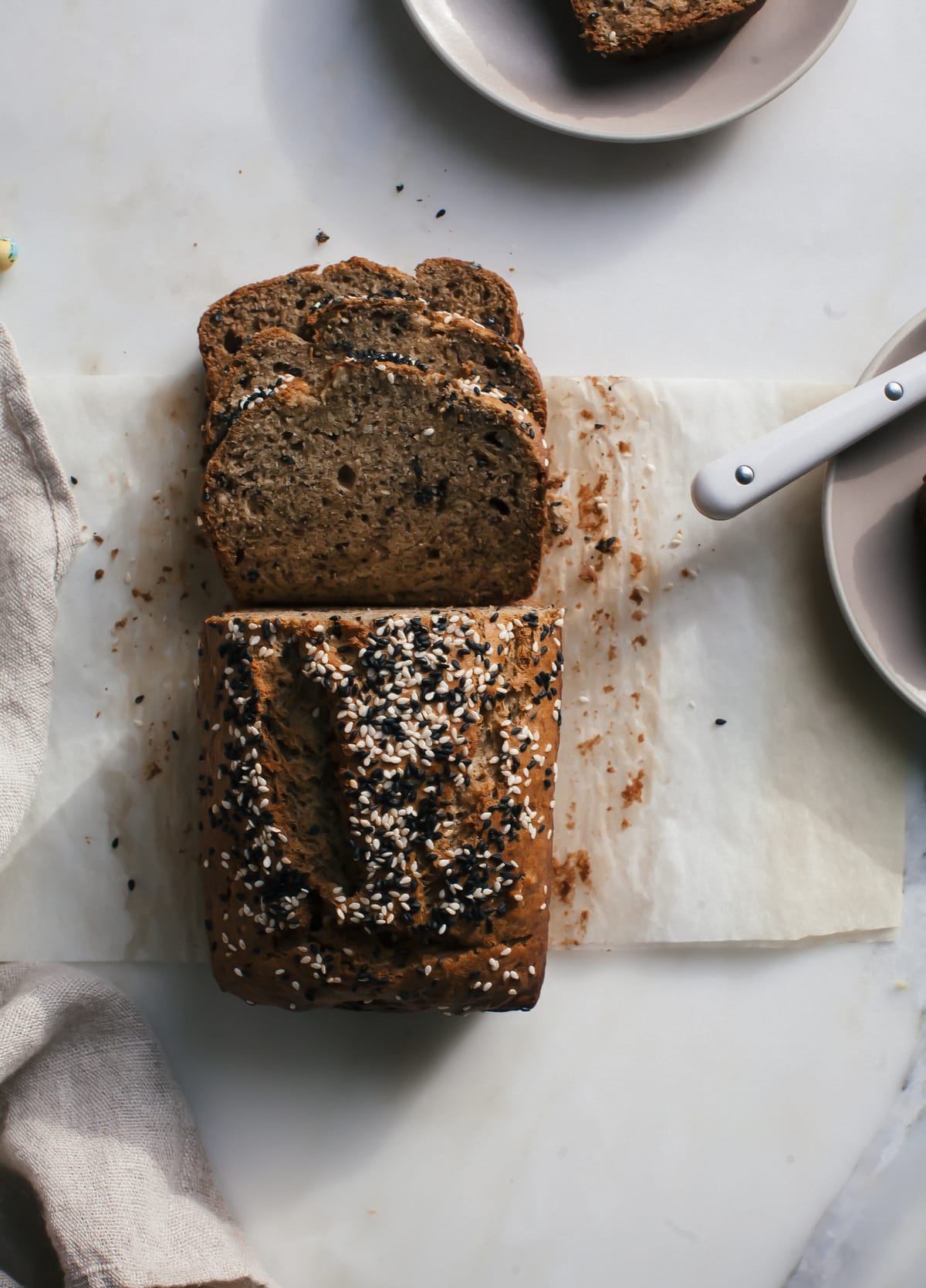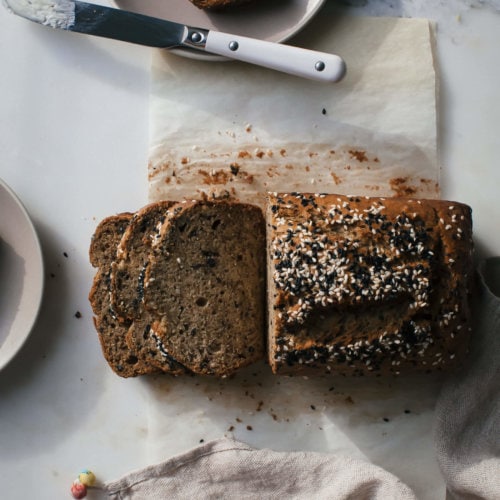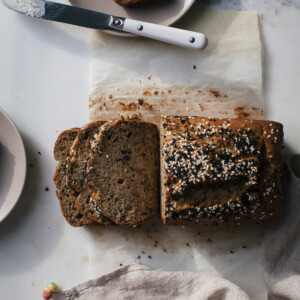 Ingredients
Bread:
1 1/2

cups

all-purpose flour

2

tablespoons

white sesame seeds

2

tablespoons

black sesame seeds

3/4

teaspoon

salt

1/3

cup

melted unsalted butter

1/4

cup

light brown sugar

1/4

cup

granulated sugar

1

large egg

1

teaspoon

pure vanilla extract

3

tablespoons

smooth tahini paste

,

if there's oil on the top, mix it thoroughly before adding it

3

ripe yet firm bananas

,

mashed

1

teaspoon

baking soda
Topping:
2

teaspoons

white sesame seeds

2

teaspoons

black sesame seeds
Directions
To make the bread: Preheat the oven to 350 F. Butter and flour an 8 1/2 x 4 1/2 inch loaf pan. (A 9x5-inch loaf pan will work too but the loaf will be a bit stouter in shape!)

In a medium bowl, mix the flour, white sesame seeds, black sesame seeds, and salt until combined. In a large bowl, whisk together the melted butter and sugars. Crack in the egg, pour in the vanilla and tahini and whisk until thoroughly combined. Add the mashed bananas and baking soda and give it another good stir.

Add the flour mixture to the butter mixture, stirring just until the speckles of flour disappear. Be sure to scrape the bottom of the bowl to get any bits of flour that might be hiding. Pour the batter into the prepared loaf pan. Give the pan a couple of moderate smacks on the counter to even out the batter.

Sprinkle the top with the sesame seeds. I added more to the center and then added only a few to the outside. I just liked the way it looked, no real reason!

Transfer to the oven to bake for 45 to 50 minutes, or until the center has risen, the edges are golden brown, and a skewer inserted into the center comes out clean. Allow the bread to cool for 5 minutes in the pan, then invert the loaf and cool it on a rack, or live on the edge and eat it warm. The banana bread will stay delicious and moist for 3 to 5 days when wrapped tightly in plastic wrap.