oT
This Pumpkin Tahini Loaf recipe was a complete accident. Sometimes recipes are accidents. Does this ever happen to you? Where you add, like, one spice to something and then it turns into something else. Or maybe you accidentally mess something up and it's a becomes a happy accident?
Billy told me that he was bored so he put peanut butter on a slice of pumpkin bread and it turned out to be amazing! So when he came over the other day and I was like, "I wanna make a twist on pumpkin bread," he suggested I use tahini. I thought hmm…ok let's try it. We were SHOCKED at how good it was. It didn't sound awful but also didn't sound like an absolute winner. You all, it was a winner delicious!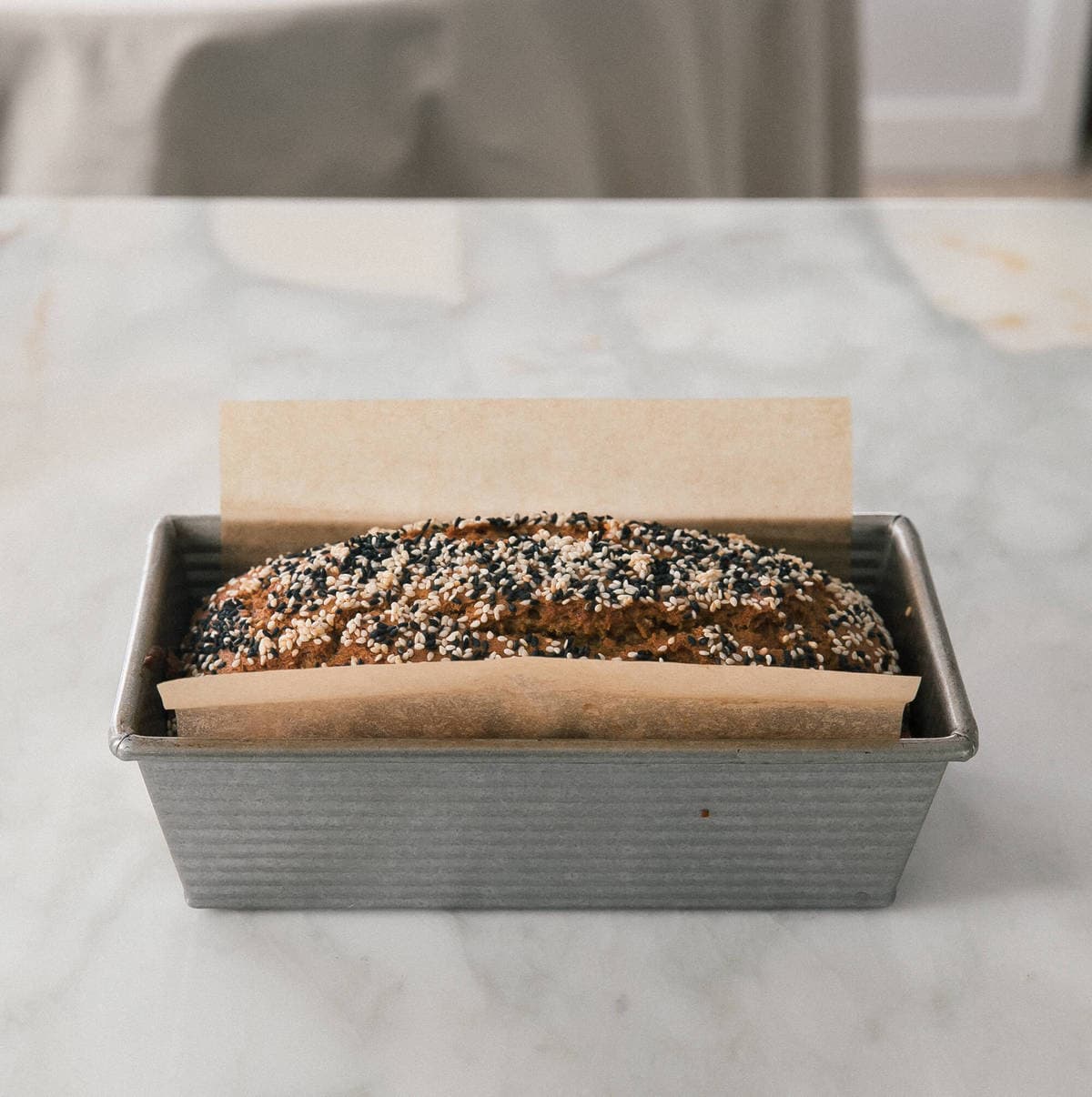 Let's Start with the Basics: What is Tahini?
Tahini is a condiment made from toasted sesame seeds that is ground into a paste.
It's known as the star of such amazing dishes like hummus, baba ganoush and halva. It's glorious and adds such nice flavor to so many dishes. It can be slightly bitter which makes it an interesting addition to sweet applications.
If using it in a sweet application, it needs to have the right amount of sugar to offset its bitterness.
My Love for Quick Breads
Whenever people ask me, "I'm not a baker, what should I bake as my first go?"
I always suggest a quick bread or cookies.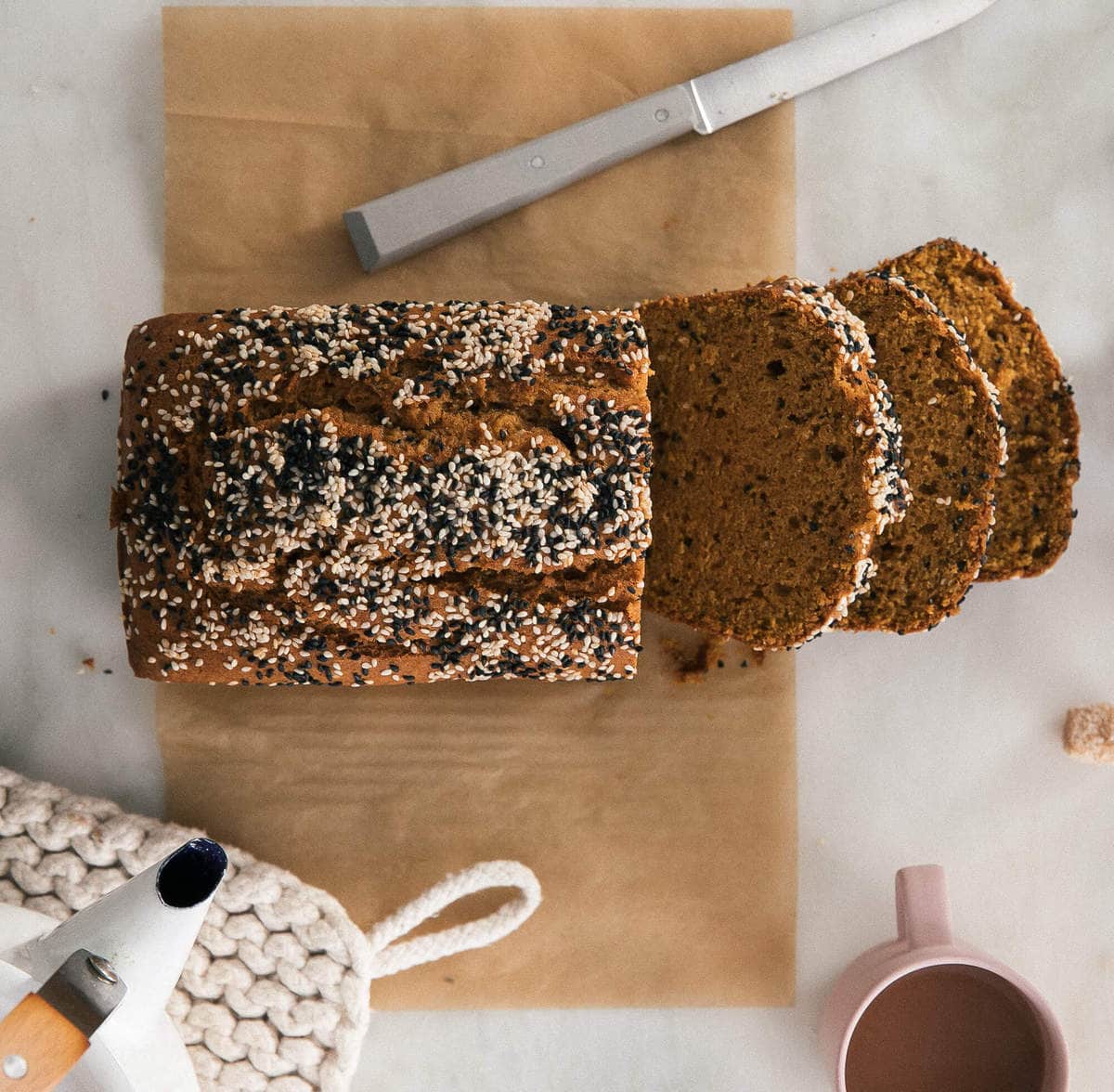 When it comes to baking, this as easy at it gets. To make quick breads you take one bowl and mixtogether the dry ingredients; then, you mix together the wet ingredients. Next, you combine those two mixes, stick it in the oven and then BOOM: a loaf. A recipe for Pumpkin Tahini Loaf!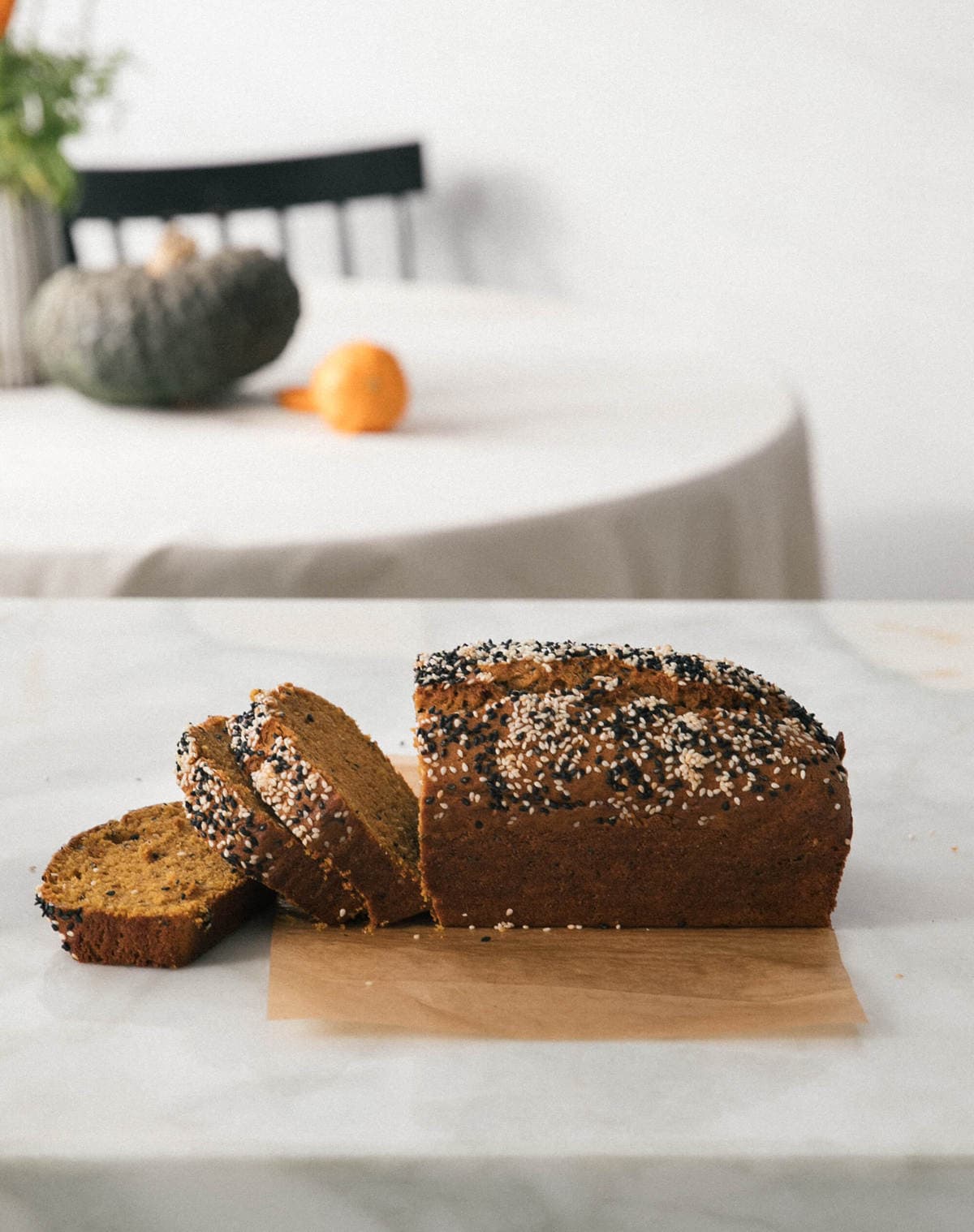 This loaf is a delicious, seedy loaf of pumpkin bread. The crumb is tight yet still very tender. The crunch is delightful and the smell is amazing. The flavor of tahini is very present but not overwhelming.
And if you're loving the tahini vibe, my Banana Tahini Loaf is also a winner!
Happy fall baking yay!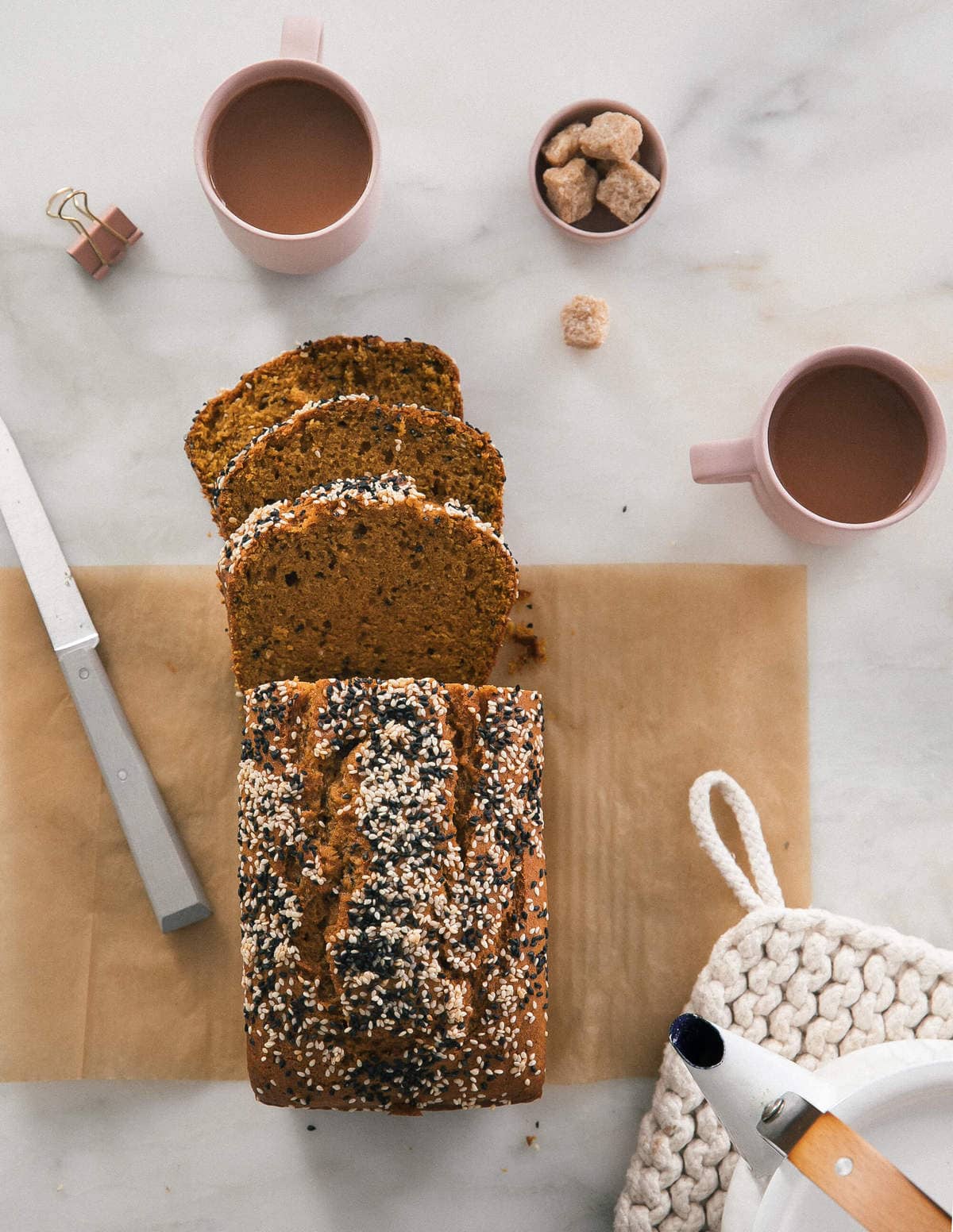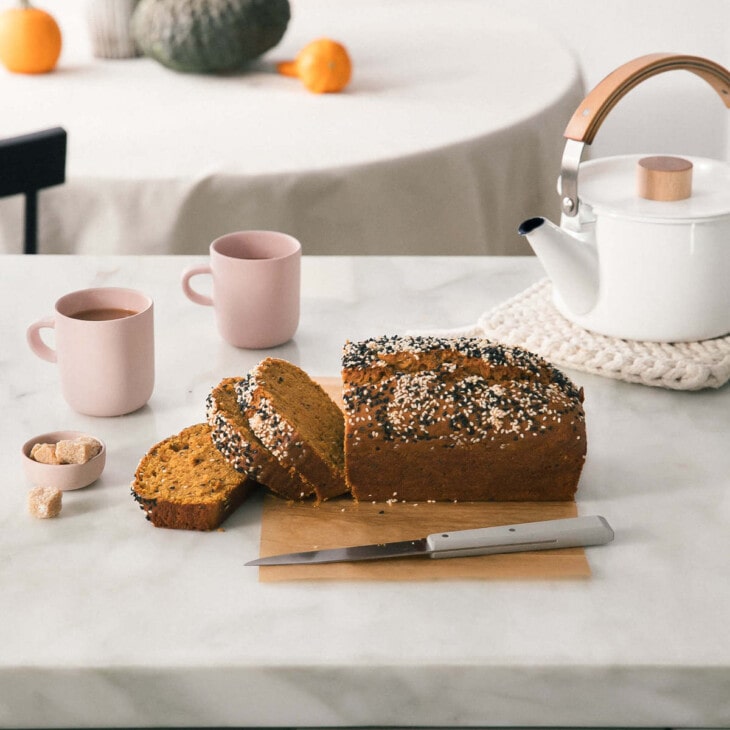 Print Recipe
Pumpkin Tahini Loaf
Ingredients
1 1/2

cups

all-purpose flour

2

tablespoons

white sesame seeds

2

tablespoons

black sesame seeds

1

teaspoon

baking powder

1/2

teaspoon

baking soda

1

teaspoon

pumpkin pie spice

1/2

teaspoon

kosher salt

1

cup

pumpkin puree

1/4

cup

vegetable oil

3

tablespoons

tahini

2

large eggs

1 1/4

cups

granulated sugar
Instructions
Grease and line a 8x4-inch or 9x5-inch with a sheet of parchment so that you have extra on the sides (this makes it easy to lift the loaf out). Preheat oven to 350 degrees F. *If you use a 9x5-inch loaf pan, it'll be a bit more stout than using a 8x4-inch.

In a large bowl, whisk together the flour, white and black sesame seeds, baking powder, baking soda, pumpkin pie spice and salt.

In another medium bowl, whisk together pumpkin puree, oil, tahini, eggs and sugar, until very smooth.

Pour the wet ingredients into the dry ingredients and mix until just combined, being sure not to over-mix. Add the batter to the loaf pan and smooth out the top.

Sprinkle the top with sesame seeds. Bake for about 45 to 50 minutes, until a skewer comes out mostly clean (a few crumbs are ok!).

Cool in pan for about 10 minutes and then remove and place on a cooling rack.