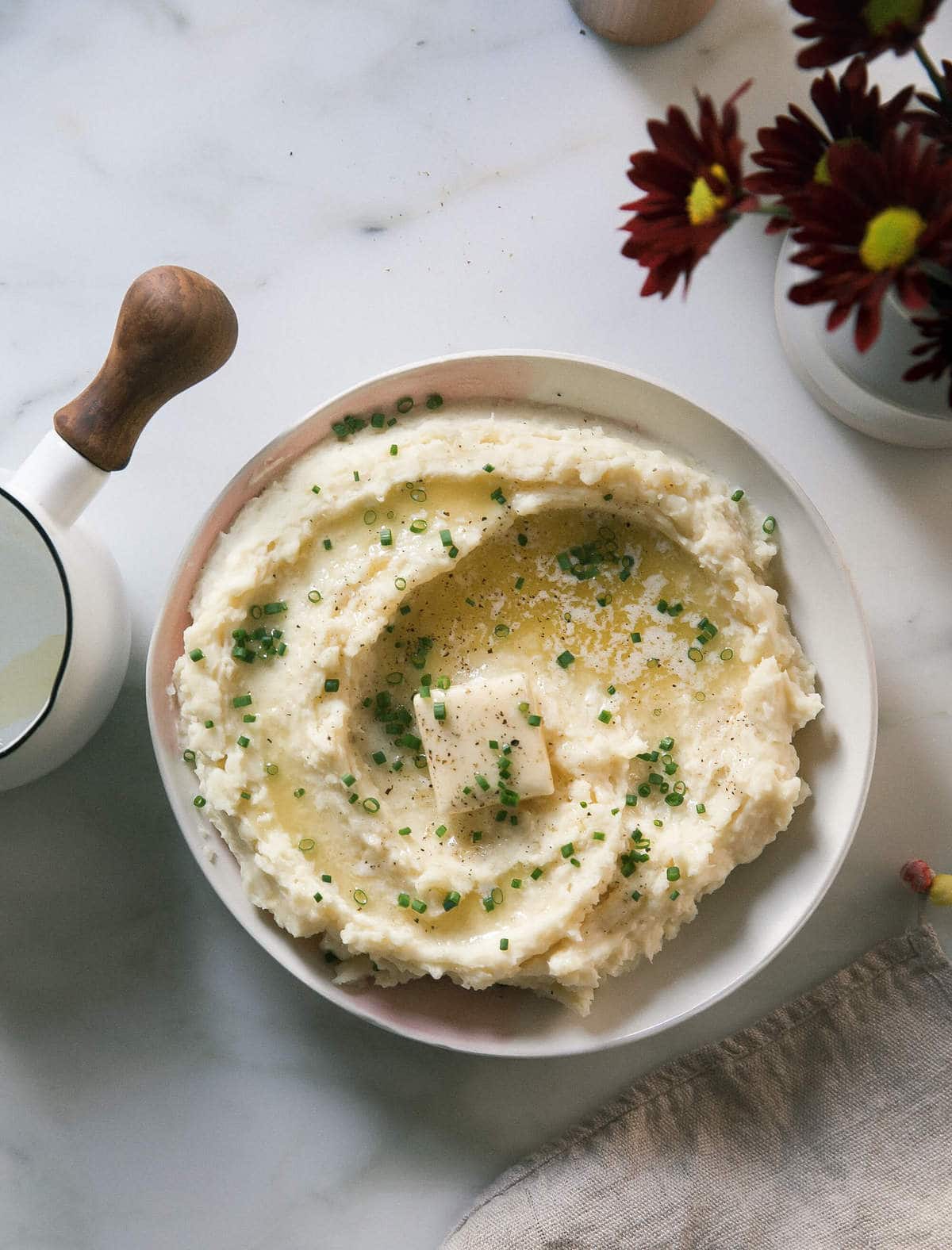 Did you know that The Instant Pot was the counter kitchen with the highest sales in 2018?! Isn't that wild?!? That information blew my mind. And yet whenever I spoke to someone, they told me that someone had gifted them an Instant Pot but it was just sitting in a closet somewhere because they didn't know what to make with it. Or it intimidated them and they didn't know how to use it. I'm here to tell you: this is normal. It really is. Today we're going to put it to good use with this recipe for Instant Pot Creamy Mashed Potatoes.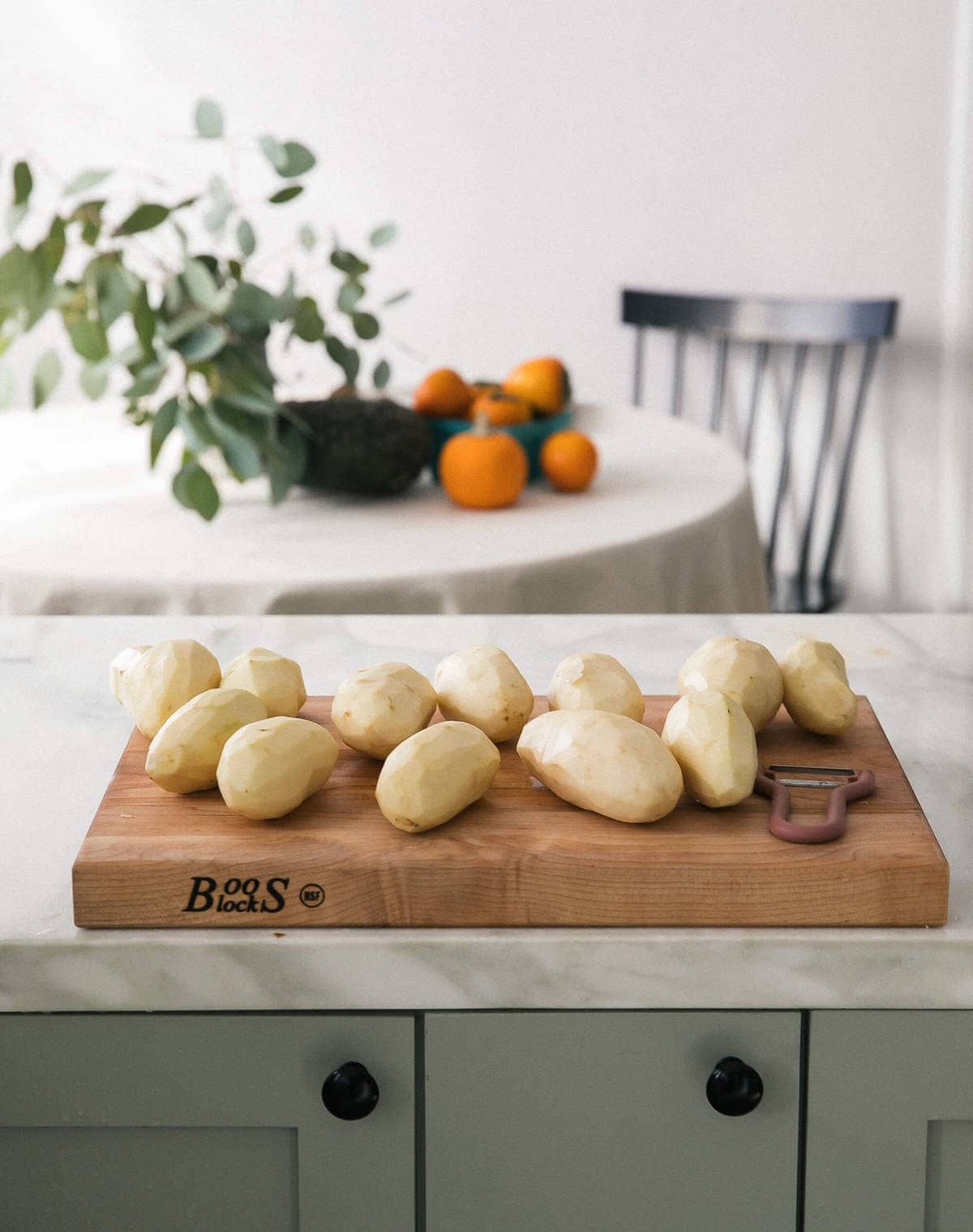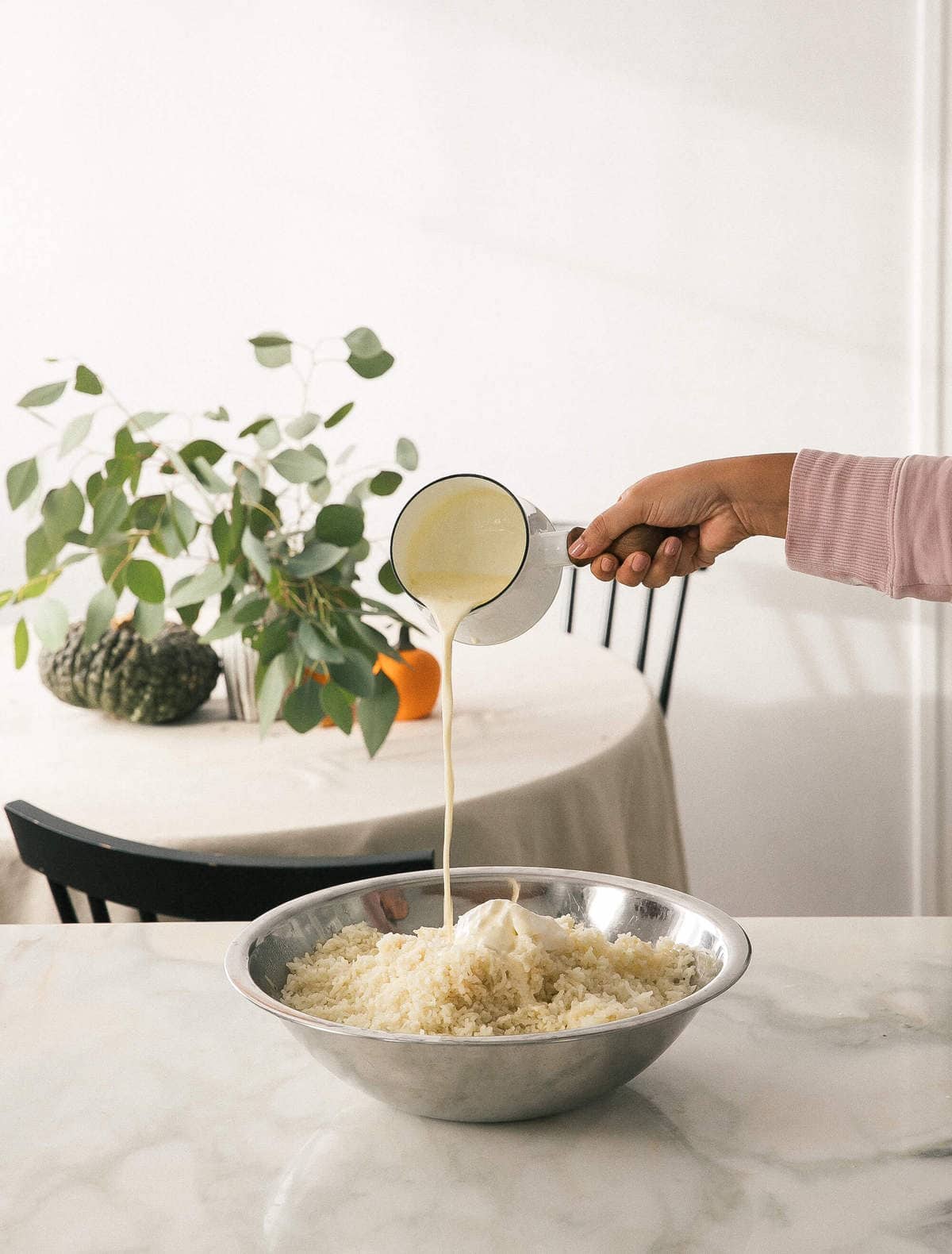 Why the Instant Pot?!
For a while, I was kinda annoyed at Instant Pot recipes because they seemed like Pinterest trap lol but honestly they're pretty incredible. I had borrowed Billy's for a few recipes but it wasn't until a month or so ago that I actually got one and it has been a life-changer. I use it ALL the time. And on a day like Thanksgiving when the ovens are full and stoves are all busy, this can come in handy.
Here's what I love about the Instant Pot:
-You can set it and forget it.
-It's flexible in that it's both a slow-cooker AND a pressure cooker.
-Old Pressure cookers–the old school ones that go on the stove–are sort of scary. They make a bunch of noise and shake a lot. This makes it incredibly easy and safe to prep dinner and just walk away.
-It cuts down on cooking time for EVERYTHING. It's magical.
Instant Pot Mashed Potatoes, You Say?
I actually tested this two ways: the first time I just added the potatoes to the Instant Pot, along with the water and then cooked it for 12 minutes. But I found that this waterlogged the potatoes a bit too much for me, resulting in uneven potatoes.
I liked the steaming method, which was super simple. You add the water and garlic cloves (we'll use these later), using the steam wire rack that comes with every machine. The potatoes doesn't sit in the water. It results in super light, fluffy potatoes.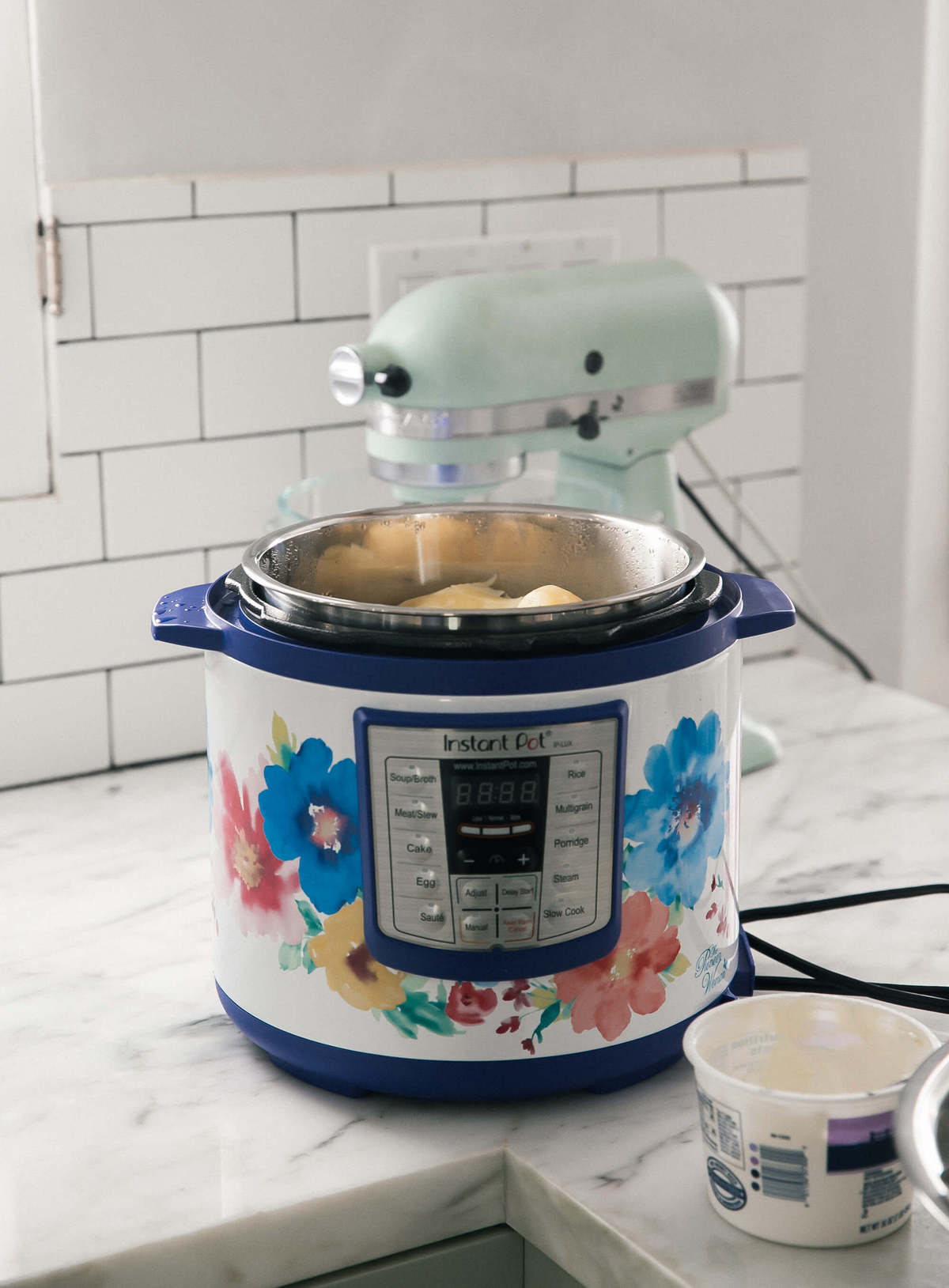 The second thing you'll need and this is a non-negotiable. I mean, it is, if you just have a smasher, use that. But I am a firm believer in the potato ricer. It makes the fluffiest potatoes.
And then sour cream or creme fraiche. It adds a nice tang to otherwise very rich bowl of potatoes.
A bit of melted butter and minced chives also help.
Here's a link to regular mashed potatoes too, that require NO INSTANT POT.
But if you love to save time and space, then for sure this recipe for Instant Pot Creamy Mashed Potatoes is for you!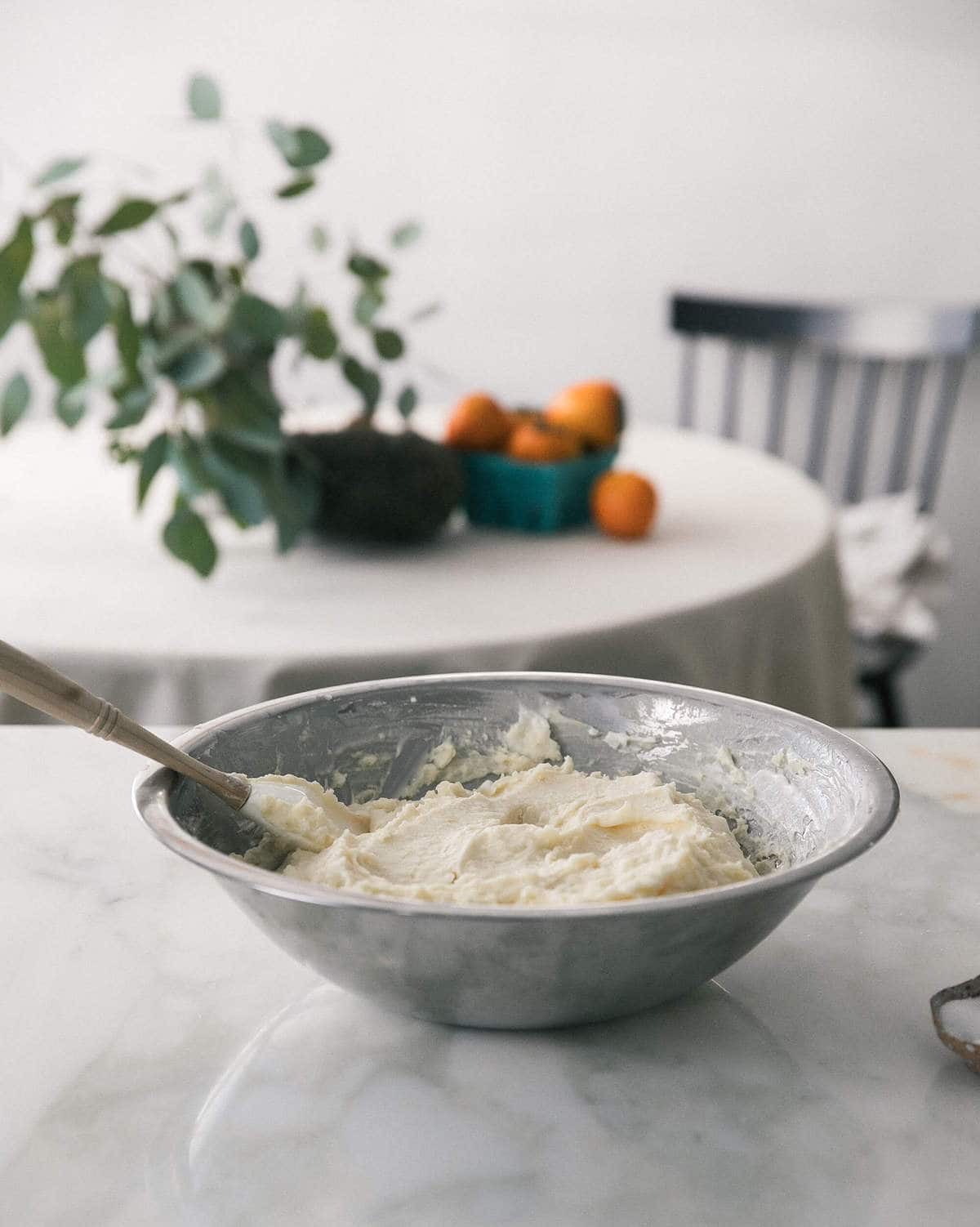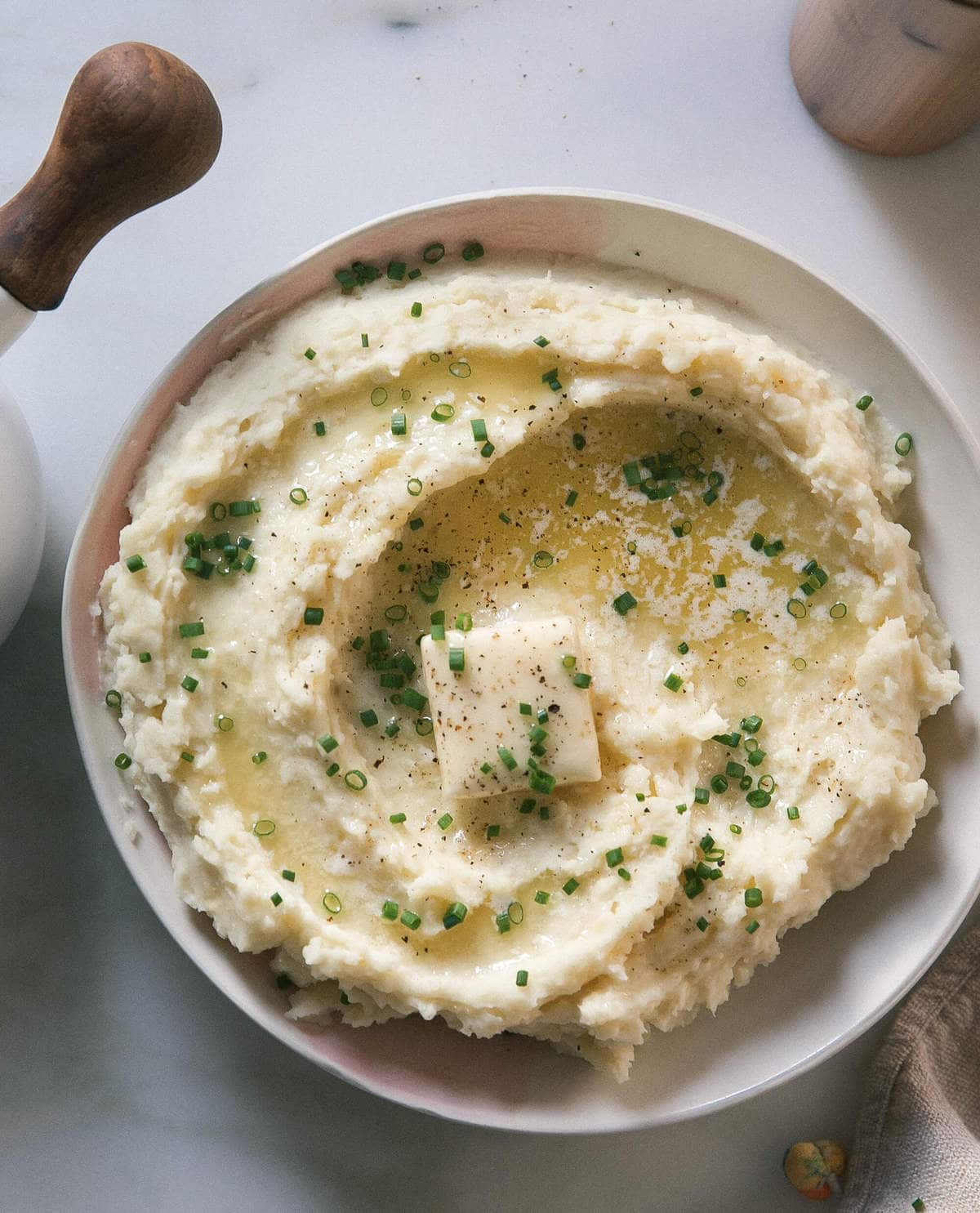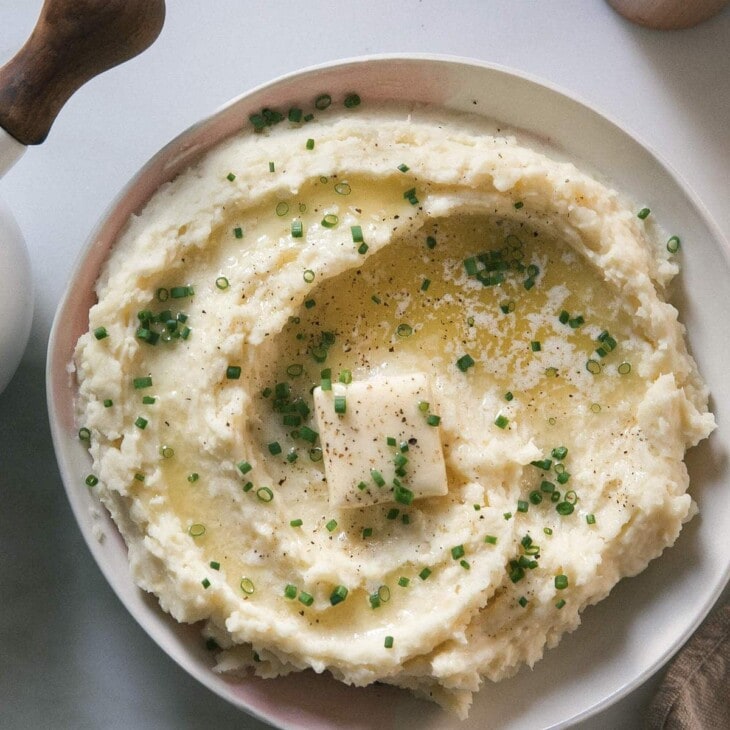 Print Recipe
Instant Pot Creamy Mashed Potatoes
These Instant Pot Creamy Mashed Potatoes make Thanksgiving a total breeze. The potatoes are steamed and then the creamy mashed potatoes are kept warm in IP.
Ingredients
1

5-pound bag of russet potatoes

5

cloves

of garlic

peeled

1

cup

of water

1/2

cup

unsalted butter

1 1/2

cups

heavy cream

1/2

cup

sour cream

1

teaspoon

salt

plus more to taste
Instructions
Instant Pot Directions:
To an instant pot, add the steamer wire rack. Pour in 1 cup of water and the garlic cloves. Add the peeled russet potatoes. Cover the Instant Pot with its lid and turn to "seal." Turn the machine to manual and set it to 12 minutes. When it's done, use the quick release and carefully remove the lid.
After the Potatoes Are Done Directions:
Using a pair of tongs, remove the potato, one at a time, and place it in a potato ricer. Push the potato ricer into a bowl. Repeat until you've worked through all of the potatoes. Add the garlic cloves to the potato ricer and push those through, too.

Add the butter and heavy cream to a small saucepan and set over medium heat. Warm just until the butter has melted. To the potatoes, add the butter and heavy cream mixture, along with the sour cream and salt.

Mix together until combined. Give it a taste and adjust the salt according to your liking.

Garnish with melted butter and some fresh chives and lots of black pepper.
Nutrition
Serving:
8
g
|
Calories:
325
kcal
(16%)