Pimento Cheese Pecan Pull Apart Bread
9
Nov 10, 2017, Updated Sep 17, 2023
Disclosure: This post may contain affiliate links, which means I may earn a commission if you click on the link and make a purchase.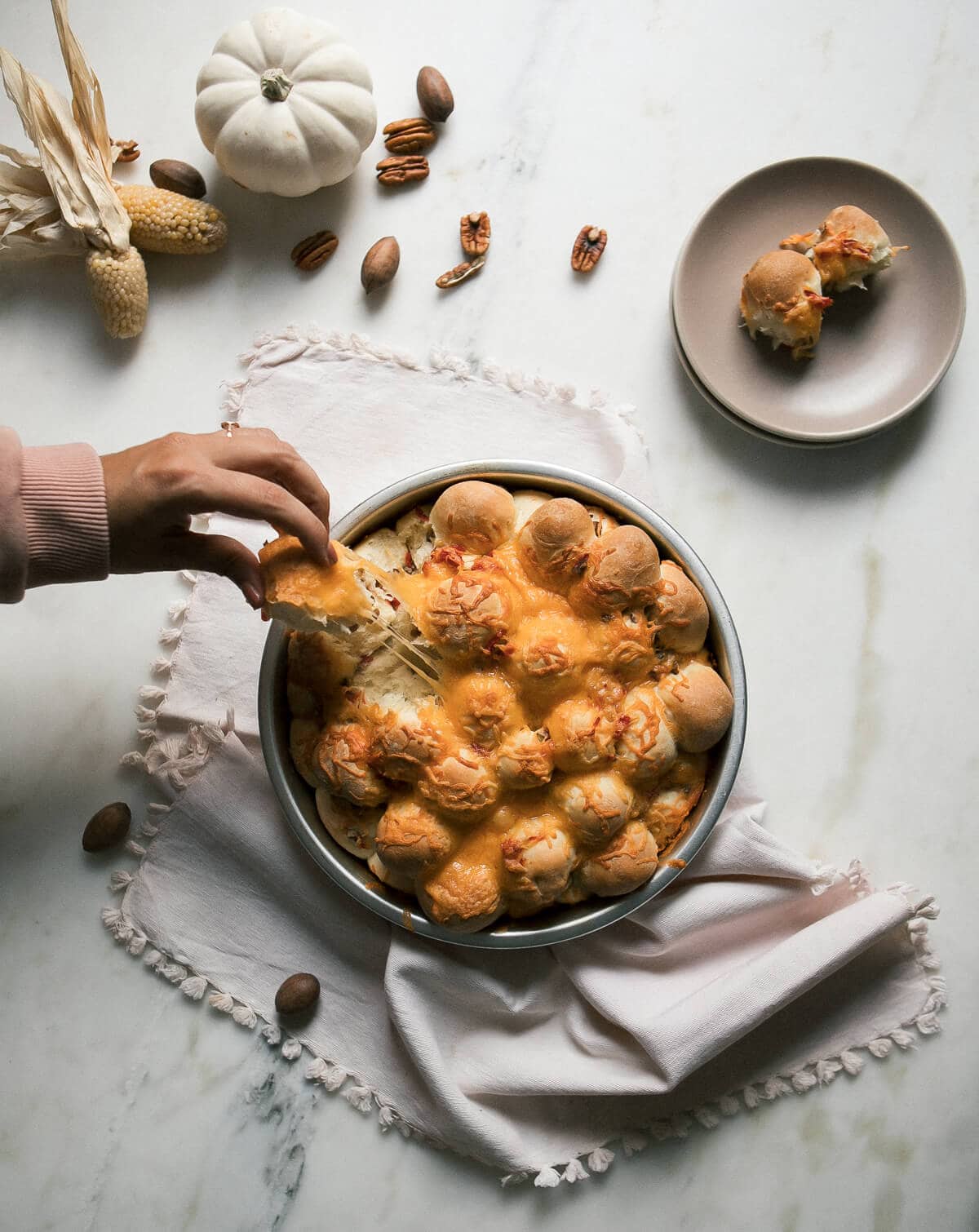 As you know, your girl loves her some autumn. I love autumn everything. I love the clothes, the weather, the drinks, the snacks. And I also loooove autumn weddings.
I'm currently in my car, driving up north to San Luis Obispo to celebrate my friends Samantha and Aaron! I'm staying at the Madonna Inn. Have you seen photos? It's a crazy wild pink hotel that is straight out of a different decade. I can't wait to dance and take photos of the fun interiors.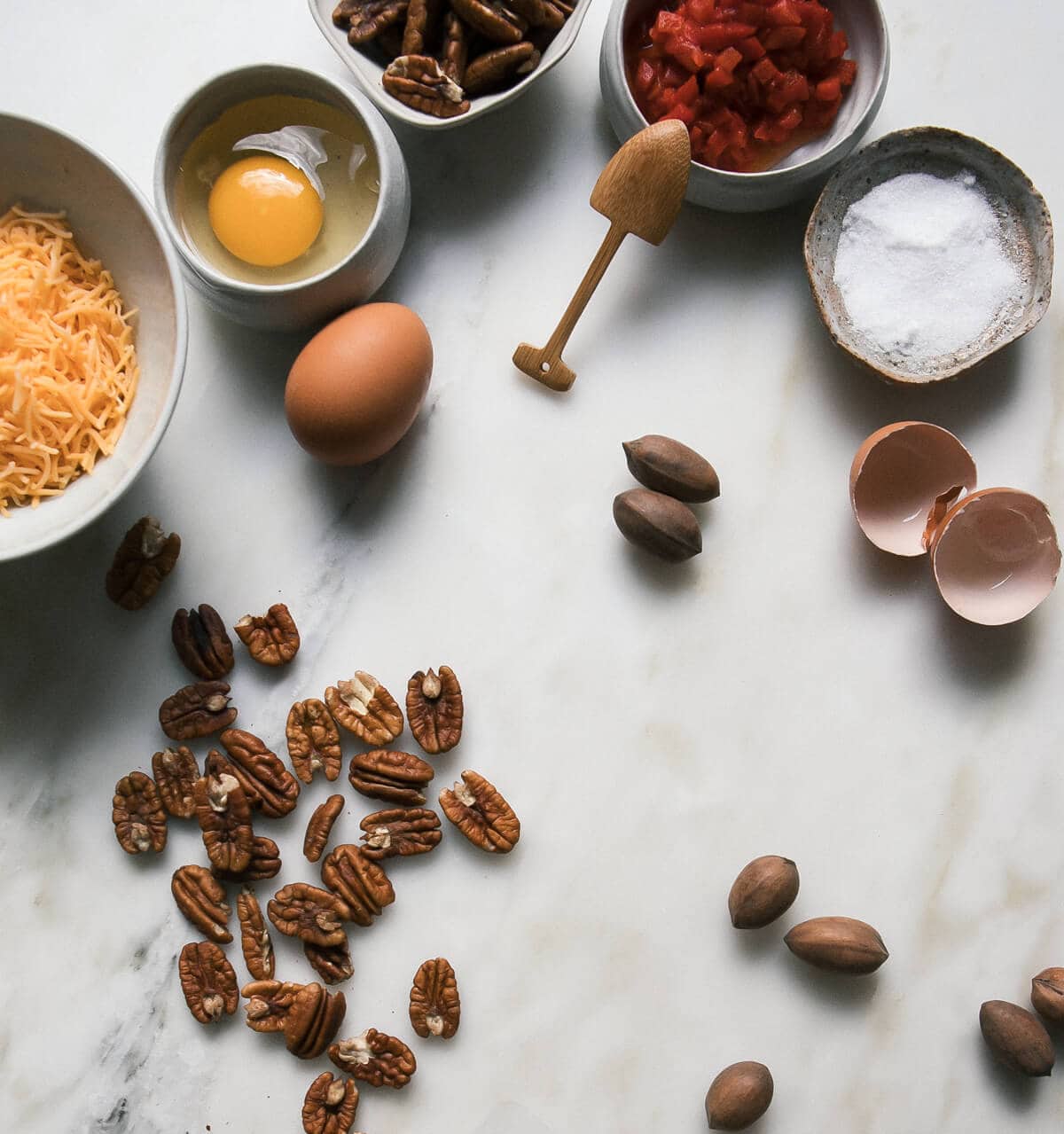 Another autumn item that I'm loving? Pecans. I love pecans and actually put them in everything from my smoothies to salads. I love their flavor and texture.
For this post I'm super excited to team up with the The American Pecan Council. This past few weeks I've learned so many cool, new-to-me facts about pecans…like, did you know they're the only tree-nut indigenous to North America? They are.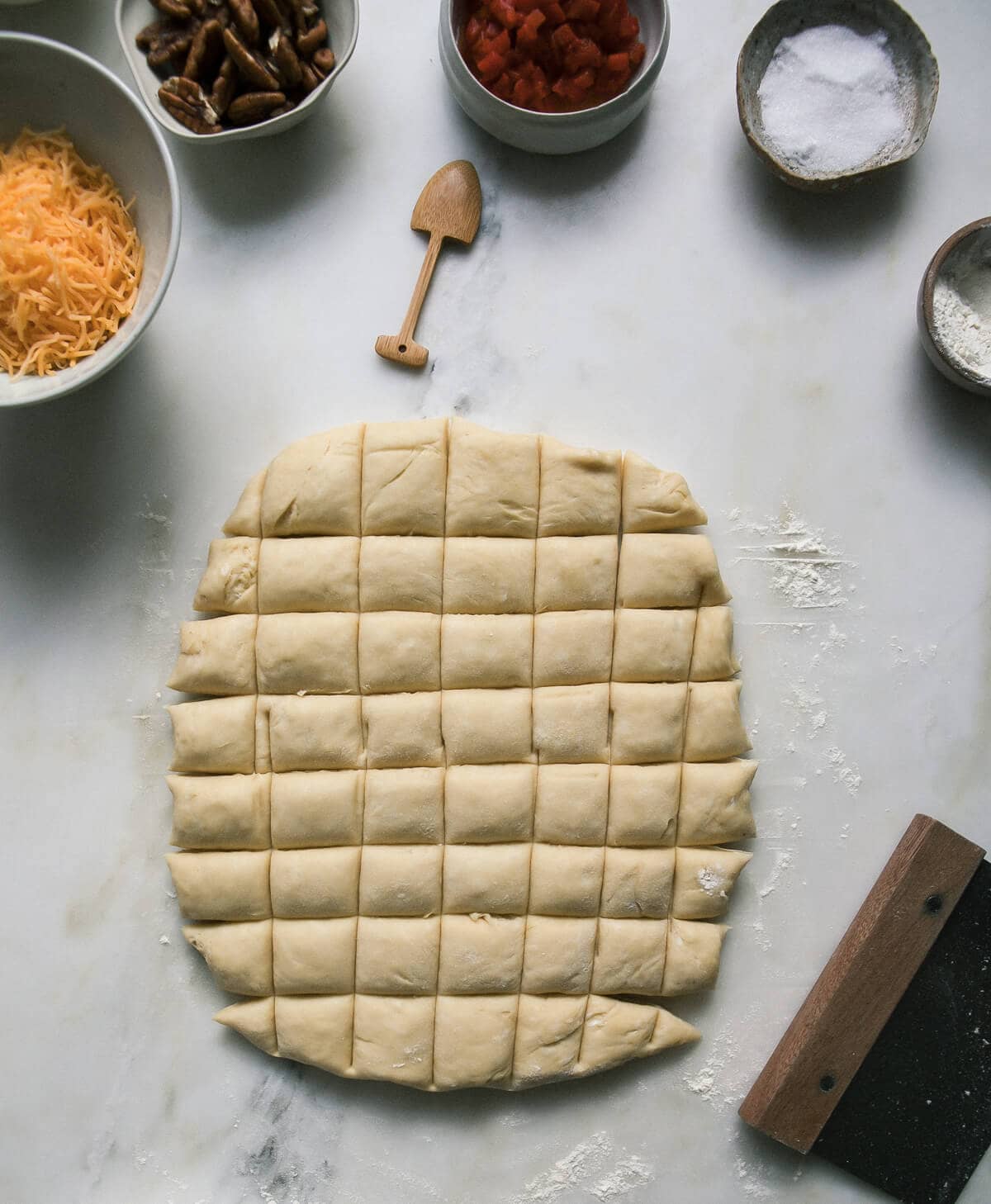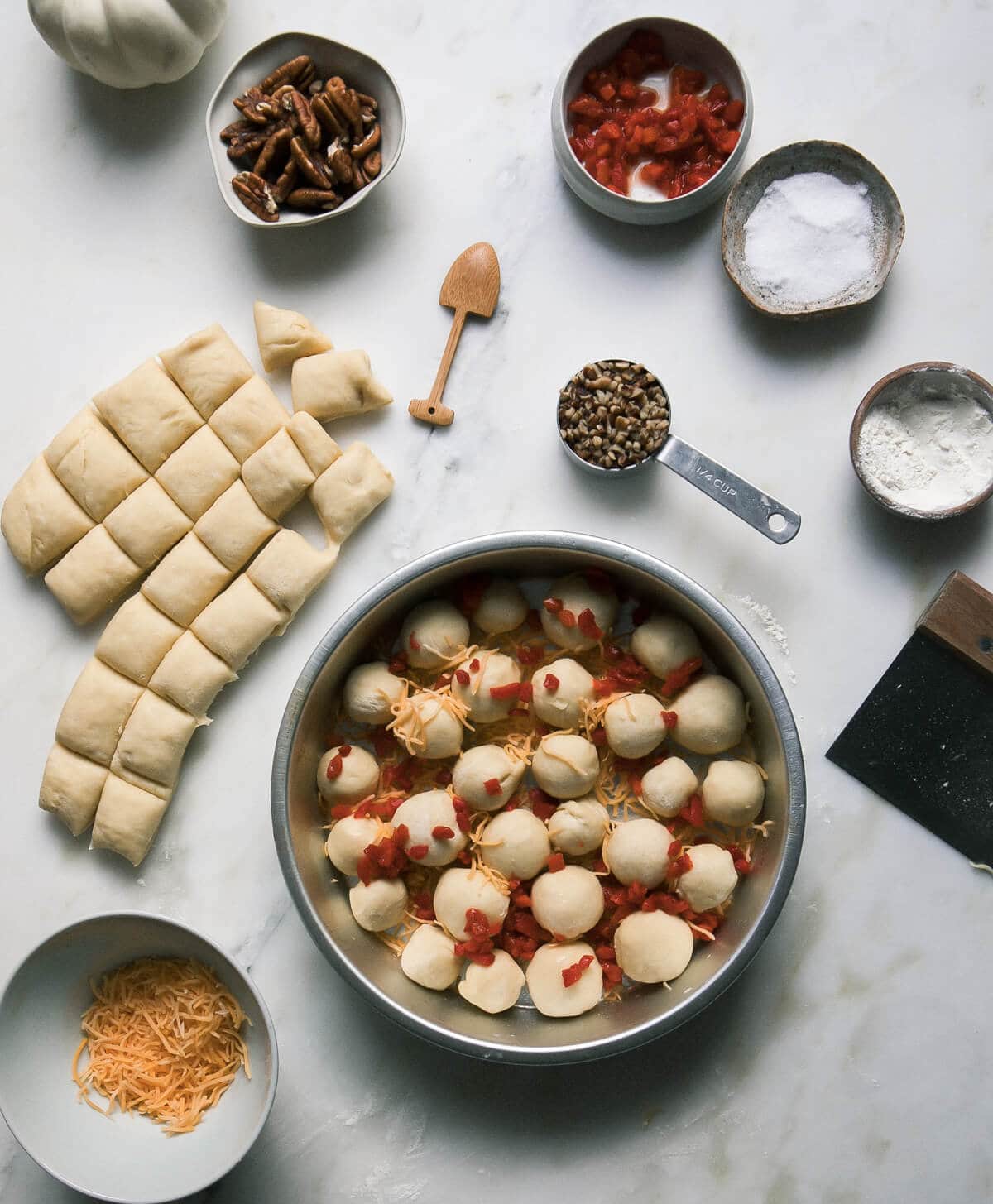 Did you know their harvest is in fall? I suppose that makes sense! So at this time of year is when they're at their freshest and in abundance. Pecans are harvested by literally shaking tall pecan trees, which are among the largest in the hickory family and the only major nut tree to grow in America naturally.
They also can be considered the superfoods of nuts—pecans are an amazing source of "good" monounsaturated fat, flavonoids, fiber, copper, zinc and thiamin.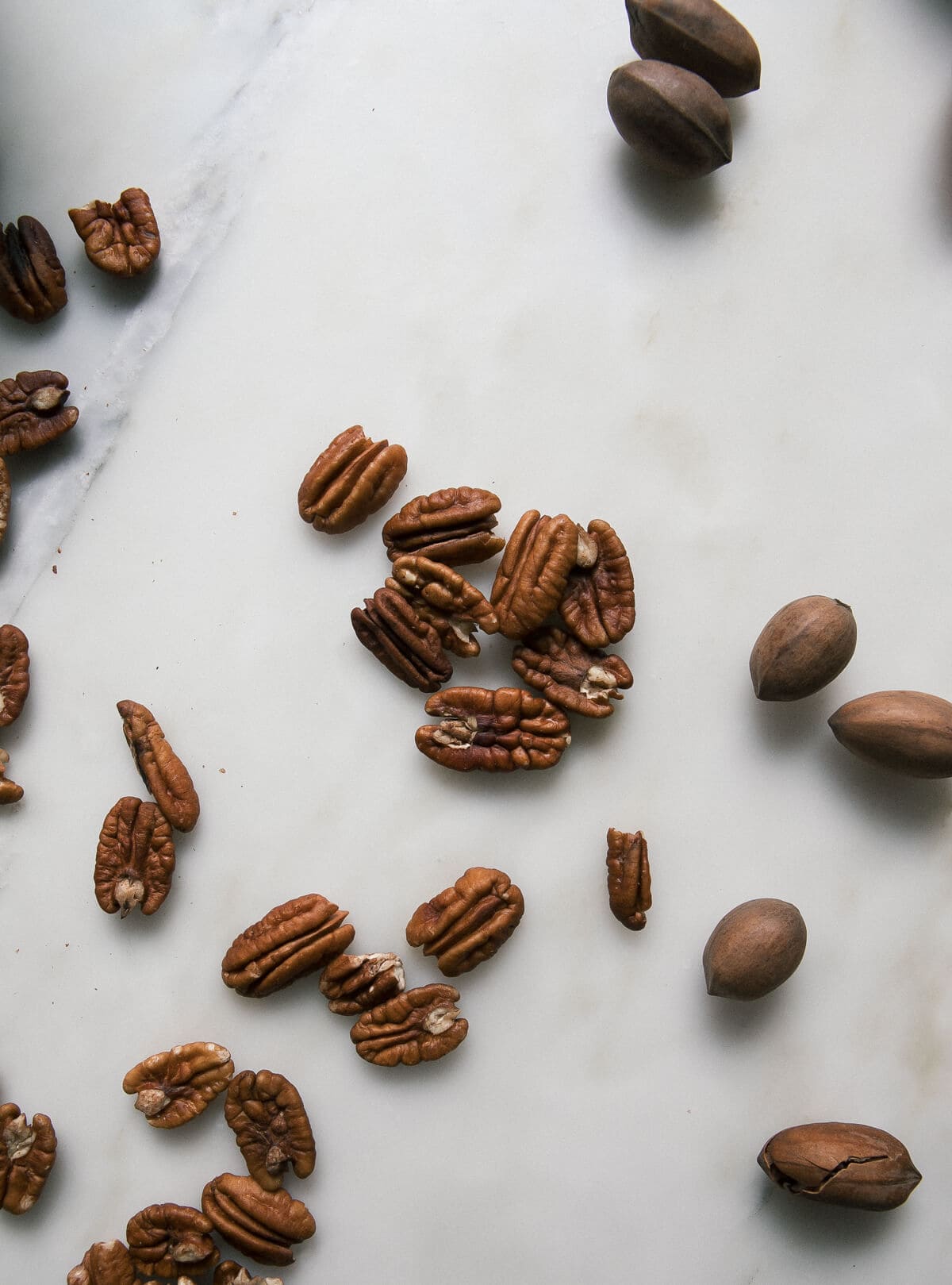 Before I left, I was playing around putting pecans in a savory context and I think this combination is a total win.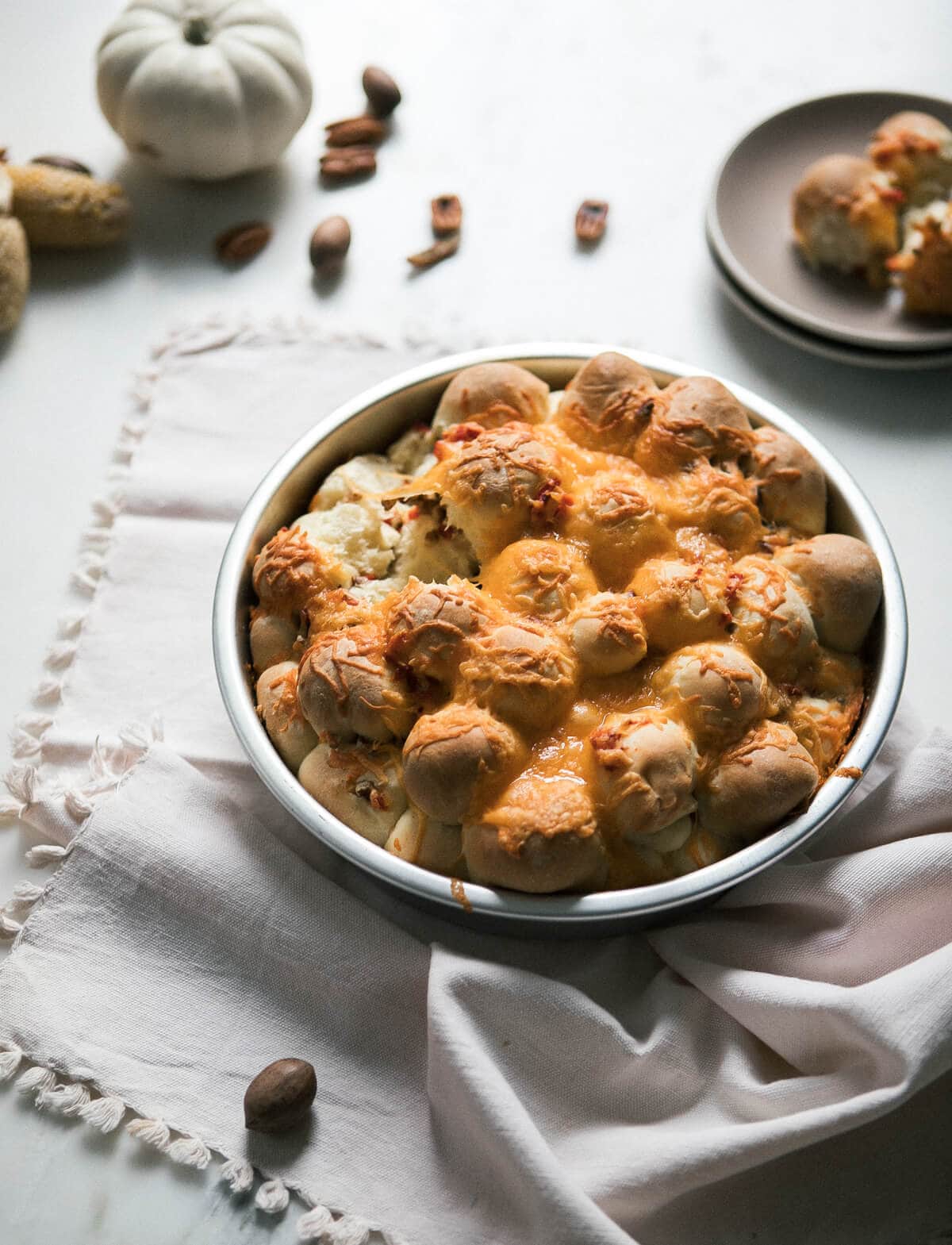 When I was thinking about all the savory foods that have pecans, a pimento cheese ball (a recipe I made a long time ago), popped in my mind. This is basically a deconstructed pimento cheese ball.
This pull apart bread is full of all the good things: spicy, flavorful pimentos, shredded cheese and of course, pecans.
I love this dough because it's super easy to throw together BUT if you're feeling overwhelmed with the holidays and need a short cut, DO NOT hesitate to use store-bought pizza dough. It will work gloriously.
When I get back from the weekend, I can't wait to share the progress of the kitchen. It's so amazing to see it all come together and I can't wait to post official after photos!
Have a beautiful weekend,
Adrianna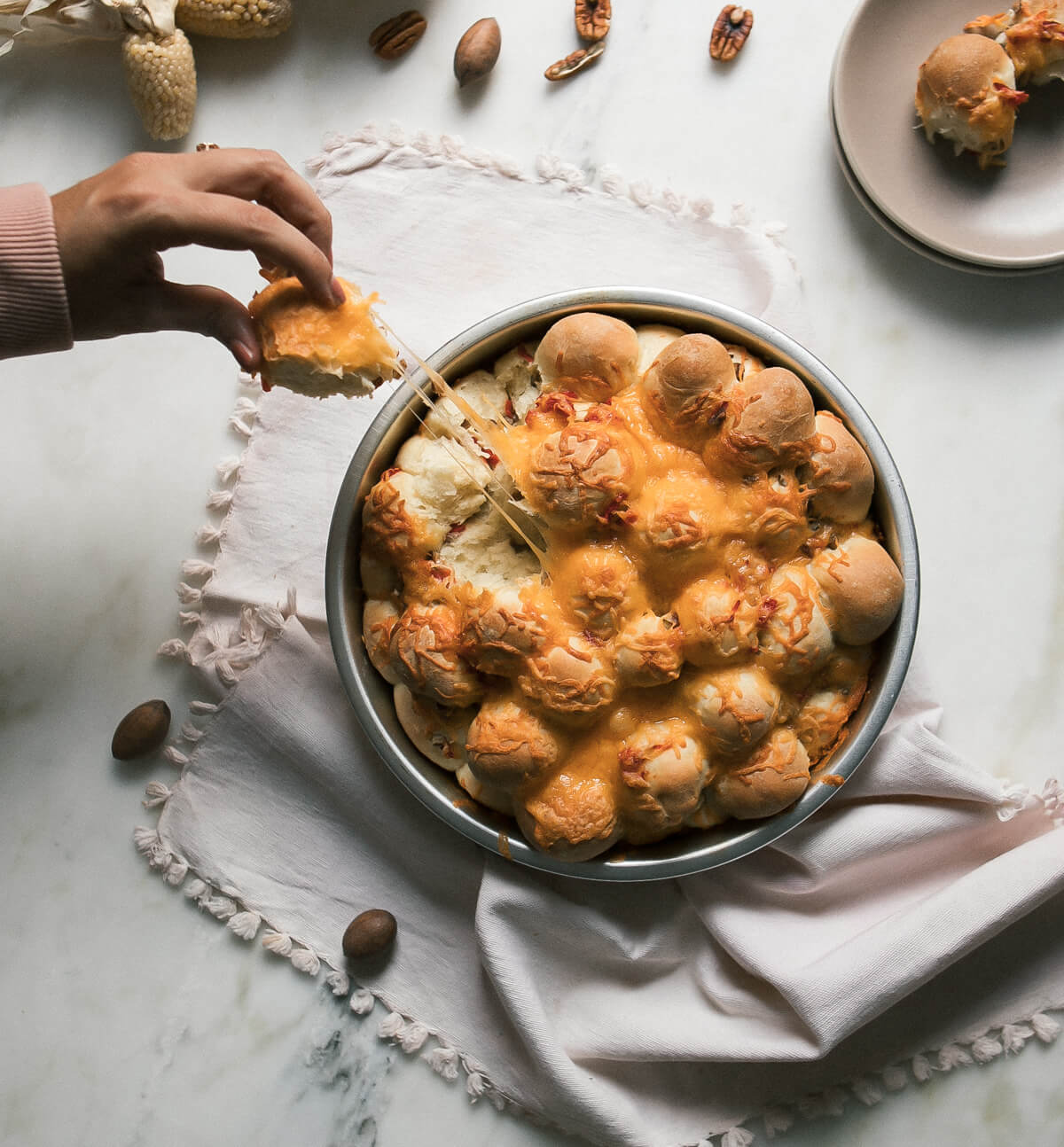 Pimento Cheese Pecan Pull Apart Bread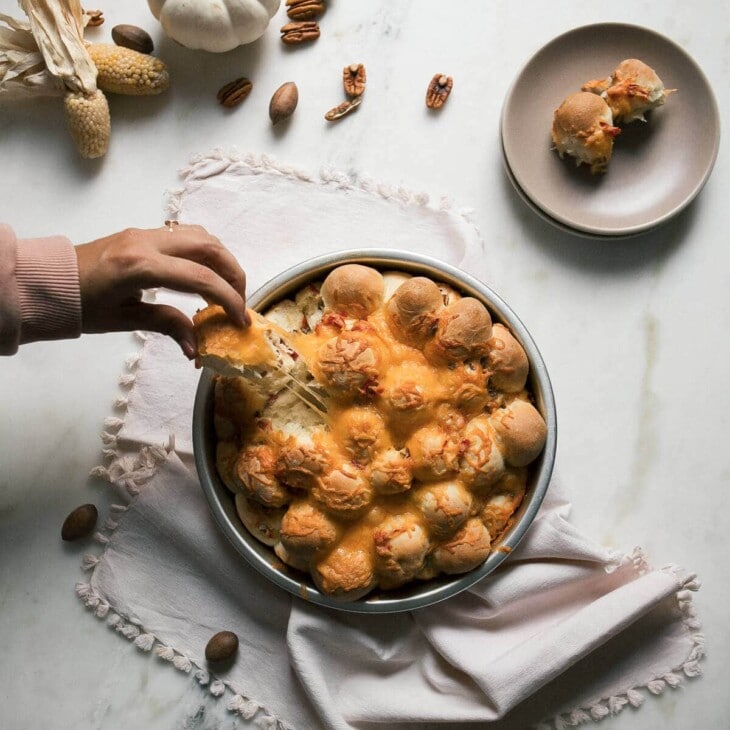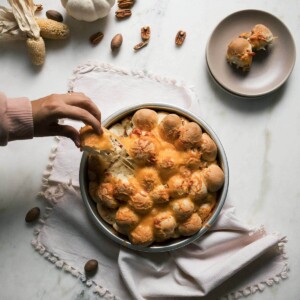 Ingredients
For Dough: 
1

cup

whole milk

,

warmed slightly 

2

teaspoons

instant yeast 

1/4

cup

unsalted butter

,

melted

2

large eggs

1

tablespoon

sea salt 

5

cups

all-purpose flour + more for rolling out 

1

teaspoon

olive oil or cooking spray
For the filling/assembly: 
1

cup

shredded cheddar cheese

,

divided

1/3

cup

raw pecan pieces

,

chopped, divided

1

4-ounce jar of diced pimentos, drained and patted dry with a paper towel, divided 
Instructions
To make the dough: 
To a small bowl or measuring cup, combine the milk and instant yeast. Allow to stand for 5 to 7 minutes, until foamy.

To the bowl of a stand-up mixer, with the hook attachment, add the yeast/milk mixture, melted butter, eggs, salt and flour. Turn the mixer on medium speed and knead for 5 to 8 minutes, until the dough has formed a smooth ball. Rub the inside of a clean bowl with olive oil or coat with cooking spray and transfer the dough to the bowl. Grease the top of the ball of dough and cover with a clean kitchen towel. Allow the dough to rise in a warm place for about an hour or until doubled in size. 
To assemble:
Spray or oil a 9-inch round cake pan or baking dish. Liberally flour your work surface and roll the dough into a 12x12-inch square that's about 1/2-inch thick. Cut that into 36 squares. Roll the squares into balls. 

Place half of the balls into the prepared pan and top with half of the cheese, pecans and pimentos. Add the other half of dough balls and top with the remaining cheese, pecans and pimentos. Cover with a clean kitchen towel and allow to rise, in a warm place, for 1 hour or until doubled in size. 

Preheat oven to 350 degrees F. Bake for 20 to 30 minutes, until top is golden brown and puffed. 

(This post is sponsored by The American Pecan Council. Thank you for supporting the sponsors that keep A Cozy Kitchen cozy.)