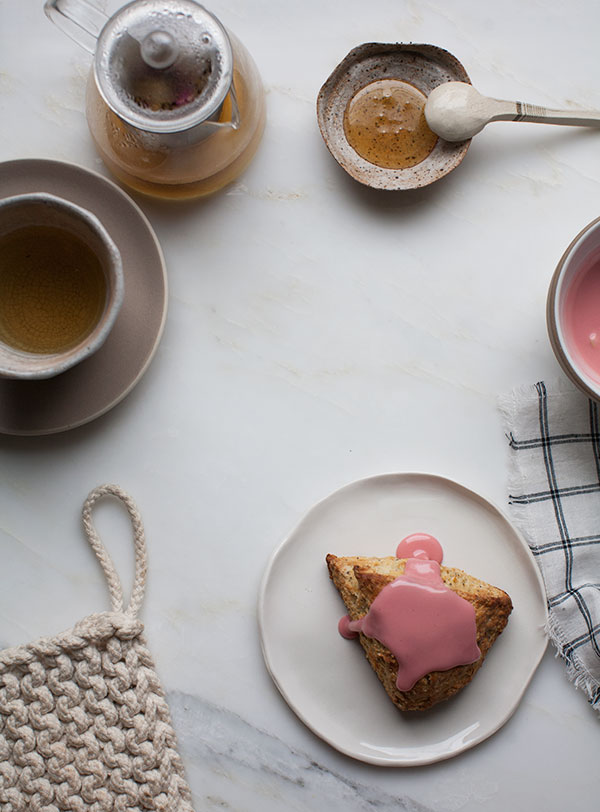 Sometimes I come to write about a new recipe and I freeze. I'm not sure what to say or what to disclose or what to tell. Sometimes, a lot of the times, I want to tell you everything: my dreams, my drama, my stress, the parking ticket. But I don't. I hold back most times. Mainly because I'm somewhat of a private person, I realize. I kind of want my struggles to be mine, I want to swallow them and hopefully make something out of them.
Sometimes I wonder if that's a bad trait, or maybe it's just a bad trait when you have a blog, which can often times become like another version of a reality television show. I'm not interested in that route.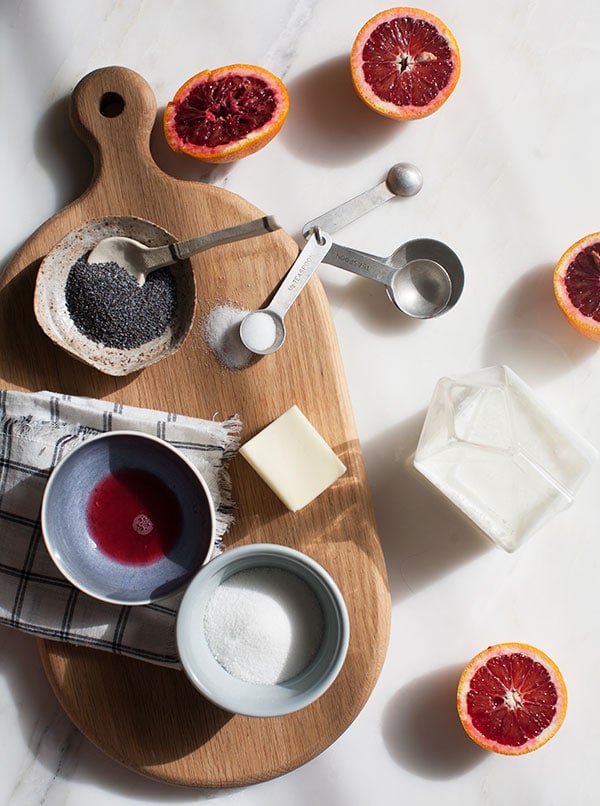 I mean, it's taken me years to tell my friends everything that's going on in my life—it's not easy. I find it easier to be the listener, the friend who nods and gives advice. I'm much better at that.
I think I've struggled with this the entire time I've had this blog. What is too much. How much should I share. Also, one thing I would never want to do is use my life with others, my relationships with them and just exploit that for likes, comments, attention. That would feel awful. Some things should be sacred and private and belong to people.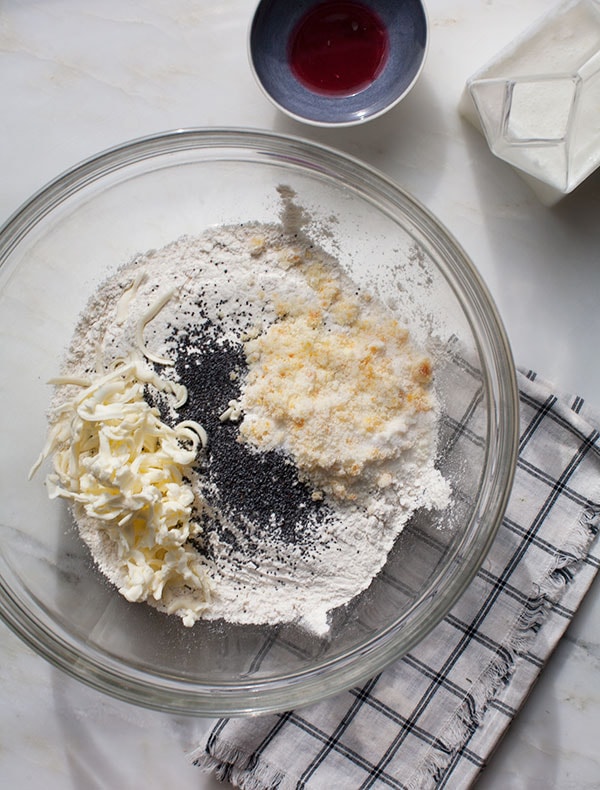 I would be a terrible famous person!
The thing that I want to make above all else when life is a little unkind is a biscuit. A warm biscuit and jam and butter. OMG HELLO! What else could take my worries away? Nothing.
But I've made a lot of biscuits on this blog so I decided to turn to the biscuit's English cousin: the-often-times-dry-ass-scone. It's true. So many scones are dry. But not these.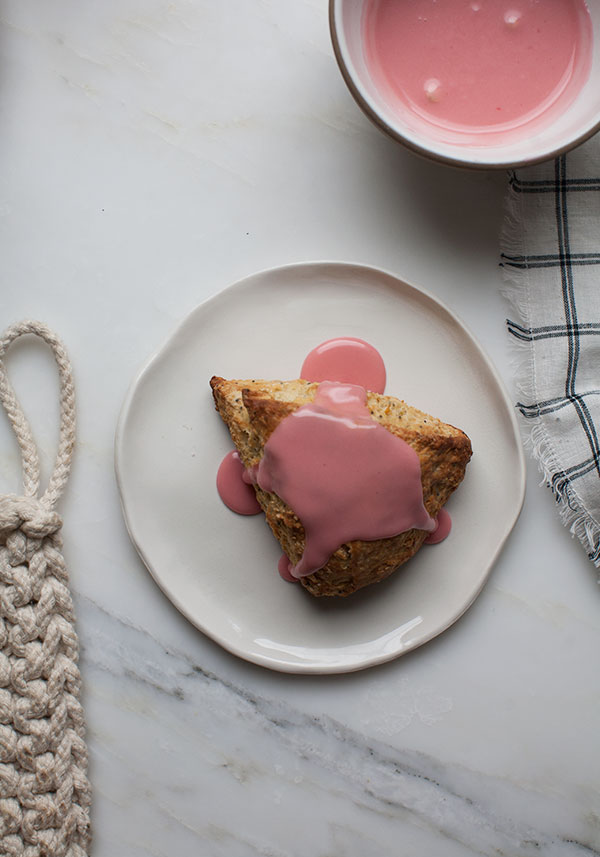 They're not biscuits, they're scones. They're supposed to be denser and crispier but they should also be soft and layered on the inside. These are laced with crunchy poppy seeds and zest from blood oranges.
And yes, I know, I've used blood oranges WAY too much this season but it's so hard not to! DAT COLOR!
The glaze is a my favorite part. It makes a scone that isn't dry, even better.
There's something about the process of setting out a few ingredients and grating the butter, mixing, throwing out the dough that seems to be a potion for therapy. It gives me time to mull and think and mull and think. Have you tried this? I think you should.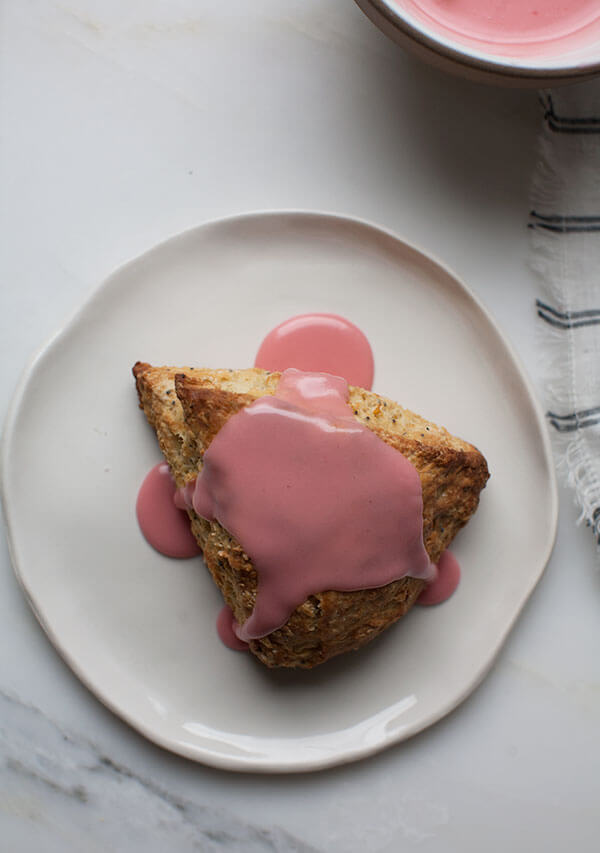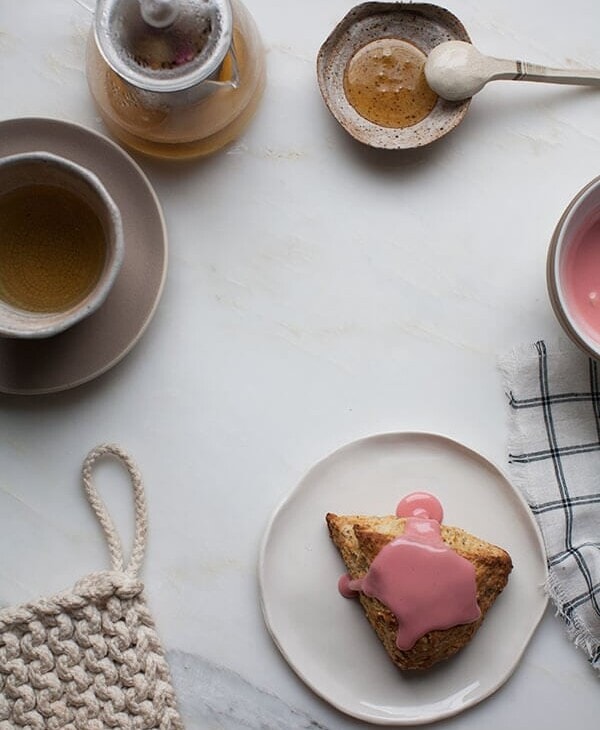 Print Recipe
Blood Orange Poppy Seed Scones
Ingredients
3

tablespoons

white granulated sugar

1

blood orange

zested and juiced, divided

3

cups

all-purpose flour

1

tablespoon

poppy seeds

1

teaspoon

baking soda

1/2

teaspoon

sea salt

4

tablespoons

unsalted butter

frozen

1

cup

buttermilk

plus more for brushing on the scones before baking

1

cup

powdered sugar

Juice from 1 blood orange
Instructions
Preheat the oven to 425 degrees F. Line a baking sheet with parchment and set aside.

In a large mixing bowl, add the sugar and blood orange zest. Rub the two together until you can really smell the blood orange zest and it's evenly distributed throughout the sugar. Whisk in the all-purpose flour, poppy seeds, baking soda and salt.

Using a box grater, grate the butter into the dry ingredients and mix quickly, breaking up the butter so it's broken up into pea-sized bits throughout.

Create a well in the center of the flour mixture and pour in the buttermilk. Using a wooden spoon, mix it together until it forms a shaggy ball. Drop the dough onto a lightly floured counter and knead a few times, being sure to not over handle it, which will result in tough scones. Form the dough into 1 1/2-inch- thick disc. Using a knife, cut the scones into 6 equal triangles. Transfer the scones to the baking sheet and put in the freezer to chill for 15 minutes.

Brush the tops with buttermilk and transfer the scones to the oven and bake for 25 to 30 minutes, until a skewer inserted into the centers comes out clean and the scones are golden brown.

While the scones are baking, make the glaze. In a small bowl, whisk the powdered sugar with the juice from the one blood orange. Since all blood oranges are a different size (I got about 1 tablespoon of blood orange juice) you may need to add a bit more juice or a splash of milk to get it to the right texture.