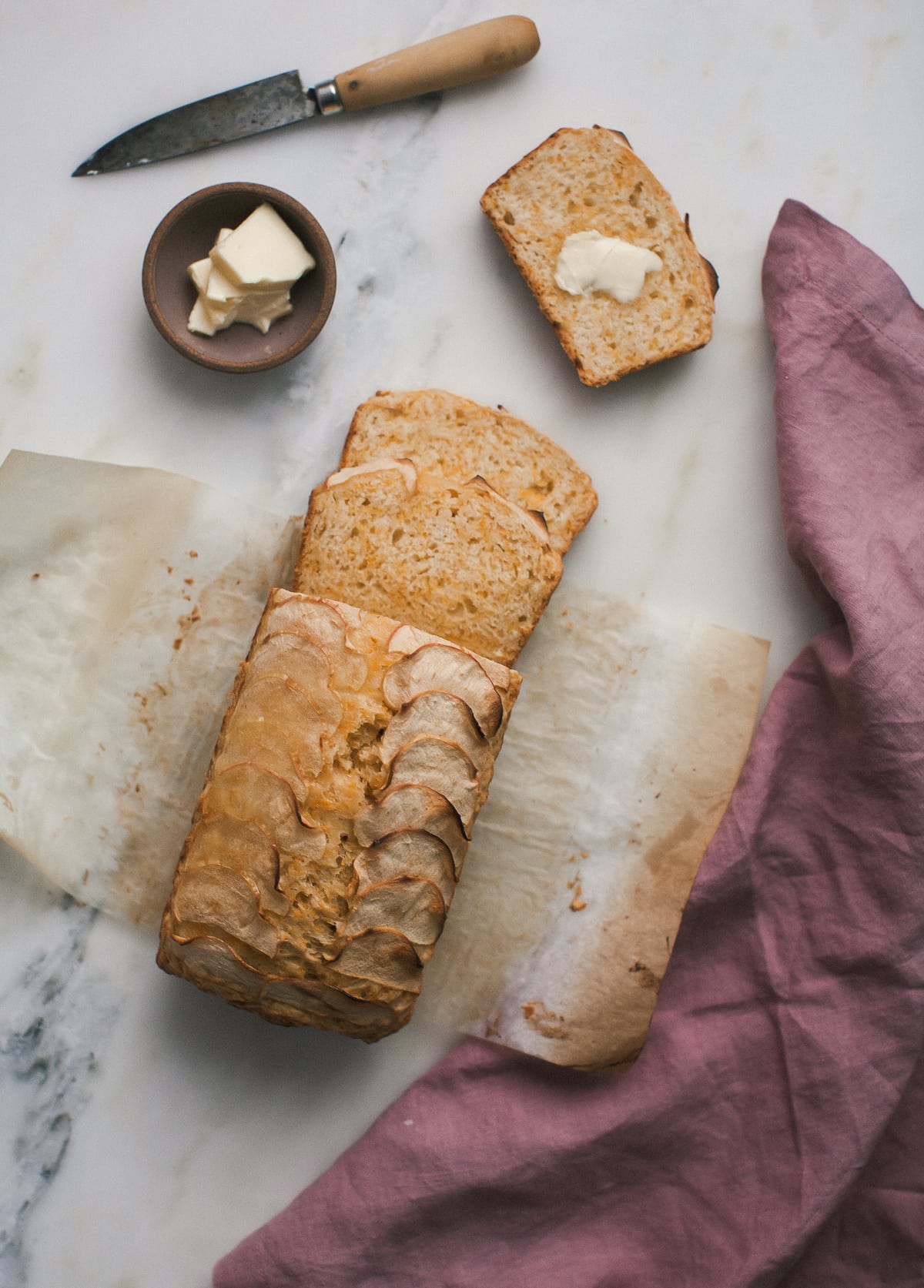 I'm not gonna lie, this week has been ROUGH. For a multitude of reasons but to top things off with a gigantic cherry and black sprinkles, on Wednesday when I was walking Amelia, we were attacked by two dogs who escaped their yard.
One was little, the other was big. They ran toward Amelia and attacked her, I tried to kick them, but since I live on an incredibly steep hill, I lost my balance and fell down the hill. I quickly got up to try and stop them again and that was when my neighbor, who is a pretty big dude, grabbed the scary big dog off of Amelia and put him back in his yard. I grabbed Amelia by the nape of her neck and walked her to safety. Since I was screaming "help, help, help!!" at the top of my lungs, people eventually came out to see if I was ok.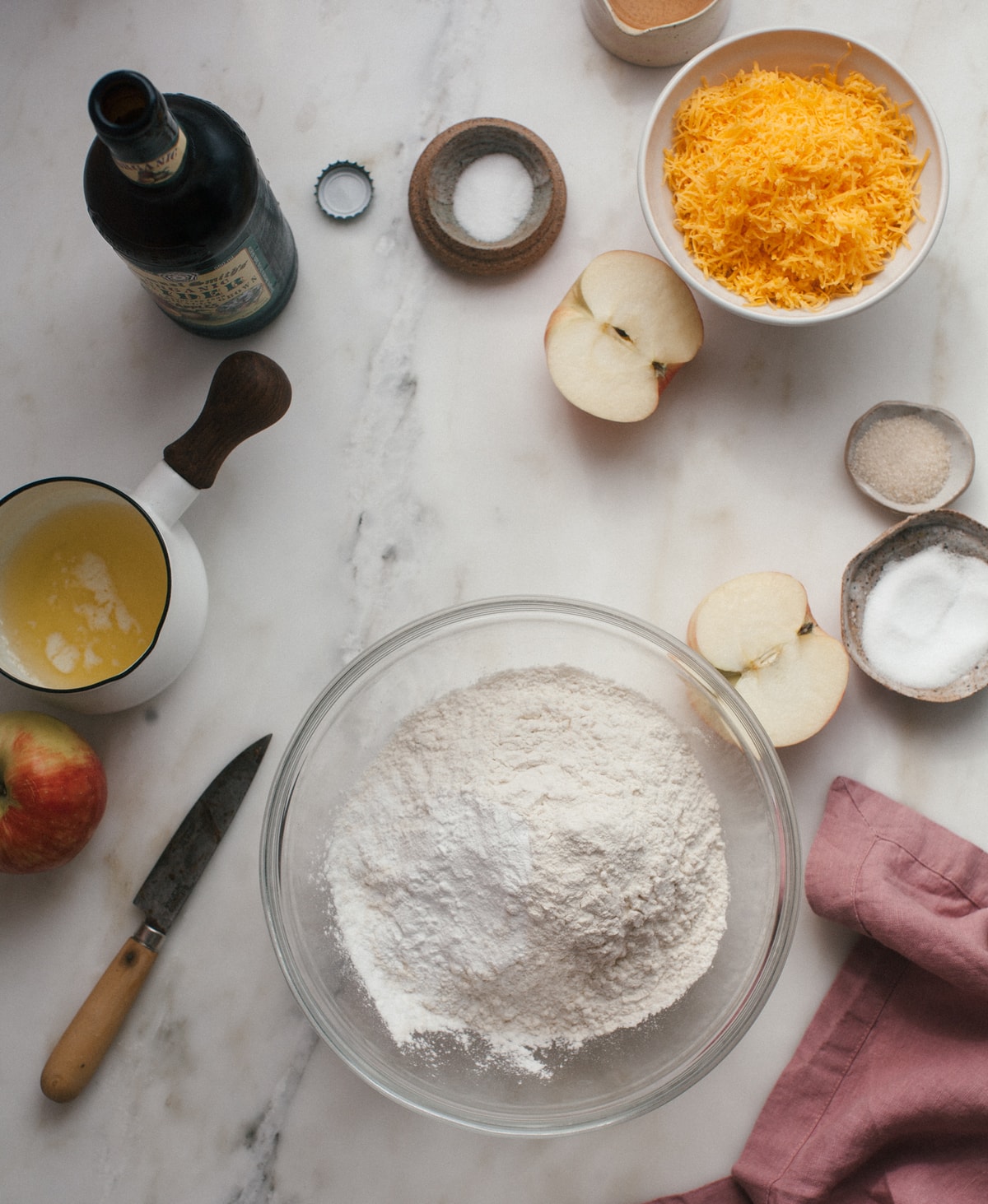 I was so incredibly thankful to Martin who saved Amelia. If he wasn't there, I'm not sure when the fight would've ended. I know dogs are dogs and I definitely don't blame them. Stuff happens. Accidents happen. But man, it has been a rough week, to say the least.
But we're ok. I'm banged up but I'll be ok. And Amelia protected herself so she's magically ok too. She's a feisty lil' thing, she got it from her Mama. Haha.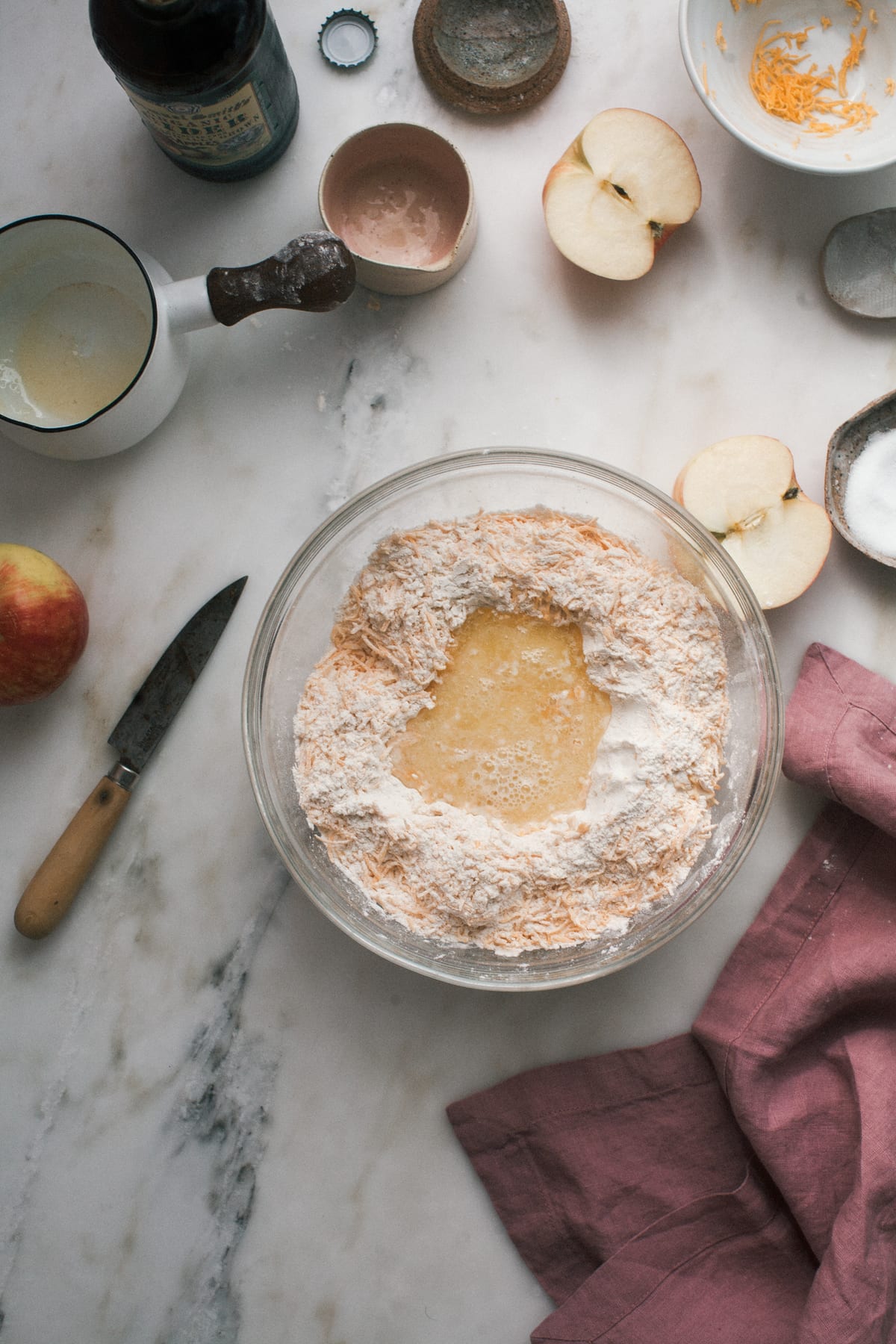 Tonight I'm excited to rest and watch TV–something that is not the news.
I watched Mrs. Doubtfire the other night and I laughed so hard. I needed laughter. I needed Robin Williams type imitations and the restaurant scene?! It's perfect.
This week I've also needed comfort in form of food. On Wednesday, for lunch I ordered a toast with ricotta and jam from Sqirl. I had a Postmate delivery credit and TOOK FULL ADVANTAGE.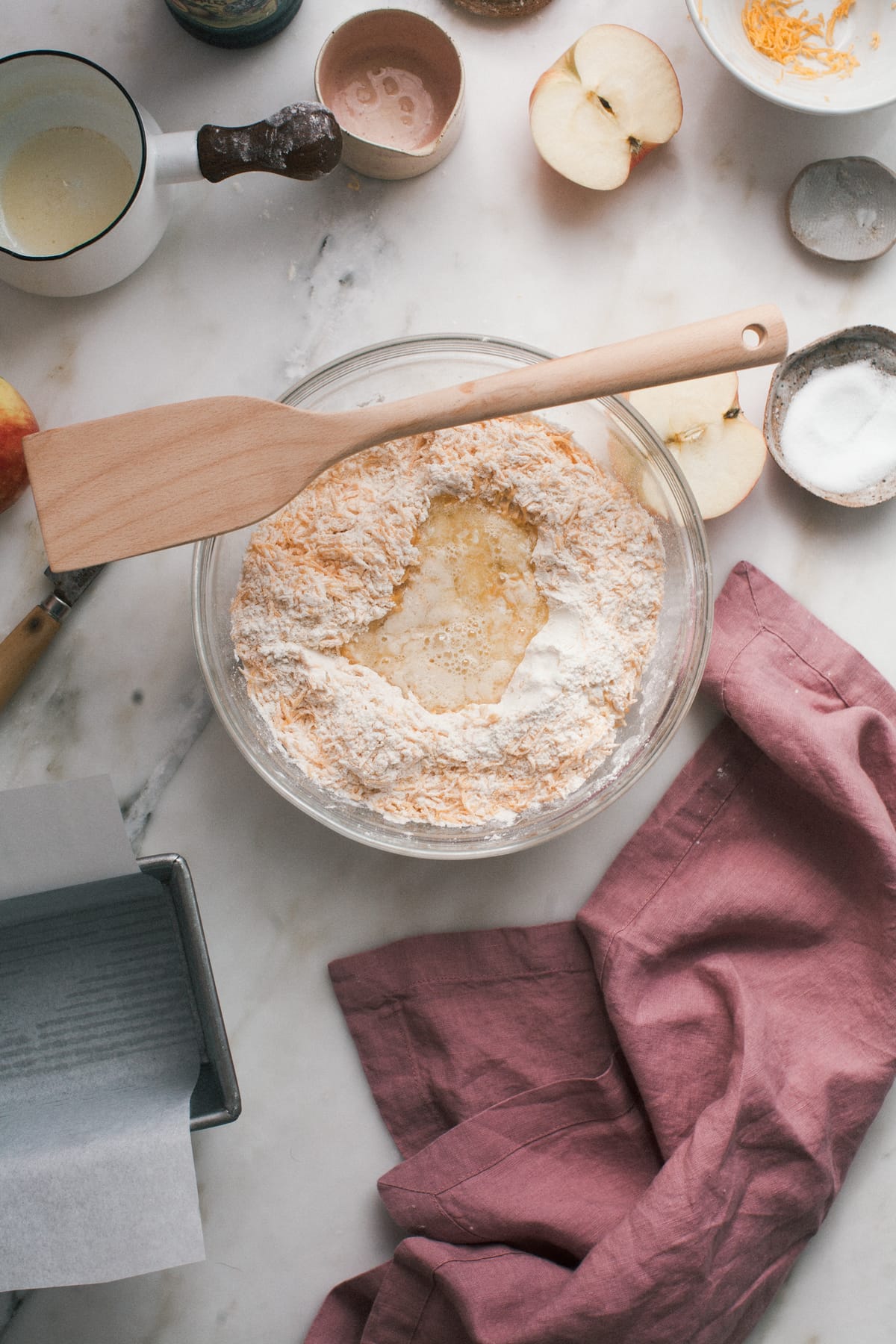 And today we have apple cider cheesy bread.
So this is kinda like beer bread but made with apple cider instead!
I thought it was a fun idea since beer bread has sort of been all over the place this season.
And since apples and cheddar go so well together, I figured let's add it to the mix, too. This bread is BOMB, it's so good.
You can serve it alongside some soup or even eat it on its own lil' by lil'.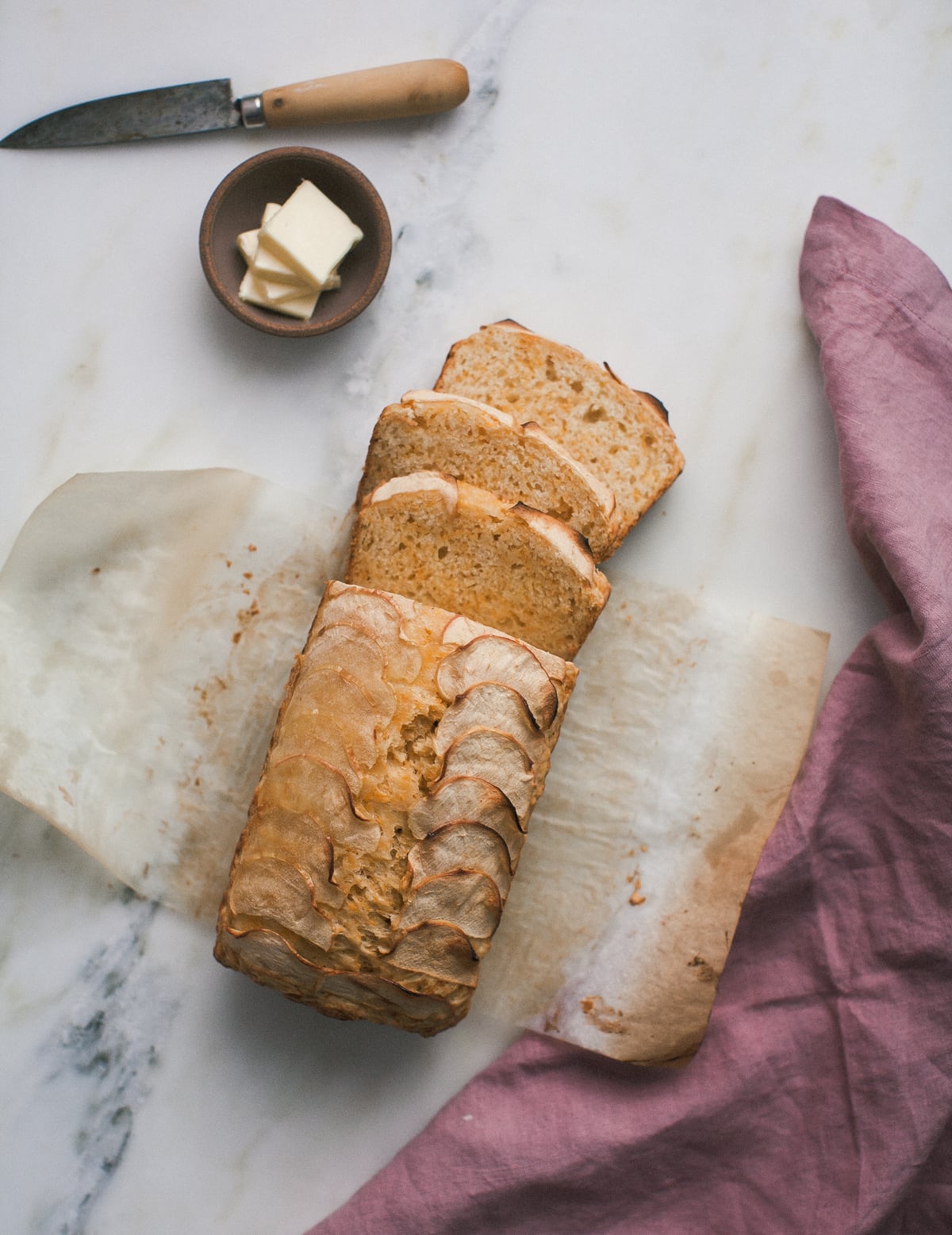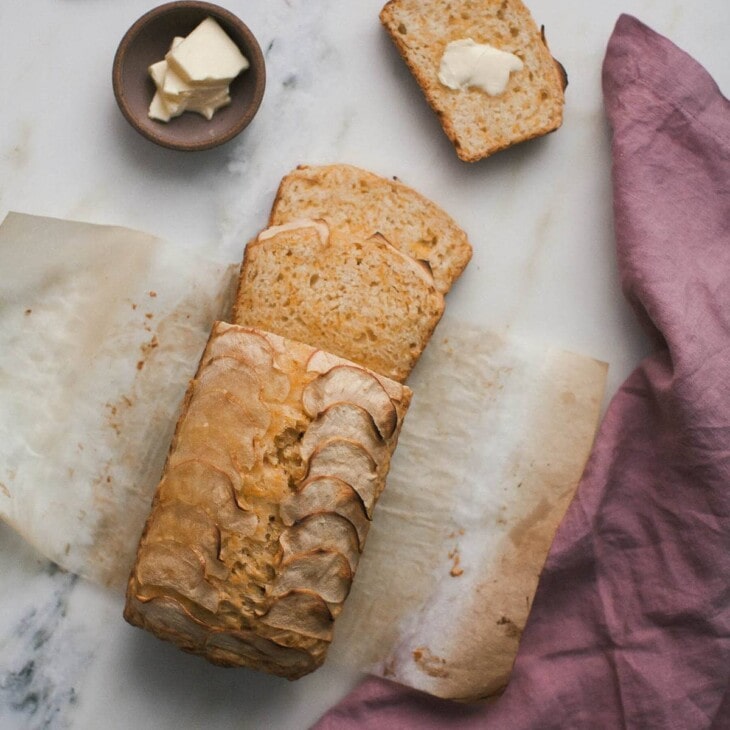 Print Recipe
Apple Cider Cheddar Bread
Serving Size:
(8x4-inch or 9x5-inch) loaf
Ingredients
3

cups

all-purpose flour

1

tablespoon

baking powder

1/2

tablespoon

sugar

1

teaspoons

salt

4

ounces

finely grated cheddar cheese

1 1/2

cup

hard apple cider

1/4

cup

unsalted butter melted

1/2

honey crisp or gala apple or pink lady apple

sliced
Instructions
Preheat oven to 350 degrees F. Grease a 8x4-inch or 9x5-inch loaf pan and line with a sheet of parchment. In a large bowl, whisk together flour, baking powder, sugar and salt. Add the cheese and toss together until it's evenly distributed throughout the flour mixture.

Using your hands or spatula, create a well in the center. Pour the hard apple cider and melted butter into the center. Stir until completely combined. Pour into the prepared loaf pan and smooth out the top with a spatula. Top the loaf with apple slices, overlapping them however you like.

Transfer to the oven to bake for 45 to 50 minutes, until a skewer inserted into the center comes out clean. Allow to cool in the pan for about 5 minutes, before removing and allowing it to cool to room temperature. Serve it with some softened butter! Also, I tried this with apple butter and it was also SO GOOD.
Notes
The 9x5-inch loaf will be a bit stouter than the one pictured!