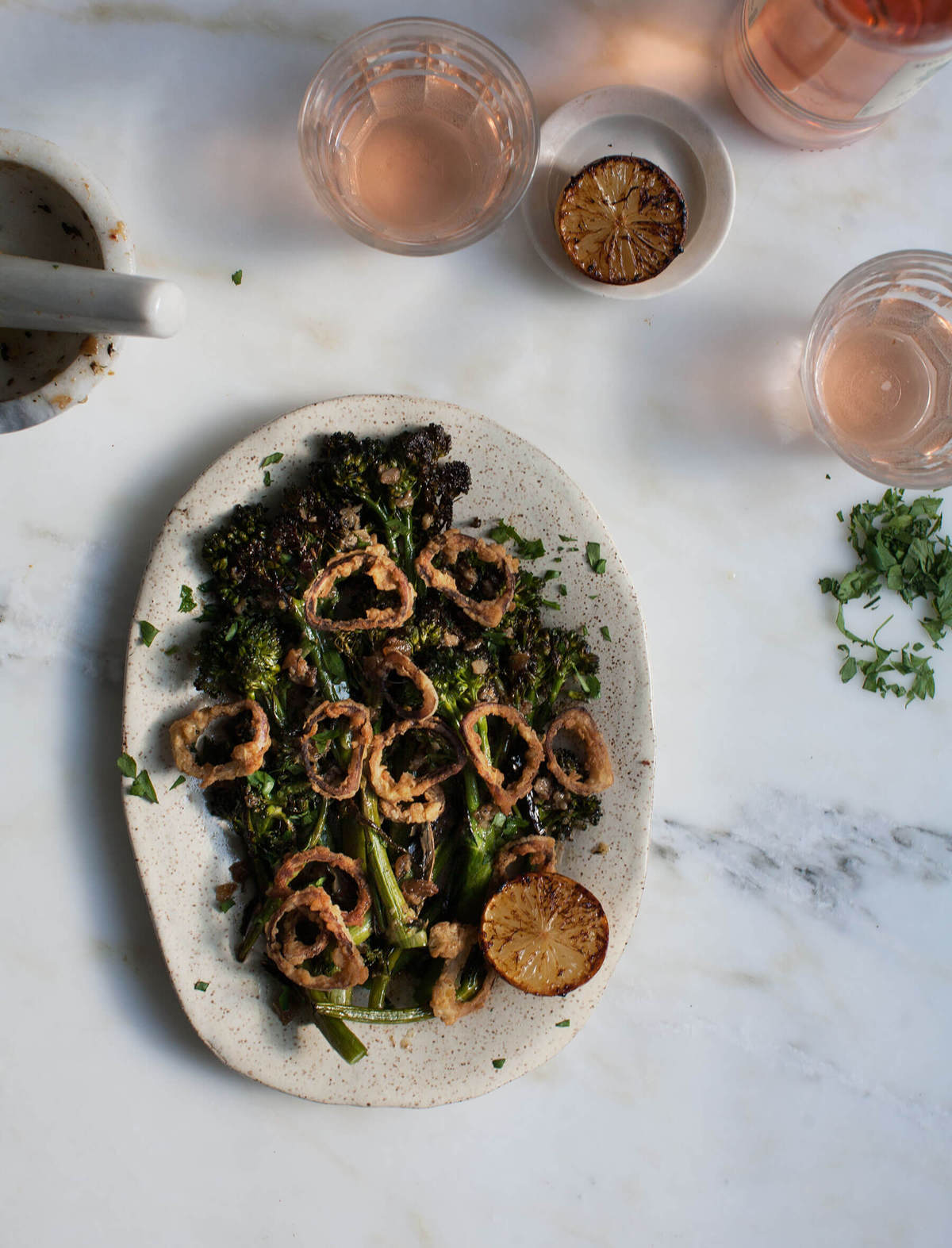 This weekend I accompanied my best friend to look for wedding dresses. When she made the appointments, we both sort of rolled our eyes and shrugged our shoulders. I guess we're gonna have to do this. Neither of us are super girly so the idea of having to go to a bridal boutique or whatever didn't sound all that exhilarating…until we got there.
Man, it was way more fun and emotional than I ever thought it was going to be. It was such a happy experience! It made me appreciate all the steps along the way to getting married. It made me happy for her and for me and for her mom, who was so grateful and thrilled to witness every single dress, good or bad.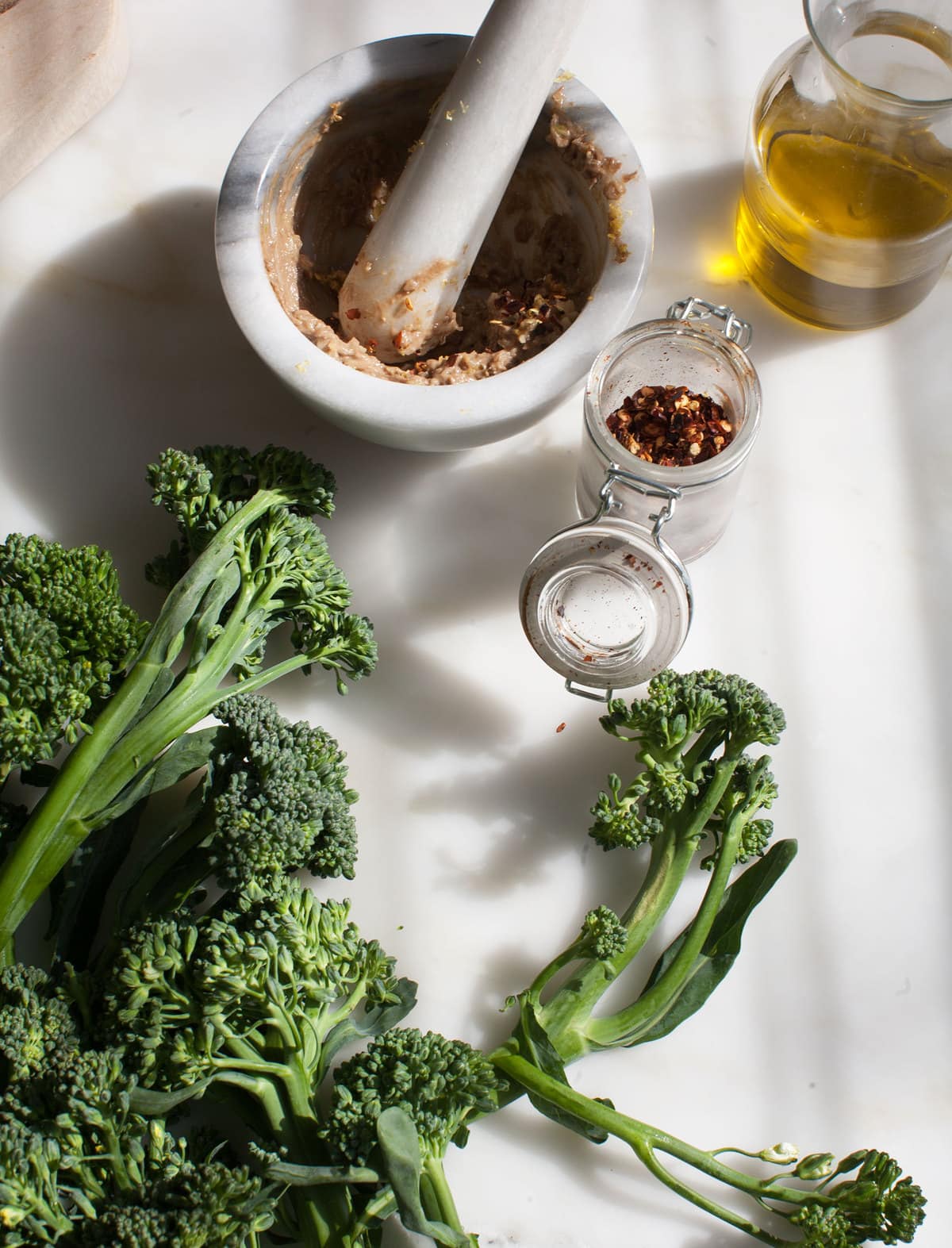 What did you do?
Are you realizing that Thanksgiving is like a stone's throw away?! I went to CVS the other day and they just skipped from Halloween to Christmas! JUST LIKE THAT! It's really intense and aggressive and it's stressing me out.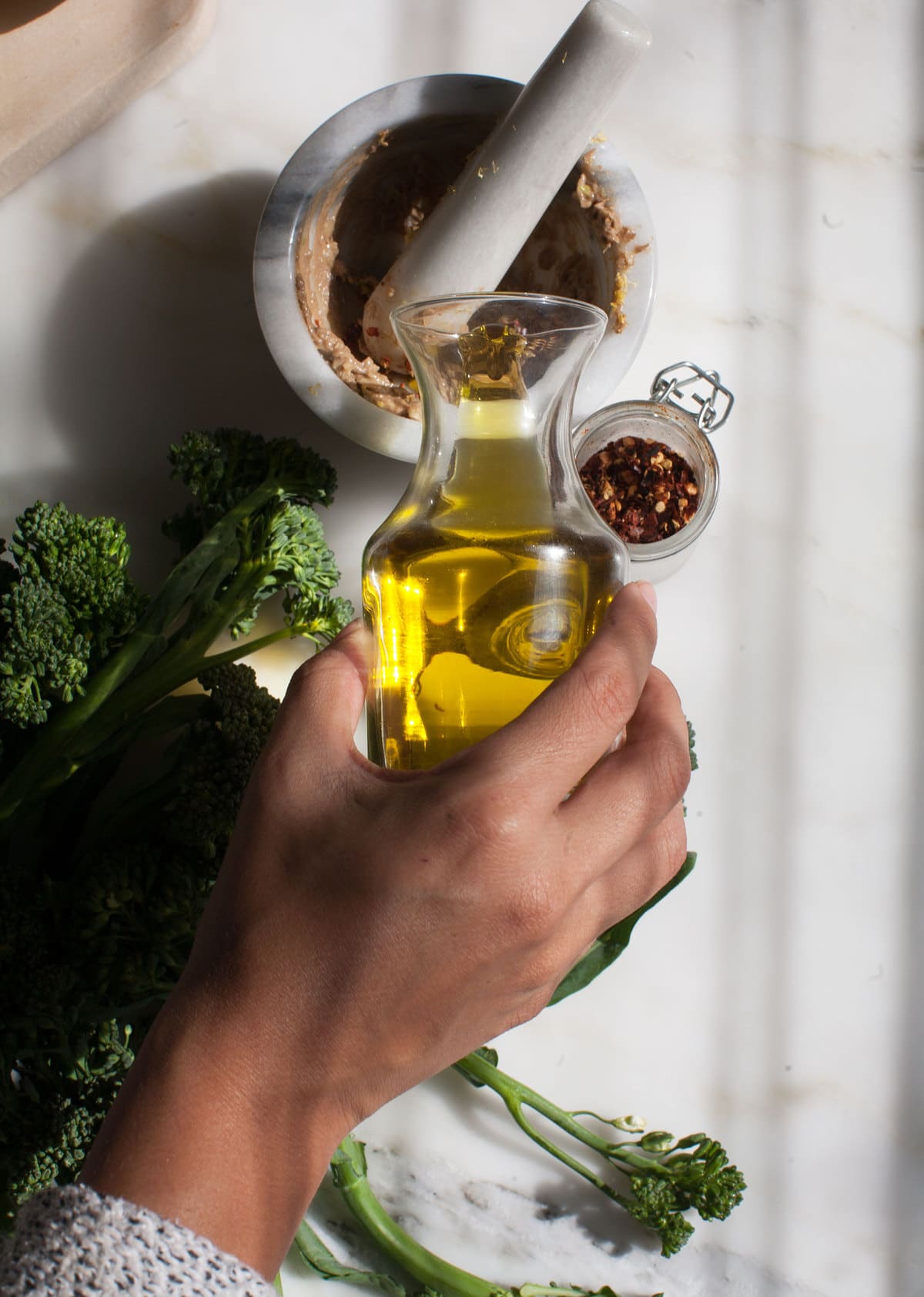 This is the first of the Thanksgiving recipes I'll be sharing over the next couple of weeks.
A few months ago, I ate roasted broccoli like every single night for at least three weeks straight. I ate a lot of iterations but this was one of my favorites.
It couldn't be simpler. It's roasted with just a bit of olive oil. And then while it's doings its thing in the oven, I make the bagna cauda, which is basically an olive oil and anchovy sauce. I like to warm it a bit in a small saucepan just to cook off the garlic a bit, but if you're feeling super lazy, you can skip this step!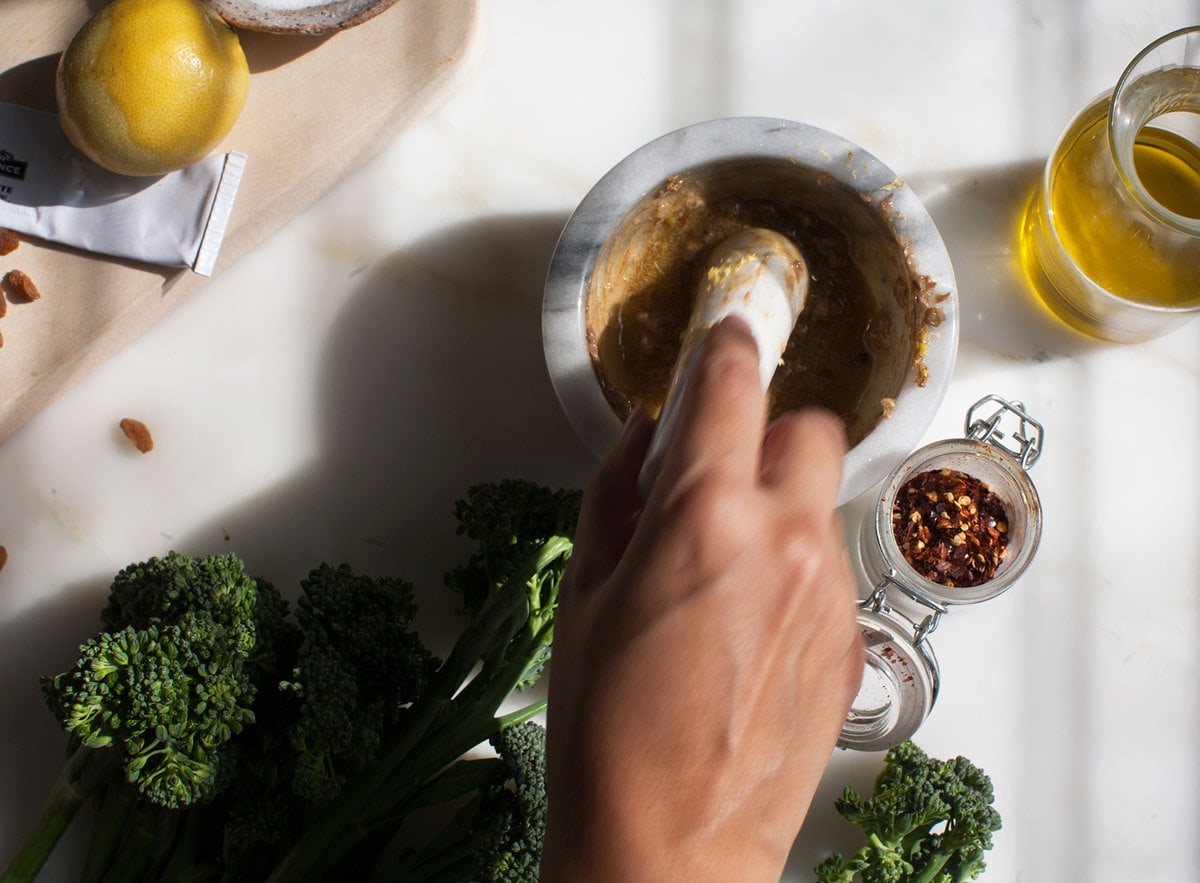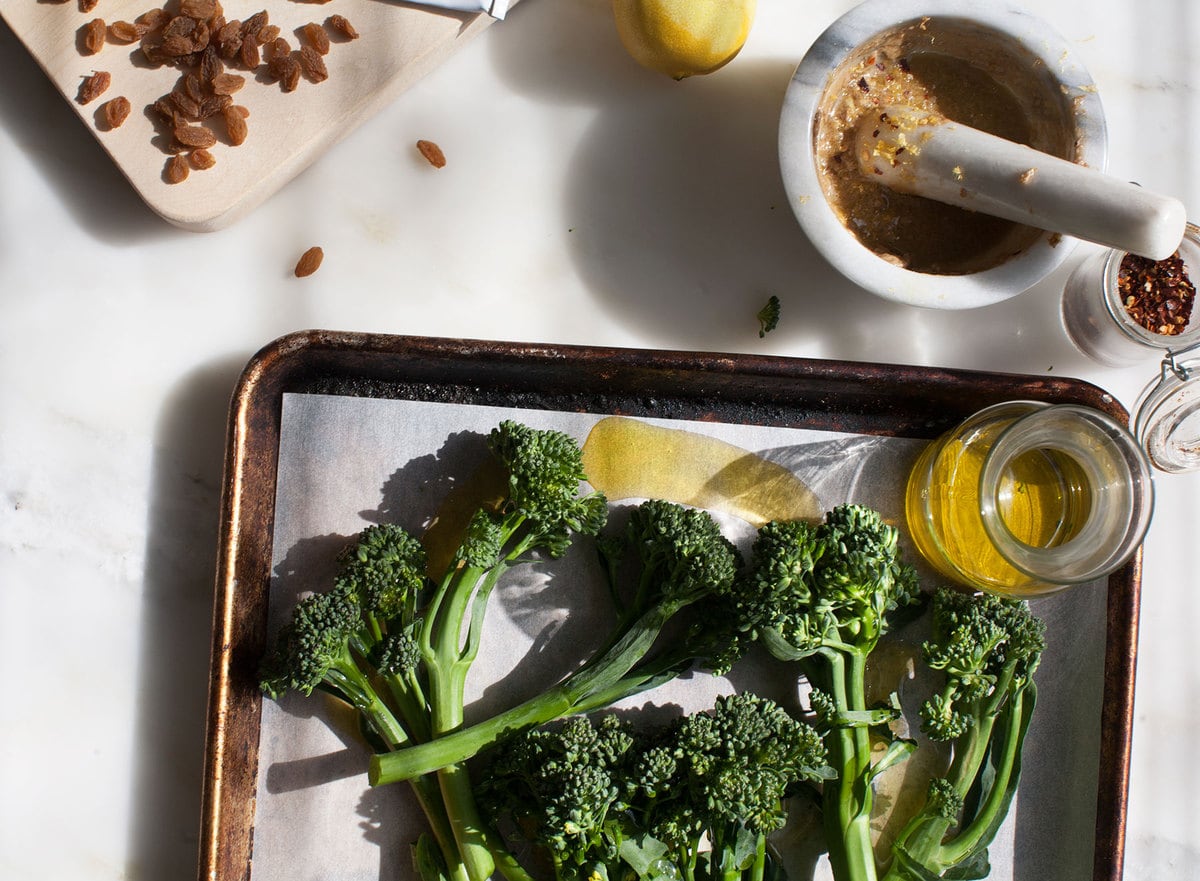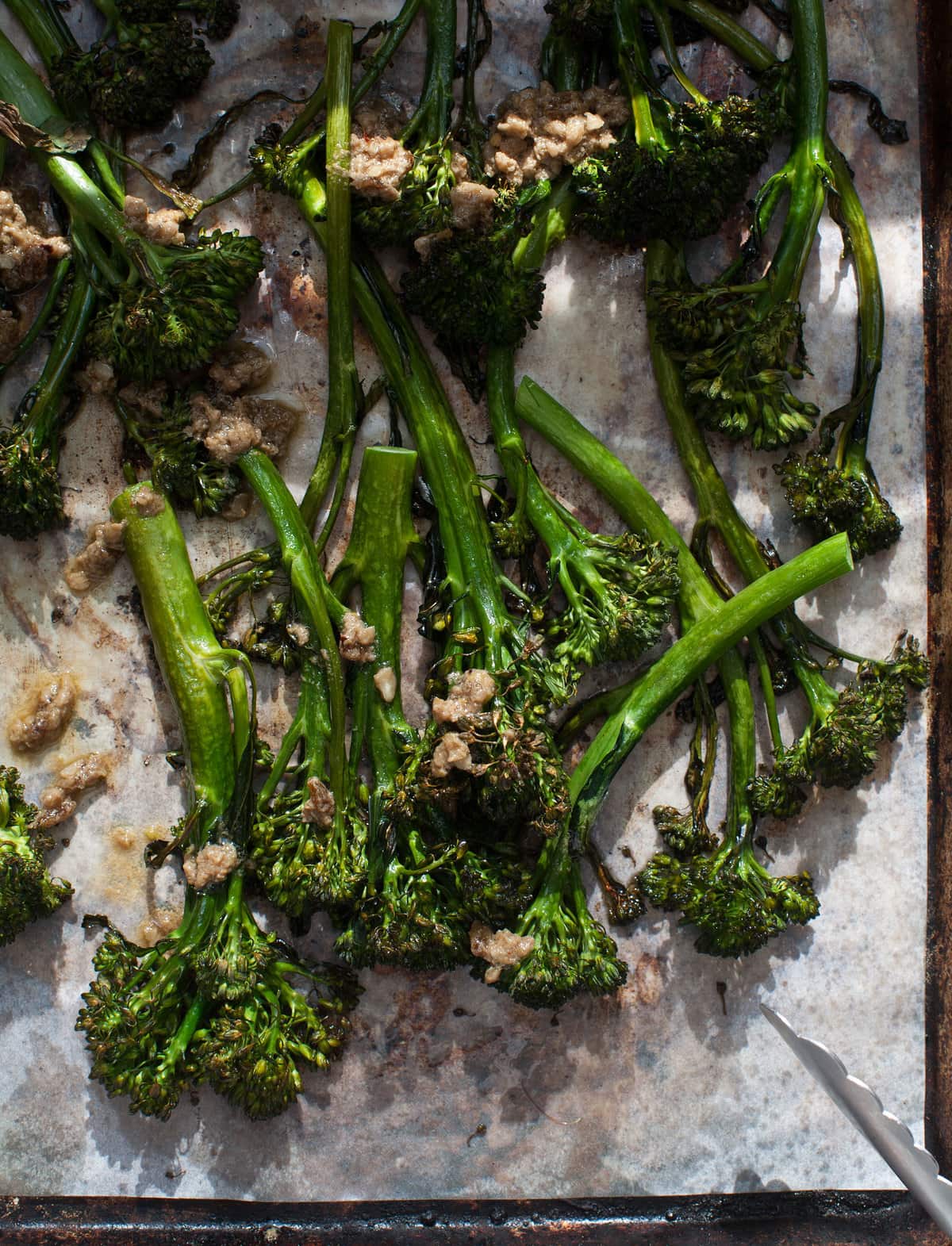 The lemon, anchovy, crushed red pepper, Italian parsely flavor combo will never get old to me. It's classic and simple. Like a crisp blue oxford shirt or one of those French blue striped shirts I love so much.
Also, if you have kids and are pretty positive they won't like anchovies, you could serve the sauce on the side of the broccoli. The crispy shallots are a lil' nod to that staple on every Thanksgiving: green bean casserole.
I don't like too much weird stuff going on with my Thanskgiving sides. Just little tweaks and updates. Not major ones!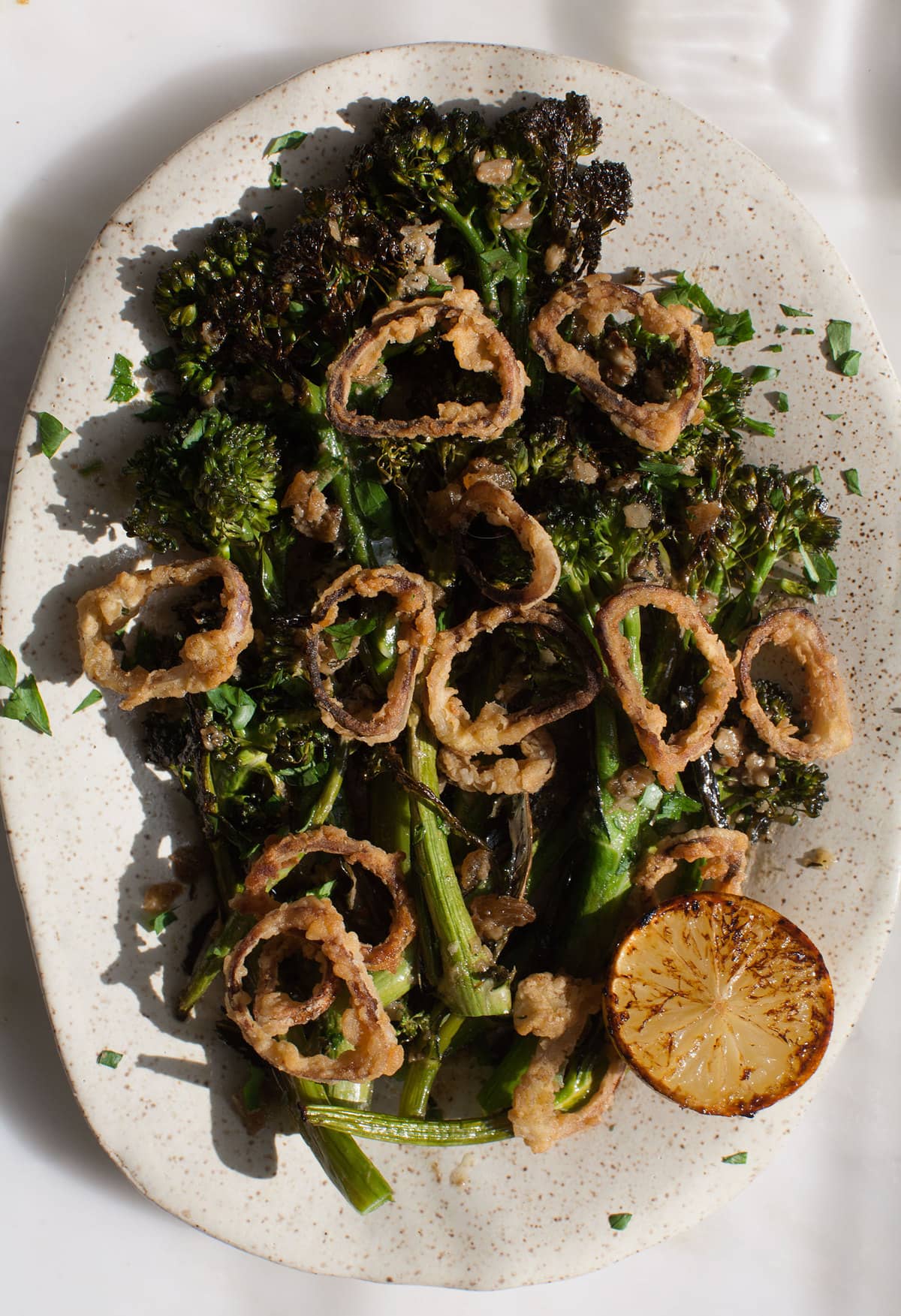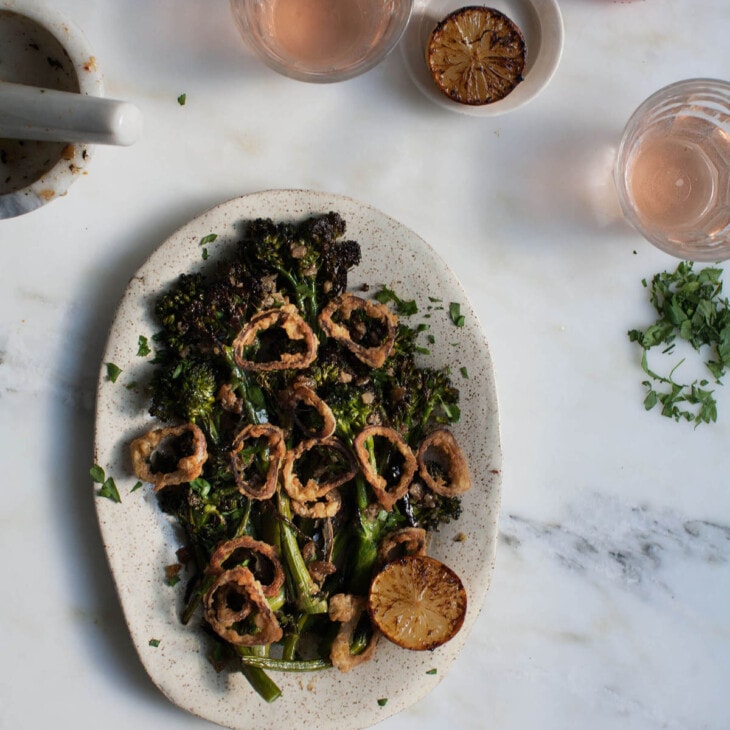 Print Recipe
Roasted Broccoli Bagna Cauda with Crispy Shallots
Serving Size:
TO 6 (AS A SIDE DISH)
Ingredients
Crispy Shallots:
1

large egg

1/4

cup

all-purpose flour

3

tablespoons

vegetable oil, more as needed

1

large shallot, peeled and sliced horizontally so you have rings
Broccolini:
2

bunches of broccolini

(about 2 pounds), trimmed

Olive oil

2

garlic cloves, peeled

Zest from 1/2 lemon

Juice from 1 lemon

1 1/2

tablespoons

anchovy paste or 2 anchovy filets

1/4

cup

olive oil

1/4

teaspoon

crushed red pepper flakes

2

tablespoons

grated Parmesan-Reggiano cheese
Instructions
Add the egg to a small bowl and beat until combined. Add the flour to another small bowl. In a small saute pan, set over medium-high heat, add the vegetable oil. Separate shallot—you should have like little baby onion rings! Line a plate with paper towels (you'll use this to drain the shallots after frying). When the oil is hot, dip the shallot rings, in batches, into the egg mixture and then immediately in the flour. Drop them, carefully, into the hot oil and fry on each side for about 1 minute, until golden brown. Transfer to the paper towel to drain and immediately sprinkle them with a bit of salt. Repeat until you've worked your way through all of the shallot rings. Set aside.

Preheat the oven to 400 degrees F. Line a baking sheet with foil or parchment. Spread the broccolini out onto the baking sheet and drizzle with about a tablespoon of olive oil. Toss it together until it's evenly coated. Transfer to the oven to roast for about 15 to 20 minutes.

While the broccoli is roasting, make the bagna cauda: To a mortar and pestle (or a small bowl), add the garlic cloves, lemon zest and lemon juice. Using the mortar, grind the garlic cloves until they turn into a paste. If you don't have a mortar and pestle, you can mince the garlic cloves and add them to a small bowl, along with the lemon zest and lemon juice. Mix in the anchovy paste or anchovy fillets (if you're using fillets, you'll have to mash them with the mortar or a fork). Pour in the olive oil, along with the crushed red pepper flakes and parmesan. Give it a taste and adjust any of the flavors according to your liking. I didn't need any salt; this will just depend on the anchovy paste or fillets.

Add the mixture to a small saute pan, set over medium-low heat, and cook until just warm, about 1 to 2 minutes. This will cook the bite out of the garlic and lemon just a bit. Pour the bagna cauda over the broccolini and toss until evenly coated. Top with the crispy shallots.
Notes
*If you don't have broccolini, regular ol' broccoli will work too. It may just need a bit more cook time since the stems are thicker. If the stems