The Dodgers are in The World Series and I have never been more emotionally invested in any series ever. Lol. I don't even watch sports but I grew up going to Dodger games. I grew up eating Dodger dogs. So, I'm a fan. And, I live in Echo Park, which means that Dodger stadium is literally walking distance so…well, honestly I don't know how that has anything to do with me being a fan but I am!!
This week I've been screaming at the television (so unlike me) and it's been fun! Also, it's finally feel like fall (even tho I know I said that yesterday). I've been craving warm, cozy foods more than ever. I posted this recipe on the Instagram a while back but I wanted to repost it here so it's a printable recipe and easier to find.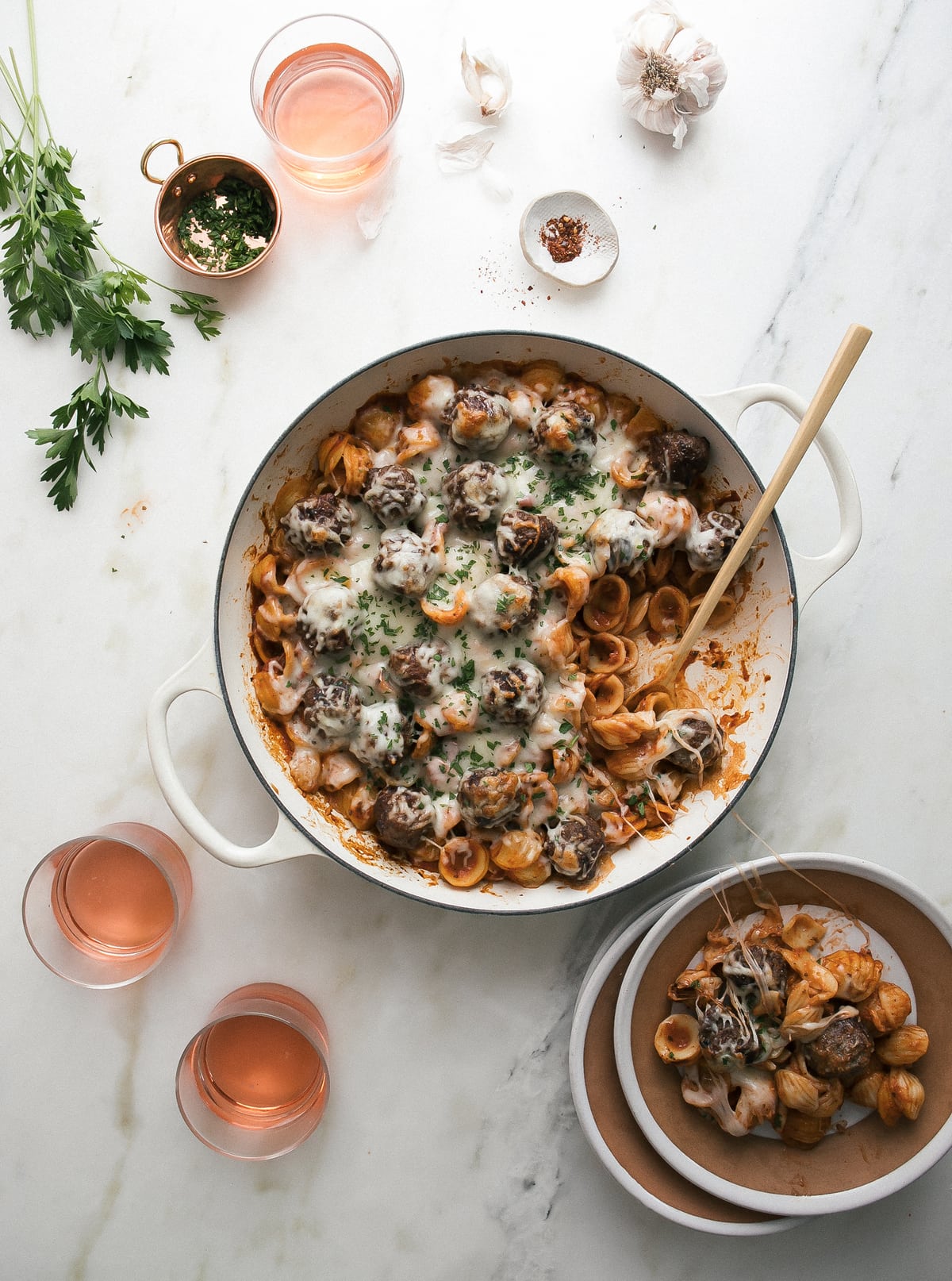 Do you like Instagram recipes? I always thought no one would ever make a recipe from a caption but that's not true. I find that people actually save the recipes and make them. It blows my mind because I personally can't imagine cooking from a caption—they're so small. But maybe I'm just wrong?
Anyway, this recipe. Mini little meatballs are rolled and put on top of orecheitte and the entire thing is topped with cheese. It's not baked for a super long time but it is so, so good. I love it so much.
I feel like I need to make more pasta bakes!!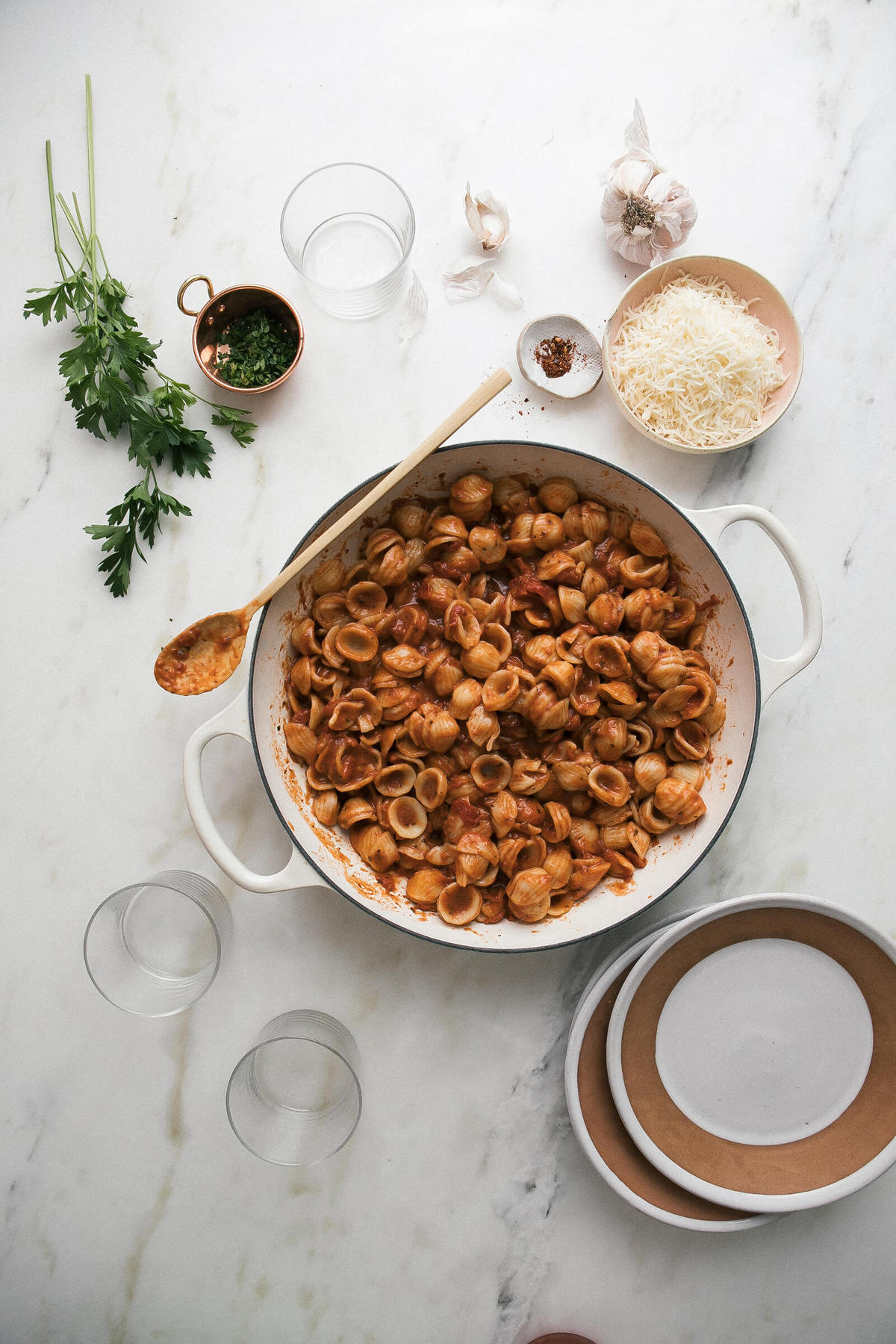 Also, Happy Halloween! I'm not dressing up this year BUT Amelia is going to be a skunk and I bought a few bags of candy for trick 'o treaters so hopefully they come knocking on the door! I'm gonna be bummed if they don't show up mainly because I'll have all this candy around. Lol.
Wishing you a safe and cozy Halloween!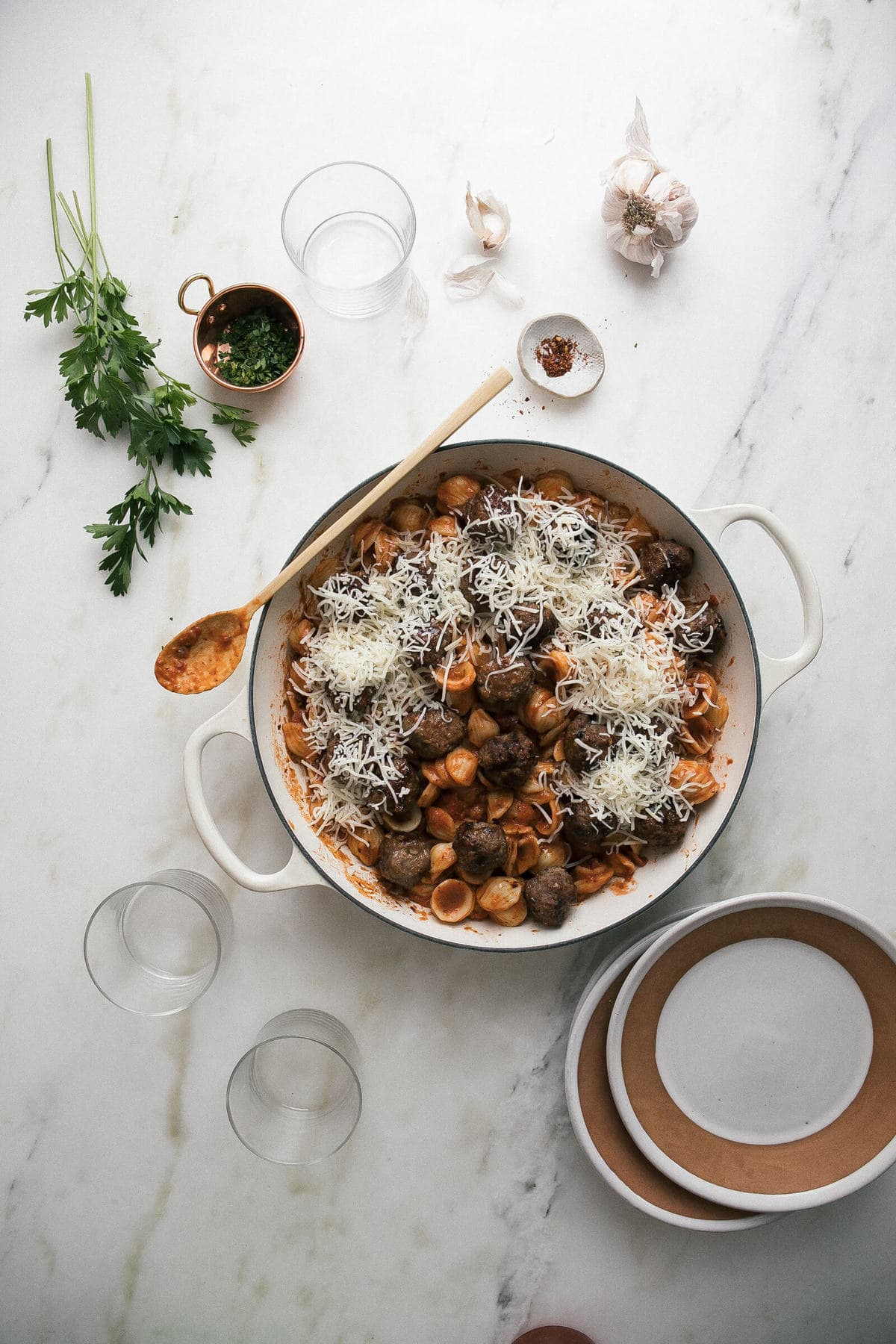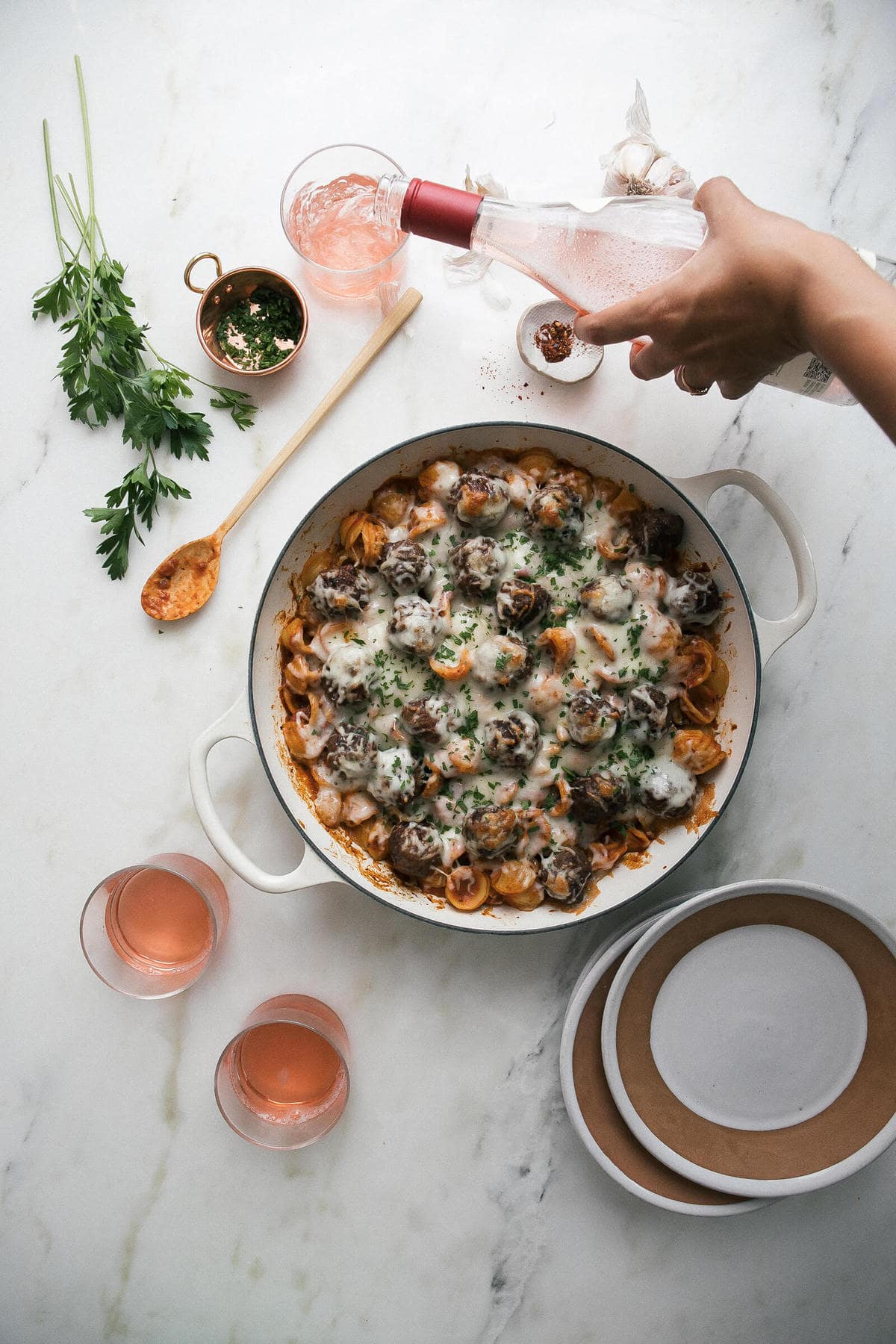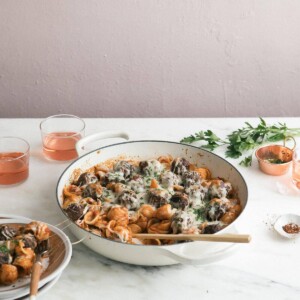 Ingredients
2

tablespoons

Italian bread crumbs

2

tablespoons

milk

1

pound

ground beef

,

90%/10%

1/4

cup

finely shredded Parmesan

1/4

yellow onion or red onion

,

grated

3

garlic cloves

,

minced

1

teaspoon

dried oregano

3/4

teaspoon

fine sea salt

1/2

teaspoon

crushed red pepper

1

large egg

,

beaten

1

tablespoon

oil

1

23-ounce jar of marinara or homemade

4

ounces

crème fraîche

1

pound

of pasta

,

I used orecchiette, cooked to al dente

1 1/4

cup

shredded mozzarella
Directions
Preheat your oven to 350 degrees F. In a large bowl, combine the bread crumbs and milk. Allow to soak for 5 minutes. Add the ground beef, Parmesan, onion, garlic, dried oregano, salt, crushed red pepper and egg.

Mix until combined.

Using a tablespoon (or small cookie scoop—my favorite tool for meatballs), scoop out the meat mixture, forming meatballs using your palms. Repeat until you've worked through all of the meatball mixture.

In a medium skillet, set over medium heat, add the oil. When hot, cook the meatballs for 2 to 3 minutes, flipping them and cooking on the opposite side for an additional 4 minutes. Transfer the meatballs to a bowl. Pour the marinara into the skillet, along with the crème fraîche and stir until smooth. Cook until warmed, about 5 to 7 minutes, seasoning the marinara sauce to your liking (I added a bit of crushed red pepper and some additional salt).

To a large baking dish, add the cooked pasta, marinara sauce and toss until combined. Add meatballs atop the pasta and sprinkle with the mozzarella. Transfer to the oven to bake for 8 to 12 minutes, until cheese is nice and melty. Garnish with Italian parsley, if you like.
Nutrition Facts
Mini Meatball Pasta Bake
Amount Per Serving (4 g)
Calories 0
* Percent Daily Values are based on a 2000 calorie diet.