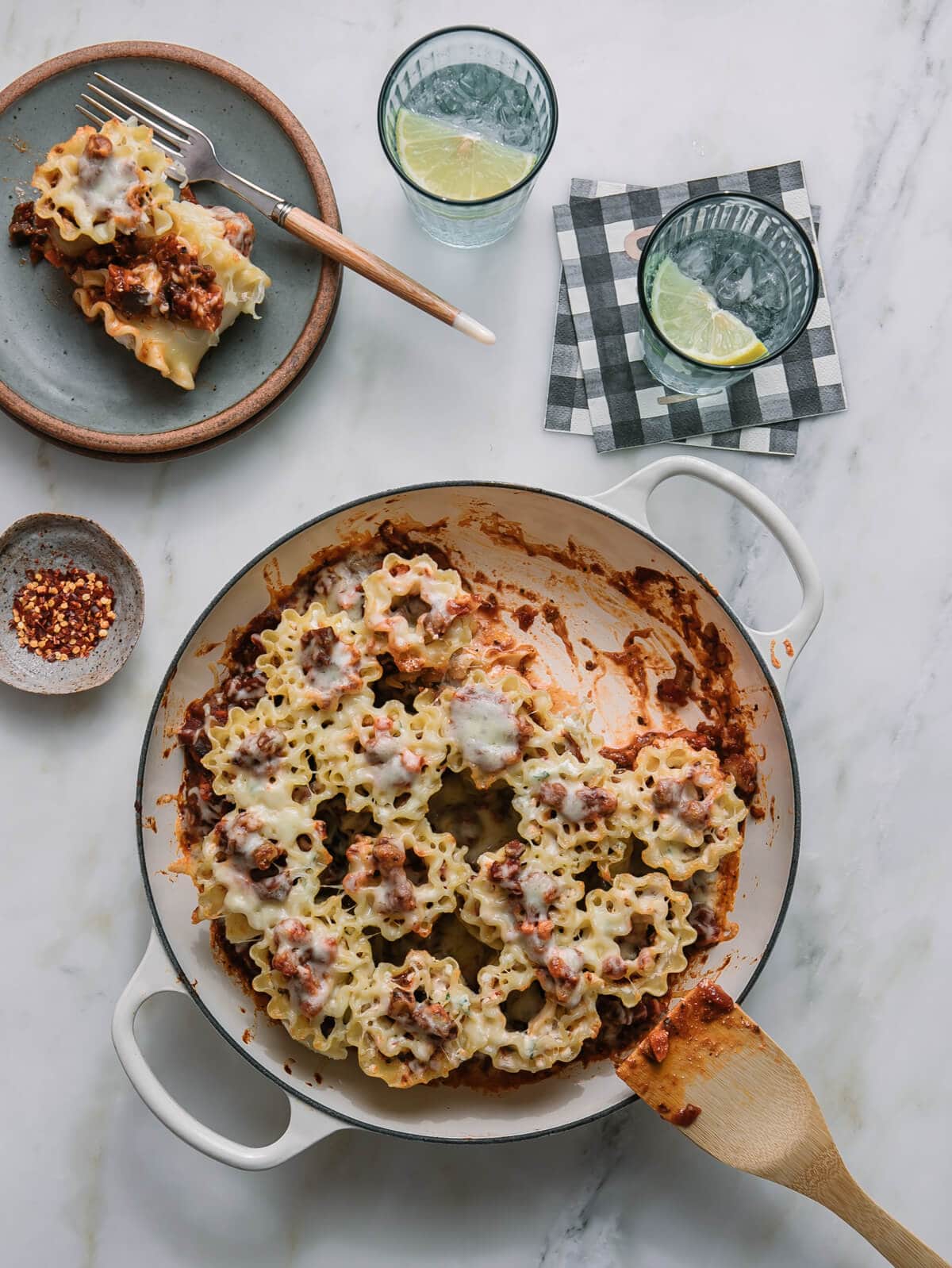 Phew! We are on the home stretch with the kitchen, I just know it. The cabinets have been assembled and are being installed on Wednesday and I couldn't be more excited. I feel like once they're in, I'll be able to see the kitchen come to life. After that it'll be backsplash and then appliances. I feel like then it'll start to feel real! I CAN'T WAIT!
What should I make in my new kitchen? I've been thinking about it for a long time? Should I make something ambitious like a pretty pie or should it be chill…like breakfast? That is TBD!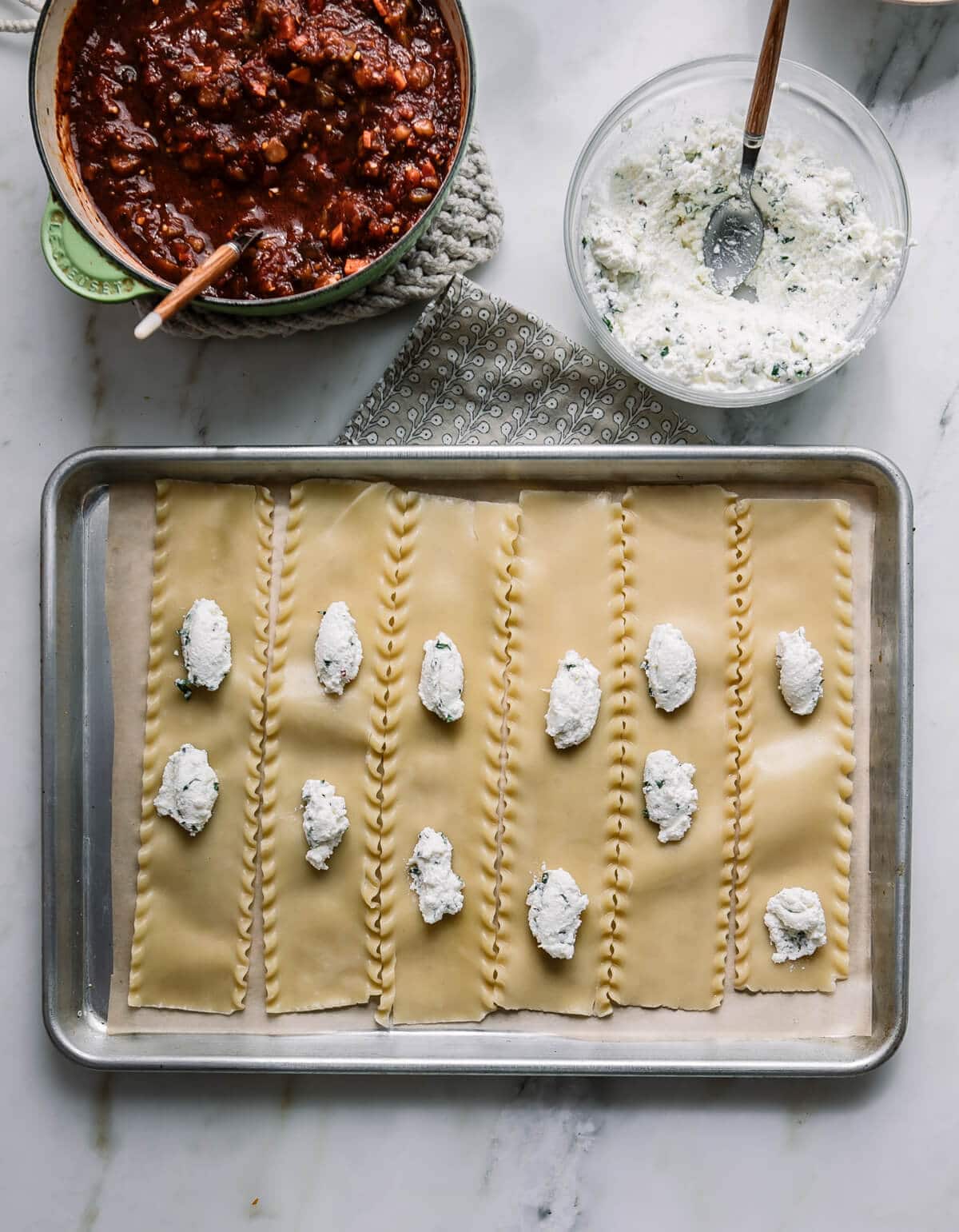 Let's talk about this pot of dreaminess right quick.
I've been dreaming about lasagna roll-ups FOR A LONG TIME! Why…I have no idea. I think I've been spending a lot of time on the Pinterest and sometimes, when I'm really hungry and, like, haven't eaten all day, I get mesmerized by those long pins. I saw one of lasagna roll-ups and while they might've looked a lil' trashy, I still wanted them!
Here's my version! I made an eggplant marinara sauce that was soooo tasty, I wanted to put it on spaghetti squash. I also took some ricotta and added some lemon zest and salt and Italian parsley (basically, I flavored it up!).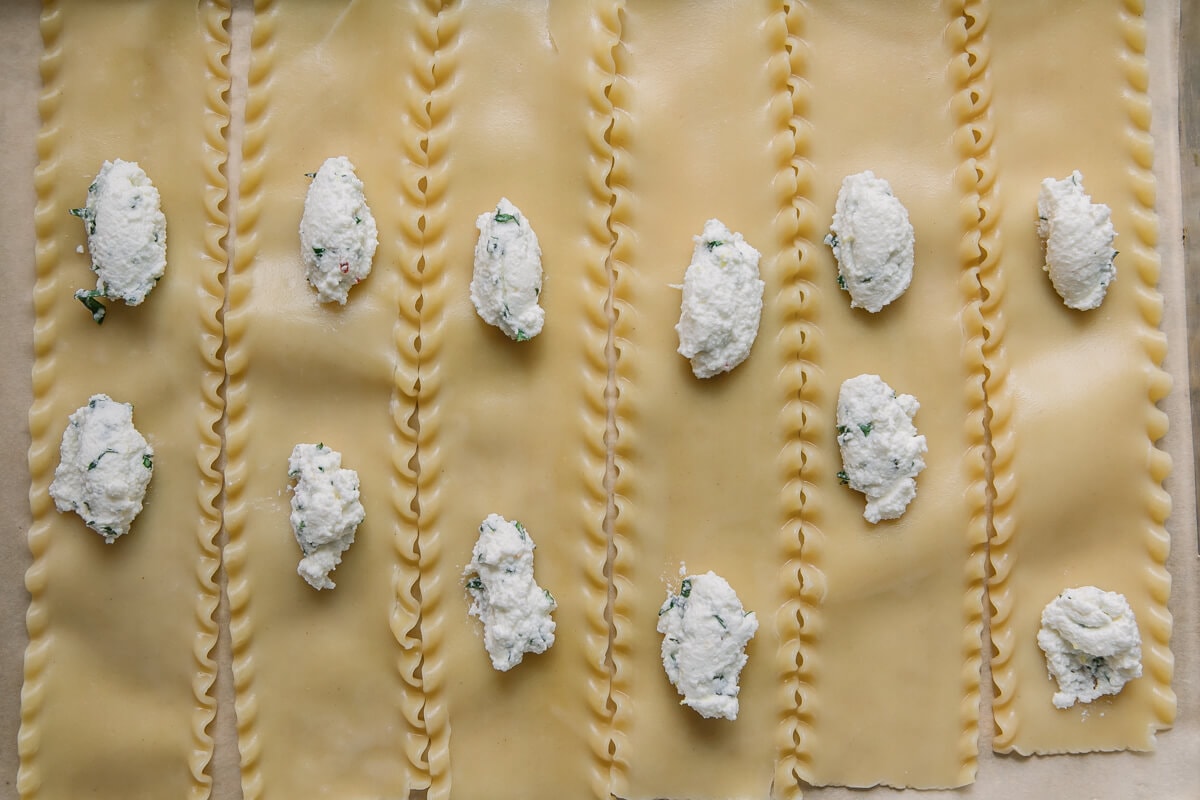 I took the cooked lasagna sheets and smeared a bit of ricotta on there, added a spoonful of marinara sauce, cheese and then rolled them up.
Honestly, I thought this was going to be a sloppy mess but the ricotta acts like a glue and makes them stay in tact, on their sides.
If for some reason, they slide around and are acting all loosey-goosey, you could easily just put them seam side down.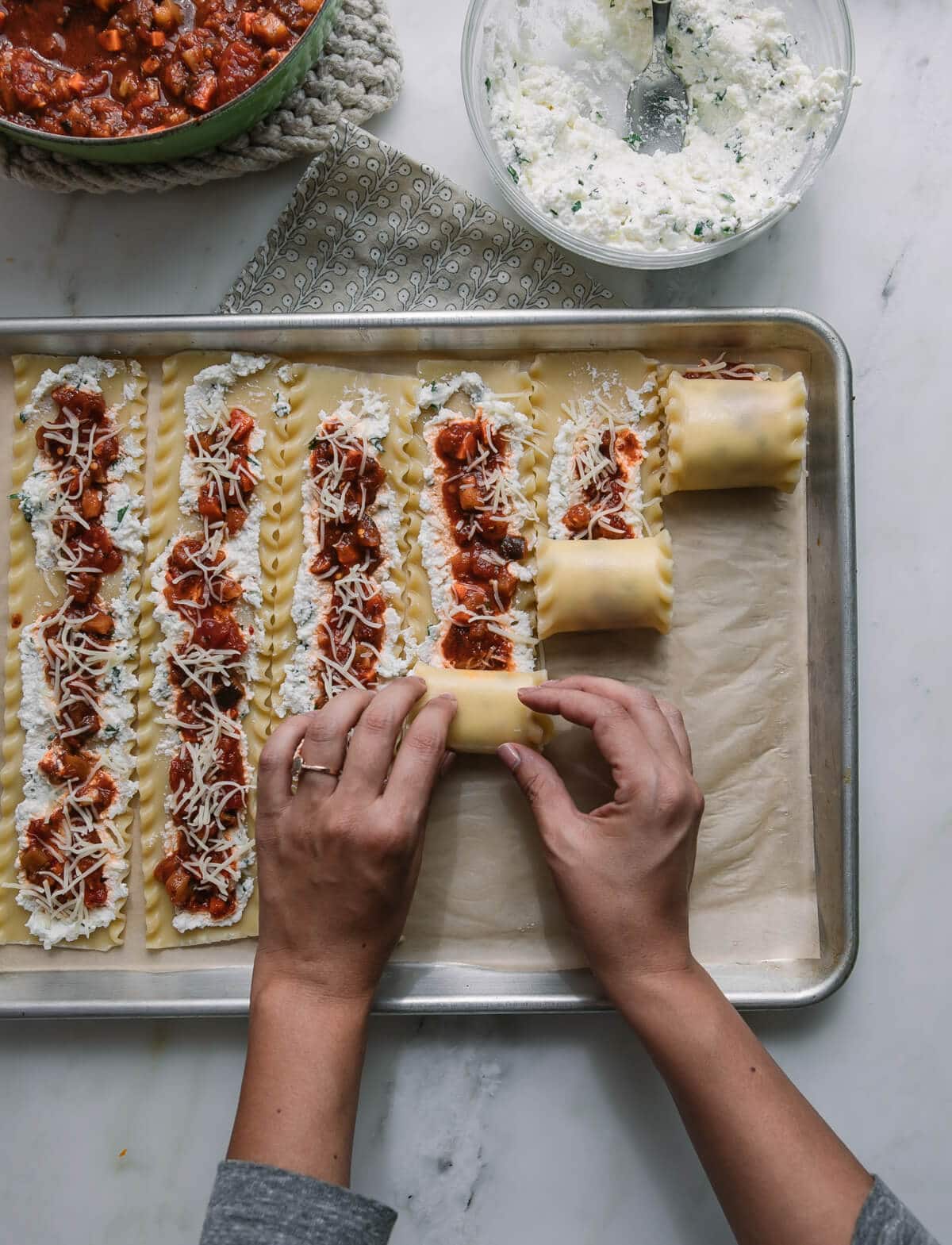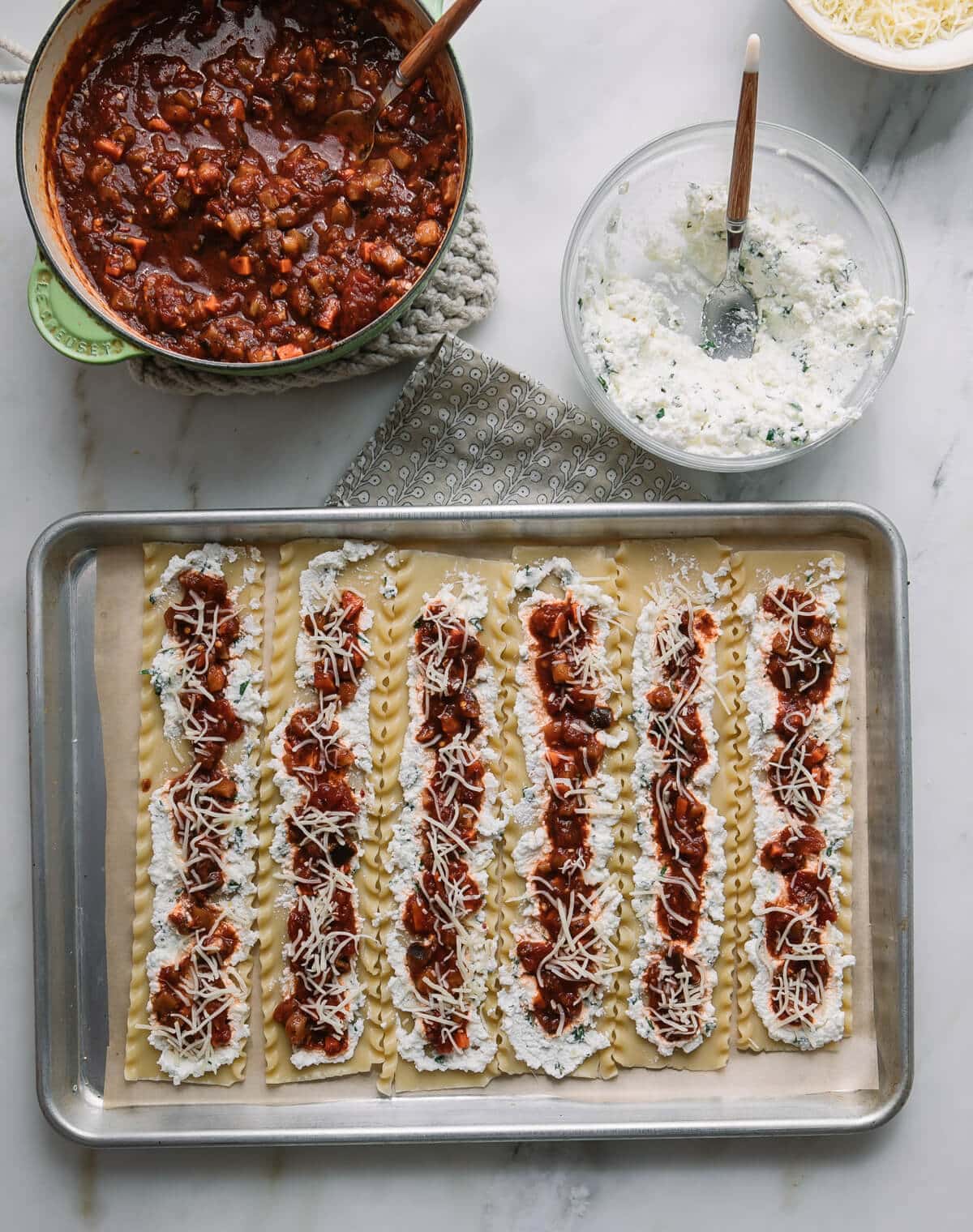 I added a baked 'em and then added a bunch of cheese on top toward the end. They were magical and delicious and fun to eat and look at.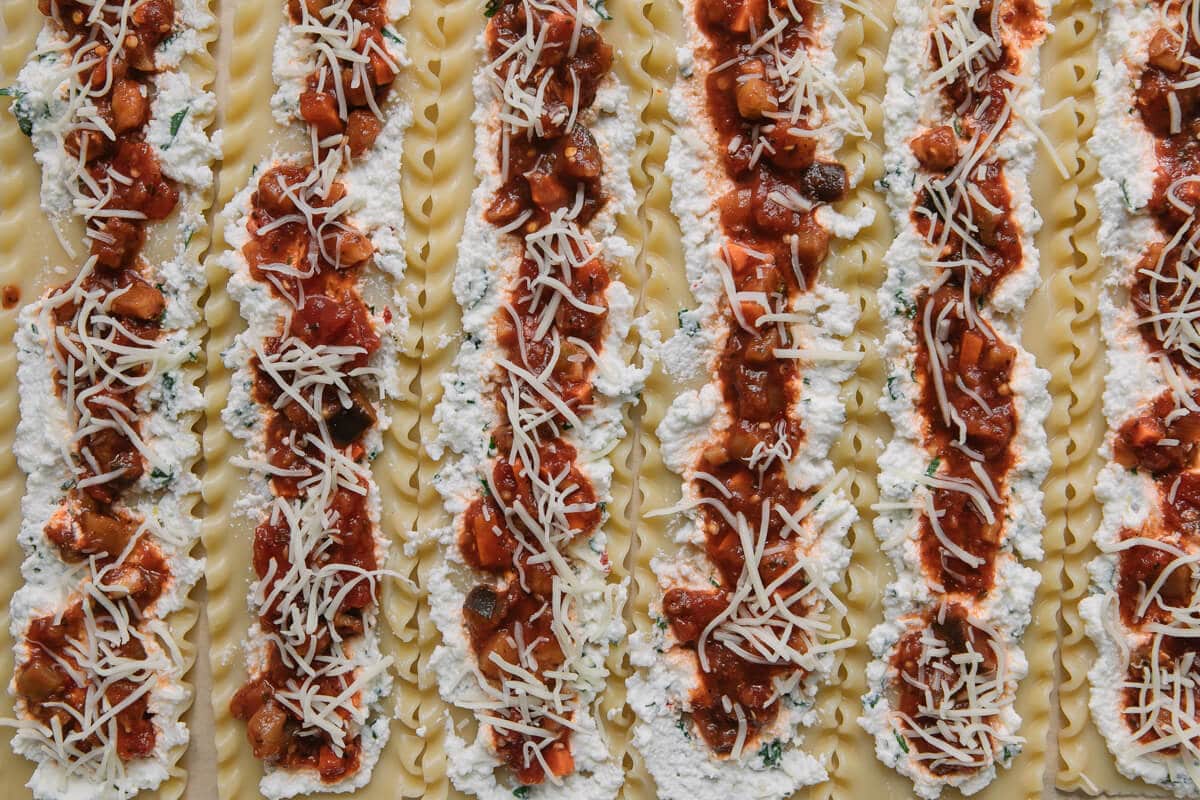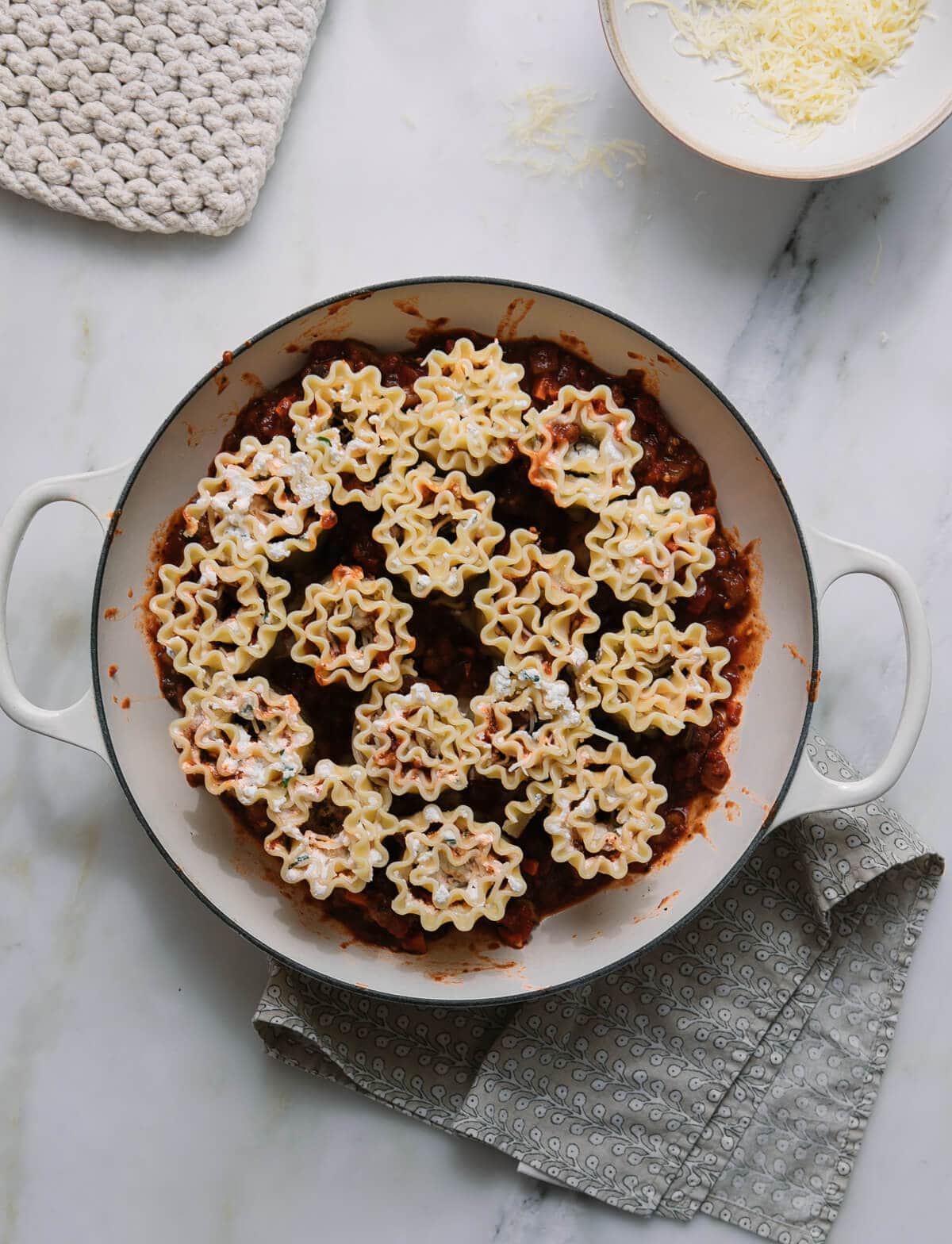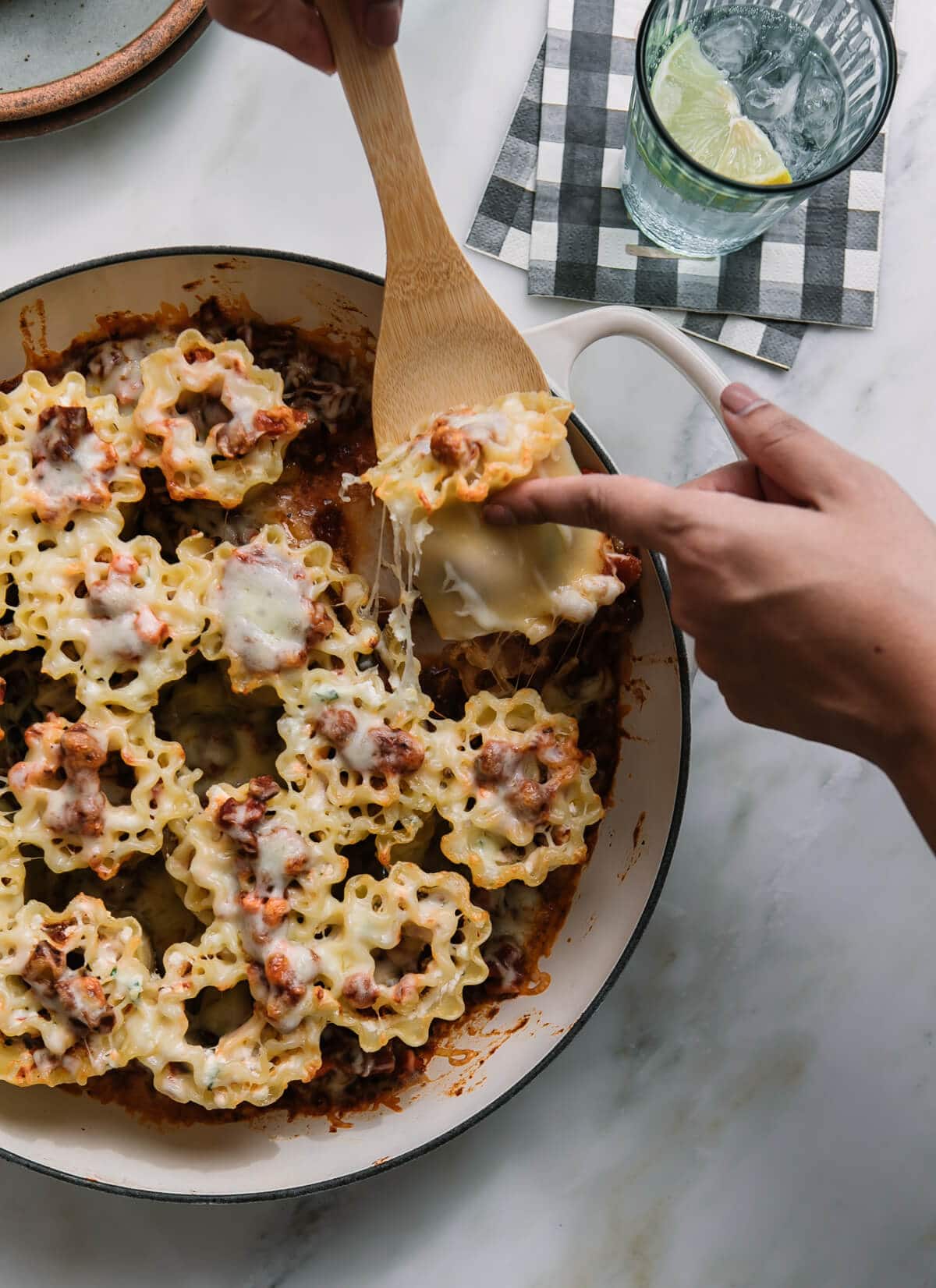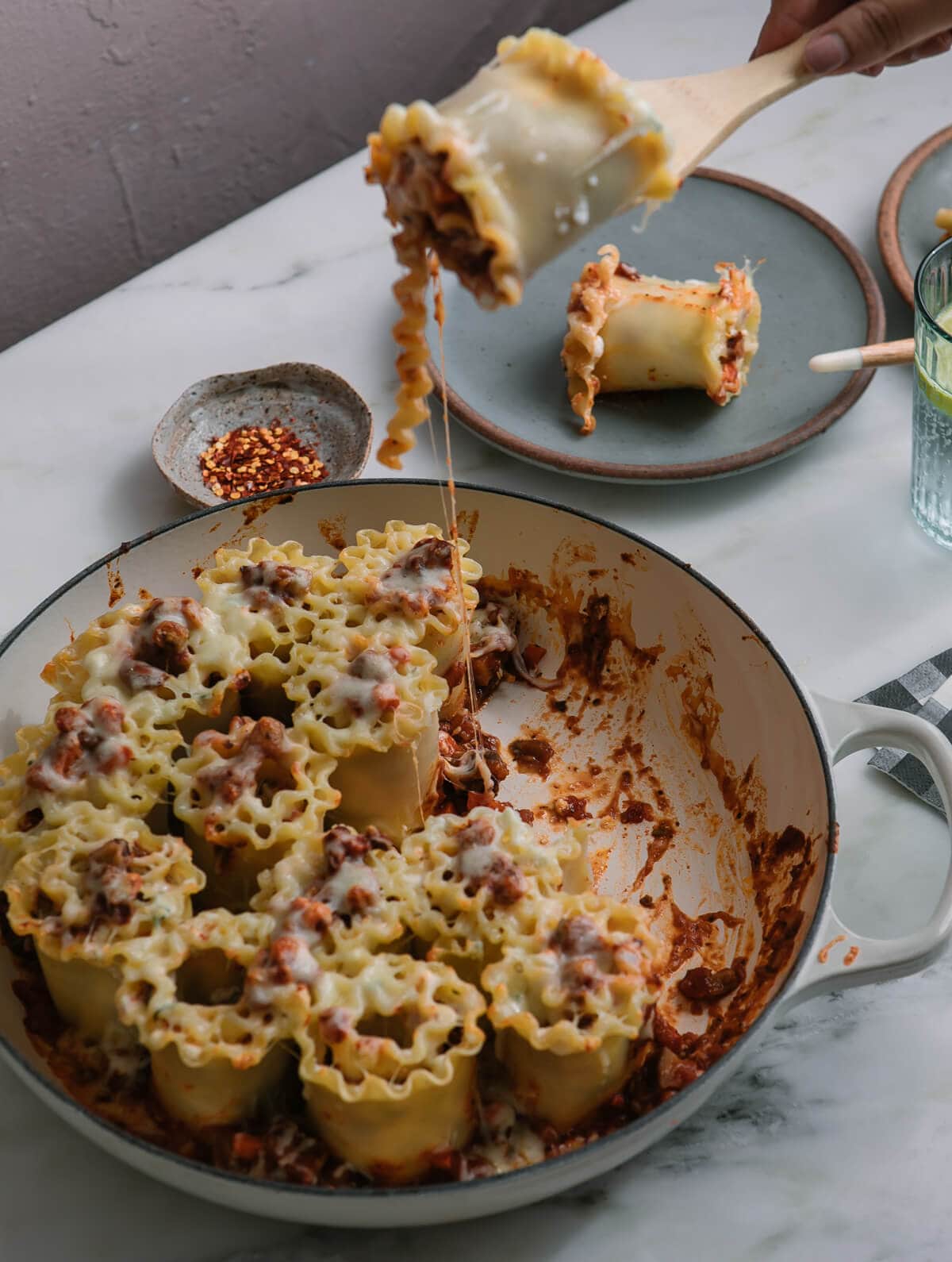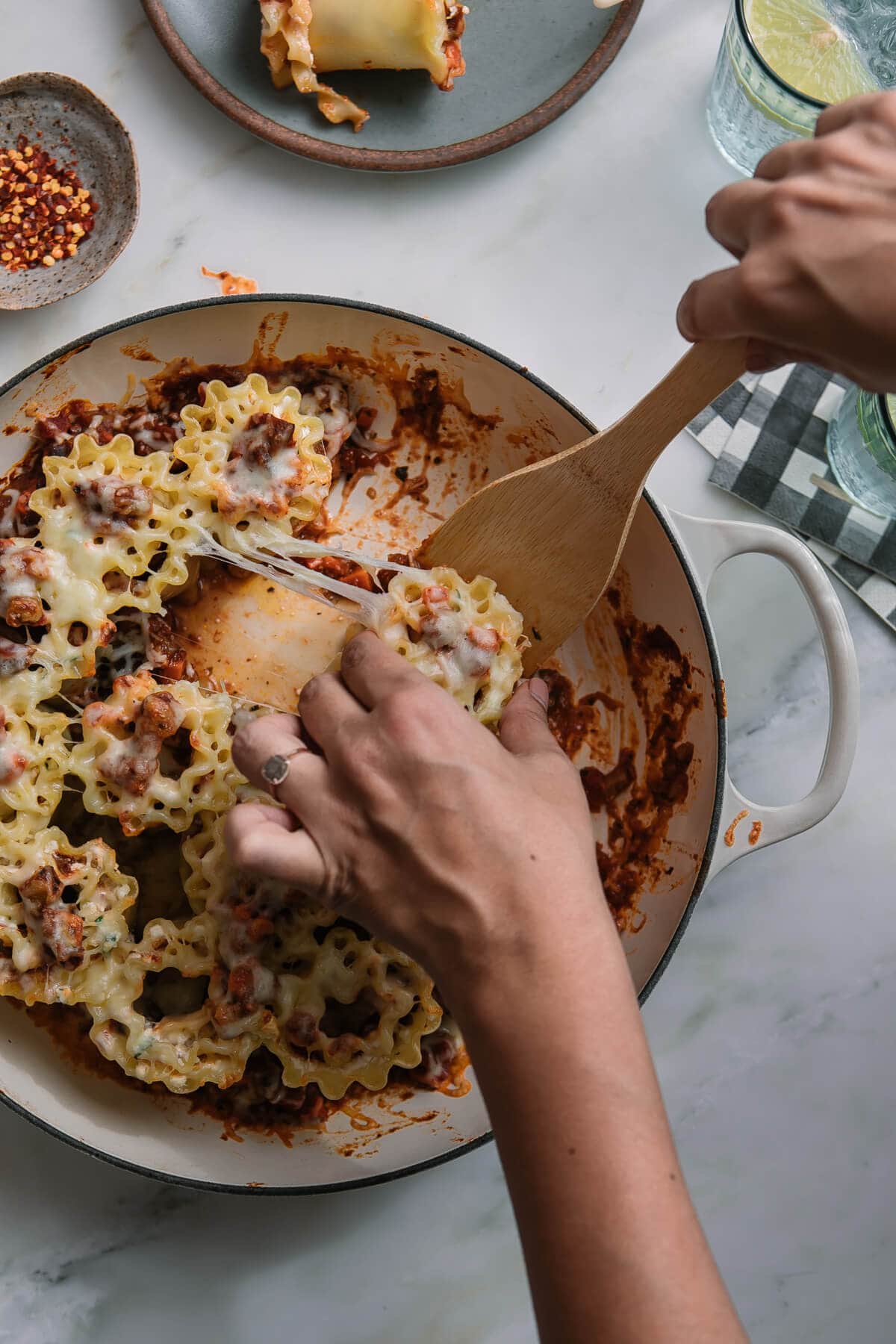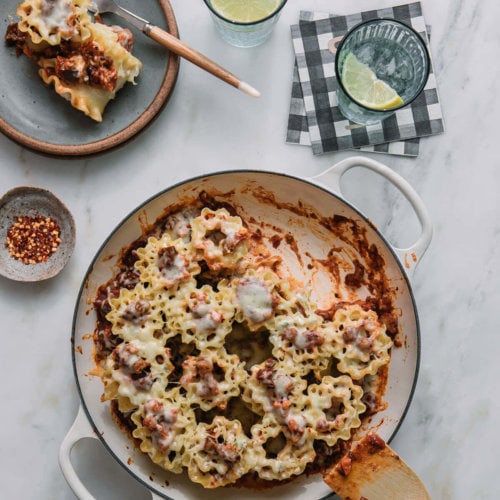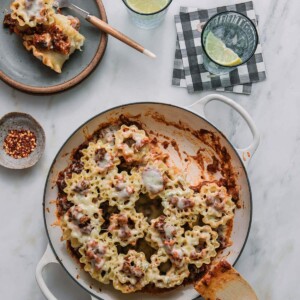 Ingredients
Eggplant Marinara:
1

tablespoon

oil

1/2

yellow onion

,

diced

1

carrot

,

peeled and diced

3 to 4

cremini mushrooms

,

cut into a small dice

1

medium eggplant

,

cut into a small dice

1

25-ounce jar of marinara sauce, of choice

Salt

Pinch

of crushed red pepper

,

optional
Ricotta Mixture:
8

ounces

ricotta

Zest from 1 lemon

1/4

teaspoon

salt

1

tablespoons

minced Italian parsley

,

plus more as garnish

Pinch

of crushed red pepper
Lasagna-ups:
1

pound

lasagna sheets

1 1/2

cups

shredded mozzarella

,

divided
Directions
To Make the Eggplant Marinara:
In a medium saucepan, set over medium heat, add the oil. When warm, add the onion, carrot, mushrooms and eggplant. Sprinkle with a few pinches of salt and cook until mostly softened, about 5 to 7 minutes, mixing regularly. Pour in the jar of marinara and give it a good mix. Bring to a simmer and give it a taste. Adjust the salt and spice level (I added a few pinches of crushed red pepper) to taste. This will kinda depend on the marinara you chose. Turn off the heat and set aside.
To Make the Ricotta Mixture:
In a small bowl, mix together the ricotta, lemon zest, salt, Italian parsley and crushed red pepper.
To Make the Lasagna Sheets:
Bring a pot of salted water to a boil. Boil the lasagna sheets according to the package, mine said about 8 minutes. Drain and rinse immediately with lukewarm water. This will wash the starch off of the sheets which is good because then they won't stick.
To Assemble the Lasagna Roll-ups:
Preheat the oven to 350 degrees F. Grab a large baking dish (I used a 9-inch braiser pot) and set it near you.

On a cutting board or clean counter, lay out the lasagna sheets. Add a few teaspoons of ricotta mixture to the lasagna sheet and spread it into an even layer. Top it with a teaspoon or two of the marinara mixture and then add a sprinkling of mozzarella cheese. Carefully roll up the lasagna sheet and transfer it to the baking dish. I added it spiraled side up. Repeat until you've worked your way through all of the lasagna sheets. A tip: to keep the roll-ups from unraveling, I put their seam against another lasagna roll-up.

Transfer to the oven to bake for about 20 minutes. At the 20 minute mark, top the lasagna roll-ups with about 1 cup of shredded mozzarella. Bake for an additional 5 minutes, until melted.

Serve immediately.
Nutrition Facts
Vegetarian Lasagna Roll-Ups
Amount Per Serving (4 g)
Calories 0
* Percent Daily Values are based on a 2000 calorie diet.