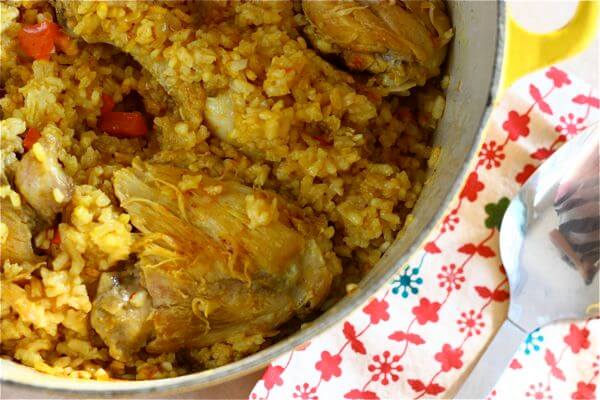 Arroz con Pollo! My absolute favorite.
Yesterday I tore open a pile of perfectly wrapped gifts and was greeted with: one cute/ugly sweater, two romance novels (alright?), one dvd of Sleepless In Seattle (a classic!), a super fancy wallet, various kitchen tools and a knife sharpening stone (thanks papa!).
I've wanted this particular sharpening stone for exactly two years. I've probably looked at it a dozen times online; lamented about buying it for forever (it's a tad expensive).
For some reason I can justify dropping dollar$$ on shoes, but have issues with doing so on useful things. I'm a complicated human.
I was also gifted uninterrupted, guiltless free time.
Usually when I have a few hours to spare, I feel guilty about work or chores that I should be doing, so instead of chillaxing, it turns into me staring at the wall all stressed out.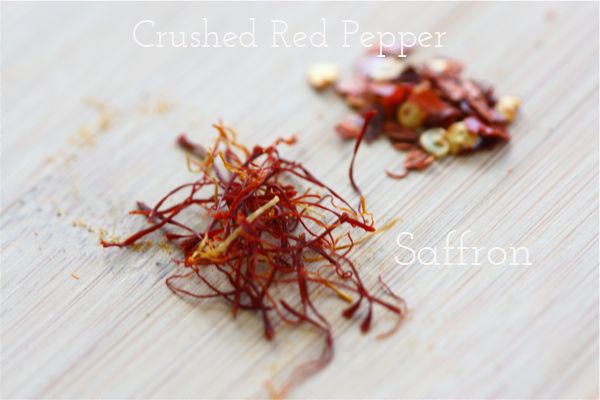 But not yesterday!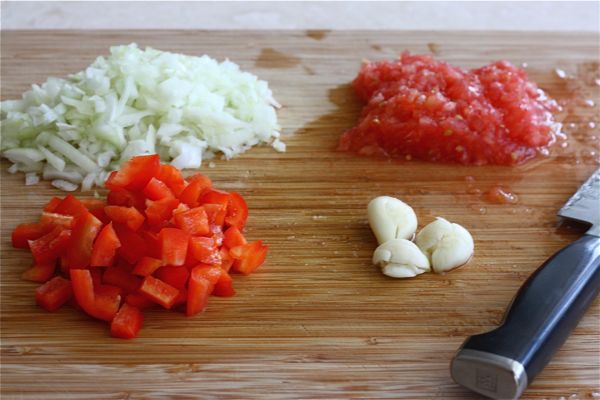 This arroz con pollo is what I dream of on the plane ride over from LA.
It comes from my dad, who was in turn taught this dish by my grandfather (my mom's father).
There's nothing complicated about it. Just rice and chicken.
Latin comfort food, basically.
It tastes like home.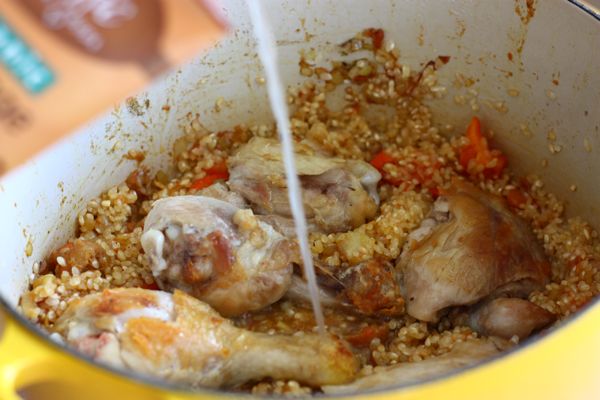 Fun fact: The way my grandfather and father make it is actually more of a cross between a paella and an arroz con pollo.
They use valencia (short-grain) rice, throw in saffron and use a ton of spices.
These tweaks make it slightly different than your traditional arroz con pollo, but in my opinion, these changes make it over the top amazing.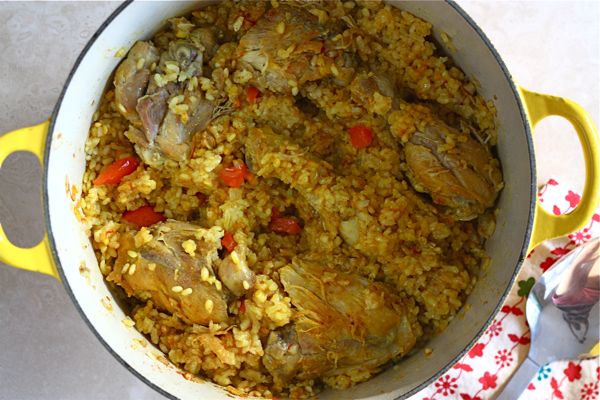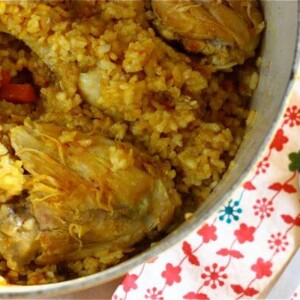 Abuelito's Arroz con Pollo
Ingredients
4

bone-in chicken thighs

,

skin on

2

bone-in drumsticks

,

skin on

Salt

Pepper

2

tablespoon

vegetable oil

1

yellow onion

,

diced

1/2

red bell pepper

,

minced

3

garlic cloves

,

minced

3

Roma Tomatoes

,

*peeled and minced

2

teaspoons

cumin powder

1

teaspoon

paprika

3/4

teaspoon

turmeric powder

1

teaspoon

saffron

1/4

teaspoon

red pepper flakes

1 3/4

cup

14 ounce bag of Valencia rice or other rice (see note below)

4

cups

chicken stock
Directions
Sprinkle both sides of the chicken with salt and pepper.

In a dutch oven, heat oil over medium-high heat. When oil is hot, add chicken, skin side down, until browned, about 5 to 7 minutes. Flip the chicken, using tongs, and cook on opposite side until golden brown, about 3 minutes. Transfer to plate and set aside.

Reduce heat to medium, add onion and red bell pepper, and cook until translucent, about 7 minutes. Add garlic to the top of the onions and cook until fragrant; 2 minutes or so. Throw in tomatoes and red bell pepper. Using a wooden spoon, scrape the bottom of the pot removing any of the chicken fat pieces (hello! flavor!!). Next, add spices: cumin, paprika, turmeric, saffron, crushed red pepper and a teaspoon of salt and then mix.

Pour in rice and give it a good mix, coating it with the tomato mixture. Cook for about a minute or so. Place chicken atop of rice mixture, and pour just enough chicken stock to cover the rice, about 2 cups. Bring the pot to a simmer and then reduce heat to low. Cook, covered, for about 45 to 50 minutes, and until rice is tender. Note: Throughout the cooking process, I checked on it every 15-20 minutes or so and topped it off with about 1/4 cup of stock each time. In the end, I added 4 cups of chicken stock total. Also, in the last 15 minutes, I salted to taste, adding about 1/2 teaspoon more of salt.

Serve immediately. This stays good in the fridge for up to 3 days. It's great reheated in the microwave. You may need to add a splash of water to it to loosen it up right before the microwave!
Notes
To Peel Tomatoes:
I put an X with a knife at the bottom of each tomato and then drop them in boiling water for about 1 minutes. I peel the tomatoes with a pair of tongs (it's super easy after they've been boiled for a bit) and then chop them up, discarding the stems.
Other rice options instead of Valencia:
Medium-grain
Arborio