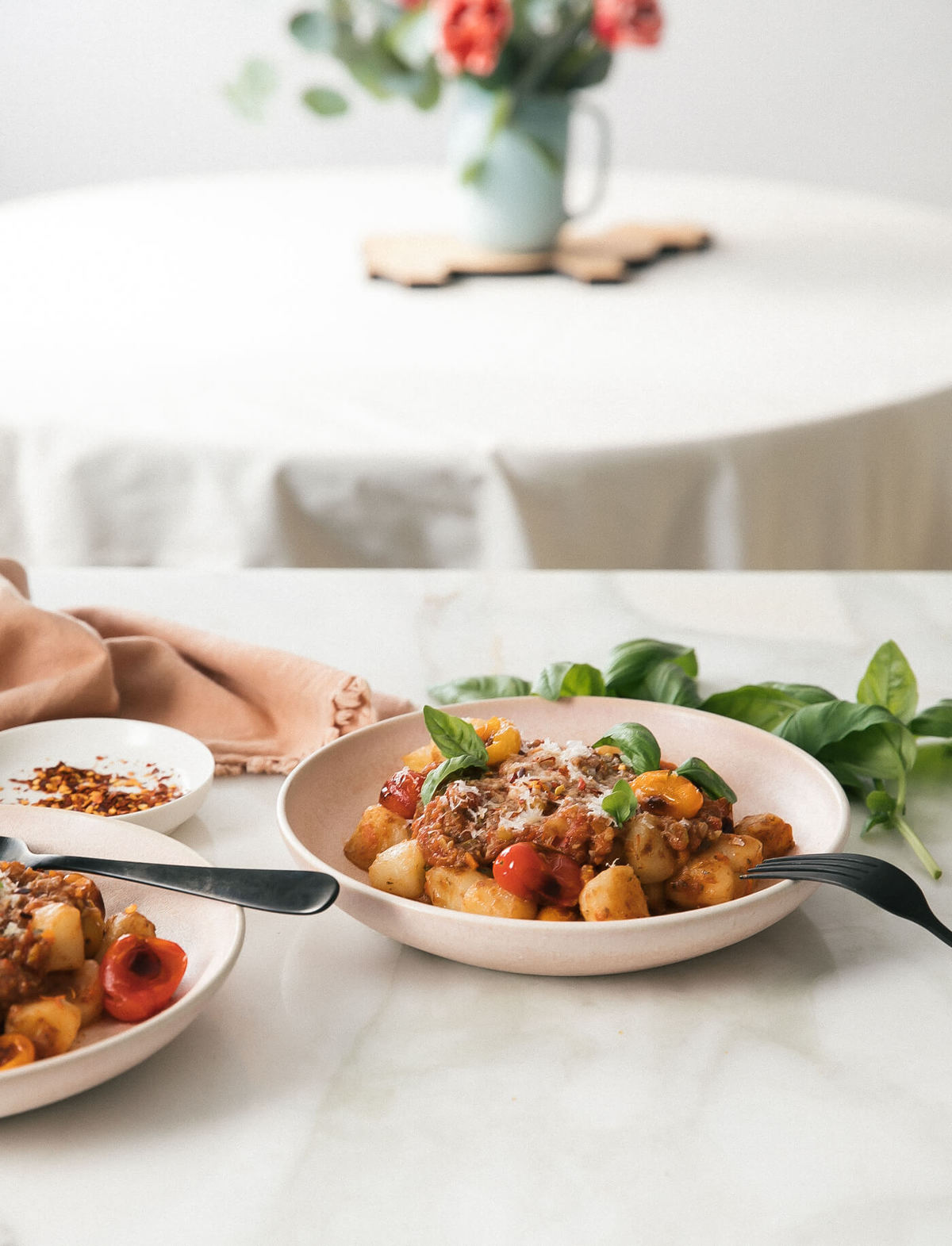 I spent my weekend drinking smoothies because I was gigantic idiot and hit myself in the mouth with a medicine ball (I thought it was a sandbag when I slammed it on the ground) and couldn't eat for a few days. I could speak just fine but chewing wasn't ok. ANYWAY, I'm back and recovered. Stupidest thing I've done in a long time; I'm glad I survived!
I also spent the weekend celebrating my mama's birthday and took her to see The Waitress—which was SO good. I loved the movie but the play was WAY better so I highly recommend if it comes to your town.
Let's talk cauliflower gnochhi. I've been seeing it all over the internets lately so I wanted to give it a try. I headed to my local Trader Joe's and followed the cooking directions from Laura's Insta Stories—not what is on the back of the bag and, to my huge surprise, it tasted pretty good!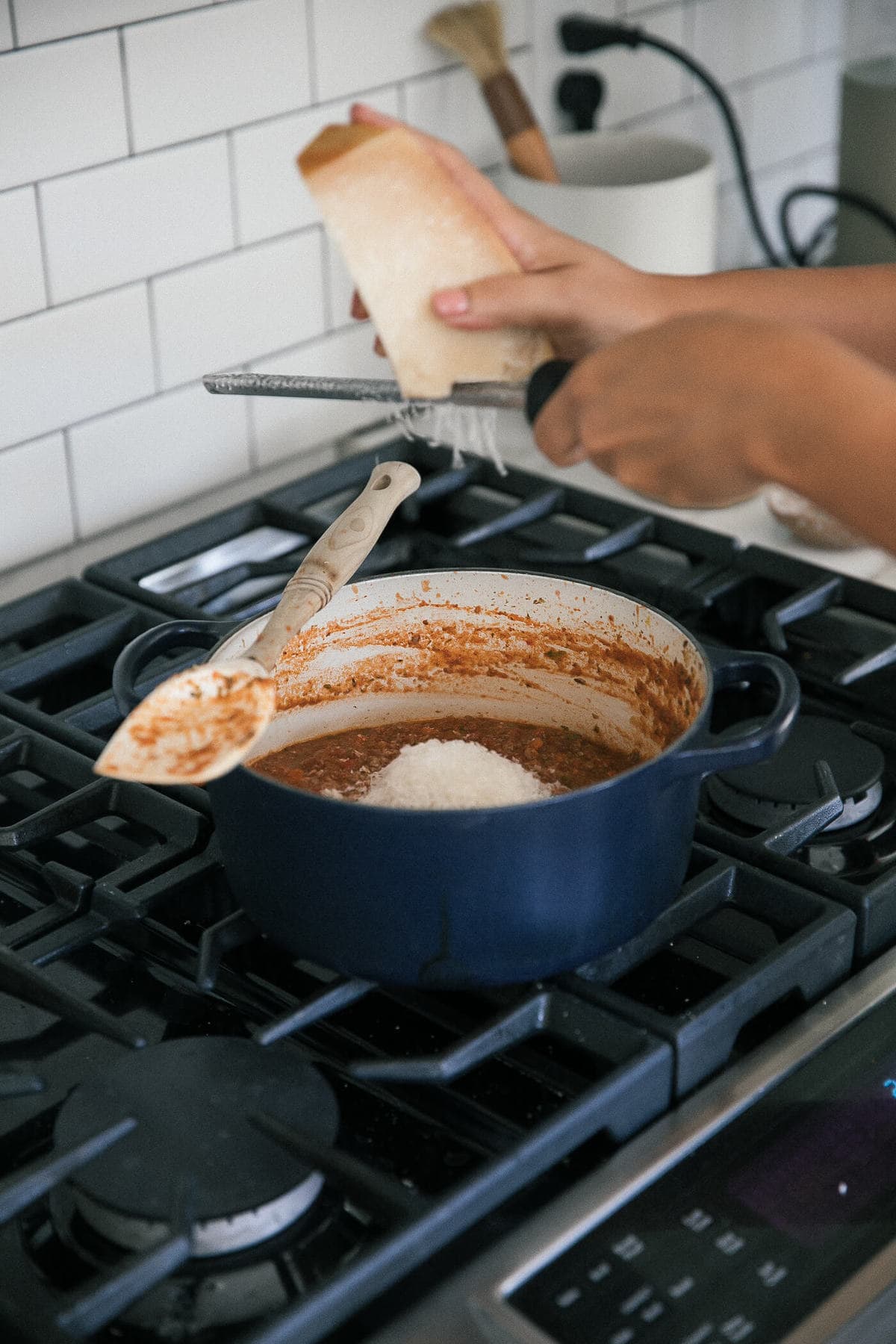 I've now been keeping a bag or two in the freezer and it's great to have on hand when you need a quick meal.
This late summer veggie "bolognese" is my favorite. It's so good and fresh and light. This makes a decent size batch and it's totally great to freeze so you can use it later. I used to be pretty lukewarm on the freezer but it's recently become my best friend.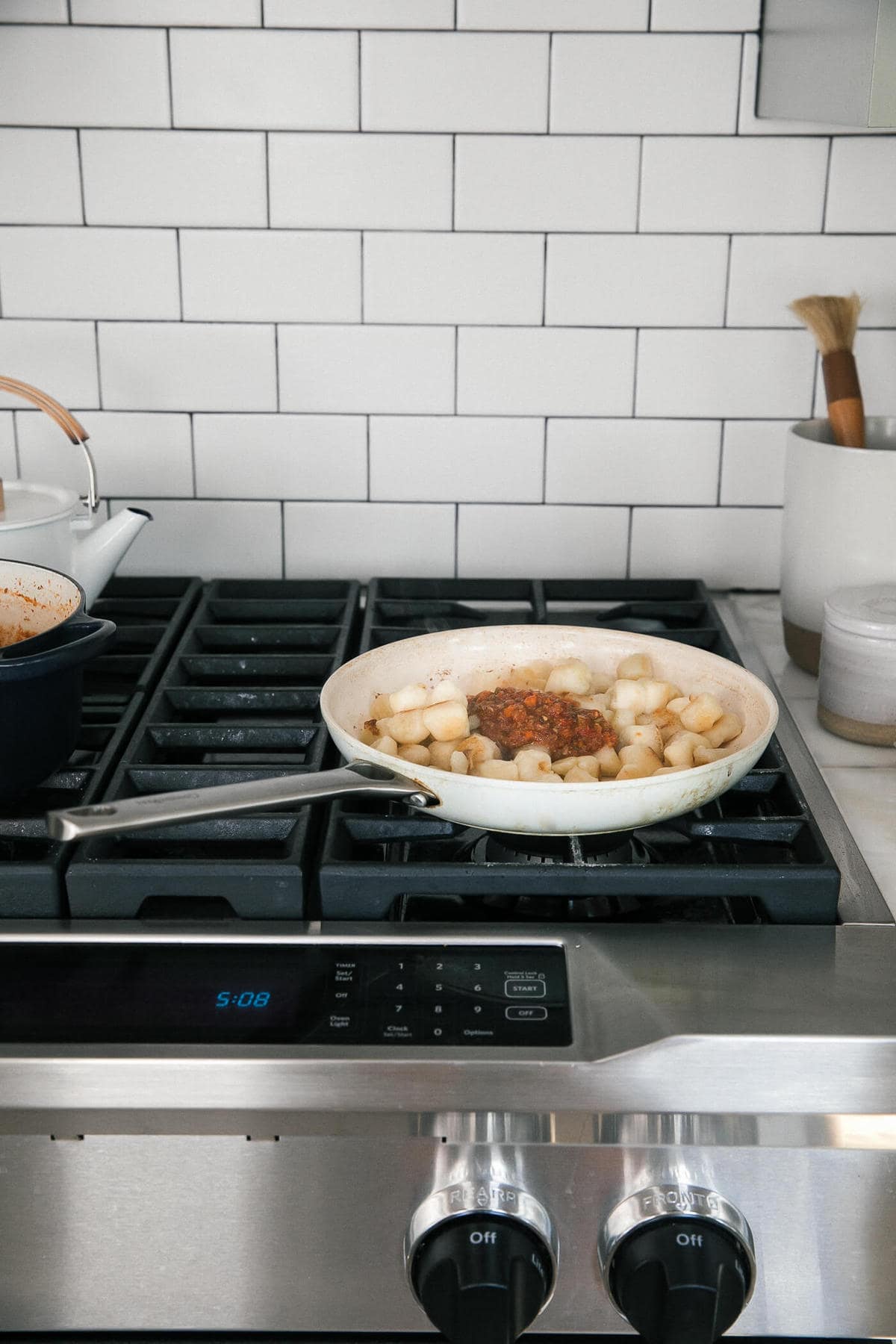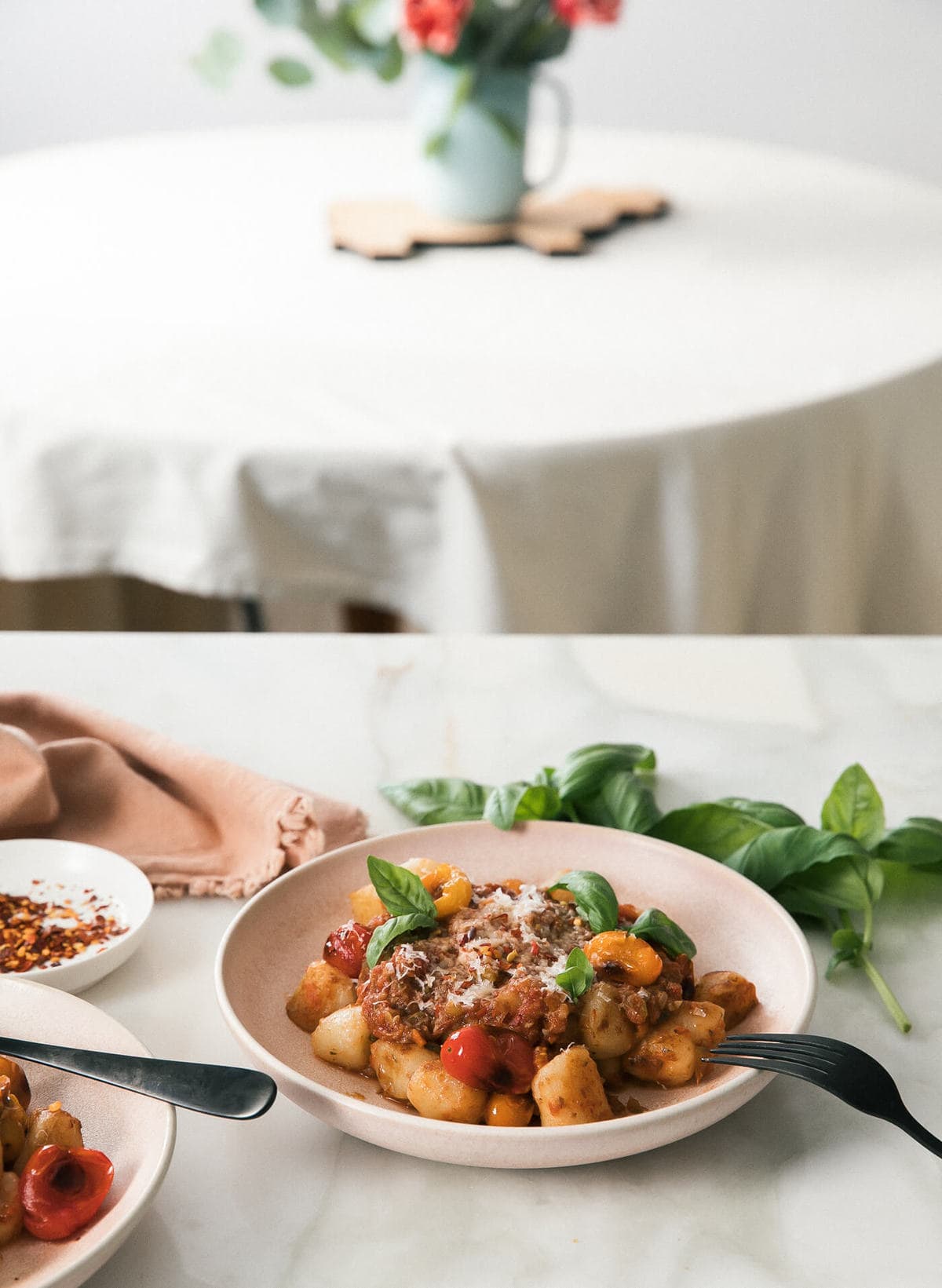 For the "bolognese," I found the easiest way to mince up all of the vegetable was food processor; I'm so glad I finally got one in my kitchen!
The cauliflower gnocchi could of course be replaced with regular store-bought or homemade gnocchi.
xo
Adrianna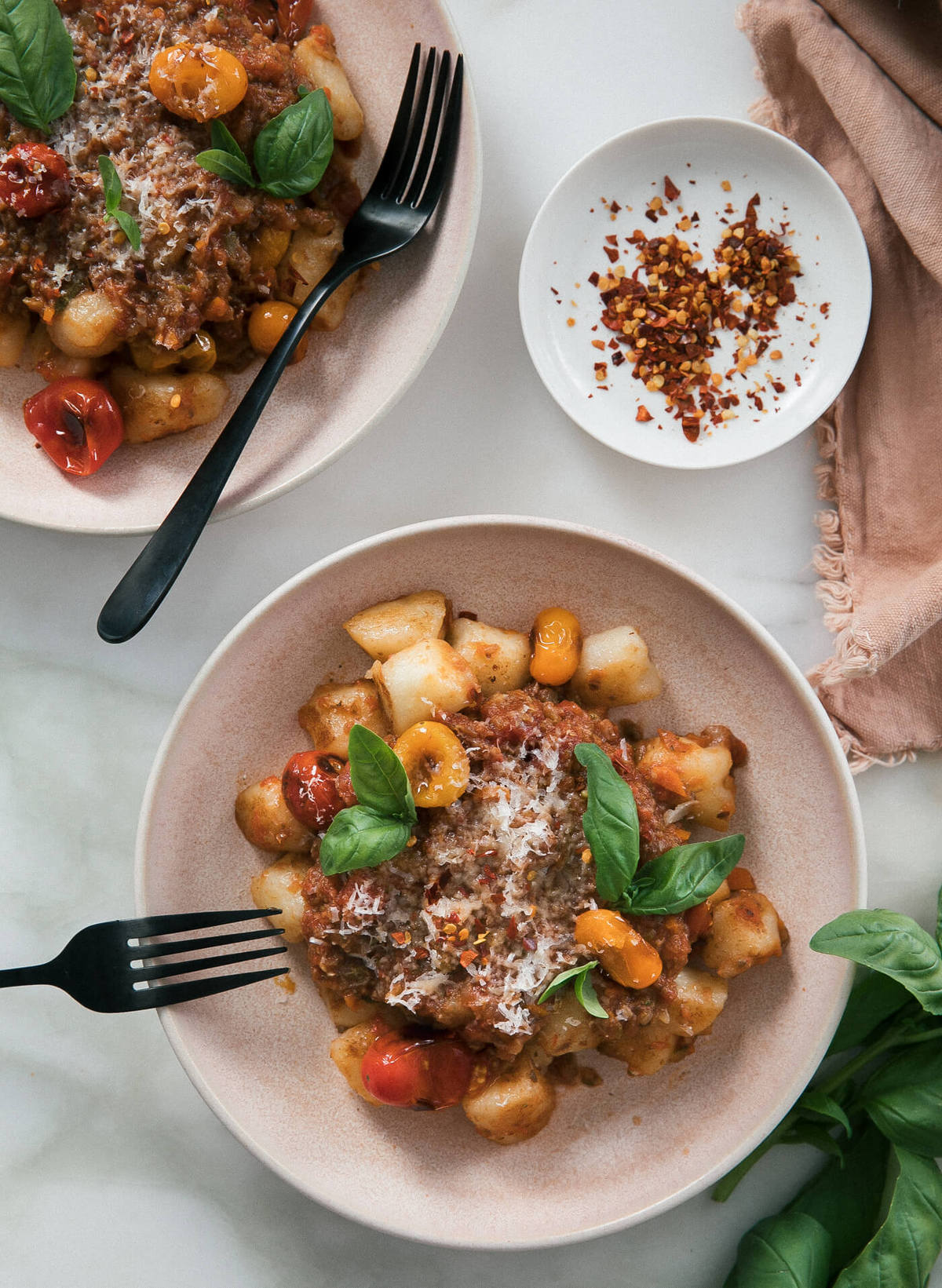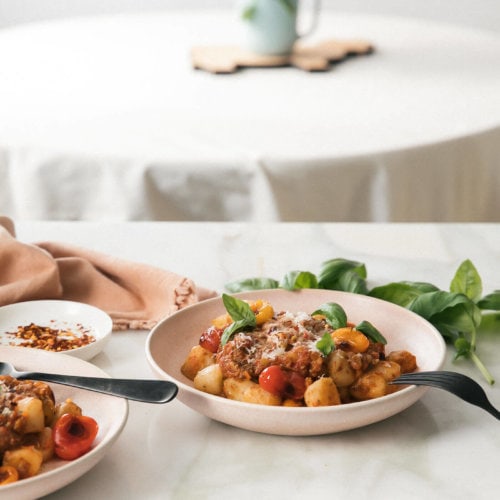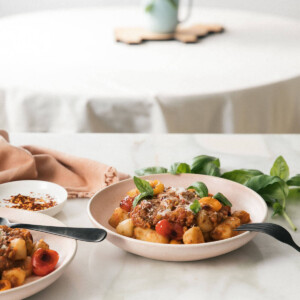 Ingredients
1

small yellow onion

,

peeled and minced

3

garlic cloves

,

minced

1

large carrot

,

peeled and minced

8

ounces

cremini mushrooms

1

zucchini

1

red bell pepper

,

stem and seeds removed

1

28-ounce can of crushed tomatoes

1/4

cup

water

2

teaspoons

salt

1

teaspoon

dried oregano

1/2

crushed red pepper flakes

1/4

cup

finely grated Parmesan-Reggiano

,

plus more as garnish

1

pound

of cauliflower gnocchi OR regular gnocchi
Directions
Pull out your food processor. If you don't have one, you can just minced everything with a knife. But I do love the fine mince that is provided by the food processor because it makes it almost "ground." Add the onion and garlic and pulse until diced. Repeat with the carrot, cremini mushrooms, zucchini and red bell pepper.

In a medium Dutch oven, set over medium-low heat, add the olive oil. When warm, add the minced onion, garlic and carrot; cook until softened about 10 minutes.

Then add the mushrooms, zucchini and red bell pepper, adding a few tablespoons of olive oil if needed (I needed it). Cook, stirring frequently, until liquid has released from the vegetables and evaporates and they're totally softened, 15 to 20 minutes. Pour in the crushed tomatoes, water, salt, dried oregano, red pepper flakes and finely grated Parmesan. Cook for an additional 10 minutes, just until the flavors have married together. Give it a taste and adjust the salt to your liking. Turn the flame to low to keep warm while you cook the gnocchi.

To cook the cauliflower gnocchi, add a tablespoon of olive oil to a non-stick skillet. When warm, add the gnocchi and cook for about 2 minutes on each side, until lightly golden brown. Add a ladle or two of the sauce and cook for an additional 2 minutes. Divide amongst bowls and top with another spoonful of "bolognese." Garnish with parmesan cheese, basil leaves, more crushed red pepper…if you're into that sort of thing.

You'll end up with leftover 'bolognese'—good! This freezes so well. Add to a freezer-safe container and place in the freezer. To thaw, transfer to the fridge or leave out on the counter.
Nutrition Facts
Late-Summer Veggie Bolognese"
Amount Per Serving (2 g)
Calories 0
* Percent Daily Values are based on a 2000 calorie diet.