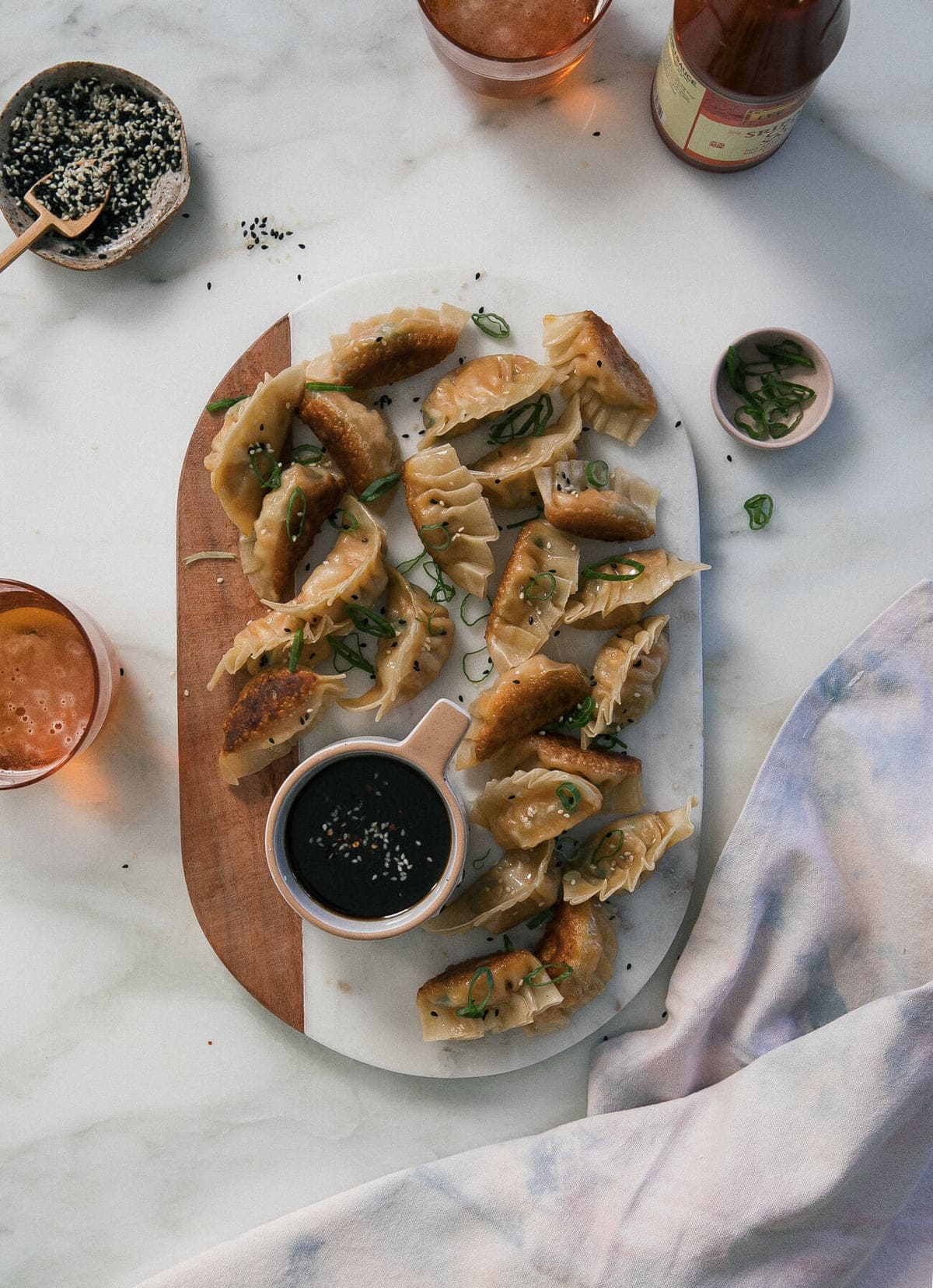 I spent this past weekend getting back in the vibe of normal life which included going to the gym, going on a run, sniffling my way through Queer Eye on Netflix, getting cocktails and burgers with friends and going to watch Black Panther. I'm sure you've seen it; if not, you need to remedy that situation.
One weekend goal that was not met was a trip to my favorite Chinese restaurant to eat dumplings and pot stickers. I have to say, I love their meat pot stickers and dumplings but their vegetarian variety is not all that great. I wanted to make delicious vegetarian pot stickers. I think I found it.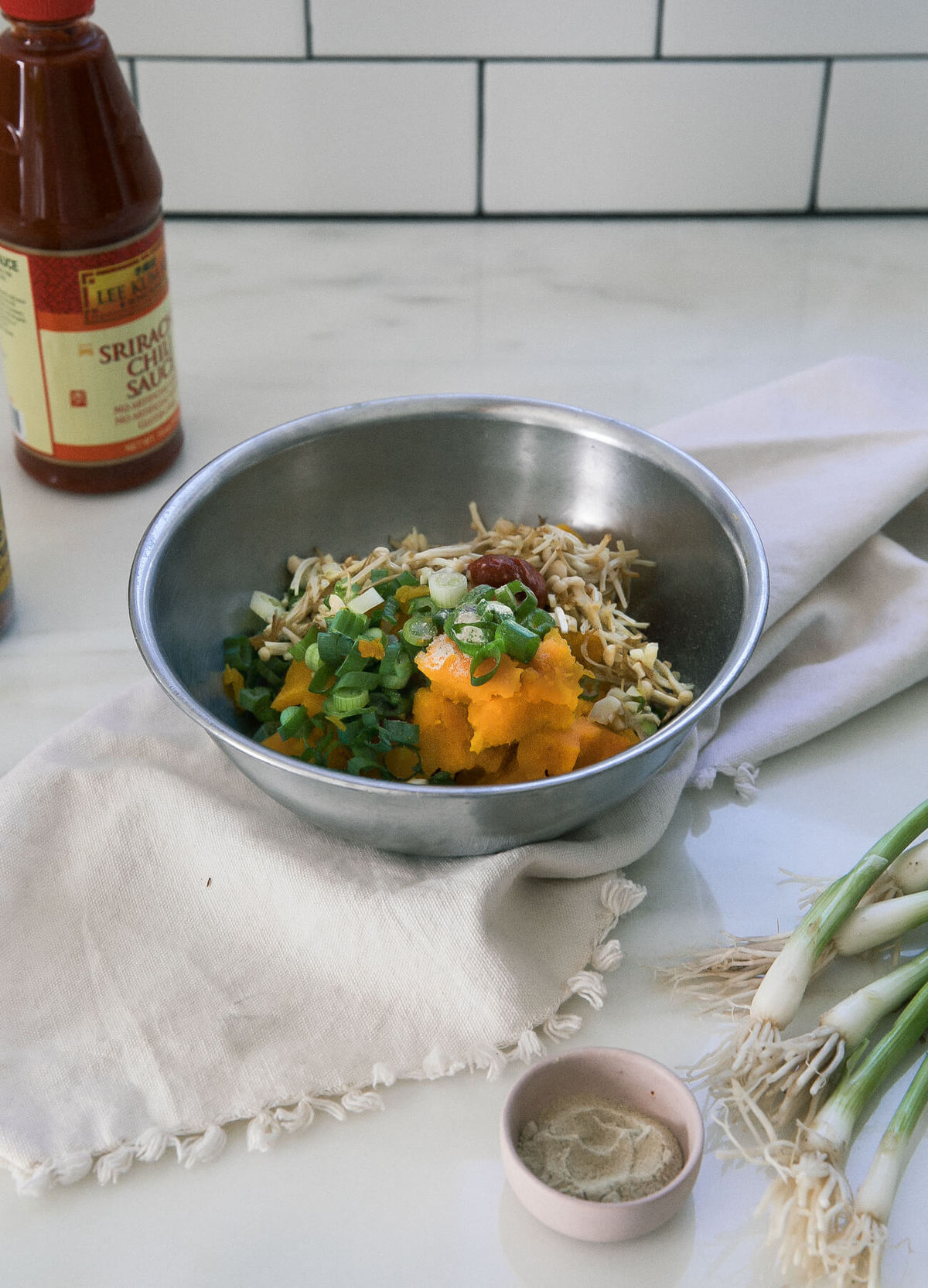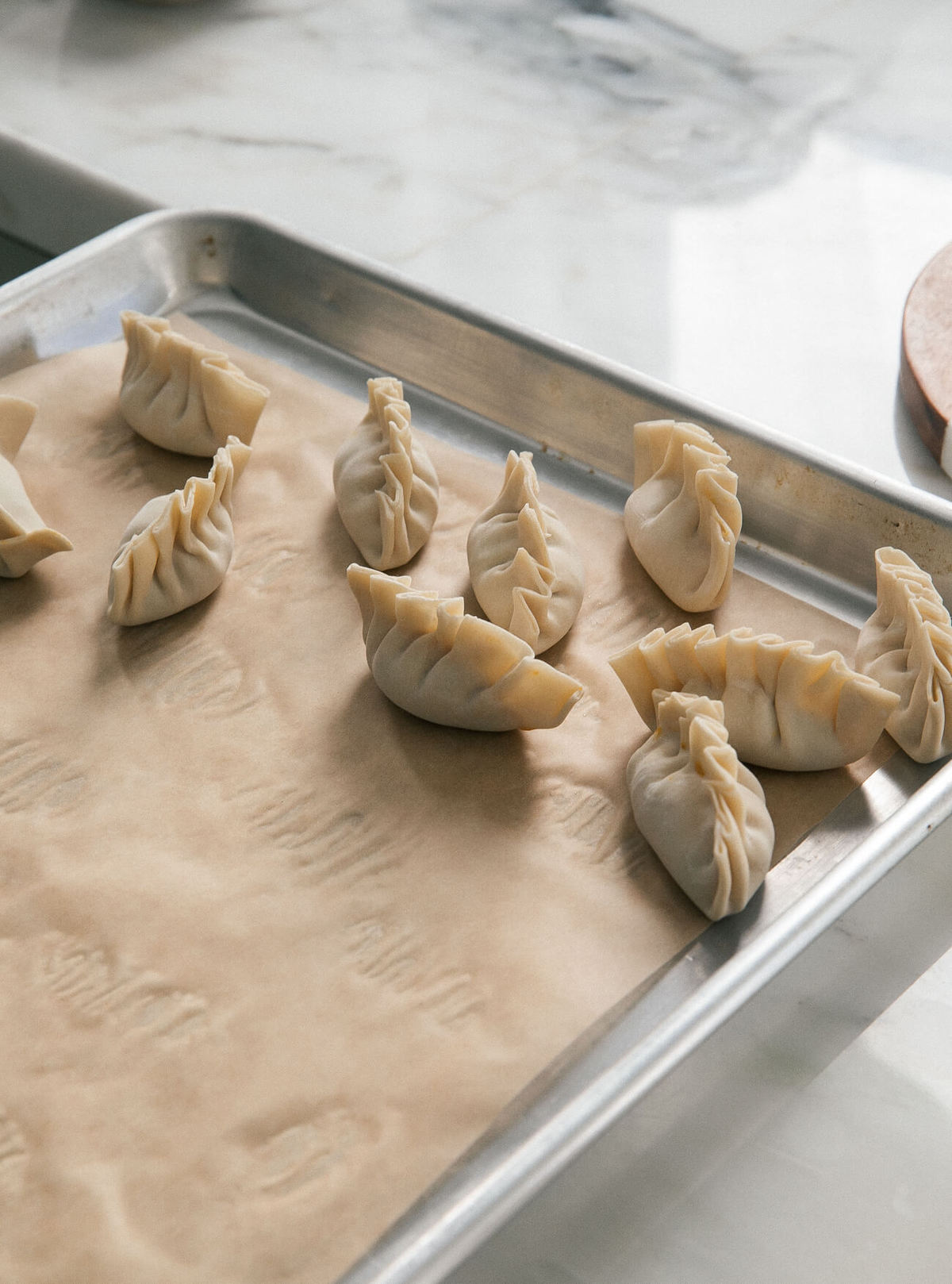 I roasted a kabocha squash and added a bunch of stuff to it like green onions, sautéed mushrooms, sesame oil, chili paste, ginger and white pepper. It was glorious. It tasted like heaven.
This makes about 24 pot stickers which sounds like a lot but when you start eating them, it feels like it could go on forever and ever. I would highly recommend doubling this recipe and then freezing the rest. Pot stickers are THE ABSOLUTE BEST to cook straight from the freezer.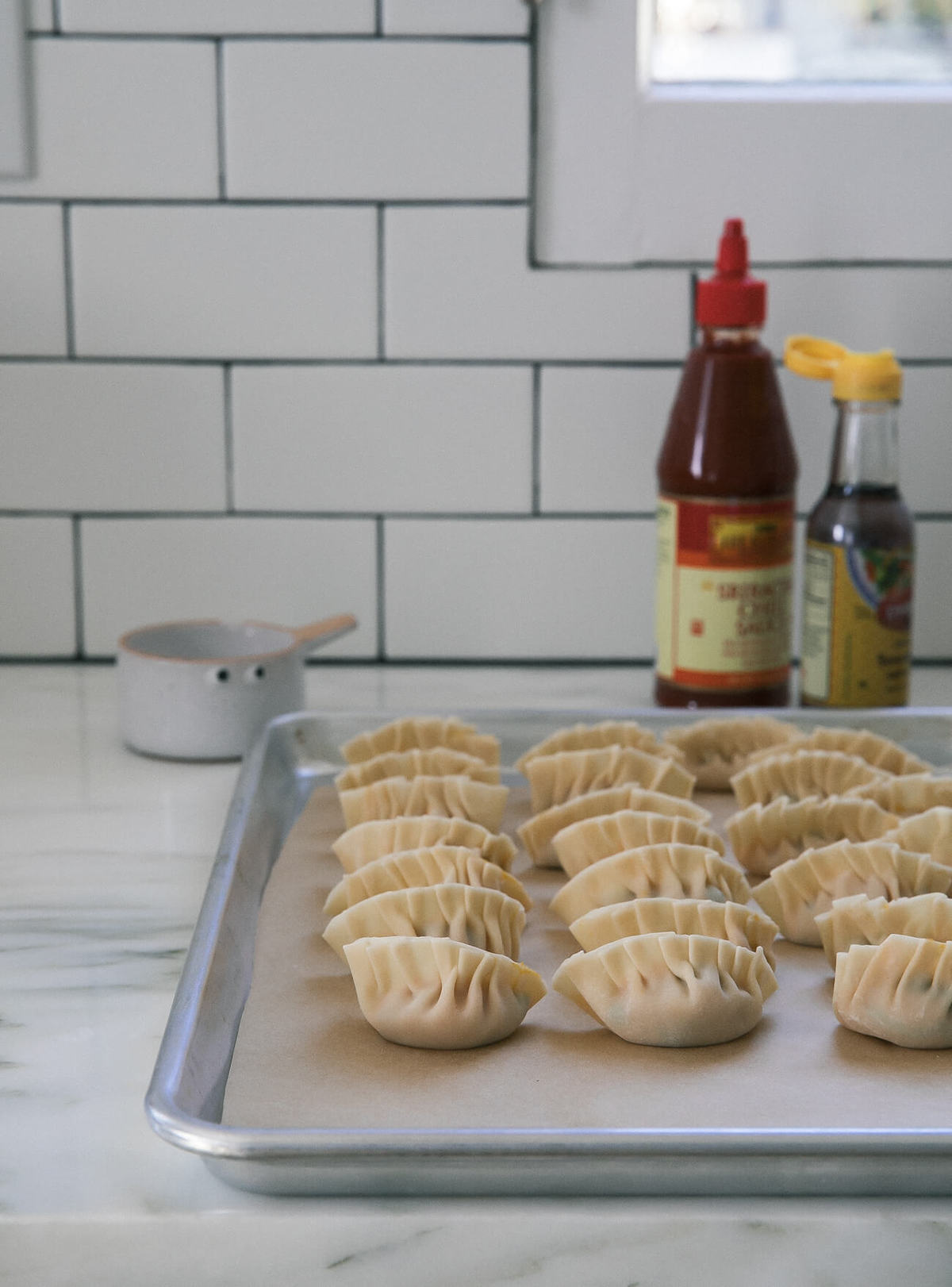 I watched this video a few times to get the crimping right and guess what, I still didn't do it correctly. I ended up being ok. Billy nailed them and made beautiful moon-shaped dumplings (I put them at the front of this photo lol). I had some trouble but even mine that weren't perfect, tasted delicious.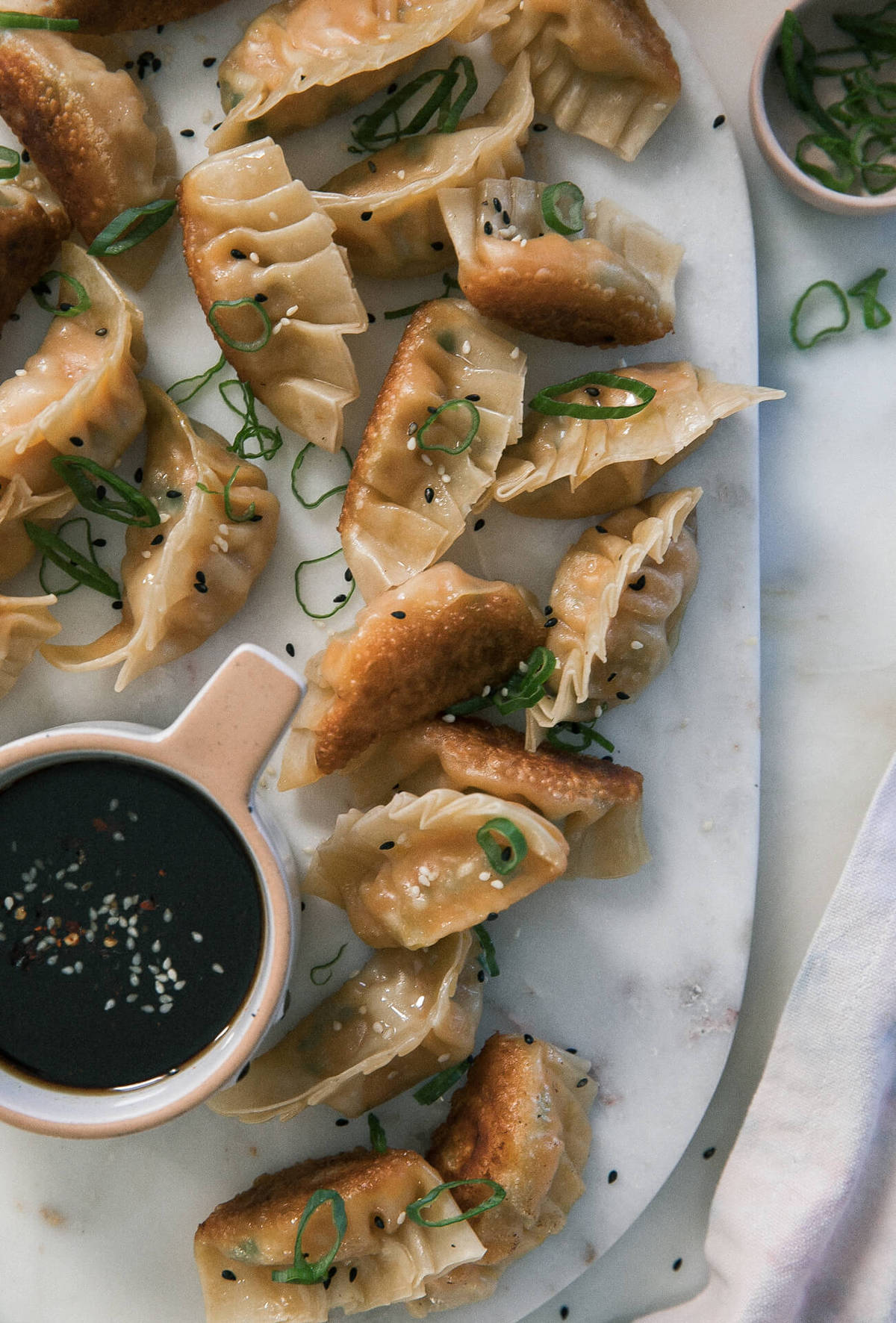 When you make pot stickers, the thing you have to do is fry first and then add some water and then immediately cover. That water creates a crispy crust and steams the dumplings. They end up being crunchy and soft and delicious all at the same time.
The dipping sauce is super easy and I love it because it's got that spice! But feel free to skip the fire added if you're feeling more mild vibes.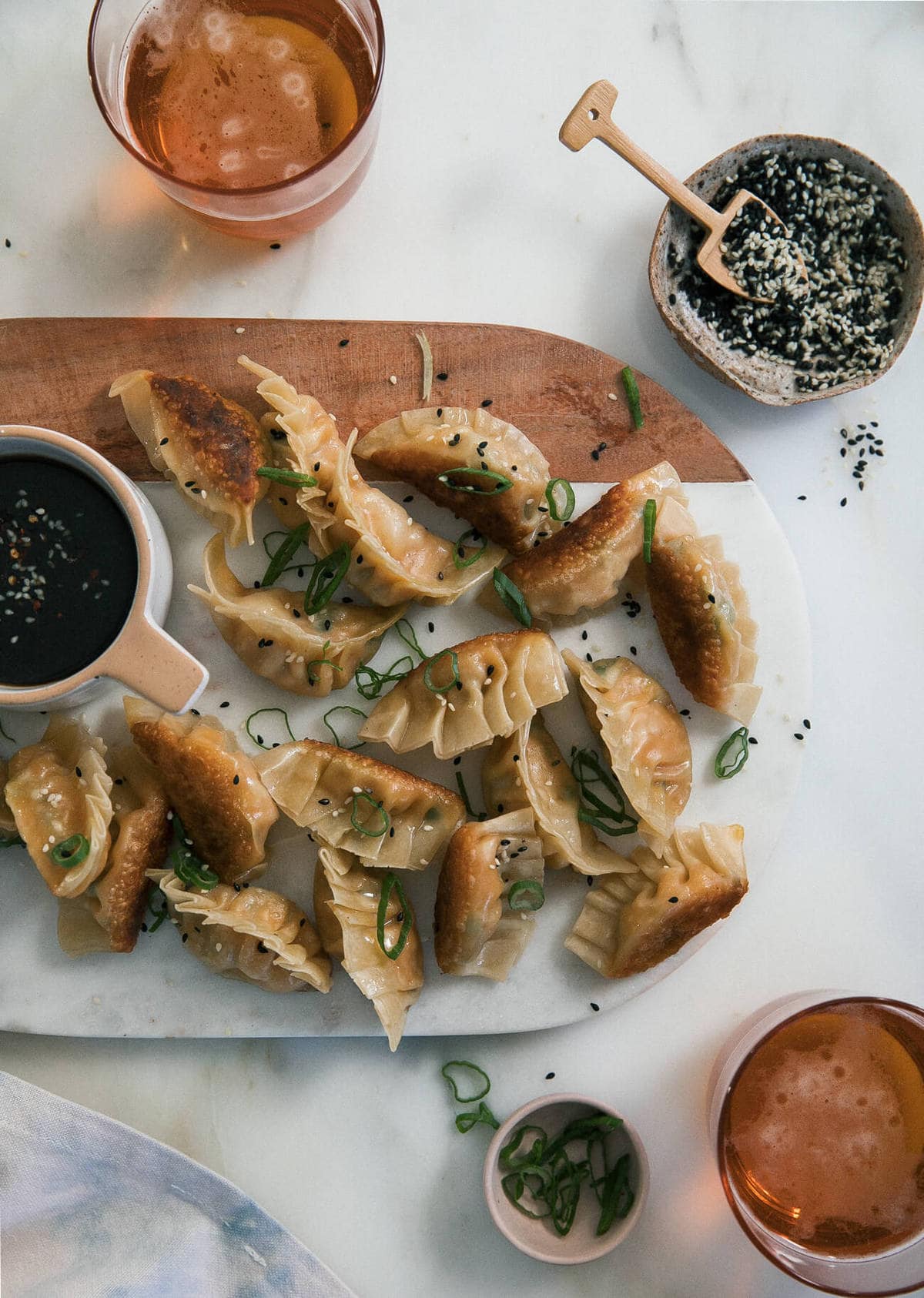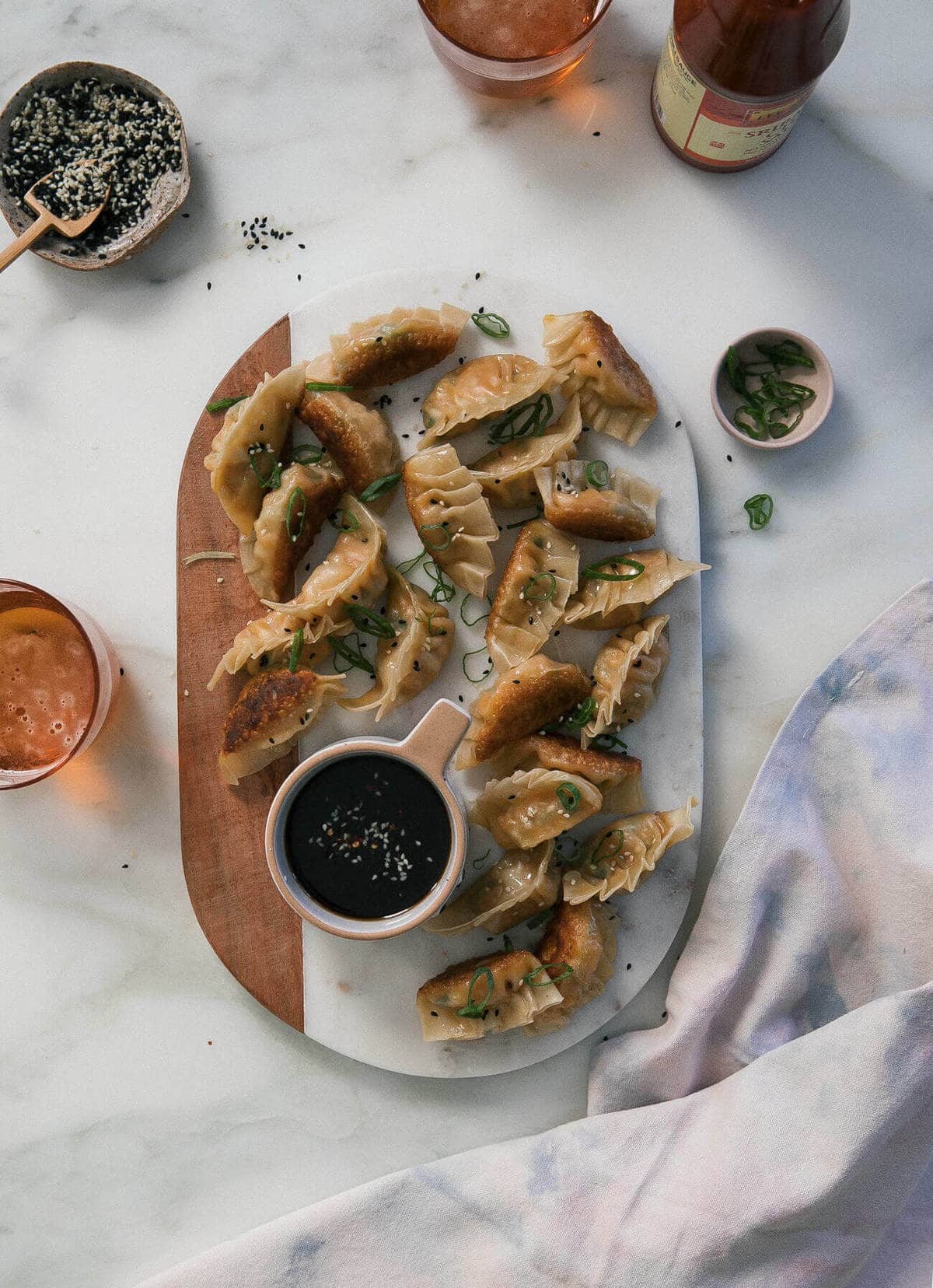 Vegetarian Pot Stickers
Print
Ingredients
Filling:
1 1/2

pound

kabocha squash

Vegetable oil

3

ounces

mushrooms of choice

,

I used enoki mushrooms

1

tablespoon

freshly grated ginger

Salt

2

green onions

,

ends trimmed and sliced

2

teaspoons

sesame oil

1

teaspoon

Sriracha or chili paste of your choice

1/4

teaspoon

white pepper

,

use black pepper in a pinch
Assembly, Dipping Sauce and Serving:
24

pot sticker wrappers or won ton wrappers

1/4

cup

soy sauce

1

teaspoon

Sriracha

1

teaspoon

sesame oil

1

green onions

,

ends trimmed and sliced, as garnish

1

teaspoon

sesame seeds

,

as garnish
Directions
To Make the Filling:
Preheat oven to 350 degrees F. Place the squash cut side down and roast until tender, about 40 minutes. Scoop out squash and add to a bowl.

In a small skillet, set over medium heat, add a teaspoon of vegetable oil. When the oil is hot, add the green onions, mushrooms, ginger and a pinch of salt. Cook until softened, about 2 to 3 minutes. Add to the bowl with the squash and add the green onions, sesame oil, Sriracha, white pepper and a pinch of salt. Mix it up and give it a taste. Adjust the salt according to taste; I ended up adding an additional few pinches of salt.
To Assemble the Pot Stickers:
Place one wrapper in your hand. Add a teaspoon of filling to the center of the wrapper and moisten hallway around the edge with a wet finger. To seal, using the thumb and forefinger of one hand, form tiny pleats, pressing the edges together. Stand the dumpling up on a baking sheet. Repeat with the remaining dumplings.

*NOTE: If you're cooking these in a few hours, transfer them to the freezer. And cook them straight from the freezer.
To Make the Sauce:
In a small bowl, whisk together the soy sauce, Sriracha and sesame oil. Set aside.
To Cook the Pot Stickers:
To a 10-inch, non-stick skillet, set over medium heat, add a few teaspoons of oil. When the oil is hot, add the pot stickers so they're standing up right. Cook, uncovered until the bottoms are light golden brown, about 2 minutes.

Add 2 tablespoons of water and then quickly cover with a lid. Cook until bottom is crispy and dumplings are steamed, about 3 to 4 minutes. Remove the lid and cook for an additional 2 minutes. Remove from the pot and serve alongside the sauce. Garnish with sliced green onion and sesame seeds. Serve immediately
Notes
Need help assembling dumplings, this video helps a lot. The assembly part starts at 3 minutes and 30 seconds.
To freeze and safe for later, transfer dumplings to a baking sheet and place in the freezer for about 30 minutes or until they feel very firm. Then transfer to a freezer-safe plastic bag and freeze.
To cook dumplings straight from the freezer, follow exact directions above. Mine just needed a bit more time steaming, so add a minute or two onto the time above.