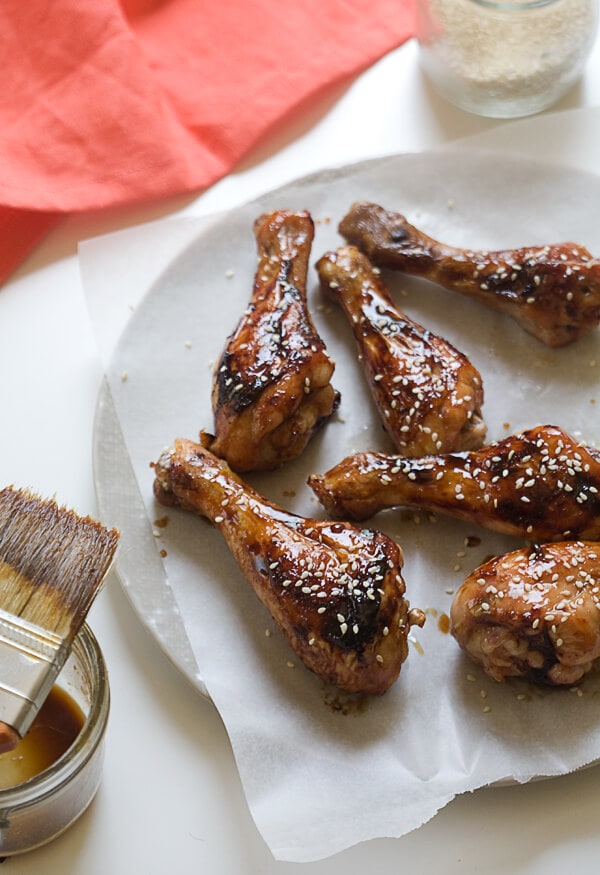 It's time to take a dive into Homemade Teriyaki Sauce!
My mom always likes to remind that when I was a lil' kid, the only part of the chicken I would eat were the drumsticks. I'm pretty sure I felt like it was very Flinstone's-esque of me to be eating drumsticks. Also, Medieval Times! That place gave you big turkey legs for dinner (much like most Renaissance fairs) and I thought it was the most hilarious thing ever.
Now that I'm a boring adult, I hardly ever reach for drumsticks unless they're teeny chicken drummettes which is a whole other thing! This recipe is awesome because it allows me to eat all of the drumsticks. And the sauce is my absolute favorite thing ever. I want to put it on everything: chicken, salmon, tofu, you name it.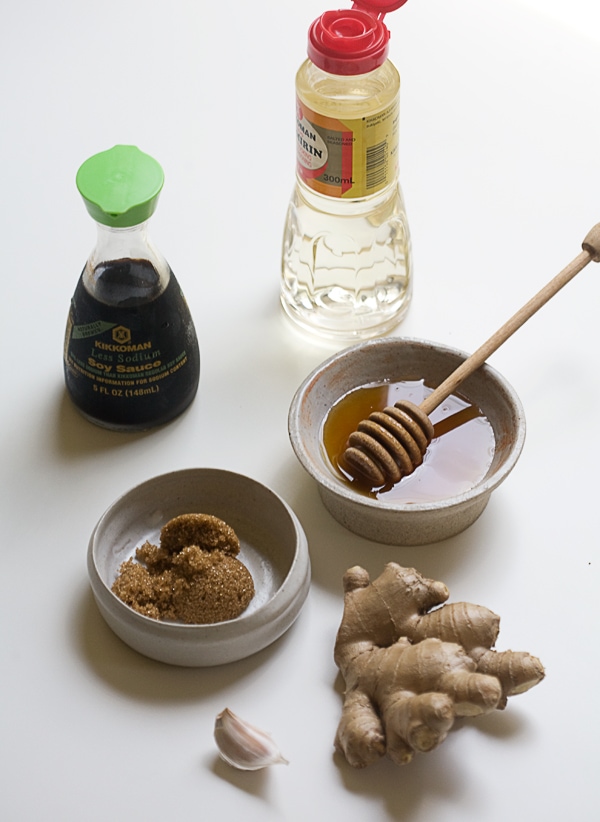 A few years ago I remember my dad calling me telling me I must, I MUST make homemade teriyaki sauce for the blog. I brushed him off thinking to myself, How good can it be. Wrong way to think. Bad attitude, Adrianna!
Like all homemade versions of things you most likely can buy at the store, the best part about making the homemade version is customization.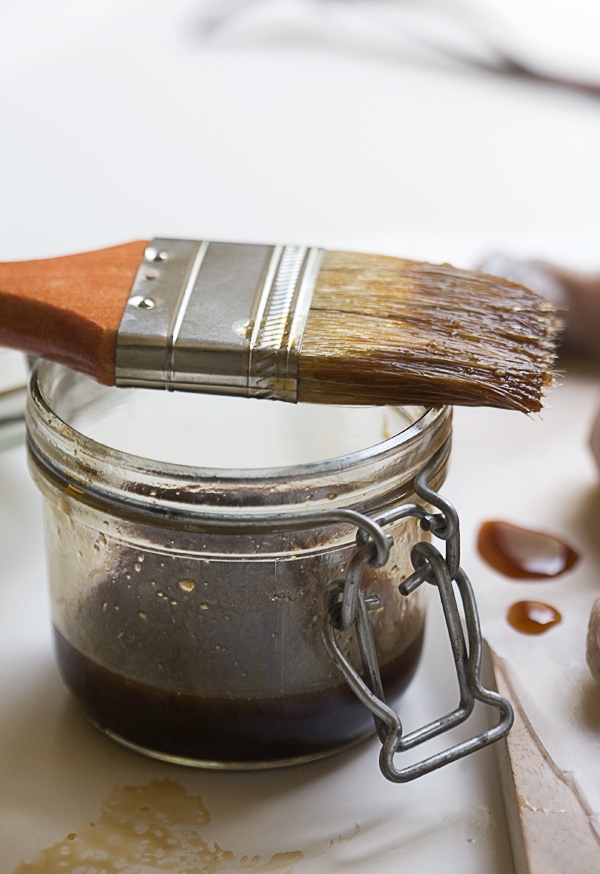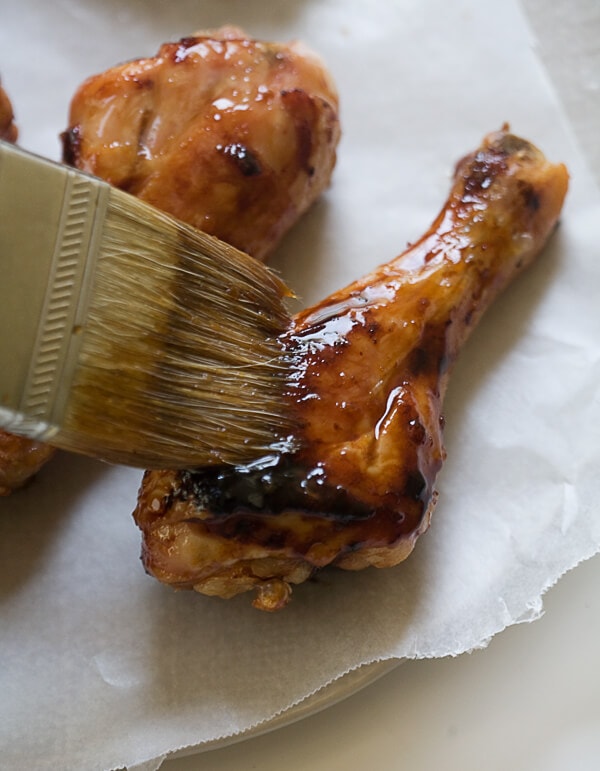 This is way less sweet than typical teriyaki sauce. (It's usually too sweet for me.) I made it zester, spicier and less salty.
The sauce you see hasn't been thickened with a thickening agent (read: cornstarch) but you can make it thicker if you like (I've included directions below). It's a bit runnier than normal teriyaki sauces, but not to worry–it's still just as amazing.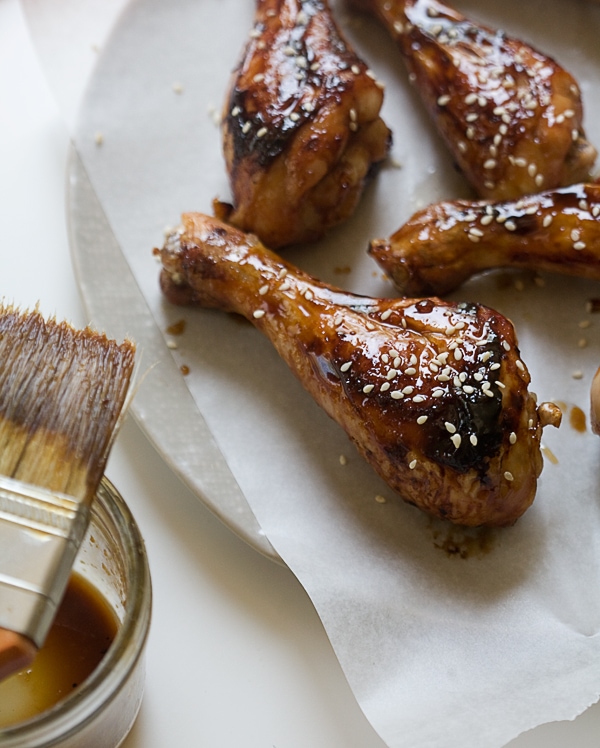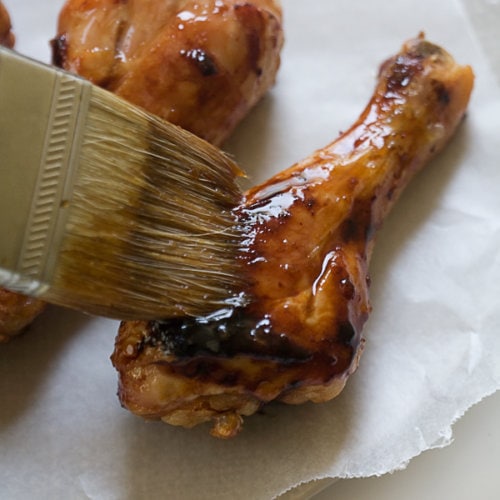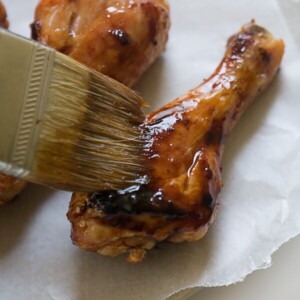 Homemade Teriyaki Sauce is super simple to make at home. This teriyaki sauce is perfectly sweet and balanced.
Ingredients
1

cup

soy sauce

1/4

cup

water

1/4

cup

sweet rice wine

1/4

cup

brown sugar

6

tablespoons

honey

2

garlic clove

,

finely grated

2

teaspoon

fresh ginger

,

finely grated

1

pound

chicken drumsticks

1

teaspoon

baking powder

1

teaspoon

sesame seeds

,

for garnish
Directions
To Make the Teriyaki Sauce:
In a medium saucepan, set over medium heat, whisk together the soy sauce, water, sweet rice wine, brown sugar, honey, garlic clove and fresh ginger. When the mixture reaches a simmer, bring the heat down to low and allow to reduce for 10 minutes, until the sauce reduces by about half. Transfer to a small bowl; mixture will thicken as it cools.

Note: If you'd like it thicker, for it to resemble much more like a glaze, pour a tablespoon of the mixture into a small bowl. Add a teaspoon of corn starch to the small bowl and whisk until it completely dissolves. Add the corn starch mixture to the teriyaki sauce, whisking until dissolved.

This teriyaki sauce will give you about 2 cups of teriyaki sauce. You'll most likely need about 1/2 cup of teriayki sauce for the recipe below. This sauce keeps well in the fridge in an airtight container for up to two weeks.
To Make the Teriyaki Chicken:
To make the teriyaki chicken, sprinkle the chicken with the baking powder. Allow to air dry in the fridge for about 30 minutes. Preheat the oven to 400 degrees F. Spray a sheet of foil with cooking spray and place the chicken side by side. Transfer to the oven to cook for 20 minutes.

At the 20 minute mark, flip the chicken and cook for an additional 15 minutes, until the skin is golden brown and crispy. Brush the chicken with the teriyaki sauce and transfer to the oven for an additional 5 minutes. Remove the chicken from the oven and top with teriyaki sauce, liberally. Sprinkle the chicken with a pinch of two of sesame seeds and serve.
Nutrition Facts
Homemade Teriyaki Sauce
Amount Per Serving (2 g)
Calories 124
* Percent Daily Values are based on a 2000 calorie diet.