Homemade Luxardo Maraschino Cherries
39
Jul 24, 2015, Updated Jan 21, 2020
Disclosure: This post may contain affiliate links, which means I may earn a commission if you click on the link and make a purchase.
Homemade Luxardo Maraschino Cherries are a great additonal to your at-home bar. They also make an amazing gift; all you need is a bottle of luxardo liqueur.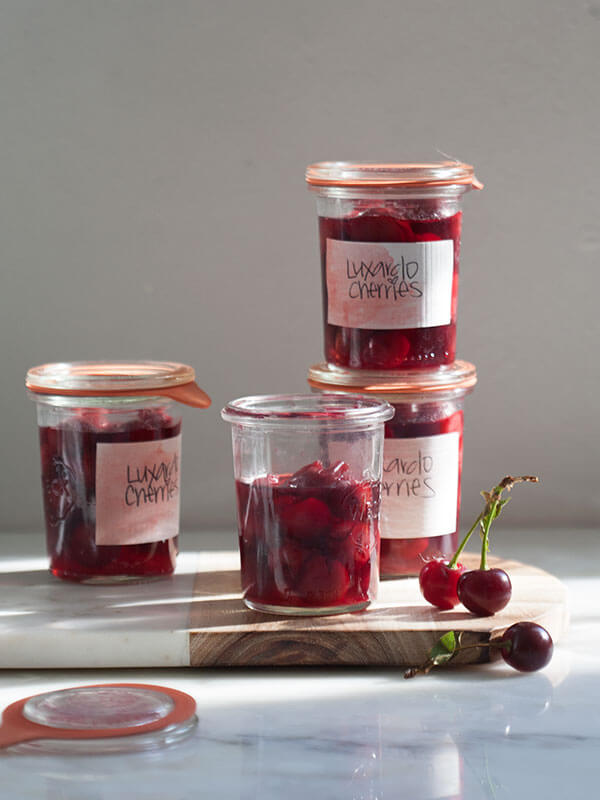 We're gonna be psychos and make Christmas presents in July. Yes. This is happening. A good first step to getting in the mood for Christmas is open up your freezer and stick your head in it. It'll rev up your wintery engines. Let's make some Homemade Luxardo Maraschino Cherries!
Cherries are in full bloom right now. I was lucky enough to come across sour cherries and they are my absolute favorite. They require a bit of sugar to give them a nice balance, but not too much because I like to celebrate their tartness rather than just blast it out to oblivion.
I'm sure you've had cheap, bright pink maraschino cherries. Perhaps you had them when your mom ordered you a shirley temple and you loved them. I was the same way.
But they have no place in my adult cocktails nor my adult banana splits.
It's time for us to grow up and make fancy-ass maraschino cherries. This step in the right direction starts with a bottle of Luxardo liqueur.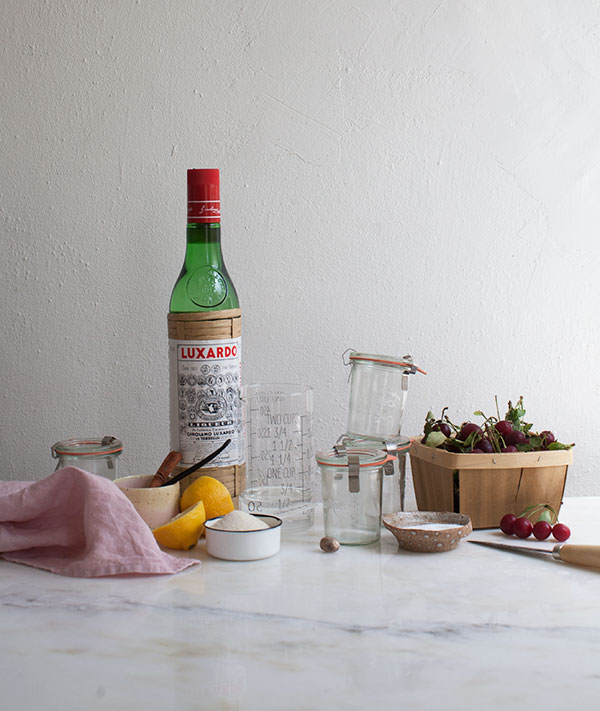 What Makes Maraschino Cherries Different?
Maraschino cherries are different from regular, fresh cherries because marashino cherries are preserved in a sweet syrupy liquid. They're also usually made of lighter-colored varietal of cherries like Royal Ann and Rainier.
What are the Best Cherries to Use?
The best cherries are on the thinner-skinned and lighter-colored side, like Royal Ann or Rainier. I used beautiful cherries from the farmer's market and I'm going to be honest, I completely forgot the name of them and it worked out great!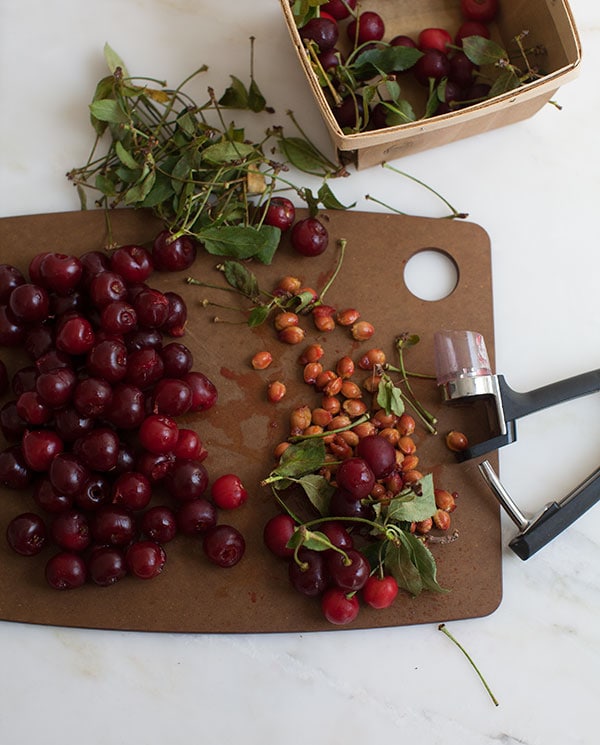 What is a Luxardo Cherry Made Of?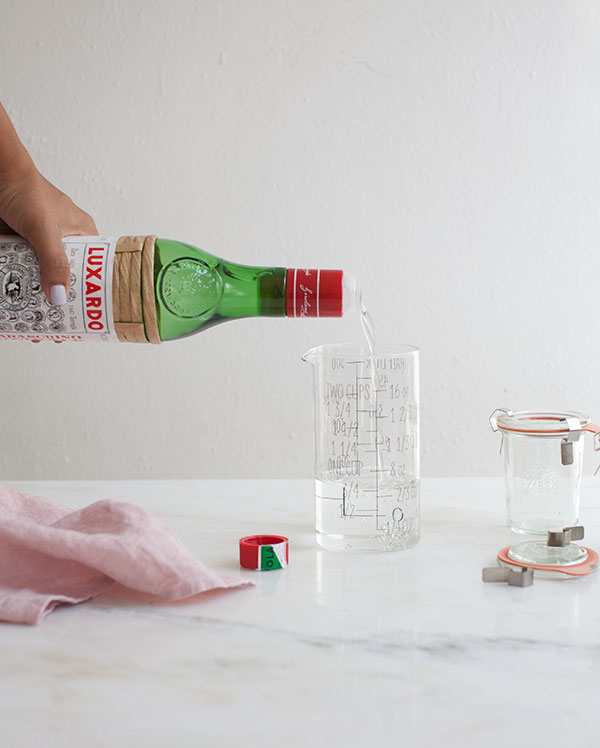 Are Maraschino Cherries Bad for You?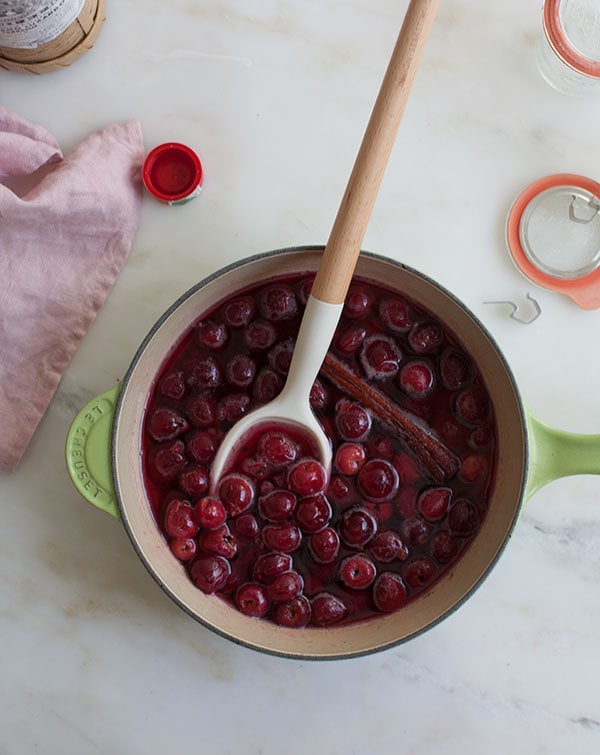 In a pot there is water, cinnamon sticks, a vanilla bean, some nutmeg and some sugar (not too much). That's cooked down and steeped and then the luxardo and cherries are added.
And that's sort of it. Add them to a series of jars and then can 'em. I followed the directions given to me via The Weck Jar website.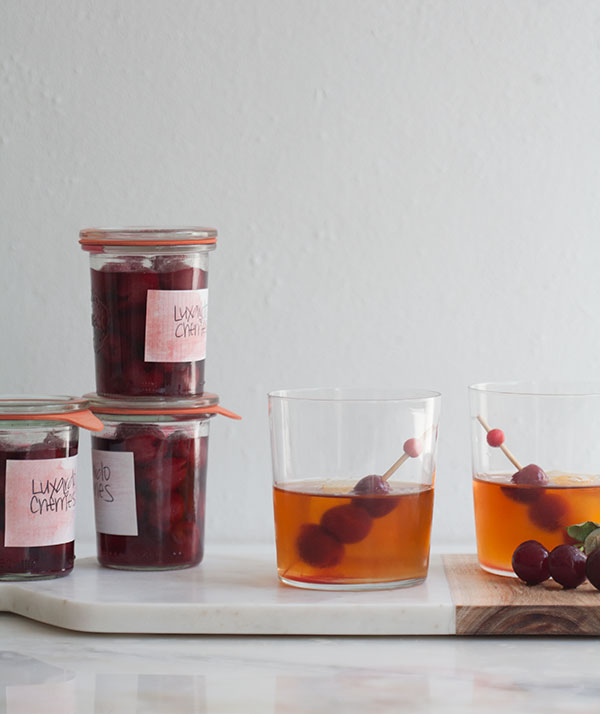 I'm gonna be honest: I don't love canning in Weck Jars. The tops are sort of stressful. You don't know exactly when they're completely sealed. I mean, you do it's just much easier to tell with tops that have the little pop center.
But they do look cute, don't they? I made my own labels by cutting out pieces of stock paper, brushing it red with a watercolor, spraying it with spray adhesive (my favorite adhesive) and then sticking them on. Never buy another label again! Super easy!
That's it. The mail man and a few other people are getting these Homemade Luxardo Maraschino Cherries in December.
And of course, here are some other A Cozy Kitchen cocktails!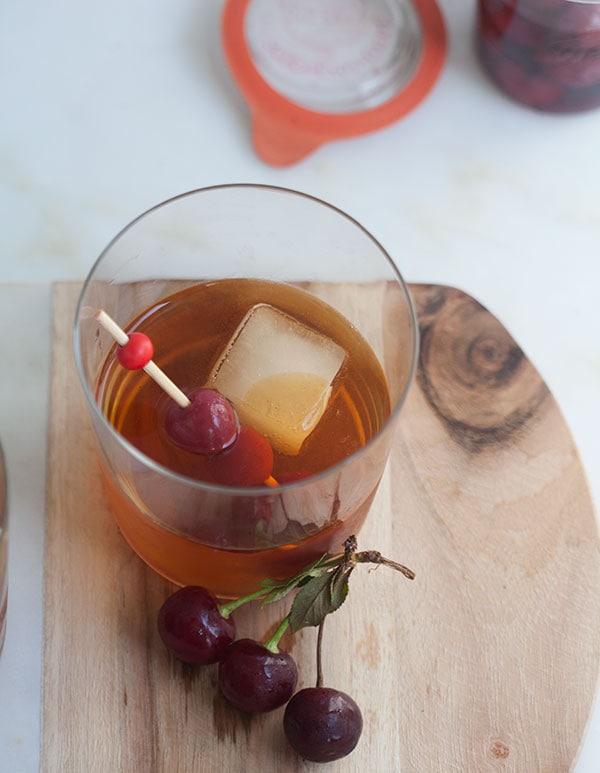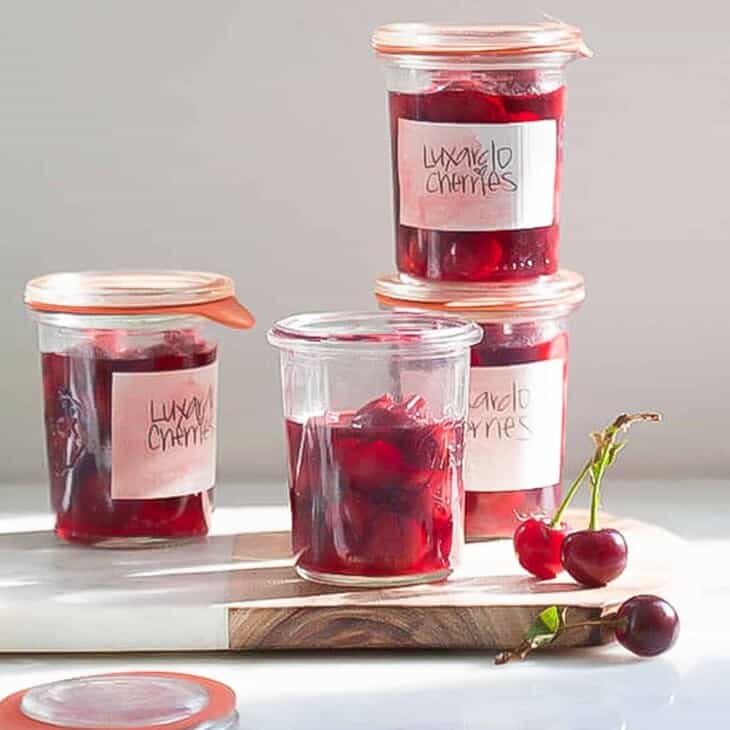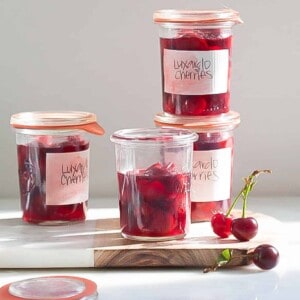 Homemade Luxardo Maraschino Cherries. Step-by-step how-to on making Homemade Luxardo Maraschino Cherries.
Ingredients
1/2

cup

white granulated sugar

1/4

vanilla bean

,

scraped

1

cinnamon stick

Pinch

of nutmeg

Juice from 1 lemon

1/2

cup

water

1

pound

regular cherries or sour cherries

,

stems removed and pitted

1

cup

luxardo liqueur
Instructions
To a medium saucepan (don't turn the heat on yet), combine the sugar and vanilla bean caviar. Rub the vanilla bean with the sugar until it's evenly distributed throughout—don't be shy to use your hands! Turn the flame to medium, add the cinnamon stick, pinch of nutmeg, juice from 1 lemon and water. Bring the mixture to a simmer, cover, and allow to cook for 5 minutes.

Turn the heat down to low and add the cherries. Cook the cherries at a simmer for about 3 minutes, until they're slightly softened. Remove from the heat and stir in the luxardo liqueur. Allow the mixture to cool completely.

If you're not canning, then feel free to fill up a few jars with the cherries and liquid. If you are canning them, then be sure to bring a large pot of water to a boil. Gently drop in the jars and boil for about 1 minute. I followed the rules off of Weck Jars' website. Per their instruction, place on the tops, with the fastens and drop them into the boiling water. Bring the water back up to a boil and cook for at least 3 minutes. Carefully remove jars from the water and allow to cool completely. Remove the fastens.
Nutrition
Serving:
12
g
|
Calories:
56
kcal
|
Carbohydrates:
3
g
|
Fiber:
2
g
|
Sugar:
10
g
Nutrition information is automatically calculated, so should only be used as an approximation.
Looking for more cherry recipes? Here are some of my favorites: